Saori Kimura Produces Disney Volleyball T-Shirt
Japanese former professional volleyball player Saori Kimura has teamed up with HER7 to release two special volleyball-themed t-shirts in collaboration with Mickey & Friends. The tees released on HER ONLINE STORE on May 26.
"I've loved Mickey since I was a kid," explains Kimura, "and even now, after becoming an adult, I frequent the Disney Store, so it has been a great honour and made me really happy to produce this."
She continues: "The theme is Mickey and volleyball, so I ummed and ahhed about various things. One thing I really wanted to express was the teamwork that goes into volleyball, so I was able to have an illustration of the Friends on there. The picture is taken to look like everyone getting together to snap a photo after a fun volleyball game."
"Another thing I wanted was for Mickey Mouse to be playing volleyball. He's someone loved by people around the world. He's doing a blocking pose. (He looks happy, like he's saying, 'I did it!')."
"Both types capture the fun you can have in volleyball, so I really like them!"
Both t-shirts feature an apple logo specially designed by Kimura.
The Mickey & Friends design comes in two colours – khaki and sand beige. They are available in six sizes: M, L, and XL for adults and 110, 130, and 150 for kids.
The Mickey design comes in two colours – charcoal and grey. They are available in seven sizes: S, M, L, and XL for adults and 110, 130, and 150 for kids.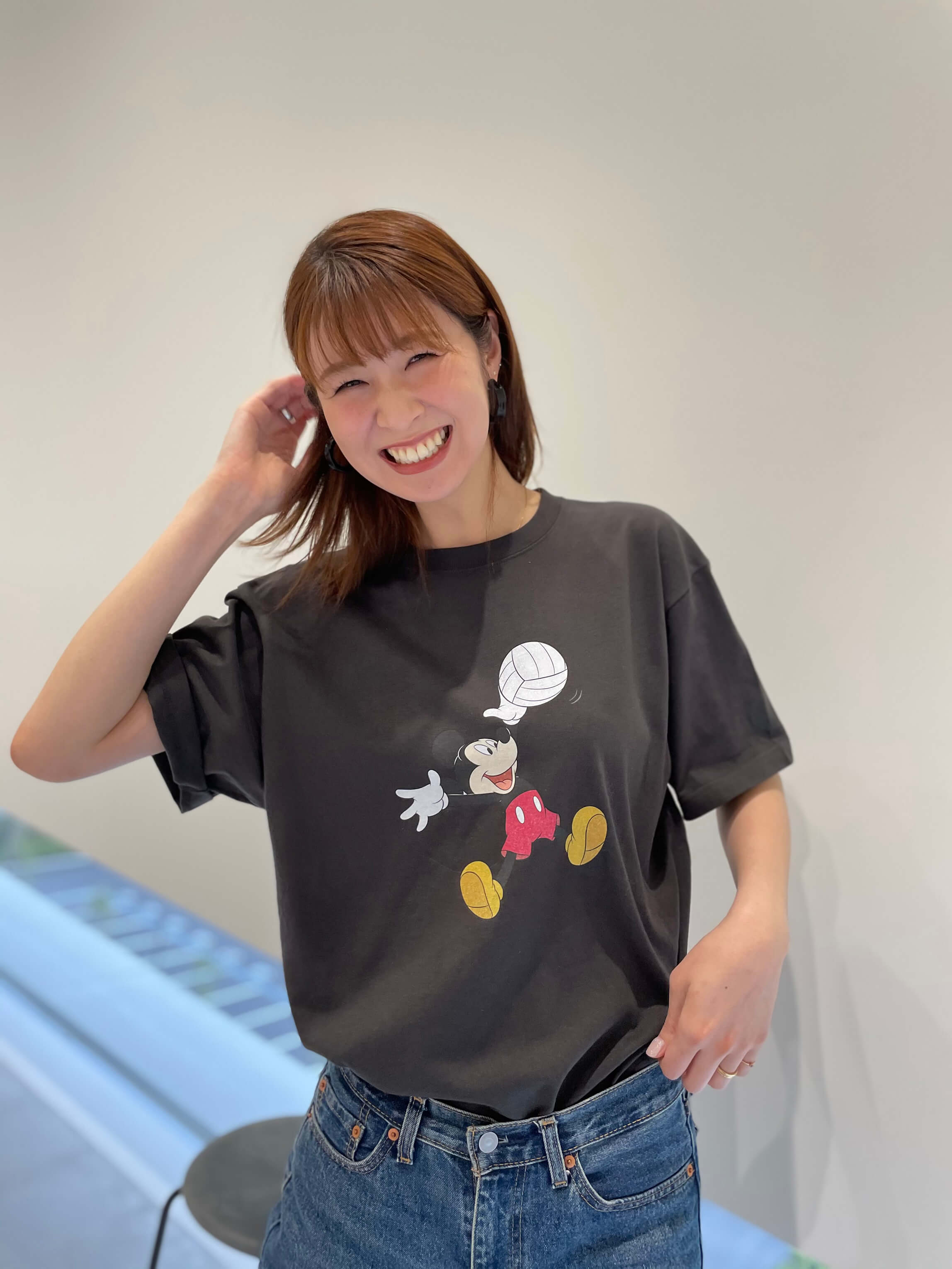 Both tees are oversized as designed by Kimura.
RELATED ENTRIES
YOASOBI x UNIQLO UT T-Shirt Collab Collection Releasing This July

UNIQLO's UT collection is a line of tees created in collaboration with other brands, anime, shows, and more. On July 2, UNIQLO is teaming up with the Japanese music duo YOASOBI to release an exclusive new collection.

YOASOBI, which is comprised of Ayase and ikura, made their debut in 2020 with their hit song Yoru ni Kakeru. Since then, their music has continued to top charts in JApan.

The collection is a fusion of fashion and music in women's and kids designs featuring stills taken from seven of the duo's iconic music videos including Yoru ni Kakeru, Halzion, Tabun, Gunjo, Haruka, Encore, and their new track Sangenshoku.

The Line-Up

Women's Tees | 7 Designs | ¥1,500

Kids Tees | 5 Designs | ¥990

To promote the collaboration, YOASOBI will also hold a free YouTube livestream on July 4 2021 at 6pm (JST). The online event is called "SING YOUR WORLD" and will see them perform live.

©藍にいな ©ラビットマシーン ©すばこ舎・山中琴美・村山辰徳・細矢祐輔 ©南條沙歩 ©しなの ©牧野惇
©古塔つみ ©むつき潤
©伊豆見香苗・すばこ舎・山中琴美・村山辰徳・細矢祐輔 ©文・すばこ舎・山中琴美・村山辰徳・細矢祐輔

UNDERSON UNDERSON x GELATO PIQUE HOMME Release T-Shirt Collection Made From Washi Paper

Lifestyle brand UNDERSON UNDERSON teamed up with luxury loungewear brand GELATO PIQUE HOMME to release a new collection of men's t-shirts via their online stores and at USAGI ONLINE on Wednesday.

Ivory

Pink Beige

Lilac / Silver

The luxury line-up is made with WASHIFABRIC®, a specially type of fabric that's made from 99.9% Japanese washi paper which is soft on the skin. A fusion of both of the brands' visions, the tees feature modern designs laced with GELATO PIQUE HOMME's ice cream motif.

The tees are made with two thin layers of light fabric so they are soft to touch. Each features a casual silhouette with nuanced colours and prints that have a glossy finish.

Disney's Pride Collection Arrives in Tokyo For Shibuya Pride Month

SHIBUYA109 Entertainment is set to release The Walt Disney Company's Pride Collection at SHIBUYA109 and MAGNET by SHIBUYA109 as part of Shibuya Pride Month. The collection will be available from June 18 to July 1.

The Walt Disney Company's Pride Collection

The Walt Disney Company's Pride Collection/SHIBUYA109

Free multipurpose case for buyers

SHIBUYA109's ethos is about making today's dreamers shine. Their collaboration with Shibuya Pride Month is to spread the positive message of creating a society where people can live however they want to live.

The Walt Disney Company's Pride Collection is a unisex line-up of original items by five popular brands at SHIBUYA109 and MAGNET by SHIBUYA109 with Disney, Pixar, Marvel, and Star Wars logos and character designs featuring rainbow colours.

A digital catalogue by creative director Wataru LINDA Igarashi was released showcasing each item in the collection. Special online events by SHIBUYA109 will also take place as part of the Pride celebration. Igarashi also created a collection of bucket hats, hoodies, sweaters, bandanas, stickers, and more as part of The Walt Disney Company's Pride Collection.

Information

SHIBUYA PRIDE MONTH
Running: June 18, 2021 – July 1, 2021

Locations: Shibuya109 (2-29-1 Dogenzaka, Shibuya, Tokyo) / MAGNET by SHIBUYA109 (1-23-10 Jinnan, Shibuya, Tokyo)
Official Page: https://www.shibuya109.jp/blog/?pi3=257211

The Walt Disney Company's Pride Collection

Release Date: June 18, 2021 (Available while supplies last)

Participating Brands:

<Shibuya109> GYDA (Floor 5F) / SPIRALGIRL (Floor 5F) / dazzlin (Floor 6F)

<MAGNET by SHIBUYA109> PONEYCOMB (Floor 2F) / A'GEM/9 (Floor 4F)

SHIBUYA109 Online Store: https://www.shibuya109.jp/onlinestore/

Baskin-Robbins Japan Releases T-Shirt Collection Inspired by 9 Ice Cream Flavours

Japanese fashion brand LEPSIM teamed up with Baskin-Robbins to release a t-shirt collection at LEPSIM stores and the online shop .st on June 2.

The Line-Up

Baskin-Robbins Flavour T | ¥3,850 (Tax Included)

Baskin-Robbins Recipe T | ¥3,850 (Tax Included)

Multipurpose Pouch

LEPSIM is a fashion brand specialising in clothes, cosmetics, lifestyle goods, maternity ware, and more, all of which is aimed at "making women smile." This ties in with Baskin-Robbins' motto of "We make people happy" which it does so in Japan with its 1,200 branches. The tee collection features two different kinds of t-shirts inspired by nine ice cream flavours you can order at Baskin-Robbins. The 'Flavour T' includes classic vanilla, azuki bean, colourful orange sorbet, and musk melon colours, as well as 2 tie-dye designs based on their Caramel Ribbon and Love Potion 31. The 'Recipe T' line-up is a more stylish and sophisticated take with ice cream colours and sleek typography. Each t-shirt also comes with a vinyl multipurpose pouch which is perfect for storing cosmetics, face masks, and other little bits and bobs.

Disney's Mickey & Friends Teams Up With Tokyo's Souvenir Sweet Tokyo Banana

Disney SWEETS COLLECTION by Tokyo Banana, a joint confectionery shop between GRAPESTONE and Tokyo Banana, released its new Mickey & Friends collection on Thursday.

Tokyo Banana Mickey & Friends Collection | ¥1,300 (Tax Included)

Mickey, Minnie, Donald, Daisy, Goofy, and Pluto join hands in a heart-warming new collection of Tokyo Banana, a cream-filled sponge cake and the official souvenir sweet of Tokyo's official souvenir sweet: Tokyo Banana.

 

Mickey & Friends arrive in all the colours of the rainbow

The colourful packaging features the Disney group of best friends including Mickey, who loves his friends, his girlfriend Minnie, the anger-prone Donald, stylish Daisy, silly Goofy, and trusty Pluto.

Six cute patterns decorate the sponge cakes

There are six super cute Mickey & Friends designs you could get in your Tokyo Banana, and each one is random. They are filled with chocolate banana-flavoured custard cream.

Collect all the postcards

All boxes of these treats come with two of eight possible postcard designs which you can use for sending to someone or even as room decoration.

 © Disney

These Disney Ceramic Teacups and Plates Are Traditional Kiyomizu Wares From Kyoto

Asahido is now selling a collection of Disney-inspired ceramics made using a traditional Japanese pottery technique known as Kiyomizu which originated in Kyoto.

Winnie the Pooh Hundred Acre Wood Teacup

This collection of teacups features hand drawn designs of Winnie the Pooh and his friends relaxing in their home of the Hundred Acre Wood. They are dyed indigo using a traditional dyeing technique known as gosu which makes the colour run deep into the design. There are cups to pick from, one big and one small and both with different designs. More details here (in Japanese).

Mickey & Minnie Traditional Dyed Pattern Mugs

These smiley teacups are made using the same dyeing technique and feature Mickey and Minnie made from collages of traditional Japanese patterns that have long been used in Kyoto.

Disney Princess Plates

Seven Disney Princesses have been feauted in this hand-painted Kiyomizu ware plate collection, all of which are lined with gorgeous colours including gold. They make for beautiful decorations for any Disney fan's room.

Mickey & Minnie Kiyomizu Dolls

"Rakuyaki" is the name of the hand-mouldered pottery technique used to crafts these Mickey and Minnie Mouse dolls, one which has been used since the Taisho Period. Compared to the other ceramics on this list, these dolls are baked at a lower temperature, giving the colours a softer look. Red and black are classic colour combinations used in this technique, so Mickey and Minnie were the perfect candidates. Only 100 of each will be sold.

Make a Winnie the Pooh Themed Disney Dinner With This Meal Kit

Japanese organic food delivery service Oisix released a cute new Winnie the Pooh tomato curry meal kit on Thursday.

 

Kit Oisix "Winnie the Pooh" Tomato Curry

Make Pooh's face easily with a stencil sheet

Message cards come with the kit

The packaging

Lunch mats and pick

The story of Winnie the Pooh follows the titular character who lives in the Hundred Acre Wood and his adventures to find honey. The meal kit was designed with friendship and bonds in mind: in a time when we can't travel as often to see the people we love, Pooh is the perfect comrade and the embodiment of friendship perfect .

Pooh's yellow face is made from rice seasoned simply with saffron-infused sofrito. His face, which would be a lot of effort to try and create from scratch, can be made easily with the stencil sheet and paprika powder provided.

The meal kit is made to capture the feeling that your friends and loved ones are always with you. In the kit, you'll find a recipe card detailing how to make the food, a lunch mat with an illustration of Pooh and his friends on it, and a message card which you can mail to someone special.

To promote the kit, Oisix is holding a social media campaign. If you tweet a photo of your completed meal on Twitter or Instagram to someone you love with the Japanese hashtag #いつも一緒だよ you'll receive a free virtual background you can use on Zoom and other services.

Information

 Kit Oisix "Winnie the Pooh" Tomato Curry

Order Window: June 3, 2021 – June 17, 2021

Price: ¥2,950 (Tax Included)

Ages: 4+

Product Page: https://www.oisix.com/winniethepooh/press/

#いつも一緒だよ Social Media Campaign

Running: June 3, 2021 – June 24, 2021

How to Participate
Step 1: Post a photo related to the curry along with a message to someone you love (the photo can be the completed meal, a photo of you cooking it, the message cards, and so on)

Step 2: Add the following hashtags to your post on Twitter or Instagram: #いつも一緒だよキャンペーン #プーさん #tablefortomorrow

Studio Chizu Releases 5th T-Shirt For 10th Anniversary

Since January, Studio Chizu has been teamed up with the Japanese apparel brand Graniph to release a new t-shirt design every month in celebration of their 10th anniversary. The fifth and final design was released on May 26.

Studio Chizu's past works have enjoyed great success both in Japan overseas and include Wolf Children (2012), The Boy and the Beast (2015), Mirai (2018), and the highly-anticipated forthcoming entry Belle (2021). All the films are directed by the Academy Award-nominated Mamoru Hosoda.

Mirai x tupera tupera

The past four t-shirt designs have included The Girl Who Leapt Through Time, Summer Wars, Wolf Children, andThe Boy and the Beast, each illustrated by a different popular artist. The fifth and final design is for Mirai which was drawn by tupera tupera and features Mirai, Kun, the mother, the father, and the pet dog Yukko.

Graniph posted an interview with tupera tupera on their YouTube channel which you can watch below in Japanese.

tupera tupera Interview

(C)2018 スタジオ地図
(C)STUDIO CHIZU

Disney's The Little Mermaid Gets Cute Cupcake Release by Ginza Cozy Corner

Ginza Cozy Corner is releasing a new collection of cupcakes and confections at its stores on June 11 in collaboration with the Disney classic The Little Mermaid. The cupcakes feature designs that will be familiar to any fan of the animated film, from Ariel to Flounder, King Triton's Trident, and others that capture the wonderful underwater world of Atlantica.

Some of the Disney delights include the Mermaid Ariel Apple & Strawberry Whipped Cream Tart, Princess Ariel Raspberry Jam & Strawberry Mousse Cake, Ursula Blueberry Jam & Blueberry Whipped Cream Cocoa Tart, Eric's Cheese Mousse & Berry Jam Cake, and more.

The Little Mermaid Collection | Includes 9 | ¥2,700 (Tax Included)

The cakes come in a gorgeous box

Information

The Little Mermaid Collection

Running: June 11, 2021 – July 29, 2021

Order Start Dates

[In-Store] June 1, 2021 until all sell out

[Online] June 7, 2021 – July 24, 2021

Pick-Up Dates

June 12, 2021 – July 29, 2021 (Except June 18-20)

Ginza Cozy Corner Official Website: http://www.cozycorner.jp/

Disney's Fantasia Adds Exclusive Bag to Tokyo Banana Biscuit Collection

GRAPESTONE released a new tin of Fantasia themed chocolate biscuits last Wednesday as part of the 'Disney SWEETS COLLECTION by Tokyo Banana.'

Disney Fantasia Chocolate biscuits | ¥5,500 (Tax Included)

The biscuits arrive in a limited-edition tin!

Disney SWEETS COLLECTION by Tokyo Banana opened on the JR Line side of Tokyo Station in November 2019. The shop is a joint-collaboration with Tokyo Banana—the official souvenir sweet of Tokyo—and Disney. This is the first release to be themed on Disney's Fantasia which will mark its 80th anniversary this year on July 21. The tin is limited-edition and so stock is limited.

The special tin celebrates the 80th anniversary of Disney's Fantasia

The tin's gorgeous design captures the magical and mysterious world of Fantasia. It features Mickey Mouse as the Sorcerer's Apprentice commanding the sparkling stars in the dreamy night sky.

 Receive an original navy blue bag


All tins come with a cute exclusive bag which once again features Mickey and the iconic scene of him casting magic on the wizard's brooms. Each motif on the bag is embroidered, giving it a beautiful, high-quality finish. Now you too, like the brooms, can go everywhere with Mickey Mouse.

Was it a trick? The chocolate biscuits came out like this!

The cat tongue biscuits feature a fun design as if someone has played a prank. They are banana milkshake and chocolate flavoured, light, and crunchy. They are also nice and big so you don't need to eat them all at once, each featuring different designs including Mickey Mouse, the wizard's hat, and one of the brooms.

Don't miss out on a chance to get the exclusive Fantasia bag by Tokyo Banana.

Disney's The Aristocats x SNIDEL HOME Clothing Collection Released

Japanese loungewear brand SNIDEL HOME released a paw-sitively purrfect new collection of clothing items and accessories on Wednesday in collaboration with Disney's animated feature film The Aristocats.

T-Shirt | ¥5,940 (Tax Included)

Dress | ¥6,930 (Tax Included)

Satin Pajamas Shirt | ¥8,800 – Pants | ¥5,940 (Tax Included)

Pouch | ¥3,520 (Tax Included)

Tote Bag | ¥3,740 (Tax Included)

Eco Bag | ¥3,300 (Tax Included)

Novelty: Pouch

The collection focuses on the character Marie. If you spend over ¥11,000 (tax included), you'll also get your paws on a free novelty pouch.

Information

SNIDEL HOME x The Aristocats

Released: May 19, 2021

Buy on SNIDEL HOME: https://snidel.com/snidel_home/

Buy on USAGI: https://usagi-online.com/brand/snidelhome/

Buy in-store

SNIDEL HOME Lumine Shinjuku 2

SNIDEL HOME Shibuya Hikarie ShinQs

SNIDEL HOME Seibu-Ikebukuro

SNIDEL HOME JR Nagoya Takashimaya

SNIDEL HOME Kanagawa Forus

*These products were made in agreement with Walt Disney Japan

Sesame Street T-Shirt Collection Releases by AAPE BY A BATHING APE®

AAPE BY A BATHING APE® released a new collection of Sesame Street tees and merchandise on Saturday as part of a partnership the brand formed with the American children's television series.

Men's Tees

Kid's Tees

Novelties

The collection features familiar faces Elmo, Big Bird, Cookie Monster, and BAPE's own gorilla character. The tees are available in standard black, white, purple, and for this collaboration, Cookie Monster Blue.

The fun line-up, which brings together the identities of both BAPE and Sesame Street, is offering a special box set of seven Sesame Street key chains to those who spend over ¥43,000 on this collection. An event to promote the collection will also take place at the Harajuku and Shibuya branches of AAPE STORE where Elmo and Ernie will make an appearance to greet buyers.