The Promised Neverland x Hotel Keihan Room Plan Collaboration Begins
Hotel Keihan launched a new guest room plan in collaboration with the anime series The Promised Neverland at its Tokyo, Kyoto, Osaka, Nagoya, Sendai, and Sapporo branches on Tuesday. It also released a collection of exclusive merchandise which can be bought at each hotel's front desk.
Guest Rooms
Exclusive Merch Line-Up
Pins | ¥550 Each (Tax Included)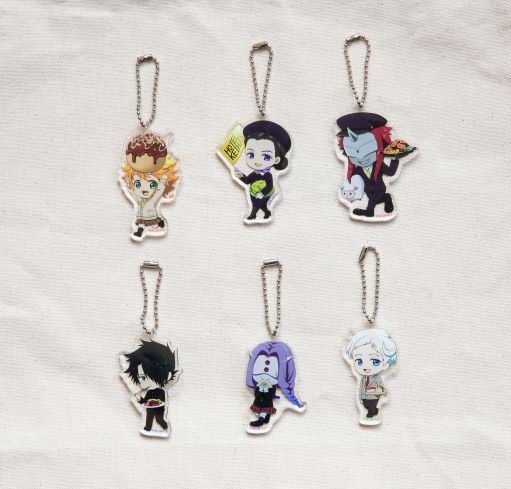 Key Rings | ¥550 Each (Tax Included)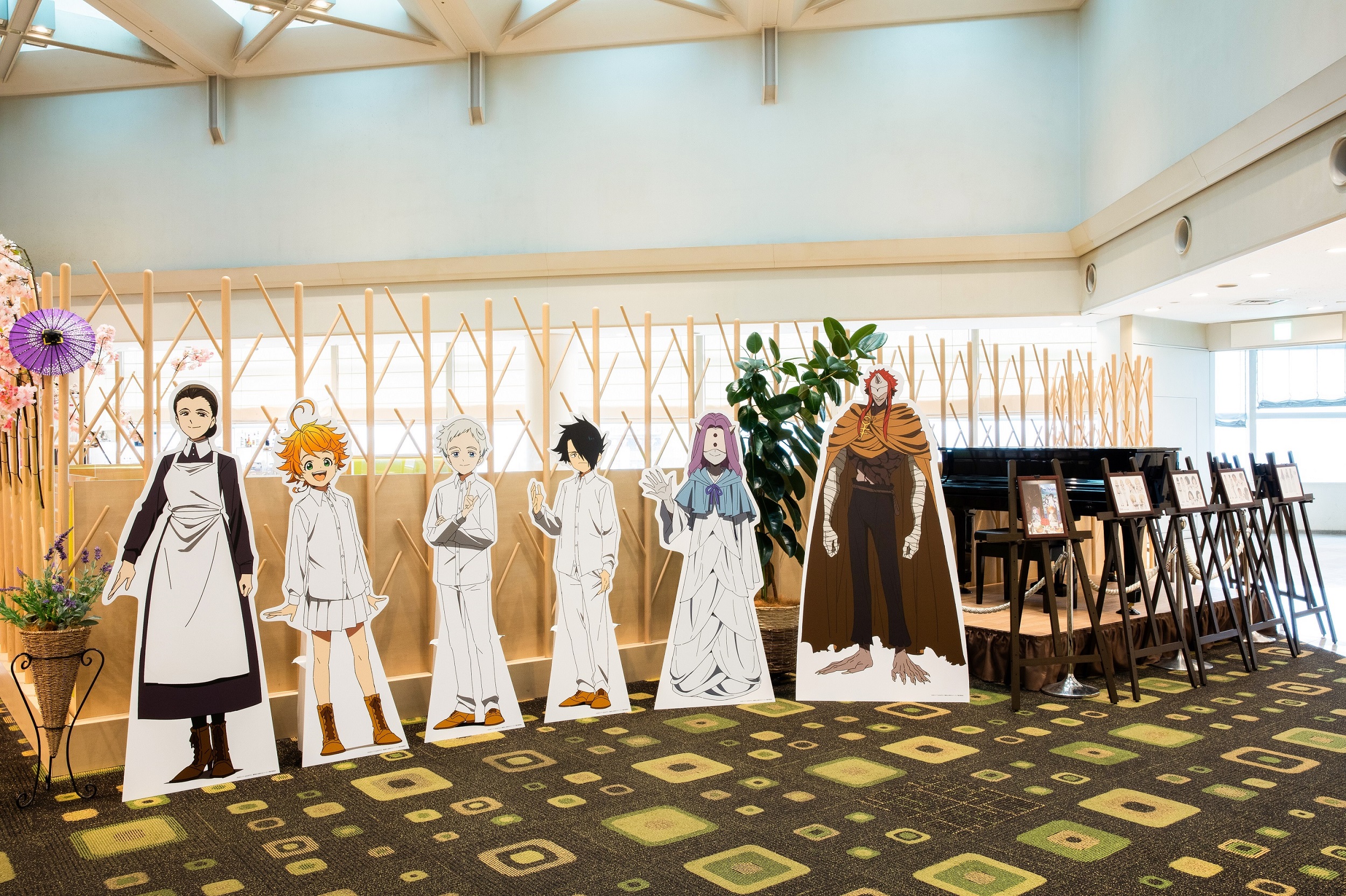 Lobby display
The hotel plan was originally scheduled to take place for three months but has been extended by a further month to accommodate for travel restrictions as well as guest demand. New prices have also been introduced to make it more accessible to people. Fans of the anime series can get their hands on a range of items not available anywhere else too including pins, key rings, folders, and more.
The hotel room designs are inspired by both seasons of The Promised Neverland and come with life-size panels, wall decorations, and more, so fans can look forward to getting sucked into the world of the anime series.
(C)白井カイウ・出水ぽすか/集英社・約束のネバーランド製作委員会
RELATED ENTRIES
Rihga Royal Hotel x YOURS BOOK STORE New Accommodation Plan to Discover Your New Favorite Book

Osaka's Rihga Royal Hotel is collaborating with book direction brand YOURS BOOK STORE to produce a one-room one-day accommodation plan titled "Once in a Lifetime ~ Professionals Choose Your Book~." The limited-time plan will be available between September 15 and November 30, 2021.

The lounge on the executive floor, known as The Presidential Towers, was reformed in March 2020 to include a library of 1,000 books, with themes including Osaka, refreshing, relaxing, and children's books. It was then that the room plan collaboration with YOURS BOOK STORE, who was involved in the initial book selection, was proposed.

In the "Once in a Lifetime ~ Professionals Choose Your Book~" accommodation plan, a professional will discuss with the guest to learn more about their taste, with the book director offering 3 personalized book choices per person. The guest can also take full advantage of the hotel library.

Following your trip, a book chosen especially for guests will be sent to your home, with a message card describing how your books were selected. This unique accommodation plan allows you to bask in the afterglow of your trip while waiting to see what kind of book you receive.

Why not check out this unique plan where you can receive your own personalized book recommendation?

Hotel W Osaka x PIERRE HERMÉ PARIS Unveil Limited Halloween Dessert Menu

Opening in March 2021, Japan's first luxury lifestyle Hotel W Osaka works with PIERRE HERMÉ PARIS to produce the 'MIXup' Art & Pastry Bar, which has unveiled a new Halloween themed dessert course and  à la carte cake, available from September 15.

Pumpkin & Choux Cream / Ghost Montblanc / Frankenstein Cheesecake

Rock'n'Roll

Osaka is said to be the birthplace of Japanese cuisine, and in a similar vein,  this unique  'MIXup' dessert course serves 'CHEEKY' sweets which are finished one-by-one in front of the customer. The counter-style serving has proven popular since it began in May of this year, known for the playful presentation and customer participation.

This Autumn, the menu has been transformed into the 'TRICKY CHEEKY HALLOWEEN' course, with eight playful new desserts available to try. The desserts feature well-known Halloween monsters, and incorporate the taste of Autumn with pumpkin, chestnut, and pear, among other seasonal flavors.

The take-out Halloween sweets lineup includes a matcha and red bean Frankenstein Cheesecake, a spooky Ghost Montblanc, jack-o-lantern shaped Pumpkin Choux Creams, and more. A limited Halloween variation of the bar's iconic rose and raspberry Rock'n'Roll cake is also available! The recipe and baking techniques are based on the methods of PIERRE HERMÉ PARIS, with arrangements by The W Osaka.

Try out some scarily tasty sweets this Halloween with The W Osaka and PIERRE HERMÉ PARIS!

The National Museum of Modern Art in Kyoto Opens Meiji Era Exhibition

A special exhibition titled 'Japanese Landscapes Discovered: Views from and for the Outside World,' showcasing a private collection of Meiji era paintings, is now on display at the National Museum of Modern Art in Kyoto until October 31, 2021.

Inside the Exhibit

Inside the Exhibit

 

This exhibition is designed to take visitors on a journey through the Meiji period (1868-1912), the beginning of Japan's modern era, through oil and watercolor paintings of the time, and through the landscapes and customs depicted in these pieces of art. During this time, many foreign painters visited Japan, and were inspired to paint the country's beautiful landscapes and unfamiliar customs, bringing these creations back to their countries of origin. Japanese artists studied these unfamiliar painting techniques, and made their own culturally-inspired paintings, often selling them to foreign visitors as souvenirs.

Many works on display in this exhibition have never been shown publicly, with many being brought back to Japan from locations abroad. These include long-lost oil paintings by Kuroda Seiki and a massive newly-discovered work by Tamura Soryu. Other Japanese artists inspired by Western-style on display include Hiroshi Yoshida, Jirokichi Kasagi, Shotaro Koyama, and Ioki Bunsai.

Also on display are works by foreign artists who visited Japan during this period, including British news painter Charles Wirgman, French news painter Georges Bigot, and British landscape painters Alfred Parsons, Alfred East, and John Varley Jr. These three men in particular triggered a watercolor boom in Japan during the late Meiji period. Vibrant female painters such as British watercolorist Ella du Cane, a lover of Japanese gardens, also make an appearance.

Be sure to see these incredible depictions of Japan before they're gone.

Information

Japanese Landscapes Discovered: Views from and for the Outside World

Running: September 7 – October 31, 2021

Hours: 9:30-19:00 (Until 20:00 on Friday and Saturday)

Closed: Mondays, and on September 21. *The museum will be open September 20.

Tickets/Official Site: https://www.momak.go.jp/

*Admission is open until 30 minutes before closing.

*To prevent the spread of COVID-19, hours are subject to change. Please check hours before visiting.

Famous Oil Blotting Paper Brand's Yojiya Café Reforms Three Popular Parfait Flavors

The Yojiya Café, opened by the Yojiya brand famous for its Aburatorigami, or facial oil blotting paper, will be renewing its menu from September 13. The popular face parfait, which features the logo alongside a Kyoto woman with a mole, comes in three flavors available – Kinako, Matcha, and Milk Tea. Each parfait comes with a sauce, so you can adjust the taste as you eat.

 

Kinako Parfait: ¥1,200 (Tax Incl.)

Matcha Parfait: ¥1,200 (Tax Incl.)

Milk Tea Parfait: ¥1,200 (Tax Incl.)

The Yojiya Café is currently open in two locations, Gion and Sagano Arashiyama, offering a relaxing space to rest between shopping and sightseeing.

The café has renewed their iconic Kinako Parfait, which combines Japanese Kinako and Western Maple Syrup, along with the Matcha Parfait, which is packed full of matcha ice cream, jelly, and cookies. The Milk Tea Parfait is made with a rich Japanese Tea and Earl Gray ice cream.

Take a trip to Yojiya and find out which parfait is your favorite!

Information

Yojiya Café – Parfait Renewal

Release Date: 14 September 2021

Availability:

Yojiya Café Gion

Address: Izawa Building 2F, 266 Gionmachi Kitagawa, Higashiyama-ku, Kyoto

Opening Hours:

Weekdays 11:00 ~ 17:00 (LO16:30)

Weekends/Holidays: 10:00 ~ 18:00 (LO17:30)

YOJIYA CAFE Sagano Arashiyama

Opening Hours:

Weekdays 11:00 ~ 17:00 (LO16:30)

Weekends/Holidays: 10:00 ~ 18:00 (LO17:30)

Address: 2 Tateishicho, Sagatenryuji, Ukyo-Ku, Kyoto

Official Site: https://www.yojiya.co.jp/

Nihonbashi Art Aquarium Museum Closes for Renewal and Relocation

The Nihonbashi ART AQUARIUM will be closed on September 26 2021 to make way for new exhibits and works. The museum is scheduled to be relocated in the first half of 2022.

The ART AQUARIUM Museum opened in Nihonbashi, Tokyo on August 28 202 with the concept of "a museum where life dwells." This will be the largest renewal in the history of the museum Museum, opened by writer and general producer Hidetomo Kimura, with the addition of more exhibits and new and improved interactive areas.

The Nihonbashi Art AQUARIUM Museum opened alongside the 2020 Tokyo Olympics and Paralympic, with the expectations that visitors would come from both within Japan and overseas, thanks to the exhibitions which easily explain and represent Japan's proud traditional culture and performing arts, but due to Covid restrictions, foreign tourists are still unable to enter the country. Despite this, the Museum saw many customers and with the closing of the Olympic and Paralympic Games, the museum will be closed in preparation to relocate to the new ART AQUARIUM. If you want to see the Nihonbashi location for yourself then this is your last chance!

In addition, the "ART AQUARIUM" digital tour is being held from September 12, allowing you to appreciate the Museum in a digital format until the reopening.

Make sure to check out the Nihonbashi ART AQUARIUM while you have the chance!

Information

ART AQUARIUM Museum

Address::1-3-9 Nihonbashihonchō, Chuo-ku, Tokyo

Opening Hours: 10:00~19:00 (L.A 18:30)

Official Site: https://artaquarium.jp

Blue Bottle Coffee Opens New Cafe Inside SHIROIYA HOTEL in Gunma

Initially announced in July of this year, Blue Bottle Coffee Japan will open their newest shop on the premises of the SHIROIYA HOTEL in Maebashi, Gunma Prefecture on September 17, 2021. The new shop is part of a recent initiative to revitalize the city, and make Maebashi an inspiring art and culture destination.

Shiroiya Cafe Limited Menu

Blue Bottle Coffee x Nakamata Fuwafuwa Wanuki Coffee Cream & Anko

Shiroiya Cafe Limited Item


Blue Bottle Coffee x Nakamata Maebashi City Tote Bag (Limited quantities available)

SHIROIYA the PÂTISSERIE×BLUE BOTTLE COFFEE 


Grapefruit and Coffee Tart

Maebashi was once a large manufacturer of silk, and was crucial to Japan's modernization. In 2016, a number of creative minds from both Japan and abroad gathered in the city with the goal of revitalizing the town center. With that in mind, they first renovated the 300-year-old Shiroiya Ryokan, opening the SHIROIYA HOTEL in December 2020. Blue Bottle Coffee was a perfect fit for the project, with a continued goal of fostering community and using their proceeds to help develop towns and cities.

Blue Bottle Coffee Shiroiya Cafe as designed by Keiji Ashizawa Design, also responsible for designing cafes in Minatomirai and Shibuya. Keeping with a comfortable theme, the cafe is designed to let in ample amounts of light. Historic bricks from Maebashi were a key material used in the flooring. Both the SHIROIYA HOTEL and the new Blue Bottle Cafe feature art pieces by Yoshio Shirakawa, an artist from the area.

The Blue Bottle Coffee x Nakamata Fluffy Wanuki Coffee Cream & Anko is only available at the Shiroiya Cafe, and is a collaboration with Wamukashi Nakamata, a confectionary shop in town. A special Maebashi-themed tote bag will also be on sale in limited quantities.

To commemorate the opening of the Shiroiya Cafe, the PÂTISSERIE, located inside the hotel, will serve a limited-time Grapefruit and Coffee Tart.

Would you like to visit Maebashi on your next trip to Japan?

Information

Blue Bottle Coffee Shiroiya Cafe

Opening Date: September 17, 2021

Address: SHIROIYA HOTEL, 2-2-15 Honmachi, Maebashi, Gunma

Hours: 8:00-19:00 (Opens at 10:00 on opening day.)

Official Site: https://store.bluebottlecoffee.jp/

Hyatt Centric Kanazawa Reveals Halloween Inspired Menu for October

All-day restaurant FIVE – Grill & Lounge, located within the Hyatt Centric Kanazawa hotel, will begin serving up a selection of Halloween-inspired treats beginning October 1, including cake sets, parfaits, muffins, and various lunch and dinner items.

Guests will also be able to enjoy some mischievous cocktails and mocktails inspired by witches and ghosts!

Halloween Cake Set 

Black Sesame Pudding

Mummy Macaron

Ghostly Mousse

Pumpkin Ice Cream Sandwich

Coffin Tart

Monster Cream Puff

Halloween Parfait Set

Halloween Dinner/Lunch Course

Halloween Muffin Box

Halloween Cocktails 

Spooky Night

Hallo-Wine Sangria

I sWitch (Mocktail)

The Halloween Cake Set is filled with ghoulish treats, each one displaying incredible attention to detail. In the Halloween Parfait Set, guests can enjoy a tower of different sweets, including black currant and chocolate. Themed with creepy eyeball decorations throughout, it offers a variety of overlapping textures and tastes guests will want to savor until the last bite.

 

When thinking of Halloween, the colors orange and purple instantly come to mind. For the Halloween Dinner/Lunch Course, the menu's creators went with a more dark theme, envisioning a ghost appearing at any moment. The entire restaurant will be decorated in black and gray, creating a truly haunting dining experience.

Don't miss out on the Halloween Muffin Box, a set of mini-muffins made with fresh autumn ingredients, and offering a much cuter feel. Quantities are limited!

The gin-based Spooky Night cocktail is refreshing, with a bold blue color and red-rim on the glass, sure to turn your mouth bright crimson. Hallo-Wine Sangria, house-made with autumn fruits, has a unique design, with a skeleton rising from the glass! For those wanting a mocktail, the I sWitch asks guests to pour the accompanying red syrup over the cotton candy, changing both the appearance and flavor of the drink as if by witchcraft!

Which of these treats would you be after?

French Artist Jean Jullien Provides Main Visual for Shibuya PARCO Art Week 2021

Last year's Shibuya PARCO Art Week was met with incredible fanfare, and the 2021 event is now set to begin on September 17! This year, acclaimed French artist Jean Jullien is in charge of the main visual for the showing.

The exhibition will be held at NANZUKA 2G, located on the 2nd floor of Shibuya PARCO, as well as within the PARCO MUSEUM TOKYO on the 4th floor.

Shibuya PARCO Art Week 2021 Features

Martin Margiela: In His Own Words

© 2019 Reiner Holzemer Film – RTBF – Aminata Productions

#HotelKawashima

Kensaku Kakimoto Exhibition 'Devoting Time' Collaboration with Luke Bubb, Piotr Stopniak

mono100 x Natsuki Kurachi POP UP

Nori Okawa Solo Exhibition 'Good Boy, More Drunk'

Hikaru Ichijo Exhibition 'CHIDORI ASHI,' with a motif of 'people who are carried away by alcohol'

Mariko Enomoto Solo Exhibition 'Moments,' depicting the fluctuations of daily life

Emi Ozaku Solo Exhibition 'Good something for you'

Exhibition of Tetsuji Aoyama's works, '21XX A Future Odyssey ~Someday in a Hundred Years~

Exclusive collaboration products by VOILLD x FACE on sale

Shun Komiyama Photo Exhibition 'The Wind Responds,' by MIDORI.so Gallery

A group exhibition '' DONOKO? '' Portrait series Curated by TOKYO URBAN ART

"Welcome back to your "Home Position" – Selecting art for the interior based on 'likes'





At 'WHITE CINE QUINTO' on the 8th floor of Shibuya PARCO, visitors can see a powerful documentary film about Martin Margiela, Martin Margiela: In His Own Words. Also on the 8th floor, a hands-on exhibition titled #HotelKawashima will feature Akira Kawashima of the comedy duo Kirin becoming the manager of a hotel. The comedian's voice will also be used for the in-house announcements throughout Shibuya PARCO.

An ART PASSPORT, distributed by the gallery and other stores throughout the complex, contains plenty of information about the events throughout the museum, as well as exclusive special offers. Be sure not to miss the interview with Jean Jullien!

Jean Jullien Exhibition「PAPER PEOPLE」/「POCKET PARENTS」

©Jean Jullien Courtesy of NANZUKA

©Jean Jullien Photo by Shigeru Tanaka Courtesy of NANZUKA

©Jean Jullien Photo by Shigeru Tanaka Courtesy of NANZUKA

Jean Jullien's solo exhibition "PAPER PEOPLE," curated by NANZUKA, will be held at the PARCO MUSEUM TOKYO on the 4th floor, and will depict the creative process of the artist through the medium of paper. Jullien, who has a deep knowledge and love of Japanese manga culture, is sure to bring some charm and comedy to the showing, as is typical of his style. The artist, from Brittany in France, has always been inspired by Japan, and also by the natural beauty of his homeland. Each of the nearly 50 works in the exhibition were created during the Coronavirus pandemic, and 25 special screen prints will be on sale via lottery, both at the event and online.

In the "POCKET PARENTS" exhibition at NANZUKA 2G on the 2nd floor of the complex, Jullien's upbringing and experiences as a parent are expressed in a hilarious story about aging and responsibility. Compared to "PAPER PEOPLE," this offers a different perspective from the artist, which visitors can learn more about in his interview.

Popular Chichiyasu Chi-bou Fair 2021 Returns to LOFT Locations After Two Years

Household goods shop LOFT is teaming up with beverage company Chichiyasu for the Chichiyasu Chi-bou Fair 2021 at four locations nationwide. The event will run from September 16 until September 29 at Shibuya LOFT, and from October 20 until November 3 at Nagoya LOFT, Umeda LOFT, and Tenjin LOFT. Chi-bou is the name of the adorable character on the Chichiyasu logo.

Chi-bou Drawstring Bag (Set of 2): ¥1,650 (Tax Included)

Chi-bou Gauze Handkerchief: ¥770 each (Tax Included)

Chi-bou T-shirt: ¥2,200 each (Tax Included) *Only available at Shibuya LOFT and Umeda LOFT.

Chi-bou Pouch: ¥1,650 (Tax Included)

Chi-bou Rubber Keychain (Set of 2): ¥1,650 (Tax Included)

Chi-bou A5-size Notebook: ¥385 each (Tax Included)

Chi-bou Mug: ¥1,650 each (Tax Included)

Chi-bou Eco Bag (with Pouch): ¥2,200 (Tax Included)

Chi-bou Masking Tape (Chichiyasu Milk/Boxed Milk): ¥495 each (Tax Included)

 

The Chichiyasu Chi-bou Fair was a popular event held at Shibuya LOFT in 2018 and at Yokohama and Umeda LOFT locations in 2019.

How would you like to buy some of this adorable merchandise?

Information

Chichiyasu Chi-bou Fair 2021

Locations:

Shibuya LOFT 1F, Masaka Stage
Nagoya LOFT 5F, Variety Goods Section

Umeda LOFT 1F, Loft Market

Tenjin LOFT 5F, Variety Goods Section

Running:

Shibuya LOFT: September 16 – September 29, 2021

Nagoya LOFT, Umeda LOFT, Tenjin LOFT: October 20 – November 3, 2021

Hours: Same as LOFT business hours *Shibuya LOFT and Umeda LOFT to close at 18:00 on the final day.

Official Site: https://www.loft.co.jp/

The Guests are Actors Too in the HOTEL SHE, OSAKA's 'Theatre While You Stay' Performance

The HOTEL SHE, OSAKA has announced a new form of evening entertainment that allows the guests to take part in their 'Theatre While You Stay' performances of The Indigo Restaurant, held between November 11 and 30 2021. Tickets sales start on September 3.

 

The food and drink menu can be enjoyed from the comfort of your room.

All guest rooms come furnished with a record player.


The boutique hotel brand HOTEL, SHE are leading hotels into the new era with their contemporary services, collaborating with poet Saihate Tahi to create the "Poet Hotel" and live-streaming a performance by artist SIRUP.

The 'Theatre While You Stay' is a form of evening entertainment where guests can enjoy and take part in a stage show that is set in the hotel, both planned and produced by HOTEL, SHE.

They were inspired by the "immersive theatre" technique which has become popular in New York's Broadway, allowing you to freely move around the hotel in your role as you enjoy the show, breaking the boundaries between audience and performer – You aren't just watching the show, but becoming a part of it.

The term "immersive theatre" was coined in London during the early 2000s and refers to a form of theatre that is based on the audience experience. It breaks down the traditional roles of the audience and performers, creating a new relationship between the guests and the show.

 

 

Set throughout the entire hotel building, the lobby, guest rooms, corridors, and courtyard are full of mysterious sounds and lights. The "story experience" starts as you check in, with no set start or end time.  All phones, mobile devices and watches that tell the time are confiscated upon checking in, causing the guests to lose their sense of time and wander the hotel throughout the long evenings. 

 

After watching, the whole story is gradually revealed by talking about the scenes that each experienced while drinking cocktails in the bar lounge and guest rooms.  We want you to enjoy the limited food menu and sweets based on Asian dishes such as Taiwan.

After the show, you can enjoy cocktails in the bar lounge and discuss the scenes you watched as the story is gradually revealed. The delicious limited-time menu is full of sweet Asian dishes and desserts from Taiwan and beyond.

Information

Theatre While You Stay – The Indigo Restaurant

Duration: November 11 ~ November 30 2021 

※Cancelled on November 18 and 25. 

Check In: 19:30 ~ 20:00 (VIP TWIN ROOM Check In is 19:15 ~ 20:00)

Check Out: 12:00 the following morning 

Location: HOTEL SHE, OSAKA

Address: 1-2-5 Ichioka, Minato-ku, Osaka City, Osaka

Ticket Sales:

Primary Ticket Sales (Lottery): September 3 at 20:00 ~ September 12 at 23:59

Secondary Ticket Sales (Lottery): September 14 at 18:00 ~ September 20 at 23:59

General Ticket Sales (First-Come, First-Serve): Undecided

Tickets/Official Site: http://aiirohanten.com/

RIHGA Royal Hotel Osaka to Offer Extremely Limited Halloween Accommodations

The RIHGA Royal Hotel Osaka has announced a spectacularly limited Halloween accommodation plan, titled 'A Terrifying Banquet in the Mysterious Lord's Castle.' Only one lucky person per day can book the decorated room, which features in-room meals and more treats to discover. Reservations are open through October 28, and the room will be available from September 10 until October 31.

'A Terrifying Banquet' Dining Table

Living Room

Skeletons in hotel uniform, ready to greet guests in the front room

This spooky setup will be held in the Fontainebleau suite, themed as a French palace. Guests will enjoy a western dinner course in the comfort (or discomfort) of the room. Decorated with black cats, ever-watchful owls and skeletons, guests can also look forward to taking plenty of photos at a designated photo spot on the sofa.

As the COVID-19 pandemic continues to keep people in their homes, the hotel created this room as a way to experience a new kind of cozy Halloween getaway. Visitors will enjoy plenty of other perks, including free parking, soft drink coupons, and breakfast the following morning.

Would you be able to sleep in this room filled with skeletons and specters?

Information

Special Halloween Room: 'A Terrifying Banquet in the Mysterious Lord's Castle'

Reservations Open: September 1 – October 28, 2021

Room Available: September 10 – October 31, 2021

*Reservations accepted until 8:00AM, 3 days in advance.

Official Site: https://www.rihga.co.jp/osaka/stay/plan/halloween2021

'Rilakkuma & Sumikko Gurashi Festival' Photo Event Starting in Sapporo

The 'Rilakkuma & Sumikko Gurashi Festival Commemorative Photo Event' will be held between September 17 and November 28 2021 on the third floor of the Sapporo Factory San Jō-kan Building.

 

After enjoying yourself at the joint event, you can take some commemorative photos with Rilakkuma and the Sumikko's, who will be wearing new costumes especially for this event! 

October 9: 11:00/ 13:00/ 15:00/ 17:00 (Approx. 30 slots) (Each session lasts approx. 30 minutes)
Featured Characters: Korilakkuma and Tokage


October 31: 11:00/ 13:00/ 15:00/ 17:00 (Approx. 30 slots) (Each session lasts approx. 30 minutes)
Featured Characters: Chairokoguma and Neko

Weekday Limited Admission Freebies: 'RilaSumi Festival' Original Bookmark (Selected from 8 random designs: Rilakkuma & Kiirotori, Korilakkuma, Chairokoguma, Shirokuma, Penguin?, Tonkatsu & Ebifurai no Shippo, Neko, Tokage)


Don't miss out on this limited time opportunity! 

Information

'Rilakkuma & Sumikko Gurashi Festival'  Sapporo

Duration: September 17 ~ November 28, 2021

Closures: Every Thursday (excluding September 23)

Opening Hours:

Weekdays: 13:00 ~ 17:00(September 17 opening hours 10:00 ~ 17:00)

Weekends, Holidays: 10:00 ~ 17:00 ※Admissions close at 16:30

Location: Sapporo Factory San Jō-kan 3F

Address: 4-chome, Kita 2 Johigashi, Chuo Ward, Sapporo

Ticket/Event Information: https://www.ntv.co.jp/rilakkuma-and-sumikko-fest/ 

Official Twitter:  https://twitter.com/rk_sumikko_fest (@rk_sumikko_fest)

 

Commemorative Photo Spot Location: Sapporo Factory Event Space

Lottery Appilcation Period: September 1 ~ September 26 at 23:59

Details & Application Info: http://www.stv.jp/event/rilakkuma-and-sumikko-fest/photo.html