Mr. Osomatsu Merch Lottery Draw Opens in Japan
D-techno released its 10th online lottery draw on May 24 to win a range of Mr. Osomatsu merchandise.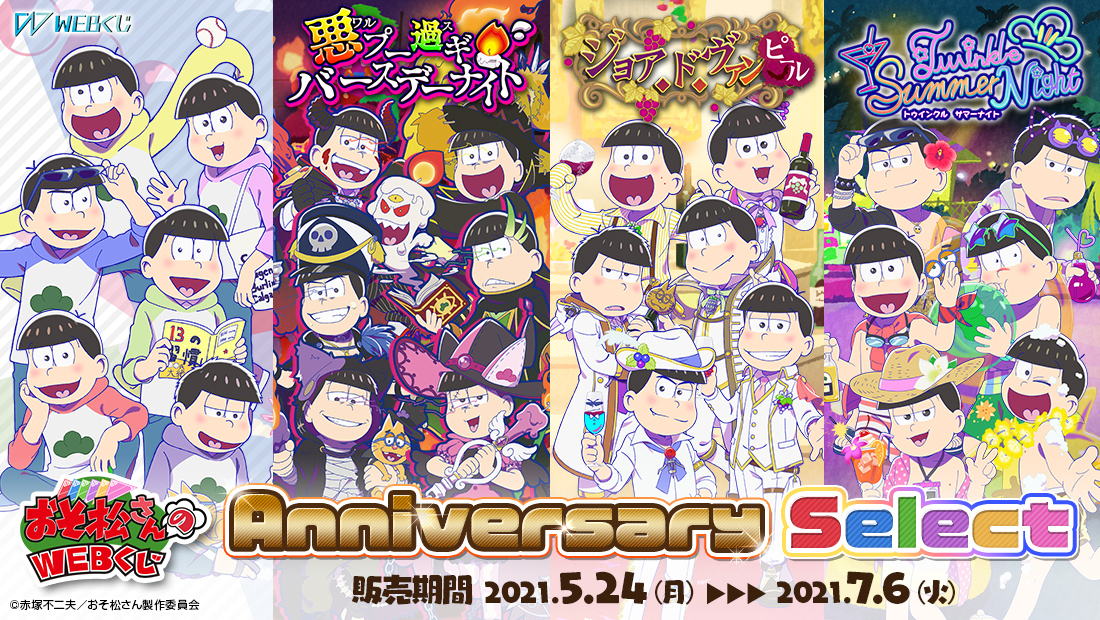 ¥690 per turn of the lottery
The Mr. Osomatsu Web Kuji Lottery series has been running since September 2017. This will mark its 10th run, which began on May 24, the same date as the Matsuno sibling's birthdays. The line-up features a range of items with illustrations that have been popular in previous instalments. The merch also comes in a special box featuring a design of a sibling of your choice.
The Line-Up
This run includes tapestries, pins, acrylic stands, and more.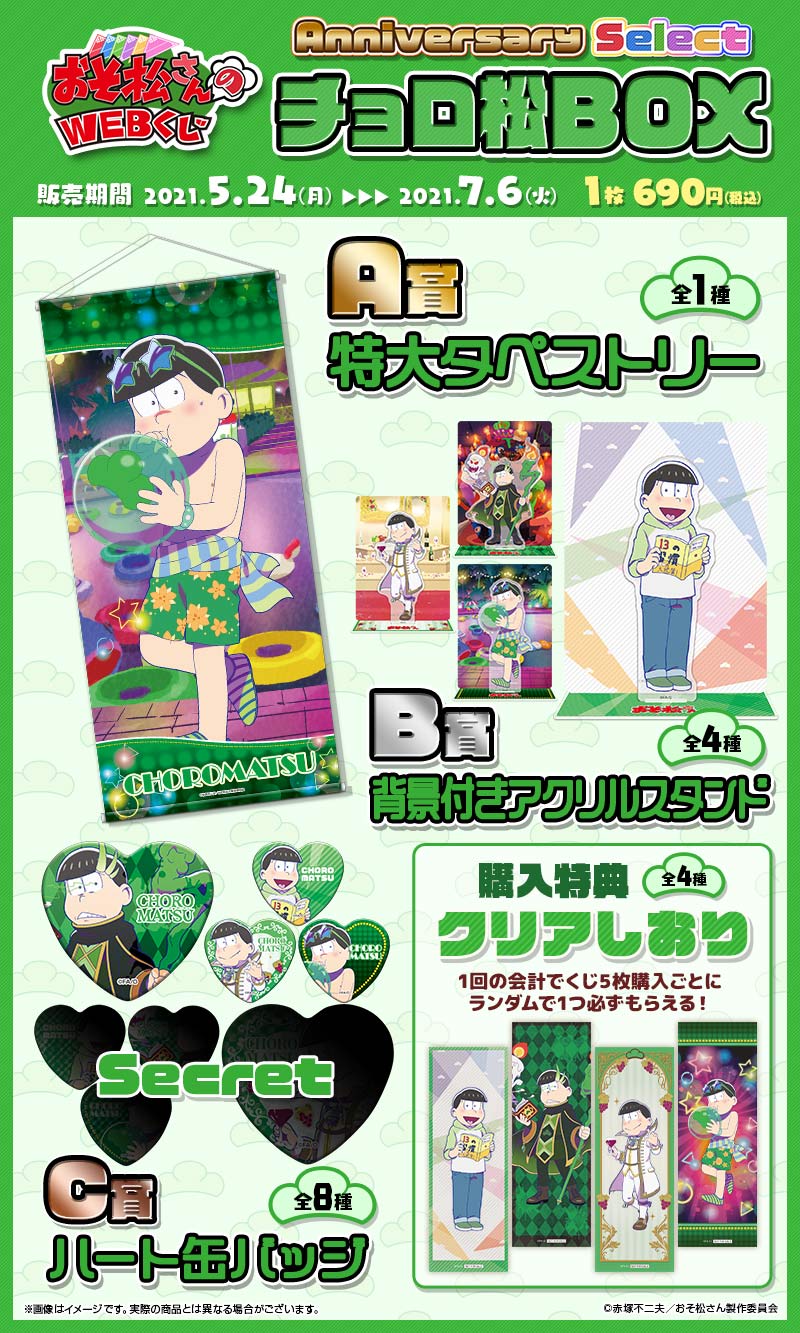 ©赤塚不二夫/おそ松さん製作委員会
©D-techno
RELATED ENTRIES
Tokyo Ghoul Opens Online Raffle for Exclusive Original Goods

Kujibikido, a website offering a variety of different raffles, is offering a chance to win some exclusive Tokyo Ghoul merch! The Tokyo Ghoul ~Relax at Anteiku~ Online Raffle is open until November 4, and you can't get these items anywhere else. The theme of these original illustrations is 'Relaxing at Anteiku,' the small neighborhood cafe in the Tokyo Ghoul series. Popular characters enjoy a moment of rest and relaxation with a cup of coffee–a welcome departure from the drama and horror in the series!

Prize Lineup

S Prize: Winner can Choose! Extra-large Tapestry (5 varieties) 

A Prize: Winner can Choose! Mug (5 varieties) 

B Prize: Acrylic Stand (10 varieties)

C Prize: 76mm Pin (10 varieties) 

*One prize is guaranteed. 

The S Prize is a massive, life-sized tapestry, and the winner can choose which they'd like to receive. During the event, those who follow the official Kujibikido Twitter account and retweet a specific tweet will be entered into a lottery to win all 10 pins from the C Prize set along with a special bromide! Three winners will be announced, so don't miss out!

Information

Tokyo Ghoul ~Relax at Anteiku~ Online Raffle

Running until November 4 at 16:59

Price: ¥715 per entry (*Shipping Fees will be separate.) 

Official Site: https://kujibikido.com/lp/tokyoghou/

Online Lottery To Feature Limited Illustrations from TV Anime BAKUTEN!!

Online lottery service Kujibikido have teamed up with anime BAKUTEN!! to create an original BAKUTEN!! Online Lottery, available between 17:00 on September 6 and 16:59 on October 6.

 

Lineup

S Prize: Pick One! Life-size Tapestry (6 Types) ​

A Prize: Sports Towel (6 Types)

B Prize: Acrylic Stand (6 Types)


C Prize: Can Badge (12 Types)


※One prize is guaranteed

Twitter Follow & Retweet Campaign

Enter for the chance to win the C Prize: Can Badge 12 Piece Set

Bonus Campaign

Customers who purchase the 10-Piece Set will receive a free bromide. (Design picked randomly)

The prizes each feature original illustrations from the BAKUTEN!! anime, each based around ' training.' Pay attention to the characters who are training hard with all their might! The S tier prize is a lineup of life-size tapestries, with plenty more prizes to win. Make sure to check out Kujibikido's 'BAKUTEN!! Online Kuji' for yourself!

Plus, if you follow and retweet the specified post during the Retweet Campaign, you'll be entered into a draw to win the C Prize: Can Badge 12 Piece Set, so don't miss it!

MINISTOP to Release Limited-Edition Cinnamoroll Sweets, Prize Lottery

Japanese convenience store chain MINISTOP is collaborating with popular Sanrio character Cinnamoroll for the "Cinnamoroll Sweet Time Lottery." The event will start at stores nationwide on August 18, 2021. Four special Sanrio products were also launched at MINISTOP stores on August 11. 

Cinnamoroll Sweet Time Lottery ©2021 SANRIO CO., LTD

Product Images

Sanrio Characters Strawberry & Whipped Cream: ¥440 (Tax Included, Now on Sale)

Sanrio Characters Chocolate & Whipped Cream: ¥440 (Tax Included, Now on Sale)


Cinnamoroll's Tail Parfait: ¥259 (Tax Included, On Sale August 17)

Cinnamoroll's Cinnamon Roll: ¥149 (Tax Included, On Sale August 17)

Customers will receive one raffle ticket for every purchase of ¥700 (including tax) or more. 30 people will be selected by lottery to participate in a two-minute online video call with Cinnamoroll. Those who aren't selected in the lottery will receive an AR Cinnamoroll photo frame. 

Other prizes include vouchers for popular in-store items, half-price coupons for use on bento lunches, and free soft-serve ice cream tickets. These will be available to 2,000 winners by drawing. 

Keep an eye out for these fluffy and adorable Cinnamoroll sweets!

Information

Cinnamoroll Sweet Time Lottery

Release Date: August 18, 2021

Where to Buy: MINISTOP Convenience Stores across Japan

Official Site: https://www.ministop.co.jp/

Pretty Boy Detective Club Anime Prizes Now Available at Digital Kuji

The Pretty Boy Detective Club Special Kuji will be landing on Digital Kuji's Challenge Kuji service between August 5 and August 25, 2021.  The limited lineup is full of goods from NISIOISIN's anime project,  Pretty Boy Detective Club.

Pretty Boy Detective Club Special Kuji

A Prize: Big Acrylic Stand

B Prize: 15cm BIG Can Badge

C Prize: 57mm Can Badge Set

D Prize: Acrylic Stand

E Prize: Acrylic Photo Card

The Pretty Boy Detective Club Special Kuji lineup includes a selection of limited edition items, including a large 23cm tall acrylic stand, a variety of 53mm character badges, and more. 

The set features Soutouin Manabu (CV. Murase Ayumu), Sakiguchi Nagahiro (CV. Ban Taito), Fukuroi Michiru (CV. Masuda Toshiki), Ashikaga Hyouta (CV. Yano Shōgo), and Yubiwa Sousaku (CV. Satō Gen) from Pretty Boy Detective Club.

 

If you're a fan of the anime then make sure to check out these limited goods! 

 

©NISIOISIN / Kodansha, Aniplex, Shaft

Win Bungo Stray Dogs Anime Merchandise in Online Lottery Draw

In celebration of the 5th anniversary of the anime series Bungo Stray Dogs, an online lottery draw will take place in Japan between August 3-24 where fans can win themselves exclusive merchandise.

S-Tier Prize: Big Tapestries | 6 Designs

A-Tier Prize: A3 Clear Posters | 6 Designs

B-Tier Prize: Acrylic Stand Figures | 6 Designs

C-Tier Prize: Mini Acrylic Stand Figures | 17 Designs

D-Tier Prize: Acrylic Charms | 23 Designs

E-Tier Prize: 75mm Pins | 18 Designs

 

F-Tier Prize: 75mm Pins | 11 Designs

Retweet Campaign: Win the B-Tier acrylic stand figures

Bonus Campaign: Win a heart-shaped or holographic pin

The merchandise features newly-drawn artwork of the characters from the series. A retweet campaign is also taking place where 5 random people have the chance to win a full set of the acrylic stand figures by following the official Kujibikido lottery Twitter and retweeting the relevant tweet. And f you buy a set of 10 items, you can win a free heart-shaped or holographic pin.

Mr. Osomatsu Escape Game Heads to Fukuoka

SCRAP's Mr. Osomatsu themed escape game "Escape From the Black Market Empire," which is currently taking place in Tokyo, Nagoya, and Osaka, has proven so popular that it's set to open in Fukuoka on August 1.

Exclusive merchandise when buying select tickets: glass, coaster, business card, and card case

Sticker Set ¥300 / Folder ¥1,000 / Pins ¥500 / Acrylic Keyrings ¥800 / Mini Tote Bags ¥2,000 (Tax Included)


The escape game, which is called "Escape From the Black Market Empire," features an original voiced story (recorded by the original voice actors) that has players using their smartphones to communicate with the six Matsuno siblings. They must work with them to help repay their debt.

The event also has its own exclusive merchandise. In Fukuoka, it will be held at SPACE on the Station on the 6th floor of SOLARIA STAGE which is located not even a minutes' walk from Nishitetsu Fukuoka (Tenjin) Station.

Information

Mr. Osomatsu Escape Game: Escape From the Black Market Empire

Start Date: August 1, 2021

Venue: SOLARIA STAGE (6th Floor – SPACE on the Station)

General Tickets: ¥2,700

Advance Tickets w/Merchandise: ¥5,700

Official Website: https://realdgame.jp/osomatsusan/

Anime CD Drama Series DIG-ROCK Gets Lottery Merch Release

Maru Kuji, a Japanese anime merchandise website that works on a lottery system, released a new collection of DIG-ROCK merch on May 31.

The Line-Up

DIG-ROCK is a popular CD drama series that's part of Team Entertainment's CD drama label MintLip. The is centred on DIGNITY PRODUCTION, a talent agency that manages many popular talent, specifically the fictional bands RUBIA Leopard and Impish Crow. It's a tale of friendship and conflict. In the latest series, titled -dice-, the mysterious band HOUND ROAR have entered the fray.

The merch line-up includes large posters, towels that come with bromides, acrylic key holders with designs taken from the CDs, pins, folders, and more.

Information

Maru Kuji x DIG-ROCK

Order Window: May 31, 2021 – July 5, 2021

Price: ¥715 Per Turn (Tax Included)

Official Website: https://marukuji.jp/

Guarantee Yourself a Win of Touken Ranbu -ONLINE- Merch

Minna no Kuji, a Japanese lottery draw service that guarantees a win every time, is set to release a new collection of Touken Ranbu -ONLINE- towels at FamilyMart, Touken Ranbu Yorozuya Honpo, hobby shops, bookstores, and elsewhere in Japan on June 26.

The Line-Up

A-Tier Prize: Kashuu Kiyomitsu Towel

B-Tier Prize: Kokindenjunotachi Towel

C-Tier Prize: Matsui Gou Towel

D-Tier Prize: Taikou Samonji Towel

E-Tier Prize: Sports Towels (10 Designs)

F-Tier Prize: Pocket Towel Handkerchiefs (4 Towels)

G-Tier Prize: Motif Hand Towels (14 Designs)

The towel collection features designs inspired by the characters from DMM Games and Nitroplus's free to play collectable card video game Touken Ranbu -ONLINE-. Prizes A through C feature a claok design so you ccan dress up like the characters. the D-tier prize is a large bath towel inspired by Taikou Samonji, and E-tier prizes are sports towels with designs of several characters. There are also handkerchiefs and hand towels too.

©2015 EXNOA LLC/Nitroplus

Information

Minna no Kuji x Touken Ranbu -ONLINE- Towels
Release Date: June 26, 2021発売日:2021年6月26日(土)
Where: Japan (FamilyMart / Touken Ranbu Yorozuya Honpo / hobby shops / bookstores)
Price: ¥700 Per Turn (Tax Included)

Official Website: http://f-ch.jp/tohken50/

Mr. Osomatsu Themed Hotel Rooms Open Across Japan

KADOKAWA has announced that it's taking the Mr. Osomatsu themed hotel room from EJ Anime Hotel at Tokorozawa Sakura Town in Saitama, which ran from December 3, 2020 to March 31, 2021, to six hotels in Sapporo, Nagoya, Osaka, and Hakata starting on April 28.

Mr. Osomatsu anime freebies for guests

Design of the free mask case

Free coaster

The 'EJ' of EJ Anime Hotel stands for 'Entertainment Japan.' The hotel aims to have guests living inside the stories they love from a wide range of Japanese media from anime to manga, movies, tokusatsu SFX movies, idol culture, and more. As well as room decorations and the exclusive merch that will be on sale, the hotel is also offering a new kind of accommodation experience by incorporating videos, sounds, lighting, and more. Its restaurant will also offer a selection of food and drink in collaboration with various series including all-out full course dinners.

Due to its popularity with guests, the Mr. Osomatsu themed anime room is heading to six locations across Japan which are listed below.

©赤塚不二夫/おそ松さん製作委員会

This Mr. Osomatsu Merchandise is Created From the Perspective of a Cat

Japanese video game developer and product manufacturing company D-techno released a new collection of Mr. Osomatsu merchandise on Friday with designs imagined from the perspective of a cat. The items are available as part of a lottery draw running until May 7 where fans can win the items.

A-Prize: Giant Cloths (6 Designs)

B-Prize: Acrylic Diorama Stands (6 Designs)

C-Prize: Hand Towels (6 Designs)

D-Prize: Acrylic Key Rings (6 Designs)

E-Prize: Mini Acrylic Stands (6 Designs)

F-Prize: Pins (6 Designs)

Bonus Prize: Coaster (6 Designs) | Available for every 5 items bought in one transaction

The Full Line-Up

There are six designs for each piece of merchandise, each for a different one of the Matsuno siblings. The prizes range from an enormous cloth to pins. The fun collection is a must for fans of the series.

Who is your favourite of the sextuplets?

©赤塚不二夫/おそ松さん製作委員会
©D-techno

Information

Mr. Osomatsu Cat Collection

Japanese Product Name: おそ松さんのWEBくじ「おいでぼくらの子ネコちゃん」

Order Window: March 25, 2021 – May 7, 2021 (Last orders at 18:59 on the final day)

Buy Here (Japan): https://web-kuji.jp/lotteries/osomatsusan_9

Mr. Osomatsu Anime Themed Interior Products Release to Deck Your Home Out With

Japanese interior shop UselessUse laboratory have teamed up with the popular manga series Mr. Osomatsu to release a collection of interior goods inspired by the six Matsuno brothers. Orders are available until April 19 at UselessUse laboratory's online shop.

Plate Set (6 Included) | ¥9,900 (Tax Included)

Blankets (6 Designs) | ¥8,800 Each (Tax Included)

Table Clocks (6 Designs) | ¥6,600 Each (Tax Included)

The line-up includes a collection of table clocks, blankets, and plates, each in a different colour to represent the six siblings from Mr. Osomatsu. Perfect for anime fans to deck their houses out with. And for every item bought, fans will receive an  illustration of the six brothers enjoying some relaxing at-home time.

(C)赤塚不二夫/おそ松さん製作委員会

Information

UselessUse laboratory Mr. Osomatsu Merchandise

Order Window: March 24, 2021 – April 19, 2021

Shipping: Late August 2021

Online Shop: https://www.uselessuse-lab.com/

Mr. Osomatsu Releases Merchandise Collection in Collaboration With Ani-Art

Japanese anime merchandise website AMNIBUS recently released its third collection of Mr. Osomatsu items in collaboration with Ani-Art.

<12 Designs> Acrylic Stands ¥800 Each / Full Set ¥9,600 (Before Tax)

The box containing the full set of acrylic stands

<12 Designs> Acrylic Key Rings ¥680 Each / Full Set ¥8,160 (Before Tax)

The box containing the full set of acrylic key rings

<12 Designs> Pins ¥430 Each / Full Set ¥5,160 (Before Tax)

The box containing the full set of pins

The collection features designs of all 12 of the Matsuno siblings. Who is your favourite?

©赤塚不二夫/おそ松さん製作委員会