Tokyo Revengers Anime's Mikey Gets Inspired Hoodie
A hoodie inspired by Mikey from Tokyo Revengers was released in Japan at Animate and Movic's online stores last week and is available to order until June 30.
Tokyo Revengers is a manga series written and illustrated by Ken Wakui and serialised in Weekly Shonen Magazine. An anime adaptation began in April this year and a live-action movie is planned for release this July.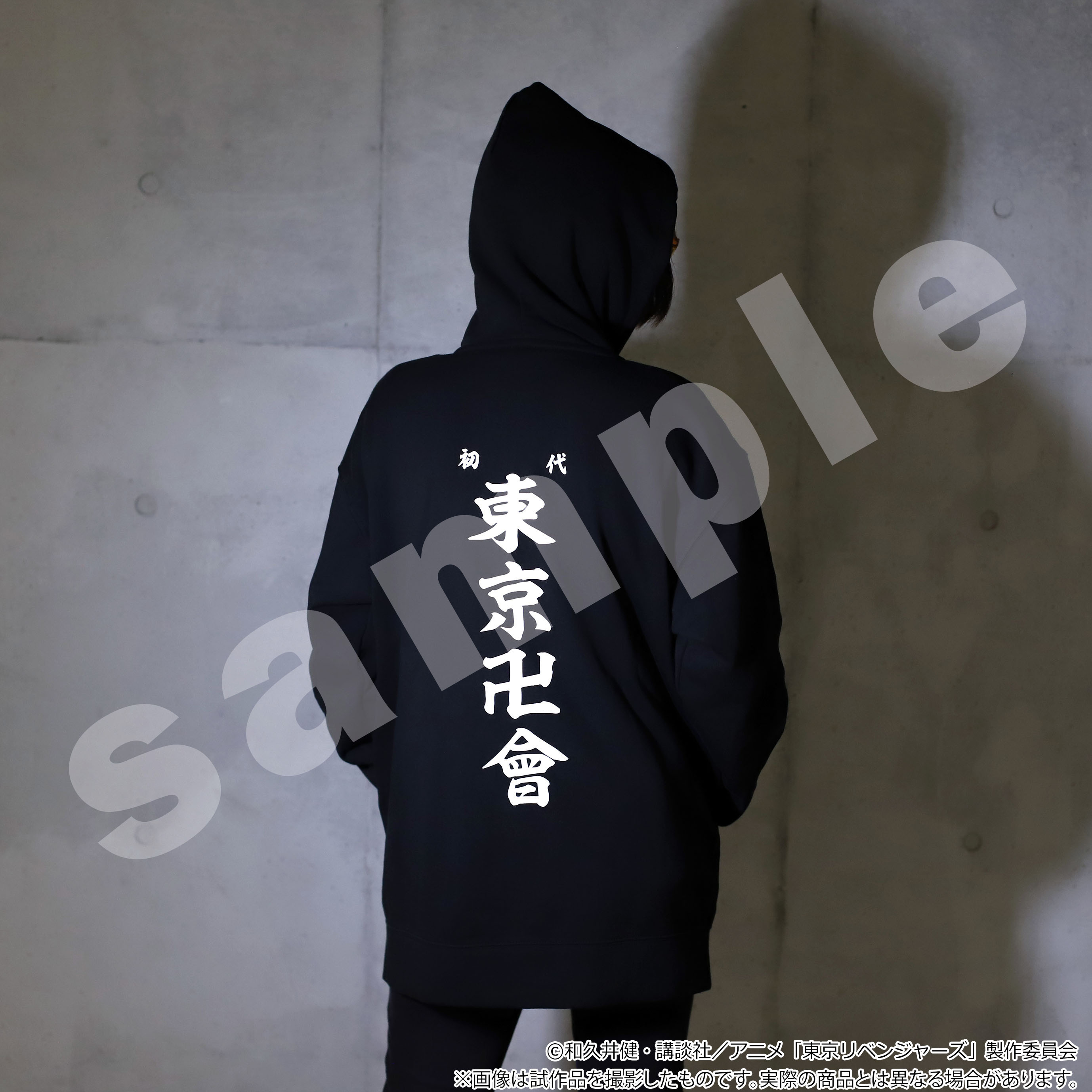 The hoodie is inspired by Mikey, a founding member and leader of the Tokyo Manji Gang who also goes by the name Invincible Mikey. On the front of the hoodie it reads "Throughout Heaven and Earth, I alone am the honoured one" (天上天下,唯我独尊) while on the left arm it says "President and Founding Member" (初代総長). The hoodie features a unisex silhouette so everyone can enjoy wearing it and feel like they're a member of the gang too.

(C)和久井健・講談社/アニメ「東京リベンジャーズ」製作委員会

RELATED ENTRIES
Apparel Brand KANGOL Opens Preorders for Tokyo Revengers Collaboration Goods

KANGOL has officially opened preorders for its new Tokyo Revengers collaboration collection on its online store. 

Lineup

The KANGOL brand originated in England in 1938 and is popular among street fashion-lovers around the world. Recognizable by its signature kangaroo mark, this new Tokyo Revengers collection combines the series' street sense with the high-quality KANGOL brand, popular among artists in the music scene. 

Tokyo Revengers has proven to be a driving force in bringing Japanese anime culture to people around the world, blending science fiction, action, suspense, and classic gangster swag. The recent feature film, in particular, shows a fast-paced representation of Japanese street culture from the past to the present, with each character having their own individual style and principles. Now, using this lineup from KANGOL, fans can show off their own style. Which piece are you after?

Tokyo Revengers Art Exhibition to Open in Tokyo and Osaka in 2022

The globally popular manga series Tokyo Revengers has been serialized in Weekly Shonen Magazine since 2017 and has sold over 40 million copies. An anime series began in April 2021, and a live-action film made its way to theaters in July. In 2022, a Tokyo Revengers art exhibition will be coming to Tokyo and Osaka for a limited time. The event will be coming to Tokyo in January and to Osaka in March.

Ticket + Merch Bonus: T-Shirt

Stickers for Visitors (6 varieties)

*One sticker will be given to visitors at random. Guests cannot choose the pattern. 

*Stickers cannot be exchanged unless they are defective. 

*Stickers will be available while supplies last. 

*Admission privileges will be distributed only to those with paid admission. 

Teaser images for the event have already been unveiled, and the first ticket lottery is now underway. 

(C)和久井健/講談社

Super Beaver Concert on November 7 to be Broadcast on WOWOW

You might have heard the theme song for the Tokyo Revengers film, Namae wo Yobu yo. Sung by rock band Super Beaver, it's become a smash hit, and from October to November, the group is on the biggest arena tour of their career. Super Beaver's performance at Saitama Super Arena on November 7, 2021, will be broadcast live by WOWOW, giving more fans a chance to see the group in action. 

Super Beaver has gone through a lot in the past year. The band is celebrating 16 years of music-making, and have moved back to a major label in 2020. The band has seen plenty of new fans after performing the theme to the Tokyo Revengers live-action film in February 2020, with their live performances always bringing plenty of passion, energy, and emotion. The sound of the group's guitar, bass, and drums seem to perfectly express the struggles, worries, and determination all people feel in their youth. Super Beaver's album 'I Love You,' released in February 2021 hit #2 on the Oricon charts, the highest ever for the band. A number of tracks have been selected to appear in commercials, drama, anime series, and films. 

A total of 10 WOWOW subscribers will win T-shirts autographed by the band members if they participate in the Super Beaver drawing. Ahead of the live show, a commentary video from the members will be released on the official WOWOW music Twitter account, so be sure to check it out!

Information

SUPER BEAVER Tokai no Rakuda SP ~Love Cannon, 2-Days~

Live Broadcast

Date: November 7, 2021, at 5:00 PM

Streaming: WOWOW Live, WOWOW On-Demand

*Performance will be archived for one month after broadcast. 

Recording Date: November 7, 2021

Recording Location: Saitama Super Arena

*WOWOW On-Demand is now offering a free trial and is available on smartphones and tablets.

Member Comment Video: WOWOW MUSIC https://twitter.com/wowow_mj(@wowow_mj)

Details/Official Site: https://www.wowow.co.jp/beaver/

Mikey Version of Tokyo Revengers Opening Song 'Cry Baby' Uploaded to YouTube

A special version of the Tokyo Revengers opening theme Cry Baby, performed by Official Hige Dandism, has popped up on YouTube! This time, the track is being sung by Yu Hayashi, the voice actor behind the popular character Manjiro Sano, aka Mikey.  

Tokyo Revengers OP Cry Baby – Mikey ver. 

This marks the third time a character from the show has been featured covering a song, following Shunichi Toki, who plays Kazutora Hanemiya, and Azumi Waki, who plays Hinata Tachibana. 

Following the song, fans can enjoy a special interview with Yu Hayashi, so don't miss it!

©和久井健・講談社/アニメ「東京リベンジャーズ」製作委員会

Information

Tokyo Revengers

Broadcast Times

MRT Miyazaki Broadcasting: Saturdays at 25:28

UTY Television Yamanashi: Sundays at 24:50

NCC TV Nagasaki: Thursdays at 25:18

Iwate Broadcasting: Mondays at 24:58

Aomori TV: Mondays at 25:25

Tokyo Revengers Official Site: https://tokyo-revengers-anime.com 

Tokyo Revengers Featured in 10th Installment of Anime-Inspired Cooking Project Anicook

AniCook, a project by CookpadTV using anime to make cooking more fun, is holding its 10th collaboration with the extremely popular anime series Tokyo Revengers! The event will be held from October 29 until November 23, and will feature characters from the show dressed in original cafe staff costumes serving up themed foods. Reservations are now open, and those coming to the cafe on Halloween might just get a surprise gift!

Menu

Food

Desserts

Drinks

Stickers gifted for each food and dessert order (8 varieties) / Postcards gifted for drink orders (8 varieties) 

Exclusive Merchandise

CookpadTV continues to lead the way in quality collaboration cafes across Japan and has arranged each dish with specific characters in mind. The concept this time around is 'one-bite knockout,' with each menu item made to be so tasty guests will be KO'ed instantly, as if they've just been kicked by Mikey himself. 

Tons of xclusive merchandise will also be on sale, so don't miss out! These will also be available on the CookpadTV website. 

*Please note that the design and color of the exclusive merchandise are subject to change. 

©和久井健・講談社/アニメ「東京リベンジャーズ」製作委員会

Information

cookpadLive Tokyo Revengers

Address: Shinsaibashi PARCO 5F (1-8-3 Shinsaibashisuji, Chuo-ku, Osaka) 

Running: October 29 – November 23, 2021

Hours: 11:00-21:00

Please make reservations on the official website. 

E-commerce site: https://cookpadtv.stores.jp/

Official Site: https://cookpadlive.cafe/collabo11

R4G x Tokyo Revengers Collaboration Pop Up Store Opens in Hiroshima

Anime fashion brand R4G has collaborated with Tokyo Revengers to produce a lineup of limited collaboration items that will be sold in AZUL BY MOUSSY AEON MALL Hiroshima between October 8 and October 17.

TOKYO REVERSIBLE COACH JAKET ¥14,300 (Tax Incl.)

REVENGERS TEE ¥4,400 (Tax Incl.)


SCENE PHOTO TEE ¥4,400 (Tax Incl.)


SCENE PHOTO L/S TEE ¥5,500 (Tax Incl.)


REVENGERS CAP ¥3,300 (Tax Incl.)


REVENGERS RUBBER KEYCHAIN ¥660 (Tax Incl.)


REVENGERS COIN CASE ¥1,650 (Tax Incl.)


REVENGERS CREWNECK  ¥6,600 (Tax Incl.)


REVENGERS SWEATPANTS ¥8,800 (Tax Incl.)


REVENGERS ACRYLIC STAND Hanagaki Takemichi / Sano Manjirou / Ryūguji Ken  ¥1,650 (Tax Incl.)


REVENGERS CLEARFILE Hanagaki Takemichi / Sano Manjirou / Ryūguji Ken / 3shot ¥550 (Tax Incl.)


REVENGERS STICKER ¥1,100 (Tax Incl.)


REVENGERS RIBBON KEYCHAIN 花垣武道/佐野万次郎/龍宮寺堅 ¥1,100 (Tax Incl.)


REVENGERS FACE COVER(Reversible) ¥1,980 (Tax Incl.)

REVENGERS BADGE 75mm ¥550 (Tax Incl.)


 

A part of the store will be converted into a Tokyo Revengers pop up shop, with life-sized panels of Hanagaki Takemichi, Mikey (Sano Manjirou), and Draken (Ryūguji Ken) wearing the collaboration clothing. You'll find yourself wanting to get dressed up and twin with your favorite character! A scene from the anime will also be set up as a photo spot, making it the perfect space for any Tokyo Revengers fan.

The AEON MALL Hiroshima Fuchu store will be stocking 14 designs overall, including printed T-shirts, a brand-new reversible coach jacket, keychains with pixel dotted logo and gang name designs, and a coin case with the words "TOKYO" and "REVENGERS" printed all across the fabric. These items are all limited edition and are only available for a short time, so be sure to pick them up while you can! Some pieces will be released online, so be sure to check it out.

©Wakui Ken・Kodansha / Anime 'Tokyo Revengers' Production Committee

Information

R4G x 'Tokyo Revengers'
Availability: October 8 ~ October 17 2021 (10 Days)
Location: AZUL BY MOUSSY
AEON MALL Hiroshima Fuchu
Tokyo Revengers Corner
2-1-1 Osu, Fuchu, Aki District, Hiroshima
AEON MALL Hiroshima Fuchu 1F
TEL: 082-561-0750
Opening Hours: 10:00 ~ 20:00
Online Store: https://www.ec-store.net/category/R4G
Official Site: https://azul-m.com/

AZUL BY MOUSSY Selling Tokyo Revengers Collab Merch at Tokyu Square Flagship Store

The Minatomirai Tokyo Square AZUL BY MOUSSY shop is now selling collaboration merch inspired by the popular anime series Tokyo Revengers! The items will only be on sale until September 26, so if you're in the area, be sure to stop by before the event ends. 

Draken S/S Shirt: ¥9,900 (Tax Included) 

Revengers Tee: ¥4,400 each (Tax Included) 

Scene Photo Tee: ¥4,400 each (Tax Included) 

Revengers Crewneck: ¥8,250 each (Tax Included) 

Revengers Sweatpants: ¥8,800 each (Tax Included) 

Scene Photo L/S Tee: ¥5,500 each (Tax Included) 

Revengers Cap: ¥3,300 each (Tax Included) 

Revengers Rubber Keychain: ¥660 (Tax Included) 

Revengers Coin Case: ¥1,650 (Tax Included) 

Revengers Acrylic Stand (3 varieties): ¥1,650 each (Tax Included) 

Revengers Clear File (3 varieties): ¥550 each (Tax Included) 

 

Revengers Sticker: ¥1,100 (Tax Included) 

Revengers Ribbon Keychain (3 varieties): ¥1,100 (Tax Included) 

Revengers Reversible Face Mask: ¥1,980 (Tax Included)

Revengers Pin: ¥550 each (Tax Included)

The AZUL BY MOUSSY flagship store at Tokyu Square is the only place to get these limited-edition goods. This shop opened in spring 2021 and calls itself the nation's only 'Radical Store' filled with the unique elements of space, sound, fragrance, culture, person, and black. Those might be strange descriptors, but these words completely embody the AZUL BY MOUSSY brand concept. 

A part of the shop will feature brand-new illustrations of Takemichi, Mikey, and Draken clad in some of the new merch. Talk about breaking the fourth wall!

Tokyo Revengers is currently popular worldwide. The original manga series was written and illustrated by Ken Wakui and has been serialized in Weekly Shonen Magazine since March 2017. The anime series just wrapped, and a live-action film was released in Japan in July. Over 20 million copies of the manga have been sold to date. 

©和久井健・講談社/アニメ「東京リベンジャーズ」製作委員会

Information

AZUL BY MOUSSY x Tokyo Revengers

Available: September 17 – September 26, 2021

Where: AZUL BY MOUSSY Minatomirai Tokyu Square Location

Official Site: https://www.minatomirai-square.com/

Tokyo Revengers Characters Speak Local Dialects on New Posters Across Tokyo Station

Starting September 13, characters from the popular anime series Tokyo Revengers are taking over Tokyo Station in a unique new poster campaign! In addition to one main poster featuring all main characters, 47 local posters–one for each Japanese prefecture–are being displayed throughout the massive train station, with characters speaking in local dialects to promote different areas of Japan. For those learning Japanese, this is a neat way to learn more about the unique vocabulary used throughout the country. 





A fun Twitter campaign is also underway, asking fans to tweet #オレの地元が最強 (#MyHometownIsTheStrongest). The special prize will be a B0 Japan Revengers poster, given to only one winner, with the remaining 47 winners able to snag a B2-size poster. 

A special advertisement for Japan Revengers will appear in the morning edition of the September 17th edition of the Asahi Shimbun newspaper. Additionally, to celebrate the release of the 24th volume of the Tokyo Revengers manga series, those who purchase the new volume will receive one randomly-selected 47-prefecture illustration card during the in-store campaign.

Be sure to check out which prefecture your favorite character is repping! 

Antagonist of Tokyo Revengers Performs Special Version of the Anime's Ending Theme

Enigmatic artist Nakimushi is the artist behind the second ending theme of globally-popular anime series Tokyo Revengers. Now, a special version of the song has been released, sung by a very fitting performer: Shunichi Toki, who plays one of the show's antagonists, Kazutora Hanemiya.

The song, 'Tokyo Wonder,' has resonated with anime fans for it's rock-meets-digital sound. The original singer, Nakimushi, has also become popular with Gen Z for his complete anonymity, keeping his face, age, and name under wraps.

Check out the new version of the track. What do you think?

Tokyo Revengers Ending 2, 'Tokyo Wonder' (Kazutora ver.)

 

The stem data and instrumental version of the track is now freely available on the song's special site. Using the stem data, creators can freely manipulate the track itself, seeing how each piece came together to make the final product. These freebies will be available until December 31, 2021. For more information on how to download the songs, visit Nakimushi's website or Twitter page.

The music video for Tokyo Wonder has been viewed more than 1.7 million times on YouTube, and also ranked in the Apple Music J-Pop Top 10 ranking in 28 countries. It also ranked in the iTunes Store Top 10 in 14 countries. The non-credit ending video has amassed over 6.3 million views on YouTube in the two months since it's release.

©和久井健・講談社/アニメ「東京リベンジャーズ」製作委員会

Nakimushi Release Stems and Instrumental of Tokyo Revengers ED "Tokyo Wonder"

Nakimushi, who performed the ending song for the second cour of TV anime Tokyo Revengers, have opened a special website to distribute the stem data and instrumental track for their song Tokyo Wonder.

 

Using the released stem data, you can listen to each individual part that makes up the song and mix them up, listening to each track on its own or with other parts. You can play with the parts, adding your own vocals, and creating your own remix of Nakimushi's song.

The stems and instruments will be available until December 31 2021 at 23:59. The details on how to download them are available on Nakimushi's official homepage and Twitter account, so be sure to check it out.

 

Tokyo Wonder is the ending song for the second cour of the anime Tokyo Revengers, with the Bloody Halloween Arc starting in July 2021. The song has over 1.4 million views on YouTube and has taken off in popularity both in Japan and overseas, reaching within the TOP 10 in both the Apple Music J-Pop Ranking in 28 countries and the iTunes Store J-Pop Ranking in 14 countries.


 

©Wakui Ken, Kodansha / Anime Tokyo Revengers Production Committee

©和久井健・講談社/アニメ「東京リベンジャーズ」製作委員会

Video Distribution Service dTV Announces Viewer Rankings for First Half of 2021

Streaming service dTVⓇ has announced its overall viewer ranking for the first half of 2021. Did your favorite shows make the cut?


Jujutsu Kaisen

Tokyo Revengers

Demon Slayer: Kimetsu no Yaiba

Attack on Titan The Final Season

Kimetsu Academy 

dTV First Half Viewer Ranking 2021

Jujutsu Kaisen

(Anime) 

Detective Conan: The Scarlet Bullet

(Anime Film)

Tokyo Revengers

(Anime)

Demon Slayer: Kimetsu no Yaiba

(Anime)

Attack on Titan The Final Seaso

n (Anime)

Furuhata Ninzaburo

Season 1 (Drama)

Detective Conan

(Anime)

Alita: Battle Angel

(Western Film)

Kimetsu Academy

(Anime)

BTS JAPAN OFFICIAL FANMEETING VOL.5 [MAGIC SHOP] (Special)


The first and second seasons of Tozaburo Furuhata are no longer available. Season 3 is out now. 

Pulling in the most views between January and July was Jujutsu Kaisen, the popular anime series following high-schooler Yuji Itadori and his struggle with curses and sorcery. The show took the top spot by a huge margin, sitting at number one for four consecutive months between January and April. What makes it so popular? It could be its blend of horror and comedy, making it an attractive watch for all kinds of anime fans. 

In second place, Detective Conan: The Scarlet Bullet. Who is Shuichi Akai, and what was his involvement in the disaster at the World Sports Games? This is the 24th Detective Conan film, and not one to miss, grossing over $20 million and holding the title of the third highest IMAX opening in Japanese history. 

Rounding out the top three, anime series Tokyo Revengers tells the story of a delinquent with the ability to travel back in time. When his lover is murdered, Takemichi Hanagaki goes back to his junior high school days, intent on saving her life. Airing on dTV beginning in April, viewership has steadily increased, reaching #3 in May and hitting the top spot in June. 


 

Unsurprisingly, two internationally beloved series also made the top ten. Demon Slayer: Kimetsu no Yaiba and Attack on Titan The Final Season sit in fourth and fifth place, making the top five an anime-only club. Kimetsu Academy, a junior and senior high-school spinoff of Demon Slayer sits at number nine, even though episodes are less than two minutes long on average. Never underestimate the power of animation!

The classic 1994 drama series Furuhata Ninzaburo began to climb the rankings after the death of Masakazu Tamura in April this year from heart failure. Though seasons one and two are no longer streaming on the service, season three was just added to the catalogue on August 1!

Hollywood epic Alita: Battle Angel, an adaptation of the sci-fi manga series, was the only western film to crack the top ten. BTS JAPAN OFFICIAL FANMEETING VOL.5 [MAGIC SHOP], which included footage of a special event with fans at the popular KPOP group's last show at Kyocera Dome Osaka in 2019, finishes out the list. 

While these ten might have drawn the most views, there are plenty of other films, concerts, dramas and anime series available on dTV, so be sure to check them out!

Tokyo Revengers Loungewear Collection to be Released at Animate

Japanese anime and manga merchandise chain animate is opening pre-orders for a new collection of Tokyo Revengers loungewear on September 1 as part of their Animate Limited Selection line. The clothes will be released on November 26.

Manjiro Sano loungewear sample pictures

The collection includes 5 different loungewear sets each inspired by a different character and their outfits from the anime. They are comfortable to wear and durable, each embroidered with gold leaf kanji characters.

(C)和久井健・講談社/アニメ「東京リベンジャーズ」製作委員会