Ace Hotel Kyoto Commemorates 1st Anniversary With Yu Nagaba Exhibition
Ace Hotel Kyoto marked its 1st anniversary on June 11 since opening. In celebration of hitting the milestone, the hotel is collaborating with Japanese artist Yu Nagaba by displaying his work at its gallery until June 30. The works displayed are of the sights and people that Nagaba saw and penned in a memo pad while staying at Ace Hotel Kyoto. All of the illustrations were made for this exhibition and so they are being exhibited for the first time. One of the pieces is also being sold at stickers in the hotel's shop.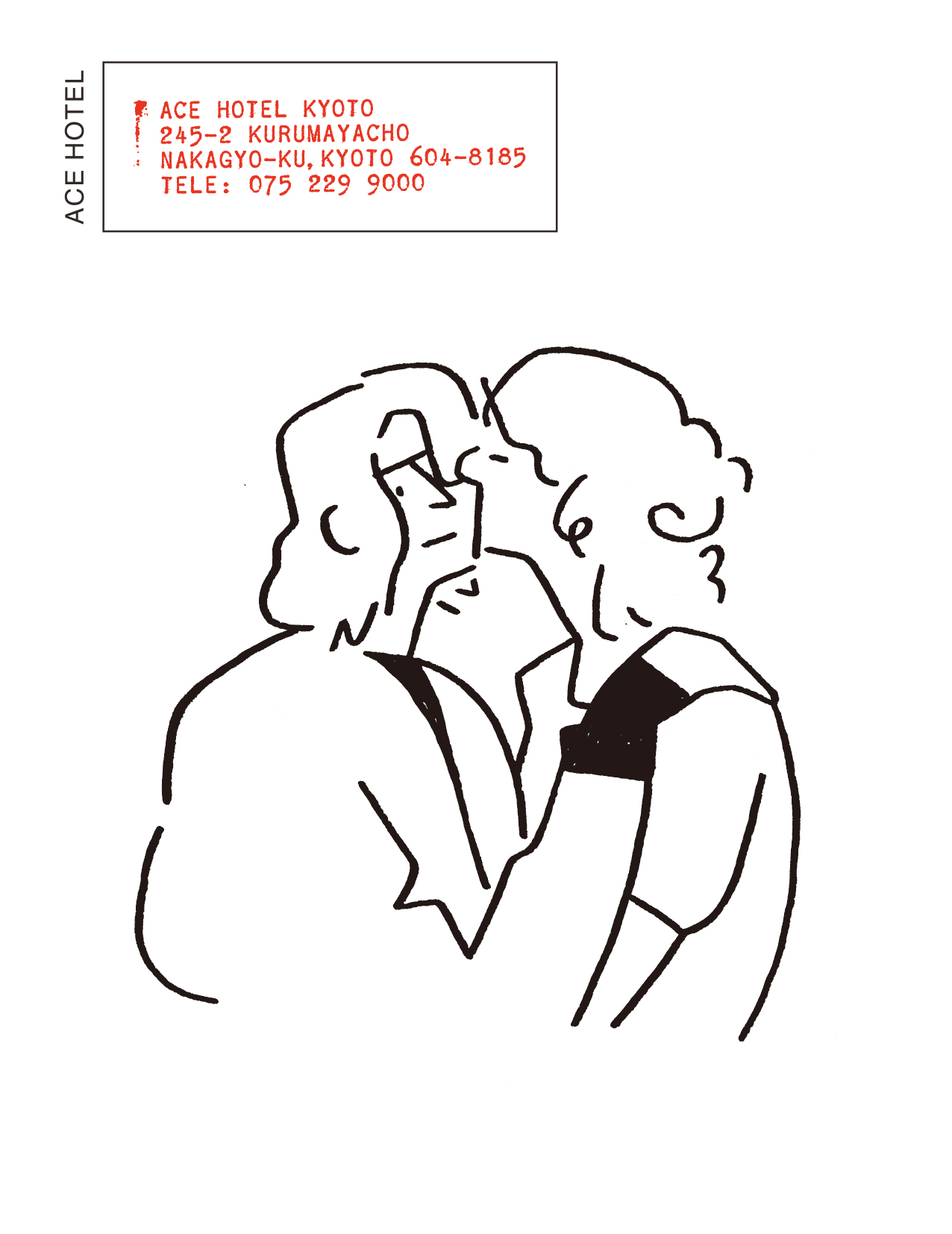 Yu Nagaba's work
Yu Nagaba | Comment
"After I heard whispers that Ace Hotel was setting up in Kyoto, I hoped I could do something, so I was happy to take part in this project, but I also spent my time wondering what I could draw, and no ideas came to mind. After pondering I went to find inspiration by deciding to stay at Ace Hotel. I drew what came to mind during my time there as I walked the streets of Kyoto and spent time at the hotel. I drew a total of 49 illustrations in my memo pad. I painted six of my favourites on canvas. I hope people can get a feel for my experiences of Kyoto in these pieces."
Information
Ace Hotel Kyoto x Yu Nagaba
Running: June 7, 2021 – June 30, 2021
Location: Ace Hotel Kyoto (Floor 1F Gallery Space)
Entry: Free
Official Website: https://www.acehotel.com/kyoto/
RELATED ENTRIES
Miyako Hotel Kyoto Hachijo Launches Sento Bath Hotel Plan

Miyako Hotel Kyoto Hachijo launched a new hotel plan on July 26 which includes a ticket to bathhouses around Kyoto, a bath amenity set, a hotel-original sento t-shirt, and more.

Available until March 30, 2022, the plan was conceived as a way for tourists to enjoy the ordinary, everyday Kyoto in a way that's different from people's usual tourist and sightseeing experiences in the city. Kyoto continues to be a hub for sento bath culture.

Hinode-yu, a bathhouse in Minami Ward, Kyoto

Hotel-original tees are available as part of the plan

Receive a bath amenity set and bathhouse ticket

Kyoto is home to around 100 unique sento bathhouses where people can enjoy a relaxing soak in a giant public bath while chatting. It's a huge part of Kyoto culture and one which is seeing a steady increase in popularity again with the younger generation.

If you're staying in Kyoto this year or planning a trip early next year, don't miss out on this limited-time hotel plan.

Art For Social Change Project Launches in Japan Using Waste to Create Art

Innovation Design launched its new 'Art For Social Change' project at haishop in Shibuya Scramble Square on July 21 which sees artwork made from waste.

According to Japan's Ministry of the Environment, 42.74 million tonnes of garbage has been thrown out since 2019. That's the equivalent of around 115 Tokyo Domes, or 918g of waste per person everyday. The waste cannot be exported, and so real action is required to reduce the amount of waste create on the island country of Japan, especially when thinking 20 years down the road.

That's where haishop comes in. Using caps from detergent, which are actually no longer sold, as well as plastic caps and other materials resulting from waste, it will create a new identity for waste together with consumers in the form of art. Art For Social Change aims to send a message to society to make real transformations in the world through the medium of art.

It's easy to imagine what happens when creating a product up to its completion, but considering what happens to it after it's been used is a lot more difficult. Every year, the available capacity at final disposal sites decreases more and more. The important topic at hand is getting everyone in Japan to really treasure the products they buy, to conceive ideas on how to prolong longevity of the things that people purchase, and construct a new society centred on recycling and reusing. And this isn't just a Japan problem – it's a global one. That's the message which Art For Social Change carries.

 

The only conditions on participating with the project is that you agree with its goal and that you use materials on sale at haishop. Everyone is invited regardless of age or gender.

The artworks in action


4th year students from Nitobe Bunka Elementary & Junior High School used waste materials to create 'souvenir' theme products which the children are helping to sell at the shop. The proceeds go back to the school itself while helping teach children about new ways of reusing and recycling.

Souvenirs created by the students of Nitobe Bunka Elementary & Junior High School

Mascara bottles made using caps from detergent bottles

New Cocktail Menu Gets Served at KYOTO YURA HOTEL MGallery

KYOTO YURA HOTEL MGallery is now serving a new cocktail and afternoon tea menu in collaboration with Perrier Promotion.

KYOTO YURA HOTEL MGallery is a hotel group based in Paris, France which operates over 5,000 hotels and resorts in 110 countries worldwide. Together with the mineral water brand Perrier, the two companies launched the 'Perrier Promotion with KYOTO YURA HOTEL MGallery' on July 21 which includes a special cocktail and afternoon tea line-up being served up at Lounge & Bar 1867.

Perrier x MURAKAMI Tote Bag

Perrier Cacao & Orange Asian Fizz Mocktail | ¥1,300 (Tax Included)

Perrier Umami & Ryokucha Green Tea Sour Mocktail | ¥1,300 (Tax Included)

Perrier Citrus Iced Tea Mocktail | ¥1,300 (Tax Included)

Perrier Evening Iced Coffee Cocktail | ¥1,700 (Tax Included)

Perrier Flower & Fruit Afternoon Cocktail | ¥1,700 (Tax Included)

Perrier Promotion with KYOTO YURA HOTEL MGallery is an all-day special event taking place at the hotel. At both the hotel entrance, as well as Lounge & Bar 1867, an artwork collaboration by Takashi Murakami and Perrier is being displayed for the duration of the event, adding a colourful vibe to the spaces.

The drinks line-up includes three mocktails which are available on the free flow drinks menu when ordering the hotel's popular afternoon tea. The afternoon tea set was conceived by pastry chef Jennie Chiu and is packed full of summer fruits like passion fruit and mango.

During the collaboration, the first 200 people to order either the afternoon tea set or high tea set will also receive a free novelty tote bag featuring the Takashi Murakami's characters Kaikai and Kiki.

In the evenings, the Perrier Pop-Up Bar are serving two alcoholic cocktails alongside the mocktails.

ESTINATE HOTEL Celebrates Okinawa Branch's 6th Anniversary With Ryu Ambe Collaboration

The lifestyle hotel chain ESTINATE HOTEL's Okinawa Naha branch will turn 6-years-old on August 7, and to celebrate, it will hold a special event in collaboration with the character designer Ryu Ambe from August 6-15. This will be Ambe's first-ever exhibition where his work will be sold in-person.

Pottery in Shujiro Castle Park

"Shima Map" design by Ryu Ambe to be used on posters and t-shirts

ESTINATE HOTEL has welcomed people from all regions of Japan over the years. It has held many events including one two years ago with the theme "Meet Local" and another last year themed on "Feel Global." This year, the catchphrase is "Hello New World" which hopes to encourage people to discover new things by meeting the locals of Okinawa through the medium of art.


Ryu Ambe has a unique designer reminiscent of American comics. For this event, he has created the "Shima Map" which will be used on a variety of merchandise such as 30 limited-edition silk screen posters. There are also pottery pieces inspired by the sea life found in Okinawa's oceans, amongst other art works.

Information

Ryu Ambe Exhibition "HELLO NEW WORLD" at ESTINATE HOTEL
Running: August 6, 2021 – August 15, 2021 @ 11:00-17:00

Ryu Ambe's Stay Duration: August 7, 2021 – August 8, 2021

Location: ESTINATE HOTEL Okinawa Floor 1F Lounge

Address: 23-11 Matsuyama, Naha, Okinawa, 900-0032, Japan

Official Instagram: https://www.instagram.com/estinate_hotel/

Official Website: https://estinate.com/


MK MICHEL KLEIN HOMME Collaborates With Illustrator Orita Kei to Celebrate 25th Anniversary

In commemoration of 25 years since their debut, men's fashion brand MK MICHEL KLEIN HOMME has teamed up with the illustrator Orita Kei to release a t-shirt collection.

Left: "WHITE" / Right: "Gokigen Ikaga" – ¥5,940 Each (Tax Included)

"monotone" – ¥5,940 (Tax Included)

Available at all MK homme stores in Japan since July 23, part of the proceeds of the tees will go towards developing an antibacterial kit using BIO SHIELD as part of the brand's MIZICA PROJECT. The tees are made from 100% cotton, are unisex, and are create in a comfortable and relaxing size.

MIMARU SUITES Kyoto Shijo rolled out its MIMARU Tool Shop on July 22. The new hotel service was made in collaboration with the 109-year-old Kawataki Kyoto Kitchen Shop and Kura Daily Store and gives guests the chance to rent out items from these shops to use in their hotel rooms, everything from cooking and sake sets to tea sets, kitchenware, and more. Best of all, the service is completely free.

The service aims to let guests feel like they're actually living at their hotel room, adding an extra layer of relaxation and comfort.

A selection of antique and modern rentable items can be found in the top floor room of the hotel where they are displayed like a shop. Guests are invited to pick and choose as they please. There are also shops, supermarkets, cafes, and more right next to the hotel so you can pick up bites to eat and drink to enjoy in your room like cooking ingredients, sushi, and so on.

teamLab's Enchanting Ovoids Light Up Chiba Art Festival 2021

Japanese digital art collective teamLab has announced their plans to set up a public art exhibition at Chiba Art Festival 2021 which will take place at Chiba Port Park from July 31 to September 5.

Autonomous Resonating Life and Resonating Trees, teamLab, 2017.

team lab will be showcasing their interactive ovoid digital art exhibit Autonomous Resonating Life and Resonating Trees. The art group describes the work: " The resisting and resonating ovoids placed amongst the trees shine. The light of the ovoids and the light of the trees are autonomous: they shine brightly and then fade slowly, as though they are breathing. When an ovoid is pushed, the colour of the light it emits changes and the tone unique to that color echos. The light that originated from that ovoid resonates out to other ovoids and trees nearby. The tone resonates out continuously in the same way as the light, spreading throughout the ovoids and trees."


Chiba Art Festival is one of several cultural programs hosted by Chiba Prefecture. The Tokyo Olympics and Paralympics are not solely for enjoying sports; they're also an opportunity to enjoy the culture of Japan, and so the country is running many different cultural events across and around the capital. The theme of the festival is to showcase artwork that the city wishes to pass on to the next generation. Many pieces are being displayed around Chiba, including at the Chiba Prefectural Museum of Art, such as illustrations, photos, and more.

POKÉMON COLORS Exhibition Opens at Matsuya Ginza

Matsuya Ginza opened its POKÉMON COLORS exhibition on July 22 which is set to run until August 11. The event is a kaleidoscope of bright colours and shapes of Pokémon and Pokémon motifs, with four activities and one installation to enjoy, as well as 160 original pieces of merchandise for fans to buy.

Logo mark

Art Deli Key Visual | ¥4,400

Pikachu Design Pouches – Assorted Pokémon Design Pouches | Small: ¥1,650 Each, Large ¥3,300 Each

Get your hands on a range of vivid and stylish Pokémon items, take photos at the many different photo spots dotted around the event, and learn the latest news about the Pokémon franchise.

Indigo dye art piece

Dangling from the first floor atrium is a 20-meter Pokémon art piece made by the dye group BUAISOU who used the traditional Japanese art of indigo dyeing to create it.

©2021 Pokémon. ©1995-2021 Nintendo/Creatures Inc./GAME FREAK inc.
ポケットモンスター・ポケモン・Pokémonは任天堂・クリーチャーズ・ゲームフリークの登録商標です。

Information

POKÉMON COLORS

Running: July 22, 2021 – August 11, 2021

Location: Matsuya Ginza – Floor 8F

Opening Hours: 10:00-20:00

Official Website: https://pokemon-colors.com/

Bunkamura Bon Bon: MAPP_ x Atsushi Ito Create Paris Themed Artwork

The Shinjuku-based cultural facility Bunkamura is currently promoting French culture and art as part of its monthly event which focus on different countries each month. Titled Bunkamura Bon Bon – Bunkamura France Monthly 2021 –, the event features artwork and commentary by Japanese graphic designer Atsuhi Ito as well as a Paris-themed menu.

Artwork on the walls at Bunkamura

Artwork on the columns at Bunkamura

Wagon Shop | Running: July 10, 2021 – July 18, 2021

Performance by Jester | Running: July 17, 2021 – July 18, 2021

The title of the artwork decorating the inside of Bunkamura is PLAYTIME and is a collaboration with MAPP_, an art project group known for their diverse artwork including the use of project mapping. The designs were created by graphic designer Atsuhi Ito who has captured the essence of Paris. The facility's cafe is also serving up a special French inspired menu with bistro classics to seasonal fish, summer vegetables, and more.

Atsuhi Ito | Comment

"The inside of Bunkamura is decorated with fictitious Paris artwork with life-size illustrations on the walls, columns, elevator and elsewhere. We're living in a time right now where we can't just freely go abroad, so I hope with this people can find something nostalgic about Paris, snap some photos, and feel like they're on a fun trip."
パリの街並みを感じることができるアートワークやイベントをチェックしてみては?


MOSHI MOSHI ROOMS opens Harajuku-Kawaii themed accommodation called 'HARAJUKU'

Rokuyon, which manages unique accommodations mainly in Shibuya, has opened the fourth room of "MOSHI MOSHI ROOMS", the home-sharing facility, named "HARAJUKU" produced by ASOBISYSTEM, which introduces HARAJUKU culture to the world.

"MOSHI MOSHI ROOMS offers accommodation services in concept rooms full of originality not found in existing hotels or home-sharing facilities. The concept of the fourth room is "HARAJUKU". The room is filled with "KAWAII", one of the representative cultures of Japan. Once you step into the room through the archway, you will feel as if you have wandered into the world of a picture book. The room is inspired by Harajuku, a place where you can enjoy the extraordinary feeling of being lost in a different dimension.

With the opening of the room HARAJUKU, an entire building has been transformed into MOSHI MOSHI ROOMS, with four rooms available for booking via Airbnb. The rooms can be used for a variety of purposes, such as accommodation for domestic and foreign tourists, staycations (casual holiday at home or nearby), girls' parties, and birthday parties with your friends. In order to ensure the safety of the guests, they carry out temperature checks, use alcohol sanitisers and disinfect the rooms with alcohol when cleaning.

The archway at the entrance is a gateway to a world of wonder. From the moment you step into the house, the excitement is bound to build.

The living room is decorated with colourful objects and animals reminiscent of a museum. Why not find your favourite objects and animals, and enjoy taking photos with them?

The bedroom has a queen-size bed, together with a sofa bed and an air bed in the living room, which can accommodate up to four people.

The shower room is equipped with amenities such as shampoo, conditioner, and body soap. The separated washbasins and Toto Washlet toilets have been installed.

The kitchen is fully equipped with a microwave, fridge, and other daily necessities. Colourful KAWAII tablewares are lined up so that you can enjoy the world of the room more.

MOSHI MOSHI ROOMS

The first room  'SAKURA'

The room has received high praise from both domestic and international travelers.

A monument of cherry blossoms, the symbol of Japan, fills the ceiling of the bedroom, creating a gorgeous and unique space.

The second room 'ORIGAMI'

This room is themed on origami, one of the symbols of Japanese culture.

The living room is furnished with benches and stools inspired by a teahouse. Looking up at the ceiling, a number of Japanese umbrellas decorate the space.

The third room 'DOSUKOI'

The room combined the traditional Japanese culture of sento, a Japanese public bathhouse and sumo, Japanese wrestling.

The sumo wrestler's hands and the large bath inspired by a sento attract the viewer's attention. The painted pictures on the walls are the work of Kiyoto Maruyama, one of only three sento painters in Japan.

The rooftop

The rooftop offers an expansive space with a panoramic view of Harajuku. It can also be used for events such as tent saunas and BBQs. Only the rooftop can be rented out as a rental space.

Why don't you create your own story at MOSHI MOSHI ROOMS, a place full of unique concepts that you can only experience here?

UNIQLO's Global Design Competition UT GRAND PRIX 2022 is Themed on the Peanuts Comics

The UT GRAND PRIX (UTGP) is a design competition that started in 2005. The contest uses the T-shirt as a creative medium and invites everyone to freely express their creativity. This year, the competition is themed on the Peanuts comic strips by Charles M. Schulz which first hit the scene in the US back in 1950, over a hundred years ago.


Create your own Peanuts tee design


Artists are invited to unleash their imagination and bring their own Peanuts creations to life using UNIQLO's UT brand as their canvas. Designs will be judged by the Charles M. Schulz Museum and a team of Charles M. Schulz creative associates.

An internship at the Peanuts studio


The Grand Prize is $20,000 and all winning designs will become products sold in UNIQLO stores worldwide in the summer of 2022. The winners of the top two prizes will be invited to the USA. There will also be an internship opportunity to be a member of the Charles M. Schulz creative associates team.

Sign up to the competition and submit your entry for the chance of your artwork being featured worldwide.

MIDTOWN ART PALETTE Brings Dreamy Digital Artwork to Tokyo Midtown For Summer

Tokyo Midtown's annual MIDTOWN ART PALETTE has returned again for the summer, opening on July 16 and running until September 5. This year, the event delivers a Digital Art Garden with gorgeous dream-like digital artwork.

Digital Art Garden

Last year's event

Experience a distinctively Japanese way to stay cool and refreshed on a wooden veranda with light and mist dancing through the outdoor space inspired by traditional Japanese rock gardens. Find yourself bewitched by an enchanting summer evening as the digital art transforms throughout the day.

This year's event is being held with all proper social distancing measures in place.

Take digital art home with you with AR fireworks

Locate five QR codes dotted around Tokyo Midtown which when accessed via your smartphone will award you with artistic AR fireworks, allowing you to enjoy fireworks with you wherever you point the camera on your screen, including at home.