Ace Hotel Kyoto Commemorates 1st Anniversary With Yu Nagaba Exhibition
Ace Hotel Kyoto marked its 1st anniversary on June 11 since opening. In celebration of hitting the milestone, the hotel is collaborating with Japanese artist Yu Nagaba by displaying his work at its gallery until June 30. The works displayed are of the sights and people that Nagaba saw and penned in a memo pad while staying at Ace Hotel Kyoto. All of the illustrations were made for this exhibition and so they are being exhibited for the first time. One of the pieces is also being sold at stickers in the hotel's shop.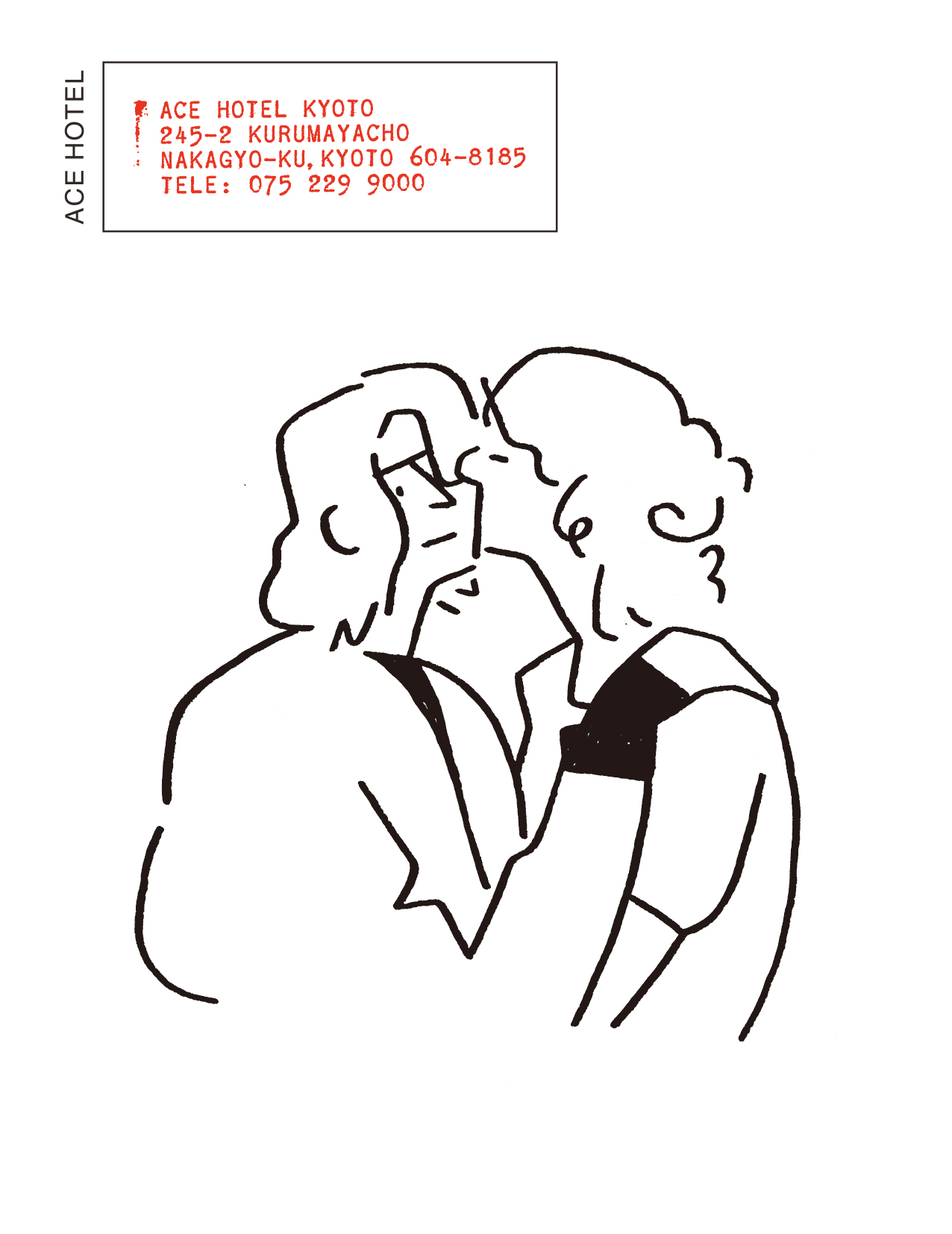 Yu Nagaba's work
Yu Nagaba | Comment
"After I heard whispers that Ace Hotel was setting up in Kyoto, I hoped I could do something, so I was happy to take part in this project, but I also spent my time wondering what I could draw, and no ideas came to mind. After pondering I went to find inspiration by deciding to stay at Ace Hotel. I drew what came to mind during my time there as I walked the streets of Kyoto and spent time at the hotel. I drew a total of 49 illustrations in my memo pad. I painted six of my favourites on canvas. I hope people can get a feel for my experiences of Kyoto in these pieces."
Information
Ace Hotel Kyoto x Yu Nagaba
Running: June 7, 2021 – June 30, 2021
Location: Ace Hotel Kyoto (Floor 1F Gallery Space)
Entry: Free
Official Website: https://www.acehotel.com/kyoto/
RELATED ENTRIES
New 'Uramichi Oniisan' Collab Hotel Room Designed Using 'URA' and 'OMOTE' Motifs

Sunshine City Prince Hotel has revealed a new "Uramichi Oniisan" themed plan, available to reserve for a limited time between October 2 and December 31.

Hotel Staff Costume Illustration

 Pajama Costume Chibi Illustration


©Kuze Gaku・Ichijinsha / Uramichi Oniisan Production Comittee

Star Can Badge / Hotel Keychain / Mask Case (URA & OMOTE ) / Original Notepad / Hotel Key Card 

Cafe & Dining 'Chef's Palette' Original Drink with Bonus Coaster

'URA-Room' with Chibi Character Illustration

 

The 'Uramichi Oniisan' anime became a hit in Summer 2021, known for its cast of famous voice actors.

The new artwork produced for the hotel features the characters in hotel staff uniforms and pajamas, perfect for the hotel-themed collaboration. The 'OMOTE ROOM' is designed using the new illustrations, while the 'URA ROOM' uses the chibi characters. Each room features a sound clip from Uramichi Omoteda (CV: Kamiya Hiroshi). Original merchandise and drinks are available to guests, plus the famous "Bird Finding Game" is available to play in each room, making it a must-see for fans!

Dive into the 'Uramichi Oniisan' world with this new collaboration hotel room!

Contemporary Art Festival ART@FUKUOKA Opens at Daimaru Fukuoka Tenjin

Department store Daimaru Fukuoka Tenjin will host the contemporary art festival ART@FUKUOKA for the first time, from October 13 until October 25, 2021. 

The art market is growing year by year, with more and more people curious about incorporating unique works into their interior design, or purchase pieces as assets. In particular, the contemporary art market has become the focus of a large movement and continues to elevate a number of new personalities. The ART@FUKUOKA festival will feature 300 works by promising young artists from both Japan and abroad. This is a great chance for those unfamiliar with the contemporary art world to get a feel for what it represents!

Main Building 8F Works at a Glance

Banksy「Golf Sale」

Sadamasa Motonaga – Untitled

©Motonaga Data Research Office

Nick Walker – Vandalism

DOLK – Winner blue dolk

ONEMIZER – Bicause Pipi

ART ~New Expressions~ (Main Building Antenna Plus 1F) Works at a Glance

The contemporary art movement is gaining more popularity worldwide. Each year, expressions become more and more diverse, and more unique creators spring onto the scene. The ART ~New Expressions~ section focuses on artists with the potential to lead the next generation. 

Syoichi Mukai 

 BABYTECTOR [PRISM]. 2021. 

Takakura Kazuki

  Emoji_Alligator_Emoji (Output. ver). 2021. 

KENZ


  BREAK DANCE. 2021. 

Wakaba Higuchi

  Panther and Phoenix. 2021. 

Information

ART@FUKUOKA

Running: October 13 – October 25, 2021

Entry Free

Address: Daimaru Fukuoka Tenjin

Venue 1/Main Building, 8F: 10:00-6:00 *Closes at 5 PM on October 25

Venue 2/Antenna Plus, Main Building 1F: 10:00-8:00

Official Site: https://www.daimaru.co.jp/fukuoka/

10 Locations in Japan and Beyond Participating in Naked's DANDELION PROJECT

The DANDELION PROJECT has a powerful message: we're all connected, even during these isolating times. Naked's interactive art project began in Tokyo, Singapore, and other cities last year, and given their success, locations are now set to open at Heian Shrine in Kyoto and Kumamoto Castle this fall.

The original idea for the project came from artist Ryotaro Muramatsu, who decided to plant (or install) dandelion art pieces worldwide and bring people together to help them bloom. Those participating in the installations are able to send their wishes for world peace on digital dandelion fluff to other locations where DANDELIONs are planted around the world, and these messages are delivered in real-time. Even those unable to attend one of these installations can participate from home on the official website. 

With new DANDELION PROJECT locations set to open around Japan, places with historical significance are happy to participate, including Kamigamo Shrine and Ninna-ji Temple in Kyoto, Kumamoto Castle, and Kochi Castle. There are plans to hold more events around the world in the near future. 

DANDELION PROJECT Locations

Tokyo – Tokyo Tower Main Deck

Tokyo – TBS drama series Japan Sinks: People of Hope Collaboration, Akasaka

Kyoto – Kamigamo Shrine (World Heritage Site)

Kyoto – Ninna-ji Temple (National Treasure/World Heritage Site)

Kyoto – Heian Shrine (Important Cultural Property)

Kyoto – Kosho-ji

Aichi – Kochi Castle (Important Cultural Property) 

Saga – Saga Prefectural Observation Hall 

Kumamoto – Kumamoto Castle (Important Cultural Property)

Korea – Seoul 

Halloween Sweets Now Available at Historical Kyoto Sweets Shop Tsuruya Yoshinobu

Founded in 1803, Tsuruya Yoshinobu is a famous Japanese sweets shop specializing in wagashi, or traditional Japanese confections. To celebrate Halloween, the shop is now selling some themed treats through the end of October. 

Halloween Pumpkin/Halloween Ghost Japanese Sweets

Happy Halloween Cookie Assortment

The celebration of Halloween dates back to the ancient Celtic festival of Samhain, before later being Christianized as All Hallow's Day. A day to ward off evil spirits and celebrate the fall harvest, it has become a much less serious holiday in recent decades. Children dress up in costumes and go door-to-door asking for candy, and the past is largely forgotten. The sweets available at Tsuruya Yoshinobu are decorated with cute expressions and are sure to be a hit at tea time with friends and family. Be sure to keep an eye out for the ghosts, featuring six different expressions!

Japanese sweets aren't as strong as their American counterparts, and each is sculpted like a work of art. These will melt in your mouth and are perfect for enjoying with matcha, tea, or coffee! Be sure to fill out the blank card along with the cookie gift box for a thoughtful gift this holiday season.

Information

Tsuruya Yoshinobu Halloween Wagashi

On Sale: 

Happy Halloween Cookie Assortment, Available October 10 – Late October: ¥1,620 (Tax Included)

Halloween Pumpkin Japanese Sweets, Available October 16-31: ¥486 each (Tax Included)

Halloween Ghost Japanese Sweets, Available October 16-31: ¥486 each (Tax Included)

Where to Buy: Tsuruya Yoshinobu

*Please note that products are only available in-store, not online. 

*Certain locations may not offer these products. 

Official Site: https://www.tsuruyayoshinobu.jp/

Worlds Largest "Washi" Print Exhibition 'Awagami International Mini Print Exhibition 2021' to be Held in Tokushima Prefecture

The Awa Washi Traditional Industry Center, a foundation which strives to inform and preserve the Awa Washi paper's 1,300 years of history, will be holding the 'International Mini Print Exhibition 2021' between October 9 and November 7. The event will exhibit over 1,800 prints from 58 countries. 

This international print exhibition will be displaying works from both domestic and overseas artists, all printed on A4 Wagami, or Japanese Paper. The exhibition is being held to increase the amount of artists displaying their works, while allowing local residents to feel an international connection through Awa Washi culture. This is the fifth instalment of the exhibition, which is held once every two years. Due to the Covid-19 crisis, the organizers experienced some troubles such as shipping delays, but despite this, a total of 1,375 domestic and international artists applied to display their works. Each print has been carefully created by the artist, and will be displayed in one place to encourage not only those familiar with Awa Washi, but also introducing the culture to general art fans.

Why not immerse yourself amongst Japanese and International artwork at this unique paper event?

Information

Awa Gami International Mini Print Exhibition 2021

Duration: October 9 ~ November 7 2021

Opening Hours: 9:00 ~ 17:00

Venue 1 General Incorporated Foundation Awa Washi Traditional Industry Center (141 Kawahigashi, Yamakawa-cho, Yoshinogawa-shi, Tokushima)

Admission Fees: Regular: ¥300 Student: ¥200 Elementary-Middle School: ¥150

Details: http://miniprint.awagami.jp/index_jp.html 

Official Site: http://miniprint.awagami.jp/ 

Shirahama Marriott in Wakayama to Offer Panda-Themed Getaway

Adventure World, a zoo and theme park in Shirahama, Wakayama prefecture, is teaming up with the Nanki-Shirahama Marriott Hotel to celebrate the first birthday of baby panda Fuhin. This room plan will only be available from November 1, 2021, until March 31, 2022, and will include a fully themed room, an original mini-photo book of the panda's growth to date, and plenty of other Fuhin amenities and goods!

Fuhin 1st Anniversary Room

Collaboration Burger 'Marriott Panda Burger' 

The Fuhin 1st Anniversary Room is a mixed Japanese-Western style room with an ocean view. The walls, blankets, and tatami are all covered in panda imagery, while portions of the room's lighting are made from bamboo as a part of Adventure World's quest to create more sustainable products. The special 'COCOAR' app will also allow guests to enjoy a moving photo frame featuring Guhin by holding their smartphone over the word 'Fuhin' on the wall. 

The limited-time Marriott Panda Burger uses the same recipe as the normal burger, but with a panda-shaped bun created along with Adventure World staff. How would you like to come and celebrate Fuhin's birthday beside the sea? 

Your Favorite Panda Instagram Campaign

By taking a picture of one of the seven giant pandas at Adventure World (Eimei, Rauhin, Ouhin, Touhin, Yuhin, Saihin, Fuuhin) and posting it to Instagram with the two campaign hashtags (#推しパンダマリオット and #InsertFavoritePandasNameHere), 20 winners will be selected to receive special Adventure World goods!

Information

Kaedehama 1st Anniversary Room Stay

Address: Nanki-Shirahama Marriott Hotel

Reservations Open October 6, 2021

Running: November 1, 2021 – March 31, 2022

Details: https://www.shirahama-marriott.com/special/panda/

Official Site: www.MarriottHotels.com

Marriott Panda Burger

Available Starting November 1, 2021

Price: ¥3,270

Where: Nanki-Shirahama Marriott Hotel Lounge

Your Favorite Panda Instagram Campaign

Running: November 1, 2021 – January 31, 2022

How to Enter: 

① Install the Instagram App.

② Follow Adventure World (@adventureworld_official) and Nanki Shirahama Marriott Hotel (@nankishirahamamarriott).

③ Post a picture of your favorite panda along with the hashtag MyFavoritePandaMarriott (#推しパンダマリオット) and the second hashtag including your favorite's name along with a picture of your favorite panda!

The winners will be announced on the official Nanki-Shirahama Marriott Hotel Instagram page in February 2022. 

Kyoto's Kurodani Temple, Typically Closed to the Public, to Accept Visitors for Limited Time

Constructed in 1175, the Kurodani Temple is one of the head temples of the Jodo Sect of Buddhism. Though typically closed to the public, the grounds will open for a short period to allow guests to experience some beautiful autumn scenery beginning November 12, 2021. This temple is associated with the Shinsengumi and served as the headquarters of the Aizu Clan at the end of the Edo period, so those interested in history won't want to miss out on this incredible opportunity. 

[Night] Shiun Garden

[Day] Autumn Leaves at the Main Gate

[Day] Shiun Garden

[Night] Autumn Leaves at the Main Gate

Temple Grounds at Sunset

The Tiger's Room

Ohoujou Garden

Founders Hall

Live Koto Performance

Gokoushiyuiamidabutsu, 'Afro Buddha' 

Guests will be able to enjoy the gorgeous autumn temple scenery during both daytime and nighttime, with the night viewing also offering some traditional Japanese live music. Visitors can also see various temple treasures and historical items, as well as the Tiger Room, known for its painted doors. The unique and aptly named Afro Buddha will also be on display. After training for an extremely long period of time, the Buddha's hair piled up, giving him this strangely modern appearance. 

On a clear day, guests will be able to see clear to the Abeno Harukas building in Osaka. Vividly painted ceilings and other statues will completely surround visitors in spiritual history. At night, traditional Japanese music will be played at three different times in the front gardens. On Friday, Saturday, and Sunday, the temple will offer a Premium Plan, allowing interested guests to enter the grounds 30 minutes before general admission starts. (This will require reservations made on the official website.) This will also include a guided tour!

How would you like to experience this piece of Japanese history while surrounded by unforgettable autumn foliage? 

Information

Special Autumn Viewing

Kudodani Temple, Kyoto – The Head Temple of the Jodo Sect of Buddhism

Address: 121 Kurodanicho, Sakyo-ku, Kyoto

Night Viewing Details: https://www.kurodani.jp/lightup/

Day Viewing Details: https://www.kurodani.jp/sp_daytime/

Daytime Viewing

Running: November 12 – December 5, 2021

Hours: 10:00-16:30 (Final Admission at 16:00)

Special Viewing Areas: Mikado, Daihojo, the Gardens, two locations at the main gate

Night Viewing

Running: November 12 – December 5, 2021

Hours: 17:30-20:30 (Final Admission at 20:00)

Live traditional Japanese music will be performed in the garden located in front of the Main Hall at 17:45, 18:30, and 19:15

Miniature Photographer Tanaka Tatsuya to Hold Second Exhibition, Opening in Hiroshima for Limited Time

Miniature photographer Tanaka Tatsuya, who has garnered attention from all across the world, will be holding the 'MINIATURE LIFE 2 ~ Tanaka Tetsuya's Lifelike World~' exhibition between November 26 and December 13 in the Sougo Hiroshima 9F exhibition hall.

Event Limited Goods

Tote Bag

Mousepad

The popular "MINIATURE LIFE Exhibition" which captured the hearts of 1.5 million people within Japan and overseas, has returned with even more power than before. You'll find a sushi roll train rolling along the tracks, a clip becoming a waiting room chair, and a hot-air balloon lettuce floating in the sky… Tanaka Tatsuya is a miniature photographer living in Kagoshima, who crafts a tiny and funny world by transforming everyday items.

 

Their unique and creative works will make you laugh and groan, transcending borders and attracting over 3.2 million followers on Instagram! Tanaka is spreading the joy of miniature art from Kagoshima to the world.

In this long-awaited second exhibition, around 170 works will be displayed, including some brand new pieces. Venue-limited merchandise and miniature dolls that feature in the artworks can be purchased at the event, so don't miss out!

 

 Be sure to check out the 'MINIATURE LIFE 2 ~ Tanaka Tetsuya's Lifelike World~' exhibition, where your everyday life will be transformed into a wonderful new world!

Halloween Sweets Buffet Coming to Haneda Excel Hotel Tokyu for Two Days Only

Moshi Moshi Nippon has delivered news on tons of Halloween treats this holiday season, but can there ever really be enough? Haneda Excel Hotel Tokyo has announced a special two-day-only Halloween Sweets Buffet on October 30 and 31 at the location's Flyer's Table restaurant on the second floor. 

Pumpkin Cheese Tart

Ghost Mousse

Black Cream Puff

 

Guests can enjoy a variety of spooky treats all incorporating fall flavors like chestnut, pumpkin, sweet potato, pear, and apple. Offerings include the Pumpkin Cheese Tart, a mildly-sweet cheese tart made with sour cream, cottage cheese, and cream cheese, and topped with pumpkin cream; the Ghost Mousse, a chestnut mousse made to look like a ghoul; and the Black Cream Puff, made with black cocoa and a cassis cream filling. 

 

At the demonstration corner, guests can see the Sweet Potato Mont Blanc being made. Those wanting something besides sweets can enjoy a selection of sandwiches decorated in Halloween style!

Baccarat Crystal Commissions YOSHIKI to Design Piece for 180th Anniversary

X JAPAN leader YOSHIKI was one of eleven designers chosen to submit an original design for Baccarat, commemorating the 180th anniversary of the crystal manufacturer's Harcourt glass. The work was unveiled at Paris Fashion Week in Fall 2021. 

Baccarat is a manufacturer of fine crystal founded in 1764 in the Lorraine region of France. The company's iconic Harcourt glass features a hexagonal base with three-button feet and is known as a timeless and iconic symbol of the brand.

This year marks the 180th anniversary of the glass, which was first created during the time of Louis Philippe I. It's hard to believe that these pieces have been on the tables of royalty for almost two centuries!

YOSHIKIMONO, the kimono brand created by YOSHIKI, has been featured at Tokyo Fashion Week multiple times. In 2020, his works were shown at the Victoria and Albert Museum in the UK, along with the Tokyo National Museum.

Known for his blend of rock and classical music, YOSHIKI continues to express his individuality in both his sound and fashion taste. From the front, the glass looks to be on fire, while from the top, there is a sense that a poisonous flower is taking bloom. The work is a one-of-a-kind blend of east and west and was a new challenge for the performer.

Comment from YOSHIKI

"I am honored to have been chosen as a designer for the 180th anniversary of Baccarat's Harcourt glass. I'd like everyone to also keep an eye out for some new music coming soon. Thank you to all of the fans who continue supporting me in everything I do."

'Marubeni Gallery' to Exhibit Marubeni Collection Pieces under Variety of Themes

Marubeni Corporation will be opening the Marubeni Gallery at their head office building on November 11 2021. 

Marubeni has been collecting and preserving textile-related businesses since 1858, preserving dyed woven products from the Edo period (kimono, obi, fukura etc) and curating the Marubeni Collection, a collection of Western paintings collected from art businesses in 1970-1980, along with modern Japanese paintings which have been collected from artists and their circles, and a selection of weaved designs.

From the left:"Crimped Fiber Tasuki Chrysanthemum & Seigaiha Print Furisode" (Designated as an item of cultural importance in 2020) / "Iso Tsuzure Go" by Takeuchi Seihou / "La Bella Simonetta" by Botticelli (late 15th century).





The Marubeni Collection will be displayed at the Marubeni Gallery, exhibiting a variety of themes under the concept of "a space where the beauty of the East and West resonates." 

There are plans for special exhibitions to be held three times a year, and the Autumn 2022 event will be showcasing Botticelli's "La Bella Simonetta," the representative work of the Marubeni Collection.

Be sure to visit the Marubeni Gallery, where the beautiful of the East and West join together beautifully.

The Prince Park Tower Tokyo Introduces New Romantic Christmas Plan

How would you like to enjoy a snowman-shaped Christmas cake and champagne while overlooking Tokyo Tower? The new Scoolove Christmas Accommodation Plan from the Prince Park Tower Tokyo is offering this incredibly festive experience from December 1 until December 26, 2021!

The TOKYO HONEY PROJECT, a product planning team made up exclusively of female hoteliers, has devised this romantic plan in the hopes of making Christmas magical and memorable again. During the COVID-19 pandemic, many couples haven't had the chance to spend any special time together, so what better time than the holiday season? 

The word 'Scoolove' is a combination of 'scoop' and love,' and while scooping up and enjoying this tasty snowman treat, the team hopes that couples will deepen their relationship and enjoy some much-needed quality time together. The head of the snowman is made from matcha ganache wrapped in kumquat cheesecake mousse, while the body is made of baked cheesecake accented with a raspberry jam. With these two competing flavors, every bite is sure to be interesting!