Rurouni Kenshin Hanko Stamp Collection Features Manga Designs
Japanese hanko stamp shop HANKOS released a new collection of hanko with designs of characters from the manga series Rurouni Kenshin on June 8, 2021. These order-made hanko stamps, which are used in place of signatures in Japan, let you pick your favourite character to be engraved along with your name or a word written in Japanese.

There are 31 designs to pick from and include familiar faces from the manga series, including the legendary assassin Himura Kenshin, kendo instructor Kamiya Kaoru, Kenshin's best friend Sagara Sanosuke, and more.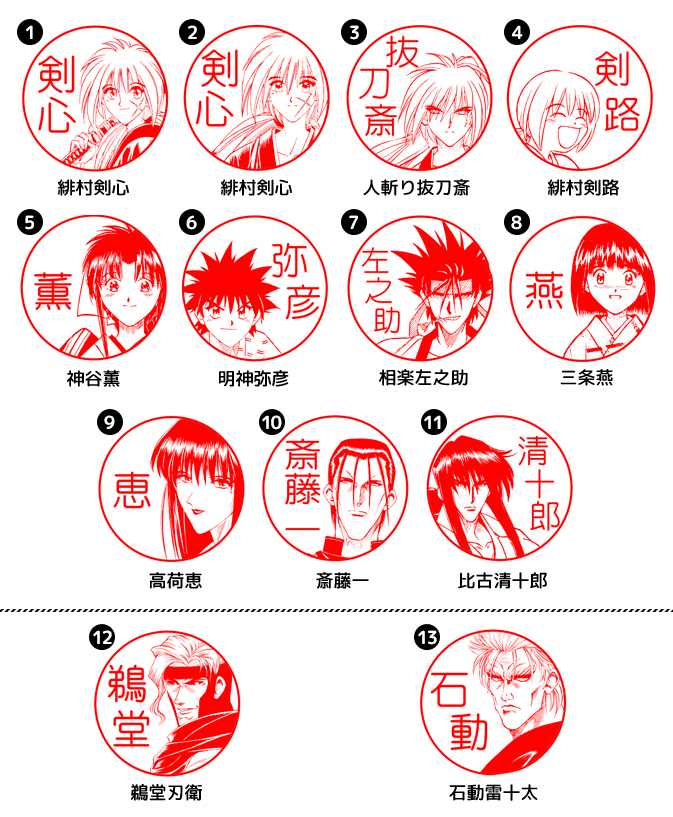 Pick from three different fonts, such as a more classic hanko font or a cutesy design.
You can have your name, pen name, handle name, or a message engraved on your hanko such as "OK" or "Thank You."
Each stamp comes with a case too in a box featuring Kenshin and his friends.
©和月伸宏/集英社
RELATED ENTRIES
Niigata Prefecture Unveils Rurouni Kenshin Collaboration Sake

Rurouni Kenshin is one of the most popular anime and manga series around the world, hitting the scene in Japan back in 1994. Original manga author Nobuhiro Watsuki spent most of his childhood in Nagaoka, Niigata prefecture, an area known throughout the country for its delicious rice. Harasho, a liquor store in Nagaoka, has announced a new collection of Rurouni Kenshin-themed sake to celebrate the series. 

The Rurouni Kenshin manga series was originally serialized in Weekly Shonen Jump from 1994 until 1999. The sequel, Rurouni Kenshin: The Hokkaido Arc, is currently ongoing in Jump Square. The series has been a smash hit, selling over 72 million copies and inspiring both animated and live-action film adaptations and an anime series. 

The sake will be produced at three distilleries in Nagaoka city, and each of the three will feature unique characteristics. Each label features imagery from the manga series and would make the perfect gift for fans (as long as they are of age!) 

Information

Rurouni Kenshin x Niigata Sake Series

Fukusen Natural Sake: ¥1,350

Koshino Hakugan Ginjo Sake: ¥1,500

Ofuku Shuzo Ginjo Sake with No Added Alcohol: ¥1,800

Special 3-bottle Set: ¥4,650

Number of Bottles Released: 2,000 of each type, special 3-bottle sets available until sold out

Preorders Now Open

Release Date: December 1, 2021

Details: https://echigo.sake-harasho.com/shopbrand/ct332/

Where to Buy: 

Online Store: https://echigo.sake-harasho.com/

Liquor stores part of the Echigo Meimon Collective

Major tourist facilities in Niigata Prefecture

Detective Conan Hanko Stamp Collection Released

Japanese hanko stamp shop HANKOS released a new collection of hanko with designs of characters from the anime series Detective Conan, also known as Case Closed, on May 12, 2021. These order-made hanko stamps, which are used in place of signatures in Japan, let you pick your favourite character to be engraved along with your name or a word written in Japanese.

24 Illustrations / 17 Characters

3 Fonts

Accompanying Case

Wooden-Type Stamp


Black-Type Stamp

There are 17 characters to choose from with 24 different illustrations, including the protagonist Conan Edogawa, Ai Haibara, Kaito Kid, Shuichi Akai, Furuya Rei, and other familiar faces from Gosho Aoyama's popular manga series.

You can have your name, pen name, handle name, or a message engraved on your hanko such as "OK" or "Thank You." There are three designs to choose from including a self-ink type, a wooden type which can be used at banks in Japan, and a black version. These hanko can be used at most banks in Japan or just for decorative use in your notebook.

Which design do you like the most?

©青山剛昌/小学館・読売テレビ・TMS 1996

Japanese hanko stamp company Hankos has released a new collection of order-made hanko which feature traditional family crests. Hanko stamps are often used in Japan in place of signatures where you have your name printed onto the stamp itself. This new collection contains over 3,000 crests to pick from.

There are three designs to choose from including a self-ink type, a wooden type which can be used at banks in Japan, and a black version. You can choose to have your own name carved on, a nickname, handle name, or even a word in Japanese. You can have a maximum of three Kanji, five Hiragana or Katakana, or 6 romaji characters.

Rurouni Kenshin x Hello Kitty Collaboration Launching to Promote Manga's Upcoming Live-Action Films

In promotion of the forthcoming live-action films Rurouni Kenshin: The Final and Rurouni Kenshin: The Beginning, both of which will be released on April 23 and June 4 respectively this year, the series is rolling out a collaboration with Sanrio's globally-beloved character Hello Kitty on April 14.

Original Merchandise

Rurouni Kenshin x Hello Kitty Plush Toys (2 Designs) | ¥3,850 Each (Tax Included)

Rurouni Kenshin x Hello Kitty Plush Toys (4 Designs) | ¥2,750 Each (Tax Included)

Rurouni Kenshin x Hello Kitty A4 Folder Set | ¥495 (Tax Included)

Rurouni Kenshin x Hello Kitty Bottle | ¥1,540 (Tax Included)

Rurouni Kenshin x Hello Kitty Tote Bag | ¥2,200 (Tax Included)

Rurouni Kenshin x Hello Kitty Ballpoint Pens & Mechanical Pencils (2 Designs) | ¥770 Each (Tax Included)

Rurouni Kenshin x Hello Kitty Hand Towels | ¥1,430 (Tax Included)

Rurouni Kenshin x Hello Kitty Pins (6 Designs) | ¥330 Each (Tax Included)

Rurouni Kenshin x Hello Kitty Acrylic Stands (8 Designs) | ¥715 Each (Tax Included)

Rurouni Kenshin x Hello Kitty Sweets Paradise Collaboration Cafe

Menu Excerpt

Kenshin Hello Kitty Beef Bowl / Battousai Hello Kitty Omurice

Enishi Hello Kitty Orange Crepe / Tomoe Hello Kitty Anmisu / Kaoru Hello Kitty Strawberry Pancake

Acrylic Mascot Key Rings

10 Designs

Plush Toys

This marks the second collaboration between Rurouni Kenshin and Hello Kitty, the first taking place back in 2014 in promotion of Rurouni Kenshin: The Legend Ends. Fans can get their hands on a collection of cute merchandise with Hello Kitty dressed as various characters from the series, as well as tuck into a themed menu which will first be served at Sweets Paradise Ueno ABAB from April 22 before rolling out to six more Sweets Paradise branches in Japan.

©和月伸宏/集英社 ©2020 映画「るろうに剣心 最終章 The Final/The Beginning 」製作委員会

Kuroko's Basketball Hanko Stamp Collection Features Character Designs

Online hanko store Hankos released a new collection based on the popular manga and anime series Kuroko's Basketball. Hanko are a type of stamp or seal traditionally used in place of signatures in Japan. They are crafted with people's names and unique symbols.

The made-to-order collection features images characters which can be coupled with names and Japanese characters of your choice.


There are 40 characters to choose from, including the protagonist Tetsuya Kuroko, his classmate and friend Taiga Kagami, the all-star team Generation of Miracles, and more.

There are three fonts to choose from including just a basic Japanese font, a handwritten font, and a cute bubble font. You can choose to have your own name carved on, a nickname, handle name, or even a word in Japanese. You can have a maximum of three Kanji, five Hiragana or Katakana, or 6 romaji characters.


There are also three designs to choose from including a self-ink type, a wooden type which can be used at banks in Japan, and a black version. Each also comes in an original case with Tetsuya Kuroko, Taiga Kagami, and the five Generation of Miracles.

The collection is a must-grab for fans of Kuroko's Basketball. Stamp your favourite character on your notebook, on letters, and everywhere else!

©Tadatoshi Fujimaki / Shueisha・Kuroko's Basketball Production Committee


ONE OK ROCK to Perform Rurouni Kenshin 'Final Chapter' Live-Action Film Theme Songs, New Visual Released

The 'Final Chapter' film adaptations of Nobuhiro Watsuki's popular manga series Rurouni Kenshin, titled Rurouni Kenshin: The Final and Rurouni Kenshin: The Beginning, will premiere in Japan on July 3, 2020 and August 7, 2020 respectively.

The original Rurouni Kenshin manga, along with its anime adaptation, is an internationally beloved series the world over that has made it to over 100 countries worldwide, including North America, UK, Europe Hong Kong, South Korea, and elsewhere. It is one of the best-selling manga series, with over 72 million copies in circulation. To date, live-action film adaptations as a whole have earned over ¥12.5 billion, and have been seen by 9.8 million people in cinemas.

The Rurouni Kenshin live-action film series will conclude with The Final and The Beginning. Kenshin will once again gather together with his fellow members of the Kamiya Dōjō to face Kenshin's greatest enemy.

The new visual released for the films reveal that Yūsuke Iseya will reprise his role as Shinomori Aoshi, as will Tao Tsuchiya as Makimachi Misao. When asked about returning to the film series after 6 years, Yūsuke Iseya (Shinomori Aoshi) said: "I was over the moon about it as the previous two films were really popular. It was my first time appearing in a film series so being involved has given me a wholly new experience." He also commented on the film shoot itself: "The characters in the manga don't age, but I do, and my 30's mentality and 40's mentality have been completely different <laughs>." When asked about what he feels he accomplished during the shoot, Iseya said: "I'm always 120% grateful for the things I've been given the chance to do. The action team, including the directors [Keishi] Ohtomo and [Kenji] Tanigaki, really encourage the actors. They've given me a place where I can be at my most confident when I act. Thanks to them, I've had no worries, and was able to take the character's meaning and principles to heart. I feel blessed to be an actor. I feel at ease that we've been able to safely finish the shoot."

Tao Tsuchiya (Makimachi Misao) was asked about filming the action scenes: "It was difficult, and a lot of hard work, but even in the action scenes I made sure to portray her as having taken responsibilities on since the last film too. I think we've bumped up the action even more to the previous films." She also commented on this continuation of the film series: "My dream has come true getting the opportunity to be involved in something like this, where everyone in the staff and cast are putting all their strength in […] I'm over the moon that I was born in a time where this series can be made into a live-action."

ONE OK ROCK will return to perform the main theme songs for the final films. They have provided powerful tracks for each film in the live-action series so far. This has included the first film main theme The Beginning, which tells the story of the beginning of Kenshin Himura's journey, not an assassin but a lone wolf; Mighty Long Fall , a song about despair, hope, and comeback which was used in the Rurouni Kenshin: Kyoto Inferno film; and Heartache, a ballad that was used in Rurouni Kenshin: The Legend Ends.

Information

Rurouni Kenshin Saishūshō The Final

Release Date: July 3, 2020

Rurouni Kenshin Saishūshō The Beginning

Release Date: August 7, 2020

Official Website: http://rurouni-kenshin.jp

Rurouni Kenshin Live-Action The Final/The Beginning Movies Drop First Trailer

It was revealed last Friday that Japanese-American actor Mackenyu will play the part of Enishi in the upcoming 'Final Chapter' film adaptations of Nobuhiro Watsuki's popular manga series Rurouni Kenshin. Rurouni Kenshin Saishūshō The Final and Rurouni Kenshin Saishūshō The Beginning will premiere in Japan on July 3, 2020 and August 7, 2020 respectively.

The original Rurouni Kenshin manga, along with its anime adaptation, is an internationally beloved series the world over that has made it to over 100 countries worldwide, including North America, UK, Europe Hong Kong, South Korea, and so on. It is one of the best-selling manga series, with over 72 million copies in circulation.

 

Fans have finally been given a first look at the movies in the form of a special promotional trailer.

In the trailer, we get to see Kenshin fighting in several tense-looking battle scenes. We also see several of the characters from the cast, including Kaoru Kamiya, Sanosuke Sagara, Megumi Takani, and Yahiko Myojin. At the end of the trailer, we see Kenshin confronting Enishi in a grand and epic sword fight.

The staff that have worked on the film series since the first film, released in 2014, have continued to exceed fans' expectations when it comes to level of quality. Knowing that this is the most important arc for Kenshin, the team knew that the series wouldn't be over unless they shot this last chapter, and so they endeavoured to deliver to fans only the best of everything. Fans of Takeru Satoh, who plays Kenshin in the film series, agreed from the start that this role is well-suited to him. He returns in The Final and The Beginning to reprise his role for the last time after one year of hard work working on the films.

The films were shot over a period of seven months, ending in June 2019, across 43 locations in Japan including Kyoto, Nara, Saga, Mie, Hyogo, Kumamoto, Hiroshima, Tochigi, Saitama, Fukuokaーthe list goes on.

The Final and The Beginning are looking to be worthy closures to the film series. With the release of this first mini trailer, fans won't be able to settle until the films' release.

©Nobuhiro Watsuki / Shueisha ©2020 "Rurouni Kenshin Saishūshō The Final/The Beginning" Production Committee

Information

Rurouni Kenshin Saishūshō The Final

Release Date: July 3, 2020

Rurouni Kenshin Saishūshō The Beginning

Release Date: August 7, 2020

Official Website: http://rurouni-kenshin.jp

Live-Action Rurouni Kenshin 'Final Chaper' Films Confirm Yōsuke Eguchi to Reprise Role as Saitō Hajime

It was revealed last Friday that Japanese-American actor Mackenyu will play the part of Enishi in the upcoming 'Final Chapter' film adaptations of Nobuhiro Watsuki's popular manga series Rurouni Kenshin. Rurouni Kenshin Saishūshō The Final and Rurouni Kenshin Saishūshō The Beginning will premiere in Japan on July 3, 2020 and August 7, 2020 respectively.

The original Rurouni Kenshin manga, along with its anime adaptation, is an internationally beloved series the world over that has made it to over 100 countries worldwide, including North America, UK, Europe Hong Kong, South Korea, and so on. It is one of the best-selling manga series, with over 72 million copies in circulation.

In commemoration of the birthday of real-life Japanese samurai Saitō Hajime, which fell on Tuesday February 18, it was revealed that Japanese actor Yōsuke Eguchi will reprise his role as Rurouni Kenshin character Saitō Hajime.

Saitō Hajime has been an indispensable character in the Rurouni Kenshin films, being at times Kenshin's friend and at others his foe. But who will he turn his sword on in the final chapter?

Eight years have passed since the release of the first film in the series. Speaking about involvement, Yōsuke Eguchi said: "Getting to continue playing Saitō like thisーand getting to play the same role for this many year isn't something that happens, so I'm truly honoured. On the other hand, it's precisely because I've built up this character for so long that I can't just walk away now. Plus, there are things I'm not free to do. The first thing that springs to mind was how difficult the shoot was this time around. It lasted over half a year, and during that time I had to constantly maintain a feeling of tension. But when I think about how these films link to the others, it makes me think how unbelievable of a film they really are <laughs>." 

He also elaborated on how it was to shoot for both The Final and The Beginning, as well as the conflict between Kenshin and Saitō. "I put quite a bit of energy into them [the films]. The stories in 'The Final' and 'The Beginning' are completely different, so the way we deliver the lines as well as our tones change. They enter a new era with Meiji following the Bakumatsu. Kenshin and Saitō also change along with those societal changes, which is a highlight of the films. I believe those contrasts make these two films worth seeing."

The first on-set photo of Eguchi as Saitō was also released, which shows him in a scene on a train with Enishi.

The Rurouni Kenshin live-action film series will conclude with The Final and subsequently The Beginning. Stay tuned for any updates.

©Nobuhiro Watsuki / Shueisha ©2020 "Rurouni Kenshin Saishūshō The Final/The Beginning" Production Committee

Information

Rurouni Kenshin Saishūshō The Final

Release Date: July 3, 2020

Rurouni Kenshin Saishūshō The Beginning

Release Date: August 7, 2020

Official Website: http://rurouni-kenshin.jp

Live-Action Rurouni Kenshin 'Final Chaper' Films Star Mackenyu as Enishi

It has been revealed that Japanese-American actor Mackenyu will play the part of Enishi in the upcoming 'Final Chapter' film adaptations of Nobuhiro Watsuki's popular manga series Rurouni Kenshin. Rurouni Kenshin Saishūshō The Final and Rurouni Kenshin Saishūshō The Beginning will premiere in Japan on July 3, 2020 and August 7, 2020 respectively.

The original Rurouni Kenshin manga, along with its anime adaptation, is an internationally beloved series the world over that has made it to over 100 countries worldwide, including North America, UK, Europe Hong Kong, South Korea, and so on. It is one of the best-selling manga series, with over 72 million copies in circulation.

Mackenyu's character Enishi is an arms dealer on the black market in Mainland China. He's the main antagonist of the Jinchū Arc, who desires nothing more than to destroy Kenshin and everything associated with him.

Speaking about his thoughts receiving the offer to be involved with his first Ruroni Kenshin role, Mackenyu revealed: "I actually received the offer some years ago, and was incredibly happy about it. But I never imagined what performing in such a famous franchise would be like, nor how the film shoots would go for the action scenes."

The film's producer, Koiwai, touched on how they decided on the offer to Mackenyu so quickly. "It's not possible to adapt a live-action version of the Jinshu Arc without having an actor that can play the role of Enishi, who is such a unique character. An actor who's still young, has an international presence, and can corner Kenshin with intense action scenes and skilful acting. I don't think there's anyone else but Mackenyu, so I had him meet the director, Ohtomo, during the planning stages."

Ohtomo, the film director, commented on Mackenyu: "When we met, I was captivated by the strength of his straightforward gaze. I remember clear as day when I went immediately to the producer and said there's no one else but him. To play Enichi's role, you need to look very youthful as well as sinister. And beneath of all that, you need a pureness and delicateness that's like descending into madness. His body and sensibility looks far from being Japanese when wearing Enichi's trademark white hair and orange clothes. He exhibits more than enough potential to be a threat to Kenshin. Without a doubt, his fresh charms have the force to pull this new series."

Ruroni Kenshin never fails to meet fans' expectations when it comes to the incredible quality of its action scenes. The action can be credited to Kenji Tanigaki, the action director and stunt coordinator. Looking back at the action scene shoots, Mackenyu said: "They were hard, but I was somehow able to get through it while being supported by the director Ohotomo, the action director Tanigaki, and the action team. My body cried out as the number of shoots piled up each day, but it was a really great experience in the end."

Mackenyu continues: "There's a lot of action right from the get-go. I went through a hard time with scenes like when Kenshin and Enichi meet, and the battle that ensues with Kenshin, so I really want people to see it [the film]. I'm a fan too, I watched the last three films. These films are a lot of fun too, so please look forward to seeing themーand to seeing Enichi."

The first trailer for Rurouni Kenshin Saishūshō The Final/The Beginning will be released next week, on February 21, 2020.

©Nobuhiro Watsuki / Shueisha ©2020 "Rurouni Kenshin Saishūshō The Final/The Beginning" Production Committee

Information

Rurouni Kenshin Saishūshō The Final

Release Date: July 3, 2020

Rurouni Kenshin Saishūshō The Beginning

Release Date: August 7, 2020

Official Website: http://rurouni-kenshin.jp

Japan's First Rurouni Kenshin Escape Game Slices its Way Into Museum Meiji-Mura in Aichi

A new escape game themed on Rurouni Kenshin has been created by SCRAP and is to slash its way into Museum Meiji-Mura on September 11. The museum has stood for over 60 years, focusing on the Meiji period of Japan.

Rorouni Kenshi is a hit manga series loved the world over with over 70 million copies sold. The latest arc of the manga, Rurouni Kenshin: The Hokkaido Arc, is serialised in Jump Comics SQ and is being published in English by Viz Media.

In the first ever escape game based on the series, you will become a practioner of the Kamiya Kasshin-ryū and join Kenshin in facing enemies. To accomplish your objective, you will need to speak to various people in the game, as well as learn sword techniques from a certain character in the series. It taking place in the Museum Meiji-Mura means you will be fully immersed in the story―like you have slipped back in time―as the series itself is set during the Meiji period.

Help Kenshin defend Tokyo by participating in this new exciting escape game.

©Nobuhiro Watsuki / Shueisha ©SCRAP

Information

Rurouni Kenshin Escape Game at Museum Meiji-Mura

Location: Museum Meiji-Mura (1 Uchiyama, Inuyama, Aichi Prefecture)

Running: September 11, 2019 – December 15, 2019

Tickets

Price: ¥2,200 (comes with kit to play the game) *does not include entry fee to the museum

Available: At the reception desk for events at the museum

Game

・Time Restriction: None (allot yoruself 2-3 hours to play)

・No. of Participants: Unlimited (you can play on your own or with a group)

・Once the game starts, you are free to walk around the museum to complete the game

・Though there is no time restriction the game will end at the museum's closing hours

Official Website: https://realdgame.jp/ruroken/

These 'hanko' signature stamps make it look like your name came straight out of a manga!

Internet hanko shop 'Inkan Hanko SHOP Hankos' (印鑑はんこSHOPハンコズ) has started selling a special series of hanko called 'Manga Zukan' for manga lovers out there. A hanko is a special, personalised stamp of your name used to sign documents in Japan. They take a more fun route to signing rather than the serious, businesslike image that all hanko have given up to now.


'Manga Zukan' is the first instalment in a new series of hanko from the store, a series they are calling 'FUNCO'. The Manga Zukan hanko features manga-like speech bubbles and borders. 'FUNCO' is a portmanteau of 'fun' and the 'ko' sound of 'hanko'.


There are 13 speech bubble designs and 5 border designs for a total of 18 illustrations from the Manga Zukan series.

The calligraphy style of the text uses real fonts, giving it that real manga edge. Use them for anything and everything: notes, letters – even the post or the bank. Get your own stylised hanko from the Manga Zukan series and feel like you are really in a manga!

■Information
Manga Zukan
http://www.rakuten.ne.jp/gold/hankos/mangazukan/