Prince of Tennis 3DCG Film Promoted in Japan With National Tournament Saga Broadcast
A special television broadcast for the anime series Prince of Tennis has been airing in Japan since April. In promotion of the upcoming 3DCG film Ryōma! Shinsei Gekijōban Tennis no Ōji-sama (Ryōma! Rebirth Movie The Prince of Tennis), which is set for release on September 3, 2021, the second season of the National Tournament Saga is set to air in Japan on June 29. In addition, a television special centred on the new film will also air.
The National Tournament Saga National follows Ryoma and the Seishun team who meet foes of past and present.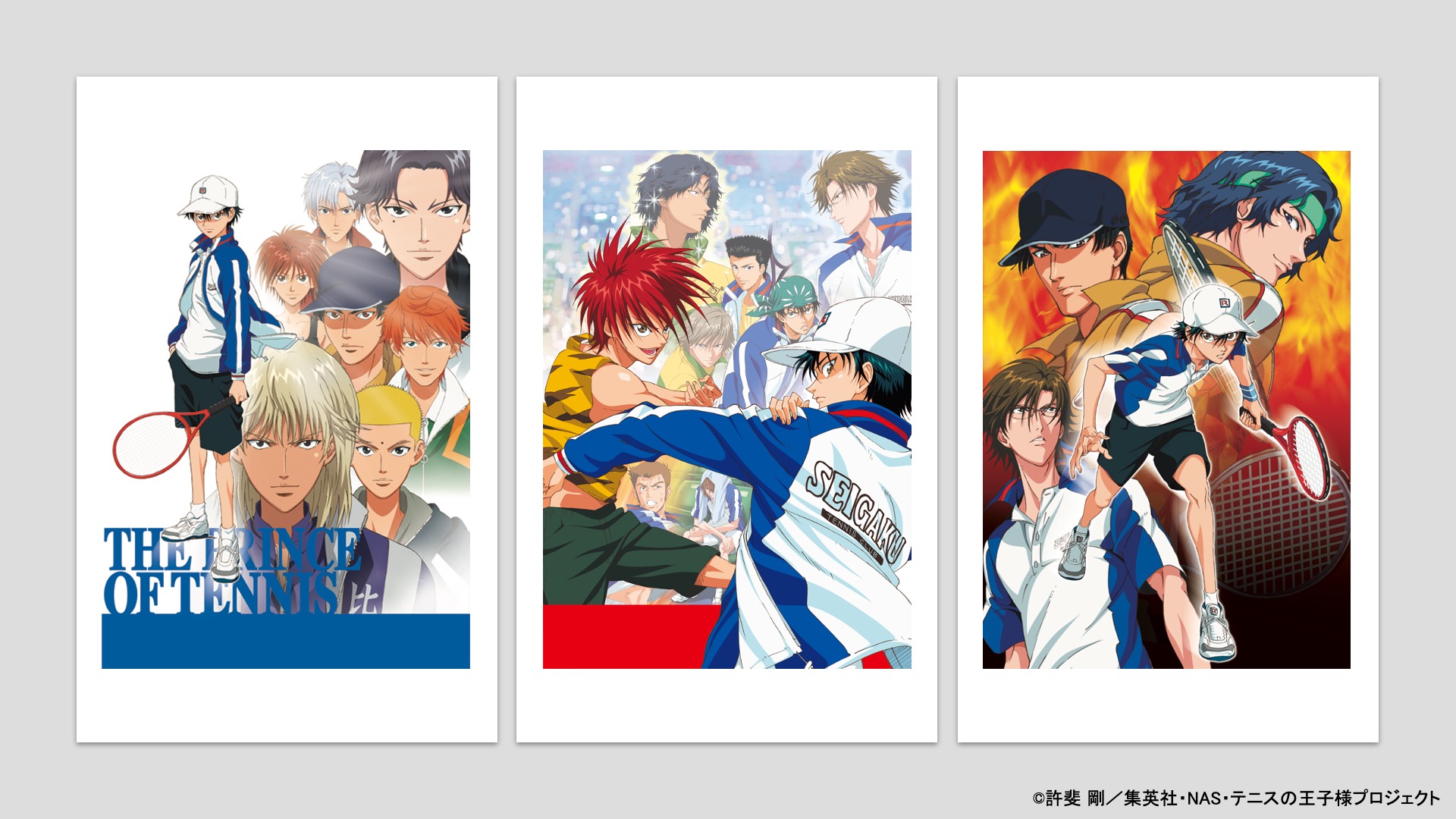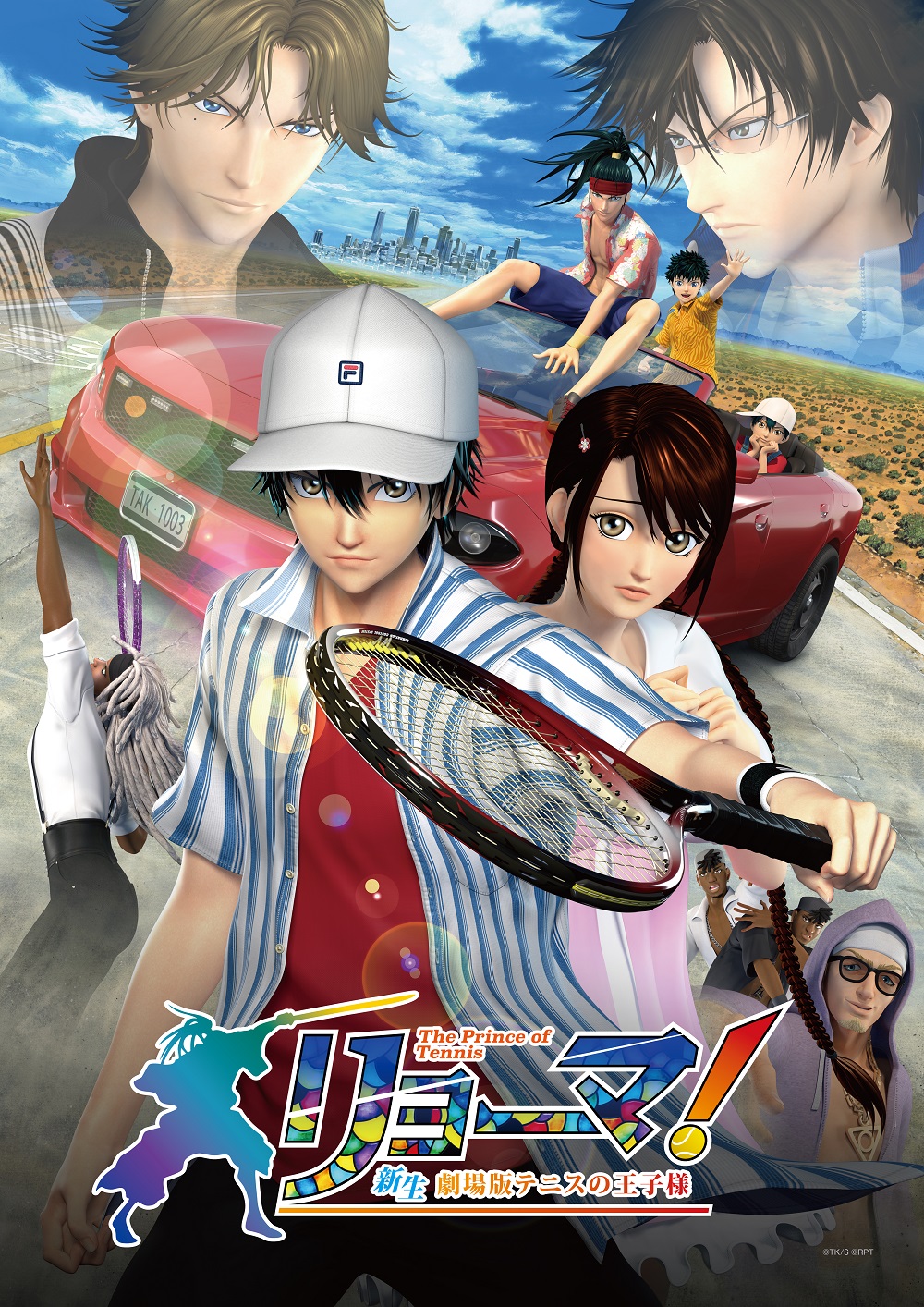 ©許斐 剛/集英社 ©新生劇場版テニスの王子様製作委員会
RELATED ENTRIES
The Prince of Tennis 20th Anniversary Celebrated at Niigata Prefecture Manga and Anime Museum

Niigata Prefecture Manga and Anime Museum is currently holding a special event to celebrate the 20th anniversary of the popular manga series The Prince of Tennis. Centred on both The Prince of Tennis and The New Prince of Tennis, the event is running until February 14.

©Takeshi Konomi / Shueisha

The event is a must-visit for fans of the manga series, who will get to enjoy seeing drafts by the author, full-colour manga panels, and more. They can also get their hands on a line-up of original merchandise produced for the event.

Information

The Prince of Tennis 20th Anniversary Exhibition

Japanese Event Title: ~連載20周年記念全国ツアー~ テニスの王子様大原画展「テニスの王子様」×「新テニスの王子様」
Running: January 16, 2021 – February 14, 2021
Venue: Niigata Prefecture Manga and Anime Museum

Address: 2-5-7 Yachiyo, Chuo Ward, Niigata
Opening Hours: [Weekdays] 11:00-17:00 / [Weekends & Holidays] 10:00-17:00
Exhibition Official Website: http://tenipuri.gengaten.com/
Niigata Prefecture Manga and Anime Museum Official Website: http://museum.nmam.jp

The Prince of Tennis CG Movie Teases Ryoma in Full 3D

A new 3DCG animated film has been announced that's set between Takeshi Konomi's The Prince of Tennis and The New Prince of Tennis manga. It will feature an original story written by Konomi himself. Details have yet to be announced, but it has been confirmed that the film will released on September 3, 2021.

Check out the first promotional video below which was shown at the Jump Festa 2021 ONLINE event.

Ryoma! Shinsei Gekijoban Tennis no Oji-sama

21 | Cast & Staff Comments

Junko Minagawa (Voices: Ryoma Echizen)
"Sorry to keep y'all waiting! We can confirm that the film will be officially released on September 3, 2021! I've never stopped challenging myself when it comes to Prince of Tennis. This film is a combination of nostalgia and newness. It's something you've never seen before. You'll need to see it for yourself. And it'll be here before you know it in September!"

Takeshi Konomi (Author, The Prince of Tennis)
"It has finally been announced that Ryoma! Shinsei Gekijoban Tennis no Oji-sama will release on September 3, 2021. Talks about a new movie first happened five years ago when I planned and appeared in the series' first VR live performance together with the characters. All I knew was that I wanted to make it 3DCG and not anime. Since then, we've been able to put in various never-before-seen surprises and new things. It's a dream come true. We've overcome many challenges and things that would be considered taboo or not within the status quote of [Japan's] movie industry. It's filled with new challenges! I also wrote and composed all of the music in the movie. Every lyric and the way that the songs are sung have been lined up perfectly with each scene. I was meticulous with all of it, so every song is a treasure. The Prince of Tennis has over 900 character songs. There's always music, isn't there? I also put 'Ryoma!' in the title for the first time so that even people who have only seen the series once, or not at all, as well as families can enjoy the movie. The truth is, I didn't want to include Ryoma or The Prince of Tennis, but they stopped me from doing that <laughs>. Of course, the movie is packed with shocking things that long-time Prince of Tennis fans won't be able to resist too (hehe). I think it turned out to be a really next-generation entertainment movie which no one has seen before. Please head to the theatres to see the results of the best production team, an amazing voice cast, and my box of dreams."

©許斐 剛/集英社
©新生劇場版テニスの王子様製作委員会

The New Prince of Tennis Themed Cafes to Open in Akihabara & Osaka

The Akihabara (Tokyo) and Nanbasennichimae (Osaka) branches of the Sega Collabo Cafe are set to collaborate with the TV anime series The New Princess of Tennis from December 6.

Fans can look forward to tucking into food, drinks and desserts inspired by characters in the series. There will also be exclusive Sega Collabo Cafe merchandise on sale in collaboration with the series, as well as other goodies like an original coaster which you get when ordering a drink.

The collaboration will run from December 6, 2019 to January 26, 2020. During that time, there will be three different slots, each featuring different menu options.

Drinks Menu (All 3 Periods) – ¥600 Each (Before Tax)

・Seigaku

・Hyoutei

・Rikkaidai

・Higa

・Shitenhoji

*Photo is for illustrative purposes only. May differ from actual product.

Food Menu – ¥1,200 Each (Before Tax)

Slot ①: December 6, 2019 – December 20, 2019

・Taka-san's Specially-Made Mille-Feuille Sushi

・Higa Soba

Slot ②: December 21, 2019 – January 10, 2020

・Invincible Rikkaidai Soy Ramen

・Ryoma's American SABA Burger

Slot ③: January 11, 2020 – January 26, 2020

・Hyoutei Truffle Pasta

・Okonomiyaki

Only one of each of these dishes will be sold each day per slot, and it will be determined by whichever is ordered during the first order of that day.

Dessert Menu – ¥1,000 Each (Before Tax)

Slot ①: December 6, 2019 – December 20, 2019

・Hyoutei's Victory Parfait

・Shitenhoji Parfait

Slot ②: December 21, 2019 – January 10, 2020

・Higa Parfait
・Karupin Parfait

Slot ③: January 11, 2020 – January 26, 2020

・Seigaku Parfait

・Rikkaidai Parfait

Food, Drink & Dessert Menu Bonus Items

For every meal, drink or dessert ordered at the cafe, customers will receive an original coaster. Designs are given randomly, and there are 11 different ones for each slot as pictured above in respective order.

Sega Collabo Cafe Exclusive Merchandise

Releasing: December 6, 2019

Hologram Pin Badges (11 Designs) – ¥500 Each (Before Tax)

Superdeformed Pin Badges (11 Designs) – ¥400 Each (Before Tax)

There is much more merchandise for fans to get their hands on too. Both cafes are reservation-only, so book your table now on the official website below.

©Takeshi Konomi / Shueisha・NAS・The New Prince of Tennis Project

©SEGA

Information

Sega Collabo Cafe – The New Prince of Tennis

Running: December 6, 2019 – January 26, 2020

Locations: Sega Collabo Cafe Akihabara (Sega Akihabara 4 Floor 5F) / Sega Collabo Cafe Nanbasennichimae

Slot 1: December 6, 2019 – December 20, 2019

Slot 2: December 21, 2019 – January 10, 2020

Slot 3: January 11, 2020 – January 26, 2020

*Menu and coaster designs will change for each slot

*Full information can be found on the Sega Collabo Cafe homepage

Official Website: https://sega-collabocafe.com/top/tenipuri.html

Sweets-themed event to celebrate "The Prince of Tennis 2" to open in Ikebukuro!

Theme park Namco Namja Town is collaborating with manga/anime series new "The Prince of Tennis" to hold the event "The Prince of Tennis 2 Sweet Party in Namja Town". This will take place for a limited time only from Friday 1st March to Sunday 14th April 2019.

This event will feature the 2018 Happy Summer Valentine, where the characters are ranked from 1-10 in a Namja Town illustration. There are also mini-games where participants can get their hands on original goods and gifts. There are also meals and desserts based on the characters from the manga, and a photo spot where you can hear recordings of the characters saying lines that you cannot and never will hear anywhere else! What a special event! On Tuesday 2nd April, there will be a talk show featuring Yuki Kaida; the anime voice actress of Syusuke Fuji.

※ 1… "The Prince of Tennis 2" characters Valentine's Day chocolate rankings revealed!

Ryoma Echizen Grape Ponta ¥870 (price includes tax)

Keigo Atobe no naru hodo blue jelly sundae ¥870 (price includes tax)

Kazuya Tokugawa black hall Japanese-style pasta ¥930 (price includes tax)

Happy Birthday!! Syusuke Fuji's tensai plate ¥880 (price includes tax)

Only available from:Friday 1st March ー Sunday 17th March 

Happy Birthday!! Kuranosuke Shiraishi's perfect plate ¥880 (price includes tax)

 
Only available from Sat 30/03 ー Sun 14/04 

The Prince of Tennis 2-themed mains and desserts are also available. As Syusuke Fuji and Kuranosuke Shiraishi's birthday will occur during the event period, there will be a limited birthday menu too! If you purchase one item off these limited edition menus, you will receive a free illustration sheet!

Prize A:Tote bag(Only one design available)

Winner's prize:Round-edged tin badge (10 varieties available)

There is also a limited edition mini candy game called "Candy Kuji" (500Y per go) which is a candy lottery with a wide range of candy you can win! Pick your favourite from the panel. You will also receive this candy in a bag with a handle that matches the colour of your candy!

The "Ametama Hakobi" mini-game involves scooping out candy from one place and packing it into a container (¥400 per go). If you can fill the container with the target weight of candy, you win!

A Namja Town-limited life-size board illustration will also be placed inside the park. If you insert a "sweets card" into the present box (プレゼントお預かりBOX) located near the life-size illustration board, the characters on the board will speak to you!

In addition, on Friday 1st March and Sunday 14th April respectively, Syusuke Fuji's and Kuranosuke Shiraishi's special birthday-themed messages will play. These birthday messages will only play on the respective dates mentioned above! One Sweets Card will be presented to those who play the mini-game "Candy Kuji" three times. You will receive two Sweets cards if you play five times!

Sweets pouch with acrylic charm, one design available,  ¥2,500 (price includes tax)

※ There are 10 varieties of acrylic charm. One acrylic charm is attached per pouch at random.

You can also purchase original goods here ー please check them out!

To commemorate "The Prince of Tennis 2 Sweets Party in Namja Town", there will be a talk show featuring Yuki Kaida; the anime voice actress of  Syusuke Fuji. Fans of the anime and manga just won't be able to contain their excitement! From corner to corner, this event is packed with fun!

Information

The Prince of Tennis 2 Sweets Party in Namja Town

新テニスの王子様 スイートパーティー in ナンジャタウン

Location:Namco Namja Town, World Import Mart Bldg 3-1-3, Higashiikebukuro

Toshima-ku, Tokyo
Event period:Friday 1st March to Sunday 14th April 2019.

The Prince of Tennis Sweets Party in Namja Town special event website:
URL:https://event.bandainamco-am.co.jp/namja/tenipuri_sweet_party/

 

Minigames: Candy Kuji/ Ame Tama Hakobi

Opening hours:Weekdays:13:00 ー 20:00 / Weekends & national holidays/designated days:10:00 ー 20:00
※Designated days:Friday 1st March, Friday 22nd March ー Friday 29th March

 

Talk show featuring Yuki Kaida; the anime voice actress of  Syusuke Fuji

Location:Ennichi Hiroba (Inside Namja Town)

Time & date: Tuesday 2nd April 2019 from 19:00 onwards 
How to attend: You will receive one lottery ticket with the chance to attend the talk show for every three tickets you purchase to play the "Ame Tama Hakobi" mini-game (1 game = ¥400)

Application period:Friday 1st ― Sunday 17th March 2019

※ If you are successful in the lottery, your lottery ticket will be exchanged with a winning ticket.

 

Namja Town official website: https://bandainamco-am.co.jp/tp/namja/

 

 © Takeshi Konomi /Shueisha Inc, NAS, The Prince of Tennis Project

The Prince of Tennis Film Adaptation Announced for Spring 2020 Release

The Prince of Tennis is a manga series written and illustrated by Takeshi Konomi that was serialised in Weekly Shonen Jump from 1999 to 2008. It has spawned an anime series, musical, and live-action film. Shortly after its run ended a sequel manga titled New Prince of Tennis began serialisation in Jump Square which is currently ongoing.

Next year will mark the franchise's 20th anniversary. In line with this, the manga's author Takeshi Konomi appear at Jump Festa 2019 which was held at Makuhari Messe on December 22. There he revealed that a new movie titled Ryoma! Rebirth Movie The Prince of Tennis will be release in early spring 2020.

The film will feature a completely original story that takes place in the three months between The Prince of Tennis and New Prince of Tennis. The title logo was also unveiled at the event featuring a stained glass design with the colours of each school.

A visual was also shown drawn by Konomi himself that features a cool and collected Ryoma wielding a tennis racket like a samurai would hold his blade. The event wrapped up with Konomi performing the song Tenipuri tte Iina which he composed and wrote himself.

Prince of Tennis the Musical live viewing to be streamed in Japan and Hong Kong!

The live musical "The Prince of Tennis" 3rd season – Seigaku vs Higa" grand tournament will be held on Sunday 18h February 2018 at TOKYO DOME CITY HALL. This will be streamed all over Japan and even in Hong Kong!

The Prince of Tennis is a popular Japanese anime. Main character Ryoma Echizen is a talented tennis player who enters a specialist tennis school called Seihun Gakuen, or Seigaku for short. Having entered the school's prestigious tennis club, his overwhelming strength and passion for tennis pushes him forward to keep going.

From Thursday 21st December they will perform in 5 cities in Japan. Seigaku Middle School has finally reached the Kanto grand championships! However, they will be up against the dark horse Higa Middle school from Okinawa for an intense battle!

This will be the first ever appearance in a tennis musical for characters Tomoya Shiranui and Kōichi Aragaki, who will be battling on the opposing team. The opposing team have a high physical ability and all players are Okinawan martial artists who fuse their martial arts skills into their tennis playing strategy. I wonder how they will fare against Seigaku?

It has been announced that with the exception of Nichka Akutsu who plays Ryoma Echizen, the cast of the 11 members of Seigaku will be graduating next spring, making this the last live performance of Seigaku vs Higa with the original cast.

This grand tournament is filled with emotion and will be live streamed all over Japan and even to Hong Kong! As the tension builds up, let's all keep our eyes on the game!

◼︎Information

The Prince of Tennis musical – Season 3: Seigaku vs Higa Grand Tournament Live Viewing

Date and time: Sunday 18th February 2018 from 18:00

Location: Live streamed all over Japan and to Hong Kong

   Available live viewing cinemas in Japan>>http://liveviewing.jp/tennimu3rd-higa/

※ Start times vary from cinema to cinema

※ Please be aware that in Osaka, if a viewer under the age of 16 is unaccompanied by an adult, they will not be permitted to enter the cinema if the performance end time is later than 19:00.

※ Information concerning live viewing in overseas countries will be updated on the following overseas live information website on a later date:(http://liveviewing.jp/tennimu3rd-higa-eng/)

Ticket prices:

¥3,600(price including tax, designated seating)

※ Those over the age of 3 and those under the age of three who require their own seat must be paid for.

Ticket schedule/purchases:

【Preorder(lottery)】

Sunday 24th December 2017 (12:00) 〜 Sunday 14th January (23:59)

▶Eplus:http://eplus.jp/tennimu3higa-lv/ (PC & mobile-friendly)

【General ticket sales (first come first served)】

Saturday 27th January 2018 (12:00) ~ Friday 16th February (12:00)

▶Eplus:http://eplus.jp/tennimu3higa-lv/ (PC & mobile-friendly)

▶ Family Mart's Famiport (ticket machine located inside the Family Mart convenience store)

※ As general tickets are sold on a first come first served basis, sales will end once all tickets are sold out.

◇ Playguide ticket agency queries

▶ Eplus: 0570-07-5050 (Operator support available Monday to Sunday: 10:00 ~ 18:00)

※ Closed during the New Year's holiday period: Sunday 31st December 2017 ~ Tuesday 2nd January 2018

The Prince of Tennis musical – Season 3: Seigaku vs Higa Grand Tournament Live Viewing information website:

http://liveviewing.jp/tennimu3rd-higa/

Organised by:Tenimyu production committee

  (Neruke planning/ Marvelous/Shueisha/Nihon Ad Systems/TV Tokyo)

Streamed by: Live viewing Japan

© Takeshi Konomi/Shueisha/NAS/ New Prince of Tennis Project © Takeshi Konomi/Shueisha/ Tenimyu production committee

Important information: The live stream

※ Please acknowledge that changes to your purchase for your own convenience or any kind of refund is not possible.

※ As is the case with a normal performance, the purpose of this performance is to entertain. Therefore, we ask you to accept that some scenes may cause the audience to laugh or to give a round of applause.

※ Recording of sound, video, photography and streaming on camera, mobile phone or any other form of recording equipment is prohibited within the venue. Please be aware that those who are found to be recording or photographing in the venue will be required to delete the footage and leave the venue.

※ It is possible that disruptions can occur from time to time in the signal during the relay of the live stream, affecting video and audio quality.

※ The live can end much after the scheduled end time or may be stopped before the end of the show.

※ It is possible that a film and photography crew are present at the cinema.

Important information: Play Guide tickets

※ Due to system maintenance, the website will be down on the first and third Thursday of each month from 01:25~08:00 AM. Therefore, applications and purchases will not be possible. There may also be other occasions that temporary maintenance is carried out. Further information will be posted on the Eplus website.

※ You are required to register as a member on the Eplus website (free of charge) before making applications to purchase internet tickets.

※ There will be an additional commission charge besides the ticket fee.

The Prince of Tennis musical official website:https://www.tennimu.com/