Jujutsu Kaisen Themed Cafes to Open in Tokyo, Osaka, and Nagoya
Three cafes in Tokyo, Osaka, and Nagoya are set to collaborate with the anime series Jujutsu Kaisen from July 15.
The popular manga series, serialised in Weekly Shonen Jump, is written and illustrated by Gege Akutami. An anime series began airing in October last year and wrapped up in March. An anime film, Jujutsu Kaisen 0, is slated for release on December 24, 2021.
The collaboration cafe is opening as part of the Jujutsu Kaisen Exhibition which is set to take place across Japan from July 2. The exhibition will be split into two separate periods, the first being themed on episodes 1-13 and the second on 14-24. It will display decorations based on scenes from the series, artwork, and more.
Masatsugu Nagasoe, the videographer who worked on the anime series' first ending theme, took charge of the art direction for the cafes, eventually deciding on the theme of 'stylish.' Fans can enjoy themed food, get their hands on merch, and more.
Yuji Itadori's Steak Sandwich Plate | ¥1,400 (Before Tax)
Megumi Fushiguro's Shadow Pasta | ¥1,400 (Before Tax)
The cafe menu is filled with dishes and desserts inspired by the Jujutsu Kaisen characters.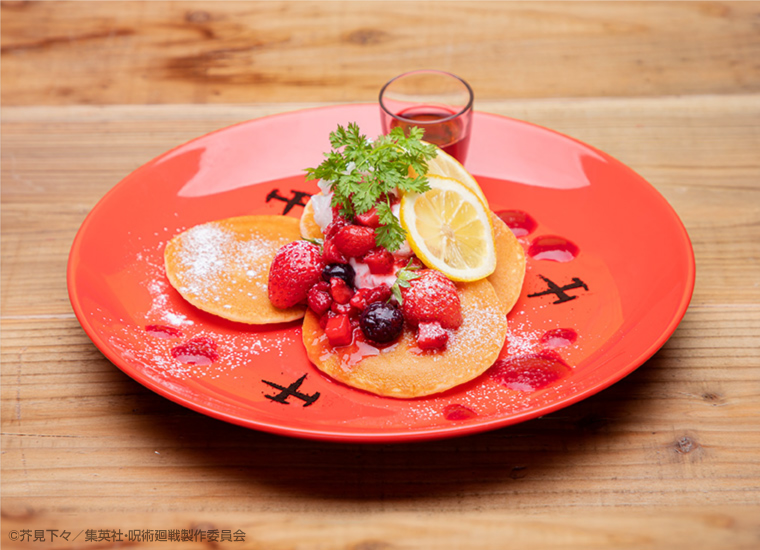 Nobara Kugisaki's Strawberry Pancakes | ¥1,400 (Before Tax)
Panda's Panda a la Mode | ¥1,400 (Before Tax)
The fancy food's plating is all Instagrammable.
Set Drinks (Not Available Separately)
There's also a collection of drinks you can order as a set with your food or dessert which come with illustrations of the characters.
Acrylic Keyrings / Pins / Folders
Sticker Set / Acrylic Dioramas / Handkerchiefs

Fans can also get their hands on a range of merchandise feature Studio MAPPA's stylish art as well as other exclusives.
©芥見下々/集英社・呪術廻戦製作委員会
Information
Jujutsu Kaisen Cafe
Booking Price: ¥600 (Includes Freebie)
Jujutsu Kaisen Cafe Official Website: https://jujutsukaisen-cafe.jp
Harajuku Cafe
Running: July 15, 2021 – September 12, 2021
Address: Harajuku BOX cafe&space (Harajuku Alta Floor 3F, 1-16-4 Jingumae, Shibuya, Tokyo)


Ikebukuro Cafe
Address: Matsumotokiyoshi Ikebukuro Part2 Floor 4F (1-22-8 Higashi-Ikebukuro, Toshima-ku, Tokyo)
Running: July 15, 2021 – August 15, 2021
Umeda Cafe
Address: Umeda Box Cafe&Space (1F Umeda LOFT, 16-7 Chayamachi, Kita Ward, Osaka)
Running: July 15, 2021 – September 12, 2021


Abeno Cafe
Running: July 15, 2021 – August 15, 2021
Address: Abeno Q's Mall Floor 4F (1-6-1 Abenosuji, Abeno Ward, Osaka)


Nagoya Cafe
Running: July 15, 2021 – August 22, 2021
Address: Nagoya Box Cafe&Space (B1F LACHIC, 3-6-1 Sakae, Naka Ward, Nagoya, Aichi Prefecture)
RELATED ENTRIES
Sylvanian Families and Tower Records Open Collaboration Cafe in Omotesando

Tower Records Cafe is known for collaborating with a number of unique properties at their Omotesando location. Starting November 3, the 'Pop-Up Cafe: Exciting Autumn Concert' will be serving guests some adorable dishes in conjunction with the Sylvanian Families line of animal toys! The event will take place in two stages, and will continue until November 23, 2021. 

Collaboration Menu

Persian Kitten's Sparkling Star Stew: ¥1,490 (Tax Included) 




Walnut Squirrel Style Honey Nut Chicken: ¥1,490 (Tax Included) 




Forest Fruit Salad: ¥1,320 (Tax Included) 




Baby Rabbit Chocolate Pancakes: ¥1,320 (Tax Included) 




Baby Deer's Heart French Toast: ¥1,490 (Tax Included)




Panda-cotta with Fruit: ¥1,320 (Tax Included) 





Choose a Hot Drink (Latte/Cocoa/Milk): ¥890 (Tax Included) 

Exciting Autumn Concert Original Takeout Bottle: ¥980 (Tax Included)




Souvenir: Baby Animal Set

Table Mats

Merchandise

Sylvanian Melodies 1

Sylvanian Melodies 2

Baby Animal Camping Series (9 varieties)

Those purchasing goods will receive an original sticker. 

Those reserving a spot at the cafe will receive an original sticker. 

Sylvanian Families is a line of collectible animals made of flocked plastic, originally released in Japan in 1977. Made to place inside dollhouses, these little creatures have remained popular worldwide since release. This cafe will feature original goods and dishes, including five dishes inspired by the members of the marching band shown in the event's main visual. Inside the store, there will be large dolls and an original diorama that can only be seen during the Omotesando event. 

Information

Pop-Up Cafe – Exciting Autumn Concert

Tower Records Cafe

1st Stage: November 3 – November 12, 2021

2nd Stage: November 13 – November 23, 2021

Address: Imon Harajuku Building 2F (6-3-9 Jingumae, Shibuya-ku, Tokyo) 

Details: https://tower.jp/article/news/2021/10/14/c101

Official Site: https://tower.jp/

New Anime Series Visual Prison Inspires Limited-Time Cafes in Tokyo and Osaka

One of the most highly-anticipated anime series this season is Visual Prison, and to celebrate the show's premiere, a collaboration cafe will open in Tokyo and Osaka for a limited time! Fans won't want to miss out on the delicious visual-kei inspired menu, perfect for sharing on Instagram. The cafe will also feature limited-edition merchandise with original designs of the show's characters. 

Menu

[O★Z]  Azure Hamburger Plate: ¥1,650 (Tax Included) 

[LOS†EDEN] Jet Black Fruit Sandwich: ¥1,650 (Tax Included) 

[ECLIPSE] Moon White Risotto: ¥1,650 (Tax Included) 

Ham & Egg German Pancake: ¥1,650 (Tax Included)

Crimson Moon Pancakes: ¥1,320 (Tax Included) 

Pannya Parfait: ¥1,430 (Tax Included) 

Guil's Affogato: ¥990 (Tax Included) 

Drinks

Robin/Ange/Guiltia/Eve: ¥990 each (Tax Included)

Jack/Mist/Saga/Elizabeth: ¥990 each (Tax Included)

Dimitri/Hyde: ¥990 each (Tax Included)

Original Merchandise

Pin (Random, 10 varieties): ¥550 (Tax Included) 

Acrylic Stand (Random, 10 varieties): ¥990 (Tax Included) 

Acrylic Keychain (Random, 10 varieties): ¥715 (Tax Included) 

Mini Character Acrylic Stand (Random, 10 varieties): ¥990 (Tax Included) / Sticker Set (Includes 10): ¥1,089 (Tax Included) 

Clear Poster (O★Z): ¥1,089 (Tax Included) 

Clear Poster (LOS†EDEN): ¥1,089 (Tax Included) 

Clear Poster (ECLIPSE): ¥450 (Tax Included) 

Swizzle Stick (O★Z/(LOS†EDEN/ECLIPSE): ¥990 each (Tax Included)

Those who make a reservation in advance will receive a random invitation (3 varieties) to enjoy the cafe and one random original coaster (10 varieties) per drink order. 

Visual Prison tells the story of vampires masquerading as visual-kei musicians. The series began airing on October 8 in Japan and is currently available to watch on Funimation in the west. Will you be watching?


(※)TVアニメーション『ヴィジュアルプリズン』

©Noriyasu Agematsu,Afredes/Project VP

Information

Café de VISUAL PRISON

Location/Running: 

Omotesando, Tokyo: BOX cafe&space Omotesando

October 21, 2021 – November 21, 2021

B1F Pine Under Flat, 5-13-2 Jingumae, Shibuya-ku, Tokyo

Shinsaibashi, Osaka: Shinsaibashi contact

October 29, 2021 – November 21, 2021

1-6-24 Kitahorie, Nishi-ku, Osaka

Reservations begin October 11 at 18:00 (First come, first served) 

Reservation Fee: ¥715 (Tax Included) *Up to 4 seats per reservation. 

*Those who reserve in advance will receive special bonuses!

Online Shop Open: October 21, 2021 at 10:00 – November 21, 2021 at 23:59

Online Shop: https://cafe-de-visualprison.jp/online_store

Official Site: https://cafe-de-visualprison.jp/

no mark.Café in Tokyo Collaborates with Parent-Child Art Unit Musee du Aouvre

Located in an old traditional Japanese house in Kiyosumi Shirakawa, no mark.Café has a cozy ambiance for guests looking to escape the hustle and bustle of the city. From October 15 until November 30, the cafe is collaborating with the parent-child art unit Musee du Aouvre, and thirteen works from the group's blog will be on display throughout the building. A campaign will also be held, giving visitors the chance to receive some original coasters and a small wind God figure to sit on the side of a coffee cup. 

Campaign Present A. Aouvre Coaster / B. Aouvre Wind God Figure

The cafe aims to be a place where guests can enjoy art as they relax, and to further this idea, they will be collaborating with a number of artists in the 'CAFE DE ART' project. 

The first collaboration is with Musee du Aouvre, an art unit consisting of a father and son duo who copy famous works of art. These aren't just any forgeries–they are incredibly adorable and pay proper homage to the original creations. Thirteen works will be selected from the pair's blog and will be exhibited under the title 'The no mark.Café Great Counterfeit Exhibition.' A 2022 calendar and postcards of the works will be on sale at the store, and videos will provide information about the original works of art. Visitors can also participate in the Twitter and Instagram campaign to win a special collaborative item!

Daruma Themed Exhibition and Auction Featuring 11 Artists Opens in Shimokitazawa

From October 13 to October 27, artists are flocking to BONUS TRACK Gallery in Shimokitazawa to display some incredible works based on daruma, a type of lucky Japanese traditional doll. These works will also be up for sale in an online auction happening during the event period!

October 2020 Exhibition

October 2020 Exhibition





The motif of BONUS TRACK is the daruma, which are seen as symbols of perseverance and good luck in Japanese culture. This marks the third time that artists have been invited to create and sell their daruma-inspired works.

20% of the final bid price for each piece will be donated to various organizations. 30% will be given to the venue, while 50% will be given to the artists themselves. 

During the first event, donations went towards the Nippon Foundation's Emergency Relief Fund for Coronavirus. Other organizations supported include the Kitazawa Osekkai Club, a group involved in PTA and youth committee activities in the area, and Peace Wanko Japan, a dog protection organization in Hiroshima. 

Enjoy a Weather and Time-based Cream Soda at the Newly Opened 'Cafe Amayadori'

The Oarai Tourism Omotenashi Promotion Council opened Cafe Amayadori, a rain and healing themed coffee shop, on September 18 2021. The shop was opened as a challenge and is located in the Umimachi Terrace Tourist Information Center.

Cafe Amayadori

Cafe Amayadori Menu

Cafe Amayadori Tote Bag

You can clearly hear the sound of the rain from inside the store, while the served cream soda changes based on both the weather and the time. On clear days where the sun is shining, you can order the traditional green-color  'Blue Sky Cream Soda,' while on rainy days you can order the blue 'Rain-color Cream Soda.'

The cafe also serves a wide variety of Japanese and Western meals and desserts, each cooked using local Oarai produce. Morning and lunch specials are also available, meaning you can easily work your visit around your own schedule.

The concept of the cafe is "Rain." You can dash into the cafe as if you're looking for shelter from the weather before sitting down to eat and drink in the calm space, emphasized by the soothing music that plays in the background. While the soundtrack depends on the day, the sound of rain is often played. However, the sounds played on rainy days are a little different to the usual. True to its name, the cafe can create a comfortable Amayadori (lit. rain shelter) no matter what the weather!

'rain coat studio' is a group of creators who have been working on 'rain' themed events and designs since 2016. The group was formed with the idea that "when it rains, our activities are limited due to the dull weather. On the other hand, the rain represents the season and soothes those who listen to it's sound." 

The group aims to create music, events, artwork, and more, that are cool like the rain but still convey a kindness. The 'rain coat studio' came up with the idea of a coffee shop as a way to try creating a restaurant business that followed their ideals.

The signature item on Cafe Amayadori's menu is the 'Weather Cream Soda.' The flavor depends on whether the weather is clear, rainy, and after-rain, but can also depend on the time – They even offer special drinks for 'Morning Fog' and for drinking in the evening, along with a limited-time 'Seasonal Cream Soda. 

The cafe doesn't just serve Cream Soda! Customers who would like a full meal can also order from a selection of Japanese food, Western food, and desserts. A limited edition tote bag is currently on sale to commemorate the opening of the cafe.

Why not try relaxing on a rainy day at Cafe Amayadori?

Information

Cafe Amayadori

Address: Uramichi Terrace, 301 Sakuramichi, Oarai-cho, Higashi-Ibaraki-gun, Ibaraki *Directly connected to Oarai Station

TEL: 029-352-2715

Opening Hours: 09:00 ~ 17:30 (subject to change) 

Closed: Mondays, Holidays (subject to change) 

Official Site: http://rain-sound.com/cafe

Tokyo Revengers Featured in 10th Installment of Anime-Inspired Cooking Project Anicook

AniCook, a project by CookpadTV using anime to make cooking more fun, is holding its 10th collaboration with the extremely popular anime series Tokyo Revengers! The event will be held from October 29 until November 23, and will feature characters from the show dressed in original cafe staff costumes serving up themed foods. Reservations are now open, and those coming to the cafe on Halloween might just get a surprise gift!

Menu

Food

Desserts

Drinks

Stickers gifted for each food and dessert order (8 varieties) / Postcards gifted for drink orders (8 varieties) 

Exclusive Merchandise

CookpadTV continues to lead the way in quality collaboration cafes across Japan and has arranged each dish with specific characters in mind. The concept this time around is 'one-bite knockout,' with each menu item made to be so tasty guests will be KO'ed instantly, as if they've just been kicked by Mikey himself. 

Tons of xclusive merchandise will also be on sale, so don't miss out! These will also be available on the CookpadTV website. 

*Please note that the design and color of the exclusive merchandise are subject to change. 

©和久井健・講談社/アニメ「東京リベンジャーズ」製作委員会

Information

cookpadLive Tokyo Revengers

Address: Shinsaibashi PARCO 5F (1-8-3 Shinsaibashisuji, Chuo-ku, Osaka) 

Running: October 29 – November 23, 2021

Hours: 11:00-21:00

Please make reservations on the official website. 

E-commerce site: https://cookpadtv.stores.jp/

Official Site: https://cookpadlive.cafe/collabo11

Tokyo Mega Illumination at Tokyo City Keiba to Collaborate with NAKED for AR Experience

2021 marks the fourth year that the Oi Racecourse, also called Tokyo City Keiba, will be bathed in a sea of over eight million colorful lights! The Tokyo Mega Illumination is back from October 16, 2021, until April 10, 2022, and features a water fountain show synchronized to music, a 100-meter tunnel covered in twinkling lights, and more. This year, in the Twinkle area of the event, guests can enjoy various AR illuminations created as a collaboration with NAKED, a creative production company headquartered in Shibuya. The NAKED BIG BOOK interactive experience will also welcome visitors to enjoy a projection mapping experience like no other.

NAKED BIG BOOK

Pergola (Interactive)

Illuminated Logo

AR Horse Camera Filter

AR Lights
Limited-Time Area: Tree Playing with Lights (Lawn Area)

NAKED's most popular work, NAKED BIG BOOK, utilizes projection mapping to allow guests to turn the pages of a giant book and experience a unique world separate from their own. Using web filters and AR, guests can also see the object as a pop-up picture book! 

During this special collaboration held on a horse racing track, visitors can also see a giant white horse in AR as they explore the grounds. Colorful horseshoes and stars will pop up from people's footprints, and the sound of visitors' steps will take on the sound of a horse's hooves instead. Be sure to make some memories by snapping commemorative photos with themed filters during the event!

Information

Tokyo Mega Illumination 2021-2022

Open: 

October 16, 2021 – April 10, 2022

Open Saturday and Sunday throughout October (Closed October 31)

Open Daily from November 1, 2021 – January 10, 2022 (Closed on Race Days and January 1)

Open Friday, Saturday, Sunday, and Holidays from January 11, 2022 – April 10, 2022 (Closed April 1)

Tickets are sold for the following week. New tickets for the following week go on sale each day at 0:00. 

Tickets: https://www.asoview.com/channel/tickets/gCscCKZ8EA/

Official Site: https://www.tokyomegaillumi.jp/

Machida City Museum Hosts Looking at Prints: Techniques, Expressions and Histories Exhibition

The Machida City Museum of Graphic Arts in Machida, Tokyo, is currently holding the Looking at Prints: Techniques, Expressions, and History exhibition until December 5, 2021. Featuring over 130 prints created with a large variety of techniques, guests can take a deep dive into how each piece of art was made. 

An Up-to-Date Parody of the Four Classes – Utagawa Kunisada. 1857. Letterpress, wood, multi-color printing. 

Artists featured in the exhibition have used many different techniques to create their masterpieces, including woodblocks, copper plates, lithographs, and stencils. The main exhibit introduces famous printmakers such as Albrecht Durer, Pablo Picasso, and Shiko Munakata, but also a number of lesser-known artists who utilized less traditional techniques. All explanations are in an easy-to-understand manner, so why not come learn about art in Tokyo? 

Information

Looking at Prints: Techniques, Expressions, and Histories

Running: Until December 5, 2021 (Closed Mondays)

*Contents will undergo partial changes throughout the exhibition. 

Hours: 

Weekdays – 10:00 AM until 5:00 PM

Weekends/Holidays – 10:00 AM until 5:30 PM

*Last admission 30 minutes before closing. 

Address: Machida City Museum of Graphic Arts (4-28-1 Haramachida, Machida, Tokyo)

Official Site: http://hanga-museum.jp/

Sumikko Gurashi Themed Cafes Open in Tokyo, Osaka, and Aichi to Commemorate Second Theatrical Movie

To commemorate the release of the their second movie, 'Sumikko Gurashi: Aoi Tsukiyo no Mahou no Ko,' Sumikko Gurashi will be opening the limited-time 'Night Party with Sumikko' cafe in Osaka on October 20, Tokyo on October 21, and Aichi on November 11.

 

(Advance Reservation Benefit Only) Original Invitation with Postcard (Five types)

Menu

Tokage's Night Party Curry: ¥1,430 (Tax Incl.)

Shirokuma's Warming Hot Rice Casserole: ¥1,430 (Tax Incl.)

Five's Recommended Children's Lunch: ¥1,650 (Tax Incl.)

Magician's Party ~Açai Bowl~: ¥1,430 (Tax Incl)

Aoi Tsukiyo's Fruit Punch: ¥1,100 (Tax Incl.) + ¥220 for one mini ice cream

Sumikko's Pudding Ice Cream: ¥880 each (Tax Incl.)

Starry Drink: ¥990 each (Tax Incl)

Dolomite Coaster

Hot Café Au Lait: ¥880 (Tax Incl.)

Original Goods

Acrylic Keyholder (Random out of five): ¥770 (Tax Incl.)

Phosphorescent Sticker (Random out of eight): ¥605 (Tax Incl.)

Acrylic Stand (Random out of five): ¥880 (Tax Incl.)


Muddler (Three types): ¥1,100 each (Tax Incl.)

Mug Cup: ¥1,980 (Tax Incl)

Purse: ¥1,100 (Tax Incl.)

Fluorescent Pen Set: ¥1,100 (Tax Incl.)

A5 Clear File Duo: ¥605 (Tax Incl.)

Bandanna: ¥1,870 (Tax Incl.)

The Sumikko Gurashi characters are beloved by both adults and children for their gentle touch and tone. Their first movie, 'Sumikko Gurashi Tobidasu Ehon to Himitsu no Ko' was released in November 2019 and received great popularity. The sweet story of the Sumikko's adventures through a story-book world attracted over 1.2 million viewers across Japan.

The heartwarming cafe menu includes "Tokage's Night Party Curry," "Shirokuma's Warming Hot Rice Casserole," Five's Recommended Children's Lunch,""Magician's Party ~Açai Bowl~," "Aoi Tsukiyo's Fruit Punch," "Starry Drink," and more. The cute, Instagrammable dishes feature the characters who feature in the movie, which tells a mysterious story that begins under a blue moon in the Sumikko's hometown. A lineup of limited edition goods and perks will also be available, adding to the movie excitement.

 

Enjoy a cute, social-media friendly meal and original merchandise at the exciting Sumikko Gurashi cafe!

©2021 Japanese Sumikko Gurashi Association Film Club

Information

Sumikko Gurashi Cafe

Date/Store

Tokyo: BOX cafe&space Tokyo SolaMachi (Previously TOKYO BOX cafe&space Tokyo SolaMachi)

October 21 ~ December 5 2021

1-1-2 Tokyo Sky Tree Town Solamachi 1F, Oshiage, Sumida-ku, Tokyo

Shinsaibashi, Osaka: kawara CAFE&DINING Shinsaibashi

October 20 ~ December 5 2021

1-4-3 Shinsaibashi OPA 9F, Nishishinsaibashi, Chuo-ku, Osaka City, Osaka

Aichi & Nagoya: BOX cafe&space Nagoya LACHIC 1F (Previously NAGOYA BOX cafe&space A) 

November 11 ~ December 12 2021

3-6-1 LACHIC Basement 1F, Sakae, Naka-ku, Nagoya City, Aichi

Reservation Fee: ¥650 (¥715 incl. tax) *Reservation comes with benefits *Up to four seats can be reserved per application.

Cafe Online Shop opens November 11 12:00 until December 12 at 23:59

Reservations & Official Site: https://sumikkogurashi-movie-cafe.jp 

Official Twitter: https://twitter.com/cafe_sumikko 

Online Shop: https://sumikkogurashi-movie-cafe.jp/online_store 

Keina Suda Chosen to Perform Theme Song to Upcoming Mari Okada Film Dog Star

The grand opening of Konica Minolta Planetarium Manten NAGOYA is scheduled for October 27, 2021. The original film Dog Star: Kimi to Miageru Fuyu no Seiza-tachi (Winter Constellations to Look Up With You) is set to be screened as the location's first event, and singer-songwriter Keina Suda has been chosen to perform the movie's theme Yomosugara (All Night). Ahead of the film's premiere, advanced tickets will be on sale starting October 20, and those who purchase one will receive a special character acrylic stand!

Dog Star: Kimi to Miageru Fuyu no Seiza-tachi Trailer #2

Advance Ticket Bonus: Acrylic Stand

Keina Suda, chosen to perform the theme song for Dog Star: Kimi to Miageru Fuyu no Seiza-tachi

Konica Minolta Planetarium Manten NAGOYA will be Japan's first planetarium to use the LED dome system DYNAVISION-LED, which utilizes self-luminous LED elements instead of a projector. 

Before making his major debut, Keina Suda was a popular Vocaloid producer going by the name Balloon. During this period, his song Charles became a smash hit, getting over 100 million views on YouTube. The musician wrote the song Yomosugara for the film. The writer of the film, Mari Okada, is also known for her work on Anohana: The Flower We Saw That Day and The Anthem of the Heart. 

A completely original story written by Mari Okada

A friendship between two boys begins to twinkle in the light of the winter constellations. 

Nobunaga Shimazaki plays Kousuke, a boy who is crazy about the stars, while Yama Uchida portrays Natsuki, active on the track and field team. This is a coming-of-age story woven together with the starry sky made of LED lights only available at Manten NAGOYA. 

Kousuke, a boy who loves stars, failed his high school entrance exam. He reluctantly enrolls at his second-choice school, where he meets Natsuki, a member of the track and field team. He compares the brilliance of Natsuki to that of Sirius, the first magnitude star that shines with a fierce intensity. Kousuke thinks Natsuki is not the same as him, who is only the second magnitude star with little presence. However, the fate of the two twinkling stars is about to change drastically…

Popular SNS Character 'BLUE HAMHAM' has Landed at Hanshin Umeda, with New Limited Items

BLUE HAMHAM, a character by animator Arimura Taishi, will be featured at the 'BLUE HAMHAM POP UP SHOP -AUTUMN PLANET-,' open from October 8 until October 19 at Hanshin Umeda.  

Limited Goods

Event Limited T-Shirt (Size: M/L Colors: BLACK/WHITE): ¥4,400


Event Limited Sticker: ¥385



Event Limited Acrylic Stand: ¥1,320



Event Limited Keychain: ¥935

Novelties

Customers who spend over ¥6,000 will receive a free special shopping bag.

 

The event, which will be held in the newly opened Riakuro EVENT SPACE floor following the Umeda store renewal, will have four one meter-tall 3D BLUE HAM HAM statues greeting customers as they enter the store, each wearing adorable matching mufflers. There will be 15 new Autumn/Winter products overall, including T-shirts and stickers featuring artwork by creator Arimura Taishi. The BLUE HAMHAM muffler will also be available to purchase.

Customers who spend over ¥6,000 instore will receive a limited edition shopping bag for free! Not only that, customers who add the Official Hanshin Umeda LINE account will receive a coupon, while the first 200 customers will also receive an additional event-original postcard.

 

Popular animations will be looped on retro-themed TV monitors, allowing visitors to immerse themselves in the world of 'BLUE HAMHAM.' Be sure to check out this limited shop and the new Autumnal character designs! 

*Images are samples and may differ in real life.

©CHOCOLATE Inc.

Information

BLUE HAMHAM POP UP SHOP -AUTUMN PLANET-

Duration: October 8 2021 ~ October 19 2021 (Scheduled)

Location: Hanshin Umeda 4F Riakuro EVENT SPACE (13-13 Umeda 1-chome, Kita-ku, Osaka City, Osaka)

Official Site: https://bluehamham.com/ 

90 Year Old Renovated Public Bath-turn-Cafe 'Rebon Kaisaiyu' to Hold Collab Exhibition with Illustrator Miyaoka Chigav

Tokyo, Taito-ku based public bath cafe Rebon Kaisaiyu has announced a collaboration exhibition with illustrator Miyaoka Chiga, held between October 10 (public bath day) and October 24 2021, titled "Yu."

 

Rebon Kaisaiyu is a renovated public bath which was built 90 years ago, now transformed into a cafe serving home-roasted specialty coffee and handmade ice cream. The wooden tag shoe boxes, watch seats, ceilings, clocks, and Mt. Fuji paintings from the public bath have been preserved, retaining the comfort and warmth of the original building. 

The space was designed around the concept of "connecting memories through a cafe," striving to become a spot where locals could relax once more, connecting the building with the people of the new generation. The relaxing cafe has 16 seats available and is located only a five minute walk from Tokyo Metro Hibiya Station.

The collaboration exhibition will be filled with artwork using iconic public bath motifs. Miyaoka's gentle illustrations are sure to soothe your heart, immersing you in the warmth of "Yu" (public baths). Why not relax in this unique cafe with a comforting mug of hot coffee.

Information

Rebon Kaisaiyu x Miyaoka Chiga Collaboration Exhibition "Yu"

Duration: October 10 ~ October 24 2021 

Opening Hours: Weekdays 12:00 ~ 19:00 / Weekends, Holidays 11:00 ~ 19:00 (*Based on Rebon Kaisaiyu's opening hours.)

Admission Fee: Free (*Please order one item from the cafe if you decide to use the seats.)

Official Site: https://www.rebon.jp/