BABYMETAL Announces ENCORE GLOBAL STREAM and Overseas Live Album Release
BABYMETAL began this year with the continuation of the celebration of their ten-year anniversary which saw the band hold a series of 10 concerts at the Nippon Budokan in Tokyo. The band have now revealed details of an encore streaming event that will be streamed worldwide. A director's cut of the 10 BABYMETAL BUDOKAN WORLD PREMIERE, which streamed on June 26th, will be shown worldwide, giving fans the opportunity to enjoy the performances with new cuts and a special edit. Early bird tickets are already sold out.
10 BABYMETAL BUDOKAN ENCORE GLOBAL STREAM – Trailer
Additionally, pre-orders for the overseas edition of the band's live album 10 BABYMETAL BUDOKAN have gone live. The record, which celebrates 10 years of BABYMETAL, will be released from BABYMETAL RECORDS on October 1 as both a digital edition and a two-disc physical edition. A double-vinyl edition will also hit shelves in the second half of November.
Further details on tickets for the encore stream are available at BABYMETAL's website.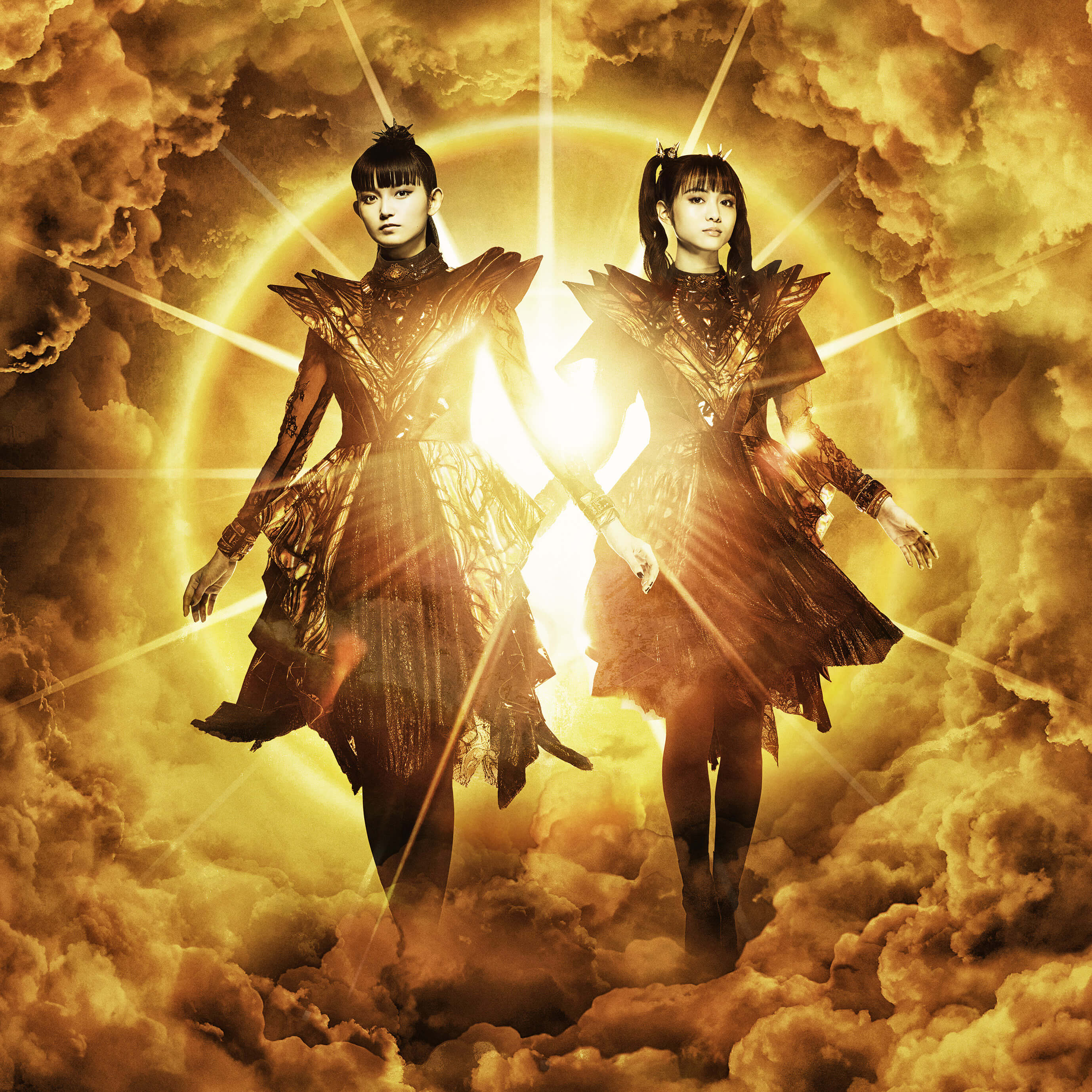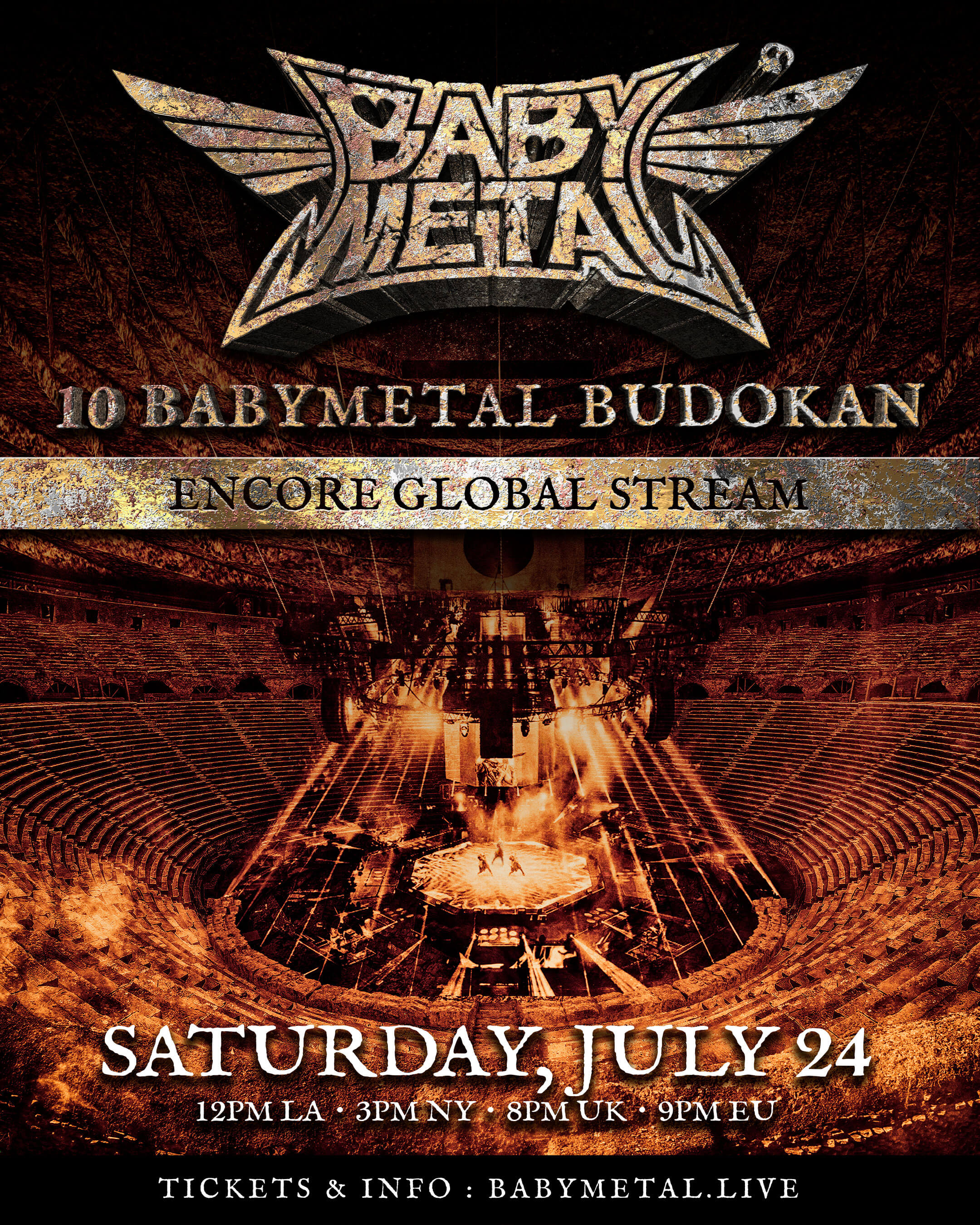 Information
10 BABYMETAL BUDOKAN
2 CD Edition <DOOMSDAY – Ⅸ & Ⅹ> (13 Tracks)
Release Date: October 1, 2021
2 Vinyl Edition <DOOMSDAY – Ⅸ & Ⅹ> (13 Tracks)
Release Date: Late November 2021
10 BABYMETAL BUDOKAN Special Website: http://babymetal.live
RELATED ENTRIES
BABYMETAL Releases 'Light and Darkness,' the Fourth Single from the Upcoming Concept Album 'THE OTHER ONE'

Ahead of the global release of the band's concept album THE OTHER ONE on March 24, 2023, BABYMETAL has released the songLight and Darkness. This is the fourth track released since October 2023, and the music video has also been uploaded to the official Youtube channel.

Light and Darkness – BABYMETAL

The music video contains footage from the BABYMETAL RETURNS -THE OTHER ONE- live performances held at Makuhari Messe in Chiba on January 28 and 29. This marked the return of the group after a hiatus almost lasting two years.

To coincide with BABYMETAL's 10th anniversary last year, the group announced that it would "seal" itself off from the world until further notice. In April 2022, THE OTHER ONE was announced to relaunch the group in the METALVERSE, a piece of the virtual metaverse. The upcoming concept album will be inspired by the idea of a BABYMETAL that fans don't know, and a total of 10 songs have been discovered within THE OTHER ONE restoration project, with each song representing a specific theme based on 10 separate parallel worlds that the members have discovered. This new song is based on the theme of the restored parallel world of Light and Darkness.

Because there is light, there is darkness, and because there is darkness, there is a world that can shine. In the night when light and darkness intersect, what we seek after being poisoned and falling into the depths is a world filled with powerful love. Is it hope or despair that awaits beyond the door?

BABYMETAL's next concert, BABYMETAL BEGINS – THE OTHER ONE, will be held at Pia Arena MM on April 1 (BLACK NIGHT) and April 2 (CLEAR NIGHT). Check out the latest music video and keep an eye on BABYMETAL as they start anew!

BABYMETAL Completes 2-Day Performace at Makuhari Messe, More Shows Announced for Next Chapter

To coincide with BABYMETAL's 10th anniversary last year, the group announced that it would "seal" itself off from the world until further notice in October 2021. On January 28 and 29, 2023, the band held BABYMETAL RETURNS -THE OTHER ONE-, a two-day performance at Makuhari Messe. After a year of silence, the girls are finally back ahead of the simultaneous worldwide release of their concept album THE OTHER ONE on March 24, 2023. The two successful shows welcomed fans into the new world of BABYMETAL, attracting over 30,000 people.

On January 27, the Japanese government revised the country's guidelines for dealing with COVID-19, abolishing the restrictions on maximum attendees allowed in concert halls. The first performance on January 28 felt even more celebratory as a result, with masked fans able to participate as if they had returned to a time before the Coronavirus. The audience cheered and the girls performed their hearts out, reviving BABYMETAL in a whole new way. BABYMETAL held the 'LEGEND – METAL GALAXY' concert at Makuhari Messe in January 2020–the last show prior to the world-changing pandemic.

BABYMETAL performed a total of 13 songs on January 28 and January 29, including five new songs from the upcoming concept albumTHE OTHER ONE. As the audience watched on, the venue was filled with quiet tension as the band returned to the stage for the first time in a year and a half. Fans were given Savior Masks to wear–the dress code for the BABYMETAL unsealing ceremony. At the start of the show, a story video began playing to announce the ten parallel worlds that are represented in the upcoming concept album. Ten apostles appeared on the runway stage, walking from one side to the other in veils and holding wands. A massive stone fox gate appeared, where the members of BABYMETAL were said to be frozen in eternal sleep. Arriving at the gate, the apostles raised their wands and the gate opened in a flash of light and smoke, revealing SU-METAL and MOAMETAL. The two took to the throne and the ceremony began!

The audience's excitement rose to a fever pitch as SU-METAL rose from the throne to perform METAL KINGDOM. The audience began to get even more excited by the dynamic dancing and powerful singing of the Avengers, who joined in on the next song Divine Attack. Following, BABYMETAL's more popular tracks began playing in rapid succession including Distortion (feat. Alissa White-Gluz), PA PA YA!! (feat. F.HERO), Gimme Chocolate!!, and Megitsune.

In the video shown before the song Doki Doki Morning, it was announced that the door to the new world, the METALVERSE, was ready to open, revealing new lifeforms and plenty of new experiences. While the first half of the song was the same as always, the second half featured a new arrangement. Suddenly, a mysterious trio appeared on another stage. It was as if a parallel world was appearing before the audience's eyes, with both groups dancing and singing in unison.

The second half of the live performance featured the new song Light and Darkness, telling the story of a world where light and darkness intersect. The group also performed Monochrome, with the audience's smartphones beautifully illuminating the venue and adding color to the monochrome world.

As the concert began to come to a close, the audience responded by dancing along to an intense performance of Headbangeeeeerrrrr!!!!! The girls also performed their signature track Ijime, Dame, Zettai and Road of Resistance. BABYMETAL screamed "We are BABYMETAL," causing the audience to respond in kind.

For the finale of BABYMETAL's revival, the group performed the new song THE LEGEND.  SU-METAL and MOAMETAL stood on two moving stages each representing the symbol of THE OTHER ONE (∞), soon starting to float in the air, moving slowly from the two ends of the stage to the center of the venue as if the two circles overlapped. The audience was soothed by SU-METAL's singing voice, which gently enveloped the venue, and MOAMETAL and her choir in white.

As the ending movie played, it was announced another seal would soon be opened, and that BABYMETAL would soon be standing on a new stage. SU-METAL and MOAMETAL appeared on stage again and began to climb the steps of an aerial staircase, reminiscent of the stairs to the living legend that appeared in the infinite universe. Two crystal coffins appeared and the girls got in, prepared to be sucked into the gate to the multiverse. Suddenly, an arrow of light was shot between the two coffins, and another crystal coffin appeared, with someone new appearing in front of the third coffin. As the three coffins came together and the gate to the new universe pulsed bright red, the performance came to an end with a flash of intense light.

BABYMETAL was successfully resurrected, sharing their determination to start anew with the audience. The BABYMETAL RETURNS – THE OTHER ONE – performance opened a gate to unknown worlds filled with mysteries far beyond our imagination. What was the third coffin? What three lifeforms appeared on the opposite stage? During the ending movie, fans were excited to see that BABYMETAL BEGINS -THE OTHER ONE- would be held at Pia Arena MM on April 1 and April 2, 2023. A new METAL will be born on Fox Day on April 1, the same day that BABYMETAL will begin the journey to a new world.

The quickest way to preorder tickets for BABYMETAL BEGINS – THE OTHER ONE – is to register for THE ONE 2023. Preorders will start on January 30 at 18:00. See the special website for more details!

BABYMETAL BEGINS – THE OTHER ONE –  will also be broadcast exclusively on WOWOW on March 25, 2023.

BABYMETAL Releases 'METAL KINGDOM,' the Third Single from the Upcoming Concept Album 'THE OTHER ONE'

Ahead of the release of the band's concept album THE OTHER ONE on March 24, 2023, BABYMETAL has released a few tracks to get audiences even more pumped after a year of silence. In October 2022, the group released Divine Attack, followed by Monochrome in November.

On January 20, BABYMETAL released the song METAL KINGDOM on all major music download and streaming services worldwide.

To coincide with BABYMETAL's 10th anniversary last year, the group announced that it would "seal" itself off from the world until further notice. In April 2022, THE OTHER ONE was announced to relaunch the group in the METALVERSE, a piece of the virtual metaverse. The upcoming concept album will be inspired by the idea of a BABYMETAL that fans don't know, and a total of 10 songs have been discovered within THE OTHER ONE restoration project, with each song representing a specific theme based on 10 separate parallel worlds that the members have discovered. METAL KINGDOM is inspired by the parallel world 'THRONE.'

Written as an anthem to usher in a new era, the song aims to remind people that they have the strength to inspire themselves and the ability to start down a new path. The track rises powerfully from BABYMETAL's throne of silence heralding the beginning of a new start for the group.

BABYMETAL has finally broken the seal, and on January 28 and 29, 2023, the duo will hold the BABYMETAL RETURNS -THE OTHER ONE 2-day concert at Makuhari Messe in Chiba. More information will be announced soon, so keep an eye on social media and BABYMETAL's official website!

BABYMETAL to Stream First Live Performance since Rebirth at Movie Theaters Nationwide

In October 2021, BABYMETAL announced that it would "seal" itself off from the world until
further notice. On January 28 and 29, 2023, BABYMETAL will hold the 'BABYMETAL
RETURNS -THE OTHER ONE' 2-day concert at Makuhari Messe in Chiba. It has been
announced that the long-awaited performance will be streamed in movie theaters the
following month, on February 23.

In the group's first real-world performance since its rebirth, BABYMETAL will remind
audiences of how powerful they have been over the past decade. Returning through the
virtual METALVERSE to perform in another world audiences never knew existed, THE
OTHER ONE is a plan to restore BABYMETAL to its former glory while also treating fans to
an entirely different side of the band.

On March 24, BABYMETAL will release the concept album THE OTHER ONE worldwide.

After more than a year of silence, BABYMETAL is finally moving forward. Be sure to head to your local theater on February 23 to see the band in action once again!

Presale Tickets for BABYMETAL's Solo Concert at Makuhari Messe in January 2023 Now on Sale

In October 2021, BABYMETAL announced that it would "seal" itself off from the world until further notice. On January 28 and 29, 2023, BABYMETAL will hold the 'BABYMETAL RETURNS -THE OTHER ONE' 2-day concert at Makuhari Messe in Chiba and pre-sale tickets are now available for purchase! These won't last, so grab yours while you can.

BABYMETAL released the first of five monthly consecutive singles, Divine Attack -Shingeki-, in October, with Monochrome following in November. New songs are on the way in January, February, and March, so look forward to plenty of new content!

Information

BABYMETAL RETURNS – THE OTHER ONE-

Dates: January 28, January 29

Venue: Makuhari Messe International Exhibition Hall

Official Ticket Sales: 

Available: November 26 at 12:00 – December 4 at 23:59

Sales Page:  https://pia.jp/v/babymetal23-hp/

BABYMETAL RETURNS – THE OTHER ONE – Special Site: 

BABYMETAL Releases Second Teaser Video for New Song 'Monochrome'

Popular metal band BABYMETAL has announced that five singles will be available to download and stream worldwide prior to the release of the new album THE OTHER ONE on March 24, 2023, with songs releasing in October, November, January, February, and March. A second teaser video for the new song Monochrome has been released, with the track available to stream worldwide on November 18.

The official lyric video for the song will also be released on November 18. 

In April 2022, THE OTHER ONE was announced as a way to relaunch the group in the METALVERSE, a piece of the virtual metaverse. Monochrome shows off a restored parallel world and asks a strange question–the fireworks shot into the sky were monochrome, but what color were they to the children? The song draws inspiration from Ragnarok from Norse mythology and shares a wish for the day when the starry sky will be filled with all the colors of the rainbow. 

Last year, following the tenth year of the group's activities, BABYMETAL announced that it would "seal" itself off from the world until further notice.  They are now ready to return to performing, and on January 28 and 29, 2023, the duo will hold the 'BABYMETAL RETURNS -THE OTHER ONE' 2-day concert at Makuhari Messe in Chiba. Starting in April 2023, the band will tour the UK and Europe with Sabaton, a power metal band from Sweden.

More information and new content will be announced in the coming weeks, so be sure to check social media and the official BABYMETAL site.

BABYMETAL Releases 'MONOCHROME' from New Album 'THE OTHER ONE'

BABYMETAL has announced that five singles will be available to download and stream worldwide prior to the release of the new album THE OTHER ONE on March 24, 2023, with songs releasing in October, November, January, February, and March. The first song, Divine Attack -Shingeki-, was released on October 21, instantly trending on social media. An official lyric video was released on the same day. Now, the second song is here! On November 18, fans will be able to download and stream  MONOCHROME. 

Last year, following the tenth year of the group's activities, BABYMETAL announced that it would "seal" itself off from the world until further notice.  In April 2022, THE OTHER ONE was announced as a way to relaunch the group in the METALVERSE, a piece of the virtual metaverse. The upcoming concept album will be inspired by the idea of a BABYMETAL that fans don't know, and a total of 10 songs have been discovered within THE OTHER ONE restoration project, with each song representing a specific theme based on 10 separate parallel worlds that the members have discovered. MONOCHROME is based on a restored parallel world.

The fireworks shot into the sky were monochrome, but what color were they to the children? The song draws inspiration from Ragnarok from Norse mythology and shares a wish for the day when the starry sky will be filled with all the colors of the rainbow. An inspirational jacket photo has also been released.

On January 28 and 29, 2023, the duo will hold the 'BABYMETAL RETURNS -THE OTHER ONE' 2-day concert at Makuhari Messe in Chiba. Starting in April 2023, the band will tour the UK and Europe with Sabaton, a power metal band from Sweden.

More information and new content will be announced in the coming weeks, so be sure to check social media and the official BABYMETAL site.

Information

Monochrome

Available Worldwide November 18, 2022

Download/Streaming Links

BABYMETAL RETURNS – THE OTHER ONE –

Dates: January 28 / January 29, 2023

Venue: Makuhari Messe International Exhibition Hall

Times:

OPEN 16:00 / START 18:00 (January 28)

OPEN 15:00 / START 17:00 (January 29)

BABYMETAL RETURNS – THE OTHER ONE – Special Site: https://www.babymetal.com/theotherone/

Sabaton THE TOUR TO END ALL TOURS

Special Guest: BABYMETAL

Supporting Act: LORDI

Sabaton OFFICIAL WEBSITE: https://www.sabaton.net/

BABYMETAL TOUR INFORMATION: https://www.babymetal.com/tour/

BABYMETAL Official Website: http://www.babymetal.com

BABYMETAL Releases First Digital Track from 2023 Album 'THE OTHER ONE'

Ahead of the release of the new album THE OTHER ONE on March 24, 2023, BABYMETAL has announced that it will release five digital singles worldwide in October, November, January, February, and March. The first single, Divine Attack -Shingeki-, is now available to stream. 

Last year, following the tenth year of the group's activities, BABYMETAL announced that it would "seal" itself off from the world until further notice. In April 2022, THE OTHER ONE was announced as a way to relaunch the group in the METALVERSE, a piece of the virtual metaverse. 

The upcoming concept album will be inspired by the idea of a BABYMETAL that fans don't know, and a total of 10 songs have been discovered within THE OTHER ONE restoration project, with each song representing a specific theme based on 10 separate parallel worlds that the members have discovered. Divine Attack -Shingeki- is based on the parallel world of 'CAVALRY,' and follows the members of BABYMETAL down a road less traveled. Listening to the song conjures an image of a cavalry troop running into battle and into the future, and SU-METAL wrote the lyrics for the song–a first for the group.

BABYMETAL has finally broken the seal, and on January 28 and 29, 2023, the duo will hold the 'BABYMETAL RETURNS -THE OTHER ONE' 2-day concert at Makuhari Messe in Chiba. Starting in April 2023, the group will tour the UK and EU and the Swedish band Sabaton. More information will be announced in the near future, so keep an eye on social media and BABYMETAL's official website!

Information

THE OTHER ONE – BABYMETAL

Divine Attack -Shingeki- (First Single)

Release Date: October 21, 2022

Streaming Links: https://bm.lnk.to/DivineAttack

BABYMETAL Announces First International Tour in 3 Years with Swedish Metal Band Sabaton

Joakim Brodén, the vocalist for Sabaton, served as a guest performer on the song Oh! MAJINAI (feat. Joakim Brodén) found on Babymetal's third album METAL GALAXY released on October 11, 2019. This will be the first time that the two groups have performed live together since the BABYMETAL WORLD TOUR 2018 in JAPAN EXTRA SHOW – DARK NIGHT CARNIVAL in October 2018 at Saitama Super Arena.

BABYMETAL will release its first concept album, THE OTHER ONE, on March 24, 2023. Ahead of release, five singles will be available to download and stream worldwide, with one releasing in October, November, January, February, and March. Be sure to watch out for Babymetal as they rock the world once again!

BABYMETAL Announces 2023 Concert, Concept Album to Release Simultaneously Worldwide

In October 2021, BABYMETAL announced that it would "seal" itself off from the world until further notice. After celebrating a decade of incredible music, fans were shocked by the announcement–but now, the group has announced a comeback. On January 28 and 29, 2023, BABYMETAL will hold the 'BABYMETAL RETURNS -THE OTHER ONE' 2-day concert at Makuhari Messe in Chiba. It was also announced that the group would release its first concept album, THE OTHER ONE, on March 24, 2023. The album will begin streaming worldwide on this date. 

On the official website, a legend map depicting all of BABYMETAL's future activities has been revealed. The upcoming concept album will be inspired by the idea of a BABYMETAL that fans don't know, and a total of 10 songs have been discovered within THE OTHER ONE restoration project, with each song representing a specific theme based on 10 separate parallel worlds that the members have discovered. Five singles will be available to download and stream worldwide, with one releasing in October, November, January, February, and March, prior to the album's release on March 24, 2023.

Presale tickets for the 2-day concert are now available to purchase. Official advance and general sales dates will be announced on the official website soon. Keep an eye on BABYMETAL as they return to rock the world once again!

Information

THE OTHER ONE – BABYMETAL (Concept Album)

Release Date: March 24, 2023

BABYMETAL RETURNS -THE OTHER ONE-

Dates: January 28 / January 29, 2023

Venue: Makuhari Messe International Exhibition Hall

Special Website: https://www.babymetal.com/theotherone/

BABYMETAL Says Goodbye With Official 10th Anniversary Video on YouTube

Metal J-pop group BABYMETAL has brought their 10th-anniversary celebration to a close with a new YouTube video. The group previously announced that their history would be 'sealed' on October 10, 2021. 

BABYMETAL  – THE ONE – STAIRWAY TO LIVING LEGEND

The video shows SU-METAL and MOAMETAL climbing a staircase into the clouds, leaving the Earth in order to become 'living legends' of the Metal Galaxy they have cultivated for the past decade. Fans will also recognize the track THE ONE, which has become the group's anthem. 

BABYMETAL has been celebrating its anniversary for the past year with special concert performances, limited-time merchandise, and exhibitions. The 10 BABYMETAL BUDOKAN concert, held this year from January to April, was the group's first collection of solo shows at Nippon Budokan. 

Despite all of the fanfare, this might not be the end of BABYMETAL. Sadly, it has been said that 'only the Fox God knows' when the seal will be broken, but the girls are asking fans to 'stay metal' until the next chapter of their journey is announced. 

10 BABYMETAL BUDOKAN Exhibition Opens at Tower Records Shibuya

27.September.2021 | MUSIC

On September 28, the 10 BABYMETAL BUDOKAN Exhibition will open on the 8th floor of Tower Records Shibuya for a limited time. The exhibition will feature a collection of costumes worn by the group during their numerous concerts over the years, stage set reproductions, photo spots, and more. 

Savior Mask

Postcard

BABYMETAL × TOWER RECORDS Exclusive Goods

Collaboration BEER

10 BABYMETAL BUDOKAN Mystic Game

Exclusive merchandise will only be available during this event, including T-shirts, bags, posters, and even beer! Those attending the exhibition will be entered to win a BABYMETAL mask or postcard, previously only available at the Budokan concert. The Mystic Game, a puzzle-solving experience, will also take place within Tower Records Shibuya, asking guests to explore the location for clues!

Information

10 BABYMETAL BUDOKAN Exhibition

Running: September 28, 2021 – October 10, 2021

Where: Tower Records Shibuya 8F SpaceHACHIKAI

Hours: 12:00-20:00 (Last entry at 19:30.) *Open 16:00-20:00 on September 28. 

Tickets: https://w.pia.jp/t/10babymetal-budo-ex/

*Day-of Tickets are available at the venue's ticket counter. 

*No day-of tickets available on days when advanced tickets sell out. 

Order Period: October 1 – October 10, 2021 at 20:00

https://tower.jp/article/feature_item/2021/09/21/4001

10 BABYMETAL BUDOKAN Mystic Game

Running: September 28, 2021 – October 10, 2021

Hours: 12:00-19:00 (Last entry at 17:30)

Where: Tower Records Shibuya (Event begins at the 2F counter.)

Tickets: https://w.pia.jp/t/10babymetal-budo-game/

*Day-of Tickets are available at the venue's ticket counter. 

*No day-of tickets available on days when advanced tickets sell out. 

Official Site: https://towershibuya.jp/