Shiraraso Grand Hotel Announces Traditional Japanese Candle-Making Experience For Guests
As part of the global Sustainable Development Goals (SDGs) project, Shiraraso Grand Hotel is offering a new experience for guests to create shades for warosoku traditional Japanese candles from July 7 to August 31.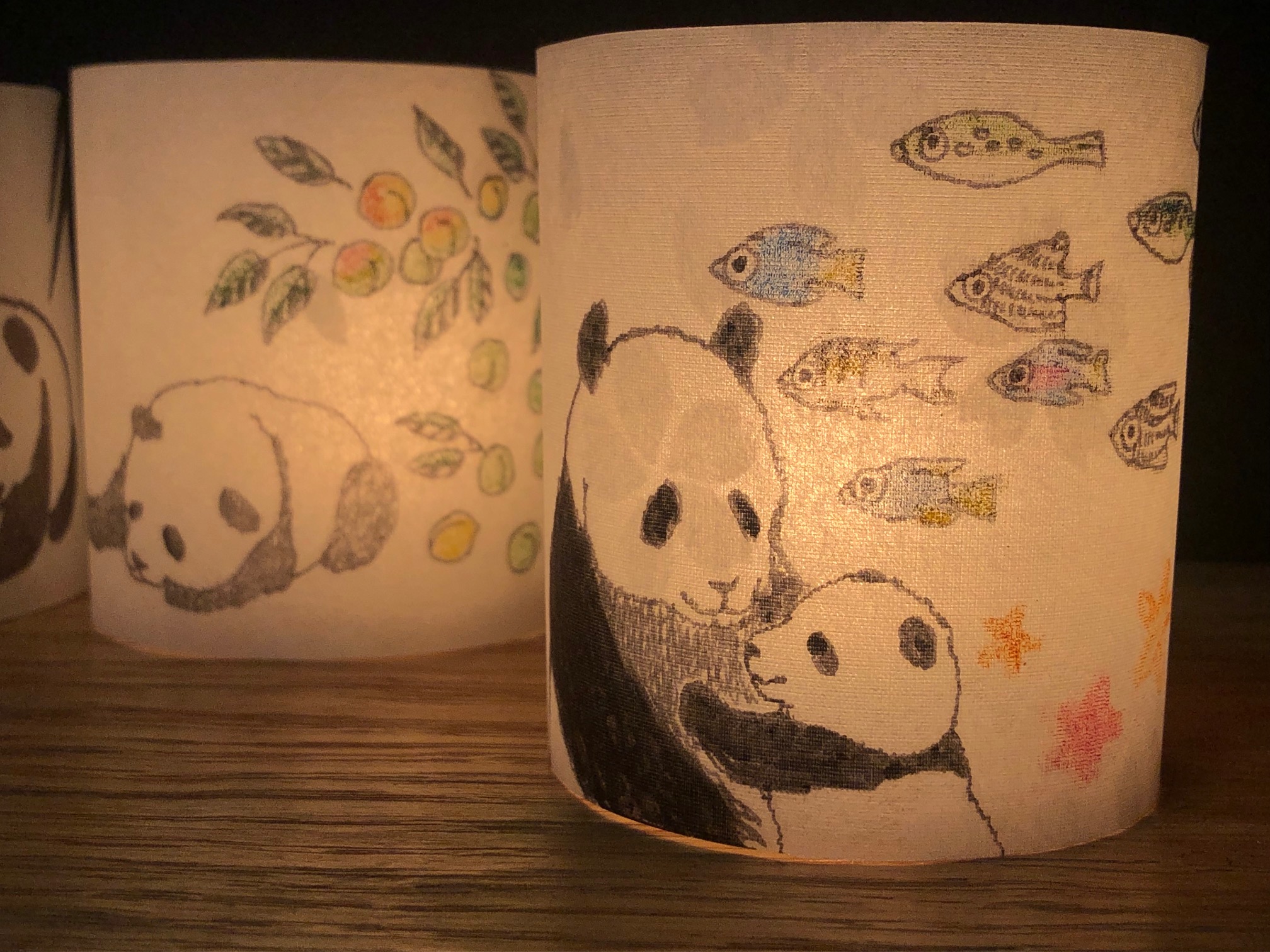 Warosoku aren't made with ordinary wax, they're produced from plant-derived Japanese wax. Wakayama was once the biggest producer of this wax. Guests at the hotel will ghet to make their own shade decorations for these candles using decorations like the sea, food, hot springs, and panda.
The hotel is also offering free panda bookmarks to those who post a photo of their shade on Instagram, Twitter, or Instagram with the Japanese hashtag #白良荘グランドホテル.
RELATED ENTRIES
'It's My Color! ~Rouge Red Room~' Concept Room Allows Guests to Surround Themselves with Red

Strings Hotel Nagoya will open a new concept room from January 15 until April 14, 2022. Those who love the color red won't want to miss it!

'It's My Color' is a room completely dedicated to a person's favorite shade. Imagine dressing up in red and spending time taking photographs in this completely red room. It's perfect for Valentine's Day!

While the room may be red for now, the color may change in the future. Guests can also enjoy a special strawberry afternoon tea set in their room during this event period.

Oriental Hotel Universal City, the Official Hotel of Universal Studios Japan, Holds Grand Opening

After a soft opening in July 2021, the Oriental Hotel Universal City has spent the last six months remodeling its entrance, lobby, restaurant, and guest rooms. The property has now officially held its grand opening and will be welcoming guests in 2022. 

Hotel Exterior

Guest Room

Restaurant Interior

Restaurant Interior

Huge Hamburgers

Croffle Eggs Benedict

Guest rooms feature earthy color tones and are spacious and functional, with beds provided by popular brand Simmons, promising a good night's sleep. A variety of room types are available, including double rooms, twin rooms, triple rooms, and connecting rooms, allowing for a flexible stay depending on the number of guests. Until March 31, 2022, the hotel is offering the 'New Room Stay Plan,' a long-stay luxury holiday plan that allows guests to stay up to 23 hours on departure day to enjoy shopping and other leisure activities.

The hotel's restaurant has been reimagined with a buffet concept and welcomes guests with high ceilings and large windows for a refreshing morning experience. The interior is accented with a green wall to conjure images of nature, and the breakfast menu is based on the concept of 'Charge from Nature,' offering a wide variety of dishes to help visitors recharge both body and mind.  

オリエンタルホテル ユニバーサル・シティはユニバーサル・スタジオ・ジャパンのオフィシャルホテルです
Universal elements and all related indicia TM & © 2021 Universal Studios. All rights reserved.
CR21-2553
 

TeamLab Opens Permanent Megalith Garden Exhibit at Shanghai Shopping Mall

On December 23, 2021, the digital art collective TeamLab unveiled 'Megaliths in the Garden,' an interactive work of art at the One ITA shopping mall in Xujiahui, one of the largest commercial districts in Shanghai. This permanent exhibit shows the birth, bloom, and fall of the white magnolia and other local flowers throughout the year, and also changes in response to visitors' movements. 

In 'Megaliths in the Garden,' the flowers that bloom in the area throughout the year are born and die in eternal repetition from hour to hour. When people approach each piece, the flowers fall, and when they stay still more bloom. The plants will also change to suit the particular season. How would you like to visit Shanghai to see this incredible digital art piece?

ART SHINSAIBASHI Event to Display Over 300 Pieces of Contemporary Art

ART SHINSAIBASHI, previously held twice in 2021, will return for its biggest showing ever from January 15 until January 22, 2022. 300 unique works of contemporary art will be on display, with some created by up-and-coming creators and others from seasoned masters of their craft. Three locations will house the art, with Space 14 at Shinsaibashi PARCO will serve as the main venue. Some of the most notable artists include Banksy, KAWS, and Jean-Michael Basquiat. Featured domestic artists include Hiroko Koshino and Youhei Sugita, the latter holding a live painting stream on January 15 and 16.

Main Venue (PARCO 14F  Space 14)

'Contemporary Art Collection'

Running: January 15 – January 22, 2022
Admission: Free
Hours: 10:00-20:00 (Admission until 30 minutes prior to closing / Closing at 16:00 on January 22)

Youhei Sugita Live Painting Stream / January 15, 16 from 14:00-15:00   

Selected Works on Display

URGE1 – KAWS

Flying Copper – Banksy

WORK#1790 – Koshino Hiroko

pith series yellow – Youhei Sugita

Anime Cel Art Collection

Pokemon

Kiki's Delivery Service

Second Venue: Daimaru Shinsaibashi Main Building 8F Artglorieux

Nick Walker Contemporary Art Collection
Running: January 12 – January 18, 2022 / 10:00-20:00 (Closing at 16:00 on January 18)



VANDAL vs LOUVRE

Yukyo Yamamoto Solo Exhibition
Running: January 19 – January 25, 2022 / 10:00-20:00 (Closing at 16:00 on January 18)


Bit Coins on the Dollars

第三会場 大丸心斎橋店本館1F 御堂筋側イベントスペース Third Venue: Daimaru Shinsaibashi Main Building 1F Event Space

Contemporary Art Pop-Up Store
Running: January 14 – January 25, 2022

How Fun! – Takashi Murakami

Information

ART SHINSAIBASHI

Running: January 15 – January 22, 2022

Location: Shinsaibashi PARCO 14F Space 14

Work Details: https://www.daimaru.co.jp/shinsaibashi/art_shinsaibashi/ 



Live Painting Stream by Youhei Sugita

Date:  January 15, 2022 at 14:00


Where to Watch: Daimaru Shinsaibashi Official Instagram Account (@daimarushinsaibashi)

*The completed works will be sold by lottery at the venue.
A lottery box will be set up at the venue, and winners will be contacted on or after January 17, 2022.

Online Art Exhibition 'Creators Show Up' Announces Original Catalogue, Contest

The online art exhibition for artists from the current era 'Creator's Show Up Gallery Online' has announced the creation of a new original catalog, along with a contest to decide the best work from among the exhibitors' booths.

The original catalog will include the works of all exhibitors of the online gallery. The cover features a key visual drawn by najuko. For those wanting to be included in the catalog, register as an exhibitor on the site, and then register for a booth. Sales will begin on January 20, 2021 for a limited time only. 

Contest Details

A new contest is being held under the theme of 'the emergence of new talent.' Winners can snag prizes regardless of fame or achievements prior, and the top prize is ¥100,000 and a YouTube thumbnail created by singer-songwriter John/TOOBOE. 

Wall Art Commemorating Attack on Titan The Final Season Part 2 Appears in Tokyo, Osaka, Nagoya

To commemorate the start of Attack on Titan The Final Season Part 2 on January 9, 2022, some powerful new wall art filled with storyboards and other imagery from the series has appeared in Tokyo, Osaka, and Nagoya train stations for a limited time!

These incredible images will only be available to see until January 9, so if you're near any of these stations, be sure to check them out! Starting on January 4, a countdown video of 'favorite scenes' as chosen by six popular creators will be posted to the official anime Twitter account (@anime_shingeki).

Storyboards featured in this wall art comes from episodes 76 to 80 of the anime series. The largest board is 22.5 meters in length.

©諫山創・講談社/「進撃の巨人」The Final Season製作委員会

Information

Attack on Titan The Final Season Part 2 Commemorative Wall Art

Tokyo (Shibuya)

Location: Tokyu Dogenza Happy  Board AB30

(In the underground passage near the A0 and A1 exits on B2F towards Dogenzaka on the Denentoshi Line at Shibuya Station)

Viewing Period: January 4 – 9, 2022

Tokyo (Shinjuku)

Location: Tokyo Metro / Shinjuku Metro Super Premium Set

(In the corridor connecting the east and west exits of Shinjuku Station)

Viewing Period: January 3 – 9, 2022

Osaka

Location: JR West Japan Railway / Sakurabashi Avenue, Osaka Station

(In the underground passage towards the Sakurabashi exit of JR Osaka Station)

Viewing Period: January 3 – 9, 2022

Nagoya

Location: JR Central Japan Railway / Nagoya Wide Wall

(Inside the Sakuradori Gate of JR Nagoya Station, on the North Street)

Viewing Period: January 3 – 9, 2022

Official Site: https://shingeki.tv/final/

Ayako Suwa's New Work 'TALISMAN in the Woods' on Exhibition at KAMU Kanazawa

KAMU k=k, the sixth space in the private contemporary art museum KAMU Kanazawa, will officially open on December 17, 2021. The location was created as a multi-purpose exhibition space, and it's first project will be 'TALISMAN in the Woods' by Ayako Suwa, active in the field of food art. The work is seat in Hakusan and Kanazawa and revolves around the themes of nature, cities, and water circulation.

TALISMAN in the woods ©Ayako Suwa Courtesy of KAMU kanazawa 





In the year and a half since its opening in 2020, KAMU Kanazawa has continued to inspire with unique spaces inspired by artist's individuality. The opening of 'KAMU tatami' in October made a big splash, and 'KAMU k=k' will only be a limited space for around four years. This follows the museums philosophy that the role and shape of a city changes over time, meaning that the museum should change along with it. 

KAMU k≐k Courtesy of KAMU kanazaw

 


The space is five meters high, and seven meters wide and deep, giving a theater-like atmosphere. Giving a wildly different impression than it's surroundings, visitors can enjoy a once-in-a-lifetime art experience. 

TALISMAN in the woods ©Ayako Suwa Courtesy of KAMU kanazawa 

 

The first exhibition held in "k≐k" will be "TALISMAN in the Woods" by Ayako Suwa. Ripples will spread outside of the museum, following the theme of water circulation. Visitors will be asked to pay attention to how nature silently impacts daily life, and will be inspired to create connections with the world around them. In this exhibition, Suwa will share insight on water from Hakusan, a city supplying water to huge areas of Ishikawa Prefecture. This three-dimensional work was created by the artist during 2020 during the height of the Coronavirus pandemic. Using Cedar branches and leaves from Hakusan, the installation is on a massive scale consistent with the new space.After the exhibition, the talismans displayed in the work will be returned to the soil of Hakusan to connect the exhibition with local nature. 

©Ayako Suwa Courtesy of food creation

©Ayako Suwa Courtesy of food creation

 

Through crowdfunding, guests can snag a piece of Suwa's work along with other special items. In addition to simply owning a piece of art, upon the death of these talismans, guests can participate in the ritual of returning these pieces to the forest. 

TALISMAN ©Ayako Suwa Courtesy of food creation

Information

KAMU k=k

Open: December 17, 2021

Ayako Suwa's 'TALISMAN in the Woods' 

Exhibition Period: December 17 – December 23, 2021

Admission: ¥1300 (Ticket for all spaces) / Free for Elementary Students and Under

Closed on Mondays (unless a national holiday)

Hours: 11:00-18:00 

Address: KAMU Kanazawa (1-1-52 Hirosaka, Kanazawa) 

*KAMU Sky is not currently open to the public. 

Crowdfunding Information

Open Period: November 22 – December 27, 2021

Crowdfunding URL: https://motion-gallery.net/projects/kamu_ayakosuwapjt/

Platform: MotionGallery (https://motion-gallery.net/)

TeamLab to Hold Garden Festival of Light in Mito, Ibaraki Prefecture in 2022

Interactive digital art collective TeamLab will hold the Kairaku-en (Japanese Garden) Festival of Light at one of Japan's three most beloved gardens located in Mito, Ibaraki Prefecture from February 1 until March 31, 2022. A total of eight creative works showcasing the 'longevity of life' will be on display, utilizing the greenery of the surrounding 180-year-old garden itself. One work will illuminate over 1,500 plum trees, while another will see giant cedars interacting to guests' presence. During this period, the Mito Ume Festival (February 11 – March 21) will also take place at the gardens. The festival has been held continuously for over 120 years.

Kairakuen is one of the three most famous gardens in Japan and was built by Tokugawa Nariaki during the Edo period (1842). The other two gardens are Kenroku-en in Ishikawa Prefecture and Koraku-en in Okayama Prefecture. In 1922, Kairaku-en was designated a National Historic Site and also a National Place of Scenic Beauty. In 2022, the garden will celebrate its 180th anniversary, and features over 3,000 plum trees of over 100 varieties. 

TeamLab's 'Digitized Nature' art project utilizes technology to 'turn nature itself into art in its natural state' without destroying or uprooting any of the plants or trees. It can be difficult for humans to imagine the world that will exist after their particular life ends, and this installation hopes to show the beauty that is possible even after a hundred or a thousand years. Through the combination of human creations and nature itself, TeamLab wants to remind people what is possible when we live side by side in harmony with one another. 

Boutique Hotel TRUNK to Hold Winter Market with Outdoor Comfort Concept

From December 20 until December 26, 2021, TRUNK, a boutique hotel in Jingumae, Shibuya, will hold the TRUNK Winter Market 2021. The theme of the event will be 'outdoor comfort,' and carrying on last year's tradition, the hotel will deliver content aiming to warm the body and soul during the cold winter season. The public terrace will be decorated with fire pits and lanterns, creating a space where visitors can fully enjoy the cozy atmosphere. The limited-time event will offer workshops, food, and drinks to be enjoyed with family and friends.

The food menu includes 'Chicken and Mushroom Pan Stew,' served in a bread bowl and made with fresh ingredients. Guests can also enjoy a 'Cheddar Cheese Crepe with Homemade Roast Ham,' along with plenty of scrumptious desserts. Perfect for the Christmas season, warm eggnog and mulled wine will be served, and kids will love the organic hot chocolate!

Four different workshops will be set up at tents in the public terrace. Kids Gabbeh Painting will teach kids how to design their own Gabbeh, a traditional small fabric woven by nomads in southwestern Iran. After drawing their design, artisans will weave the Gabbeh, and will send it to your home. The 'Socializing Flower Swag' workshop allows visitors to make swag using dried flowers that were upcycled from fresh flowers that would otherwise be thrown away. These will be silk-screened and wrapped for a great souvenir. Outdoor Candle is a workshop where visitors can create original leather candle holders. 




At Campfire Roast Coffee, guests can roast coffee over an open fire pit. Imagine how good it smells! Afterwards, you can take home your spoils.

There will also be a TRUNK Vintage Store on-site, where hotel staff will sell decorations and furniture no longer needed in the hotel, as well as clothes and other goods. 

Nagoya Tokyu Hotel's Newly Upgraded Sylvanian Families Room is Now Available

Nagoya Tokyu Hotel has launched its second plan in collaboration with the Sylvanian Families.

This plan allows you to enjoy the world of the Sylvanian Families, a series of dollhouse toys that have been loved by many fans since their launch in 1985. Following on from the first plan, which was very popular, the new plan allows guests to enjoy the hotel's original fruit sandwiches with Sylvanian Families characters imprinted on them at breakfast, as well as the opportunity to dress the dolls in a custom dress that can be freely decorated with lace and accessories to create your own Sylvanian Families.


In this plan, the space with sofas and tables in the room has been converted into a kids' space with play mats so that even small children can play safely. The kids' space is filled with houses and buildings from the "Sylvanian Families" series that kids can actually touch and play with, such as the "Big House with a Red Roof (Classic Color)," the "Doki Doki Tree House in the Forest", and the "Dreamy Amusement Park in the Castle", as well as the chocolate-covered rabbit girl "Flare" and many other friends. There will also be a red and white polka-dot dress (size 110 only) that kids can try on to match with "Flare".


The number of adult fans who enjoy taking pictures of cute Sylvanian Families scenes and posting them on social media is also increasing very quickly. Let's enjoy the world of "Sylvanian Families" to the fullest!

© EPOCH

Information

Family Plan with Kids Space to Play with Sylvanian Families

Runnning: Until February 28, 2022.
Room: Superior Twin Room

Reservation/Contact: 052-251-5922

Hoshinoya Karuizawa Unveils Special Anniversary Plan on the Ice

Each Hoshinoya location has its own unique theme, and all offer an extraordinary experience. Hoshinoya Karuizawa, a resort in Nagano Prefecture, has opened reservations for the Starry Winter Anniversary Plan, allowing couples to celebrate their love away from the hustle and bustle of the city beneath the dazzling winter sky. The staff at the resort will assist couples in celebrating the special day at various locations around the resort, and a custom-made photo tour will also be included!

Surrounded by rich nature at the foot of Mt. Asama, Karuizawa reaches low temperatures in winter, creating beautiful scenery dotted with icy trees and snow glistening in the sunlight. This plan is perfect for those who want to escape the stresses of the current pandemic. 

A Special Seat on the Ice

The Karuizawa Wild Bird Sanctuary is located directly beside Hoshinoya Karuizawa and houses the Kera Pond at the entrance. Used as an outdoor skating rink during the winter months, a large two-person seating area is erected on the ice which can only be reserved for couples. Lovebirds can enjoy champagne, dried fruits, and cheese as they gaze up at the starry sky. 

Guest Rooms Decorated for the Celebration

With rooms offering spectacular nature views, couples can enjoy herbal tea, sweets, and flower arrangements only included in this special plan. The flowers may be taken home, and the sweets include florentines made with miso, a specialty of the Shinshu area. They are said to be 'sweets that bring happiness,' and may be the key to many more happy years together!

Custom-Made Photo Tour

The landscape around the resort pays homage to traditional Japanese landscaping and includes terraced rice paddies, rivers, and unique vegetation. The custom-made photo tour is a private tour limited to one group, in which couples stroll around the grounds with a photographer to take photos at these spectacular locations. These will be made into an album with the Hoshinoya Karuizawa logo. 

Artist Auto Moai Holds Limited-Time Exhibition at Seibu Ikebukuro

Auto Moai, known for creating evocative works of faceless people, is making an appearance at the Seibu Ikebukuro main store from December 9 to December 14, 2021! A limited-time exhibition will welcome guests to peruse the creator's works, and certain items will be on sale to the general public. There will also be an 8-meter-long piece of art at the venue! Seibu and Sogo are using the work of Auto Moai for their 2021 Christmas promotion, and the artist's works will be featured on wrapping paper and gift bags. 

untitled

untitled

Jointly, the Creators on Demand event will also be held at the Seibu Ikebukuro main store. This event was designed by artists and creators from a number of different fields to make art more accessible and enjoyable to the public. Merchandise will also be available at the venue. 

Information

Auto Moai CHRISTMAS EXHIBITION 2021

Running: December 9 – December 14, 2021

Location: Seibu Ikebukuro Main Store 7F Event Hall

Official Site: https://www.sogo-seibu.jp/christmas/#artist

Creators on Demand  Auto Moai x SEIBU SOGO

Running: December 8 – December 25, 2021

Reception: Seibu Ikebukuro Main Store 3F Women's Section / Seibu/Sogo Shopping Site 

(7F Event Hall will only hold exhibition)