eXcafe Gion, a cafe in Gion, Kyoto is now open for business on weekdays again.
eXcafe Gion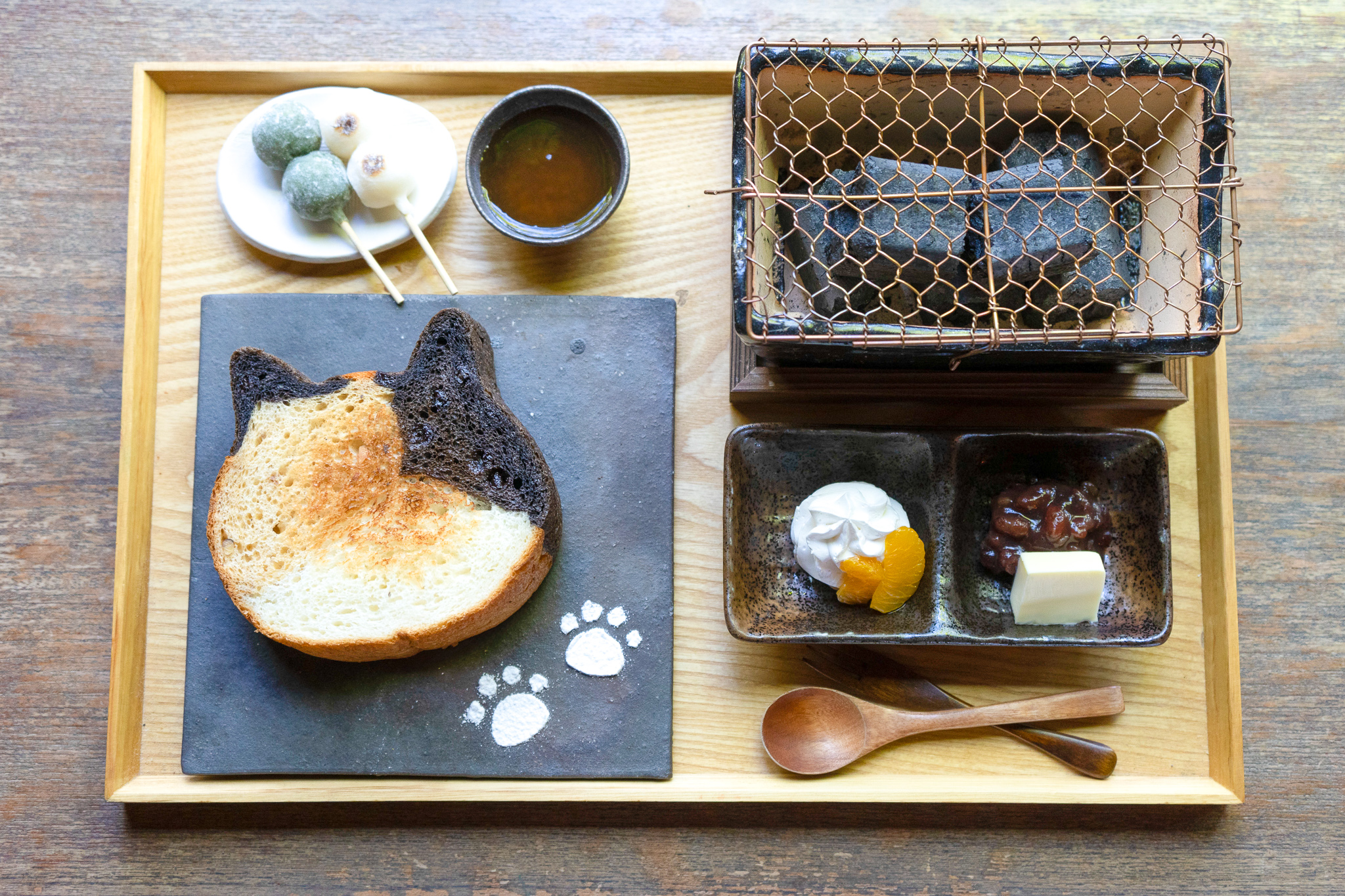 Cat-shaped bread by Neko Neko Shokupan
The cafe is located near Tatsumihashi
eXcafe's famous Hoku Hoku Dango Set
eXcafe Gion opened in November 2019 following the opening of the popular eXcafe Arashiyama. Gion is a major sightseeing spot of Kyoto for its fusion of traditional and contemporary Kyoto culture. One of its longest and most quintessential traditions of that of Chayamachi, also called Hanamachi, where maiko and geisha live and work.
eXcafe Gion is situated near Tatsumihashi where the relaxing sounds of the Shirakawa River can be heard. The cafe incorporates elements of a traditional Japanese teahouse with tatami flooring and wooden structures, ready to welcome guests with open arms who have been strolling around to see the historical architecture of the local area.
The summer season sees locals and sightseers dressed in yukata, the sound of geta shoes clacking on the floor. Summertime is also when the cafe serves their famous Hoku Hoku Dango, a must-try if visiting Gion.
RELATED ENTRIES
The National Museum of Modern Art in Kyoto Opens Meiji Era Exhibition

A special exhibition titled 'Japanese Landscapes Discovered: Views from and for the Outside World,' showcasing a private collection of Meiji era paintings, is now on display at the National Museum of Modern Art in Kyoto until October 31, 2021.

Inside the Exhibit

Inside the Exhibit

 

This exhibition is designed to take visitors on a journey through the Meiji period (1868-1912), the beginning of Japan's modern era, through oil and watercolor paintings of the time, and through the landscapes and customs depicted in these pieces of art. During this time, many foreign painters visited Japan, and were inspired to paint the country's beautiful landscapes and unfamiliar customs, bringing these creations back to their countries of origin. Japanese artists studied these unfamiliar painting techniques, and made their own culturally-inspired paintings, often selling them to foreign visitors as souvenirs.

Many works on display in this exhibition have never been shown publicly, with many being brought back to Japan from locations abroad. These include long-lost oil paintings by Kuroda Seiki and a massive newly-discovered work by Tamura Soryu. Other Japanese artists inspired by Western-style on display include Hiroshi Yoshida, Jirokichi Kasagi, Shotaro Koyama, and Ioki Bunsai.

Also on display are works by foreign artists who visited Japan during this period, including British news painter Charles Wirgman, French news painter Georges Bigot, and British landscape painters Alfred Parsons, Alfred East, and John Varley Jr. These three men in particular triggered a watercolor boom in Japan during the late Meiji period. Vibrant female painters such as British watercolorist Ella du Cane, a lover of Japanese gardens, also make an appearance.

Be sure to see these incredible depictions of Japan before they're gone.

Information

Japanese Landscapes Discovered: Views from and for the Outside World

Running: September 7 – October 31, 2021

Hours: 9:30-19:00 (Until 20:00 on Friday and Saturday)

Closed: Mondays, and on September 21. *The museum will be open September 20.

Tickets/Official Site: https://www.momak.go.jp/

*Admission is open until 30 minutes before closing.

*To prevent the spread of COVID-19, hours are subject to change. Please check hours before visiting.

Famous Oil Blotting Paper Brand's Yojiya Café Reforms Three Popular Parfait Flavors

The Yojiya Café, opened by the Yojiya brand famous for its Aburatorigami, or facial oil blotting paper, will be renewing its menu from September 13. The popular face parfait, which features the logo alongside a Kyoto woman with a mole, comes in three flavors available – Kinako, Matcha, and Milk Tea. Each parfait comes with a sauce, so you can adjust the taste as you eat.

 

Kinako Parfait: ¥1,200 (Tax Incl.)

Matcha Parfait: ¥1,200 (Tax Incl.)

Milk Tea Parfait: ¥1,200 (Tax Incl.)

The Yojiya Café is currently open in two locations, Gion and Sagano Arashiyama, offering a relaxing space to rest between shopping and sightseeing.

The café has renewed their iconic Kinako Parfait, which combines Japanese Kinako and Western Maple Syrup, along with the Matcha Parfait, which is packed full of matcha ice cream, jelly, and cookies. The Milk Tea Parfait is made with a rich Japanese Tea and Earl Gray ice cream.

Take a trip to Yojiya and find out which parfait is your favorite!

Information

Yojiya Café – Parfait Renewal

Release Date: 14 September 2021

Availability:

Yojiya Café Gion

Address: Izawa Building 2F, 266 Gionmachi Kitagawa, Higashiyama-ku, Kyoto

Opening Hours:

Weekdays 11:00 ~ 17:00 (LO16:30)

Weekends/Holidays: 10:00 ~ 18:00 (LO17:30)

YOJIYA CAFE Sagano Arashiyama

Opening Hours:

Weekdays 11:00 ~ 17:00 (LO16:30)

Weekends/Holidays: 10:00 ~ 18:00 (LO17:30)

Address: 2 Tateishicho, Sagatenryuji, Ukyo-Ku, Kyoto

Official Site: https://www.yojiya.co.jp/

Kumagaya City, Saitama Bath Cafe Hareniwa no Yu Opens After Rebranding

Cafe BIVOUAC, located in Kumagaya, Saitama Prefecture, will reopen Bath Cafe Hareniwa no Yu on September 18, 21, after a full rebranding.

The space aims to be 'a garden that clears a guest's body and mind.' Visitors can enjoy a full bath and sauna, freshly-picked vegetables at the Haruniwa Dining Room, and a lush green lounge in which to relax and unwind.

The Haruniwa Dining Room, run by The Farm, a resort in Chiba Prefecture, offers healthy dishes filled with fresh local vegetables from Kumagaya with carefully-selected main ingredients.

In addition, a collaboration with fashion brand 'niko and…' will also begin upon reopening, offering the perfect comfy clothes to wear while enjoying the property.  The lineup  includes an original bath bag and sauna hat, each sold exclusively at Hareniwa no Yu.

Information

Bath Cafe Hareniwa no Yu (Cafe BIVOUAC)

Open: September 18, 2021

Address: 939 Kubojima, Kumagaya-shi, Saitama

Phone: 048-533-2614

Official Site: https://ofurocafe-bivouac.com/

Wildly In-Demand Neko Neko Tiramisu Returns in Limited Quantities

Neko Neko Cheesecake, a sweets shop specializing in cat-shaped treats, is adding the massively popular Neko Neko Tiramisu back to the menu for a limited time only, from September 10 until September 30, 2021.

※Until supplies last. 


Originally sold as a limited-edition release for Father's Day, 800 of these cat-shaped treats sold out instantly. Brought back as a result of constant consumer requests, the Tiramisu will only be available in very limited quantities.

The Neko Neko Tiramisu is filled with soft sponge cake soaked with coffee syrup, with a layer of mascarpone cheese mousse layered on top. Finished with cocoa and coffee powder, it's the perfect mix of bittersweet and rich flavors.

The Tiramisu will also be available at the online store All Hearts Mall, making it easy to send to friends and family. As the pandemic continues to keep people apart, this adorable sweet is a great way to surprise loved ones far away.

What do you think about this Neko Neko Tiramisu? It might be too cute to eat.

Healing 'Panda' Sweets Available at Gelato Pique Café for a Limited Time

A selection of healing monotone panda sweets will be available at the Gelato Pique Café between September 6 and September 25. The collection is titled "everyday PANDA! ~Sweets Time with Pandas~."

Menu


Panda Crepe

Panda Gelato

Panda Float

Goods

Gelato Pique Café Original Panda Glass/Mug
Available from September 6


Gelato Pique Panda Motif Eco Bag / Panda Motif Hand Towel
Online reservations open September 2, available instore from September 8


In 2021, the Gelato Pique Café announced two rounds of animal themed sweets, proving hugely popular on social media. For Easter they released "Bunny Sweets" with rabbit ears motifs, while a series of "Polar Bear Sweets" was released during the Summer. Now, a selection of "Panda Sweets" is the latest to join the animal collection. 

 

The chocolate and banana Panda Crepe is filled with a healing ganache and banana,  while the Panda Gelato has cocoa biscuits studded around the pandas neck, along with rounded eyes and ears. The "healing monotone" Panda Float combines the Gelato Pique Café's original Guatemalan coffee blend with Royal Blue Bourbon.

 

Along with this "everyday PANDA!" Fair, we have a large lineup of panda goods that will make you happy just by having them.  Goods that are perfect for presents, souvenirs, and rewards for yourself can be purchased at each gelato pique cafe store and EC site, so please look forward to that too!

There is a huge lineup of panda goods that will brighten your day releasing alongside the "everyday PANDA" fair, which make perfect gifts for friends – or yourself! You can view the goods lineup in store and on the Gelato Pique website.

Marvel Superhero Cafe to Open in Osaka for Limited Time

A limited-time Marvel themed cafe is coming to Umeda, Osaka from September 16 until October 17. Produced by OH MY CAFE, the concept is centered on themes such as power, courage, talent, justice, and friendship, and the menu will be filled with items inspired by the many heroes of the Marvel universe.

The cafe menu features original items representing the worlds of Spider-Man, Iron Man, Captain America, Thor, and Black Widow. All dishes are healthy, low-sodium, and low-sugar. Various original pieces of merchandise will also be available for fans of American comics!

Menu

Marvel Paprikash: ¥1,759 (Tax Included)

<Spider-Man> The Best Chicken Sandwich in Queens: ¥1,650 (Tax Included)

<Captain America> American Tomato Pasta: ¥1,979 (Tax Included)

<Thor> Hammer Curry in the Desert: ¥2,089 (Tax Included)

<Black Widow> Jet-Black Squid Ink Gratin: ¥1,869 (Tax Included)

<Iron Man> Evening Donut-style Bagel Sandwich: ¥1,979 (Tax Included)

<Captain America> Ramune Soda: ¥1,209 (+¥770 for coaster) (Tax Included)

<Iron Man> Cherry Soda:  ¥1,209 (+¥770 for coaster) (Tax Included)

Marvel Cafe Latte: ¥989 (+¥1,650 for mug) (Tax Included) 

Marvel Tea Bottle: ¥769 (Tax Included) / Bottle and Charm: ¥1,320 (Tax Included)

Customers who make a reservation in advance will receive one random original mask case (7 designs). 

Original Merchandise

 

Acrylic Keyring (6 designs): ¥825 (Tax Included)

Square Pins (13 designs, random): ¥495 (Tax Included) / Marvel Case: ¥1,100 (Tax Included)

A5-size Clear Folder (7 designs, random): ¥385 (Tax Included)

Tote Bag: ¥1,100 (Tax Included) / Marvel Bandana Handkerchief: ¥1,650 (Tax Included)

Menu Art Series A4-size Clear Folder: ¥440 (Tax Included) / Menu Bandana Handkerchief: ¥1,650 (Tax Included) / Acrylic Magnets (6 designs): ¥715 (Tax Included)

Avengers: Endgame Clear Folders (5 designs, random): ¥550 (Tax Included) / Avengers: Infinity War Postcards (8 designs, random): ¥275 (Tax Included)

Ⓒ 2020 MARVEL

Chiikawa Themed Cafe to Open for Limited Time at Shizuoka PARCO

Twitter-famous character Chiikawa is coming to Shizuoka PARCO starting September 16! Guests can enjoy a cafe on the first floor of the facility serving specially-crafted treats, and can head to the fourth floor for a shop selling original Chiikawa cafe goods.

Menu

Hachiware Cream Soda / Chiikawa Cream Soda / Usagi Cream Soda: ¥990 each (Tax Included)

Fluffy Cloud Latte with Character Sugar: ¥1,100 (Tax Included)

Yoroi-san's Strawberry Milk: ¥990 (Tax Included)

Best Friends Cookie Set (3 cookies): ¥880 (Tax Included, takeout only)

Each drink order will come with a random coaster (15 designs total). 

Merchandise

 

Mug: ¥1,540 (Tax Included)

Cafe Chef Plushies: ¥1,430 (Tax Included)

Cafe Employee Plushies: ¥1,430 (Tax Included)

Bowl: ¥2,200 (Tax Included)

Random Acrylic Keychain (8 designs): ¥660 (Tax Included)

*Limit 2 items per person per type of merchandise. For random items, the limit is 10 items per person per type.
*Images are for reference only. Not all products are shown.
*Contents are subject to change. 

4th Floor Shop Special Goods

Special Gift

Guests spending ¥4,400 or more (including tax) will receive an original cork coaster!

 

The Chiikawa manga, created by Japanese illustrator nagano, is extremely popular on Twitter for its cute illustrations and heartwarming stories. In August, the second Chiikawa book was released.

Who is your favorite Chiikawa character?

©nagano

Information

Chiikawa Cafe Drink Stand

Running: September 16 – October 3, 2021

Hours: 10:00-20:00 (last food order at 19:00, last drink order at 19:30)

Location: Shizuoka PARCO 1F (6-7 Koyamachi, Aoi-ku, Shizuoka)

Chiikawa Cafe Shop

Running: September 16 – October 3, 2021

Hours: 10:00-20:00

Location: Shizuoka PARCO 4F

Admission Free

Details: http://the-guest.com/chiikawa_shizuoka/

Official Site: https://shizuoka.parco.jp/

Nature-filled Digital Detox Cafe HANARIDA Opens in Harajuku

Zoomers are used to life with their smartphones and computers. While life certainly is more convenient being able to connect instantly with your friends, have you ever felt a certain emptiness despite this? According to the Ministry of Internal Affairs and Communications, young people in their 20s spend approximately four to five hours looking at screens per day. However, sometimes, it can be nice to put down your phone and enjoy a cup of tea with your friends in front of you. With those thoughts, the HANARIDA Harajuku cafe open on August 8 2021. The hidden cafe is filled with flowers and greenery, aimed at adults. Here you can enjoy a quiet time away from the bustle of the city, relaxing with a cup of dry fruit-infused herbal tea.

Every sunday is a digital detox day, meaning that smartphones and laptops are banned in the cafe. You can leave your phone with the staff to receive a free drink. With the comfy interior and a selection of board games, conversations will flow naturally to create a home-like space, even without technology

The flowers and trees in the cafe, which was decorated by a professional flower artist, are all real. The atmosphere changed based on the time of day – the sunshine lights up the cafe while the warm lights make for a relaxing evening. You won't get tired of this cozy space! 

Experience relaxation away from the busy city while watching the flowers bloom throughout the day, as you puff on a dried fruit Hanakemuri hookah. The hookah used by HANADIRA is both nicotine and tar free, meaning they can be enjoyed by non-smokers. 

Their drink selection for Valentine's day 2021 was a huge hit on social media, particularly the Sakicha dry fruit tea. The tea is now available on the menu, so make sure to try it for yourself!

Information

HANARIDA Harajuku

Opening Date: September 8 2021 

Opening Hours: 11:30 ~ 24:00 (No regular holidays)

※Closes at 20:00 until September 12 due to the current state of emergency declaration.

Address: Section L Pop-up House 2F 4-27-2, Jingumae, Shibuya, Tokyo 

Seven minute walk from JR Harajuku Station

https://goo.gl/maps/bXVEsW735gHT7kZD9 

※Under 20s are denied entry to the cafe

Official Site: https://hanarida-official.com/ 

Kyoto Sweets Cafe eXcafe Gion-Shinbashi Restarts Popular Breakfast Menu for Weekends

The calm Machiya sweet shop eXcafe Gion-Shinbashi will be restarting the popular eXcafe Breakfast (Calico) menu on weekends from September 4 2021. This is the perfect spot to start your Gion adventure, packed full of ancient city charm and history. 

 

eXcafe currently has three store locations in Kyoto: Kyoto-Arashiyama, Gion-Shinbashi, and the newly opened Gion Yasaka.

eXcafe Gion Shinbashi is located in an area where you can appreciate the beauty of Gion, with the ever changing scenery fully reflecting the four seasons. Even on sunny weekends, the area isn't overly busy and the sky is beautifully clear, making it the perfect spot for commemorative photos.

 

The returning breakfast menu is the eXcafe Breakfast (Calico), made up of charcoal-grilled toast with a calico cat motif. The fluffy bread is thickly cut and can be completed with your favorite topping: Bean paste, butter, whipped cream, or fruits. The breakfast set also includes a drink and Mitarashi dango dessert, making it the perfect way to spend a relaxing moment at the beginning of your trip, or as a break from your early-morning sightseeing.

Morning walks in Gion are particularly refreshing at this time of year, making a perfect break from the intense Summer heat. It is also ideal for visiting the Yasaka Shrine.

You'll feel even cooler as you listen to the flowing Shira River, the water gently bubbling under the cobblestones of the famous Tatsumi Bridge. Although it is located in a trendy area, the eXcafe Gion-Shinbashi is a welcome break from the bustle of the city, surrounded by cobblestone alleys and wooden townhouses.

 

Volleyball Series Haikyu!! Gets Collaboration with Toei Kyoto Studio Park

Toei Kyoto Studio Park will hold a limited-time collaboration with popular volleyball anime series Haikyu!! starting September 11.

Haikyu!! x Randen Retro Train

Original Towel

Stage Set

Original Fairground Game Merchandise 

Randen Collaboration

Limited-edition Collaboration Merchandise

Purchase bonus bookmark (1 of 8 designs: 4 designs from Karasuno High School, 4 designs from Inarizaki High School)

Selected Merchandise

For each menu order, a random coaster will be presented as a gift. *8 original designs available.

In the newly drawn concept image for the event, the members of the Karasuno High and Inarizaki High volleyball teams are seen during a trip to Kyoto, where they meet at the Toei Kyoto Studio Park. Fans can see their favorite characters dressed in Shinsengumi happi coats, buying souvenirs, eating, drinking, and enjoying their hard-earned day off. There will be a Haikyu!! exhibition at the park, a footbath, special goods and food items, as well as a running collaboration train.

Look forward to this very unique event in Kyoto, coming soon!

©古舘春一/集英社・「ハイキュー!!」製作委員会・MBS

短縮形 ©HF/S,HP,M

Four Seasons Hotel Kyoto to Begin Autumn Harvest Festival-themed Afternoon Tea Service

The Four Seasons Hotel Kyoto will begin offering Autumn Harvest Afternoon Tea for a limited time starting on September 13. This seasonal menu was designed by pastry chef Reiko Yokota, who has experience at Michelin Star restaurants and Four Seasons Hotels around the world. The menu is filled with healthy treats for both mind and body, utilizing fall ingredients like sweet potato, pumpkin, persimmon, and apple. 

Autumn Harvest Afternoon Tea

Five-sweets collection using fresh autumn ingredients to present the true flavor of local fruits and vegetables

Four savory treats presented in a bowl made to look like an autumn field, inviting guests to dig up autumn's bounty

Luxurious western and Japanese chestnuts compliment these premium autumn parfaits

A collection of take-home sweets featuring warm colors and autumn ingredients such as pumpkin and chestnut are perfect for decorating your home table

Halloween cupcakes, available for a limited-time, are the perfect souvenir

Guests can overlook the Sekisuien Gardens while dining from the terrace, a unique experience at the Four Seasons Hotel Kyoto


 

Afternoon tea begins with a collection of sweets, including jellies, tarte tatin, and crème brûlée, each bringing out the complex flavor of local Japanese fruits and vegetables. The featured jalapeno cornbread, inspired by Chef Yokota's childhood in Texas, is one of the more unique dishes. 

 

The savory dish, prepared by Brasserie restaurant head chef Ryuji Koga, presents each morsel in a bowl reminiscent of an autumn field, giving guests the chance to experience a bountiful harvest themselves by using a spoon as a makeshift shovel. 

 

For drinks, patrons can enjoy a selection of premium teas from Ronnefeldt in Germany, including the Four Seasons Hotel Kyoto's original blend. Two autumn-only tea mocktails are also present on the menu. 

 

The premium parfait, limited to 10 servings per day, is made from two types of chestnut-forward Mont Blanc. The Western chestnuts have a rich flavor, while the Japanese varieties are gentler and more delicate in their sweetness. The Mont Blanc with Chestnuts, Rum, and Cassis has a more adult flavor, balancing the sweetness of French chestnuts with the complex flavor of rum. Interwoven with pear compote and black currant jelly, this is a parfait that's as delightful to look at as it is to eat. 

 

The Japanese Chestnut Mont Blanc with Uji Green Tea and Yuzu is a more traditional Kyoto dish, bringing with it lavish amounts of green tea from Marukyu Koyamaen in Uji, along with refreshing yuzu sorbet. 

 

Those not wanting to leave this experience behind quite yet can feel free to take some pastries and baked goods home. In addition to the popular Mont Blanc and Strawberry Millefeuille, the Sweet Potato Shortcake will also be available. Why not pick up a Chestnut and Rum Pound cake, or perhaps an Orange and Earl Gray Pound Cake made with Ronnefeldt tea leaves? 

 

Halloween cupcakes will also be available for the first time this year, from October 15 to October 31. These include the Pumpkin and Cream Cheese Cupcake, and the Chocolate and Raspberry Cupcake. 

 

Featuring colorful and delectable seasonal ingredients, how would you like to partake in this magnificent afternoon tea service? 

Information

Autumn Harvest Afternoon Tea

Available: September 13 – November 30, 2021

Seating Times: 

12:00-14:30 (Last order at 14:00)

15:00-17:30 (Last Order at 17:00)

*There are two sessions at the above times.

Location: Four Seasons Hotel Kyoto 1F, Brasserie Restaurant

Premium Autumn Parfait

Available: September 13 – November 30, 2021 from 11:30-18:00

Location: Four Seasons Hotel Kyoto 1F, Brasserie Restaurant

(Limited to 10 per day.)

Autumn Sweets

Available: September 13 – November 30, 2021 from 11:30-18:00 from 10:00-21:00

Location: Four Seasons Hotel Kyoto 1F, Brasserie Restaurant


Official Site: https://www.fourseasons.com/jp/kyoto/

Hoshinoya Kyoto Hotel Holds Special Tale of Genji Event

Located deep in the mountains of Arashiyama, Kyoto Prefecture, Hoshinoya is a traditional resort in which every room has a magnificent river view. On November 29 and 30, the hotel will hold a limited autumn leaf viewing event exclusive for guests. The event itself draws inspiration from the dance of autumn leaves from the classic book The Tale of Genji, and will take place in Hoshinoya's garden, home to a 400-year-old Japanese maple tree. The area of Arashiyama was beloved by aristocrats during the Heian period for its natural landscapes and deep red leaves on display in autumn. 

Feature 1

During the Autumn Leaf Viewing in The Tale of Genji, Hikaru Genji dances among the falling autumn foliage. Arashiyama has also been the subject of many poems through the ages, including one by Emperor Shirakawa, who famously wrote "Follow the Oi River, and you will soon see the maple trees of Arashiyama." The 400-year-old maple tree in the back garden of Hoshinoya Kyoto majestically spreads its branches during the autumn months, and looks like something pulled from a painting. Visitors can imagine Hikaru Genji's graceful dance as they look out into the elegant scenery. 

Feature 2

Hikaru Genji's elegant 'Dance of the Blue Sea Waves,' described in the classic book, is said to be so graceful and impressive that it brought tears to the audience's eyes. As traditional instruments are played in the back garden, dancers will sway in traditional costumes, each spectacularly embroidered and detailed. The Old Japanese Court Music to be performed was originally established during the Heian period (794-1185), and is registered by UNESCO as a piece of intangible cultural history. 

How would you like to experience a piece of classical literature brought to life before your very eyes?

Information

Hoshinoya Autumn Leaf Viewing

Running: November 29 – November 30

Time: 9:30-10:30

Price: Free *Accommodation fee not included.

Reservations: At the front desk until 20:00 the day before the event, or online at https://hoshinoya.com/kyoto/

Location: Hoshinoya Kyoto

*For hotel guests only.


Official Site: https://hoshinoya.com/