Odd Taxi Anime's Yano Voice Actor METEOR Releases Song From Upcoming EP
Japanese music artist METEOR released his new song My Name is… feat. PUNPEE on July 14, 2021. METEOR voices the character Haruhito Yano in Odd Taxi, an anime series produced by OLM and P.I.C.S. The anime's music is composed by PUNPEE, VaVa, and OMSB.
The song is taken from METEOR's new EP 2019, which will be released on July 14, 2021, and sings about the character Yano. The EP is produced by PUNPEE, one of the anime's composers, and also features OMSB and VaVa. The cover art was designed by Odd Tax director and character designer Mugita Kinoshita and the title logo by Toshiaki Uesugi.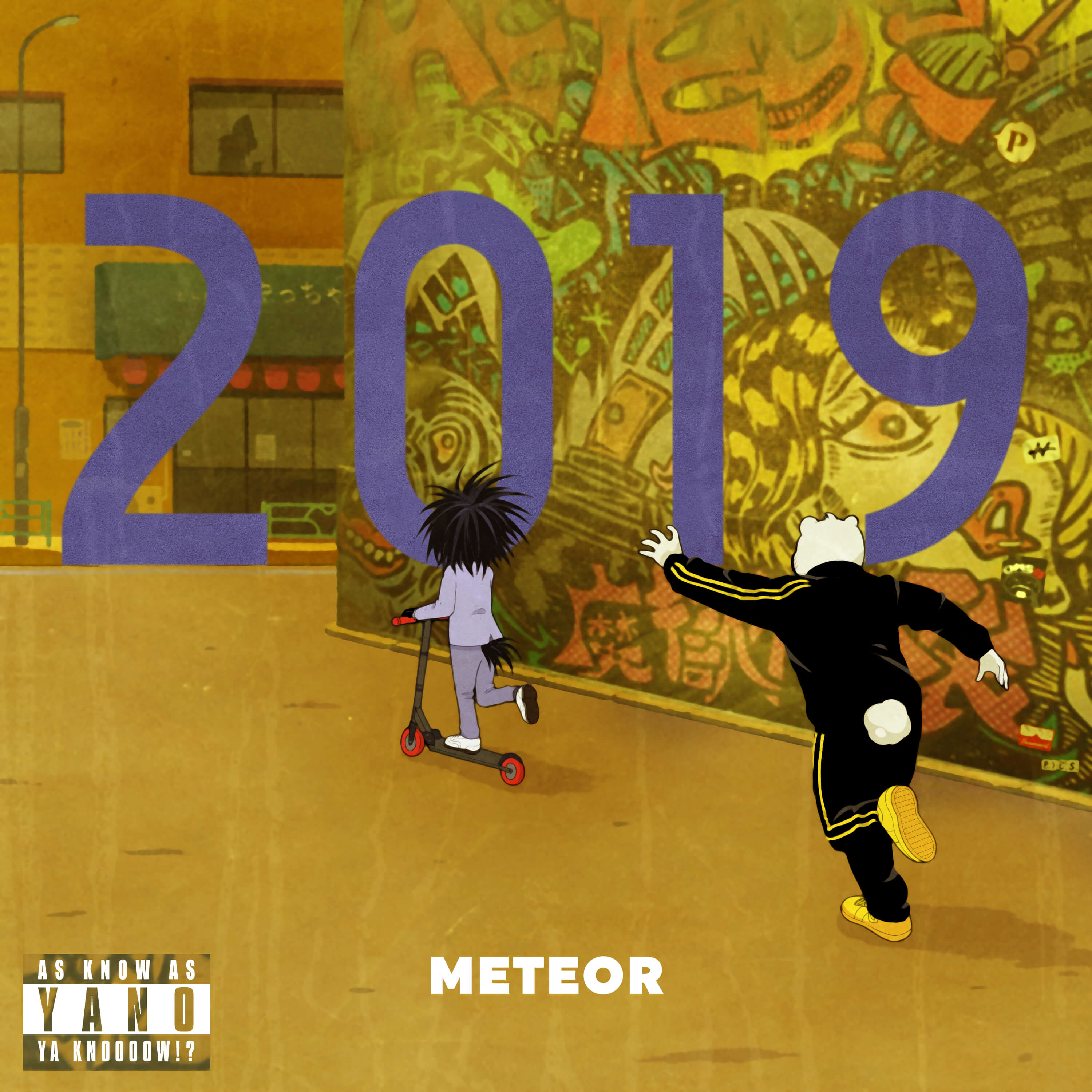 Information
METEOR – "2019″
Release Date: July 21, 2021
*The first track, My Name is… feat. PUNPEE, will be released digitally on July 14, 2021
Download/Stream Here: https://lnk.to/Artist_METEOR
Odd Taxi Official Website: https://oddtaxi.jp
℗© 2021 SUMMIT, Inc.
RELATED ENTRIES
Odd Taxi Gets New Project Titled 'RoOT / Route of Odd Taxi'

The 2021 anime series Odd Taxi drew plenty of attention for its shocking final episode. Now, a new project has been announced titled RoOT / Route of Odd Taxi.

Odd Taxi was an original anime series planned and written by P.I.C.S and directed by Baku Kinoshita. The screenplay was written by Kazuya Konomoto, while the main character–a middle-aged cab driver–was portrayed by the popular voice actor Natsuki Hanae. The music was also a major highlight, produced by PUNPEE, VaVAa, and OMSB. In addition to the manga series released alongside the anime series, the film Odd Taxi: In the Woods was released in 2022 and will be adapted for the stage in 2023.

Although the details of RoOT / Route of Odd Taxi have not yet been revealed, a manga series will kick off the project. A visual showing the main characters Sato and Reina has been released. Takeichi Abaraya, who also worked on the original manga, is in charge of the illustrations. Don't miss out on this new adventure!

©P.I.C.S.

Odd Taxi: Diamond wa Kizutsukanai Stage Play to Stream Opening Performance and Final Show in Tokyo

Fans who can't attend the upcoming Odd Taxi: Diamond wa Kizutsukanai (Diamonds Will Not Be Damaged) stage play live can stream at home! The opening performance on January 25 and the final Tokyo show on January 31 will be available to stream live with tickets now available.

The play will focus on the formation of the idol group Mystery Kiss.

Yui Oguri (AKB48) will play Rui Nikaido, an adorable and ambitious idol who becomes a star member of the group. Hinatazaka46 member Hiyori Hamagishi will play Sakura Wadagaki, a key person in the play's overall story. Former E-girls member Nonoka Yamaguchi plays the naturally talented Yuki Mitsuya while former ≠ME member Hitomi Suzuki plays the shy Shiho Ichimura.

Don't miss out on this unique take on the world of Odd Taxi!

©P.I.C.S. / 舞台小戸川交通パートナーズ

Interview with Yui Oguri Released Ahead of Odd Taxi: Diamond wa Kizutsukanai Stage Play Run

An interview with Yui Oguri (AKB48) has been released ahead of the start of the upcoming Odd Taxi: Diamond wa Kizutsukanai(Diamonds Will Not Be Damaged) stage play. The show will run in Tokyo from January 25 until January 31 and in Osaka on February 4 and 5. Oguri will play Rui Nikaido, an ambitious idol and member of the group Mystery Kiss. An excerpt from the interview can be read below.

Q: This stage play is a spin-off of the Odd Taxi series featuring the idol group Mystery Kiss. How did you feel after reading the script?

"I've appeared in several dramas and stage plays, but this is my first time playing an idol! As many people know, I'm an idol in my everyday life, and I thought it would be interesting to play an idol role. I've looked forward to this from the start. Reading the script, there are so many things that I can relate to as an idol. Some parts were so realistic–I wondered how the scriptwriter could have known so much about the idol industry! I think that's what makes this play so interesting. Of course, that doesn't mean that EVERYTHING is realistic." (Laugh)

Q: Your character, Rui Nikaido, passes an idol audition and becomes a member of the idol group Mystery Kiss.

"At the audition, Nikaido wasn't intimidated. She was confident and wanted everyone to watch her. When I auditioned for AKB48, I was so nervous and felt so small when compared to the other idols with a similar presence as Nikaido. Playing Nikaido made me wonder what would have happened if I had been more confident back then and it reminded me of my own audition. Auditions bring together all kinds of people–people like Nikaido, girls who aren't great at dancing, and more. I think the audience will enjoy seeing this play out on stage."

Q: What kind of character is Rui? How do you want the audience to perceive her?

"I think that Rui Nikaido is a girl who knows how to present herself as a proper idol. She has her own way of thinking and is incredibly strong. She's cool! The way she stands on stage reminds me of how I take myself seriously as an idol. Sadly, what Rui lacks is a charm. For example, when she's invited to a variety show, she's bad at being sociable enough and she wonders why she has to do that kind of work. But still, her strong heart and her love of idols make her a really cool character."

Q: What would you like to say to those who will be coming to see the show?

"I appreciate everyone who has been so patient since the stage play was postponed last year. The entire cast and crew worked so hard to create this incredible work. Those in the audience who see me as Rui and not as Yui will enjoy the gap between myself and this character. I also hope that fans of Odd Taxi will see this as something far beyond their expectations. I hope you're looking forward to the show!"

[Summary]
On a certain day in 2019, an audition was held in Tokyo to recruit new members for an idol group. The three girls chosen from the many applicants were Rui Nikaido, Shido Ichimura, and Yuki Mitsuya, and these singers came together to form the group Mystery Kiss.
Each of the girls followed their own dreams and took their lessons seriously in order to have a successful debut.
However, the producer of the group is incredibly unmotivated, and several disturbing behind-the-scenes info begins popping up on social media.
Although the three are supposed to be friends with the same goal, the relationship between them gradually begins to fall apart.
Another girl is watching. Sakura Wadagaki had dreams of becoming an idol but failed her audition. That doesn't mean she's ready to give up.

©P.I.C.S. / 舞台小戸川交通パートナーズ

Anime Film Odd Taxi in the Woods Gets Mystery Solving Tour

The anime series Odd Taxi aired in Spring 2021. Since it aired, people around the world have become completely obsessed with the show's strange worldview and bizarre characters. On April 1, the film Odd Taxi in the Woods will premiere in Japanese theaters, and a special Mystery Solving Tour will take place from March 19 until April 30, 2022!

Both Odd Taxi fans and general fans of puzzles will enjoy this event, so be sure to keep an eye out for more information!

©P.I.C.S. / 映画小戸川交通パートナーズ

Pony Canyon to Put on 11 Events at AnimeJapan 2022 Including Tokyo Revengers and Tokyo Mew Mew Panels

AnimeJapan 2022 is coming in March and more information about the Pony Canyon booth has been revealed! Airing on March 26 and 27, fans can expect more information about Tokyo Revengers, Tokyo Mew Mew, Odd Taxi, Mato Seihei no Slave, and more. A total of 11 events will be held, and tickets will be available in advance. The event will be broadcast live on YouTube, with Shunichi Toki and Yuya Hirose acting as MCs. 

Detailed information regarding the timetable and performers is now available on the special website. Anime Japan 2022 is one of the world's largest anime events and returns this year after being impacted by the pandemic. Which series are you most excited to see?

©久井健・講談社/アニメ「東京リベンジャーズ」製作委員会

©山本崇一朗・講談社/「それでも歩は寄せてくる」製作委員会

©征海美亜・吉田玲子・講談社/「東京ミュウミュウにゅ~」製作委員会

©TNSK・講談社/春来亭活動写真部

©PRELUDERS

©2022 八目迷・小学館/映画『夏へのトンネル、さよならの出口』製作委員会

© P.I.C.S. / 映画小戸川交通パートナーズ

©タカヒロ・竹村洋平/集英社・魔防隊広報部

© はやみねかおる・K2商会・講談社/「怪盗クイーン」製作委員会

© 進行諸島・SBクリエイティブ/転生賢者の製作委員会

Odd Taxi to Collaborate with Sauna Town Shimokitazawa, Visual and Merch Info Revealed

Sauna Town Shimokitazawa, a sauna event currently being held at a special vacant lot event space in the popular Tokyo neighborhood of Shimokitazawa, will hold a collaboration event with the Odd Taxi anime series from February 26 until March 19, 2022!

The visual was inspired by the concept of 'Odokawa visiting Sauna Town,' and features an illustration of the man himself wearing a Sauna Town T-shirt and holding bath goods in his hand.

Odokawa Transport Promo Towel: ¥700 (Tax Included)

Clear Folder (Odd Taxi x Sauna Town): ¥1,000 (Tax Included)

3-piece Sticker Set (Odd Taxi x Sauna Town): ¥600 (Tax Included)


A total of five collab items will be sold at the event space, including a promo towel, clear folder, and sticker set.

To commemorate the release of the upcoming Odd Taxi in the Woods film on April 1, guests can also purchase special cards to give them a ¥100 discount off one purchase. An Odd Taxi panel will also be set up as the perfect photo spot for fans, so be sure to check it out!

© P.I.C.S. / 映画小戸川交通パートナーズ

Information

Odd Taxi x Sauna Town Shimokitazawa
Running: February 26 – March 19, 2022
Address: Shimokita Line Vacant Lot Pop-up Area / 4-minute walk from Shimokitazawa Station on the Odakyu Line

Sauna Town Shimokitazawa Official Twitter: https://twitter.com/SAUNATOWN2

Odd Taxi: In the Woods Gets New Teaser Trailer, Key Visual

Odd Taxi was one of the most popular anime series in 2021, amassing a huge fanbase both in Japan and abroad. The show ended with a shock, and in December 2021, an Odd Taxi film was announced, scheduled to premiere on April 1, 2022. As the date approached, a new visual and trailer for Odd Taxi: In the Woods have been released. 

The new visual shows protagonist cab driver Odokawa standing in the middle of a crowded street in a different outfit when compared to the anime series. The crowd is full of other popular characters from the show wearing blank expressions. The text reads "the truth is in the bushes."

Odd Taxi: In the Woods is set to depict the events of the anime in a film version, serving as a compilation of the events of the series. Alongside this, it will fill in the blanks left at the end of the show, finally bringing closure to a desperate audience.

Odd Taxi: In the Woods Trailer

Tickets for the film will go on sale in Japan starting February 4, and bonus incentives include clear files that form the single key visual image when combined. Ticket purchases also come with three virtual backgrounds compatible with Zoom and other conference applications. 

© P.I.C.S. / 映画小戸川交通パートナーズ

Odd Taxi: The Movie Coming April 2022, Trailer and Visual Released

Odd Taxi was one of the most popular anime series in 2021, amassing a huge fanbase both in Japan and abroad. The show ended with a shock, and for those hoping to get closure, an Odd Taxi film has been announced! Odd Taxi: In the Woods will premiere in Japan on April 1, 2022, with the main staff and cast returning to the project.

The anime series was written by manga creator Kadzuya Konomoto with music by PUNPEE VaVa OMSB. The story follows Otokawa, an eccentric 41-year-old taxi driver who has no relatives and does not have much to do with others. He often has conversations with his customers, including a college student who wants to go viral, a nurse hiding a secret, an unsuccessful comedian, a street rough, and an up-and-coming idol. These conversations lead him to a girl who has disappeared.

The film will be a 'reconstruction' of the anime series, but will also show what happens after the television show's finale. Natsuki Hanae plays the show's main character Hiroshi Odogawa, with other cast members including Riho Iida, Ryohei Kimura, and Kappei Yamaguchi. Newcomer Baku Kinoshita directed the anime series and will return to direct In the Woods, with OLM (Pokemon) in charge of production. 

Announcement Trailer

Comment from Natsuki Hanae (Hiroshi Odogawa)

Odogawa is a character unlike all others that I have played before, so it was a really challenging role. Thanks to everyone's support, I'll be returning for the Odd Taxi film!

I'm looking forward to seeing what happens after the anime series finale. 

I hope to see you at the theater in April!

© P.I.C.S. / 映画小戸川交通パートナーズ

Information

Odd Taxi: The Movie

Release Date: April 1, 2022

Official site: http://oddtaxi.jp/

Original Anime Odd Taxi Announces April 2021 Release, Staff, and Cast

A new and original anime series titled Odd Taxi will premiere on TV Tokyo and AT-X this April. The anime's official website which opened on Friday last week revealed a promo video, teaser visual, the staff, and cast.

The teaser visual reveals anthropomorphic characters in a city filled with neon signs.

The story follows Kotogawa, a 41-year-old taxi driver with no relatives and who keeps himself to himself. His conversations with his customers lead him to a girl who has disappeared.

The main cast line-up includes Natsuki Hanae as Kotogawa, Riho Iida as Shirakawa, Ryohei Kimura as Gоriki, and Kappei Yamaguchi as Shika, Suzuko Mimori as Louis Nikaido, Moeka Koizumi as Shiho Ichimura, and Manatsu Murakami as Yuki Mitsuya.

Photo by cherry chill will. 

PUNPEE, VaVa, and OMSB from the hip-hop label SUMMIT are in charge of the music. This is the first time the three artists have written music for an animated series.

TV Anime "Odd Tax" Promotional Video


A manga adaptation began serialisation in Shogakukan's Big Comic Superior online label Darupana on Friday (January 15).

Natsuki Hanae and PUNPEE released statements about their involvement with the series which we have translated from Japanese.

Natsuki Hanae (Voices: Kotogawa) | Comment

"There's something about this anime that seems interesting. The character I play, Kotogawa, is unlike any other character I've played before. The director gave me pointers, and I was like… wait, why? It doesn't seem like a simple anime about cute animals. You'll come to understand certain things as the story progresses. It gets more and more interesting, so please look forward to watching it."

PUNPEE (Composer) | Comment

Photo by Ryo Mitamura 

"This is my first time composing for an anime series. The animation team let me in on everything from early on in production […]. It was a really worthwhile experience, and they let me work to my usual pace. I'm always thankful for the opportunity to work on something new in a new environment. I'm looking forward to watching the series myself too"

© P.I.C.S. / 小戸川交通パートナーズ

Information

Odd Taxi
Initial Broadcast: April 2021 on Tokyo TV and AT-X
Official Website: http://oddtaxi.jp/