RADWIMPS Tease New Visual and Video For Upcoming Virtual Concert
RADWIMPS are set to hold three virtual concerts titled SHIN SEKAI "nowhere" which will be streamed worldwide from July 16-18. The shows will be a unique musical experience that the band and fans will create and share in the virtual space of VARP. In promotion of the concert series, the band released a new 30-second clip and visual. They also held a pre-showing of the concert to the press.
New promo video
Press pre-showing
Members of the press were granted exclusive access to experiencing the show early at the WHITE CINE QUINTO film theatre inside Shibuya PARCO in Tokyo on July 12. The concert title appeared on the screen, and at the same time, the audience used their smartphones to enter the virtual space as an avatar where they experienced an interactive concert. A talk session was also held with RADWIMPS members Yojiro Noda, Akira Kuwahara, and Yusuke Takeda, as well as Yohei Kajiwara of PARTY, Kairi Manabe, and last but not least Kentarō Ochiai who was the MC for the show. They discussed creating SHIN SEKAI as well as the future of entertainment and music experiences.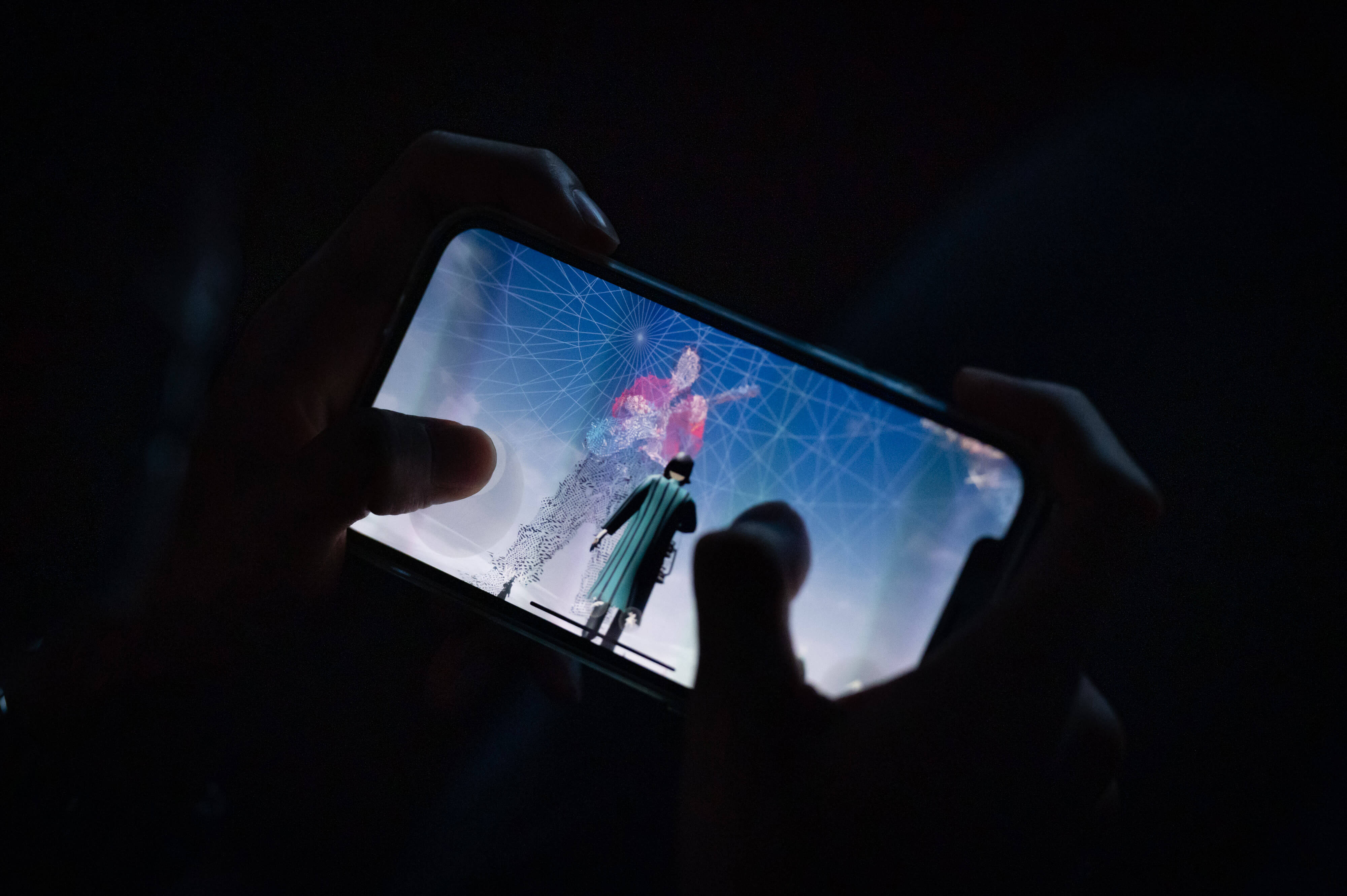 Speaking about how the project came about, Noda said, "Last year, we said farewell so a lot of shows on the tour. It was a bottomless pit of sadness. It was at the time when we were wondering what we could do so that our music wasn't eradicated that we met PARTY. We felt we could do something new, and decided on trying out this virtual concert."
"It was my first time becoming an avatar," said Kajiwara. "It was a lot of fun. For example, I could make myself big and enjoy things you can only do in a virtual space."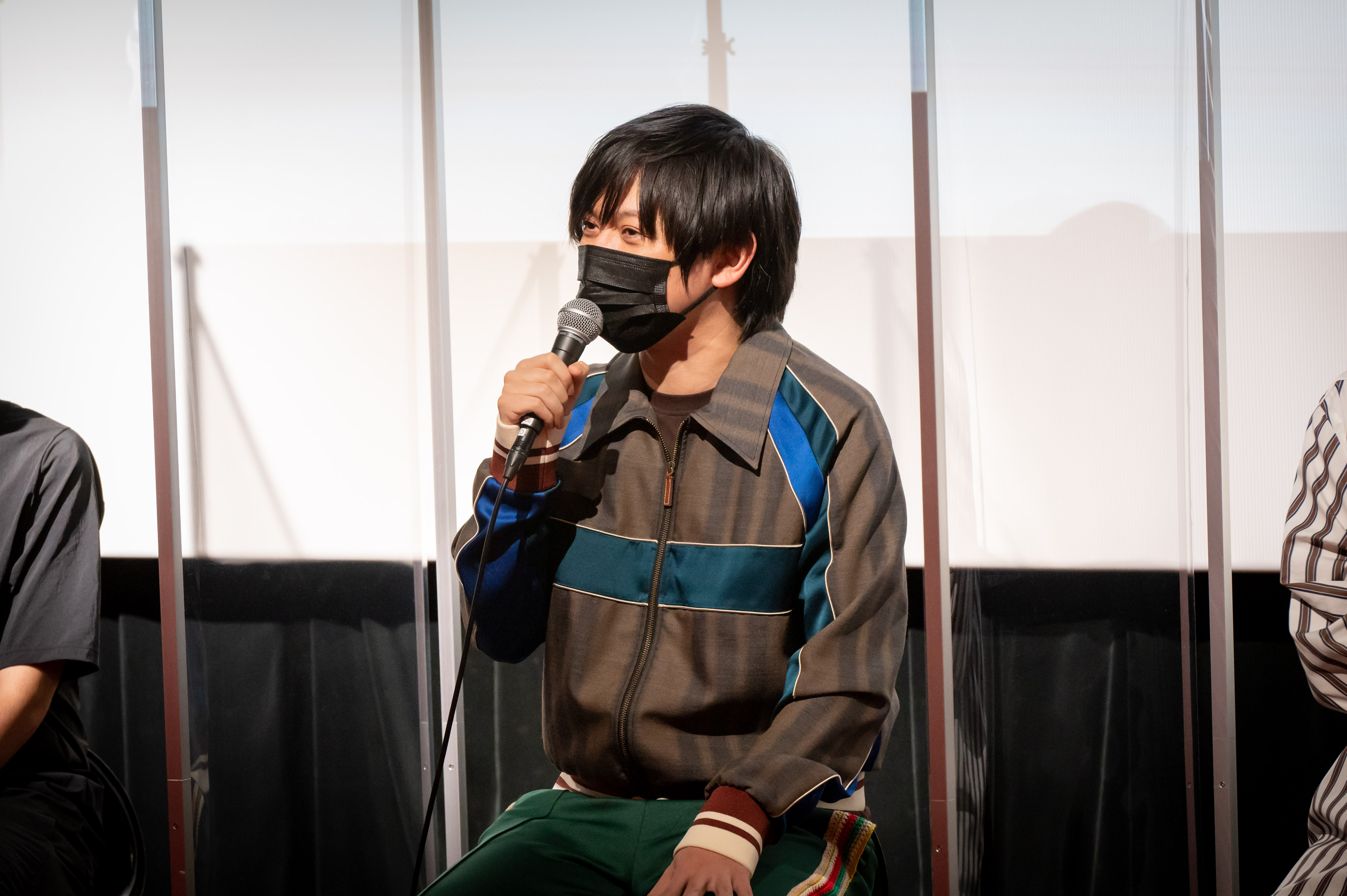 Noda added to Kajiwara's comment, saying, "We could go to space or another world whenever we wanted. Whatever you can't do in a real concert, you can do at a virtual one."そ
"If you go virtual, everyone around the world can be in the same place," explained Takeda. "When I read comments on social media when we did this last time, I saw a lot of people say how they were able to enjoy themselves with people they didn't know and communicate with people overseas. I feel we were able to foster something new for fans."
Finishing up the talk, Noda's final comments were: "I look forward to seeing how we can evolve this technology. I want everyone to be the first people at the door to experience all the incredible things and possibilities we will be able to deliver and to enjoy the excitement of our concerts with lots of others. Please look forward to it on the day."
Information
RADWIMPS – SHIN SEKAI "nowhere"
Dates: July 16, 2021 / July 17, 2021 / July 18, 2021
Times (Each Day): 11:00 / 16:00 /22:00 (JST)
Official Website: https://rad.varp.jp/en.html
RELATED ENTRIES
Virtual Idol Group 15 Voices Releases New Song 'Ash,' Story PV

15 Voices is a new virtual idol group aimed at youth around the world. A group of 15 girls living in the fictional industrial city of Kagutsuchi sacrifice the future in order to live in the present, or sacrifice the present in exchange for the future, as they travel on a mysterious bus towards a city of youth. 

This spring, a free series of web prequel novels exploring the backstory of each member began. A manga adaptation and audio drama featuring popular voice actresses are also currently in the works.

On August 3, the group released a new song, Ash. This track comes ahead of 15 Voice's new EP ASTRONOTES, which will release next week. A short version of the anime music video has also been uploaded to YouTube. 

Ash – 15 Voice (Short Music Video)

The track features music and lyrics by Vocaloid-P ichica, who expertly weaves in the sentimentality one feels at the end of summer. The band's post-punk sound is a throwback to 90s pop-punk and the emo revival of the early 2000s. This one is sure to bring the nostalgia!

The new prequel novel, The Case of Emi Akiko and Nami Akiko, has also been fully released. The story was written by Takumi Mochizuki, a Mephisto Prize winner who has written a number of popular works in the past. The story can be read for free on the tree website.

The story follows the twin sisters as they navigate through their difficult upbringing, which included a neglectful mother, an absent father, and a fortune-telling foster grandmother. The two were born and raised in a strange place, and the life they choose to live in the end will shock you. We're looking forward to seeing how this prequel tale impacts the main story.

Each chapter of the prequel novel is accompanied by a theme song sung by the group, and the story of these two sisters is joined by the track Eureka. This song will also be featured on the ASTRONOTES EP.  Don't miss the promo video narrated by Anna Suzuki (Nami) and Minori Fujidera (Emi). 

Emi Akiko & Nami Akiko Prequel Novel Video

Live activities held in the virtual world will begin this fall, so check out the group's official Twitter page for more information going forward!

Italian Pop Trio Il Volo to Perform for Charity at Kiyomizu-dera in Kyoto, Film to be Released

Il Volo, an Italian operatic pop trio known for its incredible tenors, will be the first foreign artist to be filmed at Kiyomizu-dera in Kyoto. The concert will be held without an audience and will be filmed, with proceeds going to charity.



The musical trio is known around the world for its mesmerizing harmonies. Their music manages to sound modern while still channeling tradition, making them an excellent choice to perform at the center of Japanese cultural traditions in Kyoto. The group will also perform in Tokyo, Osaka, and Nagoya.

The music video for the group's song Grande Amore, released in 2015, has racked up over 200 million views on YouTube. Loved by fans around the world, Il Volo's music transcends language barriers, and the group is sure to impress on their Japan tour.

Information

Il Volo Japan Tour 2022 Live in Concert

Planning/Invite/Organization: Tate Corporation

In Cooperation with Sony Music Labels Inc., M.T. Studio

New Anime Series 'BanG Dream! Morfonication' Gets Virtual Exhibition

Starting July 25, fans of the upcoming anime mini-series BanG Dream! Morfonication will be able to visit the Morfonication Virtual Exhibition!

BanG Dream! is a next-generation girl band project that links anime characters and live performances. The franchise has become a media giant inspiring anime series, games, and live shows. The voice actors from the virtual bands Poppin'Party, Roselia, Morfonica, and RAISE A SUILEN have formed bands in real life and are actively performing!

The Morfonication Virtual Exhibition is being held on NTT's social VR platform DOOR. Fans can access the exhibition from their smartphone, PC, or other devices, and there's no need to install an app. You can even visit from a web browser, or for those wanting a more immersive experience, the exhibition supports VR headsets.

The two rooms currently open to the public are the Exhibition Room and Atelier of the Hiromachi Family. More rooms will open as they become available.

The exhibition room recreates the world of BanG Dream! Morfonication, a new original anime focusing on Morfonica, the fourth band appearing in the series. The Atelier of the Hiromachi Family is a faithful reproduction of the Hiromachi family's atelier, as you may have guessed.

Come enjoy the world of BanG Dream! Morfonication from the comfort of your computer chair!

©BanG Dream! Project ©Craft Egg Inc. ©bushiroad All Rights Reserved.

RADWIMPS Track 'Futarigoto' Covered by Ryotaro Akazawa for CrosSing Cover Project

In March 2022, the cover song project CrosSing was launched. Amassing instant popularity, tracks featured as part of the project have pulled in millions of views, and includes covers by popular voice actors Maaya Uchida, Kana Hanazawa, Akari Kito, and towana, the vocalist of popular ani-song unit fhána. 

 

On June 15, Ryotaro Akazawa appeared to perform his rendition of the popular RADWIMPS song Futarigoto. The actor called the song one of his most memorable, noting that it was one of the themes of his youth. Below, you can see the actor singing his heart out!

 

Futarigoto – Ryotaro Akazawa (Recording)

An interview with Ryotaro Akazawa in which the actor discusses his thoughts on the song will be released on June 17 at 20:00.

 

CrosSing has also announced two special campaigns! The first is a follow and Retweet campaign: two people following the official CrosSing Twitter and TikTok who retweet the appropriate Tweet will win autographs. A LINE MUSIC Playback campaign is also underway, and those playing the song over 300 times in the first two weeks will receive a special autographed image. See the CrosSing Twitter page for more details.

 

With the start of the second season, CrosSing is leveling up! Tune in to see who will be performing next.

Experience Japanese Culture from Anywhere with Kanda Myojin Shrine's Virtual Space

Kanda Myojin Shrine dates back over 1,270 years, making it one of the most well-known religious sites in Tokyo. Dai Nippon Printing is now making it possible for interested visitors to experience the site from anywhere in the world, unveiling the Kanda Myojin CG Space this week. Developed with approval from the shrine, the virtual space faithfully reproduces the structure and design of the location using 3D laser measurement technology and CG techniques developed by DNP over many years. The space will be open online to all audiences.

 

A portion of the work from the Masayuki Kojo 10th Anniversary Exhibition currently behind held on-site at Kanda Myojin from June 4 until July 10 will also be available to view in the CG space. The space will also be linked to 'Virtual Akihabara,' developed by DNP in conjunction with the AKIBA Tourism Council. Using XR (Extended Reality), the company hopes to develop a wide variety of new communication styles.

The Kanda Myojin CG Space was created by using DNP's laser measurement technology to recreate three-dimensional objects. By using high-definition photography and photogrammetry technology, images of objects are taken from many angles, creating a realistic 3DCG space to explore. The structure of the shrine, which was rebuilt in 1934 after being damaged in the Great Kanto Earthquake, has been faithfully reproduced in every way.

In conjunction with events held at the Kanda Myojin Museum, the Kanda Myojin CG Space will make the history of Kanda Myojin and its collection of materials, including rare ukiyo-e prints, available online for anyone to access. Through these exhibits, people both in Japan and abroad can experience Edo culture through their web browsers!

Studio Chizu to Hold Cinematic Orchestra to Commemorate the First Anniversary of 'Belle'

To celebrate the first anniversary of the animated Studio Chizu film Belle, a special Cinematic Orchestra will be held on August 14 at the Tokyo International Forum. The event will feature a number of other beloved Studio Chizu works.

The event will feature a symphony orchestra performing songs from many Studio Chizu films while famous scenes play on an oversized screen. The works to be featured include The Girl Who Leapt Through Time, Summer Wars, Wolf Children, The Boy and the Beast, Mirai, and Belle.


Masakatsu Takagi will be playing piano while Hanako Oku and Ann Sally will be attending as guest vocalists.

 

Original merchandise will also be on sale at the venue, with some pieces featuring an incredible illustration of Belle from the feature film.


Which Studio Chizu film is your favorite?

Featured Works

The Girl Who Leapt Through Time (2006)
Summer Wars (2009)
Wolf Children (2012)
The Boy and the Beast (2015)
Mirai (2018)
Belle (2021)

Information

Studio Chizu Cinematic Orchestra 2022 ~Belle 1-Year Anniversary~

Date: August 14, 2022 / 16:00 – 17:00
Venue: Tokyo International Forum Hall A

Official Site: https://www.promax.co.jp/studiochizu-inconcert

Tickets
Lottery Entry Period: May 18 – May 29 at 23:59
Lawson: https://l-tike.com/st1/studiochizu-2022
General Sales
Available starting June 18 at 10:00
*More details to be announced at a later date.

©「時をかける少女」製作委員会2006/©2009 SUMMERWARS FILM PARTNERS/©2012「おおかみこどもの雨と雪」製作委員会/©2015 THE BOY AND THE BEAST FILM PARTNERS/©2018 スタジオ地図/©2021 スタジオ地図/©STUDIO CHIZU/©上野隆文

Kyary Pamyu Pamyu Collaborates with Shelter Nanyo Hall in Yamagata for LOCAL POWER JAPAN Project

Last month, Kyary Pamyu Pamyu performed on the Gobi Stage at Coachella, one of the largest music festivals in the United States. The singer has now returned to Japan for the second half of her 'Kyary Pamyu Pamyu 10th ANNIVERSARY JAPAN TOUR 2022 CANDY WAVE,' seeing the singer performing 30 shows across Japan. The tour will conclude with a solo performance at Budokan in October. 

In conjunction with the nationwide tour, the LOCAL POWER JAPAN Project was launched to energize Japan through the appeal of regional towns and cities and has been attracting major attention. Kyary's newest collaboration in Yamagata has been announced ahead of her concert there on May 13!

The singer will be collaborating with Shelter Nanyo Hall in Nanyo, Yamagata, a small town of only around 30,000 people. The hall is the world's largest wooden concert hall, made entirely from laminated local cedar. It uses the most advanced fire-resistant technology for wood in Japan and was certified as the world's largest by Guinness World Records in December 2015. The multi-functional hall can seat over 1,400 people, and the property also features a Japanese-style tea room, meeting rooms, an open tree-growing space, and more.

"I want the local population to be incredibly proud of this magnificent wooden structure," said Norihito Shimanuki, the hall's director. "Through this concert hall, we'd like to promote Nanyo and Yamagata Prefecture both domestically and internationally." 

The collaboration logo for the newest partnership was inspired by the 'KPP NANDA COLLECTION LIVE in HAWAII' visual. The one-night-only concert was held in July 2014. Since the main focus of this team-up is 'wood,' the visual's palm tree has been transformed into a cedar tree!

A collaborative T-shirt is also on sale featuring the new logo and the singer's 10th-anniversary logo. The shirt is available on the LOCAL POWER JAPAN Project website for two weeks only starting May 12. Support Japanese businesses and pick one up while you can!

Information

Shelter Nanyo Hall Yamagata (Nanyo City Cultural Hall) x Local Power Japan Project

Collaboration T-shirt

Price: ¥3,300 (Tax Included)

Available: May 12 – May 25, 23:59

Where to Buy: 

LOCAL POWER JAPAN Project Online Shop

https://store-localpowerjapan.com/

Shelter Nanyo Hall (Nanyo City Cultural Hall): https://nanyoshi-bunkakaikan.jp

Tour Details: https://kpp10.jp/japantour2022/

Official Site: https://localpowerjapan.com 

*Please allow two weeks to one month after order for product to ship. All items are made-to-order.

*A portion of shirt sales will be donated to local development and social programs. 

Kirby 30th Anniversary Music Festival to be Held at Tokyo Garden Theater

The Kirby game series turns 30 on April 27, 2022, and to celebrate this impressive event, the Kirby 30th Anniversary Music Festival will be held on August 11!

 

While the event will be held in person at the Tokyo Garden Theater, fans from all over the world will also be able to watch for free on YouTube.

The concert will feature songs from the series performed by a "big-band style ensemble" made up of 35 musicians, with Kirby himself participating in real-time on an LED monitor, dancing around as fans celebrate his birthday.


Those attending the concert venue in person will be able to snag a special penlight that will sync to the music for some extra magic. 

What's your favorite Kirby soundtrack?

©HAL Laboratory, Inc. / Nintendo

RADWIMPS Releases Music Video 'The Last 10 Years' Theme Song, 'Uruubito'

The Last 10 Days opened in Japanese theaters on March 4 and has taken the country by storm over the last two weeks, becoming the #1 film on its opening day and pulling over ¥300 million in its first three days. Now, the music video for the film's theme song, Uruubito, has just been unveiled!

This music video was directed by Michihito Fujii, who also directed the film. Fujii also reunited the actual film crew. Kentaro Sakaguchi, who starred in the film with Nana Komatsu, also appears in the music video. The video was inspired by the film, and shows Kazuto and Matsuri retracing their memories from Kazuto's perspective. 

The gorgeous music video almost feels like a sequel to the film, blending footage of RADWIMPS frontman Yojiro Noda with Kazuto's beloved memories of the past 10 years. The video also features unused footage from the film and stills by cinematographer Keisuke Imamura!

Uruubito – RADWIMPS (Music Video)

Comment from Kentaro Sakaguchi

"When I first heard the song Uruubito, I felt the urge live my life well–to become a person worthy of Mari. The song inspired me to focus more on Kazuto's feelings, so being able to participate in the music video felt like a fitting way to end this project…I don't know if that's the best way to put it, but that's how it felt.

I was happy to see a different ending for Kazuto. Tracing his memories with Matsuri made it feel like she was with him again. On the first day of shooting, the director played Uruubito in front of the original author, Kosaka Ruka's grave. I felt her say "thank you for letting me be next to you," and it proved to me that she still lives in the story. I almost couldn't hold my feelings back when I saw RADWIMPS actually playing the song. I was so happy that we could all come together again to make this video.

I hope that both those who haven't seen the film and those who have can come together and enjoy this song together. Remember Matsuri's story."

Comment from Michihito Fujii

"When Noda-san asked if I would shoot the music video of Uruubito, I was so thrilled. I don't think there was any part of Kazuto's life that couldn't be portrayed in the movie, but I thought this video would be a way to show his life after the events of the film. 

The staff consisted of the same team that worked on the film, and the scenes of Noda-san's performance were shot on 16mm film. The road that you see Kazuto walking on was filmed at the same location that appeared in the film. We were aware of the many overlapping locales, like the hill where they watch the sunset, the bridge where they watch fireworks, and Kazuto's room. The art director rebuilt Kazuto's room exactly how it was–it was taken down after filming ended six months ago. 

Noda-san visited the ocean, the mountains, Kazuto's apartment–all of the places that meant something to Matsuri and Kazuto.

I was impressed by the respect he showed to every aspect of the work, including his desire to visit the grave of Kosaka Ruka, the author of the original work.

I hope that those who have seen the movie once will see this music video and want to see the movie again. Even if you haven't seen the movie, I would be happy if this video inspires you to learn more about Kazuto's story."

Comment from Yojiro Noda (RADWIMPS)

"When the idea of shooting a music video for Uruubito came up, I asked Fujii-san to shoot it. In my mind, it wouldn't be right to have the film's story and the music video's story told by two different people. 

For the filming, we wanted Sakaguchi-san to participate along with the actual film crew. It was a strangely uplifting experience, as if I were being transported into the film's world. When I went to the rooftop of the apartment where Kazuto lives and to his room, I was so excited as a fan of the movie that I took a ton of pictures. There are so many incredible scenes shot in his apartment.

Just before the shooting date, the director asked for additional shooting in Mishima, and I had the opportunity to visit the hometown of Kosaka-san, the original author of the film. I was so thankful to be able to visit her grave and greet her family members between shoots.

I'm sure that I will watch this music video countless times, and each time I watch it, I will remember the movie 10 Years to Live, Matsuri and Kazuto, and Kosaka-san. I hope that I can share my strength with all of you going forward and that this work will become a part of your daily life." 

©2022映画「余命10年」製作委員会

'The Last 10 Years' Soundtrack by RADWIMPS Now Streaming

The soundtrack for the upcoming film The Last 10 Years is now streaming. Both the film and soundtrack were released on March 4, and fans of RADWIMPS can now enjoy all 29 powerful tracks on iTunes, Spotify, and other major music sites.


The Last 10 Years is an adaptation of Kosaka Ruka's novel of the same name. The members of RADWIMPS have expressed pure joy over being invited to provide the musical accompaniment for the film. 

Yojiro Noda worked on the film's soundtrack after reading the script. Nana Komatsu, who plays Matsuri, commented on the soundtrack. "I listened to it every day on the road, and it really gave me a sense of power." Kentaro Sakaguchi, who plays Kazuro, said that the lyrics of the film's theme song Uruubito was written from a uniquely Japanese perspective. The band's music had a profound influence on the director and cast.

"Without a doubt, being involved in this work has changed my life forever," said Noda. "I hope that the lives of the viewers will change as well."

©2022映画「余命10年」製作委員会

Special Trailer for Film 'The Last 10 Years' Highlights Music by RADWIMPS

Popular rock band RADWIMPS wrote both the theme song and all music featured in the upcoming film 'The Last 10 Years.' The film and soundtrack will be released on March 4, 2022.

'The Last 10 Years' is an adaptation of Kosaka Ruka's novel of the same name. It tells the story of Matsuri, a 20-year-old woman who learns that she only has 10 years to live due to an incurable disease. She makes the decision not to fall in love until she meets Kazuto, a man who has lost the will to live. Matsuri is portrayed by Komatsu Nana, while Kazuto is played by Sakaguchi Kentaro. The soundtrack will include 29 original songs written by RADWIMPS for the film along with Uruubito, the theme song. Yojiro Noda, the lead singer of the band, met film director Michihito Fujii on the set of Million Yen Women. Noda played a lead role in the drama series, and the two became fast friends, wanting to collaborate musically. 

Nana Komatsu, who plays Matsuri, commented on the soundtrack. "I listened to it every day on the road, and it really gave me a sense of power." Kentaro Sakaguchi, who plays Kazuro, said that the lyrics of the film's theme song Uruubito was written from a uniquely Japanese perspective. The band's music had a profound influence on the director and cast.

'The Last 10 Years' Special Trailer (Music by RADWIMPS)

RADWIMPS approached the soundtrack's creation with incredible enthusiasm. "Without a doubt, being involved in this work has changed my life forever," said Noda. "I hope that the lives of the viewers will change as well."


Be sure to listen to the film's soundtrack on streaming services on March 4!

©2022映画「余命10年」製作委員会

Information

The Last 10 Years: Original Soundtrack

Release Date: March 4, 2022

Price: ¥3,300

RADWIMPS Official Site: http://radwimps.jp/

The Last 10 Years

Release Date: March 4, 2022

Official Site: yomei10-movie.jp

Hatsune Miku Symphony 2022 to Travel to Yokohama and Osaka Following Suntory Hall Performance

The Hatsune Miku Symphony 2022 event will be performed at Pacifico Yokohama and The Symphony Hall Osaka following the Suntory Hall performance later this year. The Tokyo Philharmonic Orchestra and Osaka Philharmonic Orchestra will perform alongside visual effects, and Vocaloid fans won't want to miss this incredible show!

In addition, the Blu-ray and CD of the Hatsune Miku Symphony 2021 Yokohama performance are now on sale. Each contains an advanced ticket application to the Suntory Hall performance. A digest video of KAITO's 15th Anniversary song, the theme for the event, is also available to watch on YouTube.

Hatsune Miku Symphony 2021 – Yokohama Performance Digest [Orchestra Live Blu-ray & CD]

On February 5 and February 6, a Hatsune Miku Symphony 2022 booth at SNOW MIKU 2022 will be selling the 2021 Blu-ray and CD. Those buying fast enough will get an original pin.

Information

Hatsune Miku Symphony 2022 ~Hatsune Miku,Kagamine Rin,Kagamine Len 15th Anniversary~

Yokohama Concert

September 25, 2022

Pacifico Yokohama National Convention Hall

Conductor: Hirofumi Kurita

Performed by the Tokyo Philharmonic Orchestra

 

Osaka Performance

November 23, 2022

The Symphony Hall

Conductor: Hirofumi Kurita

Performed by the Kansai Philharmonic Orchestra

Official Site: https://sp.wmg.jp/mikusymphony/