JAC-Market: Buy Exclusive Anime Merchandise With JAC+ Cryptocurrency
UPDRAFT opened JAC-Market this month, a new online website where you can buy exclusive anime merchandise using their own cryptocurrency called JAC+. The website is set to be available to the overseas market, including China, at the end of September. This marks the first website in Japan to sell anime merchandise overseas using cryptocurrency.
Blockchain and cryptocurrency has been gaining more attention than ever since last year. The market cap for cryptocurrency has been the highest it's ever been this year, and numerous banks around the world are introducing and making preparations for crypto payments.
In light of the cryptocurrency boom, UPDRAFT is catering to the needs of cryptocurrency users by offering exclusive merchandise on JAC-Market which can be paid for using JAC+. In doing so, it hopes to serve as a stepping stone in helping to develop the anime market globally. It is also planning an NFT scheme which will roll out this year.
Get your hands on anime merchandise you can't get anywhere else when JAC-Market rolls out worldwide.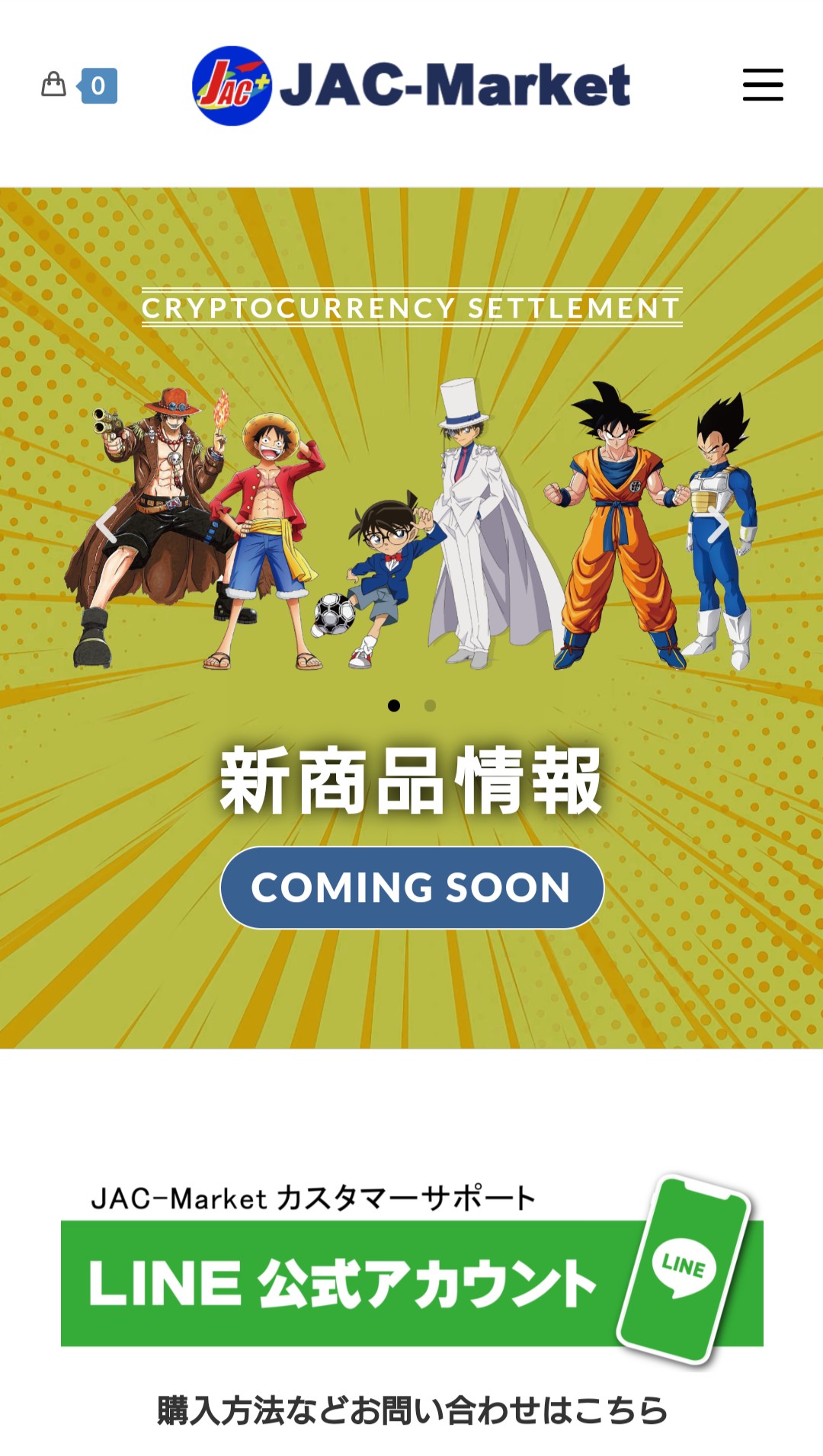 「JAC+」コインはIDCM台湾に2019年に上場している暗号通貨です。
RELATED ENTRIES
Netflix's Naomi Osaka Documentary Series Releases Worldwide

Netflix released their new three-episode docuseries Naomi Osaka worldwide on July 16 which shines a spotlight on the titular Japanese professional tennis player.

Born in Japan to a Haitian father and a Japanese mother, Osaka has consistently been a standout tennis player amongst her peers. Filmed over the course of two years, the series dives deep into Osaka's life with home video footage from her childhood to today, following her climb to becoming a top player in the world of tennis.

It looks at her historical play at the 2018 US Open and the 2019 Australian Open, which saw her win her first two Grand Slam singles titles. We see the times she wore masks with the names of those who have died at the hands of police in the US written on them for each round of the US Open. It delves into her exploration of her cultural roots and her multifaceted identity as a tennis champion and rising leader.

A new promo video was released exclusively on the Netflix Japan YouTube channel which features narration by Osaka in English. In it, Osaka reveals how her mother worked overtime and would sleep in her car, and that her purpose for playing tennis was to make her mother happy.

You can also watch the official global trailer below.



The docuseries was directed by American filmmaker Garrett Bradley who is perhaps best known for her documentary Time which was nominated for Best Documentary Feature at the 93rd Academy Awards.

Netflixドキュメンタリーシリーズ『大坂なおみ』7月16日(金)Netflixにて全世界独占配信

Rilakkuma x Tower Records Collaboration Includes Exclusive Merchandise and Themed Cafe Menu

Tower Records has announced Rilakkuma x Tower Records Campaign 2021, an event set to run from August 4 to August 29. The retail music chain is joining paws with Rilakkuma and company for a campaign with the theme "Wow, what a surprise!" at Tower Records stores, their online shop, and Tower Records Cafe.

Merch collab line-up

Tower Records has collaborated with Rilakkuma every year since 2009. This year sees the arrival of brand new original merchandise, a CD, and themed cafe.

The merchandise will be available at 27 Tower Records stores, Tower Records Cafe Omotesando, and online. Enjoy adorable original artwork of Rilakkuma, Korilakkuma, Chairokoguma, and Kiiroitori. There's lots of freebies to get your hands on too – check out the line-up below.

Available at 27 Tower Records stores, Tower Records Cafe Omotesando, and the online shop

Available at Tower Records Shibuya, Tower Records Cafe Omotesando, and the online shop

Free character cards with every purchase

Red Rilakkuma zabuton floor cushion

For this year's campaign, Rilakkuma fans can win themselves a zabuton floor cushion too. For a chance to win, you need to sign up online.

Tower Records x Rilakkuma CD cover

Postcard included with CD

The eighth Tower Records x Rilakkuma CD includes background music for doing yoga. There are 15 popular J-pop tracks in total which can be enjoyed for just chilling out to as w2ell.

Themed cafe menu

The cafe collaboration at Tower Records Cafe Omotesando takes on an American diner theme. Takeout drinks will also be available at the Nagoya Sakae SKYLE and Umeda NU Chayamachi branches too.

At Tower Records Omotesando

Table mats at Tower Records Omotesando

Rilakkuma, Korilakkuma, Chairokoguma, and Kiiroitori themed dishes, drinks, and desserts

Receive a free fan when you book a table in advance

Receive a free postcard when you order from the collab menu

Set of 3 original stickers

Free postcard when ordering from the Special Menu

Free postcard when you order a takeout bottle

Collect all six stamps in the stamp rally to win a poster

During the campaign, for every piece of merchandise ordered, you'll receive one of four possible character cards. 20 people who also scan the QR codes included on the cards by September 12 will be randomly chosen to win either a white Rilakkuma zabuton cushion or a ¥3,000 Tower Records gift card.

©2021 San-X Co., Ltd. All Rights Reserved.

Information

Rilakkuma x Tower Records Campaign 2021

Running: August 4, 2021 – August 29, 2021

Zabuton Cushion Applications

Units: 20

Submission Page: Tower Records Online

Submission Period: July 15, 2021 – August 29, 2021

Collab Merchandise

Pre-Orders: July 15, 2021

Release Date: August 4, 2021
Details: http://tower.jp/rkmg21 

Collab Cafe


Locations: Tower Records Cafe Omotesando / Tower Records Cafe Nagoya Sakae SKYLE (Takeout Drinks Only + Closed August 17) / Tower Records Cafe Umeda NU Chayamachi (Takeout Drinks Only + Closed August 16)

Menu ①: August 4, 2021 – August 13, 2021

Menu ②: August 14, 2021 – August 22, 2021

Details: https://tower.jp/rilakkuma-cafe2021 

*Table bookings mandatory

Kyoto Exhibition Celebrates Traditional Japanese Women's Clothing and Dyeing Techniques

The Kyoto Dyeing and Weaving Cultural Association opened an exhibition at the Bunka Gakuen Fukushoku Museum last Thursday dedicated to traditional Japanese women's clothing and the traditional dyeing and weaving techniques of Kyoto over the past 1500 years.

Nara Period garments

Edo Period garments

19th century garment from the Edo and Meiji periods

19th century garment from the Edo and Meiji periods

Dyeing and weaving festival procession

On the first floor of the exhibition, the museum is displaying a collection of rare and valuable traditional garments from across Japanese history, spanning from the Edo (1603-1867) to the Showa (1926-1989) eras. Visitors will also be able to observe Kyoto-style dyeing and weaving techniques in-person as well as get involved on a workshop.

Up on the second floor, mannequins will line the floor wearing traditional female dress from the Kofun period (300-710 AD) to the early Meiji period (1868-1912). The clothes have been restored and so allow visitors to see what each piece would have looked like at the time.

In the early Showa period, the Senshoku Matsuri, or Dyeing & Weaving Festival, was held to help promote the dyeing and weaving industry of Kyoto. It stopped as a result of the Second Sino-Japanese War and was never revived, resulting in it having become something of a legend in Kyoto history.

Information

Saigen Josei no Fukusou 1500 -Kyoto no Senshoku Gijutsu no Iki-

Japanese Exhibition Name: 再現 女性の服装1500年─京都の染織技術の粋─

Running: July 15, 2021 – September 28, 2021

First Exhibit: July 15, 2021 – August 6, 2021 / Second Exhibit: August 18, 2021 – September 28, 2021

Closed: Sundays / Public Holidays / August 7-17, 2021

Address: Shinjuku Bunka Quint Building, 3-22-7 Yoyogi, Shibuya-ku, Tokyo

Opening Hours: 10:00-16:30

Kyoto's Famous Confection Gets Demon Slayer: Kimetsu no Yaiba Makeover

Japanese confectionery company Bijuu, which stocks popular Kyoto sweets, has released mini versions of the famous Kyoto soft rice cake known as otabe, a type of yatsuhashi, which are boxed up in Demon Slayer: Kimetsu no Yaiba packaging.

The bite sized treats are chewy and filled with bean paste from Hokkaido. They are available in six different box designs taken from the popular anime series.

Information

Demon Slayer: Kimetsu no Yaiba Kotabe
Released: July 21, 2021

Price: ¥432 (Tax Included)

Available: Souvenir shops around Kyoto an
Buy Online (Japan): https://www.otabe.jp/

Win a Signed GENERATIONS from EXILE TRIBE Poster With JOYSOUND's Campaign

GENERATIONS from EXILE TRIBE released their sixth studio album Up & Down on July 14, 2021. To promote the new record, which comes a year and eight months since their last album, the boy band are collaborating with the Japanese karaoke chain JOYSOUND.

The collaboration campaign is taking place at select JOYSOUND branches, including with the company's latest JOYSOUND MAX GO machines. Fans can participate both at the karaoke booths as well as at home by using the official JOYSOUND app which is available on both iOS and Android.

Those taking part in-person at the karaoke booths will use the free Kyoku Navi JOYSOUND app, which turns their smartphone into a karaoke remote control, to select any of the 13 tracks from the band's new album Up & Down, which includes five new songs such as HELLO! HALO! (feat.DANCEARTH). You can enter the campaign multiple times by singing each song once per day for a total of 13 submissions eveyrday.

If you're singing from home, you use the JOYSOUND app and from there you share your performance on Twitter. You must tweet your post with the hashtag #GENERATIONS_JOYSOUND and be following the official JOYSOUND account @JOYSOUND_PR.

Three random people will be select from the submissions to receive a poster signed by all the GENERATIONS members. The band is also set to appear in the 'SPECIAL FEATURE' of JOYSOUND's monthly artist pickup on August 2. An interview in Japanese will also be released on the campaign website where the band talk about the new album release.

Showa Summer Dessert Drinks Get Served Up at AWESOME STORE & CAFE IKEBUKURO in Tokyo

AWESOME STORE & CAFE IKEBUKURO is now serving up two new summer-exclusive dessert drinks inspired by the Japanese Showa era. The 'Imitation Gold' and 'Blue Light Awesome' are both available now until September 26.


Imitation Gold: ¥467 (Tax Included) / Blue Light Awesome: ¥467 (Tax Included) *both served in plastic cups (see below)

The Imitation Gold's flavour is reminiscent of an energy drink. It's topped with vanilla ice cream and colourful gummies. The Blue Light Awesome is a Blue Hawaiian syrup-infused pineapple juice topped with vanilla ice cream and a cherry. Both of these cute dessert drinks are the perfect refreshments for the summer.

Those who buy both drinks will also receive an original black straw to make the drinks even more Instagrammable. These are available while supplies last.

Some other popular must-tries

Other classics on the menu to try include soft and chewy bagels, coffees, and more.

Chocolate High | ¥396 (Tax Included)


Ebi Avocado | ¥396 (Tax Included)


Fuwa Toro Bacon Omelette | ¥396 (Tax Included)


AWESOME Organic Coffee (Hot/Iced) | From ¥217 (Tax Included)

Information

AWESOME STORE & CAFE IKEBUKURO
Opening Hours: 10:00-21:00 (Currently operating on reduced hours – closes at 20:00)
TEL: 03-5944-9754
Address: Q Plaza IKEBUKURO 1F, 1-30-3 Higashi-Ikebukuro, Toshima-ku, Tokyo
Official Website: https://www.awesomestore.jp/store/pages/cafe.aspx

Popular Character Chiikawa Gets Pop-Up Store at EKIHAKO in Osaka

Juice has opened a pop-up shop centred on the popular character Chiikawa at EKIHAKO inside EKI MARCHÉ SHIN-OSAKA where it is set to stay until August 26.

Get your paws on some exclusive items

New merch for July 2021

Cushion | ¥4,180 (Tax Included)

Hand Puppets | ¥1,980 (Tax Included)

Free acrylic key ring for buyers

Chiikawa fans can get their hands on a variety of items from pouches to plush toys, apparel, kitchenware, and more. The items are exclusive to the pop-up store and Chiikawa online shop. And if you spend over ¥3,300 at the pop-up sto9re, you'll get a free glittery acrylic key ring.

©️nagano

Information

Chiikawa Pop-Up Store

Running: July 21, 2021 – August 26, 2021
Opening Hours: 9:00-21:30
Location: EKIHAKO (EKI MARCHÉ SHIN-OSAKA) – inside the ticket gates of JR Shin-Osaka Station
Address: 5-16-1 Nishinakajima, Yodogawa-ku, Osaka, 532-0011, Japan

NIJISANJI EN Debuts New Virtual YouTuber Group OBSYDIA

NIJISANJI EN announced the debut of the new three-member VTuber group OBSYDIA on their YouTube channel last week along with the group's concept, profiles, and more.

The video reveals Rosemi Lovelock, SelenTatsuki, and Petra Gurin as the members of OBSYDIA. But what is each member about?

OBSYDIA

Rosemi Lovelock

Category: Rose Maiden

Profile: A rose maiden raised in a beautiful garden. Pretty as a rose in a vase, but a little sharp to the touch.


Official Twitter: https://twitter.com/Rosemi_Lovelock
Official YouTube Channel: https://www.youtube.com/channel/UC4WvIIAo89_AzGUh1AZ6Dkg

SelenTatsuki

Category: Lunar Sky Dragon

Profile: A sky dragon descended from the moon. She has a gentle heart hidden underneath her mischievous nature, like the glow of the moon on a cloudy night.

Official Twitter: https://twitter.com/Selen_Tatsuki
Official YouTube Channel: https://www.youtube.com/channel/UCV1xUwfM2v2oBtT3JNvic3w

Petra Gurin

Category: Frost Penguin

Profile: A penguin who spent much time alone in the frosty sea. Like the waves during a storm, she is the bearer of both complexity and charm.

Official Twitter: https://twitter.com/Petra_Gurin
Official YouTube Channel: https://www.youtube.com/channel/UCgA2jKRkqpY_8eysPUs8sjw

A special program streamed via NIJISANJI EN's official YouTube channel on Sunday to promote the debut of OBSYDIA. The group also released a music video for their debut track Black Out. Check both videos out below.

Breaking News! NIJISANJI EN「OBSYDIA」VTuber Debut Special Program | Hosted by LazuLight

OBSYDIA – Black Out (Official Music Video)

Jambuka Pancakes Get Tossed and Loaded With Fresh Cream and Fruits in Osaka

Jambuka Abeno Q's Mall is the only place in Osaka where locals can enjoy the incredible pancakes created by the fresh cream desserts specialist shop MILK. This summer, they are now serving a new seasonal treat: the 'Sweet Summer Mikan & Lemon Pancakes.'

Sweet Summer Mikan & Lemon Pancakes | ¥1,089 (Tax Included)

Fresh Cream Milk Pancakes | ¥858 (Tax Included)

Fresh Cream Strawberry Milk Pancakes | ¥1,089 (Tax Included)

Fresh Cream Chocolate Banana Milk Pancakes | ¥979 (Tax Included)

All pancakes are made-to-order and are covered in a rich, creamy sauce made from fresh cream from Hokkaido. Enjoy them plain or topped with fresh fruit.

Information

Sweet Summer Mikan & Lemon Pancakes

Running: July 15, 2021 – August 31, 2021

Location: Jambuka Abeno Q's Mall
Address: Abeno Q's Mall Floor 4F, 1-6-1 Abenosuji, Abeno Ward, Osaka, 545-0052, Japan
Opening Hours: 11:00-21:00
TEL: 06-6636-0555
Official Instagram: https://www.instagram.com/jambuka_abeno/

Detective Conan Escape Games Open in Japan

In promotion of SCRAP's new Detective Conan themed escape game Escape From the Scarlet Investigation (Blood Task Force), five of the company's past escape games made in collaboration with the anime series are being revived for a temporary period.

Escape From the Orient Express

Escape From the Magical Castle

Escape From the Black Assassin

Escape From the Final Public Examination

Escape From the Navy Blue Art Museum

Here's what it's like to play..

SCRAP's escape games are made in collaboration with many different series and see players become a character in the story where they must solve puzzles and riddles to find a way out. They have collaborated with Detective Conan since 2013 during which over 1.3 million people have played. The newest entry to the series is Escape From the Scarlet Investigation (Blood Task Force).


Five previous escape games make a return this year including Escape From the Orient Express (2014), Escape From the Magical Castle (2015), Escape From the Black Assassin (2016), Escape From the Final Public Examination (2018), and Escape From the Navy Blue Art Museum (2019). Each features a completely original story set in the world of Detective Conan.

©青山剛昌/小学館・読売テレビ・TMS 1996
©青山剛昌/小学館

Information

Escape From the Scarlet Investigation (Blood Task Force)

Japanese Title:「緋色の捜査網からの脱出」

Release Date: 2021

Details:  https://realdgame.jp/conan2020/

Escape From the Orient Express

Japanese Title:「オリエント急行からの脱出」

Tokyo
Venue: Tokyo Mystery Circus
Running: August 4, 2021 – September 12, 2021
Details: https://mysterycircus.jp/events/8933

Aichi
Venue: Real Dasshutsu Game Nagoya (formerly Nazo Complete Nagoya)

Running: September 2, 2021 – September 20, 2021
Details: https://www.scrapmagazine.com/nazocomplex/events/orient_express2021/
 

Escape From the Magical Castle

Japanese Title:「奇術城からの脱出」

Tokyo
Venue: Real Dasshutsu Game Kichijoji
Running: August 19, 2021 – September 5, 2021
Details: https://www.scrapmagazine.com/nazobldg_kichijoji/events/2021conan3/
 

Escape From the Black Assassin

Japanese Title:「黒き暗殺者からの脱出」

Aichi
Venue: Real Dasshutsu Game Nagoya (formerly Nazo Complete Nagoya)

Running: July 29, 2021 – August 29, 2021
Details: https://www.scrapmagazine.com/nazocomplex/events/assassin2021/

Tokyo
Venue: Real Dasshutsu Game Kichijoji

Running: September 15, 2021 – October 24, 2021
Details: https://mysterycircus.jp/events/8934
 

Escape From the Final Public Examination

Japanese Title:「公安最終試験からの脱出」

Aichi
Venue: Real Dasshutsu Game Nagoya (formerly Nazo Complete Nagoya)

Running: August 26, 2021 – September 26, 2021
Details: https://www.scrapmagazine.com/nazocomplex/events/project_zero2021/
 

Escape From the Navy Blue Art Museum

Japanese Title: 「紺青の美術館からの脱出」

Tokyo
Venue: Real Dasshutsu Game Kichijoji

Running: September 9, 2021 – September 26, 2021
Details: https://www.scrapmagazine.com/nazobldg_kichijoji/events/2021conan7/

renacnatta x Shiki Theatre Company to Release Banshu-Ori Weave Collection

renacnatta has teamed up with Shiki Theatre Company to release a collection of banshu-ori skirts and neckties, all of which will arrive on August 3.

renacnatta is a brand which weaves clothes using deadstock fabric from Japan and Italy and by using traditional Japanese weaving techniques.

Skirts

Banshu Mermaid Wrap Skirt – Matinee|Collaboration with Shiki Theatre Company | ¥35,200 (Tax Included)


Banshu Mermaid Wrap Skirt – Soiree|Collaboration with Shiki Theatre Company | ¥35,200 (Tax Included)


Neckties

Banshu Tie – Matinee|Collaboration with Shiki Theatre Company | ¥9,350 (Tax Included)

Banshu Tie – Soiree|Collaboration with Shiki Theatre Company | ¥9,350 (Tax Included)

Shows at the Shiki Theatre Company have been cancelled or postponed due to COVID-19. The collaboration comes to reignite the fire and excitement towards the theatre in these restrictive times. This August, the theatre is release a new and original musical which will see actors wearing clothing made using banshu-ori weave. This collection uses the same weaving technique.

Banshuori is a yarn-dyed textile made using a special production method which sees yarn dyed in advance and patterns woven by the dyed yarn. The items in the collection come in two colours: Matinee and Soiree, named after afternoon and evening theatre performances respectively. The Matinee line-up is beige and yellow while the Soiree picks are a mix of navy and black.

The one-size-fits-all skirts feature a comfy mermaid style with a fashionable silhouette perfect for going to the theatre with. They are made in such a way that they do not wrinkle when sitting down for long periods of time. The neckties too are made using banshu-ori weave for a smooth, sleek look.

Hololive x Atre Akihabara Merchandise Collection Revealed

Virtual YouTuber talent agency Hololive Production is set to release a new exclusive collection at Atre Akihabara in Tokyo on August 1.

The Line-Up

Acrylic Panel / B2 Tapestries / Acrylic Chibi Figures

Big Silhouette T-Shirts / Holostars T-Shirt / Key Visual Graphic T-Shirt

Key Visual Acrylic Panel

Chibi Character Illustration Acrylic Figures

B2 Tapestries

hololy Photo Contest

Hololive fans can get their hands on merchandise of all their favourite VTubers with this collection that will be sold exclusively at Atre Akihabara. To promote the collection, giant poster will be plastered up outside and around Atre Akihabara, with a giant one at the north entrance 3D illustrations at the south entrance. And for every ¥500 spent in a single transaction on the items, fans will receive a free character card.

Information

Hololive Summer Festival x Atre Akihabara

Running: August 1, 2021 – August 15, 2021
Locations: Atre Akihabara 1 (1-17-6 Soto-Kanda, Chiyoda-ku, Tokyo) / Atre Akihabara 2 (1-9 Kanda Hanaokucho, Chiyoda-ku, Tokyo)

Book Slot: http://hololive-summerfes.com/