FLOW release track-by-track preview of Upcoming 15th Anniversary Mini Album "Fighting Dreamers"!
July 2017 will mark the 15th anniversary for internationally celebrated Japanese rock band FLOW. The band are set to release a new mini-album on June 28th, and a promotional video for it has just been uploaded to YouTube. They are also selling their very own stamps of each member over on the LINE app.
This exhilarating new release celebrating 15 years of FLOW sees 11 incredible voice actors join in with the singing. Each member of the band were also heavily involved with the writing and production of this new mini album. The promotional video that went out today let's you hear part of the 5 tracks, each of which was worked on by a different member. Be sure to check out the new songs below. All 5 songs are sure to be explosive when they are eventually played live.
The first track on the mini album is "GO!!!" The song is their best selling single and was used as the fourth opening theme to the popular anime series Naruto. It is a newly recorded version of the song titled "GO!!! ~15th Anniversary ver.~" and features a thunderous chorus of 11 incredible voice actors. FLOW encountered each of them during their long 15-year career, and their roaring voices echo so loud that their faces almost become visible in your mind, one-by-one.
FLOW are also currently streaming a full version of the music video over on GYAO! for a limited period of time. It also features past music videos and live footage, and even the recordings of the 11 voice actors singing their piece. The end of the video brings FLOW together with each of them. Whether you're a fan or have only ever listened to this song one time, this music video is sure to stir up some emotions inside of you.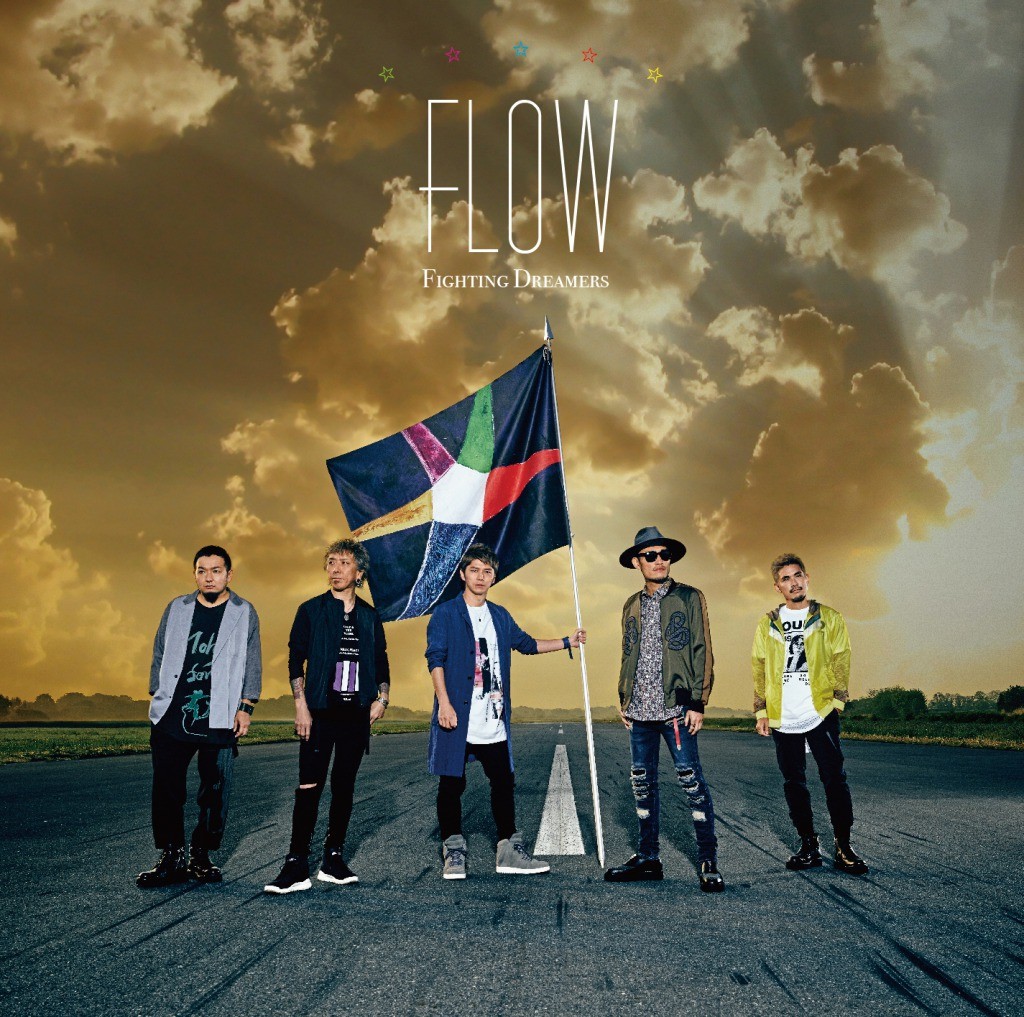 The First Press Limited Edition of the CD features this very music video along with the making-of footage of the recording. It features gorgeously made clips from both the band and the voice actors.
In addition, to celebrate their 15th anniversary which will hit this July, FLOW have released stamps over on the LINE app of the members and of their official LINE account. The stamps recreate each of the members' personalities and are connected to the release of their new mini album.
And we can't wait for their upcoming anniversary tour FLOW 15th Anniversary TOUR 2017「We are still Fighting Dreamers」.
RELATED ENTRIES
TV Anime Back Arrow Reveals New Key Visual and Promotional Video

The ongoing TV anime series Back Arrow, which has been airing since January, has released a new key visual and promotional video and confirmed that Eir Aoi and FLOW are performing the new opening and ending themes respectively.

Back Arrow 4th Key Visual

The series is licensed by Funimation outside Japan. Check out the new promotional video below.

Eir Aoi is perform the second opening theme Kodou

Eir Aoi | Comment

"The lyrics of this song are about how the sadness you cannot bare alone can be half-bared if you're with another. How the choices you have made, the things you are lost on, and your continued worry aren't meaningless, and how we should be positive about our struggles as we live our lives. Let's overcome the time we have been unable to see one another and start a new chapter going into the future."

*Comment translated from Japanese by MMN

FLOW are performing the second ending theme United Sparrows

FLOW | Comment

"We have tag-tamed with the directed, Taniguchi, since Code Geass, so we were naturally confident going into recording. Arrow and the gang are at the half point of the story so it's only going to get more exciting. For the ending song, we were given the themes of 'embraced kindness' and 'a song flowing with emotions,' so we took that and shared ideas amongst our band to transform it into sound. The result was a soundscape that FLOW hasn't explored before, and I believe it resonates with the show in a big way. We hope people enjoy our song together with the run up to the climax of the story."

*Comment translated from Japanese by MMN

The anime series is holding a vote for fans to choose their favourite scene from the first 12 episodes. The vote is open to everyone and can be cast here. Please note that the website is in Japanese, but all you need to do is click on the scene and choose 'vote' at the bottom.

Information

Back Arrow Original Soundtrack

Release Date: June 23, 2021

Price: ¥3,850 (Tax Included)

Content: 2 Discs / Slipcase

Tracks: Over 60

TVアニメ 「バック・アロウ」

バック・アロウ:https://back-arrow.com/

FLOW Unveils 'Sign' 2020 World Version of Music Video Which Features Fans All Around The World

FLOW's song Sign has been played over 20 million times across the world on the digital music service Spotify alone. January 13 marks 10 years since the single's release and to commemorate, the band has just dropped a special music video. 

FLOW 'Sign' 2020 World ver.

Last year, FLOW launched a worldwide project with the chance for FLOW fans around the world to feature in a FLOW music video. FLOW accepted videos of fans singing and dancing to their song Sign, carefully selecting and editing the videos with scenes from the official music video. The 2020 World Version of Sign also includes the lyrics to the song in English, Spanish, Chinese and Japanese. This is proof of FLOW's efforts to connect to people all over the world through their music – make sure to check it out.

FLOW is also set for their solo performance FLOW Chou Kaigi 2020 ~Anime Shibari Returns on February 24, 2020, which will be held at Makuhari Messe Event Hall. At this performance, the band will fill the entire evening with anime songs that their fans know and love. General tickets will be available to purchase from a number of ticket services including Lawson Ticket from 10:00 am on January 18, 2020.

Information

Listen to 'Sign' on a number of digital music services: https://kmu.lnk.to/b5nha

Performance Information

FLOW

Chou Kaigi 2020 ~

Anime Shibari Returns 

Date: February 24, 2020

Venue: Makuhari Messe Event Hall

Times: Doors Open: 15:30/ Start: 16:30

Tickets: (Designated Seating Only)

General Ticket: ¥7,600 (After Tax)/ Under 20 Ticket: ¥6,600 (After Tax)

General Tickets Release: From 10:00 am, January 18, 2020 (Available on a number of playguides)

▶︎ Special Edition Website: http://www.flow-official.jp/cam/chokaigi2020/

FLOW LIVE TOUR 2020 'Sign' in Shanghai

Date: March 13, 2020

Venue: BANDAI NAMCO, Shanghai Base, Shanghai, China 

FLOW LIVE TOUR 2020 'Sign' in Guangzhou

Date: March 14, 2020

Venue: SDLivehouse, Guangzhou, China

FLOW LIVE TOUR 2020 'Sign'  in Taipei

Date: March 21, 2020

Venue: THE WALL, Taipei, Taiwan

FLOW WORLD TOUR 2020 'Sign' 

May 25: Atlanta, GA at Center Stage

May 26: Dallas, TX at Canton Hall

May 28: San Jose, CA at San Jose Civic

May 29: Anaheim, CA at the City National Grove of Anaheim

May 31: Vancouver, BC at the Vogue Theater

June 3: Toronto, ON at the Phoenix Concert Theater

June 5: New York City, NY at Sony Hall

June 7: Monterrey, MX at Foro Didi

June 9: Mexico City, MX at Sala Puebla

FLOW Official Website: http://www.flow-official.jp/

FLOW Fans of the World Send Your Videos To Be Included in FLOW's Music Video

On music subscription services alone, FLOW's tunes have been played more than 100 million times worldwide. Their hit song 'Sign' has been played over 20 million times itself. To celebrate their success, FLOW is launching a new global campaign which invites fans all over the world to be part of their music video for 'Sign'.

Show after show, FLOW has celebrated an uncountable number of successful performances overseas. To show their gratitude to their fans at home as well as in foreign countries, the band are launching this music video project.

FLOW is accepting videos from all over the world of their fans dancing, singing or performing along to their song 'Sign'. From solo videos of yourself and solo karaoke sessions to band performances, guitar, bass and drum solos, this is a chance for fans of the world to shine alongside their favourite Japanese band. Whether you send a video of just yourself, you and your friends or even a mass dance video, the choreography and performance style is up to the applicant.

Please refer to the links mentioned in the information section below to find out more about the application process.

If you're a FLOW fan, you definitely cannot miss out!

Information

'Sign' Music Video Project

How to Apply: Fill out an application form and send your video.

Application Period: October 31, 2019 (22:00) – November 30, 2019 (23:59) JST

Japanese: https://www.sonymusic.co.jp/Music/Info/Flow/special/Sign/

English: https://www.sonymusic.co.jp/Music/Info/Flow/special/Sign/en/

Chinese: https://www.sonymusic.co.jp/Music/Info/Flow/special/Sign/ch/

Spanish: https://www.sonymusic.co.jp/Music/Info/Flow/special/Sign/es/

*The style of your performance in your video is not important.

* It is possible to apply with a video of a performance containing just one chorus or just one hook of the song, however, scenes containing the full chorus are preferred. 

* The Sign Music Video Project will be edited to contain video scenes of fans performing to the song with cuts of FLOW's original performance. The original audio of FLOW will be used in the final version and it is unlikely that audio from applicants' videos will be used in the final video.

* A series of applicant videos will be chosen, cut and put into a sequence to fit the flow of the video.

* Applicants will be mentioned in the closing credits with the name of their choosing if their video is used. 

* Applicants must be aware that the completed music video will be posted on FLOW's Official YouTube Channel and will be viewable all over the world. 

  

*Due to copyright laws, applicants can share their own videos only on YouTube and Twitter between October 31, 2019 and March 31, 2020. However, there is a possibility that these videos will be removed after April 1, 2020.

FLOW Official Site:http://www.flow-official.jp/

To celebrate the release of their new album TRIBALYTHM, Japanese rock band FLOW held a talk on April 13 at an undisclosed location for 150 lucky fans where the members discussed the record in detail. The 2-hour event was live streamed on YouTube where they went through and listened to each track.

Visuals were provided for each track including scenes from anime where songs were used as theme songs, live footage from their concert at Nippon Budokan and their South America tour, and visuals made specially for the event.

During the talk, the not only band provided commentary for each song but also their thoughts, feelings as well as backstory behind the tracks.

Take discussed the story behind the album's CD cover art: "The album jacket this time around was made by Amane Murakami. It's our first full original album in three years, so we were able to unite once again. He was the very first person to be involved in creating FLOW's logo and our first [maxi] single FLOW #0. He also kindly came to see our show at Nippon Budokan in January which is what is drawn on the album artwork. 'FLOW' is written in the middle of the stage and gathered around us is everyone else, all from different generations, genres, and across national borders. The design he has created forms what we felt on that day at the Nippon Budokan."

Kohshi commented on FLOW's activity for 2019: "We began the year at Nippon Budokan and right after were able to release a full album. The band feel blessed to be in this position. We will be going all out making music and performing this year so we ask for your kind support.

Keigo talked about the performing the new album live: "I believe this album is more diverse than any we have put out to date. The others have already said it, but we're all about the live shows. The experiences we have gained performing live enabled us to make TRIBALYTHM. We will be able to show that once again live, so we'll be waiting for you on tour."

FLOW will head on a 7-date tour entitled FLOW LIVE TOUR 2019 "TRIBALYTHM" to promote their new album beginning at Yokohama Bay Hall on May 26 and ending at Shinkiba Studio Coast on July 12, 2019. Tickets for the tour finale at Studio Coast will go on pre-sale via Lawson Tickets from April 16 to April 23.

Hear a track-by-track preview of the album below.

Information

TRIBALYTHM

Release Date: April 10, 2019

First Press Limited Edition (CD+Blu-ray): ¥6,926 (Before Tax) [KSCL 3143~4]

Regular Edition (CD): ¥3,000 (Before Tax) [KSCL 3145]

*Blu-ray discs include a 150-minute live concert, a documentary on the band's Nippon Budokan show, and more TBA.

FLOW LIVE TOUR 2019 "TRIBALYTHM"

2019/5/26 @ Bay Hall, Yokohama

2019/6/9 @ DRUM LOGOS, Fukuoka

2019/6/15 @ PENNY LANE 24, Sapporo

2019/6/22 @ Namba Hatch, Osaka

2019/6/29 @ Diamond Hall, Nagoya

2019/7/6 @ Rensa, Sendai

2019/7/12 @ Shinkiba Studio Coast, Tokyo

Tickets: https://l-tike.com/flow/

Album Website: https://www.sonymusic.co.jp/Music/Info/Flow/special/tribalythm/

FLOW Official Website: http://www.flow-official.jp/

FLOW Release Track-By-Track Preview of New Album 'TRIBALYTHM' & Announce YouTube Live Stream

FLOW have released a video featuring a track-by-track preview for their new album TRIBALYTHM which just hit shelves on April 10, 2019. The 14-track album includes 5 songs the band has performed for anime and games as well as a DVD/Blu-ray of their performance at the Nippon Budokan held in January to commemorate their 15th anniversary.

The band has also announced that they will hold a live stream session on April 13 where they will talk about all the songs on the album.

FLOW will head on a six-date tour entitled FLOW LIVE TOUR 2019 "TRIBALYTHM" to promote their new album beginning at Yokohama Bay Hall on May 26 and ending at Shinkiba Studio Coast on July 12, 2019.

Select copies of the album purchased include pre-sale tickets for the tour.

Information

TRIBALYTHM

Release Date: April 10, 2019

First Press Limited Edition (CD+Blu-ray): ¥6,926 (Before Tax) [KSCL 3143~4]

Regular Edition (CD): ¥3,000 (Before Tax) [KSCL 3145]

*Blu-ray discs include a 150-minute live concert, a documentary on the band's Nippon Budokan show, and more TBA.

FLOW LIVE TOUR 2019 "TRIBALYTHM"

2019/5/26 @ Bay Hall, Yokohama

2019/6/9 @ DRUM LOGOS, Fukuoka

2019/6/15 @ PENNY LANE 24, Sapporo

2019/6/22 @ Namba Hatch, Osaka

2019/6/29 @ Diamond Hall, Nagoya

2019/7/6 @ Rensa, Sendai

2019/7/12 @ Shinkiba Studio Coast, Tokyo

Album Website: https://www.sonymusic.co.jp/Music/Info/Flow/special/tribalythm/

FLOW Official Website: http://www.flow-official.jp/

FLOW will drop their 11th studio album TRIBALYTHM on April 10, 2019―their first album in three years. A special countdown website launched on March 26 at 21:00 (JST) to promote the upcoming release.

From March 26 until April 8 one new track from the album will be available to listen to on the website every day between 21:00 and midnight (JST). Use this opportunity to hear the record in its entirety before its official release.

FLOW Unveil CD Cover & Post Preview For Upcoming New Album 'TRIBALYTHM'

FLOW recently announced that they will release their 11th studio album TRIBALYTHM on April 10, their first album in three years. In the run up to the new record, the five-piece Japanese rock band has revealed the album's CD cover.

"Tribal" and "rhythm" are key themes in the album's portmanteau title. The CD cover artwork reflects that, taking on a colourful tribal design.

First Press Limited Edition copies of the album are coupled with a Blu-ray featuring FLOW's entire concert at their recent Nippon Budokan concert. It also includes a documentary of the day, as well as a separate documentary taken during their 2018 Latin America Tour, a cooking competition of Brazilian cuisine, and another of world beer. The entire run-time is 200 minutes making this a must-have for hardcore fans of FLOW.

"TRIBALYTHM" Trailer

A trailer was also released on YouTube containing select footage of the Blu-ray.

Pre-sale tickets for FLOW's 2019 TRIBALYRHM Tour are available with first press copies of both the album's Limited and Regular editions.

An exclusive track-by-track listen with live commentary by the band members will also be carried out. The first will be for official members of the FLOW "26ers" fan club where it will be available every day from 21:00 to midnight (JST) from March 12 to 25. The second early listen will be posted on the band's official homepage at the same time from March 26 to April 8―but this time it will be one new track shown per day.

The band are also carrying out a Twitter campaign. Fans can enter by posting the hashtag #トライバリズム along with their thoughts on the album to be entered for a chance to win a signed poster. The number of winners will also increase as the number of posts of people participating increases.

Information

TRIBALYTHM

Release Date: April 10, 2019

First Press Limited Edition (CD+Blu-ray): ¥6,926 (Before Tax) [KSCL 3143~4]

Regular Edition (CD): ¥3,000 (Before Tax) [KSCL 3145]

*Blu-ray discs include a 150 minute live concert, a documentary on the band's Nippon Budokan show, and more TBA.

Album CD Pre-Order: http://kmu.lnk.to/ietq0

FLOW LIVE TOUR 2019 "TRIBALYTHM"

2019/5/26 @ Bay Hall, Yokohama

2019/6/9 @ DRUM LOGOS, Fukuoka

2019/6/15 @ PENNY LANE 24, Sapporo

2019/6/22 @ Namba Hatch, Osaka

2019/6/29 @ Diamond Hall, Nagoya

2019/7/6 @ Rensa, Sendai

Tickets: All Standing – ¥5,300 (Tax Included)

Ticket Pre-Sale Link: https://www.flow-26ers.jp

FLOW Official Website: http://www.flow-official.jp

Concert Review: FLOW's First Performance at the Nippon Budokan in 10 Years

Japanese rock band FLOW performed at the legendary Nippon Budokan for the first time in 10 years on January 30, 2019. The concert was titled FLOW LIVE BEST 2019 in Nippon Budokan ~Kami Matsuri~. This is a live report of the show.

The night began with the aggressive sounds of Break it down at which the curtains dropped. The venue floor was dotted with the red lights of fans' glow sticks which vocalist Keigo and vocalist/guitarist Kohshi gazed at while letting their voices out.

The band moved onto the lamenting headbanger rock tune JOY TO THE WORLD and 7th Heaven which they performed early on at their last Budokan show too. Drummer Iwasaki and bassist Got's fired up the crowd even more with their intertwining beats.

For Steppin' Out the band took out and waved around a flag made from towels while chants echoed throughout the indoor arena during Oi!!!Oi!!!.

Keigo took to the mic to say a few words: "I believe there are people here today who have come back here to see us after 10 years as well as people who are here for the first time. But this concert today, on January 30, wouldn't exist without all of you! Without even one of you!"

The band followed up this comment up with the loud, heavy and emotion-releasing Akai Siren. After the passionate Red Hot Riot the venue was dyed in blue lights as Brave Blue ensued followed by COLORS, both monumental works for the band as anime songs.

The title of this concert is Kami Matsuri, or "Festival of the Gods." The words "Kami Area," or god area, were written at various locations around the venue where the crowd stood. In front of the stage was the Fighting Dreamers God Area, the former part being a reference to the band's famous song GO!!!, and there was also the East God Area, West God Area, and Heaven God Area. Keigo and Kohshi explained that the title of the show wasn't connected to the band's songs, but rather that each and every fan gathered there were themselves a god.

"This is a festival of the gods precisely because we all summoned you here today," said Keigo, which received a round of applause from the crowd.

"We have a classic old FLOW with us today," announced lead guitarist Take. He began to play something which the crowd responded to with delightful voices. It was Melos. This song was the last single of FLOW's days as independent artists.

They continued with Tokonatsu Endless. This is a song that did not exist yet 10 years ago at the last Budokan show, and the crowd came together to sing along. Next was Neiro in all its piano-ringing glory. Kohshi picked up a guitar for this one too and layered in more sounds to the music.

Answer melodic-ly fused electro sounds with loud rock while Shakys was a performance of old school rock 'n' roll.

Keigo opened his mouth and spoke of their memories 10 years ago. He explained their last Nippon Budokan concert was one the fans brought them to, and how they are able to return once again to the same venue this time around. He said that 10 years ago, which then was 5 years since their debut, FLOW weren't sure what kind of band they were and even thought they were able to connect with fans in their hothead shows, still struggled. But Keigo explained that 15 years on since debuting during which they have both accumulated fans and performed live up and down the country there was something he could say for certain.

"We are a band who want to continue performing live with you. Whether you're a student, a worker, male or female, whether it's in Japan, overseas, anime songs or rock – it doesn't matter. We want to always carry on playing live with all of you, whatever show it may be."

Following this proclamation the five members played ONENESS, a 'theme song' the band wrote specially for this night. The moment FLOW and the fans came together for this song was when the song was truly complete.

The band were then joined on stage by GRANRODEO, their good friends and rivals who they always said they wanted to be there when they stood on the Budokan stage again. The special seven-member superband performed Howling together, the opening theme for season two of the anime series Seven Deadly Sins.

As the band entered the final act of the night, they began playing a light and casual intro during which GinyuforcE and Real Akiba Boyz dashed onto stage. They all performed Ai Ai ni Utarete Bye Bye Bye, HERO ~Kibou no Uta~ and their famous Naruto hit Sign. The crowd's voices piled on top of one another at Kohshi who emotions poured into his voice while basked in the blue lights of the arena.

The crowd sang in chorus the loudest they had during the concert for Kaze no Uta. But it was GO!!! that sealed the deal with the band and crowd jumping together.

"All of you gathered before us are the reason we're a band! Budokan! This is the song of our companions! Sing it!" said Keigo as the band performed ANTHEM. This song felt deeply etched with the fact that the band has evolved, because of the fans gathered at the venue and because the band also has fans who weren't able to make the show.

The stage screen split into five parts, one for each of the five members. The fans sang and watched each of their expressions as the members reflected on their thoughts and feelings.

Kohshi spoke small but poignant words. "Why have we continued to do what we do? There is one reason and one reason only. Because we have all of you." He continued, "Please allow us to express our feelings of these past 15 years. Truly, thank you."

Garden began to play. This was also the final song of their previous Nippon Budokan concert. The main part of the show came to a close here.

For the encore FLOW performed their new song PENDULUM and 2003 debut track Blaster. FLOW will continue to evolve before fans and into the next generation. We look forward to seeing where they go next.

Information

TRIBALYTHM

Release Date: April 10, 2019

First Press Limited Edition (CD+Blu-ray): ¥6,926 (Before Tax) [KSCL 3143~4]

Regular Edition (CD): ¥3,000 (Before Tax) [KSCL 3145]

*Blu-ray discs include a 150 minute live concert, a documentary on the band's Nippon Budokan show, and more TBA.

Album CD Pre-Order: http://kmu.lnk.to/ietq0

FLOW LIVE TOUR 2019 "TRIBALYTHM"

2019/5/26 @ Bay Hall, Yokohama

2019/6/9 @ DRUM LOGOS, Fukuoka

2019/6/15 @ PENNY LANE 24, Sapporo

2019/6/22 @ Namba Hatch, Osaka

2019/6/29 @ Diamond Hall, Nagoya

2019/7/6 @ Rensa, Sendai

Tickets: All Standing – ¥5,300 (Tax Included)

Ticket Pre-Sale Link: https://www.flow-26ers.jp

FLOW Official Website: http://www.flow-official.jp

FLOW, who just performed at the Nippon Budokan for the first time in 10 years on January 30, has announced that they will release their 11th studio album TRIBALYTHM on April 10, their first album in three years.

The iconic rock band ranked as the No. 8 most played Japanese artist overseas on Spotify last year. They also toured five countries Central and South America in the same year. Now, the band has revealed their next masterpiece of a record which does not fit into one genre box.

The 14-track album includes songs such as the TRIBALYTHM -Intro which fuses world music melody and rhythm, Thunderbolt which features Northern European instruments, the mid-tempo BELIEVER which incorporates a jaunty banjo into a grandiose rock song, Smells Like 40 Spirit which includes 90's mixture rock and baby rock tropes and rapping, and the punk number Iolite which has a sing-a-long part for live shows. It also includes their hit single Kaze no Uta which is used as the opening theme for the anime series Tales of Zestiria The X, INNOSENSE, BURN, and the Nippon Budokan theme song ONENESS.

Covering a diverse range of genres, the Blu-ray disc that comes with First Press Limited Edition copies of the album includes a full 150 minute live performance. Full details about this will be announced in the near future.

FLOW made the following statement about the album: "We jumped over the fence of rock and anime and gained experience in making them one through our Anime Shibari live tour. We felt strongly that we wanted to become a band without the limitations of genre, rather to break down those boundaries. The possibility of that belief came from our 15 year career where we have connected with all generations and people and broken down national borders with our music on our world tours."

FLOW will head on a six-date tour entitled FLOW LIVE TOUR 2019 "TRIBALYTHM" to promote their new album. Pre-sale tickets for official fan club members ("26ers") went on sale on January 30 at 21:30 (JST).

A playlist of the band's set list at their Nippon Budokan concert on January 30 is also now available on Spotify and other streaming services.

Information

TRIBALYTHM

Release Date: April 10, 2019

First Press Limited Edition (CD+Blu-ray): ¥6,926 (Before Tax) [KSCL 3143~4]

Regular Edition (CD): ¥3,000 (Before Tax) [KSCL 3145]

*Blu-ray discs include a 150 minute live concert, a documentary on the band's Nippon Budokan show, and more TBA.

Album CD Pre-Order: http://kmu.lnk.to/ietq0

FLOW LIVE TOUR 2019 "TRIBALYTHM"

2019/5/26 @ Bay Hall, Yokohama

2019/6/9 @ DRUM LOGOS, Fukuoka

2019/6/15 @ PENNY LANE 24, Sapporo

2019/6/22 @ Namba Hatch, Osaka

2019/6/29 @ Diamond Hall, Nagoya

2019/7/6 @ Rensa, Sendai

Tickets: All Standing – ¥5,300 (Tax Included)

Ticket Pre-Sale Link: https://www.flow-26ers.jp

FLOW Official Website: http://www.flow-official.jp

FLOW Unveils Code Geass & Tales Budokan Merchandise Illustration

Japanese rock band FLOW is set to return to the Nippon Budokan on January 30 after 10 years. In the lead up to this momentous occasion, the band is slowly revealing the merchandise that will be sold at the venue.

The latest merchandise to be announced will feature a special Code Geass and Tales of Zestria the X collaborative illustration designed by ufotable. These are two series that FLOW has been involved with in the past. The illustration features 9 characters including LeLouch and C.C. of Code Geass and Sorey and Mikleo from Tales of Zestria the X.

FLOW x Code Geass x Tales of Zestria the X Collaborative Shikishi Paper: ¥1,500

The Shikishi paper will be available in limited quantities inside the venue only. Don't miss this chance to get your hands on a super rare item that won't ever be sold again.

The Budokan concert will see FLOW perform a historical set list of their classic songs. They will be joined by special guests and their friends GRANRODEO with whom they have released two singles with.

Information

15th Anniversary Final- FLOW LIVE BEST 2019 in Nippon Budokan ~Kami Matsuri~

Date: January 30, 2019

Venue: Nippon Budokan

Special Guests: GRANRODEO

FLOW Official Website: http://www.flow-official.jp

Code Geass: Lelouch of the Rebellion Lost Stories Theme Song to be Performed by FLOW

It has been announced that FLOW's new song PENDULUM will be used as the theme song for the upcoming social game Code Geass: Lelouch of the Rebellion Lost Stories releasing this winter from DMM Games.

FLOW have been busy celebrating their 15th anniversary with tours both in Japan and overseas laced with anime tracks as well as the release of a theme song for a Japanese drama. Now they are ready to drop yet another surprise on everyone with this new song.

This is the third time the five-piece rock band have collaborated with the Code Geass series, continuing on from the hugely popular theme songs COLORS and WORLD END they provided for the hit anime series. The song promises to be as big and grand as these previous releases and is sure to light the fire of anticipation amongst fans.

You can catch a short snippet below of the PENDULUM intro in the FLOW x Code Geass trailer that was released.

FLOW will return to the Nippon Budokan after ten years for a solo concert on January 30, 2019 where they will perform a catalogue of their anime tracks as well as new songs. Pre-sale tickets are now available. Details below.

■Information

15th Anniversary Final 「FLOW LIVE BEST 2019 in Nippon Budokan ~Kami Matsuri~」

Date: January 30, 2019

Venue: Nippon Budokan

Time: 17:30 OPEN / 18:30 START

Budokan 2019 Special Website: http://www.flow.mu/cam/2019budoukan/

Twitter Pre-Sale Tickets

Ticket Window: September 23, 2018 at 16:00 – October 2, 2018 at 23:59

Purchase: http://l-tike.com/flow-budokantw

*those who sign up for pre-sale tickets will be entered into a lottery system where attendees will be chosen randomly.

FLOW Official Website: http://www.flow-official.jp/

Code Geass: Lelouch of the Rebellion Lost Stories Official Website:  https://geass-game.com/

FLOW Release Music Video for Naruto Game Theme Song 'Break it down'

FLOW have released the music video for their new song Break it down which features on their forthcoming double A-side single Neiiro / Break it down set for release on August 29

This live lyric video features exciting footage from the band's performance at Yokohama Arena on July 8 for JUMP MUSIC FESTA, an event celebrating the 50th anniversary of Weekly Shonen Jump. The song hails as the biggest hard rock song the band has produced to date. It cannot be categorised into one music genre and synchronises the band's vigour of today with a strong message.

The song will be used as the theme song for the upcoming PC browser game Naruto x Boruto Borutical Generations. It marks the seventh track FLOW have provided for the Naruto franchise and has the same level of quality as those previous songs which have become classics amongst the anime community. It is the ultimate FLOW x Naruto x Boruto collaboration.

Full details regarding the game have yet to be announced.

It has also been announced that FLOW will make a return to the Nippon Budokan for a solo concert for the first time in 10 years on January 30, 2019. The first wave of arena tickets and standing tickets that were released have already sold out. Regular tickets and tickets that come with a bonus are now available via Lawson Tickets.

The concert is titled "FLOW LIVE BEST 2019 in Nippon Budokan ~Kami Matsuri~" and will be a huge celebration of FLOW's music career.

Additionally, to celebrate the release of the single and the Nippon Budokan concert, FLOW will host a special stream on Facebook, Twitter, Nico Nico and LINE LIVE on August 26. They will perform live, give the first unveiling of the full music video of their new single, take phone calls, show footage of their first solo performance at the Nippon Budokan 10 years ago back in 2008, and more.

It is looking to be a busy year for FLOW which fans will be most excited about.

■Information

"Neiro / Break it down"

On Sale: August 29, 2018

First Press Limited Edition – ¥1,500 (Pre-Tax) [KSCL-3082~3083]

Regular Edition – ¥1,500 (Pre-Tax) [KSCL-3084]

Limited Pressing Edition – ¥1,500 (Pre-Tax) [KSCL-3085〜3086]

FLOW Double A-Side Single "Neiro / Break it down" Release Event

Date: September 1, 2018

Time: 2:30pm

Venue: Tokyo Dome City, Laqua Garden Stage

Priority Area Entry Time: 2:00pm

Attendance

Those who purchase any of the three editions of of Neiro / Break it down at the venue on the day of the release event will receive two tickets: 1) A numbered ticket to enter the priority area and 2) A ticket to high-five the band and received a signed sticker after the show. These two tickets are available on a first-come, first-served basis.

Purchasing the CD at the event

On Sale: From 11:00am

Location: Next to the Laqua Garden Stage at Tokyo Dome City

FLOW Live Stream
Date: August 26, 2018
Time: 8:00pm-10:30pm (JST)

LINE LIVE
Link: https://live.line.me/channels/21/upcoming/9231358

Nico Nico
Link: http://live2.nicovideo.jp/watch/lv315094643

15th Anniversary Final – "FLOW LIVE BEST 2019 in Nippon Budokan ~Kami Matsuri~"
Venue: Nippon Budokan
Date: January 30, 2019
Time: 17:30 OPEN / 18:30 START
Concert Website: http://www.flow.mu/cam/2019budoukan/

FLOW Official Website: http://www.flow.mu