Kyoto's Famous Confection Gets Demon Slayer: Kimetsu no Yaiba Makeover
Japanese confectionery company Bijuu, which stocks popular Kyoto sweets, has released mini versions of the famous Kyoto soft rice cake known as otabe, a type of yatsuhashi, which are boxed up in Demon Slayer: Kimetsu no Yaiba packaging.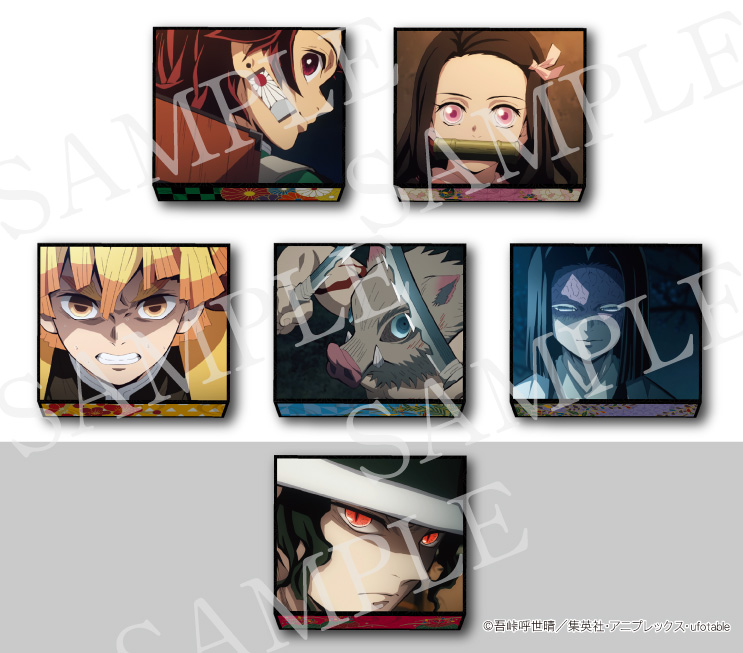 The bite sized treats are chewy and filled with bean paste from Hokkaido. They are available in six different box designs taken from the popular anime series.
Information
Demon Slayer: Kimetsu no Yaiba Kotabe
Released: July 21, 2021
Price: ¥432 (Tax Included)
Available: Souvenir shops around Kyoto an
Buy Online (Japan): https://www.otabe.jp/
RELATED ENTRIES
Photography and Noh Theater Collide in New Collaboration between Hiroshi Seo and Hosho School

In a new fall collaboration, the prestigious Hosei School of Noh Theater, established during the Muromachi Period, and photographer Hiroshi Seo will present a unique blend of traditional culture. 'Experience Noh and Art in Autumn ~Noh at Night: The Tale of the Heike 'Kiyotsune' x BEYOND PHOTO BY HIROSHI SEO' will begin for four limited showings starting September 24, and will connect the photographer's work 'BEYOND' with the theme of water present in the classic tale of Heike. Ancient and modern will overlap during this special autumn event, so don't miss it if you're in Tokyo!

The Story of The Tale of Heike 'Kiyotsune'

During the 12th century, the Minamoto and Taira clans were at war. Awazu-no-Saburo returns to the capital after the Taira were defeated in battle, carrying with him a keepsake for his lord Kiyotsune's wife: a lock of hair that Kiyotsune left before committing suicide. Saburo visits the wife, and upon learning of Kiyotsune's death, she can barely stand the sight of his hair, ordering that the keepsake be returned to a shrine in Kyushu. Upon falling asleep, she sees his ghost in her dreams, and they argue over what has occurred. Kiyotsune recounts his final days, choosing suicide by drowning over capture and defeat. He is then blessed, and finds his way from Hell to eternal enlightenment. 

BEYOND PHOTO BY HIROSHI SEO Exhibition

In 2020, the COVID-19 pandemic changed the world. Yet even during this turmoil engulfing the world, artists were trying to make a new path. Photography is but a fragment of the real world, but through the eyes of the one taking the photo, it becomes an art form, and allows us to see the world in a different way. For this exhibition, Hiroshi Seo will present several new works, including photographs from Sado Island, the home of Noh, where one-third of all Noh stages in Japan are located. This chain of water-inspired images will weave together with the story of Kiyotsune, and will tell a brand-new story for modern audiences. 

Information

Experience Noh and Art in Autumn ~Noh at Night: The Tale of the Heike

'Kiyotsune' x BEYOND PHOTO BY HIROSHI SEO 

With Performance: September 24, 2021 (Tickets on sale now.)

No Performance: September 25, 2021 (Free admission for photo exhibition only. No admission to auditorium.) 

With Performance: October 29, 2021 (Tickets on sale now.)

With Performance: November 26, 2021, 17:00 (Tickets on sale September 25.) 

Address: Hosho Noh Theater, 1-5-9 Hongo, Bunkyo-ku, Tokyo

Tickets: https://nohlife.myshopify.com/

Official Site: http://www.hosho.or.jp/nohgakudo/

詳細・Official Site:http://www.hosho.or.jp/nohgakudo/

9th Installment of Anime-Inspired Cooking Project AniCook Features Bungo Stray Dogs

AniCook, a project using anime to make cooking more fun, is already holding it's 9th collaboration with a popular series. This time, characters from the popular anime series Bungo Stray Dogs are coming to cook up some fall treats at Shinsaibashi PARCO in Osaka from October 1 until October 26! 

Menu

Sticker gifted to guests who purchase a meal or dessert (8 varieties) / Postcard gifted to guests ordering a drink (8 varieties) 

Original Merchandise

Acrylic Stands (8 varieties) / 8-pack set

Pins (8 varieties) / 8-pack set

Acrylic Keychain (8 varieties) / 8-pack set

Acrylic Muddler (8 varieties) / 8-pack set

100 Limited-Edition pouches (2 varieties) available by lottery: Those spending over ¥5,000 at the cafe will be entered.

CookpadTV is behind the cafe, and continues to lead the way in quality collaboration cafes across Japan. This time, popular characters from Bungo Stray Dogs are serving up their favorite autumn-themed foods, inspiring visitors to enjoy cooking just a little more. Themed meals and sweets will be available, while the beverages are each themed on the character's abilities. Be sure to grab some of the limited-edition merchandise only available during the event! These can now be pre-ordered on the cookpadLive cafe Online Store. 

Which character would you like to see in the kitchen? 

Taichi Mukai to Perform New Opening Theme for Dragon Quest: The Adventure of Dai Anime

Singer, songwriter, and model Taichi Mukai has been chosen to perform the new opening theme for Dragon Quest: The Adventure of Dai, currently airing Saturdays on TV Tokyo. The announcement was made during an event on September 12 celebrating a successful first year of broadcasting. A new visual was also released as the anime series starts its second year of airing. 

The new song, Bravest, was written specifically for the show, and features lyrics reminiscent of the main character and his struggles. 

In regards to the track, Mukai commented: "The Adventure of Dai is a masterpiece, and the manga series has been going on since before I was born. I was completely absorbed and totally forgot to get my own work done while going back through the story again, reading it the whole way through! I was full of energy when I wrote this song, and I hope it will get fans pumped up!" 

The first episode marking the second year of the Dragon Quest: The Adventure of Dai anime series will air on October 2. 

Mukai will also be releasing a new EP titled DOORS, co-produced with Shin Sakiura, on September 22. The song Celebrate! from the EP is available to stream now, so be sure to check it out!

©三条陸、稲田浩司/集英社・ダイの大冒険製作委員会・テレビ東京 

©SQUARE ENIX CO., LTD.

Basketball Culture Space TOKYO 23 Reopens on Cat Street in Harajuku

TOKYO 23, a shop promoting basketball culture, is set to reopen as a large-scale shop in Harajuku on September 18, 2021. 

TOKYO 23 x JUN INOUE TEE (Black/White): ¥5,500 each (Tax Included)

Guests will enter the space to find a basketball court at the center, both keeping with the theme of the shop and maintaining a minimalist vibe. The location is bold, using a balance of different upcycled materials and gray-tone colors reminiscent of the Tokyo streets. 

JUN INOUE was in charge of designing the lanterns throughout the store, giving a more traditional Japanese feel to the modern storefront. The store is dotted with artworks by Inoue as well as Reina Koyano, both located in Los Angeles. 

The coffee shop "LATTEST" will also be a permanent fixture in the store, and is the perfect place for visitors to relax and take in the art and feeling of the TOKYO 23 store. To commemorate the opening of this massive space, special collaborative JUN INOUE x TOKYO 23 T-shirts will be on sale for a limited time. 

Information

TOKYO 23

Opening: September 18, 2021

Address: Harmony Harajuku 1F (4-28-21 Jingumae, Harajuku, Tokyo)

Hours: 11:00-22:00

Phone: 03-6804-2635

Official Site: https://www.atmos-tokyo.com/brands/tokyo23

BEAMS to Sell Limited-Time Goods Based on Post-Sauna Drink Mix Oropo

Ryusenji no Yu is a chain of bath facilities throughout Japan, offering saunas, bedrock baths, and artificial hot springs. Saunas are surprisingly popular throughout the country, and recently, a beverage called Oropo has been called the perfect drink to enjoy after sitting in the heat. A mixture of the vitamin drink Oronamin C and sports drink Pocari Sweat, it's a perfect blend to refuel after all that sweating. 

The Nagoya Moriyama location will begin selling Oropo-branded goods by BEAMS starting September 16!

Merchandise sold in the odd collaboration will include mugs featuring markings to help mix the perfect amount of Oronamin C and Pocari Sweat to make the ultimate Oropo. T-shirts with pop-up store character Oropo-kun are already the talk of social media. Those who purchase a certain amount of goods will be given a bonus sticker. 

As expected, Oropo will be served during the campaign, along with Oropo Shaved Ice, created by the queen of shaved ice Asako Harada!

Information

Ryusenji no Yu x BEAMS

On sale until September 26, 2021

Where to Buy: Ryusenji no Yu – Nagoya Moriyama Location

Official Site:https://www.ryusenjinoyu.com/

Hatsune Miku and GUMI's Popular Duets to be Compiled In New Vocaloid Album

Vocaloid speciality label KARENT has announced that the upcoming "Digital Stars feat. MIKU & GUMI Compilation CD" album will be available for pre-order from September 13, 2021. The physical copy will be released on October 27, followed by the "Digital Stars feat. MIKU & GUMI" online music event, scheduled to be held on November 21. The music video for the event theme song "Unsung Melody" was uploaded prior to the CD pre-order date announcement.

Unsung Melody

The album starts with 'Unsung Melody,' a song written by monaca:factory, and is full of popular duet songs featuring Hatsune Miku and GUMI (Megpoid), such as 'GETCHA!' and 'Sayonara no Asa,' along with a selection of remixes. You can enjoy 12 songs unique to the 'Digital Stars' album, featuring club scene leaders such as DJ Shimamura and Dubscribe, as well as Vocaloid producers from Japan and overseas.

The physical album will come with store-specific freebies, featuring artwork by illustrators Souda and Mawaru Sanso. The goods include clear files and cans badges, depending on the location.

 

Art by のう © Crypton Future Media, INC. www.piapro.net © INTERNET Co., Ltd.

※VOCALOID is a registered trademark of Yamaha Corporation

Hands-On POKEMON COLORS Exhibition Opening in Osaka for Limited Time

The globally-beloved Pokemon franchise is celebrating 25 years throughout 2021. Throughout the year, the POKEMON COLORS exhibition has opened in cities throughout Japan, bringing a barrage of bright colors, fantastic art, and Pokemon-themed activities to fans nationwide. As guests move throughout the event space, various projections and images around them change, with popular Pokemon characters popping up and flooding the world around them in color. Now, the POKEMON COLORS exhibition is set to open in Osaka beginning September 30. 

Exhibition Preview


Concept Video


COLORS ROAD

COLORS LAKE

COLORS FOREST

COLORS CITY

COLORS CIRCLE

Inspired by the more than 800 Pokemon species in the franchise, the POKEMON COLORS project uses sensors placed throughout the event space to track visitors movements, altering the images, music, and lighting accordingly. Meant to be a combination of pop culture and minimalist digital art, it's an experience like no other. 

160 unique goods will be available at the exhibition, from apparel and art pieces to cell phone cases and office supplies. Be sure to check it out if you're in Osaka this fall!

©2021 Pokémon. ©1995-2021 Nintendo/Creatures Inc./GAME FREAK inc.

Information

POKEMON COLORS

Running: September 30 – October 20, 2021

Address: Daimaru Museum Umeda 15F 

Hours: 10:00AM – 8:00PM (Last entry at 7:00PM) 

Official Site:  https://pokemon-colors.com/

Exhibition Opens at Select Animate Stores to Celebrate 30 Years of Mana RPG Series

The Mana series (known in Japan as Seiken Densetsu) began in 1991 as an offshoot of the popular Final Fantasy RPG series. Since release, the twelve original Mana titles released have sold over eight million copies, and to commemorate 30 years, the 'Mana: 30th Anniversary Exhibition in animate ONLY SHOP' will take place at certain Animate locations around Japan. The event will kick off at Ikebukuro animate on October 9, 2021. 

Character Pin Collection HEROS&HEROINES (24 varieties): ¥440 each (Tax Included)

Legend of Mana Character Pin Collection (20 varieties): ¥440 each (Tax Included)

T-shirt – Monster Design: ¥7,150 (Tax Included)

Blanket – Monster Design: ¥4,400 (Tax Included)

Legend of Mana Mini Acrylic Stand Collection (23 varieties): ¥770 each (Tax Included)

Postcard (51 varieties): ¥165 each (Tax Included)




Hardcover Notebook (3 varieties): ¥1,650 (Tax Included)

Legend of Mana Tote Bag: ¥2,750 (Tax Included) 

Mug – Monster Design: ¥1,650 (Tax Included)

What's your favorite game in the Mana series? 


© SQUARE ENIX CO., LTD. All Rights Reserved.

Information

Mana 30th Anniversary Exhibition in animate ONLY SHOP

Where/When: 

Ikebukuro Animate 8F: October 9 – October 31, 2021

Nagoya Animate: November 6 – November 21, 2021

Osaka Nipponbashi Animate O.N.SQUARE 2F: November 27 – December 12, 2021

Fukuoka PARCO Animate: December 18, 2021 – January 10, 2022

Sendai Animate: January 15 – January 30, 2022

Details: https://www.animate.co.jp/onlyshop/419856/

Official Site: https://www.jp.square-enix.com/mana30th/

Tokyo Revengers Characters Speak Local Dialects on New Posters Across Tokyo Station

Starting September 13, characters from the popular anime series Tokyo Revengers are taking over Tokyo Station in a unique new poster campaign! In addition to one main poster featuring all main characters, 47 local posters–one for each Japanese prefecture–are being displayed throughout the massive train station, with characters speaking in local dialects to promote different areas of Japan. For those learning Japanese, this is a neat way to learn more about the unique vocabulary used throughout the country. 





A fun Twitter campaign is also underway, asking fans to tweet #オレの地元が最強 (#MyHometownIsTheStrongest). The special prize will be a B0 Japan Revengers poster, given to only one winner, with the remaining 47 winners able to snag a B2-size poster. 

A special advertisement for Japan Revengers will appear in the morning edition of the September 17th edition of the Asahi Shimbun newspaper. Additionally, to celebrate the release of the 24th volume of the Tokyo Revengers manga series, those who purchase the new volume will receive one randomly-selected 47-prefecture illustration card during the in-store campaign.

Be sure to check out which prefecture your favorite character is repping! 

Adidas Originals and atmos Collaborate to Release Sneakers Based on Shibuya's Hachiko

A new pair of kicks based on the iconic symbol of Shibuya, Hachiko, will be released for round three of the SHIBUYA PACK! This collaboration between Adidas Originals and sneaker shop atmos will be sold at A.T.A.D, atmos stores and atmos Online on September 18, with lottery registration open now. The sneakers will also be available from the Adidas App and the Adidas Online Shop starting September 25. 

Adidas Originals SUPERSTAR DOG atmos "HACHI": ¥15,400 (Tax Included)

These exclusive Superstars, a timeless pair of sneakers from the Adidas Originals brand, will feature a unique texture that expresses the character of the dog Hachiko. The shoe's tongue features a silver Trefoil logo, while the midsole has the address of where Hachiko's statue is located. Of course, there's a special Hachiko design on the insole! 

Hachiko is a famous symbol of Shibuya, with his statue being a popular meetup point for friends and couples. Known for his loyalty to his owner, the dog waited for over nine years for the man to return after his death. 

Proceeds from the sale of these sneakers will be used to support the YOU MAKE SHIBUYA souvenir program, which is helping to revitalize the local community by selling products marked with the special YOU MAKE SHIBUYA logo!

Information

Adidas Originals SHIBUYA PACK – Round 3

Release Dates/Where to Buy: 

September 14: Lottery Opens

September 18: A.T.A.D, atmos stores, atmos Online Store Pre-orders open

September 25: Adidas App, Adidas Online Shop

Official Site: https://www.atmos-tokyo.com/

Kuroko's Basketball Pop-Up Shop in Akihabara to Features New Illustrations

BANDAI NAMCO Amusement is hosting a character pop-up store for anime 'Kuroko's Basketball,' featuring new illustrations of the characters dressed in trad style. The shop will be open from September 16 2021 at the Atre Akihabara Store, stocking original goods using the new artwork.

Kuroko's Basketball Acrylic Stand trad style ver. (7 types): ¥1,980 each (Tax Incl.)

Kuroko's Basketball Can Badge trad style ver. (7 types): ¥540 each (Tax Incl.)

Kuroko's Basketball A4 Acrylic File trad style ver.: ¥550 (Tax Incl.)

Kuroko's Basketball Cloth Poster trad style ver.: ¥1,800 (Tax Incl.)

Kuroko's Basketball Spoon trad style ver. (7 types): ¥1,200 each (Tax Incl.)

Kuroko's Basketball Fork trad style ver. (7 types): ¥1,200 each (Tax Incl.)

Kuroko's Basketball Acrylic Board trad style ver. (7 types): ¥530 per lottery ticket, A Prize

Kuroko's Basketball Jacket Style Acrylic Keychain trad style ver. (7 types): ¥530 per lottery ticket, B Prize

Kuroko's Basketball Can Badge trad style ver. (7 types): ¥530 per lottery ticket, C Prize

Kuroko's Basketball Die-cut Illustration Sheet trad style ver. (7 types): ¥530 per lottery ticket, D Prize (random)

Be sure to check out this limited shop to immerse yourself in the world of Kuroko's Basketball!

©Fujimaki Tadatoshi / Shueisha, Kuroko's Basketball Production Committee 

Hotel New Otani Announces Second PAUL & JOE Collaboration

Hotel New Otani Tokyo has collaborated with PAUL & JOE for the second time to offer a new accomodation plan, which will be available for one-night stays between December 1 2021 and January 4 2022.  The rooms will not be available between December 31 and January 2.

This collaboration room will allow you to surround yourself in the world of PAUL & JOE, a Parisian brand PAUL & JOE that is extremely popular with young women in their 20s and 30s. The initial collaboration was so popular that within just 10 days, all of the available dates within three months were sold out. This Christmas edition will only be available for one month, so be sure to book while you can.

The pink and ivory room features the brand's icon; Designer Sophie's beloved cats, Nunet and Gypsy. The decorations also feature Crisantemo flower motifs.

Not only is the wallpaper covered in PAUL & JOE motifs, but even the smaller pieces such as cushions, curling irons, and brushes are themed too. In addition, to celebrate the festive season, the room will include a special Christmas tree, allowing you to enjoy a special Christmas with somebody special, sharing a view of Tokyo Tower.

The second round of cosmetics is focused on the 2021 CHRISTMAS COLLECTION. The 'Lipstick Treatment' features adorable cats wearing Santa hats, while the 'Lipstick Limited' comes in a luxurious Christmas red – and also features cats in hats! Plus, the new 'Wrapping Hand Cream' will wrap your hands in a fresh moisturising texture. In addition, the best-selling 'Moisturizing Foundation Primer,' which was renewed on September 1, and the P&J skincare selection (oil, lotion, cleansing), each must-haves for the upcoming dry season, have been miniaturized into take-home samples in a limited edition pouch, especially for hotel customers.

Alongside the limited cosmetic samples, there will be matching pajamas and slippers available for purchase and take home, with a that will take you even deeper into the PAUL & JOE world. While these cat-and-floral print PJs are perfect for a girls-only gathering, a men's line has also been released due to popular demand, ideal for spending a romantic Christmas in matching pajamas.

 

 

Why not spend a wonderful Christmas in this PAUL & JOE room?

Information

PAUL & JOE Room ~Christmas~

Reservation Dates:

Friday & Saturday Rooms: September 14 2021~

Weekday & Sunday Rooms: Late October 2021

Room Duration: December 1 2021 ~ January 4 2022

※Unavailable between Dec. 31 and Jan. 21

Location: Hotel New Otani Tokyo

Reservations: https://www.newotani.co.jp/tokyo/stay/plan/paul-joeroom/  *Reservations can only be made online