100% Online Music Festival MUSER FEST. 2021 -MUSIC AID- Announces More Performers
MUSER FEST. 2021 -MUSIC AID- is an upcoming virtual music festival, held on September 11 and 12. 
The newly announced artists are ATARASHII GAKKO!, the 4-member performance dance unit, Jazzrronik, who will be performing as a trio,  CHAI, who have received high praise overseas, and fox capture plan, who have performed the theme songs for a variety of tv shows and films. 
A live band performance from Yasuyuki Horigome has also been announced.
19 performing artists have been unveiled so far, with artists from overseas being announced in the near future. You can watch a special comment from each artist on the MUSER Official YouTube channel.
There will be exclusive digital content for those who purchase tickets to the event, including some that are already available to view by logging into the MUSER Fest official website and clicking My Page.
Newly Announced Artists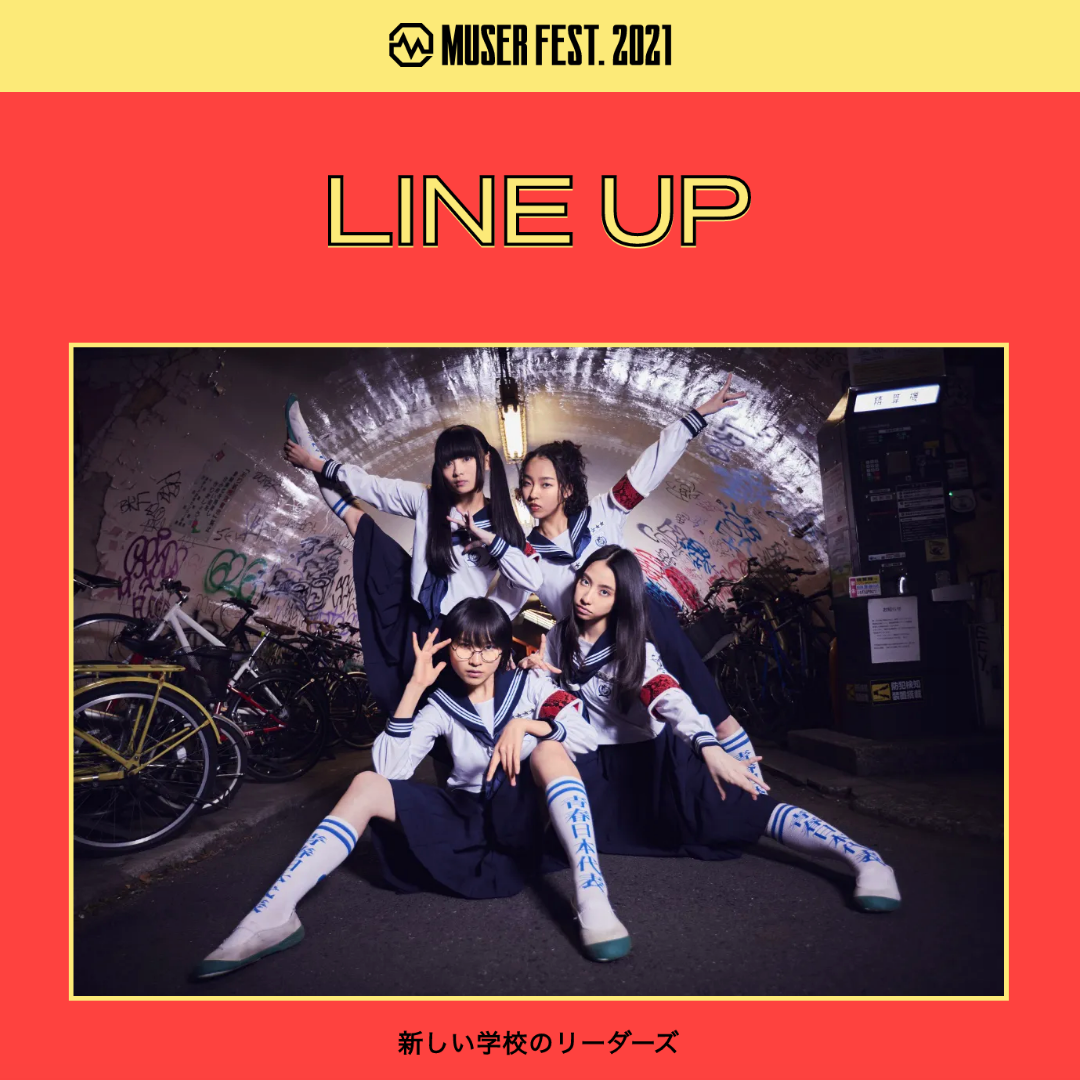 ATARASHII GAKKO!!
Jazztronik
CHAI
fox capture plan
Here you can see all previously announced acts:


DAY1 August 11
Original Love
Cypress Ueno To Roberto Yoshino
SIRUP
SOIL & "PIMP" SESSIONS
Doul
D. A. N.
CHAI
NABOWA
bonobos
Yasuyuki Horigome (Band Set)
YONA YONA WEEKENDERS
DAY2 August 12
ATARASHII GAKKO!!
H ZETTRIO
Sunny Day Service
The fin.
jizue
Jazztronik
Scha Dara Parr
fox capture plan
Get heated up this summer from the comfort of your own home with this online festival!
RELATED ENTRIES
Cardi B Acknowledges J-Pop Group ATARASHII GAKKO! on Twitter

A certain tweet made by US rapper Cardi B took the world by storm when she posted it on April 11.

ATARASHII GAKKO! – NAINAINAI 

ATARASHII GAKKO! & Warren Hue – Freaks

Atarashii Gakkou no LIVE 2020.6.21 No-Audience LIVE on Thumva

School uniform-clad Japanese girl group posted a video to Cardi B on Sunday where the four of them said "Hi, Cardi B!" in various unique position. ATARASHII GAKKO! may not have been ready for what was to come however, as the world-famous music artist replied, "Ommmmmgggg hi girls !!!!! Yaaa are tooo buteeee." If you haven't heard of ATARASHII GAKKO! before, you've been missing out big time, so strap in for a little history lesson.

Initially known as Atarashii Gakkou no Leaders, the dance and vocal performance unit formed in Japan in 2015. The band came together as an expression of individuality and freedom in response to a "Good for nothing, intolerant society in an age where only the exemplary receive praise." The band toured across Japan many times before announcing their international debut in January 2021 from the US music label 88rising where they would receive a name-change for their overseas activities: ATARASHII GAKKO. With this, the group set off in an effort to spreading Asian culture outside Japan.

When I saw the name 88rising, I realised that this wasn't the first time I was hearing of them. Three months prior to that, 88rising held a surprise live concert stream on their YouTube channel. My eyes clocked the thumbnail where I saw what looked like Japanese girls wearing school uniforms. Seeing that, I knew I just had to click on the video, and that's exactly what I did, out of a sense of duty, not knowing anything about them. What I saw was a performance that took me aback. It was a mix of rock and infectious dance music, and at a glance, they in fact looked like a group of women. They were expressive beyond imagination—their nimble dance moves and humorous lyrics complemented each other, and really left an impression on me. It felt fresh. So seeing Cardi B's tweet, it all came together, and I thought, "It's them!!"

ATARASHII GAKKO's international debut track NAINAINAI is a relatable one about feelings towards school life and pondering to yourself. Their incredible performance in the music video makes it look like a scene out of a drama series. Their latest song FREAKS was made in collaboration with Indonesian rapper Warren Hue and shows how amazing they really are even more so, coupled with some must-see artistic visuals.

On their official YouTube channel, you can watch a performance from them held back in June of last year where they played in an audience-less venue. In that show, you are of course hit by their powerful performance and singing abilities, but something else shines through too—their sense of humour. When the concert finished, I caught myself smiling on the blackened screen, and thought to myself, "So this is why people obsess over them." The members create their own dance choreography, and recently released a video of themselves showcasing the choreography for Negative Fighter from their new single Hey!Say!JUMP. They don't know when to stop!

So with it now being confirmed that Cardi B is captivated by them, it wouldn't be an exaggeration to say that ATARASHII GAKKO!—whose charm attracts people from all angles—is garnering huge attention around the world right now.

Original Text (Japanese): Natalie (MOSHI MOSHI NIPPON)

Atarashii Gakkou no Leaders a.k.a ATARASHII GAKKO! Release New Song 'FREAKS' Warren Hue

Japanese dance and vocal unit Atarashii Gakkou no Leaders a.k.a ATARASHII GAKKO! released their new song FREAKS featuring Jakartan rapper Warren Hue on Tuesday (March 2). The track is available on all major music streaming and download platforms.

Atarashii Gakkou no Leaders joined 88rising in January to make their international debut under their official new overseas name ATARASHII GAKKO! in January. This saw the release of their first international track NAINAINAI.

FREAKS was produced by American house producer Claude VonStroke. It fuses house, pop, jazz, hip-hop, and rock with the MIZYU, SUZUKA, KANON, and RIN's punk energy which is an expression of Japanese youth and youth culture.

Information

New Digital Single "FREAKS" – ATARASHII GAKKO! & Warren Hue

Released: March 2, 2021 (On all major music download and streaming services)

<Profiles>

Atarashii Gakkou no Leaders a.k.a ATARASHII GAKKO!

Atarashii Gakkou no Leaders a.k.a ATARASHII GAKKO! are the self-appointed "representatives of Japan's youth." They are a four-member group focused on live performances—wholly unique performances they wield as their weapon, fusing their unrivalled dance and singing ability with comical skits within their songs. In 2018, they played at ROCK IN JAPAN and Summer Sonic. They were also hugely active in 2019. Despite the dark times wrought by 2020 they stayed positive which led them to signing a contract with 88rising in 2021. They boast over 660,000 followers on TikTok, and their army of fans around the world continues to grow.

Warren Hue

Warren Hue is an 18-year-old rapper and singer from Jakarta, Indonesia. He is a spearhead of Asia's next-generation hip-hop, writing tracks spanning from gentle love songs to hard rap. His inspiration is rooted in fellow hip-hop icons, video games, fashion, and Asian culture which he laces through a combination of his unique music style and art.

88rising

88rising is an American multi-media company founded by Sean Miyashiro in 2015. Described by Miyashiro as a "hybrid management, record label, video production, and marketing company," 88rising became a big name in the US in just three years, focusing on signing Asian American and Asian artists such as Rich Brian, Joji, Higher Brothers, Niki, Jackson Wang, and more.

ATARASHII GAKKO! English Website: https://atarashiigakko.com/

Atarashii Gakkou no Leaders Official Homepage: http://leaders.asobisystem.com/

CHAI has announced that their highly-anticipated 3rd album WINK will release worldwide on May 21, 2021. Fans who cannot wait for the new record can enjoy the four-member rock band's newest track ACTION which was released on Tuesday (January 19) along with a music video.

WINK comes as the first album by the Nagoya-hailing band to be released by the American music label Sub Pop in a new contract signed with CHAI.

The new album is their first in over two years following the release of their successful second studio album Punk back in 2019. It will feature 12 tracks spanning multiple genres and features appearances from a selection of artists deeply respected by CHAI such as Ric Wilson and Mndsgn.

"We want this album to become your new friends," comments CHAI. "It will be there for you, give you peace of mind, get annoyed with you if the time calls for it, and support you when you feel like running away. All so you can wink too." (Translated from Japanese by MMN)

CHAI "ACTION" – Official Music Video  

ACTION is also available on music streaming and download services here.

CHAI | Comment

The world as we know it has changed,
but even with that, it's still a world where nothing really changes.
Wouldn't it be wonderful if there more ACTION rooted in happiness?
Be the change that you want to see!…
I'm going to be the pioneer in seeing the world I want to see, meeting the people I want to meet!
We start off by expressing the fun in ACTION with this music video♡
Why don't you join us?!
It's that type of song♡

CHAI's second studio album PUNK made it into Pitchfork's "Best New Music" category and was also selected as one of The 50 Best Albums of 2019. We look forward to seeing where CHAI goes with their upcoming third album WINK.

Atarashii Gakkou no Leaders Debut Internationally in US as ATARASHII GAKKO! With New Song 'NAINAINAI'

Japanese girl group Atarashii Gakkou no Leaders made their overseas debut on Wednesday with the release of their new song NAINAINAI. The track was released under 88rising with the band using the new name 'ATARASHII GAKKO!' for international releases.

88rising is an American multi-media company founded by Sean Miyashiro in 2015. Described by Miyashiro as a "hybrid management, record label, video production, and marketing company," 88rising became a big name in the US in just three years, focusing on signing Asian American and Asian artists like Joji and NIKI.

The music label announced in November last year that it had signed a contract with ATARASHII GAKKO! to release music outside of Japan. Their partnership began with ATARASHII GAKKO! releasing a web series called Seishun Academy on 88rising's official YouTube page. The first episode was released in November and has garnered 1.6 million views (as of January 22, 2021). The latest episode, Seishun Academy 103: Japan Train Travel, dropped this year on January 6.

ATARASHII GAKKO! – NAINAINAI (Official Video)


ATARASHII GAKKO! performed their new song NAINAINAI at 88rising's international online music festival, ."DOUBLE HAPPINESS Global Holiday Festival," which is available to watch on 88rising's YouTube page.

ATARASHII GAKKO! has lots in store for the world to look forward to so stay tuned.

Atarashii Gakko no Leaders Make International Debut From 88rising

88rising is an American multi-media company founded by Sean Miyashiro in 2015. Described by Miyashiro as a "hybrid management, record label, video production, and marketing company," 88rising became a big name in the US in just three years, focusing on signing Asian American and Asian artists like Joji and NIKI.

88rising is now welcoming a new name to the list: the four-member dance and vocal unit Atarashii Gakko no Leaders of ASOBISYSTEM, who will sign a contract to make their international debut in January 2021. They will serve positive and youthful Japanese energy under the name ATARASHII GAKKO!.

ATARASHII GAKKO! will perform at DOUBLE HAPPINESS Global Holiday Festival, a free global online music festival spearheaded by Dumbfoundead that's set to stream for free via Eastern Standard Time on December 2, US Time (December 3 in Japan).

Kyary Pamyu Pamyu Organizes First 'KPP CAMP' Concert with Ken Hirai & CHAI

Kyary Pamyu Pamyu recently released her first single of 2018 Kimino Mikata, whose music video quickly became a hit.

It has been announced that on June 3, 2018 the singer will hold her first live performance KPP CAMP at Hibiya Open Air Concert Hall.

To date, Kyary has held world tours, arena tours and more where she has performed energetically on her own. But due to her own strong desire to do so, this new performance will see her move away from solo shows for her first ever taiban event, which is like 'battle of the bands' where multiple artists perform.

Performing alongside Kyary will be Ken Hirai, who continues to reign as Japan's emperor of pop songs with his power and expressive singing voice; and CHAI, who are known for their song NEO ('New Excite Onna Band').

Both artists were requested ardently by Kyary herself. That's why this one-night-only KPP CAMP will be a very special night indeed!

Kyary Pamyu Pamyu Comment

"I will hold my first 'KPP CAMP'! It's a taiban event, which is something I've always wanted to do, and my first time performing outdoors. I'm pumped! To both Ken Hirai and everyone in CHAI, thank you so much for agreeing to perform at this first commemorative 'KPP CAMP'!

 

I had a meal together with Ken Hirai one time and he left an impression of being a really interesting person. I said to him I'd like to do something together one day, and he really went ahead and accepted the offer. I've also been in contacted with everyone in CHAI for a while. They're such cute and fun kids, so I'm happy that I'm able to perform with them. Please come and enjoy the show!

It's time to get excited about just what kinds of performances we can expect from these three unique artists, who are playing in a place also known as the holy land of rock. Pre-sale tickets go on sale May 10, so don't forget.

CHAI's perspective on the world is one for all the girls; "NEO KAWAII!" and "Art is Complex!" Holding these values close, they showcase themselves to the world through their music. This NEO band (New Excite Onna band) has been constantly performing this year. Their appearance at SXSW in 2017 was their first experience of performing in America. Tackling a total of 8 cities, the tour was a grand success.

Becoming a big hit, CHAI's eagerly-anticipated album "PINK" was released on 25th October. This was commemorated with their Japan tour "Yappari Sodachitai Tour". Their performance in Tokyo took place on national holiday Thursday 23rd November.

Shigeru Kishida, Masafumi Gotoh from ASIAN KUNG-FU GENERATION, Hyadain (Kenichi Maeyamada) and many other famous artists and composers have recommended CHAI's album "PINK" on social networking sites. The album includes CHAI's hit single "Sayonara Complex", their song "N.E.O", which was chosen on Space Shower TV October POWER PUSH, and "HORECHATTA", which became the theme song for the movie "Happiness Hong Kong". HORECHATTA was also commemorated on 2nd floor of Isetan Shinjuku store.

CHAI HORECHATTA Music Video

The girls included these exciting tunes in their Japan tour, hitting up a total of 8 cities. The Higashi-Meihan one-man live was completely sold out and the lucky few who managed to get their hands on a premier ticket couldn't contain their excitement. The mystical radio station CHAI-WAVE radio "united pepura" belted out a grand announcement and, with an invitation to have fun, the live had begun.

Following a blackout, the band members took to the stage. Twins Mana (Vo & keyboard) and Kana (Guitar and vocals) sung the duet "Haihai aka-chan" and then heated up the venue with their original style "N.E.O" and "Art is complex".

Performing songs from their new album one after the other, they pressed the audience for "boos" with "Gyaranbu", wrapping the audience with groove. For the encore, CHAI performed their hit emotional, semi upbeat song "Sayonara complex" and captured everyone's hearts.

Mana then exclaimed " Next year we want to perform on an even bigger stage so keep on the lookout!" As exciting expectations buzzed around the venue, the curtains closed on a high note.

After the encore, they announced their upcoming live – their annual event that they call Road to the GRAMMY's season 5. "Haru no CHAI Matsuri" (CHAI spring festival). This will take place on Sunday 25th March at Umeda Shangri0la and on Saturday 31st March at Tokyo Kinema Club. There are early bird tickets selling until 23:59 on 30th November so please make sure to get your hands on one as soon as possible if you want to go!

Each of the band members made comments on the Road to the GRAMMY'S season 5 "Haru no CHAI MAtsuri" after their live!

This complex band wraps you up in warmth just like a gyoza. They are always exceeding your expectations from all angles. CHAI is a hot band that is much talked about on a daily basis!


CHAI's "Art is Complex!!!!" is for all the girls! They are original, have jumped the national border and are accelerating forward with all their might! Don't miss out on their world invasion through their unique "NEO KAWAII" style!

◼︎Information

【Live information】
CHAI 1st Album "PINK" release commemorative live "Yappari Sodachitai Tour"

(やっぱり育ちたいトゥアー)
11.18 Nagoya CLUB ROCK'N'ROLL ※Thank you, Sold out
11.19 Shinsaibashi LIVE HOUSE Pangea ※Thank you, Sold out
11.23 Shibuya WWW ※Thank you, Sold out
11.30 Sapporo COLONY w/ 2, The Floor
12.03 Sendai enn2nd w/ Sonson Bentobako, Panorama Panama Town, MONO NO AWARE
12.08 Takamatsu, Kanagawa DIME w/ Panorama Panama Town, PupupuLand, Helsinki Lambda Club, HAPPFAT(DJ)
12.10 Fukuoka DRUM SON w/ Kuroneko Chelsea, Panorama Panama Town, Helsinki Lambda Club ※Thank you, Sold out
12.11 Hiroshima Cave-Be w/  Kuroneko Chelsea, Panorama Panama Town, Minamikaze To Kujira
ADV \3,000 / DOOR \3,500 (+1drink)
TOTAL INFORMATION: VINTAGE ROCK std. (03-3770-6900)

Playguide ticket sales: (Pia, Lawson Ticket, eplus)
For more information, please check out CHAI's official website:
http://chai-band.com/live

"Road to the GRAMMYs" season5 "Haru no CHAI Matsuri"
25th March (Sun) Umeda Shangri-La
Performers:  CHAI and more!
Doors open/ 17:15 /Start 18:00
Ticket price : \3,300(+ Separate drink fee)

31st March (Sat) Tokyo Kinema Club
Doors open/ 17:15/ Performance start/ 18:00
Performers: CHAI and more!
Ticket price: \3,300 (Designated seat tickets: \3,800) (+ Separate drink fee)

Early bird sales
Period: 24th November(Friday)12:00 ~ 30th November(Thursday)23:59
One person can purchase up to 4 tickets
Ticket website URL:http://eplus.jp/chai-ohp/ (PC/mobile users)

 
【Album release information】
CHAI 1st Album「PINK」
Release date: Wednesday 25th October 2017
First-run limited edition:CD + Shinkankaku Maemuki complex picture book「COMPILEX」(Deluxe booklet included)CHAI-002~3/ ¥3,000 (+ tax)
Standard edition:CD only – CHAI-004/ ¥2,400 (+ tax)

FLAKE RECORDS release! Analogue CD "N.E.O. / sayonara complex"
cid:image003.jpg@01D36556.8F353CA0
Release date: 11th October 2017 (Weds) 

【Release information】
Apple Music:https://itunes.apple.com/jp/album/pink/id1290747039?l=ja&ls=1
iTunes:https://itunes.apple.com/jp/album/id1290747039?at=10lpgB&ct=4580128893112_al&app=itunes
RecoChoku :http://recochoku.com/s0/pink-disc/
mora:http://mora.jp/artist/922327/
Spotify:http://open.spotify.com/album/4kEpX9d2OffPJKDRJuvO73
LINE MUSIC:https://music.line.me/launch?target=album&item=mb000000000152071f&cc=JP

CHAI official website:http://chai-band.com