Japan's Poké Lid Project Lays Down New Manhole Covers in Hyogo Prefecture
Three new Pokémon manhole covers were unveiled in Awaji, Hyogo Prefecture on August 11, as part of the Poké Lid project. The new designs depict the legendary Pokémon Lugia, Bayleef, Aromatisse, and Cloyster. These are the first Poké Lids to be placed in Hyogo. 
Including these new additions, the total number of Pokémon-themed manhole covers across Japan is now 201. The project began with the installation of a Eevee manhole cover in Ibusuki City, Kagoshima Prefecture in December 2018. 
Each one features completely original Pokémon art, and going on a pilgrimage to visit each of them has become a popular new fad. The project aims to promote local tourism by using these internationally-loved characters.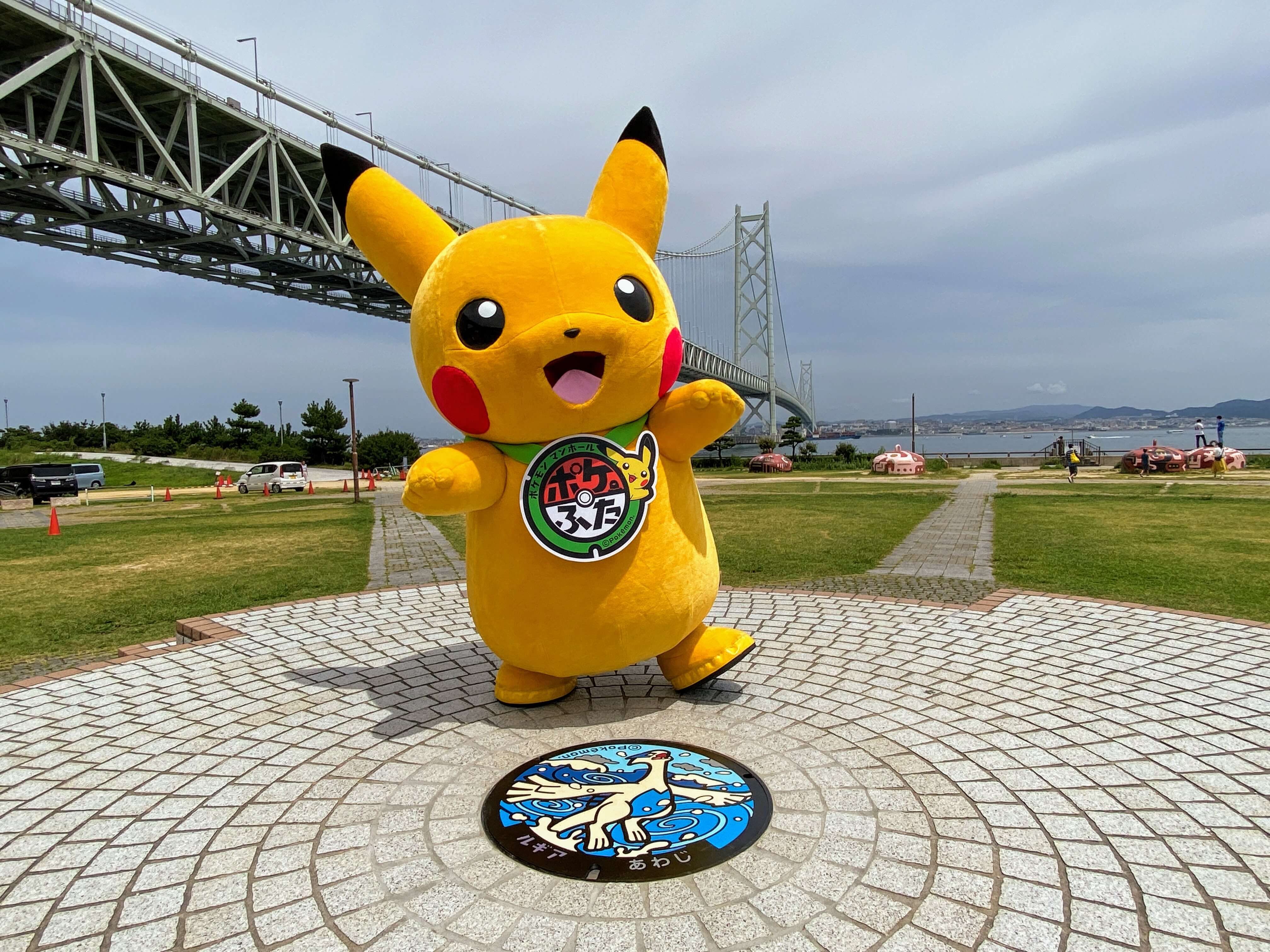 There are also plans to turn each cover into Pokéstops, used in the popular location-based Pokemon GO smartphone game. 
Which Poké Lid would you like to find first? 
©2021 Pokémon. ©1995-2021 Nintendo/Creatures Inc./GAME FREAK inc.
Pokemon, Pokémon and Pokémon are registered trademarks of Nintendo, Creatures and Game Freak.
RELATED ENTRIES
U-Treasure Announces Pokemon Ring and Necklace Inspired by Snorlax

The U-Treasure brand is known for releasing incredible jewelry for adults based on beloved brands and characters. The company is now taking orders for two pieces of Pokemon jewelry inspired by everyone's favorite chunky roadblock, Snorlax! Orders are open until June 21, 2022. Snorlax appears in all his glory and is covered with a glossy black finish. 

Snorlax Silver Ring / Snorlax Silver Necklace

How about grabbing some Snorlax jewelry for yourself or a loved one? (Maybe it's not the best ring to propose with, though.) 

New Pokemon Anime Visual Released to Tease Show's World Championships

TV Tokyo has revealed a flashy new visual for the Pokemon anime series! The visual features the eight trainers and their Pokemon who will be participating in the show's Pokemon World Championships tournament, and notes that the "climax" of the show is about to begin. Pokemon airs every Friday at 6:55 PM on TV Tokyo.

Satoshi (or Ash, in the English dub) has been taking on plenty of tough trainers in Pokemon Journeys including Kibana from the Galar region. This means that he has earned his spot in the Masters Eight!

The new key visual features all eight trainers who will be participating in the upcoming tournament: Leon, the Champion of the Galar region; Cynthia, the Champion of the Sinnoh region; Steven, the Champion of the Hoenn region; Lance, the Champion of the Indigo Plateau; Diantha, the Champion of the Kalos region; Alain, another Champion of the Kalos region; and Iris, the Champion of the Unova region. Ash is currently the Champion of the Alola region.


The first 12 episodes of Pokemon Journeys premiered in the United States on Netflix in June 2020.

© Nintendo・Creatures・GAME FREAK・TV Tokyo・ShoPro・JR Kikaku © Pokémon

The North Face Collaborates with Pokemon at GOLDWIN PLAY EARTH PARK in Tokyo Midtown

Goldwin Inc. has announced a special event for both children and families to enjoy! The GOLDWIN PLAY EARTH PARK event, running until May 29, has taken over the lawn at Tokyo Midtown. Five architects have created playground equipment inspired by five elements: fire, earth, water, wind, and sky. The event wants to inspire children to be more curious about the world around them. What better way than to get Pokemon involved?

For the event, Goldwin, The North Face, Helly Hansen, Speedo, and Canterbury all collaborated with artists, designers, and of course, the Pokemon series.

Goldwin is known for providing incredible sports and outdoor apparel, and behind its sturdy technology lies a deep curiosity regarding nature. This new collaboration has brought new perspectives and ideas to the collection, and those visiting the venue won't want to miss out.

Collaboration Items at a Glance

THE NORTH FACE ✕ Pokemon


YOUNG EXPLORERS Jacket: ¥10,890 (Tax Included)

YOUNG EXPLORERS Hat: ¥6,380 (Tax Included)

Just like everyone's favorite Pokemon Pikachu, the event wants to inspire children to be filled with energy as they explore the world around them and take on new adventures. These new jackets come inside a pouch inspired by a Pokeball and are mde of environmentally friendly recycled nylon material.

*Products in The North Face x Pokemon collection will be sold by lottery starting April 22. Check the official website for details on how to enter.

©Pokémon.
©Nintendo/Creatures Inc./GAME FREAK inc.
TM, ®, and character names are trademarks of Nintendo.

HELLY HANSEN ✕ minä perhonen


Left: VINDKRAFT PEP Tote: ¥9,900 (Tax Included) / Middle: VINDKRAFT PEP Patch Tote: ¥19,800 (Tax Included) / Right: VINDKRAFT PEP Pochette: ¥3,300 (Tax Included)

Based on Helly Hansen's 'VINDKRAFT' project to recover and upcycle sailboats' sails, minä perhonen has designed a bag by combining scraps from its own production process. Nothing goes to waste, making this perfect for those aware of the current problems facing our environment.

*As this is an upcycled product, the number of pieces is limited and each piece is unique.

Collaboration items are available at a pop-up shop at the GOLDWIN PLAY EARTH PARK event. A number of workshops are also open for children to enjoy, with a focus on their relationship with nature while living in the city. Check out the special site for more information!

Information

GOLDWIN PLAY EARTH PARK
Address: Tokyo Midtown Lawn (9-7-1 Akasaka, Minato-ku, Tokyo) 
Running: April 23 – May 29, 2022
Hours: 11:00-18:00
Special Site: https://playearthpark.goldwin.co.jp/

Pikachu and Eevee Appear on New Apparel from Graniph

Japanese brand Graniph has started selling 22 new Pokemon-inspired apparel items on its official online store and in brick-and-mortar locations across Japan. 

Over 25 years have passed since the original Pokemon Red and Green games were released in 1996, and characters from the series continue to be popular around the world. It's hard to imagine a world without the franchise!
 

Check out these new items featuring Pikachu, Eevee, and other popular characters. 

©Pokémon. ©️Nintendo/Creatures Inc./GAME FREAK inc.
ポケットモンスター・ポケモン・Pokémonは任天堂・クリーチャーズ・ゲームフリークの登録商標です。

Information

Where to Buy:

Graniph Online Store: https://www.graniph.com

Graniph stores nationwide (Excluding kid's locations)

Pokemon Shirts Now Available with Patterns from Pokemon Diamond & Pearl

Pokemon and Original Inc. are back with some new Pokemon Shirts! The popular goods originally went on sale back in February 2019, and more and more patterns have been added over the years. 

Fans of Pokemon Diamond and Pearl can now find some designs to their liking, with new patterns on sale as of April 22, 2022. With 18 new patterns to choose from, the Pokemon Shirts collection now has a total of 404 designs to choose from. Customers can also choose to place these patterns on masks!

(From Left) Chimchar Pattern, Piplup Pattern, Turtwig Pattern

(From Left) Starly Pattern, Shinx Pattern, Bidoof Pattern

New patterns from Pokemon Diamond and Pearl will be added in four installments. Each installment will have a specific theme and will introduce Pokemon that fit that theme.


The first installment's theme is "The Start of Adventure." As expected, this installment features the three starter Pokemon from the games.

Installment #2 / End of July | Pokemon: Dialga, Lucario, Honchkrow, etc.

Installment #3 / End of October | Palkia, Garchomp, Mismagius, etc.

Installment #4 / End of January 2023 | Giratina, Rotom, Weavile, etc.

(From Left) Luxray Pattern, Mothim Pattern, Staraptor Pattern

The 18 new designs add some new flair to the ever-growing collection. Fans will want to head to the official Pokemon Shirts website to see the patterns up close!


*Masks are intended to be used for fashion, not to prevent illness. 

Information

Pokemon Shirts / Pokemon Diamond & Pearl

Release Date: April 22, 2022

Available Countries: Japan, America, Taiwan, Hong Kong, Singapore, Malaysia, Philippines, India, Indonesia, England, Spain, Germany, Italy, France, Canada, Australia, New Zealand

Official Site: https://originalstitch.com/jp/pokemon

Pokemon Nail Polish Collection Available in Limited Quantities from uka

Beauty company uka has announced the new Pokemon Study series, a collection of original nail colors inspired by Pikachu and five other popular Pokemon. The items will be available on May 13, 2022 in limited quantities, and will come in a six-piece set. Three shades were made with vegan ingredients with adults in mind, while three can also be used by children and include a water-soluble solution. Preorders will open online starting May 6, 2022.

Lineup

For Adults

uka Pokémon Study: Meowth

uka Pokémon Study: Eevee

uka Pokémon Study: Piplup

For Children and Parents

uka Pokémon Study: Pikachu Aqua Base

uka Pokémon Study: Jigglypuff Aqua Base

uka Pokémon Study: Scorbunny Aqua Base

uka Pokémon Study Six Stars Collection

The company has spent time studying people's hands to create the 'uka Study Series,' a color study to bring out the beauty of anyone's skin using their unique nail colors. No matter what skin tone you have, these shades are sure to look perfect!

Adults can enjoy soothing and smoky shades inspired by Meowth, Eevee, and Piplup, with each nail polish created with a 60% plant-derived vegan formula. The children's shades, featuring Pikachu, Jigglypuff, and Scorbunny, are all bright and perfect for spring. These water-soluble products can be wiped off easily with hot water.

Baby Brand Monpoke Introduces Piplup 2022 Spring/Summer Lookbook

The Pokemon baby brand Monpoke has revealed their newest products in a new 2022 Spring/Summer Lookbook! The images are available on the official brand website. 

Piplup has become one of the most popular Pokemon, and the blue water bird is featured prominently on the new apparel and items. All new products began rolling out in February, and all details are available on the Monpoke website. 

Items perfect for summer, like floaties and pool toys, will also be available! Kids bikes and other items to get kids active will also make appearances in the new collection. 

Parents can also grab themed diaper changing s heets and nap kits, so be sure to add some fun to your days with these new Pokemon-inspired items!

©Pokémon. ©Nintendo/Creatures Inc./GAME FREAK inc.

McDonald's Happy Meals in Japan Introduce Battle-Ready Pokemon Mezastar Tags

Starting March 4, McDonald's locations in Japan are selling two new Happy Meals inspired by Pokemon and Tabekko Dobutsu!





Each Pokemon set includes a Pokemon Mezastar tag, allowing kids to battle and catch Pokemon using tags. Five original tags featuring popular characters like Pikachu and Piplup will be available, as well as Legendary Pokemon like Palkia and Arceus! In addition to tags, kids will also be able to play games using Pokemon names on a special Shiritori sheet included with each meal. 





Tabekko Doubutsu is a classic Japanese snack, much like animal crackers in the west. This is the first time these characters are appearing at McDonald's. The lineup includes five varieties of McDonald's original coloring pages and stickers featuring familiar characters such as Lion, Bunny, and Elephant. Each sticker also includes the name of each animal in Japanese and English!

©2022 Pokémon. ©1995-2022 Nintendo/Creatures Inc./GAME FREAK inc.
Developed by T-ARTS and MARV

©ギンビス

Information

Happy Meal 'Pokemon Mezastar' 

Happy Meal 'Tabekko Doubutsu' 

Available: For 2 weeks starting March 4 

Where to Get: Participating McDonald's Locations Nationwide

Official Site: https://www.mcdonalds.co.jp/menu/happyset/

Music Video for 'Reconnect,' Sampling Sounds from Pokemon Red and Green, Released

On Pokemon Day, February 27, 2021, the music program P25 Music was launched with 'P25 Music Presents: Post Malone Virtual Concert Experience.' In October 2021, 'Pokemon 25: The Album' was released featuring top musical artists from around the world celebrating the anniversary of the beloved series, and the following month saw two tracks, Reconnect and Grown, released by Yaffle. Reconnect, sung in English by Daichi Yamamoto and AAAMYYY, samples sounds from Pokemon games, including the opening music for Pokemon Red and Green.

 

As Pokemon continues to celebrate 25 successful years, the music video for Reconnect was been released on the Pokemon YouTube channel.

Pokémon 25 / Reconnect – Yaffle feat. Daichi Yamamoto & AAAMYYY

The music video takes place in a nostalgic candy shop filled with neon lights, with plenty of catchy dance sequences and everyone's favorite Pokemon grooving along with the music in CG. TAKAHIRO was in charge of the choreography, having previously choreographed for Keyakizaka46 and Sekai no Owari. 

©2022 Pokémon. ©1995-2022 Nintendo/Creatures Inc. /GAME FREAK inc.

ポケットモンスター・ポケモン・Pokémonは任天堂・クリーチャーズ・ゲームフリークの登録商標です。

Information

Pokemon 25: The Album

 

Reconnect/Grown – Yaffle Streaming Links

BUMP OF CHICKEN to Sell Goods for Postponed Show, Pokemon Collaboration Items

BUMP OF CHICKEN has unveiled tons of new merchandise! The band's newest concert, 'BUMP OF CHICKEN LIVE 2022 Silver Jubilee at Makuhari Messe 02/10-22,' was postponed due to the pandemic, but those who want to snag some commemorative merch can now purchase concert apparel!

In addition, a BUMP OF CHICKEN x Pokemon T-shirt and hoodie will be available. Each comes with a special Blu-ray.

The Pokemon design feature Mew, which appeared in the special BUMP x Pokemon music video 'GOTCHA!' in September 2020.

All items were designed by VERDY. Items are available now, but they won't last long! Check out the band's official online shop for more details.

Pokemon DP Sound Library Available Overseas, Includes Samples by Alan Shirahama

Pokemon has launched a new English-language website for the Pokemon DP Sound Library, which has been available in Japan since December 2021. It is now open in 13 countries and regions including North America and the United Kingdom. 

To commemorate this English release, three artists have sampled sound sources from Pokemon Diamond and Pearl to create new music. Alan Shirahama, a member of EXILE/GENERATIONS/PKCZ, is one major contributor. The performer, actor, DJ, and trackmaker has created the song on my way to Glory. Shirahama explained that he's played Pokemon since childhood, and the song is based on the main character's daily life.

Comment from Alan Shirahama

"The first Pokemon game I played was Pokemon Green.
My family had the game and I was still really young, but I was instantly hooked. I played Gold, Silver, Crystal, Ruby, Sapphire, and, of course, Diamond and Pearl. I used the link cable to trade with friends and show off my Pokemon…it really was my whole life.


About the Music

It's a dream come true to be able to create music through Pokemon.

If you would have told me this would happen as a kid, I would have been over the moon. 


When I make tracks, I like to really develop them. In this case, I imagined the main character's daily life–things like battling with other trainers and the sound of the Pokemon Center.


The beginning of the song will make you feel like you're relaxing at the Pokemon Center, and then you find yourself in a battle, trying your best not to lose!

 

The Pokemon DP Sound Library contains so many valuable sound sources, and I can't wait to see what kind of music people make with it!

Information

Pokémon DP Sound Library 

Where to Listen: 

Japan – https://soundlibrary.pokemon.co.jp/

Overseas – https://soundlibrary.pokemon.co.jp/en

Available in: 
America, the U.K., Australia, Canada, New Zealand, South Korea, Singapore, Thailand, Philippines, Malaysia, Macau, Hong Kong, Taiwan

Pokemon Hotel Rooms Open in Collaboration with Thunderbolt Project and Hiroshi Fujiwara

The hotel sequence MIYASHITA PARK in Shibuya has opened an entire floor in collaboration with the THUNDERBOLT PROJECT BY FRGMT & POKEMON! Reservations for Pokemon-themed rooms are available until March 20, 2022.

This project was started by JUN Co., Ltd. as the first hotel project by THUNDERBOLT PROJECT BY FRGMT & POKEMON, a joint project between Pokemon and Hiroshi Fujiwara. Fans of the original Pokemon games will be over the moon in these guest rooms!


Left: Guest Room (King) / Right: 16F Hallway


Bonus Items

The entire 16th floor of sequence MIYASHITA PARK has been transformed by the THUNDERBOLT PROJECT. The corridor is covered in artificial grass to make guests feel as though Pokemon could suddenly appear! The guest rooms include Pokemon-themed amenities, including original wallpaper, cushions, mats, and maps. Guests also get special goods to take home!


Hotel Store Items

A store on the 16th floor will be open exclusively for guests participating in the Pokemon plan, selling limited-edition THUNDERBOLT PROJECT items only available during this event.

©Pokemon. ©Nintendo/Creatures Inc./GAME FREAK inc.

Information

INN THUNDERBOLT PROJECT BY FRGMT & POKEMON

Location: sequence MIYASHITA PARK (Shibuya, Tokyo)

Reservations open until March 20, 2022

Rooms available until March 20, 2022

Plan includes: Plush (Snorlax or Pikachu, random) / retaW Amenity Kit / THUNDERBOLT PROJECT Original Items (Face Towel, Bath Towel, Slippers, Bag) / Fresh Water / Soda Pop / Rare Candy / City Map

Price: ¥42,000 (1 Room, 1 Person, Tax Included) ~

Details: https://www.junonline.jp/special/inn-thunderboltproject/