WARPs UP Chinese Members Share Chinese Self-Cover of Fruits Basket Opening Theme
Japanese-Chinese boys collective WARPs UP's Chinese members LANGYI and MINGJUN have started covering songs in Chinese. The project has started with a self-cover of Pleasure, the opening song for the Fruits Basket The Final anime that was announced in April.
"You, yourself, can change the future, regardless of your destiny or environment" is the theme of the original song, which has been transformed into an acoustic version, centring around on the piano. The arrangement has been adjusted to add a summery vibe, allowing the listener to imagine a warm and bright future.
The music video has been shot in a similar style to LANGYI's WARPs UP Vocal Club cover in May, focusing on the two members singing into their microphones.
The video reflects the original meaning of the song, filmed carefully to capture a midsummer feeling.
The music video premieres on the WARPs UP YouTube channel on August 12, at 22:15.
「Pleasure (LANGYI & MINGJUN ver.)」Music Video
Pleasure (LANGYI & MINGJUN ver.) will be available on streaming sites from August 12th. The trilogy of acoustic covers being released this summer is made up of songs specially selected by the two Chinese members, covered in Chinese. The second and third songs are confirmed to be covers of hit songs that everybody will recognise.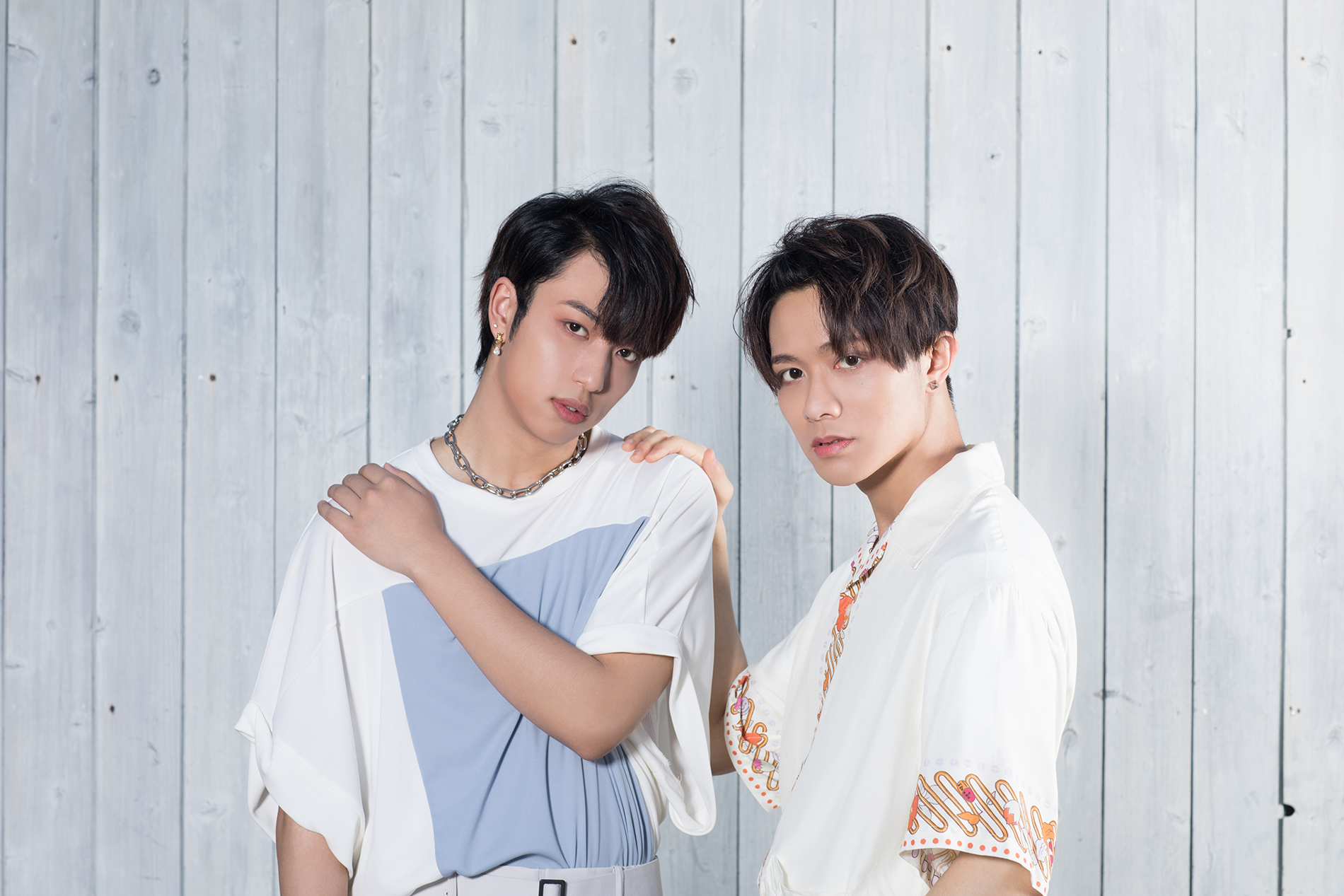 RELATED ENTRIES
MARiA from GARNiDELiA and luz Release Duet Track, Music Video

GARNiDELiA vocalist MARiA released the music video for Cafe Latte no Uta, her duet track with luz, on June 15, 2022.

The track will be included in the singer's second solo album Memories, which will go on sale on June 22 and is now available on streaming services. Cafe Latte no Uta was composed by PENGUIN RESERACH's kemu with lyrics written by both Horie and luz.



Cafe Latte no Uta feat. luz


A release event has also been announced, scheduled to take place on June 22 at Tower Records Shibuya. The singer will hold a solo concert at Toyosu PIT on July 3. In exciting news, MARiA will be performing in an upcoming stage play, Quantum, which will be performed in Tokyo and Osaka for 23 total shows.

Although still very active in her work with GARNiDELiA, MARiA has been breaking new ground in her solo work, collaborating with a number of artists and creators. Keep an eye on what she does in the future!



Comment from MARiA

"I had a meeting with luz and kemu, and when we started chatting, we decided that since our voices are more adult, it would be perfect if we made a more sexy song. 

All three of us have lived our lives as part of internet culture, so this song really shows off our history with all of its strengths!

This is a song best listened to with headphones on–we really used our breath a lot, especially in the gaps between the music.

Be sure to enjoy the perfect harmony between me and luz!"

Information

Moments

Release Date: June 22, 2022

Limited Edition (CD+Blu-ray): ¥4,950 (Tax Included)

Standard Edition (CD Only): ¥3,300 (Tax Included)

GARNiDELiA Official Site: https://www.garnidelia.com/

Fashion and Art Inspired Anime Series 'Artiswitch' Inspires More Music Videos

Artiswitch, a collaborative anime series made by SUNRISE (Mobile Suit Gundam, Love Live!) and ASOBISYSTEM, Kyary Pamyu Pamyu's agency, premiered on YouTube on May 28, 2021. The show, based in Harajuku, has featured a wide range of content pulling from fashion, art, and music trends. A number of now-popular artists and creators were also responsible for contributing to each episode, in February, a new music video series related to the series premiered on YouTube! Three new videos are scheduled to premiere in April.

Uncolor is a collaboration between ASA Wu, a trilingual singer from Taiwan with an adorable image, and NANCY SNAKE, an illustrator known for her psychedelic pop worldview that combines realism and romanticism.

Paint was created by KIHOW, an artist who is also the vocalist of the music group MYTH & ROID, and Anzu, an up-and-coming female illustrator who also won the Pixiv High School Illustration Contest 2020 CLIP STUDIO PAINT Award.

The song Sticky was composed by trackmaker KOTONOHOUSE and written and performed by Moeno Chiyuki, who is very active on social media. The two teamed up with illustrator Nah, who has a very unique view of women and who uses color in a way that no other artist does.

The next three music videos will pop up during the month of April, with Uncolor releasing on April 1 at 20:00.

Part 2: Participating Artists



#04 – Uncolor / Premiering April 1 at 20:00
Music: ASA Wu / Illustrator: NANCY SNAKE


#05 – Paint / Premiering April 15 at 20:00
Music: KIHOW / Illustrator: Anzu


#06 – Sticky / Premiering April 29 at 20:00
Music: KOTONOHOUSE & Moeno Chiyuki / Illustrator: Nah

 

©️SUNRISE/Artiswitch Project

KATE, Illustrator Mai Yoneyama, and Music Artist EVE Release Collaborative Music Video

On March 19, the makeup brand KATE launched the Yoku Collection in limited quantities, featuring a total of six vivid and glittery products. To commemorate the launch, a new song titled YOKU written and performed by singer-songwriter Eve has been released as the collection's inspiration song! The original music video is now available to watch on Eve's official YouTube channel.

KATE Yoku Collection – 'The Power of Makeup' (30-second version)

KATE Yoku Collection – 'The Power of Makeup' (15-second version)

URL: http://youtube.com/watch?v=mIusuXNPcKk

 

The music video was animated by illustrator Mai Yoneyama, who also provided the package designs for the Yoku collection. "I focused on the colors and effects to show how these products can transform a person's monochromatic daily life into something more exciting once their desires (yoku) are unleashed," Yoneyama commented.

The newest collection from KATE is being advertised all over Japan, with the newest music video highjacking the massive TV screen in Shibuya. Original LINE stickers featuring the characters from the video are also available now!

Mai Yoneyama


Q. This music video's storyline focuses on freely expressing your desires and becoming exactly who you want to be. With this in mind, is there anything in particular that you focused on during production?


A. The theme of this collection is 'desire,' and I wanted to express this common facet of life through different colors and effects. I was really particular about the composition–I focused on the colors and effects to show how these products can transform a person's monochromatic daily life into something more exciting once their desires (yoku) are unleashed. I used a lot of slow-motion animation as well, so that people could really see the finer details.

Q. The theme of this collection is 'desire.' What's something you desire lately?
A. I always have a desire to express how I feel in a way that completely satisfies me. Oh, also, I really want to travel.

Q. What's your favorite product from the new collection? Who would you recommend these new products to?
A. The multi-diamond glitter was really unexpected. I'd never used it before, but it's exactly what I always hear about cosmetics–once I put it on, I just felt so uplifted! I'd really love to give it to my family and friends who have supported me on this project and loved my work.

Q. This is your second time collaborating with Eve. What's your impression of his work?
A. I was happy to bounce ideas and thoughts off of him. He wrote the music after seeing the illustrations I made, and I listened to his music while I drew the storyboards. I think the two of us were able to create something incredibly true to the theme and we expressed exactly what we wanted to express. I've always loved Eve's sensibility and I've listened to his music for a long time, but this collab let me see a different side to him. He becomes more incredible every single day.

Eve

Q. You wrote YOKU to represent the new collection from KATE. What did you focus on while creating the track?
A. I have a tendency to make really powerful songs that turn up the passion to 120%, so I wanted to tone that intensity back this time. I want the listener to feel like they're floating when they hear it.

Q. How did you come up with the lyrics? What was your inspiration?
A. The title of the song means 'desire,' and it made me think about what that really means. In this world with no right answers, I want everyone to develop their own unique style. I want these lyrics to inspire people to follow their own desires without being influenced by the opinions of others. It's a chance to face yourself and love yourself in your own way.

Q. The theme of this collection is 'desire.' What's something you desire lately?
A. I always want to eat sweets. Lately, all I desire are strawberries.

Q. This is your second time collaborating with Mai Yoneyama. What's your impression of her work?
A. Yoneyama's illustrations are incredibly appealing. I love her character's expressions, the delicate texture of their hair, the strength they exhibit–everything. This video has so many scenes of makeup being applied and close-up shots, all of which pulled me into the music video's world. I hope everyone enjoys the video and the song together!

Information

KATE Yoku Collection

Ai Higuchi Releases Music Video for Attack on Titan Ending Theme 'Akuma no Ko'

Singer-songwriter Ai Higuchi has released the music video for the song Akuma no Ko, which serves as the ending theme for Attack on Titan The Final Season Part 2.

The track has already gained massive popularity worldwide and has been streamed over 35 million times in just over one month. Akuma no Ko reached the top spot on the Apple Music J-Pop Ranking in 109 countries including Germany, France, Italy, and Korea. It was in the top 10 in 126 other countries. It ranked #1 on the Spotify Viral Top 50 in Indonesia, Taiwan, Hong Kong, Malaysia, Singapore, and Vietnam.  The anime version of the music video has already received over 10 million views.


The video was filmed on a windy island and has an exotic atmosphere that doesn't quite feel Japanese.

Akuma no Ko – Ai Higuchi (Attack on Titan The Final Season Part 2 ED Theme)


©諫山創・講談社/「進撃の巨人」The Final Season製作委員会

Information

'Saiaku Saiai'
Now on Sale
Limited Edition [CD+DVD] / ¥4,950 (Tax Included)
Standard Edition [CD Only] / ¥3,300 (Tax Included)

Official Site: https://www.higuchiai.com/

SiM Releases Music Video for Attack on Titan OP Theme 'The Rumbling'

The music video for The Rumbling, the opening theme song for Attack on Titan The Final Season Part 2, premiered on YouTube on March 2, 2022.


Performed in front of a green screen with incredibly detailed CG imagery overlaid with the band, the series' story plays out alongside this hard rock track. The video also includes a ton of shots from impossible camera angles caught by using volumetrics.

 

Along with INNI VISION, who has produced many of SiM's music videos in the past, the production team for this release also included Taiyo Yamamoto and Naohiro Yako. Ryoji Sekimoto from Crypton Future Media and Kota Morie from MORIE INC also participated. During the video's premiere on YouTube, the four members of SiM appeared in the chat guerrilla-style, shocking fans.

The Rumbling – SiM (Music Video)



An official interview has been posted to a special website made especially for the song. The interview has been translated into English, Portuguese, Indonesian, French, Spanish, and German.

XR Live will be held in the summer of 2022, and a special event site has been opened. Check it outt!


*Volumetrics
The latest technology that converts real people and places into 3D digital data and reproduces them in HD.

©諫山創・講談社/「進撃の巨人」The Final Season製作委員会
©2022 PONY CANYON INC.

Music Video for 'Reconnect,' Sampling Sounds from Pokemon Red and Green, Released

On Pokemon Day, February 27, 2021, the music program P25 Music was launched with 'P25 Music Presents: Post Malone Virtual Concert Experience.' In October 2021, 'Pokemon 25: The Album' was released featuring top musical artists from around the world celebrating the anniversary of the beloved series, and the following month saw two tracks, Reconnect and Grown, released by Yaffle. Reconnect, sung in English by Daichi Yamamoto and AAAMYYY, samples sounds from Pokemon games, including the opening music for Pokemon Red and Green.

 

As Pokemon continues to celebrate 25 successful years, the music video for Reconnect was been released on the Pokemon YouTube channel.

Pokémon 25 / Reconnect – Yaffle feat. Daichi Yamamoto & AAAMYYY

The music video takes place in a nostalgic candy shop filled with neon lights, with plenty of catchy dance sequences and everyone's favorite Pokemon grooving along with the music in CG. TAKAHIRO was in charge of the choreography, having previously choreographed for Keyakizaka46 and Sekai no Owari. 

©2022 Pokémon. ©1995-2022 Nintendo/Creatures Inc. /GAME FREAK inc.

ポケットモンスター・ポケモン・Pokémonは任天堂・クリーチャーズ・ゲームフリークの登録商標です。

Information

Pokemon 25: The Album

 

Reconnect/Grown – Yaffle Streaming Links

Kuhaku Gokko Releases Music Video for Platinum End ED Theme 'Last Straw'

The music video for Last Straw by Kuhaku Gokko was posted to YouTube on February 9. The ending theme song for the anime series Platinum End will be officially released on February 16, 2022.

Platinum End was based on the manga series written by Tsugumi Ohba and illustrated by Takeshi Obata, the team behind Death Note and Bakuman. The second season began in January 2022 and will come to an exciting conclusion in March! The song Last Straw was inspired by the problem 'the straw that broke the camel's back,' while the music video portrays the struggle between life and death.



The music video stars Shino, a young actress attracting attention through her work in movies and social media.

Last Straw – Kuhaku Gokko (Music Video)


Comment from Vocalist Setsuko

Last Straw was inspired by themes of life and death, but it was created in a more ambiguous way, emphasizing the balance between the two. We had a lot of conversations about how to express it visually. With Shino as the protagonist, I think the production team was able to create something beautiful–the tension of chasing after shadows, of not knowing whether you are alive or dead.

I hope that you can feel the danger of what might happen by applying force as the title Last Straw implies.

©大場つぐみ・小畑健/集英社・プラチナエンド製作委員会

Information

Last Straw

Release Date: February 16, 2022

Limited Edition (CD+DVD): ¥1,870 (Tax Included)

Standard Edition (CD ONLY): ¥1,320 (Tax Included)

Streaming Links: https://lnk.to/laststraw-single

Platinum End
Airing on TBS Thursdays at 1:28 AM
Airing on BS11 Fridays at 11:30~
*Broadcast dates and times are subject to change.
*A total of 24 episodes will be aired over two cours.

Music Video for Ayaka's New Song 'The Notebook' Released, Features Yu Suzunoki

Ayaka, who released her sixth original album 'LOVE CYCLE' on February 1, 2022, has unveiled the music video for The Notebook. The original concept for the video was written by Yu Suzunoki, the creator of the popular medical manga Stork. The idea came to fruition with the help of director Munetoshi Mukai.

The music video feels like a drama and stars Aoi Nakamura in the lead role of Masaya. The role of Koharu, his wife, was played by Ayaka Konno, a model for non-no who has become incredibly popular among teens and 20-somethings. Masaya and Koharu meet and live happily together, but sudden hardship threatens to tear them apart. This video tells the story about eternal feelings for loved ones and family.

A short movie will be released in the near future, so keep an eye out for more.

Ayaka – The Notebook Music Video

Comment from Ayaka

Life is shorter and more fragile than we think, which is why it's so precious and beautiful.

I wrote The Notebook with the hope of creating a song that will inspire people to remember the most important moments and events in our daily lives.

Suzunoki-san and Mukai-san listened to the music and wrote the script. 

The music video depicts the beauty and sadness of those encounters that feel eternal, and the happiness that comes from having a partner that you can share the ups and downs of life with–someone that you can show your weakness to.

Please enjoy it.

Comment from Yu Suzunoki (Original Plan, Scenario Writer)

I would be the happiest man alive if I could tell my loved ones 'thank you' with Ayaka's unfathomably gentle voice.

Information

LOVE CYCLE

Released February 1, 2022

2CD+DVD: ¥4,500 (Excluding Tax)

CD Only: ¥3,000 (Excluding Tax)

Limited Edition Room Ayaka+2CD+DVD+Goods: ¥5,200 (Excluding Tax)

Official Site: https://room-ayaka.jp/

Trilingual Singer MeiMei and MIYAVI Release New Song, Music Video

18-year-old trilingual singer MeiMei has released a new track, 'Strangers feat. MIYAVI,' in which the popular Japanese performer takes on the role of a samurai guitarist in the music video.

 

The killer tune blends MIYAVI's shredding guitar and MeiMei's strong yet fragile vocals. Curiously, MIYAVI accepted a direct offer from musical newcomer MeiMei to participate, and this song came to fruition. 

 

The music video was created by MeiMei, who speaks Chinese, Japanese, and English, and MIYAVI, a world-renowned guitarist. Sayaka Nakane, a LA and Tokyo-based video creator, served as director. The video itself portrays how young people will shape the future as they deal with anonymous 'unknown adults' who hit them with cruel words both online and in real life. 

 

Strangers feat. MIYAVI

MeiMei was selected to participate in the 'Tokyo Tower Red Light-Up 2022' diplomatic event and has served as a link between China and Japan. With the Beijing Olympics approaching, the artist is sure to find more work!

 

With diversity and borderlessness at the heart of her music, MeiMei aims to make music that transcends gender, age, or nationality. Listening to her voice, it's hard to believe that she's still a teenager!

Comment from MeiMei

During my time spent in both China and the US, I listened to MIYAVI's music and saw his videos. I was a huge fan. It's a miracle and an honor for me, a new artist, to be able to work with him. I still can't believe it's real. I'm too happy!

 

I learned so many things from MIYAVI, and he really inspired me. I want to become a better artist because of him. He gave me a lot of friendly advice and he feels like a big brother I can rely on. I hope that this song will inspire and give courage to those who are going through tough times. Everyone should be confident and live their life how they want. Please enjoy the song!

Hope everyone will love this song and support it, Let's rock the world!!

 

Comment from MIYAVI

Music can connect people across borders, across race, and across language. 


Age and career are completely irrelevant. 

I hope that Mei's fragile, beautiful, and supple voice will reach as many people as possible. I'm so happy and honored to be able to support her. 


The world is going through a difficult time, and I hope that this kind of music can connect people as we all make our way through it to a brighter future.


Let's go Mei, let's rock the world!!

Ai Higuchi Releases Special Anime Music Video of Attack on Titan Ending Song

Ai Higuchi has released a special promotional video for her song Akuma no Ko, which currently serves as the ending theme for Attack on Titan The Final Season Part 2.

 

The new animated music video features clips from the series which began airing in 2013. 

Akuma no Ko – Ai Higuchi Anime Special Ver.


Upon release on January 10, Akuma no Ko reached the top spot on the Apple Music J-Pop Ranking in 66 countries including Germany, France, Italy, and Korea. It was in the top 10 in 41 other countries.


Higuchi will release her new album 'Saiaku Saiai' on March 2. The artist will also perform live in Osaka and Tokyo in March to commemorate the album's release.

Attack on Titan The Final Season Part 2 airs Sundays at 24:05 on NHK General. It's also streaming on a number of subscription services. 

©諫山創・講談社/「進撃の巨人」The Final Season製作委員会

Vocaloid Producer Hifumi Releases Music Video for New Song 'Yoiyami'

Vocaloid producer Hifumi has been posting incredible tracks on YouTube and Niconico for years. With over 16 million YouTube views, the artist released a new song Yoiyami on January 23. A music video has also been uploaded!

Yoiyami is a ballad about the importance of continuing to find a way to live through despair. In the past, Hifumi has stated a desire to create songs that "express dirty and difficult feelings with beautiful words." The illustrations seen in the music video and on the jacket cover were provided by Mariyasu. 

Message from Hifumi

"This song's theme is the difficulty of living. Although I thought my life had been lived cautiously, when I look back, I can see so many stumbling blocks. I want to live a proper life, one with my feet firmly on the ground, but my steps are so clumsy.


Driven by vague anxiety about the future, it can sometimes feel that it will be too difficult to make it through tough times. 


I'm sure it's not uncommon for people to feel depressed and disgusted with themselves. 


Even so, I think it's incredibly important to live for the moment, even if that means getting drunk on small daily pleasures or exaggerated dreams.


Mariyasu's brilliant illustrations of a sad woman surrounded by flowers has a warm and gentle feel, so I hope everyone enjoys it! In these times of uncertainty and anxiety, I hope that my message will lighten the hearts of those who listen to this song."


Message from Mariyasu

"I was so happy to help illustrate this wonderful song. 

I couldn't help but bob my head as I drew, listening repeatedly to this dark yet warm track."

FEMM Releases Music Video for 'Lolly,' Produced by LISACHRIS

Japanese electronic dance music duo FEMM has become popular influencers around the world. Following the success of the pair's song Fxxk Boyz Get Money, the mannequin duo ushered in a new era in the female rap scene, with their debut album 'Femm-Isation' entering the Top 10 on the U.S. World Albums Billboard chart.

The pair, RiRi and LuLa, released their second album 'Tokyo Girls Anthem' in December 2021. The release featured Boys Noize, who produces music for A$AP Rocky and Frank Ocean, Danny L Harle, who produces for Charli XCX, and Star Boy, who works with DaBaby and Lil Uzi Vert. 

After dropping the music video for Mental Health feat. Yup'in, one of the most unique songs on the album, the pair have now released the video for Lolly.

Lolly (Music Video)

Produced by LISACHRIS, who has provided music for ANARCHY and ZORN, the addictive and aggressive track is surprising, considering the sweet title. The flow of native English also makes this an incredibly catchy song.

Following Peach, Come & Go, and Keep it Cool, Lolly takes place in the virtual city of New Tokyo created by Max Prentis, a London-based creator popular for his Japanimation-inspired cyberpunk illustrations.