Kingdom Anime Ending Theme 'kIng' by Emiko Suzuki Now Streaming
The anime version of Emiko Suzuki's song 'kIng' is now available on streaming services. The song is currently being used as the ending theme for the second cour of the Kingdom anime series on NHK. 
The single includes the anime-sized version of the song, as well as a karaoke version. 'kIng' was written and produced by Hiroyuki Sawano, who has written scores for many popular anime series including Blue Exorcist, Attack on Titan, Kill la Kill, and 86. 
Hisashi Abe, the character designer for Kingdom, provided the jacket art of series main character Shin. 
What do you think of the track?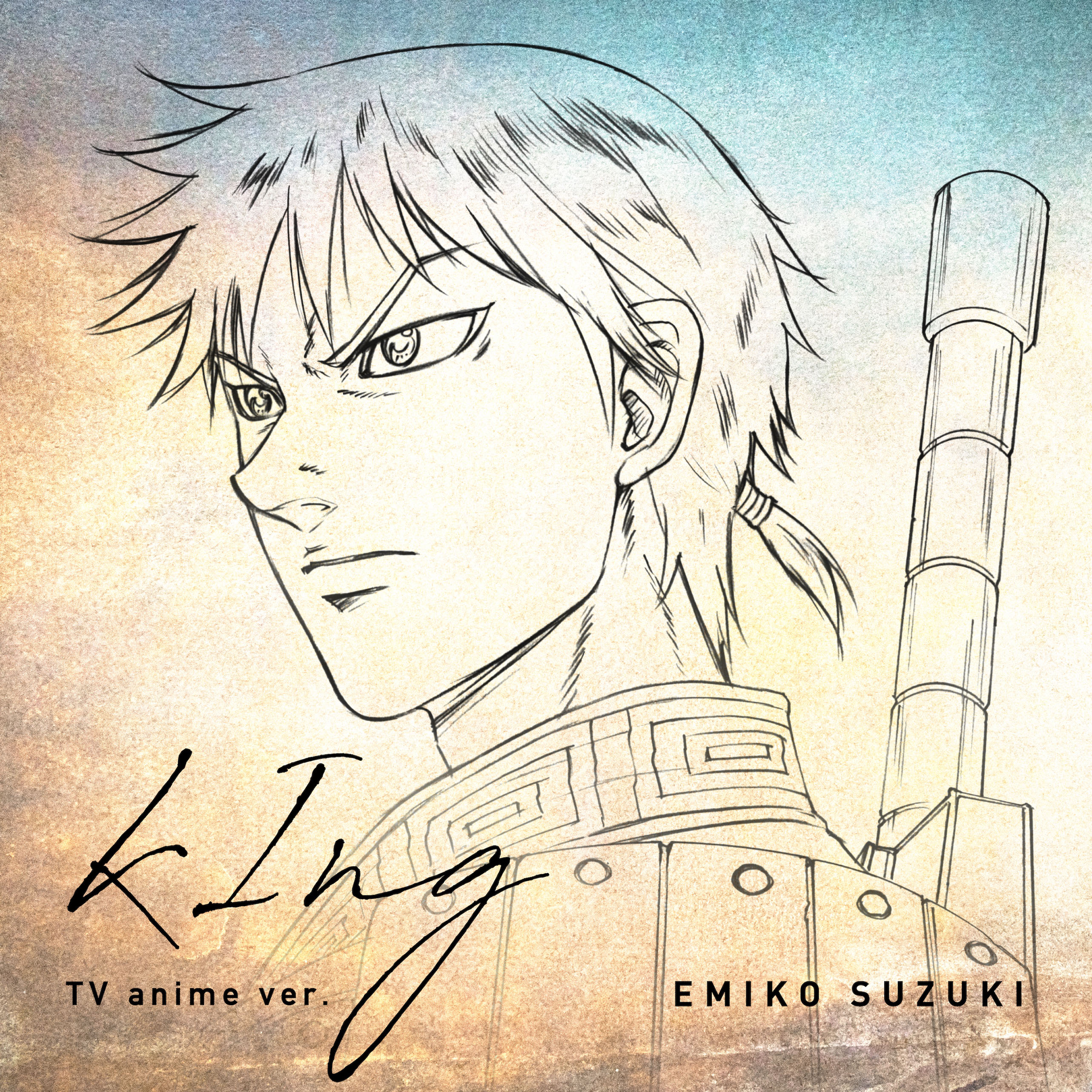 ©Yasuhisa Hara/Shueisha・Kingdom Production Committee
RELATED ENTRIES
Kingdom Anime Series Gets Collaboration with Shachihata Name 9

Shachihata is teaming up with the popular Kingdom anime series to create some themed personalized seals! These will be available to order from August 30 until September 30, 2022.

This marks the third collaboration in the 'Akiba Yabai' series, a subculture festival event promoting Japan through manga, anime, games, idols, and more. 

Customers can design an original illustrated seal combining popular characters from Kingdom and their names. A total of six types of illustrations are available, including You Kai and Wang Chang. The seal itself also features the Kingdom logo.

 

Those interested can order online via PC or mobile phone. Products are scheduled to be shipped in December 2022.

Why not choose your favorite character and snag your own personalized seal?

Information

Name 9 Kingdom

Order Period: August 30 – September 30, 2022
*The deadline to submit your design specifications is July 31, 2022. 
Sales Page: https://www.shachihata.jp/kingdom.html

Kingdom Anime Opening Theme Unit zonji to Release First CD

The up-and-coming music unit zonji was selected to perform the opening theme for the popular anime series Kingdom, which began airing its second cour on July 9, 2022.

The opening theme song geki will be physically released on September 7, 2022.

 

zonji is a home-based music unit consisting of Shoya Abe (Vo./Producer) and Takuma Nozawa (Gt./Designer). The group began its activities in 2020 with the slogan 'music for all moods.' With a mix of catchy melodies and a contemporary R&B sound, the pair have been releasing a ton of incredible tracks all made in their home homes.

 

The new song geki, written by zonji for the Kingdom anime series, is based on the theme of 'proclamation,' a statement of one's most powerful beliefs.

 

The pair's first CD will include geki and two other tracks.

 

The song geki will be streaming on July 20, so be sure to give it a listen.

©原泰久/集英社・キングダム製作委員会

Misaki to Perform 'Kingdom' Anime Ending Theme

Singer-songwriter Misaki, from the music creative agency 'muchoo,' will perform the ending theme for the popular anime series Kingdom! The fourth series premiered on NHK General on April 9. A new arc will begin in July. 

Misaki is a 19-year-old singer-songwriter from Nagasaki Prefecture. The artist has amassed a following on TikTok with over 450,000 followers despite having never shown her face. Her gentle and fragile voice has gained her fans not only in Japan but around the world.

 

The new ending theme, Believe, was written with the up-and-coming rock band Hiyorinoame. With a different sound than most of her previous tracks, the song was made with Kingdom's main character Shin in mind.

Comment from Misaki

I'm not someone who's typically involved in anime or manga, but I had heard of Kingdom. When I heard that I would be performing the ending theme, I was so excited I couldn't even react!

This is really a dream come true–it's something that feels way too good to be true. Thank you so much!

 

I didn't worry too much about the lyrics when I wrote the song–instead, I just imagined Shin and how he always moves forward, no matter what.

Being a girl, I had never written lyrics so masculine before, with words like ore and ora*! (These are both ways to refer to oneself in Japanese, but are only used by men.) 

I think I was able to express Shin's personality in this track, and I'll be happy if you can picture him in your mind when you're listening to this song!

I hope this song resonates with as many people as possible.

©原泰久/集英社・キングダム製作委員会

Information

Kingdom Series 4

Airing Saturdays at 24:00

*The broadcast time is subject to change.

Official Site: https://kingdom-anime.com

New Unit zonji to Perform 'Kingdom' Anime Opening Theme

The up-and-coming music unit zonji will perform the new opening theme for the popular anime series Kingdom! The song will be heard when the second cour premieres on July 9, 2022.

 

zonji is a home-based music unit consisting of Shoya Abe (Vo./Producer) and Takuma Nozawa (Gt./Designer).

The group began its activities in 2020 with the slogan 'music for all moods.' With a mix of catchy melodies and a contemporary R&B sound, the pair have been releasing a ton of incredible tracks all made in their home homes.

 

The new song geki, written by zonji for the Kingdom anime series, is based on the theme of 'proclamation,' a statement of one's most powerful beliefs. Fans of the anime series will understand how this theme plays into the show, and the catchy track will be available as a digital single on July 20. 

 

Comment from Shoya Abe (Vo./Producer)

In Kingdom, Shin speaks loudly and earnestly of a dream that is unlikely to come true. His message of loneliness, persistence, and hope really inspired me, as I also struggled for years without knowing if my work would pay off.

When I started writing geki, I thought about all the important people I've met in my life. Just as Ou Ki and Hyou live on in Shin's heart, I live each day with these people in my soul.

You are not alone. To all of the dreamers out there who feel like they're fighting alone, I want you to listen to geki. 

 

Comment from Takuma Nozawa (Gt./Designer) 

This is like a dream.

 

I've been following Kingdom since a friend recommended it to me in college. I've felt so many emotions through this work–elation that bubbled up from the depths of my soul, despair that made me want to give up, excitement to the point of shaking. It has also inspired me to keep going when I'm feeling hopeless.

 

I'm not as strong as Shin, but I still managed to continue with my music and now I've been given this incredible opportunity. I'm honored to be a part of a work that has had such an impact on me. I can't wait until the next season of the anime.

 

©原泰久/集英社・キングダム製作委員会

Information

geki – zonji (Digital Single)

Release Date: July 20, 2022

Kingdom Series 4 

Airing Saturdays at 24:00

Official Site: https://kingdom-anime.com

Music Video for Kingdom Season 4 Ending Theme 'Dazzling' by Haku to Premiere on YouTube

The music video for Haku's Dazzling, the ending theme for the fourth season of the Kingdom anime series, will premiere in full on April 30, 2022 at 24:30.

 

The teaser highlights many of Haku's past works, so be sure to give it a watch!

The short version of the music video, which was released after the first episode of the new season, has been praised by fans from around the world. Many listeners have been seen on social media quoting certain lines that remind them of scenes from Kingdom. The song is available to stream now, ahead of a physical release in June.

The fourth season of Kingdom debuted in Japan on April 9, 2022. The full music video for Dazzling will debut on YouTube immediately following the premiere of episode 4 on April 30.

Premiere Link

Haku Comment                              

After heeding others' wills, each step becomes heavier.

No matter the pain we feel, we have the faith to never stop moving forward.

I wrote this song hoping it would inspire someone who is struggling to keep going.

The music video features incredibly powerful and realistic illustrations by Icochiya.

The video creator Kairi created something that will make you feel like you've stepped into the MV.

I hope that this piece will bring to mind many of the series' memorable scenes and lines. 

Enjoy this song along with the show!

Kingdom Season 4 Ending Theme 'FICTION' by Haku Now Streaming

Haku's FICTION, the ending theme for the fourth season of the Kingdom anime series, is now available to stream on all music platforms.

Beginning a music career on YouTube in 2020, Haku is known for writing, composing, arranging, and singing her songs all on her own. Heavily inspired by popular anime and manga characters, she brings her own interpretation of these characters into her music, with many saying that her songs feel like 'spin-offs of original works.'

The song FICTION was inspired by a single piece of art by Nukui Ondori, an up-and-coming manga artist active on the Shonen Jump+ app. The illustration was part PROJECT COMUC, a collaborative event between Avex and Shueisha to blend the worlds of manga and music.

With such a unique source of inspiration, the track doesn't focus on any particular story. Haku hopes that listeners can imagine their own story as they listen to this extremely original song.

Haku Comment


"This song was entirely inspired by a single illustration drawn by Nukui Ondori. 

'Even if my existence is a sham, I want my emotions to be real.' That's what I was thinking as I wrote this song–the hopes, the anguish, the struggles of someone living a lie.

I hope that the lyrics and the arrangement of this song paint a vivid picture in your mind. Please enjoy building your own story as much as I did!" 

Kingdom Season 4 Ending Theme to be Performed by Haku

Known for her popular anime and manga-inspired songs, singer-songwriter Haku will provide the ending theme for the Season 4 of Kingdom. The new season will begin airing on NHK General on April 9, 2022.

Haku is known for writing, composing, arranging, and singing her songs all on her own. Heavily inspired by popular anime and manga characters, she brings her own interpretation of these characters into her music, with many saying that her songs feel like 'spin-offs of original works.' A newcomer to the music world, Haku is incredibly excited to be contributing to such a popular series.

The new song, Genyo (Dazzling) was inspired by the main character Shin, expressing his straightforward way of living his life and his unshakeable ambition. The song blends modern guitar with the traditional Chinese erhu. 

The newly released teaser visual for Kingdom Season 4 shows Cheng Jiao, Ying Zheng's ousted brother, wearing a sinister smile. A second live-action film has been announced and will release this summer!

Comment from Haku

~My Thoughts on Genyo (Dazzling)~

This song is based on Shin and the Hi Shin Army, who are carrying the dreams of so many people on their backs. 

The title of the song reflects that their powerful intentions will always faithfully shine as they march ever forward.

I wrote the lyrics, the music, and the arrangement, and sang it with great care, pouring my love for Kingdom into it. I hope that you'll enjoy it along with the anime series!

©原泰久/集英社・キングダム製作委員会

Information

Kingdom Season 4

Airing April 9 at 24:00 on NHK General
*Schedule subject to change.
Official Site: https://kingdom-anime.com 

BiSH Releases Kingdom Anime Opening Theme 'STACKiNG' Music Video

Japanese idol group BiSH, often called the 'punk band without instruments,' released the full music video for their new song STACKiNG on Monday. The track will feature as the second opening theme for the anime series Kingdom from July 18.

BiSH / STACKiNG [OFFiCiAL ViDEO]

The song is also available to listen to on major music streaming and download services. It will feature on their upcoming 4th album GOiNG TO DESTRUCTiON set to release on August 4.

Kingdom Anime Collaborates With Firsthand On Exclusive Merchandise

Creative and sustainable concept store Firsthand released a collection of items in collaboration on Wednesday (January 20) with the TV anime series Kingdom, which is set to begin airing its third season this April, and Japanese artist Kosuke Kawamura. The items are available to buy both online in Japan and at a pop-up store at OPEN STUDIO inside FREAK'S STORE Shibuya.

Firsthand is a Japanese brand centred on upcycling and sustainable production. Fans of the ongoing anime series can get their hands on a range of clothing items, phone cases, and more. If they head to OPEN STUDIO they'll also find an illustration exhibit, a photo spot, and more. The gallery is also selling posters signed by Kosuke Kawamura.

Will you be watching Season 3 of Kingdom this spring?

Information

Kingdom x Firsthand x Kosuke Kawamura Pop-Up Shop
Running: January 20, 2021 – January 25, 2021
Location: OPEN STUDIO, 1-31-1 Jinnan, Shibuya, Tokyo

Opening Hours: 10:00-20:00
TEL : 03-6415-7728

Where to buy the merchandise collection:
・OPEN STUDIO (Limited time January 20th-25th)
・Firsthand RAYARD MIYASHITA PARK (From January 26th)
・FREAK'S STORE ONLINE (From January 24th) @ http://www.freaksstore.com/
・ZOZOTOWN (From January 28th) @ https://zozo.jp/shop/freaksstore/

Event Details: https://firsthand.jp/news/3609/

BiSH Releases Music Video For Kingdom Anime's Opening Theme 'TOMORROW'

Japanese idol group BiSH have just released the music video for their new song TOMORROW which serves as the opening theme for the ongoing TV anime series Kingdom.

Since their 2016 debut, BiSH have been known as "the punk band without instruments," but in this music video directed by Kentaro Osawa we see the members wielding instruments in a heated performance.

BiSH – "TOMORROW" [OFFiCiAL ViDEO]

The band also unveiled a new artist photo on their official website and Twitter account. TOMORROW was released on digital music services on April 13, 2020 and comes as the first new song from the group since their 6th single KiND PEOPLE/Rhythm last November.

BiSH Release Kingdom Anime Opening Theme Along With An Exciting Video on Twitter

At midnight on April 12, 2020, Japanese "punk band without instruments" BiSH released their new song TOMORROW on a number of streaming services including Apple Music, Spotify, and iTunes. The new song serves as the anime opening theme for the episodes of Kingdom which started broadcasting in April. 

TOMORROW is their latest single since KiND PEOPLE/ Rhythm which was released last year in November. 

BiSH also unveiled a teaser video for TOMORROW on their official Twitter. The video shows all the band members engaging in a hilarious video call from their homes.

#少し意味のある動画 pic.twitter.com/nTLrm2iiST

— BiSHオフィシャル (@BiSHidol) April 12, 2020

Whether you're a BiSH fan or a Kingdom fan, you just have to check out this song. 

BiSH to Perform 'Kingdom' Anime's Opening Theme 'TOMORROW'

BiSHーthe Japanese punk band with no instrumentsーwill perform the opening theme TOMORROW for the upcoming TV anime series Kingdom which will premiere on NHK General TV on April 5, 2020.

Kingdom is a manga series written and illustrated by Yasuhisa Hara. Serialised in Weekly Shonen Jump since January 2006, it has shipped over 47 million copies and even received a hit live-action film adaptation.



The upcoming third season of the anime series will cover the manga's Alliance Arc which features what is known for having the biggest fight in Kingdom. A new promotional video was released which features the opening theme song TOMORROW by BiSH.

©Yasuhisa Hara/Shueisha・Kingdom Production Committee

BiSH member Sentochihiro Chicchi said: "We are truly honoured to be responsible for the opening theme for Kingdom, an anime series loved by the world and overflowing with charm. We as a group were energised by the growth of the characters. They are strong and noble, with no friends or allies but with rich personalities. Although the times we and they live in are different, we are warriors who rush forward recklessly in order to survive. The characters are all super cool! BiSH will sing with all we have too. Without fail."