【Tokyo Stroll】A romantic aquarium date with Yutaro at "Aqua Park Shinagawa" ♡
Shinagawa Station is an easy place to get to as it's connected to many other stations and is accessible from numerous other locations. It's a familiar place to many tourists inside and outside Japan as not only does the Tōkaidō Shinkansen run through it, but the Keikyu Line does too which goes all the way through Haneda Airport and Narita Airport.
Today, we'll be heading to a special little place at Shinagawa Station for a date with Yutaro♡
You may think your eyes are deceiving you and be surprised to find that there's an aquarium amongst all the big buildings and commercial facilities around this area. Located 2-minutes' walk away from the Takanawa Exit of Shinagawa Station, upon a hill, is "Aqua Park Shinagawa".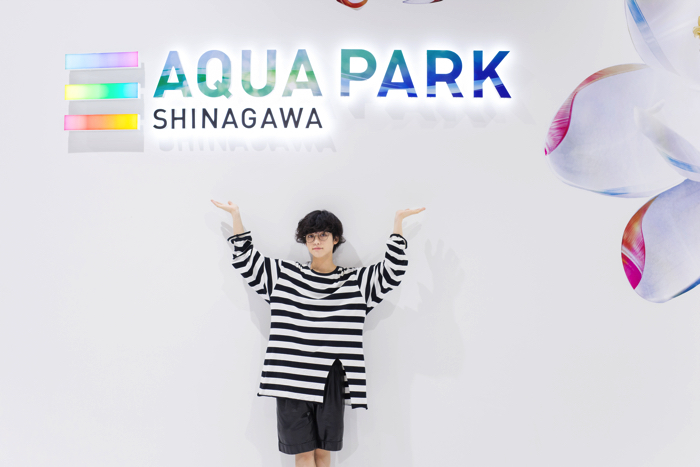 It's an aquatic paradise that offers a unique show of enchanting illuminations, sounds and an incredible use of technology. The moment we stepped foot inside, we were immediately greeted by fish and water tanks aplenty, lit up in a faint light.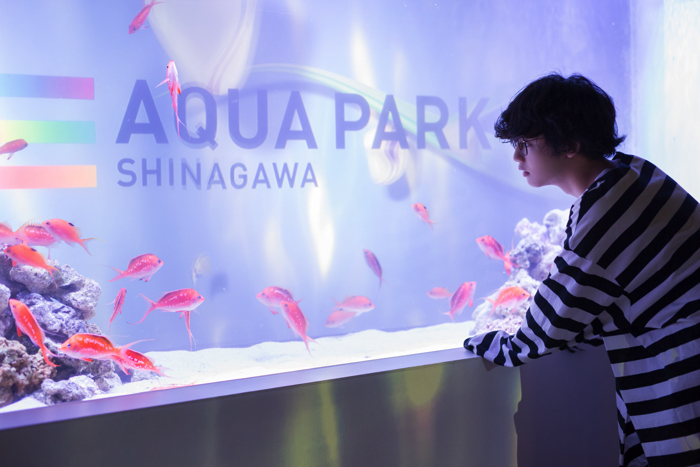 As we went further in, the first thing to come into sight was the "Dolphin Party" merry-go-round (¥500) which had all kinds of aquatic animals that you could ride on. Sea otters, sea lions, shellfish and more—it really makes you feel like you're under the sea.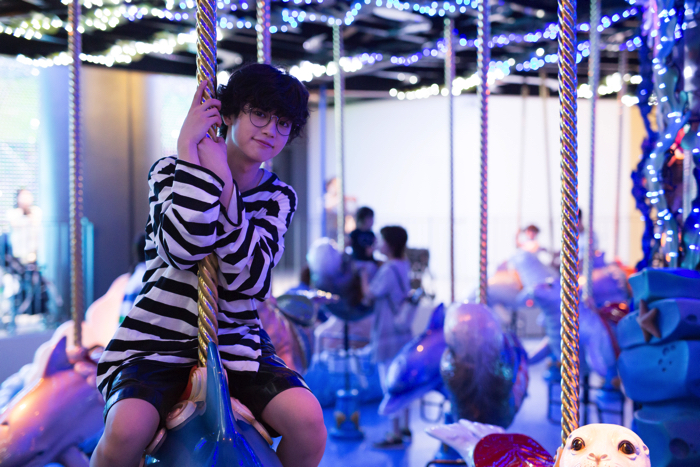 "I want the dolphin!"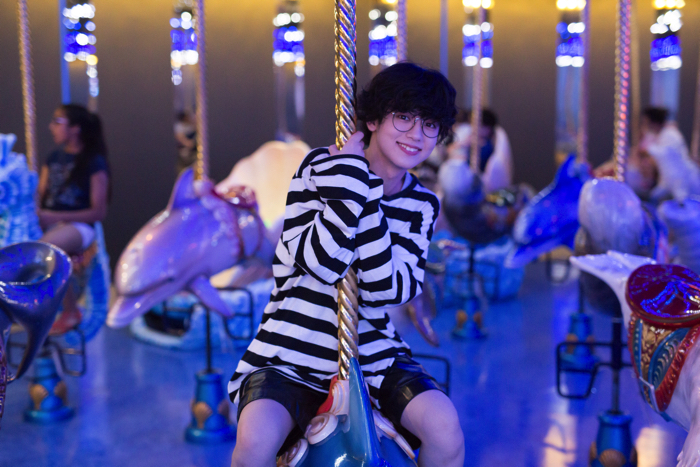 "It's been a while since I've ridden on a merry-go-round"
We got off the Dolphin Party and headed to the next zone, past the twinkling, lit-up wall, over to the "Interactive Live Area".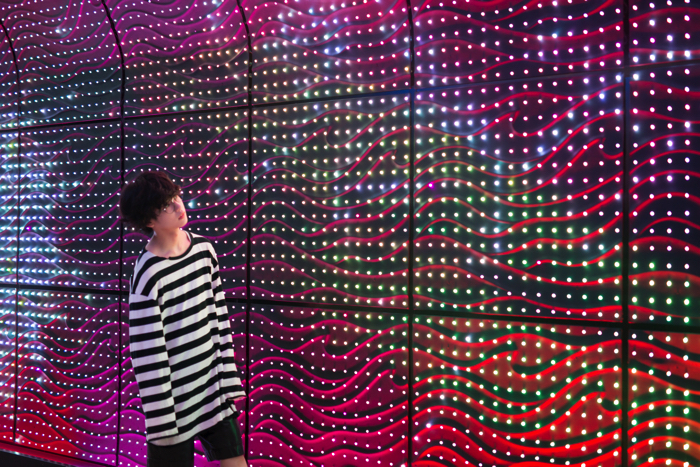 This place has interactive touch panel fish tanks!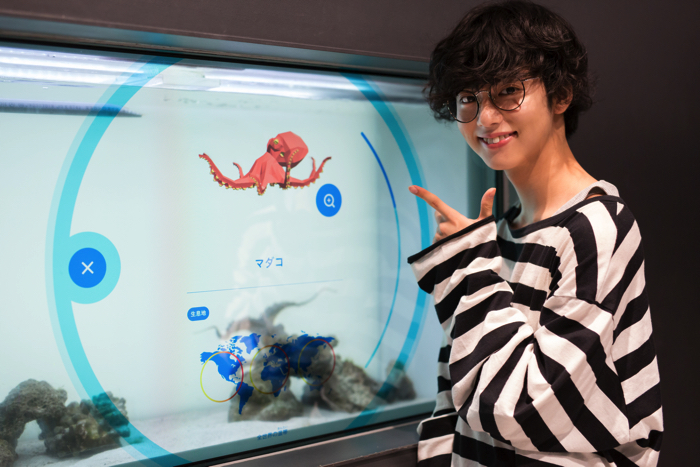 There are real fish displayed inside, but when you press your finger to the screen digital fish appear and begin to swim in unison. You can also see the real fishes' habitats. But we didn't just watch the fish. The touch panels actually teach you a lot about the fish while you play on them.
Each display is different for each touch panel, so make sure to press them all♪
"This tank is amazing!!"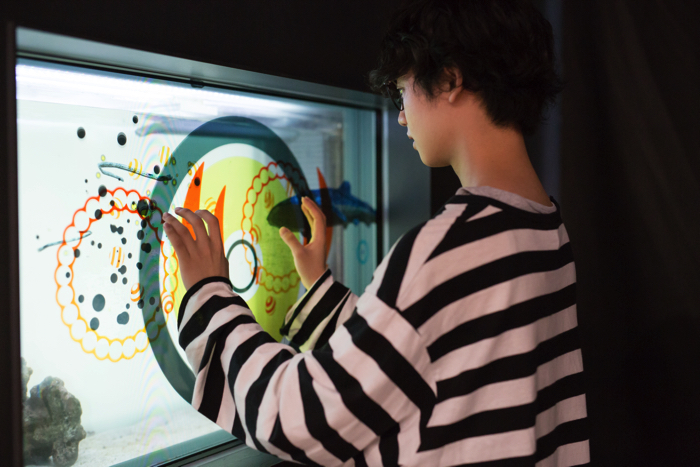 The next area was called "Colors".
It's filled with gorgeous displays of fish and flowers, both decorations and projections. When we went, they were having their first summer event (running until July 2nd). It's a collaboration between the creative company "NAKED," and the theme was "flowers".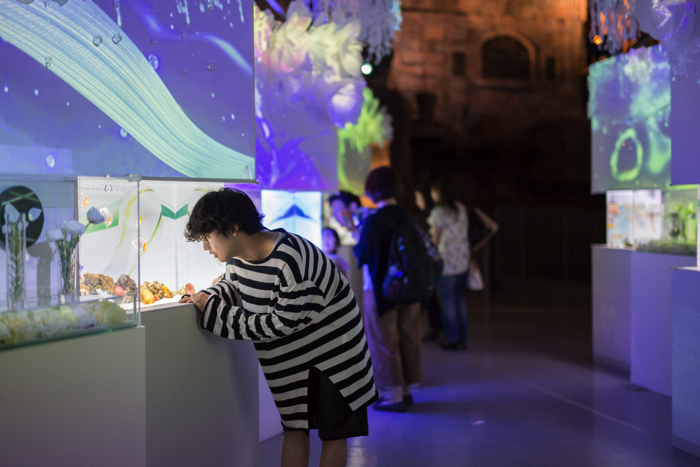 We heard that the next one will begin on July 8th when they will display digital art of fireworks. I wonder if Yutaro will come with me again…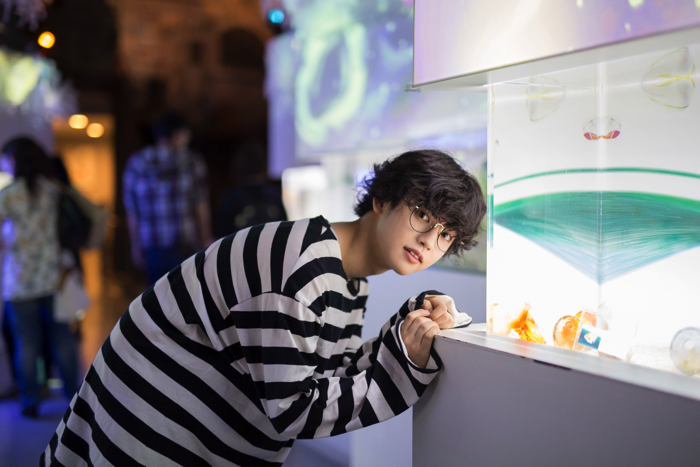 >>next page
RELATED ENTRIES
Upcoming Film 'We Are Not Alone,' Starring Yutaro, to Release in December

The popular actor Yutaro will star in the upcoming film We Are Not Alone, scheduled to release in theaters in December 2022.

The film promises to be a unique take on the world of today, focusing heavily on justice, greed, and egoism. It will be directed by Tomoaki Kaneko and produced by yucca. 


The film will ruthlessly depict the contrast between the darkness of adults and today's youth. It will take place in a desolate shopping district and follow the main character, Shun Miyata (Yutaro), who is not good at interacting with others, and who works part-time at a bento shop. More information will be announced on the official film website soon, so keep an eye out!

Comment from Tomoaki Kaneko (Director)


"What are we living for? Everyone has their own story,  their own reasons, and their own justifications. It may seem easy to distinguish between right and wrong, but everyone has their own beliefs, and some of those thoughts may be distorted. Rather than immediately labeling someone as 'evil,' the world might be made a little better if we can imagine why people do what they do. 

This film is set in Tokyo, but the story doesn't depict the standard 'positive, glamorous, fun' version of Tokyo, instead telling a more somber and lonely story. The actors expressed themselves in such a powerful way, and I was impressed by the way they took on these challenging roles. 

This story may not be upbeat, but it can be perceived in so many different ways depending on the viewer. I hope that the positivity in the film will come through and inspire everyone to see things from a different angle."


Comment from Yutaro

"I'm Yutaro, and I play Shun Miyata.

I didn't expect to be cast in the lead role after the audition, so the pressure was immediately on! But when I read the script, I was told by the director and staff that I was the only person who could play the part of Shun. I was immediately determined to do my best. 

The film tells the story of a young man who is slowly moving towards the future and searching for his own right answer. Is love what he imagined it to be, and are the righteous words he's been saying really righteous at all? I hope you'll come to see the film in theaters and connect with it in some way. We are not alone."

Summary

Shun Miyata isn't good at interacting with people. Submitting his work to tons of publishers to fulfill his dream of becoming a novelist, the response isn't great. Needing a change of pace, he moves to Tokyo and starts working part-time at a bento shop. The friendly and beautiful shopkeeper Yuriko Kodama and another part-time worker Yuka Kosaka welcome him to the city, and his new life in Tokyo seems to be off to a good start.


But happiness doesn't always last.



One day, Shun and Yuka discover Yuriko's secret–a brutal plan involving the entire shopping district and the local chairman Saiki.  Agonizing over their inability to take any action, Shun and Yuka begin to grow closer.

What are these two young people feeling? An ordinary landscape can hold unexpected darkness, and this work will bring those fears to light. 

Shinagawa Prince Hotel Offers Leo Leonni's Friends-Themed Plan as Part of Italy Fair

The 'Buono! Buono! ITALIA Fair 2022' will be held at 10 Prince Hotels in the Tokyo metropolitan area, and to celebrate, Shinagawa Prince Hotel is offering a room inspired by the artist Leo Leonni until March 31, 2022!

Leo Lionni

Lionni's Most Famous Works, 'Frederick' & 'Swimmy'

Leo Lionni's Friends Goods

Maxell Aqua Park Shinagawa

Restaurant Offerings at a Glance

Coffee Lounge Mauna Kea

Leo Lionni's Friends Parfait

Leo Lionni's Friends Acai Bowl

Leo Lionni's World of Friends Icing Cookies

Frederick's 'Pan'

Leo Lionni was a beloved illustrator of children's books from Italy. His most famous works, 'Swimmy' and 'Frederick,' have been published in Japanese language textbooks and are well known throughout Japan.

 

During the collaboration, the coffee lounge Mauna Kea will be decorated with art by Lionni and will offer savory and sweet items using tableware inspired by Leo Lionni's Friends, the many characters he created during his life. Those opting for the Lionni plan will get some additional merchandise to take home!

© 2022 by Blueandyellow,LLC Licensed by Cosmo Merchandising

Grand Central Oyster Bar & Restaurant Shinagawa Starts Second Collaboration with Banana Fish

Grand Central Oyster Bar & Restaurant is one of New York's most established seafood restaurants, with over 100 years of history. The Shinagawa, Tokyo location will begin its second collaboration with the popular anime series Banana Fish from February 14 until May 13, 2022, and guests can enjoy food and drinks inspired by Ash, Eiji, and Shorter. Special merchandise will also be available and reservations are now open. 

Manhattan Set (Ash's Course)

Grand Central Station Set (Eiji's Course)

Chinatown Set (Shorter's Course) 

Wine Bottle Design

Collaboration Merchandise

Original Acrylic Stand

Original Sticker

 Original Pin – Ash Ver.

 Original Pin – Eiji Ver.

 Original Pin – Shorter Ver.

Original Coaster

The Banana Fish anime series aired in 2018, and the first collaboration with Grand Central started with Ash Lynx and Max Lobo having dinner at the popular seafood restaurant while in their home city of New York. For this second collaboration, three new courses are available based on Ash, Eiji, and Shorter. These menu items come with a set of original goods featuring newly-drawn illustrations of the characters, and three cocktails (either alcoholic or non-alcoholic) will also be available. Two types of wine–Chablis and Sauvignon Blanc–will be available in a special bottle available for purchase. Those who order a cocktail will receive an original coaster.

YUTARO Collaborates With Korean Brand DOMINANT at 60%

Japanese actor and model Yutaro is collaborating with South Korean street brand DOMINANT with a special collection that's now available worldwide online at 60% – SIXTYPERCENT until July 7.

YUTARO x DOMINANT Collaboration T-Shirts

Red/Blue: ¥6,400 Each (Tax & Shipping Included)

YUTARO × DOMINANT Collaboration T-Shirts & Half Pants Setup

Red/Blue: ¥14,100 Each (Tax & Shipping Included)

YUTARO has always been a huge fan of South Korean fashion, and this is his first time collaborating with a brand from the country, creating a collection entirely from scratch. The items use a hippopotamus motif, which is YUTARO's favourite animal, wearing his trademark glasses. The t-shirts come with either red or blue neck and sleeve edges, and the half pants are made of a high quality material with an emphasis on the silhouette.

Baumkuchen Served Hot at Your Home Baked Up by Nenrinya

Japanese bakery and confectionery company Nenrinya is releasing a takeout baumkuchen dessert which can be warmed up at home. The baumkuchen was released at Nenrinya's JR Shinagawa Station branch on Monday (February 1) and will be released at their Daimaru Tokyo and Sogo Yokohama branches on February 16.

Hot Baum Shikkarime | ¥432 (Tax Included)

To heat up, you simply microwave it for 30 seconds at 500W. This leaves the inside moist and adds a crunch to the outside, all while helping to emit the sumptuous smell of that butter. It goes perfect with a cup of coffee, tea, or milk. Customise by adding some whipped cream or pour some melted chocolate over.

Information

Hot Baum Shikkarime

Japanese Product Name: ホットバーム しっかり芽

Nenrinya JR Shinagawa Station

Running: February 1, 2021 – April 30, 2021

*Serving from 12:00pm at this branch

Nenrinya Daimaru Tokyo & Nenrinya Sogo Yokohama

Running: February 26, 2021 – February 28, 2021

Nenrinya Official Website: https://www.nenrinya.jp/

PETALS TOKYO: Japan's First Floating Hotel Opens For Business

PETALS TOKYO opened on November 9, 2020 as Japan's first 'floating hotel' on the Tennozu Canal in Shinagawa, Tokyo.

The Tennozu area is connected to Shinagawa-juku, a station famous for its Edo history, which has resulted in a fusion of both traditional and contemporary culture. Situated next to the water, it's a location rich with contemporary art. It's an easy place to reach from Haneda Airport which has granted it an increase in visitors over the years.

PETALS TOKYO is a 'cottage-type' hotel facility situated on the Tennozu Canal. Telephone poles have been set up underground which has given it the benefit of both being within the walking distance of Shinagawa Station and the busy city while enjoying a more natural look. Guest rooms too are loaded with amenities with naturally-derived ingredients and other environmentally-friendly aspects.

PETALS TOKYO and its four multi-coloured boats

Tennozu is a warehouse district that has transformed into an art city. From here emerges PETALS TOKYO, Japan's first floating boat hotel. It consists of four multi-coloured hotel boats anchored beside T-LOTUS M, an event venue on the Tennozu Canal. Its name PETALS TOKYO is inspired by the imagery of lotus petals floating on the water.

Like the houseboats in Amsterdam, which was developed as a city of canals, each of the four boats has been meticulously handcrafted with its own individual design concept. The interiors are all unique and boast a premium feel. Located at a junction between the river and the sea, this canal connects Tokyo, one of the largest cities in Asia, to the world beyond the sea.

If you're looking for a place to stay in Tokyo but don't want to be in the hustle and bustle of the big city, then consider booking with PETALS TOKYO for a stay on the water.

Information

PETALS TOKYO
Address: T-LOTUS 2-1 Higashi-Shinagawa, Shinagawa-ku, Tokyo
Access:
7 minute walk from Tokyo Waterfront Area Rapid Transit Rinkai Line "Tennoz Isle Station" B Exit
8 minute walk from Tokyo Monorail Haneda Airport Line "Tennoz Isle Station" Central Exit

Bookings/Official Website: https://www.terrada.co.jp/en/service/space/petals-tokyo/
TEL: 050-5491-2681 (10:00-17:00)

See Dolphins and Jellyfish in Special Night Time Christmas Performance at Maxell Aqua Park Shinagawa

Maxell Aqua Park Shinagawa has announced that its Christmas event for this year, "Bright Christmas Party," will run from November 7 to December 25.

Maxell Aqua Park Shinagawa is known for its breathtaking events and performances which incorporate digital art using the latest in technology. This Christmas, the aquarium is holding a special night time version of their popular dolphin performance in collaboration with Japanese creative company NAKED, INC. who have created a kaleidoscope of beautiful lights and visuals to deliver a Christmas party that visitors won't soon forget.

Bright Christmas Party: Dolphin performance (Night Version) 

The dolphins will deliver a fantastic Christmas time surrounded by the starry sky with lights, sounds, visuals, and of course the water.

[Weekdays] 18:00

[Weekends] 17:30/19:00

[Christmas Eve & Day] 17:30/19:00

Jellyfish Rumble

The ceiling and walls are all mirrors and house seven towering fish tanks with a variety of jellyfish in them like the moon jelly and Indonesian sea nettle. Visitors can expect to be transported into another world with vivid blue and yellow lights that create an image reminiscent of the stars and night sky.

Christmas beverages

The Coral Cafe Bar will be serving up three drinks and a dessert which are also based on the Christmas starry night sky. These can be drank and eaten around the aquarium so you can enjoy the dolphin performance and other exhibits while you tuck in.

Serving: November 1, 2020 – December 25, 2020

Information

Maxell Aqua Park Shinagawa

Address: 4-10-30 Takanawa, Minato-ku, Tokyo (Inside Shinagawa Prince Hotel)

Official site: www.aqua-park.jp

Tokyo Stroll: The Café That You Want to Visit to See Someone #14 – 'Kayaba Coffee' in Yanaka

In this edition of The Café That You Want to Visit to See Someone, I visited Kayaba Coffee, a coffee shop in Yanaka, Tokyo, which is a perfect example of the old and traditional shitamachi neighbourhoods.

Kayaba Coffee is just a 10-minute walk from both Nezu Station and Nippori Station.


This is a place I've visited in my private time out of work and I'm always excited to go. Kayaba Coffee was established in 1938, and actually closed in 2006. But due to public demand, the cafe reopened just two years later in 2008. It's a popular coffee shop loved by people of all generations.

Time to head on in.

The first floor houses the counter and table seats, while the seating on the second floor is traditional zashiki style on tatami flooring. Although it's a cafe, you I feel so relaxed in there that it's like I'm visiting my grandma's house. The sun shines through the big windows, making you all warm and want to take a nap.

I ordered their super popular egg sandwich! The menu was changed in May this year, and a new and improved version of their egg sandwich was put on there. It's made using sourdough bread from VANER, a local bakery in Uenosakuragi not far from the cafe.


Breakfast Menu – Egg Sandwich | ¥1,000

The chewy, sour bread is the perfect combination with the fluffy eggs.

Lemon Squash | ¥600

The lemon squash has a cinnamon aftertaste. Everything on the menu is made with love and perfection; before I realised it, I was hooked on going there.

Strawberry Shaved Ice | ¥800

This was my first shaved ice of the year! I went with the classic strawberry flavour. The syrup is super juicy and nearly collapsed the fluffy shaved ice the moment I put it on. It has a syrupy texture and the strawberry juice has a sweet and sour kick that's just simply delightful♡

And you can make it even sweeter by pouring over your desired amount of condensed milk. It was really tasty.


Kayaba Coffee is the same as it was back in the day, and continues to be loved dearly. I think even people who visit it for the first time will feel a sense of nostalgia. If you have a place you can go to relax on bad days or when you're feeling down, it's sure to give you the strength to work hard again. This cafe is a wonderful place that's close to people's hearts.

I want to visit there again already.

Writer/Model: Ema Tanioku
Photographer: Haruka Yamamoto
Design: Yuko Takayama (ASOBISYSTEM)

Translator: Joshua Kitosi-Isanga

Information

Kabaya Coffee
Address: 6-1-29 Yanaka, Taito-ku, Tokyo

Opening Hours: [Tue-Fri] 8:00-18:00 (Last Orders 17:30) / [Weekends] 8:00-19:00 (Last Orders 18:30)

Closed: Mondays

Tokyo Stroll: The Café That You Want to Visit to See Someone #13 – 'Sepia' in Shibamata

In this edition of The Café That You Want to Visit to See Someone, I visited Sepia in Shibamata, a Showa-retro style cafe which I've always wanted to visit.

The cafe is just a 2-minute stroll from Shibamata Station which appears in the Japanese film Otoko wa Tsurai yo. The walk along the road that leads to Sepia, which is nearby the Buddhist temple Shibamata Taishakuten, is a pleasant one. Tokyo is a city consistently perceived as one that is cutting-edge in every aspect, but what I felt from each and every building surrounding Shibamata Station was a kind of warmth that you feel when something has history to it.

It's been seven years since I came to Tokyo. Visiting Shibamata made me me realised how many places there are which I still don't know about. It invigorated me. As my mind wandered with these pondering thoughts, I finally spotted the sign outside the cafe, and it sure is a cute one!

The moment I stepped inside, I stood, my mouth agape, and looked at my surroundings. It's the first time I've entered such a bright, shining cafe. It was littered with characters I've never seen before, manga, magazines, and more.

When you hear the word kira kira ("glitter," "sparkle"), the first thing that comes to mind for a lot of people is probably Harajuku and the Harajuku style, but Sepia's version of kira kira is a nostalgic one betwixt 1965 and 1975 during the Showa Period. The cafe is incredibly delicate in every spot and corner, like I'm looking inside some grand treasure chest.

The owner of Sepia is Kiyoko Hasezawa. The cafe gets its name from the manga Milky Sepia Monogatari by Ako Mutsu. Ms. Hasezawa said that she wanted to bring to life the world of the manga she loved. The cafe is full of her dreams and is enjoyed by everyone, both children and adults alike.

The cafe menu is even inspired by the food that appears in the Milky Sepia Monogatari manga. The hard pudding I had, which combined caramel sauce and cream, was an absolute delight.

Homemade Showa Pudding & Cream Soda Set: ¥1,200

If we're talking cafes, then you can't go wrong with cream soda. The cream soda served at Sepia comes in seven different flavours and colours: melon, Blue Hawaii, strawberry, lemon, peach, grape, and orange. I was spoilt for choice on which to go for, but in the end I went with the pink-coloured strawberry. It had a sweet flavour and was really delicious.

Strawberry Cream Soda: ¥750

I devoured the hotcakes too. The pastry was so fluffy and tasty – I could have eaten a hundred of them. The second one I ate with honey.

Hotcakes: ¥600


At the back of the cafe, they also have the "Candy Candy Museum." There's a personal collection of items from Candy H Milky, a female fashion enthusiastic who used to be a customer at Sepia. There's a photo spot for snapping a photo in the cafe too.

It's a great time getting to go and look at the displays after eating. I recommend going to see the collection yourself with your own eyes. Entry to the museum is ¥300.

There's a tearoom up on the second floor which has a nostalgic vibe to it. I felt warm and relaxed, like I'd been transported to my grandma's house.

Humans can't travel back in time, but if we look after mementos properly, we can go back there in our minds and memories. Sepia, a place that continues to be cherished and loved, is everybody's treasure trove.

My oh my, I really want to go back there again.

Writer/Model:Ema Tanioku
Photographer:Haruka Yamamoto
Design:Yuko Takayama(ASOBISYSTEM)

Information

Sepia
Address: 7-4-11 Shibamata, Katsushika-ku, Tokyo
Days Open: Fridays, Saturdays, Mondays
Business Hours: 12:00-17:00 (Last Orders 16:30)
For the latest information, visit Sepia's official Twitter page @sepia_mama

Stay Home With Yutaro: Laugh, Learn, & Do All The Things You Want To Do During the Lockdown

Here at MOSHI MOSHI NIPPON, we post news and information about Japan in six languages. Our aim is to deliver a variety of content related to Japan for those who love and enjoy Japanese culture.

Right now, people across the globe are in self-isolation as a result of the coronavirus pandemic. The same goes for Japan too, so we've taken this opportunity to create a new series on the website to show how we're spending time at home here in Japan. The future is yet uncertain, and we hope for normality to return for all of us soon. We created a new articles series called Stay Home with which we hope to take your mind off the situation, even for just a little bit, to help you feel calmer. It might give you some tips on what you can do while spending time at home.

Today, Japanese actor and model Yutaro shares with us how he has been spending his time at home.

1: Gaming




I was recently given a Switch Lite as part of a TV show project, so I've been enjoying some Animal Crossing at my leisure. Right now, I'm addicted to farming iron ore. I'm Team Tsubukichi, by the way.

2: Music

While I do enjoy listening to my music loud on speakers when I'm at home, when I'm alone and want to lay around while I listen to my music I like to use my AirPods too. I generally always have music playing at home. I've recently been into a South Korean band called SURL. You should give them a listen.

3: Post-Bath Skin Care

I love baths, so I take a dip most days. I enjoy spending as much time as I like in there, but it's kind of tricky to take a photo of that, so I've taken one of some skin care items I've been using recently. CNP is a South Korean brand. It has propolis in it so you feel pretty moisturised afterwards. It's not too pricey either so I definitely recommend it.

4: Cooking

Since I'm spending more time at home now, I've been coming up with recipes to cook everyday for me and my sister who is staying with me.

I made curry on this day. It's full of meat and veg which we had with brown rice, something I'm crazy about again. It's surprisingly easy to share roles, so I've come to enjoy cooking for myself recently. A guy cooking for himselfーthat's a typical image of a model, isn't it?

The curry I made was a portion for 3 days.

Bonus: Hammock

I'm generally the kind of person who's not good with staying indoors, so I ended up splurging on a hammock which I can use when I want to feel the outside air. Rolling around in this for about 10 minutes when the weather's nice, or after a bath, or eating ice cream while listening to music is enough to make me happy.

What's your secret to spending time at home?

If I think about it too much I'll end up suggesting too many things. I don't think about it too much and just do plenty of the things I want to do right now, or things that I can only do now because of the situation. I'm using my time luxuriously.

Please give a message to those reading this article

Just like everyone else, I'm itching as the days go by, but it's all about taking advantage of the situation to do what you can. I'm enjoying gaming online to my heart's content, face timing my family and laughing, learning Korean from my friend, relaxing and swaying in my hammock, finding challenging myself to cooking surprisingly fun, and so on. There are lots of things to do to feel happiness in these times, so I want people to make their time worthwhile. Let's all get through this together!

NAKED SAKURA AQUARIUM: Cherry Blossoms and the Sea Come Together at Tokyo's Maxell Aqua Park

Maxell Aqua Park Shinagawa has announced the holding of a new exhibition entitled "NAKED SAKURA AQUARIUM" which will run at the Tokyo-based aquarium from March 1, 2020 to April 19, 2020.

Offering "cutting-edge Tokyo entertainment," the exhibition is combined music, lighting, and visuals with living beings. Using the latest in leading edge tech, visitors will be treated to a visual treat of animals living harmoniously with the season. The exhibition promises you will notice something new with each visit. Enter a world of spring like never before as cherry blossoms and the ocean come together through digital art.

Cherry Blossom Tayori

The entrance to the aquarium will be in full bloom with cherry blossoms. The water tanks in the centre will be perfectly pink and house madai snapper, a type of fish also nicknamed "sakura-dai" around this season.

Spilling Cherry Blossoms

This area will be like an atrium, with water tanks and showcases lined up beautifully next to each other and decorated with cherry blossom art flowers. The water tanks, which bring to mind the image of a "banquet," will house sakura-dai, sea goldie, and other fishes.

Dancing Cherry Blossom Garden

In the immersive Patterns area, you can see the "possibilities" of the four seasons as digital art works to combine a seasonal landscape with the sea creatures on display.

Also in the Dancing Cherry Blossom Garden will be Cape penguins who will put on a performance using their physical abilities. The performance, which is split into two parts, will make use of projection mapping. The first part will see the bloom of yaezakura cherry trees, while the second part will have jacaranda, also called the "purple cherry blossom," a flower that blooms in South Africa where Cape penguins originate.

Dolphin Performance Day Version – Cherry Blossom Dance

The daytime dolphin performance sees visitors gathering in the amphitheatre. This interactive performance is inspired by springtime banquets and Hanami flower-viewing. Enjoy seeing the dolphins dance high-speed to the rhythm of Japanese rock music.

Dolphin Performance Night Version – Cherry Blossom Story

The nighttime dolphin performance uses the water, lighting, visuals, and music to celebrate cherry blossoms in the evening. Enjoy a more delicate, but powerful performance from the dolphins, and see the flowers in all their beauty.

Jewellery Fish Rumble

The ceiling and walls of the spacious Jewellery Fish Rumble area all have reflective mirror surfaces. Countless pink and blue illuminations light up this evening cherry blossom-themed area, where you can enjoy a digital Hanami experience together with the jellyfish.

Katou Flower Lantern

The NAKED SAKURA AQUARIUM cafe and bar is adorned with a cylindrical water tank with illuminated coral. The cafe/bar is inspired by Katou, which is when the evening light feels like it is being lit up by fully bloomed cherry blossom flowers. The menu includes a selection of cherry blossom and matcha drinks, as well as a selection of sweet treats perfect for the Hanami season.

3 Dango & Mini Taiyaki – ¥500 (Red Bean Paste/Cream)

Sakura Mizu-warabi Rice Cake – ¥500

Enjoy a completely different kind of Hanami experience at Maxwell Aqua Park.

*Photos are for illustrative purposes only

Information

NAKED SAKURA AQUARIUM at Maxell Aqua Park Shinagawa

Running: March 1, 2020 – April 19, 2020
Address: Shinagawa Prince Hotel, 4-10-30 Takanawa, Minato Ward, Tokyo
Opening Hours: 10:00-22:00
Prices: General (High School Students and Older) ¥2,300 / Elementary-Middle School Students ¥1,200 / Children (4+ Years) ¥700
Exhibition Page: http://www.aqua-park.jp/special/snowaquarium2019/en_index.html

Maxell Aqua Park Shinagawa Official Website: http://www.aqua-park.jp/aqua/en/

Yutaro Features in PUMA's Promotional Material For 80's Fast Rider Sneakers

Inspired by their Fast Rider sneakers from the 80's, PUMA has forged two new models of the running shoes: the Future Rider Ride On and Style Rider Ride On. A special website went live in Japan featuring Japanese actor and model Yutaro as the model for promoting the sneakers.

The new models feature a cool and fun street style design for the new generation while retaining but revamping that retro look. Yutaro, who began his career from the age of 15 working in a second-hand clothing store and eventually went into modellingーand this year featured in the Japanese drama series Sherlockーdons the Ride On's and walks the streets of Tokyo in the photo shoot wearing outfits co-ordinated by himself.

In an interview for the promotion, Yutaro looked back at the complexes and indifferent personality of his past and how he grew as an individual after getting into modelling and working. He said his world became more colourful like the Ride On sneakers.

Future Rider Ride On

These sneakers feature an iconic pop style combining vibrant colours like neon green, red, and blue. The lightweight uppers are made from ripstop nylon with a suede overlay an minimum padding. The mid soles are made from the new Rider Foam which has high resilience. The outer soles and TPU stabilisers are made with superior comfort and stability in mind.

Style Rider Ride On

The eye-catching blue Style Rider Rider On's are made with TPU gel and boast an upfront fun street style. These sneakers are also made with the newly-developed Rider Foam on the mid soles. The thick mid soles are lightweight and cushioned, and the sneakers enjoy a strong grip.

Both styles have ridden the wave of generations to reappear in current times. Be sure to check out the special website featuring more content with Yutaro and Riders.

Information

Future Rider Ride On

Price: ¥9,000 (Before Tax)
Stock No.: 372838
Colours: 1

Style Rider Ride On

Price: ¥11,000 (Before Tax)

Stock No.: 372839
Colours: 1

Now available at PUMA stores, the PUMA online store, and select stores in Japan.

PUMA RIDER Special Website: https://puma-rider.com/ 

Yutaro Official Website: https://asobisystem.com/talent/yutaro/