Marvel Superhero Cafe to Open in Osaka for Limited Time
A limited-time Marvel themed cafe is coming to Umeda, Osaka from September 16 until October 17. Produced by OH MY CAFE, the concept is centered on themes such as power, courage, talent, justice, and friendship, and the menu will be filled with items inspired by the many heroes of the Marvel universe.
The cafe menu features original items representing the worlds of Spider-Man, Iron Man, Captain America, Thor, and Black Widow. All dishes are healthy, low-sodium, and low-sugar. Various original pieces of merchandise will also be available for fans of American comics!
Menu
Marvel Paprikash: ¥1,759 (Tax Included)
<Spider-Man> The Best Chicken Sandwich in Queens: ¥1,650 (Tax Included)
<Captain America> American Tomato Pasta: ¥1,979 (Tax Included)
<Thor> Hammer Curry in the Desert: ¥2,089 (Tax Included)
<Black Widow> Jet-Black Squid Ink Gratin: ¥1,869 (Tax Included)
<Iron Man> Evening Donut-style Bagel Sandwich: ¥1,979 (Tax Included)
<Captain America> Ramune Soda: ¥1,209 (+¥770 for coaster) (Tax Included)
<Iron Man> Cherry Soda:  ¥1,209 (+¥770 for coaster) (Tax Included)
Marvel Cafe Latte: ¥989 (+¥1,650 for mug) (Tax Included) 
Marvel Tea Bottle: ¥769 (Tax Included) / Bottle and Charm: ¥1,320 (Tax Included)
Customers who make a reservation in advance will receive one random original mask case (7 designs). 
Original Merchandise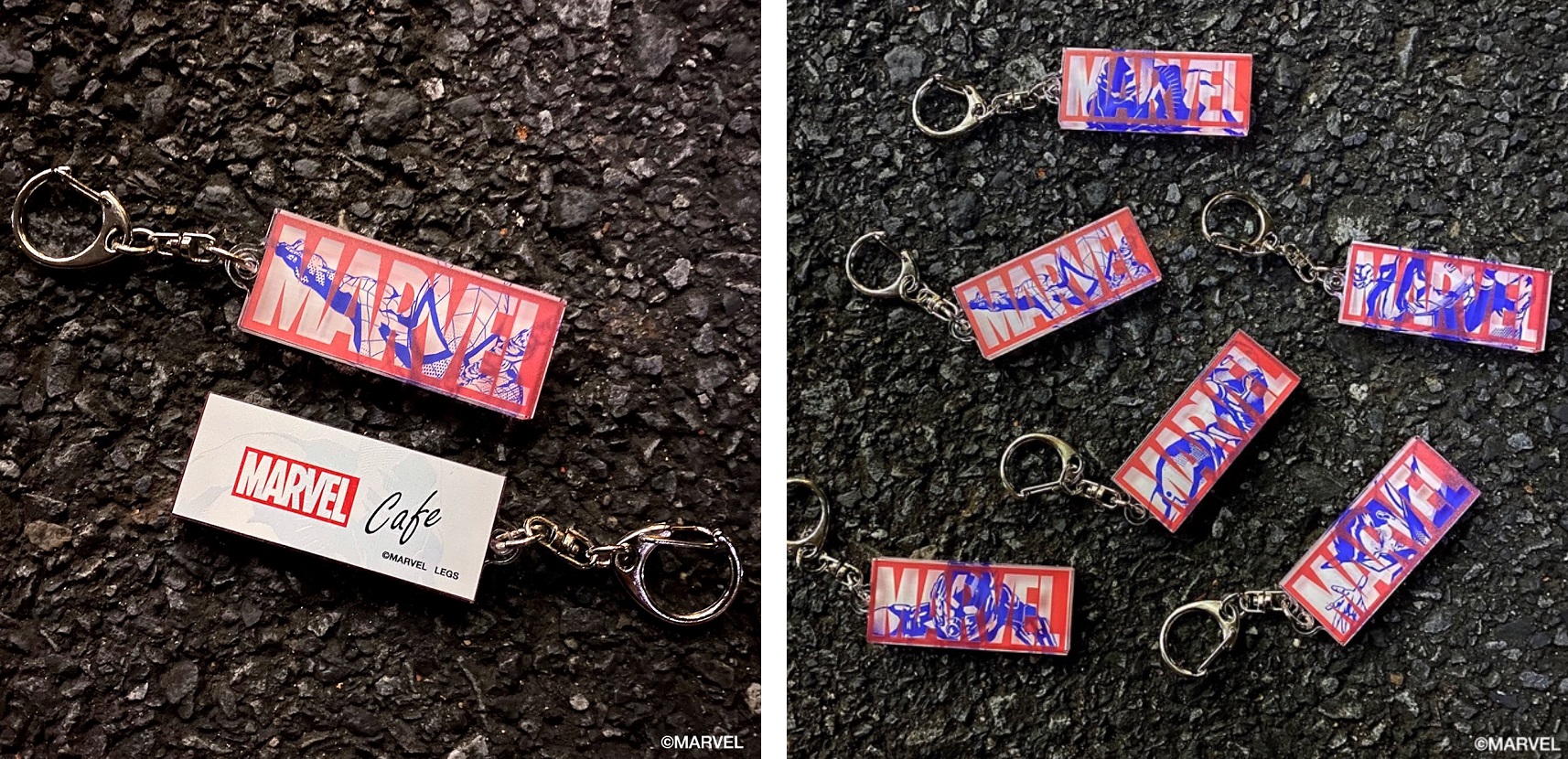 Acrylic Keyring (6 designs): ¥825 (Tax Included)
Square Pins (13 designs, random): ¥495 (Tax Included) / Marvel Case: ¥1,100 (Tax Included)
A5-size Clear Folder (7 designs, random): ¥385 (Tax Included)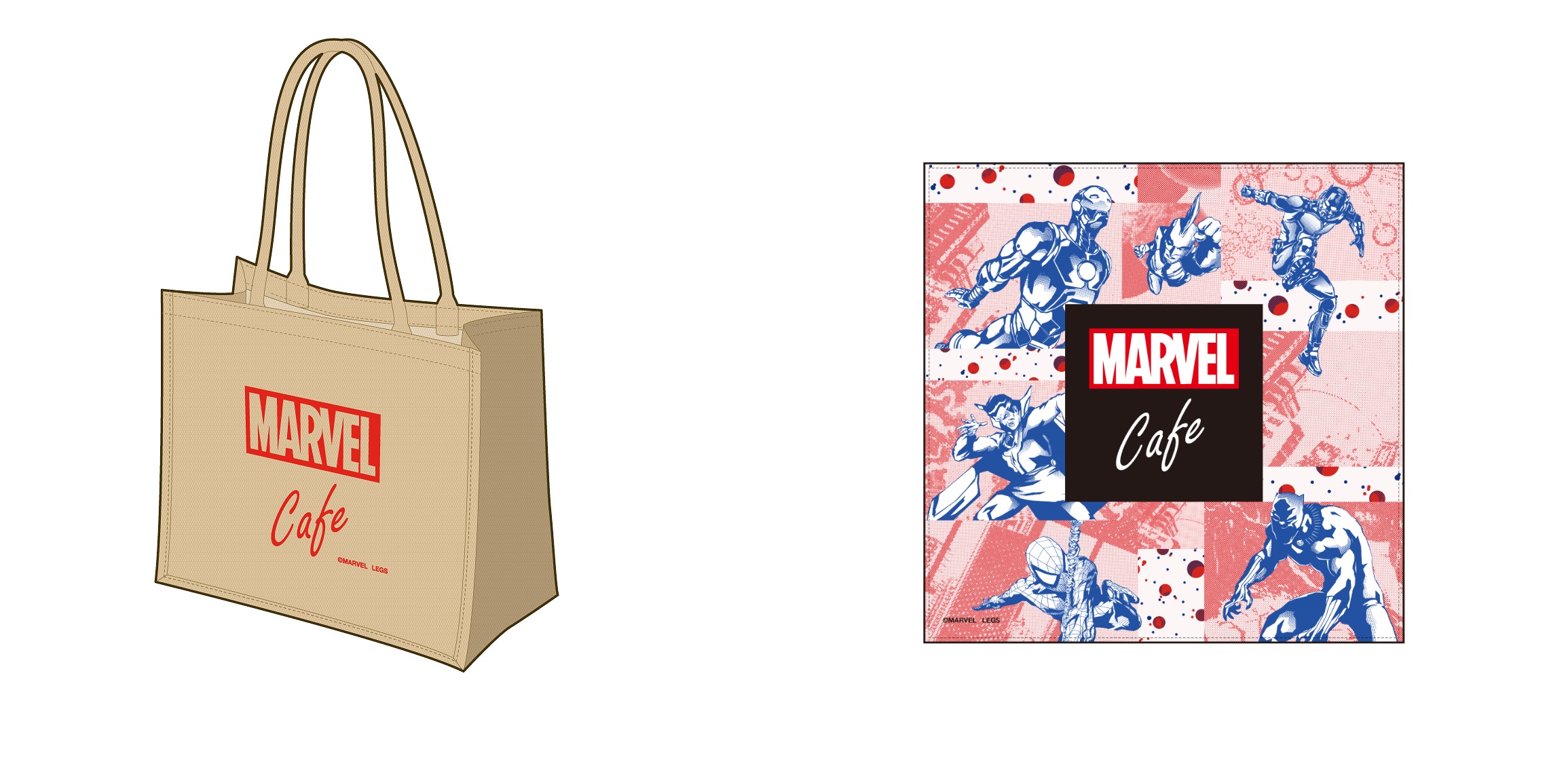 Tote Bag: ¥1,100 (Tax Included) / Marvel Bandana Handkerchief: ¥1,650 (Tax Included)
Menu Art Series A4-size Clear Folder: ¥440 (Tax Included) / Menu Bandana Handkerchief: ¥1,650 (Tax Included) / Acrylic Magnets (6 designs): ¥715 (Tax Included)

Avengers: Endgame Clear Folders (5 designs, random): ¥550 (Tax Included) / Avengers: Infinity War Postcards (8 designs, random): ¥275 (Tax Included)
Ⓒ 2020 MARVEL
RELATED ENTRIES
9th Installment of Anime-Inspired Cooking Project AniCook Features Bungo Stray Dogs

AniCook, a project using anime to make cooking more fun, is already holding it's 9th collaboration with a popular series. This time, characters from the popular anime series Bungo Stray Dogs are coming to cook up some fall treats at Shinsaibashi PARCO in Osaka from October 1 until October 26! 

Menu

Sticker gifted to guests who purchase a meal or dessert (8 varieties) / Postcard gifted to guests ordering a drink (8 varieties) 

Original Merchandise

Acrylic Stands (8 varieties) / 8-pack set

Pins (8 varieties) / 8-pack set

Acrylic Keychain (8 varieties) / 8-pack set

Acrylic Muddler (8 varieties) / 8-pack set

100 Limited-Edition pouches (2 varieties) available by lottery: Those spending over ¥5,000 at the cafe will be entered.

CookpadTV is behind the cafe, and continues to lead the way in quality collaboration cafes across Japan. This time, popular characters from Bungo Stray Dogs are serving up their favorite autumn-themed foods, inspiring visitors to enjoy cooking just a little more. Themed meals and sweets will be available, while the beverages are each themed on the character's abilities. Be sure to grab some of the limited-edition merchandise only available during the event! These can now be pre-ordered on the cookpadLive cafe Online Store. 

Which character would you like to see in the kitchen? 

Hands-On POKEMON COLORS Exhibition Opening in Osaka for Limited Time

The globally-beloved Pokemon franchise is celebrating 25 years throughout 2021. Throughout the year, the POKEMON COLORS exhibition has opened in cities throughout Japan, bringing a barrage of bright colors, fantastic art, and Pokemon-themed activities to fans nationwide. As guests move throughout the event space, various projections and images around them change, with popular Pokemon characters popping up and flooding the world around them in color. Now, the POKEMON COLORS exhibition is set to open in Osaka beginning September 30. 

Exhibition Preview


Concept Video


COLORS ROAD

COLORS LAKE

COLORS FOREST

COLORS CITY

COLORS CIRCLE

Inspired by the more than 800 Pokemon species in the franchise, the POKEMON COLORS project uses sensors placed throughout the event space to track visitors movements, altering the images, music, and lighting accordingly. Meant to be a combination of pop culture and minimalist digital art, it's an experience like no other. 

160 unique goods will be available at the exhibition, from apparel and art pieces to cell phone cases and office supplies. Be sure to check it out if you're in Osaka this fall!

©2021 Pokémon. ©1995-2021 Nintendo/Creatures Inc./GAME FREAK inc.

Information

POKEMON COLORS

Running: September 30 – October 20, 2021

Address: Daimaru Museum Umeda 15F 

Hours: 10:00AM – 8:00PM (Last entry at 7:00PM) 

Official Site:  https://pokemon-colors.com/

Rihga Royal Hotel x YOURS BOOK STORE New Accommodation Plan to Discover Your New Favorite Book

Osaka's Rihga Royal Hotel is collaborating with book direction brand YOURS BOOK STORE to produce a one-room one-day accommodation plan titled "Once in a Lifetime ~ Professionals Choose Your Book~." The limited-time plan will be available between September 15 and November 30, 2021.

The lounge on the executive floor, known as The Presidential Towers, was reformed in March 2020 to include a library of 1,000 books, with themes including Osaka, refreshing, relaxing, and children's books. It was then that the room plan collaboration with YOURS BOOK STORE, who was involved in the initial book selection, was proposed.

In the "Once in a Lifetime ~ Professionals Choose Your Book~" accommodation plan, a professional will discuss with the guest to learn more about their taste, with the book director offering 3 personalized book choices per person. The guest can also take full advantage of the hotel library.

Following your trip, a book chosen especially for guests will be sent to your home, with a message card describing how your books were selected. This unique accommodation plan allows you to bask in the afterglow of your trip while waiting to see what kind of book you receive.

Why not check out this unique plan where you can receive your own personalized book recommendation?

Hotel W Osaka x PIERRE HERMÉ PARIS Unveil Limited Halloween Dessert Menu

Opening in March 2021, Japan's first luxury lifestyle Hotel W Osaka works with PIERRE HERMÉ PARIS to produce the 'MIXup' Art & Pastry Bar, which has unveiled a new Halloween themed dessert course and  à la carte cake, available from September 15.

Pumpkin & Choux Cream / Ghost Montblanc / Frankenstein Cheesecake

Rock'n'Roll

Osaka is said to be the birthplace of Japanese cuisine, and in a similar vein,  this unique  'MIXup' dessert course serves 'CHEEKY' sweets which are finished one-by-one in front of the customer. The counter-style serving has proven popular since it began in May of this year, known for the playful presentation and customer participation.

This Autumn, the menu has been transformed into the 'TRICKY CHEEKY HALLOWEEN' course, with eight playful new desserts available to try. The desserts feature well-known Halloween monsters, and incorporate the taste of Autumn with pumpkin, chestnut, and pear, among other seasonal flavors.

The take-out Halloween sweets lineup includes a matcha and red bean Frankenstein Cheesecake, a spooky Ghost Montblanc, jack-o-lantern shaped Pumpkin Choux Creams, and more. A limited Halloween variation of the bar's iconic rose and raspberry Rock'n'Roll cake is also available! The recipe and baking techniques are based on the methods of PIERRE HERMÉ PARIS, with arrangements by The W Osaka.

Try out some scarily tasty sweets this Halloween with The W Osaka and PIERRE HERMÉ PARIS!

Kumagaya City, Saitama Bath Cafe Hareniwa no Yu Opens After Rebranding

Cafe BIVOUAC, located in Kumagaya, Saitama Prefecture, will reopen Bath Cafe Hareniwa no Yu on September 18, 21, after a full rebranding.

The space aims to be 'a garden that clears a guest's body and mind.' Visitors can enjoy a full bath and sauna, freshly-picked vegetables at the Haruniwa Dining Room, and a lush green lounge in which to relax and unwind.

The Haruniwa Dining Room, run by The Farm, a resort in Chiba Prefecture, offers healthy dishes filled with fresh local vegetables from Kumagaya with carefully-selected main ingredients.

In addition, a collaboration with fashion brand 'niko and…' will also begin upon reopening, offering the perfect comfy clothes to wear while enjoying the property.  The lineup  includes an original bath bag and sauna hat, each sold exclusively at Hareniwa no Yu.

Information

Bath Cafe Hareniwa no Yu (Cafe BIVOUAC)

Open: September 18, 2021

Address: 939 Kubojima, Kumagaya-shi, Saitama

Phone: 048-533-2614

Official Site: https://ofurocafe-bivouac.com/

Healing 'Panda' Sweets Available at Gelato Pique Café for a Limited Time

A selection of healing monotone panda sweets will be available at the Gelato Pique Café between September 6 and September 25. The collection is titled "everyday PANDA! ~Sweets Time with Pandas~."

Menu


Panda Crepe

Panda Gelato

Panda Float

Goods

Gelato Pique Café Original Panda Glass/Mug
Available from September 6


Gelato Pique Panda Motif Eco Bag / Panda Motif Hand Towel
Online reservations open September 2, available instore from September 8


In 2021, the Gelato Pique Café announced two rounds of animal themed sweets, proving hugely popular on social media. For Easter they released "Bunny Sweets" with rabbit ears motifs, while a series of "Polar Bear Sweets" was released during the Summer. Now, a selection of "Panda Sweets" is the latest to join the animal collection. 

 

The chocolate and banana Panda Crepe is filled with a healing ganache and banana,  while the Panda Gelato has cocoa biscuits studded around the pandas neck, along with rounded eyes and ears. The "healing monotone" Panda Float combines the Gelato Pique Café's original Guatemalan coffee blend with Royal Blue Bourbon.

 

Along with this "everyday PANDA!" Fair, we have a large lineup of panda goods that will make you happy just by having them.  Goods that are perfect for presents, souvenirs, and rewards for yourself can be purchased at each gelato pique cafe store and EC site, so please look forward to that too!

There is a huge lineup of panda goods that will brighten your day releasing alongside the "everyday PANDA" fair, which make perfect gifts for friends – or yourself! You can view the goods lineup in store and on the Gelato Pique website.

The Guests are Actors Too in the HOTEL SHE, OSAKA's 'Theatre While You Stay' Performance

The HOTEL SHE, OSAKA has announced a new form of evening entertainment that allows the guests to take part in their 'Theatre While You Stay' performances of The Indigo Restaurant, held between November 11 and 30 2021. Tickets sales start on September 3.

 

The food and drink menu can be enjoyed from the comfort of your room.

All guest rooms come furnished with a record player.


The boutique hotel brand HOTEL, SHE are leading hotels into the new era with their contemporary services, collaborating with poet Saihate Tahi to create the "Poet Hotel" and live-streaming a performance by artist SIRUP.

The 'Theatre While You Stay' is a form of evening entertainment where guests can enjoy and take part in a stage show that is set in the hotel, both planned and produced by HOTEL, SHE.

They were inspired by the "immersive theatre" technique which has become popular in New York's Broadway, allowing you to freely move around the hotel in your role as you enjoy the show, breaking the boundaries between audience and performer – You aren't just watching the show, but becoming a part of it.

The term "immersive theatre" was coined in London during the early 2000s and refers to a form of theatre that is based on the audience experience. It breaks down the traditional roles of the audience and performers, creating a new relationship between the guests and the show.

 

 

Set throughout the entire hotel building, the lobby, guest rooms, corridors, and courtyard are full of mysterious sounds and lights. The "story experience" starts as you check in, with no set start or end time.  All phones, mobile devices and watches that tell the time are confiscated upon checking in, causing the guests to lose their sense of time and wander the hotel throughout the long evenings. 

 

After watching, the whole story is gradually revealed by talking about the scenes that each experienced while drinking cocktails in the bar lounge and guest rooms.  We want you to enjoy the limited food menu and sweets based on Asian dishes such as Taiwan.

After the show, you can enjoy cocktails in the bar lounge and discuss the scenes you watched as the story is gradually revealed. The delicious limited-time menu is full of sweet Asian dishes and desserts from Taiwan and beyond.

Information

Theatre While You Stay – The Indigo Restaurant

Duration: November 11 ~ November 30 2021 

※Cancelled on November 18 and 25. 

Check In: 19:30 ~ 20:00 (VIP TWIN ROOM Check In is 19:15 ~ 20:00)

Check Out: 12:00 the following morning 

Location: HOTEL SHE, OSAKA

Address: 1-2-5 Ichioka, Minato-ku, Osaka City, Osaka

Ticket Sales:

Primary Ticket Sales (Lottery): September 3 at 20:00 ~ September 12 at 23:59

Secondary Ticket Sales (Lottery): September 14 at 18:00 ~ September 20 at 23:59

General Ticket Sales (First-Come, First-Serve): Undecided

Tickets/Official Site: http://aiirohanten.com/

RIHGA Royal Hotel Osaka to Offer Extremely Limited Halloween Accommodations

The RIHGA Royal Hotel Osaka has announced a spectacularly limited Halloween accommodation plan, titled 'A Terrifying Banquet in the Mysterious Lord's Castle.' Only one lucky person per day can book the decorated room, which features in-room meals and more treats to discover. Reservations are open through October 28, and the room will be available from September 10 until October 31.

'A Terrifying Banquet' Dining Table

Living Room

Skeletons in hotel uniform, ready to greet guests in the front room

This spooky setup will be held in the Fontainebleau suite, themed as a French palace. Guests will enjoy a western dinner course in the comfort (or discomfort) of the room. Decorated with black cats, ever-watchful owls and skeletons, guests can also look forward to taking plenty of photos at a designated photo spot on the sofa.

As the COVID-19 pandemic continues to keep people in their homes, the hotel created this room as a way to experience a new kind of cozy Halloween getaway. Visitors will enjoy plenty of other perks, including free parking, soft drink coupons, and breakfast the following morning.

Would you be able to sleep in this room filled with skeletons and specters?

Information

Special Halloween Room: 'A Terrifying Banquet in the Mysterious Lord's Castle'

Reservations Open: September 1 – October 28, 2021

Room Available: September 10 – October 31, 2021

*Reservations accepted until 8:00AM, 3 days in advance.

Official Site: https://www.rihga.co.jp/osaka/stay/plan/halloween2021

Chiikawa Themed Cafe to Open for Limited Time at Shizuoka PARCO

Twitter-famous character Chiikawa is coming to Shizuoka PARCO starting September 16! Guests can enjoy a cafe on the first floor of the facility serving specially-crafted treats, and can head to the fourth floor for a shop selling original Chiikawa cafe goods.

Menu

Hachiware Cream Soda / Chiikawa Cream Soda / Usagi Cream Soda: ¥990 each (Tax Included)

Fluffy Cloud Latte with Character Sugar: ¥1,100 (Tax Included)

Yoroi-san's Strawberry Milk: ¥990 (Tax Included)

Best Friends Cookie Set (3 cookies): ¥880 (Tax Included, takeout only)

Each drink order will come with a random coaster (15 designs total). 

Merchandise

 

Mug: ¥1,540 (Tax Included)

Cafe Chef Plushies: ¥1,430 (Tax Included)

Cafe Employee Plushies: ¥1,430 (Tax Included)

Bowl: ¥2,200 (Tax Included)

Random Acrylic Keychain (8 designs): ¥660 (Tax Included)

*Limit 2 items per person per type of merchandise. For random items, the limit is 10 items per person per type.
*Images are for reference only. Not all products are shown.
*Contents are subject to change. 

4th Floor Shop Special Goods

Special Gift

Guests spending ¥4,400 or more (including tax) will receive an original cork coaster!

 

The Chiikawa manga, created by Japanese illustrator nagano, is extremely popular on Twitter for its cute illustrations and heartwarming stories. In August, the second Chiikawa book was released.

Who is your favorite Chiikawa character?

©nagano

Information

Chiikawa Cafe Drink Stand

Running: September 16 – October 3, 2021

Hours: 10:00-20:00 (last food order at 19:00, last drink order at 19:30)

Location: Shizuoka PARCO 1F (6-7 Koyamachi, Aoi-ku, Shizuoka)

Chiikawa Cafe Shop

Running: September 16 – October 3, 2021

Hours: 10:00-20:00

Location: Shizuoka PARCO 4F

Admission Free

Details: http://the-guest.com/chiikawa_shizuoka/

Official Site: https://shizuoka.parco.jp/

Nature-filled Digital Detox Cafe HANARIDA Opens in Harajuku

Zoomers are used to life with their smartphones and computers. While life certainly is more convenient being able to connect instantly with your friends, have you ever felt a certain emptiness despite this? According to the Ministry of Internal Affairs and Communications, young people in their 20s spend approximately four to five hours looking at screens per day. However, sometimes, it can be nice to put down your phone and enjoy a cup of tea with your friends in front of you. With those thoughts, the HANARIDA Harajuku cafe open on August 8 2021. The hidden cafe is filled with flowers and greenery, aimed at adults. Here you can enjoy a quiet time away from the bustle of the city, relaxing with a cup of dry fruit-infused herbal tea.

Every sunday is a digital detox day, meaning that smartphones and laptops are banned in the cafe. You can leave your phone with the staff to receive a free drink. With the comfy interior and a selection of board games, conversations will flow naturally to create a home-like space, even without technology

The flowers and trees in the cafe, which was decorated by a professional flower artist, are all real. The atmosphere changed based on the time of day – the sunshine lights up the cafe while the warm lights make for a relaxing evening. You won't get tired of this cozy space! 

Experience relaxation away from the busy city while watching the flowers bloom throughout the day, as you puff on a dried fruit Hanakemuri hookah. The hookah used by HANADIRA is both nicotine and tar free, meaning they can be enjoyed by non-smokers. 

Their drink selection for Valentine's day 2021 was a huge hit on social media, particularly the Sakicha dry fruit tea. The tea is now available on the menu, so make sure to try it for yourself!

Information

HANARIDA Harajuku

Opening Date: September 8 2021 

Opening Hours: 11:30 ~ 24:00 (No regular holidays)

※Closes at 20:00 until September 12 due to the current state of emergency declaration.

Address: Section L Pop-up House 2F 4-27-2, Jingumae, Shibuya, Tokyo 

Seven minute walk from JR Harajuku Station

https://goo.gl/maps/bXVEsW735gHT7kZD9 

※Under 20s are denied entry to the cafe

Official Site: https://hanarida-official.com/ 

Kyoto Sweets Cafe eXcafe Gion-Shinbashi Restarts Popular Breakfast Menu for Weekends

The calm Machiya sweet shop eXcafe Gion-Shinbashi will be restarting the popular eXcafe Breakfast (Calico) menu on weekends from September 4 2021. This is the perfect spot to start your Gion adventure, packed full of ancient city charm and history. 

 

eXcafe currently has three store locations in Kyoto: Kyoto-Arashiyama, Gion-Shinbashi, and the newly opened Gion Yasaka.

eXcafe Gion Shinbashi is located in an area where you can appreciate the beauty of Gion, with the ever changing scenery fully reflecting the four seasons. Even on sunny weekends, the area isn't overly busy and the sky is beautifully clear, making it the perfect spot for commemorative photos.

 

The returning breakfast menu is the eXcafe Breakfast (Calico), made up of charcoal-grilled toast with a calico cat motif. The fluffy bread is thickly cut and can be completed with your favorite topping: Bean paste, butter, whipped cream, or fruits. The breakfast set also includes a drink and Mitarashi dango dessert, making it the perfect way to spend a relaxing moment at the beginning of your trip, or as a break from your early-morning sightseeing.

Morning walks in Gion are particularly refreshing at this time of year, making a perfect break from the intense Summer heat. It is also ideal for visiting the Yasaka Shrine.

You'll feel even cooler as you listen to the flowing Shira River, the water gently bubbling under the cobblestones of the famous Tatsumi Bridge. Although it is located in a trendy area, the eXcafe Gion-Shinbashi is a welcome break from the bustle of the city, surrounded by cobblestone alleys and wooden townhouses.

 

Adorable Halloween Dessert Buffet to be Served at Conrad Osaka

Hotel Conrad and Sebastian Masuda, known worldwide for his 'kawaii' works, are collaborating for the second year for a scrumptious Halloween event. Titled OWNER OF A COLORFUL HEART Halloween Sweets Buffet, the tasty treats will be available starting September 2. The buffet was held in Tokyo last year, but is moving to Osaka for 2021.

Guests can enjoy a variety of colorful Halloween sweets, created by Executive Pastry Chef Jimmy Boulet and supervised by Sebastian Masuda!

「OWNER OF A COLORFUL HEART」Halloween Sweets Buffet

Sweet Potato Mille-feuille

Orange Cupcake with Cassis Chantilly Cream

Spider Mousse Cake

Caramel and Persimmon Bellini

Crash the Halloween

Colorful Palette

Galaxy

Daisy Celebration

Halloween Caterpillar

Playful Macaroon

Blueberry Mousse and Fig Compote with Sesame Pralines

Black Cardamom Chocolate and Pear

Colorful Curries & Stews

The buffet tables are decorated with dark purple tones and welcome guests with Bouley's playful collection of sweets. His iconic mille-feuille uses ample amounts of cream and purple yams, with a chocolate spider web on top. The spider mousse cake, with its gentle shortcake-like texture and unusual combination of coffee and mango, is sure to surprise. Each treat uses autumn ingredients, and will surely have guests enjoying Halloween to the fullest.

Though the sweets buffet is sure to be filling enough, Conrad Osaka also serves a variety of savory items. For this event, five different colorful curries and stews from India, Thailand, and Hungary will be available. Along with naan bread, diners can sample Udon, French baguettes, rice crackers, waffles, and countless other goodies.

Anyone who comes to the event dressed in Halloween attire can post a photo with the hashtag #ownerofacolorfullheart on Instagram to receive a free glass of sparkling wine. A photo booth will also be on site, and guests can take pictures with some of Sebastian Masuda's most popular works.

Which goodies would you be picking up from the buffet?