New Sunglasses Collection Produced by Popular Model Rina Tanaka to be Sold at Zoff!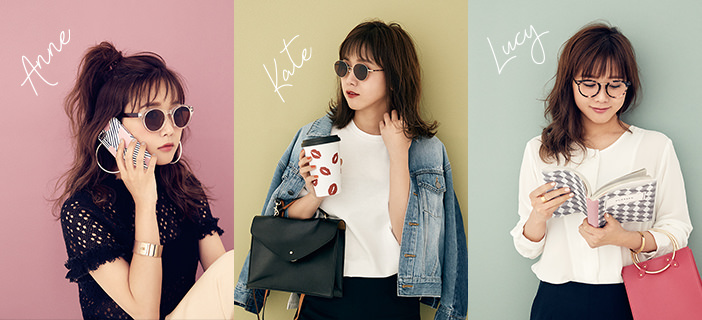 Popular model Rina Tanaka is releasing an eyewear collection from the glasses brand "Zoff". Zoff × RINA TANAKA "SUNGLASSES COLLECTION 2017" will go on sale from July 14th, but you can pre-order right now over on Zoff's online store.
 
The glasses are designed in the image of three different types of girls: the cute and energetic "Anne", the cool and stylish "Kate", and the mature and feminine "Lucy".
 
The glasses were designed all you girls out there to teach you to treasure yourself, and to enjoy fashion and beauty the way you want to enjoy them. They follow today's trends, are easy to wear and ensure that femininity, qualities captured by the only and only Rina Tanaka. You can also pick up a pair of Zoff's UV clear sunglasses which protect you from UV rays 100% and can be worn both fashionably and casually.
 
Make sure you're ready for summer and pick out your favourite pair from the line-up just before the rainy season starts!
■Information
Zoff × RINA TANAKA "SUNGLASSES COLLECTION 2017"
On Sale:
<In-Store>Friday July 14, 2017
<Zoff Online Store Pre-Order>Friday June 30, 2017
Types: 3 types, 13 designs (3 of the designs can only be bought online)
※Glasses cases and cleaning cloths come as part of the set.
Price:
"Anne" & "Kate" ¥5,000
"Lucy" ¥9,000
Zoff × RINA TANAKA Official Page: http://www.zoff.co.jp/sp/tanakarina/sunglasses2017/
Related Article:Traveling to the closest island in Japan to heaven Refreshing with power spots and yoga
Related Article:【Tokyo Stroll】Strolling around in Harajuku which has a lot of unique spots such as popular graffiti and artistic miscellaneous stores.
RELATED ENTRIES
Young ASOBISYSTEM Models Design Glasses Perfect for Everyday Fashion

Glasses brand Zoff teamed up with famous models Saki Shibata, Yuri Suganuma and Rinko Murata to produce a branded glasses series that is perfect to wear "All Day, Every Day". The girls designed these glasses to fit into and enhance your everyday life experiences. The Zoff CLASSIC Girls Collection -All Day, Every Day- series will be released across Japan from October 11, 2019. 

The main theme of this series is All Day, Every Day. From this, the three sub themes of morning, midday and evening were created and each model was put in charge of the designs for one of these themes. Shibata was in charge of 'morning' designs, Suganuma was in charge of 'midday' designs and Murata was in charge of 'evening' designs. Each model carefully thought of how the user would wear the glasses during their sub theme time in order to fully enhance their daily experiences. Each model also created a unique personal design out of metal for the temple tips of the glasses they designed. 

Before being released in stores, the glasses will be available to preorder from Zoff's official online store from 11am (JST) on September 20. From the same day from 9pm, there will be a one-hour-long live broadcast where the models will showcase their creations.  A limited number of the glasses will be available to preorder during this live broadcast. 

There is also a lottery taking place with the chance to take part in the Zoff CLASSIC Girls Collection Special Event which consists of two parts: A tea session where you can listen to the girls' stories on how they produced the glasses and even get some pointers on how to coordinate your look, and a special photography session with the three models. 

Designs by Saki Shibata

ZH191011 Available in 3 colours ¥7,000

These compact and circular-shaped rims are the perfect way to highlight your classic look or even a tomboy look. However you decide to wear these glasses, you will always look good with minimum effort. 

ZO192024  Available in 3 colours ¥9,000

The vintage style and matte coloured metal frame make these glasses perfect for both men and women. The carefully chosen size makes these extra special. 

Shibata's statement on the personalised symbol:

"I want the wearer to feel good the moment they put on these glasses. I designed these glasses to give the wearer confidence to hold their head high and say: 'Today is going to be a wonderful day and I am going to enjoy every moment of it.'"

Designs by Yuri Suganuma

ZP192020 Available in 3 colours ¥7,000

These frames are rectangular with soft round edges to make your face look smaller and your eyes look bigger. 

ZO191012 Available in 3 colours ¥9,000

A perfect mix between foxy and geeky, the roundness of these rims is subtle, adding a feminine touch to your look. Although you may get the impression that these glasses only go well with a few styles, they actually coordinate well with a surprisingly large range of styles.

Suganuma's statement on the personalised symbol:

"My design is a heart rate to represent how the wearer will feel when they put these glasses on. I hope my glasses make your heart jump with excitement." 

Designs by Rinko Murata 

ZP192019 Available in three colours ¥7,000

The metal frame is so beautiful that it is like wearing an accessory. The subtle colours of the frame make it perfect for casual clothing. If you are looking for something for everyday use, these are perfect. Big rims are trending right now. 

ZN191011 Available in three colours ¥9,000

There is a wonderful contrast between the different materials used and the circular-shaped lenses give a classic look. Switch the lenses for blue light blocking lenses to reduce the amount of blue light exposure from your computer and phone. 

Murata's statement on the personal symbol:

"I etched my initials 'rm' into the design. I hope the wearer feels the power to transform into a brand new person whenever they put on these glasses. I hope my glasses provide a sense of comfort and confidence to the wearer."

Whether you are a fan of the models or this is your first time hearing about them, you just have to check out their stylish designs which are suitable for men and women of all ages.

Information

Zoff CLASSIC Girls Collection -All Day, Every Day-

Price: ¥7,000/ ¥9,000 (Price after tax, includes price of standard lenses) 

*Comes as a set with a special case and microfiber cleaning cloth

Product Range: 6 different shapes in 3 different colours (18 designs in total)

Release Date: October 11, 2019 

* Available for preorder from 11am on September 20, 2019 from the following locations:

– Zoff Online Store

– Zoff Rakuten Market 

– Zoff ZOZOTOWN Store 

* The models will be presenting their glasses on the Live Shop! live stream for 1 hour from 9pm on September 20, 2019. During this hour, a limited number of the glasses will be available to preorder. 

Link: http://clk.nxlk.jp/NwGufFql/test

* All pre ordered goods from this series will be shipped to customers from the end of October. 

Purchasable From: All Zoff stores nationwide (Not available at shopping outlets), Zoff Online Store, Zoff Rakuten Market, Zoff ZOZOTOWN shop, Zoff i LUMINE (Also available at the following overseas Zoff stores: Shanghai, Hong Kong and Singapore).

Special Edition Website: http://clk.nxlk.jp/Z6IMGHK5/test

Zoff Releases New Specs in Star Wars Collection

Japanese glasses brand Zoff has unveiled that it will release a new line of glasses in its Star Wars collection at its stores and its online store on July 12.

With Star Wars: The Rise of Skywalker set for a December 20, 2019 release, Zoff is getting in on the action by adding to its range. It first dropped the Star Wars collection back in 2018 where it developed glasses frames. This summer, it'll be stylish sunglasses.

The sunglasses are inspired by the sequel trilogy with references to major characters including Anakin Skywalker as well as scenes only seen in the sequels including a young Obi Wan Kenobi and Yoda when he was lively.

Each model in the collection cuts 99.9%. The line-up includes a model with photochromic lenses, another with polarised lenses, The Zoff Night & Day that is both glasses and sunglasses, and more.

Zoff Night & Day

2 Designs – ¥9,500 Each (Tax Included) *Includes price for normal lenses

The outer metal chip of the glasses has the iconic Star Wars logo subtly branded onto it which reflects light while the inner part, which is the same metallic colour, has the same logo but larger. The glasses have a red colour, synonymous with the Sith, combined with yellow, a colour representing hope for the future.

Photochromic Lenses

3 Designs – ¥7,500 Each (Tax Included) *An extra ¥3,000 for additional lenses

The colour of these lenses change depending on the amount of UV rays. With the photochromic lenses, the inner part is used as glasses while the outer part is used as sunglasses. There are three designs including Yoda and Anakin. Since the designs are on the inner part of the glasses they can be used in less informal settings too.

Polarised Lenses

3 Designs – ¥7,500 Each (Tax Included) *An extra ¥5,000 for additional lenses

The polarised lenses cut reflected light such as on glares from roads and glass. This makes them ideal for driving, jogging, fishing and other scenarios where one is exposed to bright glares. The three designs feature Darth Maul from Star Wars: Episode I – The Phantom Menace, podracing, and Yoda's epic battle.

Glasses come with an original Star Wars case and cloth.

If you're a Star Wars fan, you won't want to miss out on this exclusive collection.

©️ & ™️ Lucasfilm Ltd.

Information

STAR WARS COLLECTION SUNGLASSES

Release Date: July 12, 2019 (from 11:00am JST on Zoff's online store)

Available: Zoff (excluding outlet branches), Zoff online store, Rakuten, ZOZOTOWN, and Amazon (subject to change)

Types: 5 Models in 8 Designs

Price: ¥7,500-¥9,500 (Tax Included) *All come with case and cloth

Product Page: https://www.zoff.co.jp/shop/contents/starwars-sunglasses.aspx

Feel like a Disney Princess With Zoff Ariel and Jasmine-Themed Glasses

Eyewear brand Zoff is releasing a Disney-themed glasses series called Disney Collection created by Zoff Princess Series Classic Line. The series features Jasmine from Aladdin and Ariel from The Little Mermaid. There are four different frame shapes and they are each available in two different colours. They cost ¥9,000  (before tax, includes standard lenses). These will be sold at Zoff stores across Japan from July 26th. You can reserve these in advance at the Zoff online shop from July 7th.

This summery collection consists consists of two main themes; the two Disney princesses Jasmine and Ariel. The glimmering beauty and daintiness of the two princesses is represented by the delicate decorations and stones. The carefully applied "princess colours" represent each of the princesses and are easy to coordinate with any outfit. For children and girls with small heads, you're in luck! The first ever S-size glasses in the series have been released. You and your child/ a small friend can now wear the same glasses when you go out together!

Jasmine

These glasses represent the independent, strong-willed Jasmine. The glasses take on the image of her beautiful silky hair and hair accessories. Sticking to the current trend, metal frames have been used for the structure of the glasses. There is also a gold engraving on the temple tips of the glasses for a luxurious touch. The wearer is bound to feel like an Arab princess.

Temple

Enjoy the beautiful image of her wavy hair. The tip of the temple even has her signature on the inside.

Frame Shapes

Stock no: ZP 1920007

Stock no: ZP 191004

Stock no: ZP 191005

Ariel

The adventurous and curious Ariel is depicted with a wave and shell design. The curvy frame represents the free waves that Ariel would explore. There is a subtle shell at the side of frame near the screws. When you fold the glasses, the rhinestones will tuck under the shell, glistening beautifully like a jewellery box.

Front side

Fold your glasses and the rhinestone looks like a pearl hiding in a shell.

Temple

The temple of the glasses take on the appearance of a wave. The tips of the temple are made to look like Ariel's mermaid tail.

The temple arm contains a beautiful dinglehopper; the mysterious human item that Ariel discovered at the ruins of the sunken ship that apparently humans use to comb their hair.

Frame Shapes

品番ZP 192006

品番 ZP 191002

For more information, please check the Special Edition Website. This is your chance to feel like a princess ♪

©️Disney

Information

Disney Collection created by Zoff Princess Series Classic Line

Product Range: Ariel, Jasmine: (16 glasses: Two princess themes, four different shapes, each in two different colours. )

Release Date: July 26, 2019 (subject to change)

Advanced reservations will be accepted at the Zoff official online store from June 7th.

Price: ¥9,000 (after tax, standard lenses included)

※ Each princess theme comes with an original design glasses case and lens cleaning cloth.

Available at Zoff stores across Japan including Zoff Rakuten Market, Zoff ZOZOTOWN and the Zoff online store.  (Does not include outlet stores)

Special Edition Website: https://www.zoff.co.jp/shop/contents/disney-collection_princess.aspx

Zoff have announced that their new Disney-inspired glasses collection Zoff SMART DisneyModel will be released on May 17, 2019.

Using the company's popular Zoff SMART glasses, the colourful collection features original designs of Disney characters including Mickey Mouse, Minnie Mouse, Donald Duck and Daisy Duck. Not only are the designs cute, the glasses themselves benefit from the functionality of Zoff SMART which makes them light and comfortable.

Line-up

Stock No.: ZJ191001 (Wellington)

The shape of these glasses shape fittingly to all face types. They're recommended for beginners to glasses.

Stock No.: ZJ191013 (Boston)

Both the top and bottom of these frames are wide. The round, Boston style of frame will give you that trendy look.

Stock No.: ZJ191012 (Oval)

The basic oval shape is enjoyed by all ages for the friendly appearance they give you.

品番:ZJ191014(バレル)※Web先行販売

The cool, sophisticated look of these glasses makes them perfect for school or the workplace.

Frame Patterns

Mickey Mouse

These line art and silhouette designs mean they will suit adults too. The use of black and brown with the Mickey patterns makes the design even more stylish.

Minnie Mouse

The Minnie designs feature a girly colour palette that fit everything from casual to feminine looks. Enjoy looking good in lots of different outfits just like Minnie.

Donald Duck

Donald Duck is popular with guys and girls of all ages. The cool colouring of his designs make them a unisex choice.

Daisy Duck

This line-up of feminine colours are very Daisy-esque. Zoff SMART seeks comfort, and what's great about these glasses is that you can adjust the nose pad to your liking.

Which frame and design are you eyeing up the most?

Information

Zoff SMART Disney Model
Types: 4 Frames / 4 Designs (Mickey Mouse, Minnie Mouse, Donald Duck, Daisy Duck) = 16 Combinations
Release Date: ¥9,000 (Before Tax) *Comes with glasses case and wipe with an original design
Available: At Zoff stores in Japan (except outlets), Zoff's online store, Zoff Rakuten, and Zoff ZOZOTOWN

Product Page: https://www.zoff.co.jp/shop/contents/disney-collection_zoffsmart

The reign of the Minions continues as Japanese glasses brand Zoff has revealed a new collection based on the popular characters from the Despicable Me series. The glasses line will be released at Zoff stores and the company website on April 26.

DAILY LINE

Opal Frame

Banana

The banana design features―you guessed it, a banana design, every Minions' favourite fruit. The inner part of the frame also has Gru's "G" logo on it.

Denim

This design is inspired by the denim dungarees that Minions are known for wearing. This design makes it easy for incorporating with casual fashion.

Leather

The leather quality is brought about using a special manufacturing technique. Its chic design is perfect for wearing to school or the workplace.

This "Daily Line" of glasses is perfect for both Minions fans and people wanting to just have fun with fashion in a nonchalant way. They are made using lightweight materials too and so are comfortable to wear. Zoff also stocks children's sizes of these glasses too making it perfect for parents and kids to have fun matching.

CLASSIC LINE

Round

Boston

The "Classic Line" uses metal frames―something which is popular right now―and is a golden colour, the Minions' favourite. The rims look thick when viewed from the side and so give them both a goggle-type and trendy look.

The classic spectacles too are lightweight and so are comfortable sat on the face. They are recommended for more mature fans of the Minions as well as people simply looking for classic-looking frames.

All of these glasses some with the above-pictured glasses case and wipe with the three most popular Minions illustrated on them: Kevin, Stuart and Bob.

TM &©Universal Studios

Information

Zoff x MINION

DAILY LINE: Releasing April 26, 2019

CLASSIC LINE: Releasing Mid-May 2019

Price: ¥7,000-¥9,000 (Before Tax)

Available: At Zoff branches (except at outelts), Zoff's online store, Zoff Rakuten and Zoff ZOZOTOWN

Zoff Online Store: https://www.zoff.co.jp/shop/default.aspx

The days are still cold as February draws to a close, but I want to get out of this rut of wearing winter clothes every day! If you feel the same as I do, why not pick out a new pair of glasses in preparation for spring and discover a new you?

clear frames and their natural appearance

I want to feel refreshed so I head to a record store to search for a new record. I might try out a genre I don't normally listen to.

I've gone for a casual look today with a sweater, jeans and sneakers. I add a scarf for style so I don't look too rough.

For those who like unique things but aren't confident with challenging themselves to something new, then I recommend getting glasses with clear frames. At a glance they look difficult to co-ordinate with, but they're in fact a fantastic choice that go with anything. It's good to try out things you normally wouldn't go for to make you feel refreshed.

Model's Glasses: Zoff – ¥7,000 (Before Tax)

Left: Zoff – ¥7,000 (Before Tax) / Right: Zoff – ¥7,000 (Before Tax)

rough brought to life with glasses

On my days off I usually hole up at home but today I went to chill at a local cafe.

I go for a rough look with a hoodie, checkered pants and sneakers. The colours are my silhouette are rough but this is balanced by my brow-framed glasses.

This type of frame of course goes well with tight, well-balanced looks, but why not try something different by combining with a rough outfit?

Model's Glasses: JINS – ¥12,000 (Before Tax)

Left: OWNDAYS – ¥10,980 (Before Tax) / Right: Zoff – ¥9,000 (Before Tax)

playing around with unique glasses

Wearing a jacket set-up like this makes you feel sophisticated. Grab a coffee during your work break, straighten your back and get through the last day of the week.

While an outfit like this will make you feel proper, paying attention to the size and material while taking into account the overall balance will have you looking even more dapper.

Since the outfit is so neat and trimmed you've gotta go with a quirky pair of glasses. This gives a playfulness.

Model's Glasses: OWNDAYS – ¥9,980 (Before Tax)

Left: Zoff – ¥9,000 (Before Tax) / Right: JINS – ¥12,000 (Before Tax)

my new standard

Everyone has their 'go-to' outfits. By adding just some little changes to your go-to you can experience a whole new you.

My long-sleeved trench coat coupled with the loose pants makes for a tight balance. Combining this with glasses that have a defined colour and shape brings the whole mood of the look together.

When I look in the mirror, I see an unfamiliar me. A new me.

Model's Glasses: JINS – ¥12,000 (Before Tax)

Left: Zoff – ¥9,000 (Before Tax) / Right: JINS – ¥5,000 (Before Tax)

Find the glasses that you look the look of and discover a you that you never knew existed too.

Source: https://asbs.jp/archives/37286

Kiko Mizuhara Appears at the Opening of Glasses Store Zoff at Mong Kok in Hong Kong

Japanese glasses brand Zoff opened its fifth Hong Kong branch at Langham Place in Mong Kok on October 10. American-Japanese model, actress and designer Kiko Mizuhara is used as the face of the brand's new Zoff Secret Agent series which is being sold in Hong Kong and China, but she also attended the store's opening event on October 20.

Operation

Undercover

Seducation

On-the-move

Mizuhara brought the latest fashion culture from Japan to the street of Hong Kong for Zoff Hong Kong's new season theme 'Future Tokyo Vision SPY' and debuted their four new secret agent styles: Operation, Undercover, Seduction and On-the-move.

She received a warm reception and huge round of applause when she stepped onto stage and greeted the locals in Cantonese. She was asked by the event moderator about her impression of Zoff: "I have had the opportunity to appear in Zoff's commercials and ads since I was about 20 years old. Their concepts are always packed with creative ideas. They often are able to seek out fantastic characters. I find that aspect of them interesting and believe it align with my own concept. I enjoy becoming someone other than me and creating with them."

When asked about the glasses she was wearing on staged, she explained: "Today's style is futuristic. I thought I'd try something different from my usual self so I picked out these sunglasses."

If you're looking to find the latest styles in Japan then be sure to check out Zoff's glasses range.

Winnie the Pooh Glasses Line to be Released by Zoff

To celebrate the Japanese release of Christopher Robin on September 14, glasses brand Zoff have announced a new and original Winnie the Pooh series of glasses. The line will be released in-store in Japan nationwide on September 14. The Zoff online store is taking early orders from August 31.

There are 25 designs to choose from split across two different lines. The London Line features cute prints of the characters on the temple while the Honey Line are made of metal to give a classic look. The series uses exclusive artwork that reflects the story of the movie, and each frame has metal parts that symbolize Pooh's favourite food in the world – honey. The glasses are for both kids and adults alike.

London Line
The colours are the front have been selected so they can be worn in most situations. The sides have a mellow tone and are coloured in a way perfect for co-ordinating with autumn and winter fashion. There are 16 pairs in the line-up with four types and four temple designs. They come in oval, square and stylish fox shapes.

・Frame Shape

Catalog No.: ZA181051 – Oval shape worn by people across all ages. Leaves a gentle impression.

Catalog No.: ZA181052 – Square shape that makes you look smart and punctual.

Catalog No.: ZA181053 – Large-shaped glasses that are a trend right now and easy to co-ordinate with glasses fashion.

Catalog No.: ZA181054 – Fox-shaped glasses that bring out femininity and personality.

・Temple Design

The temple designs were drawn specially for the release of the movie. The concept behind them is 'Pooh leaving the forest for the first time and going to London.'

Saying: A city-like vibe with typography of Pooh's famous sayings.
Friends: A fun design featuring Pooh's pals Piglet, Tigger and Eeyore.

Flags: A cool Union Jack design that screams London.
Woods: A relaxing scene inside Pooh's forest.

Honey Line
This line has metal frames and incorporates elements of glasses trends. They give off the shine of melty honey and are decorated with honeycomb studs . This stylish line can be enjoyed not just by Pooh fans but lovers of jewellery too.

Catalog No.: ZS182001 – The fox shape that stops at the eyeline emits a sense of elegance while the frontside honeycomb parts leave an impression of luxury.

Catalog No.: ZS182002 – A sweet design inspired by runny honey with elegant thin rims.

Catalog No.: ZS182003 – This design jumps on the trend of oversized glasses. The honeycomb shaped studs on the sides make you look cool.

Peek into the world of Winnie the Pooh with this new glasses range.

■Information
Disney Collection Created by Zoff "Winnie the Pooh Series"
Available: Zoff stores, Zoff online store, Zoff Rakuten, ZOZOTOWN and elsewhere
Release Date: September 14, 2018
Pre-orders: From August 31 via the Zoff online store
Price: ¥7,000-¥9,000 (Pre-Tax)
*Comes with original design glasses case and cloth.
Types: London Line – 16 Pairs (4 Shapes, 4 Designs) / Honey Line – 9 Pairs (3 Shapes, 3 Colours)
Webpage: http://www.zoff.co.jp/sp/disney-collection

*Winnie the Pooh Series to go live on the website on August 31

Rinko Murata, Saki Shibata, Ayumi Seto & Culumi Nakada collaborate on Zoff's clear lens sunglasses

Rinko Murata, Saki Shibata, Ayumi Seto and Culumi Nakada are teaming up with glasses brand Zoff to release their own designs for the company's "Zoff UV clear sunglasses." Pre-orders for the glasses will open via Zoff's online store on January 12th.

The "Zoff UV" line of glasses come equipped with clear lenses that provide 100% UV protection while still making you good, absorbing the UV light from your eyes, which is said to be one of the causes of spots and freckles.

Rinko Murata Design

"I wanted glasses with a thin metal frame, so that's the shape I went for with this collaboration. This design will adapt to your everyday look, and gives an even more stylish impression."

The burgundy colour is great against the skin, sophisticated, and has a vintage-like quality to it, so when you put on the glasses it brings out all the small nuances of your face. It's a colour that'll with any outfit you wear. The "tortoiseshell" design gives a nuance of refined dress and a classic look. This design will work best with your favourite one piece or simple outfit.

Saki Shibata Design

"To bring out a vintage quality and elegance, I put in patterns and took time focusing on the colour tones and materiality for each of them. Especially the materiality. The matte khaki and beige have a glossy finish to them, that's my favourite part."

Getting the khaki design right was trial and error from beginning to end. If the green in the khaki was too strong, it was difficult to co-ordinate the design with outfits and wouldn't look good with the face, so a grey-black khaki was decided on. It can be worn smoothly with a casual look. The choice of beige has excellent compatibility with the skin, and while emitting a soft atmosphere, it also brings everything together neatly. This design works well with co-ords of a similar colour, as well as choices like a red and white striped with denim, shirts and so on.

Ayumi Seto Design

"I went with a soft cat eye design, something which anyone can wear easily. The materiality changes with each colour and so changes how you come across. The light blue frame has a glossy finish completed with shiny gold, giving it a bright and brilliant look all the way. The khaki doesn't have a glossy finish and is silver to give a cooler look."

The blue design emits a bright and gorgeous image. It tends to be thought of as difficult, but this design works with various hair colours. The temples which fit over the ear are furnished with a striking navy tortoiseshell design. This design goes perfectly with girly clothing such as checkered gingham shirts, frills, bow-ties! The khaki design is even more remarkable than black, and gives a much sharper and cooler impression than brown. The temples on this pair come with a brown tortoiseshell pattern. There's glitter inside too. In terms of co-ordinating, there are lots of options: you can go khaki-on-khaki with MA-1 and military style clothing, off-white knitwear, and other warm attire. This design also works with denim and casualwear.

Culumi Nakada Design

"I used vintage glasses as reference to come up with my designs. To bring out that retro vibe, I went ahead and decorated the edges by showing the screws in the frame. I was very particular about the shape of the frame. It's a cat eye design but more subtle, so even beginners to the cat eye look can wear them easily. I was conscious in creating a design that lots of people would get their hands on."

The standard black design is easy to wear and for those people who want to try out the cat eye look but don't want something that stands out so much. If you've ever thought you wanted to add a little something to your co-ord or you've grown tired of your wardrobe, then up your game with this pair of glasses. The clear design is for those people who want to just dip their toes into something fashionable and people looking for glasses that are different from everyone else's. It looks great on the face and can be worn with casual and office styles.

Each and every pair of these clear lens sunglasses have been crafted with the utmost care and an unrivaled attention to detail. Choose your favourite and look great!

■Information

Zoff UV Clear Sunglasses "NEO MODERN GIRL"

Price: ¥7,500 (tax excl.)

*comes with non-prescription 100% UV protection lenses

*prescriptions are available from ¥3,000 (tax excl.) in-store at Zoff

*comes with glasses cleaning cloth

On Sale: January 19, 2018

*pre-orders open via Zoff online store from January 12th

*available early via Live Shop! from January 12th

Official Webpage:http://www.zoff.co.jp/sp/zoffuv/neo-modern-girl/

Where's Wally? He's now an ambassador at Zoff! Your chance to search for the perfect circular specs!

Cute round glasses brand "Zoff" is running a new campaign from Friday 1st September. The "Maru Megane wo Sagase! Campaign" will set you on a hunt for round spectacles. Character Wally from the popular picture book "Where's Wally?" has been appointed as the ambassador for this campaign and is thrilled to bits. The campaign involves the release of limited edition original goods including glasses cases, wiping cloths and much more.

 

From BOSTON to round, circular specs are becoming increasingly popular. There are many people who would love to challenge their look with round specs, but give in to fear…

…but that's where Zoff comes in! Zoff's campaign is giving you the chance to causally try on circular specs for fun! Pop in to Zoff's store to try on a wide range of specs – from BOSTON to round, there are over 100 types of specs waiting for you! Come join in the fun with ambassador Wally!

Glasses cases

Glasses cloths

There will be a limited number of Zoff original Wally goods. Those who purchase glasses or sunglasses will receive a case as part of a set. There are two glasses case designs available. If sold separately, they are ¥700 (+ tax) and can also be purchased online. There will also be four varieties of large (30cm X 30cm) glasses cloths selling at ¥700 each (+tax), and a limited number of shopping bags.

Look at that limited edition shopping bag! Try searching for the Zoff Husky and Zoff staff wearing round glasses!

What a cute design ♡ The glasses cloths and shopping bags are decorated with original Zoff illustrations. In these drawings, try to spot Zoff staff or even a Husky dog wearing round specs – it's not just Wally you're looking out for!

This is your chance to look for circular specs that suit you!

■ Information

Maru Megane wo Sagase! Campaign – (Search for the round glasses campaign)

Starts: Friday 1st September

Zoff to release blue light dispelling Pokémon glasses for use with your PC, TV and smartphone

Zoff are a glasses company in Japan who also offer special lenses for your glasses specifically to filter 40% of the blue light that comes from your PC. The company are releasing a new entry to their "Zoff PC CLEAR PACK" series: the Pikachu model, which will go on sale Friday February 10th. As well as Pikachu, there will also be a number of other models based on popular Pokémon, including Eevee, Gengar, Mewtwo, and Charizard. And what's even better is that they cater to all sizes, from children to adults.

Blue light is emitted from your everyday tech, including your PC, TV and smartphone. It is defined as visible light that ranges between 380 to 500 nm. It is thought that exposure to blue light can lead to a number of issues, resulting in eye strain, a disruption in the rhythm of the body, and headaches. But the people over at Zoff have designed some stylish and kawaii glasses that you can use in any situation to help dispel the effects of blue light. The glasses' nose pads and temple tips are made of rubber so you can adjust them according to your preference. They are agreeable for those wearing glasses for the first time too.

The Pikachu model has a monogram design, so even adults can pull them off. So go head and choose your Pokémon, who will help you out in any digital situation.

■Information

Zoff PC CLEAR PACK Pokémon Models

−−−

■Related Article: Pokémon themed cafe to open in Singapore for the release of Pokémon Sun and Moon!

■Related Article: Taiiku Okazaki sings Pokémon ending theme song ー don't miss the new CD release featuring other popular artists!

Traveling to the closest island in Japan to heaven Refreshing with power spots and yoga

World Heritage registration is near coming! A mysterious paradise where unique nature and culture remain," Amami Oshima"

On this island located south of Kyushu with an area of 712.35 square kilometers and a population of about 44,000, you can enjoy a variety of activities, for example, exploring the primeval forest, marine sports such as diving, surfing, and so on.

Amami is also famous for a place where there are many power spots.

There are many spots in Amami such rich nature as Yu Baidake Mountain, Materia Waterfall, or Heartrock, that only appears when the tide go out completely etc. People who enjoy yoga feeling the rich nature of Amami and the beautiful ocean with five senses are increasing.

In order to widely know the attraction of Amami including "island yoga", Amami Oshima Tourist Association Federation invite a popular model, Rina Tanaka, who often enjoy Yoga and Seiko Hirahara, who is a Editor-in-chief of "manimani" that JTB publishing famous for "Rurubu" began publishing as a new generation travel style guide this year to Amami.

manimani ​http://www.rurubu.com/book/recomm/manimani/

Leave your daily lives and enjoy your own Amami trip

 

In Amami's journey, you try traditional mud dyeing which is a popular tourist experience, and enjoying beach yoga with yoga wear using mud dyed(Manufactured by amami aina : http://amami-aina.com/) at the beach.

Heart Rock, one of the power spots, is a tidal pool shaped like a heart that can be seen for hours only when the tide draws.It's also a popular spot of topics for SNS.

You can spend leisurely at the beach dyed red in the evening, join the island's song live at night and enjoy your own journey freelsy.

Pictures of the trip in Amami have been posted in Rina Tanaka's Instagram and many reactions have been made by her followers mainly the same generation. (「tanakaofficial」https://www.instagram.com/tanakaofficial/)

Please feel free to visit Amami and relax.

■Information

・the official site of Amami Oshima Tourist Association Federation

 "Nonbiri Amami" http://nonbiriamami.com/

"Amamikke" http://amamikke.com/

・amami aina http://amami-aina.com/

・manimani's official Instagram https://www.instagram.com/manimani_official/

・Rina Tanaka's official Instagram  https://www.instagram.com/tanakaofficial/

—

■Related article:7 city illuminations to visit in Japan this Christmas

■Related article:Kiyomizu-dera Temple to hold its first photography exhibition "INSIGHT" as part of the "FEEL KIYOMIZUDERA" project