Contemporary Painter Yasunari Ikenaga Opens Shou Inspired New Exhibition in Ginza
Tsutaya Ginza, located inside Ginza Six, will hold an exhibition of new works from artist Yasunari Ikenaga starting September 25, 2021. Titled 'Shonen, Shou,' the pieces in the collection were all inspired by up-and-coming actor and model Shou. 
Physical Education, Shou – Yasunari Ikenaga. 2021.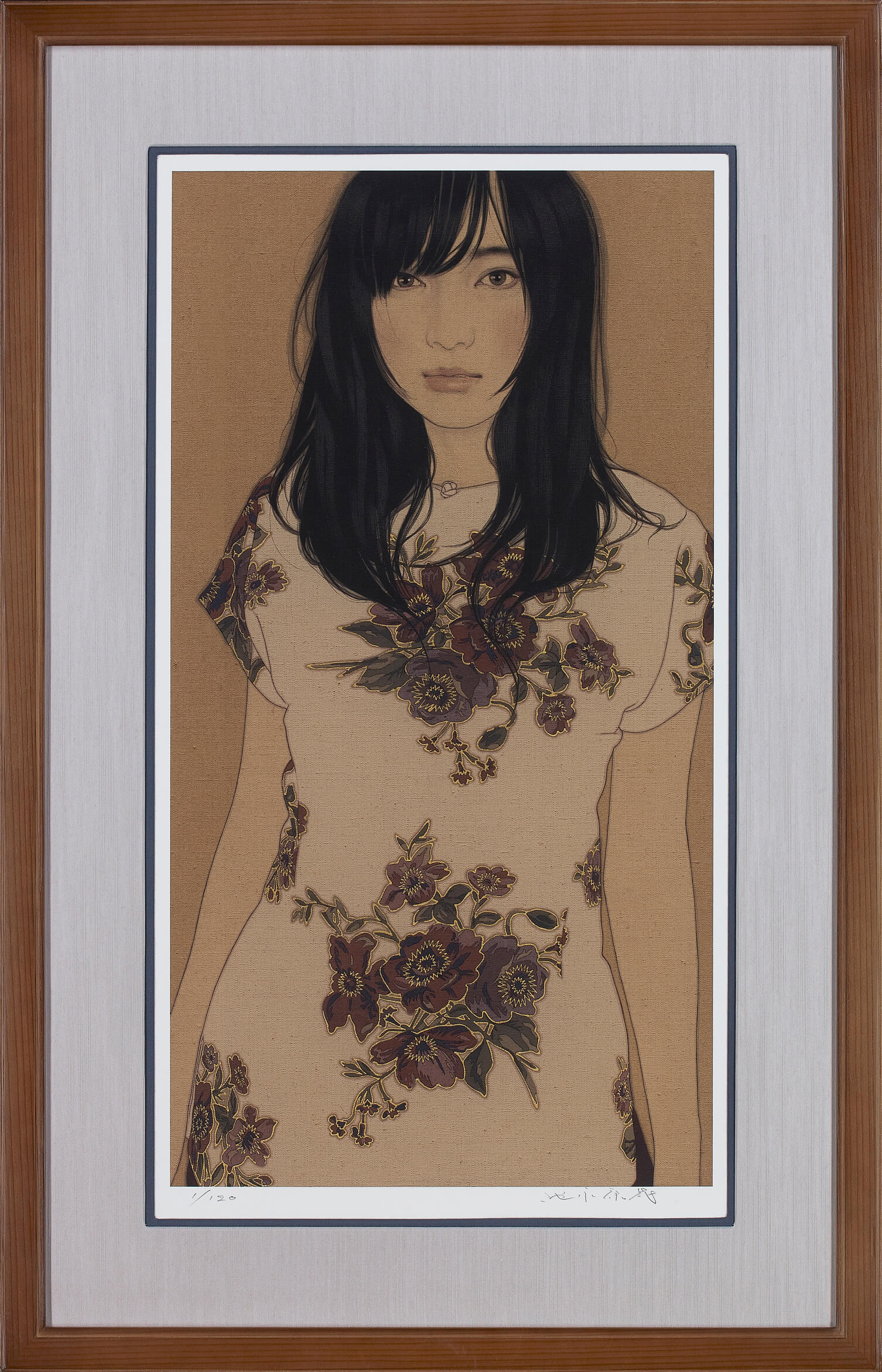 Glaring, Honami – Yasunari Ikenaga. 2015
Yasunari Ikenaga is a leading figure in the world of contemporary beauty painting. In 2012, he won Honorable Mention at the 8th Tatehiko Suga Grand Prize Exhibition, which attracted a great deal of attention in the art world and established the genre of contemporary beauty painting. Ikenaga's paintings are characterized by their unique coloring, which is created by using mineral-based pigments. This style, as individual as the models he paints, has a uniqueness and presence that has redefined the art of painting human beings in the Japanese art world. 
'Shonen, Shou' is an exhibition focusing on new model and actor Shou, born in 2006. This is the first time Ikenaga has used a boy as his muse, and various prints of past works will also be on display during the event. 
RELATED ENTRIES
Tokyo's TeNQ Space Museum to Host Cinnamoroll 20th Anniversary Exhibition

Tokyo's TeNQ Space Museum, located in Tokyo Dome City, will hold a special Cinnamoroll exhibition to celebrate the Sanrio character's 20th anniversary! The adorable white puppy won first place at the Sanrio Character Awards for two consecutive years and has been a beloved part of Sanrio's lineup for two decades. From July 7 until October 17, guests can visit this unique walk through Cinnamoroll's history. The exhibition's key visual has been unveiled ahead of the event.

Clear Folder

Face Towel

Postcard (2 varieties)


Visitors will learn tons of Cinnamoroll trivia at the exhibition and can also participate in Cinnamoroll Roulette, a fun fortune-telling event!

In addition, the first-ever Cinnamoroll Strawberry News Poster Gallery will be available to peruse. An academic exhibit unique to TeNQ where visitors can learn about the many kinds of clouds will also be opened in honor of Cinnamoroll, who was born on a fluffy cloud in the sky. Original merchandise will also make an appearance. It's sure to be fun for the whole family!

©2022 SANRIO CO., LTD. APPROVAL NO. SP630141

Limited Edition Sake Released Alongside NFT Art to Share the Value of Japanese Spirits with the World

Two incredible new Junmai Daiginjo bottles, the highest-quality sake, have been released in limited quantities. Hitou ASCENDING and Touka ILLUMINATING were made by sustainable means and incorporate NFT art to share the process of sake creation with the world.

 

While sake companies keep traditional Japanese production methods alive, some are seeking to solve problems in the sake industry by turning to current technology, like the blockchain and NFTs. In this age of convenience and automation, this particular sake maker is aiming to show the true value and authenticity of Japanese craftsmanship to the rest of the world. 

Certain types of sake can only be made and enjoyed at certain times of the year, as they are not suitable for storage at room temperature and can only be consumed for a brief period to get the best taste. Many sake fans around the world might not be aware of this, so the new NFT collaboration aims to educate!

 

The bottles contain unique ukiyo-e NFT art prints of a dragon and phoenix on the bottle, respectively. Those who purchase a bottle will also find the year of production and bottle number etched onto the glass with lacquer. Be sure to keep the bottle even after the delicious sake is gone!

Story

Rice / Tobe Rice
In Tokamachi, Niigata Prefecture, farmers have been cultivating this unique brand of Koshihikari rice without the help of pesticides or fertilizers for over two decades. The rice is called the best in all of Japan, and one-third of its yield is used to make sake.

Water / Pure Groundwater

The Japan Median Tectonic Line, also known as the 'Dragon's Vein,' is a massive fault line that is home to numerous sacred sites, including  Suwa Grand Shrine, Toyokawa Inari Shrine, Tenkawa Benzaiten Shrine, Ise Grand Shrine, and the Koyasan Mountain. The groundwater found here is some of the purest found in Japan and flows from the Bungui Pass in Ina, Nagano Prefecture. The pass has been featured in many publications as one of the most famous power spots in Japan.

Brewing / Ono Brewery

While dealing with some of the harshest winter weather in Japan, the brewery has continued to create sake the old-fashioned way–with human hands. For the creation of these two bottles, the brewers took on the challenge of making a very small amount of sake, something they had never done before. Based on the concept of "making the most of the environment," the rice was prepared in a special room with no air conditioning under the watchful eye of the master brewer.

Bottle Art/ Ukiyo-e Artist, Shun
The art displayed on the bottle is printed in a unique way, allowing it to be put on display separately. The Japanese-style art is perfect for the collaboration and was inspired by one specific hope: that a new path will open to those who work hard after the many difficulties and troubles caused by the pandemic.

Bottle Making / Maruyoshi Kosaka Wood & Urushi Works


The circular label symbolizes the moon (water) and the sun (fire), each representing a world where different values are not only accepted but welcomed. Hand-painted and made with pure platinum and gold leaf by the talented craftsman at Maruyoshi Kosaka Wood & Urushi Works in Shiojiri, Nagano, these advanced painting techniques are sure to impress.

Each Bottle Features the Brewing Year, Number Printed in Lacquer

Marked with a unique serial number, all proceeds from the sales of these special sakes will be used to maintain and promote sustainable agriculture, support sake brewers, and bring traditional Japanese craftsmanship to the world.

Information

Junmai Daiginjo – 'Hitou ASCENDING,' 'Touka ILLUMINATING'

Limited Quantity
Official Site: https://hitoutouka.com/

Anime Film 'Bubble' Gets Online Exhibition at Anique for a Limited Time

Anique has opened an online exhibition to celebrate the release of the animated film Bubble until June 30, 2022! The event is also offering limited-edition merchandise.

Merchandise Lineup

Acrylic Stand Diorama

Pin Set

Postcard Set

Clear Folder

Mug

Purchase Bonus: Round Stickers

The exhibition will serve as a deep dive into the world of Bubble, focusing on four categories: story, worldview, characters, and artwork.

 

Guests can enjoy browsing images from the film, and can also see valuable creation materials like storyboards and original sketches.

 

Jun Shison, who voices Hibiki in the film, contributed comments to the exhibition, along with director Tetsuro Araki.

 

Merchandise is also available to buy now! These items can only be found at this exhibition, so order while you can.

 

Have you watched Bubble on Netflix yet?

©2022「バブル」製作委員会

Extensive Demon Slayer: Kimetsu no Yaiba Exhibition to Open at Sapporo Factory in Hokkaido

An exhibition focusing on the Mugen Train and Entertainment District Arcs of Demon Slayer: Kimetsu no Yaiba will open at Sapporo Factory in Hokkaido from July 15 until August 7, 2022.

Fans of the series won't want to miss this huge showing of Demon Slayer materials, including a video exhibit showing off some of the best fight scenes from the film and anime series on a massive screen. 

Stay tuned for more details!

©吾峠呼世晴/集英社・アニプレックス・ufotable

Information

Demon Slayer: Kimetsu no Yaiba – Mugen Train Arc / Entertainment District Arc

Running: July 15 – August 7, 2022

Hours: 10:00-19:30 *Closing at 17:00 on August 7
*Admission permitted until one hour before closing time.

Venue: Sapporo Factory 3-jo 3F 

Official Site: http://www.stv.jp/

Nakamura Keith Haring Collection Holds 15th Anniversary Exhibition, 'Chaos and Hope'

The Nakamura Keith Haring Collection in Yamanashi Prefecture will be holding a celebratory exhibition in honor of the location's 15th anniversary from May 14, 2022 until May 7, 2023.

In April 2007, the Nakamura Keith Haring Collection opened in Kobuchisawa, located at the foot of Mt. Yatsugatake. The only museum in the world dedicated entirely to New York-based artist Keith Haring, Kazuo Nakamura collected the works and acts as the director of the museum. Over 300 works of art are on display along with 500 other pieces, from photographs and videos to merchandise. The new exhibition features approximately 150 works.

Three Lithographs (People Ladder), 1985

Icons (Radiant Baby), 1990

Untitled, 1984

Untitled, 1988

Untitled (Subway Drawing), 1981-1983

The 'Chaos and Hope' exhibition was originally held during the museum's first year of operation and looks back at Haring's first experiences in New York City in 1978. The artist was present at the dawn of the hip-hop movement and was struck by the clash between typical white art and underground minority artists. In only five years, Haring rose to stardom. Sadly, while traveling the world, he contracted AIDS, passing away at the age of 31. Behind the bright and cheerful artwork he left behind, he hid his inner suffering and desire for hope and freedom.

All Keith Haring Artwork ©Keith Haring Foundation
Courtesy of Nakamura Keith Haring Collection.

Information

Nakamura Keith Haring Collection 15th Anniversary: Chaos and Hope

Venue: Nakamura Keith Haring Collection

Running: May 14, 2022 – May 7, 2023

Official Site: https://www.nakamura-haring.com

teamLab Opens 8th Annual Art Exhibition at Mifuneyama Rakuen in Saga Prefecture

From July 15 until November 6, 2022, the 'teamLab: A Forest Where Gods Live' exhibition at Mifuneyama Rakuen, an ancient forest at the Takeo Hot Springs in Saga Prefecture. The massive event is held each summer and fall and was named CNN World's 'Best Outdoor Art Exhibition to Visit' in 2021 and one of the Top 10 Art Installations in the world by DesignboomMagazine in 2017.

Works on Display

Universe of Water Particles on a Sacred Rock, 2017

Drawing on the Water Surface Created by the Dance of Koi and Boats – Mifuneyama Rakuen Pond, 2015

Ever Blossoming Life Rock, 2017

 Life is Continuous Light – Azalea Valley, 2017

Rock Wall Spatial Calligraphy, Continuous Life – Five Hundred Arhats, 2017

Split Rock and Enso, 2017

Resonating Forest – Cherry Blossoms and Maple, 2017

Megaliths in the Bath House Ruins, 2019

Graffiti Nature – Living in the Ruins of a Bathhouse, Red List, 2017-

Resonating Forest in the Ravine, 2019

Abstract and Concrete – Forest Entrance, 2018

Flowers Bloom in an Infinite Universe inside a Teacup, 2016

Forest and Spiral of Resonating Lamps in the Forest – One Stroke, Summer Forest, 2018

Mifuneyama is said to have risen from the Ariake Sea 3 million years ago. The 500,000 square meter Mifuneyama Rakuen Park was created in 1845, at the end of the Edo period. The park is home to megaliths, caves, and forests that have been slowly shaped over thousands of years. teamLab believes that the shapes and textures of these objects are important, serving as traces of ancient people and natural changes over time.  The concept of the project is that non-material digital technology can turn nature into art without harming it.


The creative team will be holding a number of other high-profile exhibitions this year, including installations in Paris, Tallinn, Shanghai, and Geneva. Their sauna collaboration with TikTok for teamLab Reconnect in Roppongi made huge waves in 2021–guests would take alternating hot and cold baths to experience intense physical sensations while surrounded by digital art.

Fendi and Harajuku Omotesando Keyaki-kai Collaborate on #FendiTsunaguOmotesando Art Project

Italian luxury fashion brand Fendi has teamed up with Harajuku Omotesando Keyaki-kai on a new street art project! 'TSUNAGU – Omotesando Street Art Project' was unveiled on April 29, 2022.

 

The project, which aims to improve the city's scenery and share positive messages, is on display in Omotesando, a popular area with young people. The canvas is the formal site of the Oriental Bazaar, an iconic part of Omotesando for over four decades. Under the theme of 'hope,' three young artists will be displaying their artwork in a massive temporary enclosure on the site. Hopefully, Japan really will open tourism soon so that guests from around the world can enjoy these inspiring pieces!

The first piece of art was unveiled on April 29 and was drawn by Dai Tamura, a young Japanese artist who has attracted worldwide attention after becoming an illustrator for the NBA. The dynamic and powerful compositions vividly depict endangered animals and plants alongside delicate flowers to symbolize hope for the futures of these beautiful creatures. 



Be sure to keep an eye out for the next installation coming soon!

Information

TSUNAGU – Omotesando Street Art Project

Location: Oriental Bazaar Former Site

Address: 5-9-13 Jingumae, Shibuya-ku, Tokyo

Official Site: http://www.fendi.com

Sound Installation by DJ Licaxxx to be Unveiled at Yamaguchi Center for Arts and Media

The Yamaguchi Center for Arts and Media will house a new work by DJ Licaxxx, the fifth installment of the 'sound tectonics installation.' The new work, Reason and Emotion '22, will be on display in the museum's courtyard. 

Licaxxx is a popular DJ and beatmaker who has been active in many unique fields over the past few years. The artist has created music for commercials and other advertisements while also contributing works to museums and art spaces.

The new sound installation features trackmaker Dan Kubo and electronic musician Kazuki Muraoka as collaborators. The goal of this ongoing project is to critically examine the act of viewing art in general, including music, and to generate music in real-time based on the current environment. The installation is impacted by weather, temperature, and the number of people viewing the work. The courtyard venue faces the main foyer and features a large glass atrium. 

Come enjoy a new listening experience like no other before the installation disappears in November.

Information

sound tectonics installation #5 / Licaxxx New Installation

Reason and Emotion '22 YCAM Volume

Running: May 14 – November 13, 2022

Hours: 10:00-20:00 (Closed Tuesdays)

Venue: Yamaguchi Center for Arts and Media / YCAM Courtyard

Free Admission

Official Site: https://www.ycam.jp

Popular illustrator and alcohol ink artist Jiji will release her first artbook in May! 

Images

Behind-the-Scenes

This is the first collection of works by Jiji to be compiled and released. 'Jiji ILLUSTRATION AND MAKING BOOK' will include around 110 illustrations, including both past creations and new images made exclusively for the book's release. The compiled illustrations were made in a variety of ways, including with alcohol ink, fountain pens, and by digital means.

The Heike Story, INU-OH Character Concept Art on Display at Kyoto International Manga Museum

The Heike Story anime series premiered in Japan on Fuji TV's +Ultra programming block on January 12. With character designs by Fumiko Takano, fans instantly fell in love with the show's cast of characters, and an art book will be released soon, with preorders opening this week.

 

The Kyoto International Manga Museum has opened an exhibition displaying character concept art from SCIENCE SARU's The Heike Story and INU-OH anime from April 21 to June 27. The exhibit commemorates The Heike Story's TV broadcast and INU-OH's theater opening in Japan. Fumiko Takano (The Heike Story) and Taiyo Matsumoto (INU-OH)'s character concept drawings are on display in Gallery 4. 

Both titles are based on Hideo Furukawa's modern language rendering of the classic Japanese epic The Tale of the Heike.


The Heike Story will additionally release an art book titled The Colors of The Heike Story in June. The book will feature an interview between art director Tomotaka Kubo and series director Naoko Yamada, and is scheduled for release in June. Those pre-ordering the book will receive a special gift.

©高野文子 /「平家物語」製作委員会 
©松本大洋 /2021 "INU-OH" Film Partners

Information

The Heike Story – Fumiko Takano and INU-OH's Taiyo Matsumoto Character Concept Art Exhibition

Running: April 21 – June 27, 2022

Venue: Kyoto International Manga Museum Gallery 4 (452 Kinbukicho, Nakagyo-ku, Kyoto)

Access: 2-minute walk from Exit 2 of Karasuma Oike Station on the Kyoto Municipal Subway Karasuma Line and Tozai Line



The Colors of The Heike Story

Price: ¥5,500 (Excluding Tax)
Format: A4 size, 112 pages
ISBN: 978-4-908062-41-4
Publisher: HeHe / hehepress.com

The Heike Story Anime Series
Official Site: HEIKE-anime.asmik-ace.co.jp

Panasonic LUMIX and NAKED Team Up for Exhibition at LUMIX BAE TOKYO in Aoyama, Tokyo

Art collective NAKED is teaming up with Panasonic LUMIX digital cameras for a new version of the NAKED BIG BOOK. The new work is on display at LUMIX BASE TOKYO in Aoyama until May 29, 2022. 

LUMIX BASE TOKYO is a gallery inspired by the LUMIX brand of digital cameras. The location is meant to serve as a base for the next generation of creators and strives to bring tons of creative energy to those looking to hit it big as artists in the future. 

Naked and LUMIX have come together to make LUMIX BASE TOKYO not only a showroom but also a place where guests can experience creativity in a new way. The NAKED BIG BOOK," the brand's most famous work, has been decorated with seasonal flowers and will be exhibited for a limited time. 

NAKED BIG BOOK invites visitors to enter a storybook world with each turning page. The work uses projection mapping on a giant book sculpture to inspire audiences and wow guests with the wonders of technology. The book has appeared at FLOWERS BY NAKED and other locations throughout Japan in the past. 

The exhibition will also feature original artwork inspired by LUMIX's marketing campaign for 2022, 'COLORS OF LUMIX.'

Information

NAKED BIG BOOK – LUMIX Collaboration Version
Venue: LUMIX BASE TOKYO (2-chome-11-17 Minamiaoyama, Minato-ku, Tokyo)
Running: April 26 – May 29, 2022
Hours: 11:00-19:00 / Closed on Mondays, New Years holiday
Admission: Free
Official Site: https://lumix-base.jpn.panasonic.com/

Mickey Mouse Merchandise Appears at Shinsaibashi PARCO in Osaka

Mickey Mouse is beloved by people all over the world. To liven up the Golden Week holiday, Shinsaibashi PARCO in Osaka is showing off the 'Mickey Mouse Osaka Collection' for a limited time, This collection, available until May 8, is the first Disney collection featured at Shinsaibashi PARCO.




A number of Mickey Mouse-inspired products created by numerous designers will be featured, all of which already have shops in Shinsaibashi PARCO. A Mickey Mouse Collection pop-up shop is also open for a limited time at THE WINDOW SHINSAIBASHI on the first floor.

©Disney

©Disney Artwork by Yoshirotten

©Disney Designed by Javier Calleja

©Disney Designed by Keiichi Tanaami

©Disney Designed by Tetsuya Nakamura

 

Visitors can also enjoy the 'Mickey Mouse Now and Future' exhibition at the PARCO GALLERY on the 14th floor. The exhibition is a collaborative art project by artists from around the world who love Mickey! Curated by Shibuya's contemporary art gallery NANZUKA, fans won't want to miss this unique collection of art.

Information

Mickey Mouse Osaka Collection

Running: April 22 – May 8, 2022

Location: 1F THE WINDOW SHINSAIBASHI

Mickey Mouse Now and Future

Running: April 23 – May 16, 2022

Location: 14F PARCO GALLERY