New 237 Color from New Balance, DISH// Appear in New Visual
A new color has been added to the New Balance 237 collection, a modern sneaker which debuted in 2021, inspired by the 1980s New Balance models 420, 1300, and Gator. The 237 was released following the release of the popular 327 in 2020. The fresh and modern design is combined with a retro twist – The upper combines a variation of materials, while the tongue is cut and the outsole is rolled. The design also features the same 70s motifs as the 327, with a large N logo and notched eyelets making a huge impact on the sneaker. The retro design is versatile and easy to style.
Plus, dance-rock band 'DISH//,' a band that continues to grow and refine their activities, have featured in a must-see new visual wearing the brand-new 237 shoes! Be sure to check it out.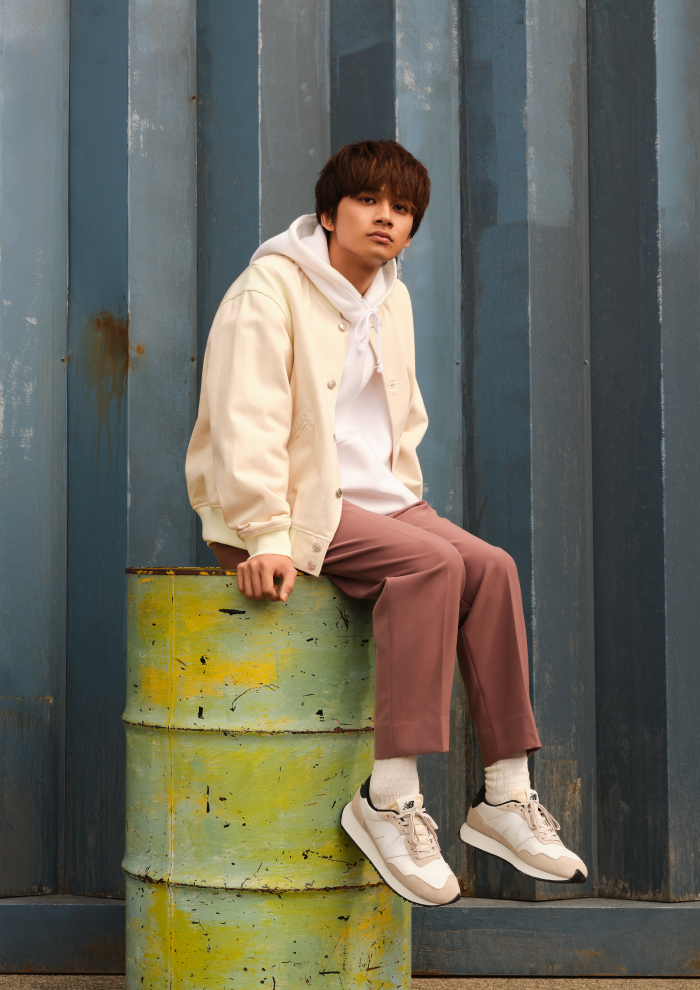 Information
New Balance 237
Availability:
New Balance Official Online Store
New Balance Official Store
Available at some New Balance stockists
*Color variation may depend on the store
RELATED ENTRIES
atmos and PINKS Collaborate on Classic Sneaker-Inspired 'SNEAKER PINKS' Collection

atmos, a shop sharing Tokyo's sneaker culture with the world, has collaborated with the mysterious character PINKS, created by Acky Bright, for an intense new collection. Blending the classic and the futuristic, SNEAKER PINKS and atmos have begun selling the new items at atmos-Tokyo.com

Sola-031

Personality: The leader of the PINKS, she easily combines both power and kindness.
Her megaton kick can destroy any armor with ease.
She can also freely control her long blue hair.

Hanna-700

Personality: The speediest member of PINKS. Using her overwhelming agility, she easily tosses her opponents and tears them apart with her sharp claws. She always goes for the gold.

Pauley-800

Personality: The mood maker of the group, she's full of energy and always smiling. She can jump over a building in a single leap. Even when things are tough, she can turn the situation around with her natural positivity.

Sui-025

Personality: Quiet and calm, she's the group's chief strategist. 
With plenty of combat experience, unparalleled intelligence, and ample physical strength, she's admired by the other members.

Aoi-401

Personality: Although she's the smallest member of PINKS, she makes up for it with her blunt tongue and powerful personality.
A maniacal warrior, she cuts her enemies down with her laser blade.

En-040

Personality: The most mysterious of the group, En-040 is like everyone's little sister.
Always aiming for top marks, she's tough and dependable, but also moody and sometimes unpredictable.

Vivi-071

Personality: With a consistent poker face, she always gets her work done without hesitation or complaint.
She can fire powerful laser beams from the palms of her hands and is able to fly, making her the best at aerial combat.

Lily-111

Personality: The idol character of PINKS, she has amassed plenty of male fans. With a calm personality, she's always smiling. 

Nico-100

Personality: The group's secret weapon, she's packed with the latest technology.
Her ability to bury her enemies with ease has earned her the respect of the other members of the group.

Mona-125 / Mone-101

Personality: These twins have been around since the early days of the group.
With strong legs and massive arms, they're as tough as they look.

Acky Bright has worked across a number of genres and mediums, including character design, concept art, and live painting. He has also provided cover art for DC Comics. For the third installment of this collaboration, 10 different sneakers were designed as 'prototypes,' with each being based on a specific mecha suit. 

These unique characters and concept are still shrouded in mystery. Their identities and future developments will be posted on social media, so be sure to follow the official atmos account! Which girl is your favorite?

HENSHIN by KAMEN RIDER Sneakers Now Available in Limited Edition of 100 Pairs at atmos

HENSHIN by KAMEN RIDER, a company that develops sneakers featuring Heisei era Kamen Riders, has released its long-awaited new "Kamen Rider Genm Sneaker" and "Wolf Orphnoch Sneaker" on the official website of atmos and HENSHIN by KAMEN RIDER.

Line-up

atmos × HENSHIN by KAMEN RIDER TYPE EX-AID SNEAKERS T-SHIRT atmos original ve

atmos × HENSHIN by KAMEN RIDER TYPE RYUKI SNEAKERS T-SHIRT atmos original ver.

BANDAI HENSHIN by KAMEN RIDER Kamen Rider Genm Sneaker

BANDAI HENSHIN by KAMEN RIDER Wolf Orphnoch Sneaker

BANDAI HENSHIN by KAMEN RIDER Kamen Rider Ex-Aid Sneaker

BANDAI HENSHIN by KAMEN RIDER Kamen Rider Ryuki Sneaker

The long-awaited new release of these two pairs are inspired by the characters that play an important role in each story, and not only the backbone of the character, but also the details of the character have been designed with great care. An original T-shirt commemorating the collaboration has also been released.

The sneakers are produced using an original atmos body with a comfortable fit, featuring unreleased illustrations of "Kamen Rider Ryuki" and "Kamen Rider Ex-Aid" on the front. The back of the sneakers features the logos of both atmos and HENSHIN by KAMEN RIDER.



This time, the looks depicted the scenes in which each character appeared, making it a must-have look for any fanatic.

These sneakers are available until December 19, 2021. The collaboration tee shirt is available only at atmos online. The sneakers are limited to the first 100 pairs of each type, so don't miss out on these products which are sure to be a hit with Kamen Rider fanatics and sneakerheads alike!

A Tachikoma From Ghost in the Shell SAC_2045 Arrives at New Balance Harajuku

As a part of the brand's 9BOX series, New Balance has released a new graphic T-shirt collection in collaboration with Ghost in the Shell SAC_2045. The items went on sale November 12, and to commemorate the release, a Tachikoma from the series has arrived at New Balance Harajuku! For those who may not have seen the series, a Tachikoma is an AI tank prominently featured in the Ghost in the Shell universe.

T-Shirt

Long Sleeve T-Shirt

Collaboration Sticker

Picture Frame

Motoko Kusanagi, the main character of the series, perfectly exemplifies the New Balance brand, which promotes 'fearless independence.' Five new t-shirt designs are now available, all drawn by Ilya Kuvshinov, the character designer for Ghost in the Shell SAC-2045. The collection is available at official New Balance stores nationwide, as well as the online store and participating ABC Marts. Those who purchase items from the collection will receive a collaboration sticker, and a special picture frame will be available on the New Balance official store app NB Shop. 

New Balance's flagship store in Harajuku is celebrating its fifth anniversary this year and was the backdrop for the cover of Rolling Stone Japan to promote the collaboration. Fans of the anime series shouldn't miss out on these stylish threads!

Sneaker Art Project artrA to Hold Final Exhibition in Osaka and Tokyo

Street culture is ever-evolving, and sneakers play a big part in street fashion. Combining sneakers and art, the artrA project is about to wrap up its first successful season. SNKRDUNK, Japan's premier sneaker selling app and popular shoe shop atmos have teamed up for this exhibition, which will feature the famous AIR JORDAN 1. These exhibitions have taken place in seven cities across Japan since July. The final exhibitions will be held in Osaka in November and in Tokyo in December. 

A total of 26 up-and-coming illustrators, graphic designers, and even ukiyo-e artists have come together for this unique event. The artwork in this exhibition will incorporate the AIR JORDAN 1 brand, and merchandise featuring this street-styled artwork will be available at the venue.

Those who purchase a T-Shirt on-site will be entered into a raffle to win a pair of AIR JORDAN 1 sneakers. In addition, a special lottery will allow winners to purchase a pair of sneakers to take home. 

Be sure to keep an eye out for the second season of the artrA project brought to you by ASOBISYSTEM!

Information

artrA – SEASON 1 FINAL –

"artrA Vol.8" in OSAKA

Running: November 19 – November 23, 2021

Hours: 10:30-20:00

Address: atmos SHINSAIBASHI (2-7-6 Shinsaibashisuji, Chuo-ku, Osaka) 

Admission: Free

"artrA Vol.8" in TOKYO

Running: December 24 – December 26, 2021

Hours: 11:00-19:00

Address: A.F GALLERY (3-21-8 Jingumae, Shibuya, Tokyo)

Admission: Free

Official Site: http://asobisystem.com/

AAPE x NEW BALANCE Unveil Sporty and Trendy New Collaboration

Trend-leading fashion brand AAPE has announced a new collaboration collection with classic sports brand NEW BALANCE. The collaboration will be both sporty and trendy.

The collaboration pays homage to classic street culture, with camouflage prints and the stylish NEW BALANCE logo colored using earth tones. Based on the 703 sneaker, the mountain trail running shoes have a military vibe while offering maximum comfort and durability.

 

The collection also includes a selection of durable and flexible outdoor clothing, with jackets and utility trousers. AAPE's new spliced camouflage print brings out the practical look even further. You can also pick up some practical gear such as fishing hats and thick mountain socks. 

 

The collaboration items will be available from September 25 at AAPE STORES in Harajuku, Shibuya, Hankyu Men's Tokyo, Osaka, and Lake Town.

 

Be sure to check out this aesthetic and functional collaboration!

 

Information

AAPE x NEW BALANCE Collection

Availability: September 25 2021

Purchase Location: AAPE STORE Harajuku, AAPE STORE Shibuya, AAPE STORE Keikyu Men's Tokyo, AAPE STORE Osaka, AAPE STORE Lake Town

New Balance 327 Web Commercial Features AKB48 Performing New Single

AKB48's new single Nemohamo Rumor has been making waves with its catchy beat and incredible choreography. The group's first new single in a year and a half, members Nana Okada, Yui Oguri, Hitomi Honda, and others are performing the track in a new web commercial for New Balance 327 sneakers! The CM is available on ABC Mart's official website, as well as AKB48's official YouTube channel. 

To commemorate the release of the new commercial, 48 lucky people will receive a purchase bonus, including an original photo card and snapbook in a new app lottery campaign. A special pop-up will also be held on the second floor of ABC-MART GRAND STAGE Ginza starting September 23, 2021. 

ABC-MART GRAND STAGE Ginza 2F Special Pop-Up

Participating AKB48 Members

Behind-the-Scenes

While the choreography for Nemohamo Rumor is incredibly complex and demanding, the members didn't show a single sign of exhaustion or fatigue during shooting, instead happily chatting with each other and commenting on each other's performance the entire time. As we checked the footage, we were incredibly impressed by how the shoes looked as they performed. 

Takumi Kitamura Becomes Tommy Hilfiger's First-Ever Japanese Ambassador

Singer, actor, and model Takumi Kitamura has been crowned Japan's first-ever ambassador for the Tommy Hilfiger brand. The popular talent is now being featured in promotional content for the FALL 2021 menswear collection.

The Tommy Hilfiger brand has roots in the world of music, and this collaboration is meant to celebrate Takumi Kitamura's leadership of the popular band DISH//, and his genuine efforts to make a meaningful contribution to his community. Recently, the musician offered his music free to students who had been negatively impacted by the COVID-19 pandemic. The Tommy Hilfiger brand began a new campaign for positive social change in spring, called the 'Moving Forward Together' campaign, and Kitamura embodies the spirit of the new initiative.

Tommy Hilfiger himself commented on the new ambassador. "I'm incredibly thrilled to feature Mr. Kitamura in the FALL 2021 collection. We love Japan, and we love Japanese fans. This collaboration will allow us to pay tribute to Japan's unique culture, while also expressing Mr. Kitamura's thoughts on community in a modern way."

The FALL 2021 menswear collection blends classic American heritage with the great outdoors. The color palette combines amber yellows and bold orange shades with simple neutrals like olive, camel, and heather gray.

Takumi Kitamura is now featured in campaign visuals and commercials in shops around Japan and abroad, as well as on the online store. A special website has also been launched to commemorate this momentous collaboration. New visuals will continue to be released until the end of the season, so be sure to check regularly!

A Twitter campaign will also be held on the official Tommy Hilfiger Japan account, using the hashtag #TOMMYXTAKUMI. By following the account (@TommyHilfigerJP) and retweeting the relevant tweet, five lucky people will win one of the looks modeled by Mr. Kitamura.

Comment from Takumi Kitamura

"I'm Takumi Kitamura, and I'm honored to announce that I have been chosen as a brand ambassador for the historic Tommy Hilfiger brand. While shooting the visuals for the FALL 2021 collection, there were a number of combinations that surprised me! Hopefully, I can convey plenty of Tommy Hilfiger's character through this collaboration. Thank you so much for this opportunity."

Be sure to check out Takumi Kitamura rocking these new autumn looks!

New Balance 996 Model Sneakers to be Redesigned, Relabeled

Since their creation in 1988, the 996-model sneaker has been one of New Balance's most popular models. This month, the 996 will be reborn as the New Balance Standard, with the same comfortable feel and some minor changes to the logo.

In the new campaign, Natsume Mito, Saki Shibata, Fumiko Aoyagi, and Shiho Takechi will be modeling the new shoes, each in a sleek new color. The photos are meant to depict women living their daily lives with positivity, as they did in 1988 and as they do today.

The 996 model sneakers are the third model in the 99X series. Released in 1988 as a running shoe meant to be used on paved surfaces, its comfort and design has made it a best-seller among both men and women.

Will you be grabbing a pair of these updated kicks?

ASICS x A BATHING APE® Collab on Rad New Sneakers

Japanese shoe brand ASICS is teaming up with street fashion brand A BATHING APE® to release a new pair of sneakers. The shoes are modern and sporty, while still rocking an original BAPE® design, and will be available at A BATHING APE® retailers and online starting August 22.

BAPE® x ASICS GEL-1090: ¥19,800 (Tax Included)

Originally released in 2003, the GEL-1090 is a classic pair of sneakers, now updated with modern flair and functionality. The design is reminiscent of the street scene of the early 2000s, as seen through the eyes of the BAPE® brand.

The tiger claw mark on the toe and heel are original to the GEL-1090 design, while the BAPE® style has been fashionably incorporated throughout, including classic camo and shark motifs. Tokyo-based photographer RK was in charge of the look book for the release, and captured the effortless mix of sporty and street-style the GEL-1090s offer.

Do these shoes match your personal style?

New atmos x NIKE Collection Inspired by Summer Festivals

Sneaker shop atmos will be releasing a colorful new collection of shoes inspired by Japan's famed summer festivals! Called the RETRO SUMMER PACK, sales will begin in most atmos stores on August 9, 2021, as well as on the atmos online shop. To celebrate the launch, a pop up shop will open in Harajuku for a limited-time on the same day. The lottery is now open on atmos-tokyo.com. 

NIKE AIR MORE UPTEMPO '96: ¥20,900 (Tax Included)

NIKE WMNS AIR FORCE 1 ʻ07 LV8 ¥13,200 (Tax Included)


NIKE WAFFLE TRAINER 2 ¥12,100 (Tax Included)


NIKE AS M NSW TEE MAX90 TD RESU ¥4,950 (Tax Included)


The AIR MORE UPTEMPO sneakers feature traditional Japanese patterns inspired by Kuniyoshi Utagawa, one of Japan's most famous ukiyo-e artists. Traditional Japanese patterns like chrysanthemums and pine needles decorate the AIR FORCE 1 shoes, while the lemon, strawberry and melon colors covering the WAFFLE TRAINER 2 and t-shirts were inspired by the most sought-after summer treat, shaved ice!

At the atmos pop up shop, it's all about the retro theme. Inside the store, visitors can stroll down memory lane, with every square-inch of space filled with Showa era nostalgia. Certain items will only be available here, so don't miss out! 

Information

Atmos RETRO SUMMER PACK

Lottery Now Open

How to Enter: http://www.atmos-tokyo.com

POP UP SHOP 'atmos shop' 

Event Period: August 9, 2021-August 22, 2021

Reservation Needed

Address: 1F 4-31-2 Jingumae, Shibuya, Tokyo

Telephone: 03-5411-4285

Hours: 11:00-20:00

Dance-Rock Band DISH// Models Upcoming Autumn and Winter New Balance Releases

Known for breaking a move while playing their instruments, dancing rock band DISH// are the new campaign ambassadors for popular shoe brand New Balance! A special website is now open, showing new visuals of the group wearing the autumn/winter apparel collections 'NB ATHLETICS' and 'NB ESSENTIAL.'

DISH// is composed of four extremely talented members: Takuma Kitamura (Vocals/Guitar), Masaki Yabe (Choreography/Guitar), To-i Tachibana (DJ/Keyboard), and Daichi Izumi (Drums). They released their first major single, 'I Can Hear,' in 2013. 

'NB ATHLETICS' brings authentic styles together with trendy designs, while 'NB ESSENTIAL' features a collection of designs inspired by classic sports motifs with a more preppy feel, making it easy to combine items to create a unique personal style. While their main focus is music, DISH// has been slowly expanding their activities across different mediums, from movies and dramas to stage performances and modeling. 

DISH// Member Comment: 


"New Balance's classic style isn't only about fashion, but about representing the thoughts and feelings of younger generations, so we want you to definitely check out the new releases. Even though we wore a ton of different shoes this time around, New Balance has even more products. They really do offer something for everyone!" 

Japanese Sneaker Shop atmos Teams Up with Adidas to Release Yoyogi Park-Inspired Shoes

Inspiration can be found anywhere: the 'adidas Originals ZX 8000/FORUM LOW "YOYOGI PARK" PACK' sneakers will release on August 7, 2021 at select atmos and Adidas shops, as well as A.T.A.D in Harajuku. Those wanting to enter the lottery to snag a pair of these funky kicks can register now. 

adidas Originals FORUM LOW atmos "YOYOGI PARK": ¥13,200 (Tax Included)

adidas Originals ZX 8000 atmos "YOYOGI PARK": ¥15,400 (Tax Included)


Yoyogi Park is one of the great symbols of Tokyo, having opened to the public in 1967. The natural space is the perfect place to escape from the hustle and bustle of the crowded city, and these sneaker designs are rooted in the rich colors found with the trees and greenery each season. Adidas and atmos have collaborated plenty of times in the past, and never fail to impress with their creative releases. 

These are the perfect pair of shoes to wear as you stroll through the park, standing on the edge of the always changing urban landscape of the Japanese capital. Don't miss out!

Information

adidasOriginals ZX 8000/FORUM LOW "YOYOGI PARK" PACK

Release Date: August 7, 2021

Lottery Registration Open Date: August 3, 2021

Where to Buy: A.T.A.D Harajuku, atmos stores, atmos online, Adidas online (excludes select shops)

Official Site: https://www.atmos-tokyo.com