Adidas Originals and atmos Collaborate to Release Sneakers Based on Shibuya's Hachiko
A new pair of kicks based on the iconic symbol of Shibuya, Hachiko, will be released for round three of the SHIBUYA PACK! This collaboration between Adidas Originals and sneaker shop atmos will be sold at A.T.A.D, atmos stores and atmos Online on September 18, with lottery registration open now. The sneakers will also be available from the Adidas App and the Adidas Online Shop starting September 25.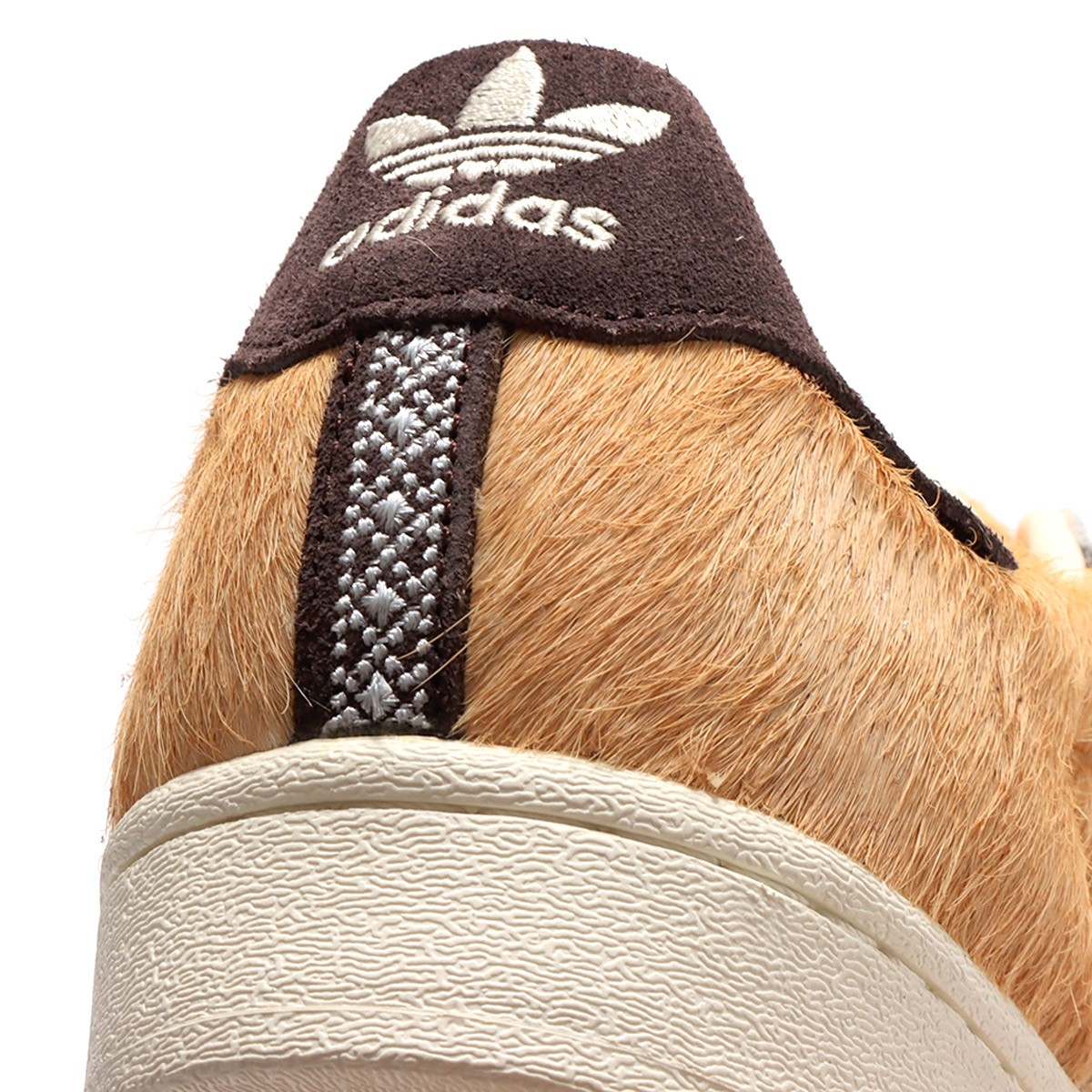 Adidas Originals SUPERSTAR DOG atmos "HACHI": ¥15,400 (Tax Included)
These exclusive Superstars, a timeless pair of sneakers from the Adidas Originals brand, will feature a unique texture that expresses the character of the dog Hachiko. The shoe's tongue features a silver Trefoil logo, while the midsole has the address of where Hachiko's statue is located. Of course, there's a special Hachiko design on the insole! 
Hachiko is a famous symbol of Shibuya, with his statue being a popular meetup point for friends and couples. Known for his loyalty to his owner, the dog waited for over nine years for the man to return after his death. 
Proceeds from the sale of these sneakers will be used to support the YOU MAKE SHIBUYA souvenir program, which is helping to revitalize the local community by selling products marked with the special YOU MAKE SHIBUYA logo!
Information
Adidas Originals SHIBUYA PACK – Round 3
Release Dates/Where to Buy: 
September 14: Lottery Opens
September 18: A.T.A.D, atmos stores, atmos Online Store Pre-orders open
September 25: Adidas App, Adidas Online Shop
Official Site: https://www.atmos-tokyo.com/
RELATED ENTRIES
10 BABYMETAL BUDOKAN Exhibition Opens at Tower Records Shibuya

27.September.2021 | MUSIC

On September 28, the 10 BABYMETAL BUDOKAN Exhibition will open on the 8th floor of Tower Records Shibuya for a limited time. The exhibition will feature a collection of costumes worn by the group during their numerous concerts over the years, stage set reproductions, photo spots, and more. 

Savior Mask

Postcard

BABYMETAL × TOWER RECORDS Exclusive Goods

Collaboration BEER

10 BABYMETAL BUDOKAN Mystic Game

Exclusive merchandise will only be available during this event, including T-shirts, bags, posters, and even beer! Those attending the exhibition will be entered to win a BABYMETAL mask or postcard, previously only available at the Budokan concert. The Mystic Game, a puzzle-solving experience, will also take place within Tower Records Shibuya, asking guests to explore the location for clues!

Information

10 BABYMETAL BUDOKAN Exhibition

Running: September 28, 2021 – October 10, 2021

Where: Tower Records Shibuya 8F SpaceHACHIKAI

Hours: 12:00-20:00 (Last entry at 19:30.) *Open 16:00-20:00 on September 28. 

Tickets: https://w.pia.jp/t/10babymetal-budo-ex/

*Day-of Tickets are available at the venue's ticket counter. 

*No day-of tickets available on days when advanced tickets sell out. 

Order Period: October 1 – October 10, 2021 at 20:00

https://tower.jp/article/feature_item/2021/09/21/4001

10 BABYMETAL BUDOKAN Mystic Game

Running: September 28, 2021 – October 10, 2021

Hours: 12:00-19:00 (Last entry at 17:30)

Where: Tower Records Shibuya (Event begins at the 2F counter.)

Tickets: https://w.pia.jp/t/10babymetal-budo-game/

*Day-of Tickets are available at the venue's ticket counter. 

*No day-of tickets available on days when advanced tickets sell out. 

Official Site: https://towershibuya.jp/

Multimedia Project aoppella to Get New Pop-Up Shop at Namba Marui

The new multimedia project aoppella tells the story of eleven male high school students discovering the art of a cappella. Now, a new pop-up shop will be selling new merchandise from the project at both Shibuya MODI and Namba Marui this fall! Limited-edition items will feature chibi versions of the characters. 

Prizes Available by Lottery

Prize A: Original Illustration Cushion

Prize B: Original Illustration Mini-Standee (11 varieties) – Choose 1 of your favorite character

Prize C: Complete Set of Original Illustration Postcards (11 varieties)

Prize D: 1 Random Original Illustration Postcard (11 varieties) 

 

Merchandise

 

Acrylic Stand (11 varieties): ¥660 (Tax Included)

Flat Pouch (2 varieties): ¥1,540 (Tax Included)

Heart-shaped Case (11 varieties): ¥660 (Tax Included)

Lunch Tote (2 varieties): ¥1,650 (Tax Included)

Candy Tin with Magnet (2 varieties): ¥880 (Tax Included)

 

Guests who spend ¥3,000 or more (including tax) at the event venue and pay with an EPOS card will be entered into the lottery to win special prizes once per checkout.

© KLab

Popular Chichiyasu Chi-bou Fair 2021 Returns to LOFT Locations After Two Years

Household goods shop LOFT is teaming up with beverage company Chichiyasu for the Chichiyasu Chi-bou Fair 2021 at four locations nationwide. The event will run from September 16 until September 29 at Shibuya LOFT, and from October 20 until November 3 at Nagoya LOFT, Umeda LOFT, and Tenjin LOFT. Chi-bou is the name of the adorable character on the Chichiyasu logo.

Chi-bou Drawstring Bag (Set of 2): ¥1,650 (Tax Included)

Chi-bou Gauze Handkerchief: ¥770 each (Tax Included)

Chi-bou T-shirt: ¥2,200 each (Tax Included) *Only available at Shibuya LOFT and Umeda LOFT.

Chi-bou Pouch: ¥1,650 (Tax Included)

Chi-bou Rubber Keychain (Set of 2): ¥1,650 (Tax Included)

Chi-bou A5-size Notebook: ¥385 each (Tax Included)

Chi-bou Mug: ¥1,650 each (Tax Included)

Chi-bou Eco Bag (with Pouch): ¥2,200 (Tax Included)

Chi-bou Masking Tape (Chichiyasu Milk/Boxed Milk): ¥495 each (Tax Included)

 

The Chichiyasu Chi-bou Fair was a popular event held at Shibuya LOFT in 2018 and at Yokohama and Umeda LOFT locations in 2019.

How would you like to buy some of this adorable merchandise?

Information

Chichiyasu Chi-bou Fair 2021

Locations:

Shibuya LOFT 1F, Masaka Stage
Nagoya LOFT 5F, Variety Goods Section

Umeda LOFT 1F, Loft Market

Tenjin LOFT 5F, Variety Goods Section

Running:

Shibuya LOFT: September 16 – September 29, 2021

Nagoya LOFT, Umeda LOFT, Tenjin LOFT: October 20 – November 3, 2021

Hours: Same as LOFT business hours *Shibuya LOFT and Umeda LOFT to close at 18:00 on the final day.

Official Site: https://www.loft.co.jp/

Wakayama Culture Festival 2021 Coming to Shibuya

ASOBISYSTEM, in cooperation with the Agency for Cultural Affairs, will hold the Kinokuni Wakayama Culture Festival 2021 in Shibuya on October 3, 2021. The event will be free to attend, and will take place at Shibuya CAST, a modern commercial facility located between Shibuya and Harajuku.

The Kinokuni Wakayama Culture Festival 2021, taking place in Wakayama Prefecture from October 30 to November 21, is the one of the largest cultural festival in Japan. This event will bring many popular presentations and goods from Wakayama to Shibuya, allowing Tokyo residents to experience some of the beauty and traditions of this area of the Kansai region. A number of celebrity guests will be in attendance, and local Wakayama goods will be on sale. Measures will be taken during the event to prevent the spread of COVID-19.

Promoting the Wakayama Culture Festival Throughout Shibuya!

In a special collaboration with SHIBUYA TELEVISION, the largest media outlet in the Shibuya area, a promotional video produced in Wakayama Prefecture will be aired on eight large screens in the Shibuya area from September 27 to October 3. Select restaurants in Shibuya will also serve dishes featuring ingredients from Wakayama for a limited time.

Get the Wakayama Panda Mask Cover for Attending!

An original Wakayama Panda Mask Cover, produced by ASOBISYSTEM, will be given to visitors on the day of the event. *Quantity limited.

If you're in the Tokyo area, be sure to come out to this special event where you can experience the charm of Wakayama!

Information

Kinokuni Wakayama Culture Festival 2021 in Shibuya

When: October 3, 11:00-17:00

Where: Shibuya CAST. (1-23-21, Shibuya, Shibuya-ku, Tokyo)

Entry: Free

Content: Wakayama Product Market / Stage Show, etc.

Guests: To Be Announced

Organized by: Agency for Cultural Affairs
Planning: ASOBISYSTEM / Channel 47

Twitter: https://twitter.com/wkym2021_sby

* In order to prevent the spread of COVID-19, the event may be subject to admission restrictions, changes in content, or performance cancellations.

YUZU, 24 Artists to Participate in Japanese Pixel Art Exhibition

Produced by art project production group WATOWA GALLERY, the YUZU x Shibuya Pixel Art YUZUTOWN Special Exhibition will be open at elephant STUDIO in Shibuya starting September 15! The theme of this year's event is 'bringing courage to Shibuya during the Coronavirus pandemic.'

SHIBUYA PIXEL ART, one of the world's biggest pixel art contests and festivals, has been held in Shibuya each year since 2017. The area was called 'Bit Valley' in the late 1990s.

The YUZUTOWN Special Exhibition will commemorate the release of popular J-pop duo YUZU's 15th album, YUZUTOWN. A total of 24 artists will be exhibiting and selling their pixel art creations, including Kazuko Shibuya, who has provided works for some of Japan's most famous fantasy RPGs such as Final Fantasy and Dragon Quest. Shigetaka Kurita, immortalized in the MoMA as the creator of 'emoji,', and eBoy, who provided the album cover for YUZUTOWN, will also be in attendance.

Information

YUZU × Shibuya Pixel Art "YUZUTOWN Special Exhibition"

Running: September 15 – September 30, 2021

Hours: 10:00-19:00

Location: elephant STUDIO (1&2F, 2-7-4 Shibuya, Tokyo)

Admission: ¥1,650 (Tax Included) *Reservations required.

Buy Tickets: https://artsticker.app/events/765 *Reservations now open.

Official Site: https://pixel-art.jp/reboot

Sevnzel, Character Designer for Pokémon & More, Opens Exhibition in atmos Sendagaya

Sneaker select shop atmos will be hosting their first exhibition with Illustrator Sevnzel of the 'SSS by applibot' group, titled atmos × #424D99 EXHIBITION GOSPEL 01. The limited-time exhibition will be held in atmos Sendagaya between August 28 and September 5.

 

Item Lineup

Sevnzel #424D99-BLISTER PACK GOSPEL01 atmos Ver.: ¥8,480 (Tax Included)

Sevnzel #424D99-BLISTER PACK GOSPEL01: ¥4,240 (Tax Included)


atmos x Sevnzel Collaboration S/S Tee: ¥6,600 (Tax Included)


atmos x Sevnzel x SSS Collaboration S/S Tee (10 types): ¥6,600 (Tax Included)

In the past, Sevnzel has designed characters for the Pokémon Sun/Moon series, Tensai TV Kun hello, and the NEC Laptop LACIE VEGA. The solo exhibition will be held in atmos Sendagaya to commemorate the long-awaited publication of Sevnzel's full-color art comic #424D99, originally posted on Twitter, 

 

The first volume of #424D99 will be sold at the event in two blister packs, the regular edition and a limited atmos edition. In addition, the exhibition will feature huge posters of the comic pages, with collaboration t-shirts and goods featuring the comic characters drawn by the other 'SSS by applibot' members (Yoneyama Mai, BUNBUN, Taiki, PALOW., ISSAI, and NAJI Yanaguda) available to purchase.

Get immersed in the #424D99 world with this unique exhibition!

Information

atmos × #424D99 EXHIBITION GOSPEL 01

Availability: August 28 ~ September 5, 2021

Location: atmos Sendagaya

Address: 3-16-9 Sendagaya, Shibuya, Tokyo 

Opening Hours: 11:00 ~ 19:00

Official Site:https://www.atmos-tokyo.com/

Gintama Pop-up Store to Open at MAGNET by SHIBUYA109

Anime and manga goods seller AMNIBUS STORE will open a special Gintama pop-up shop at the AMNIBUS STORE/MAGNET location inside Shibuya109 starting August 31. 

Event Pre-sale Merchandise

Pins featuring original art (Random, 12 designs): ¥440 each (Tax Included) / Box of Pins: ¥5,280 (Tax Included) *Box contains randomly selected badges.

Acrylic Keychains featuring original art (Random, 12 designs): ¥715 each (Tax Included) / Box of Keychains: ¥8,580 *Box contains randomly selected keychains.

Character stands featuring original art (Random, 12 designs): ¥825 each (Tax Included) / Box of character stands: ¥9,900 (Tax Included) *Box contains randomly selected character stands.

BIG Acrylic stand (6 designs): ¥1,980 each (Tax Included)

BIG Acrylic Keychain (6 designs): ¥1,100 each (Tax Included)

Clear folders (7 designs): ¥440 each (Tax Included)


B2-size tapestry (7 designs): ¥3,300 each (Tax Included)

Special Gift for Box Purchases

Pins (12 designs)

Acrylic Keychains (12 designs)

Character stands (12 designs)

As an event-only promotion, visitors will receive a special photo (six varieties) at random.

Much of the Gintama merch will be sold in advance, and the AMNIBUS STORE will have a limited amount of purchase rewards to distribute. 

In addition, a Follow and RT campaign is also being held to celebrate the event. By retweeting the selected tweet and following both the official AMNIBUS and AMNIBUS STORE Twitter accounts, one person will win a complete set of the event-only special photos!

©Hideaki Sorachi/Shueisha・TV Tokyo・Dentsu・BNP・Aniplex

atmos x Dr. Martens Collaborate on Anime Inspired Boots

Sneaker brand atmos is teaming up with Dr. Martens for a new anime-inspired pair of boots. These sleek kicks will be available at atmos stores and online on August 21. 

TARIK ZIP ATMOS : ¥24,200 (Tax Included)  

 

The two brands first collaborated in April 2021, and their creation was an instant best-seller. This second collaboration captures the streetwear look both brands are known for, while being inspired by Japanese pop culture and anime. The boots are striking to the eye, featuring shiny velvet and leather with an oversized logo on the tongue and red and black detailing. 

 

These boots are unisex, so anyone can rock a pair on the Tokyo streets. If you're looking to show your individuality, why not snag a pair while you can? 

 

Cafe & Gift Shop Disney HARVEST MARKET By CAFE COMPANY Pre-Opens

Disney HARVEST MARKET By CAFE COMPANY, pre-opening for reservations on August 12, is a new cafe and gift shop that offers "Food that connects with the future." 

The 'Health-ertainment' themed menu is healthy for people, society, and the earth itself, while staying tasty, fun, and enjoyable to reflect Disney's world view.

 

Menu Sample


Afternoon Tea Party: ¥3,200 per customer (2+ guests)
An Afternoon Tea set with seasonal fruits, pancakes, open sandwiches and drinks.


From the bottom: Otoboke Barista Cafe Latte: ¥770 / Cheerful Farmer Jumbo Mushroom Burger: ¥2,530 / Fluffy & Crumbly Doggy Potato (Curry Flavor): ¥935 / Cute Chef's Pink Berry Pancake: ¥2,200 / Stylish Patisserie Double Berry Glass: ¥1,980 / Careless Fisherman's Wholegrain Carbonara : ¥2,200 

The menu is made up of the characters and stories that make up Disney, starting with Mickey and Minnie Mouse, perfect for both adults and children.  

In addition, with the concept of Japan Local, there will be a special menu that allows you to experience the four seasons of Japan, with menu items that reflect Japanese seasonal events.

By combining the act of eating with entertainment through Disney's world view, the customer can enjoy a "delicious and fun" food experience. 

Oh!Miyage ~GOODS EXPERIENCE~

The gift shop offers not just Omiyage (souvenirs) but Oh!Miyage, filled with original products and traditional crafts made by trustworthy creators from across Japan. The gift shop provides an experience packed with the fun of choosing, buying, gifting, and using your purchases while offering awareness of both yourself and the makers. 

 

A 'Harvest' Experience Full Of Disney

The Harvest store is decorated with wood and greenery,  built using both new and recycled goods made from waste materials.

The menu represents the four seasons of Japan by combining Japanese culture and natural motifs with designs inspired by Mickey and Friends.

 

 

The back of the store is taken up by a huge white Mickey Mouse statue, standing 1.7m tall. The statues outfit and display changes based on the season, welcoming guests as a symbol of the store. Limited merchandise based on the statue's hand towel and muffled designs are scheduled to be released in the future. 

 

BGM

The store background music is full of timeless and beloved tunes, perfect for relaxing in a cafe. Songs have been selected from Disneyland Records and Burns Vista Records, both popular since the 1950's, including legendary Disney tunes from the Sherman Brothers and Annette.

You can also hear rare tracks sung by Mickey Mouse, Minnie Mouse, Donald Duck, and other disney characters within the playlist.

Make sure to enjoy this Disney-colored 'Health-ertainment' experience for yourself!

Information

Disney HARVEST MARKET By CAFE COMPANY

Location: 2-21-1, Shibuya Hikarie 7F, Shibuya, Tokyo

Telephone: 050-3733-5055

Opening Hours: 11:00~20:00 (FOOD L.O.19:00  DRINK L.O. 19:00)

Official site: http://d-harvestmarket.com/ 

*The above information is based on regular opening hours and seat availability. Please note that the store is currently operating at different opening times and reduced seating to prevent the spread of Covid-19.

Nao Tatsumi Holds Google Street View Inspired Solo Exhibition at hotel koé tokyo

hotel koé tokyo, opened by the lifestyle brand koe, is hosting a solo exhibition by the popular artist Nao Tatsumi titled "He saw, She saw." The exhibition will be open until August 23, 2021. 

Collaboration Merch

T-shirts (S/M/L): ¥4,400 (Tax Included)

Tote Bag: ¥3,850 (Tax Included)

 

Magnet: ¥1,100 (Tax Included)

 

Keychain: ¥1,100 (Tax Included)

Tatsumi's art has attracted worldwide attention. His surreal 'Street View Journey' paintings depict international landscapes spotted on Google Street View reimagined in unique colors and styles. This exhibition features 20 works inspired by film settings, and visitors are welcome to use the presented coordinates to find each location. Do you think you could figure out which film each painting was inspired by? 

The art displayed at the exhibition will be on sale, along with some collaborative goods exclusive to the hotel koé tokyo event. Tatsumi will also be in the gallery on August 21 to discuss his work.

In the words of Tatsumi, "Life is like a film, and you're the main character. Let's live dramatically." 

Nao Tatsumi's Comment


"I grew up watching movies, starting at a very young age. I feel like the paths each main character walked and the landscapes they saw are still alive within me, and have begun overflowing into my works." 

Information

NAO TATSUMI SOLO EXHIBITION "He saw, She saw" 

Running: August 12-August 23, 2021

Hours: 11:00-20:00

Location: hotel koé tokyo, koe space (1F) and koé Shibuya (2F)

Address: 3-7 Udagawa-cho, Shibuya, Tokyo

*Nao Tatsumi will be attending the exhibition on August 21 to discuss the works on display. 

Details/Official Instagram: https://www.instagram.com/hotelkoetokyo/(@hotelkoetokyo)
Official Site: http://hotelkoe.com/

The Meguriwa Exhibition to Touch on Sustainability in Japan

Meguriwa, a project promoting sustainability in Japan, will hold a two-day market and exhibition on November 12-13, 2021. The venue for the event isn't a large convention center, but rather an old house forgotten by time in southern Shibuya, surrounded by new development. The space blends traditional Japanese atmosphere with a modern Western style, and promises a sense of nostalgia to all who attend. 

The event will bring together a large collection of artwork, products, and materials from creators and companies all over Japan who focus on recycling-centric creation. This includes products made from wood sourced from forest thinning, as well as those using a portion of proceeds to support environmental conservation efforts. In the midst of major societal changes, humans must continue to coexist with natural phenomena like climate change, viruses, and earthquakes. With this in mind, Meguriwa hopes to share their vision of a 'circular bioeconomy,' in which mankind doesn't separate themself from nature, but instead both fears and appreciates it. 

The event is advertised as a place where people can both learn and have fun while considering our impact on nature, and how we can impact the future. An online seminar, 'The Meguriwa Study Hall,' will take place each week for a month prior to the event!

This event is for a great cause. Get to know local craftsmen and more about long-term sustainability this November!

Information

Meguriwa Exhibition

Dates/Times: 

November 12, 2021   10:30-19:00
November 13, 2021   10:30-18:00

Location: OLD HAUS (An old house with a garden near Namikibashi)

Address: 1-26-32 Higashi, Shibuya, Tokyo

Price: Entrance Free
① Free Ticket: Free
② Priority Admission (Priority Entry): ¥1,000

Details: https://peatix.com/event/1833758/

New atmos x NIKE Collection Inspired by Summer Festivals

Sneaker shop atmos will be releasing a colorful new collection of shoes inspired by Japan's famed summer festivals! Called the RETRO SUMMER PACK, sales will begin in most atmos stores on August 9, 2021, as well as on the atmos online shop. To celebrate the launch, a pop up shop will open in Harajuku for a limited-time on the same day. The lottery is now open on atmos-tokyo.com. 

NIKE AIR MORE UPTEMPO '96: ¥20,900 (Tax Included)

NIKE WMNS AIR FORCE 1 ʻ07 LV8 ¥13,200 (Tax Included)


NIKE WAFFLE TRAINER 2 ¥12,100 (Tax Included)


NIKE AS M NSW TEE MAX90 TD RESU ¥4,950 (Tax Included)


The AIR MORE UPTEMPO sneakers feature traditional Japanese patterns inspired by Kuniyoshi Utagawa, one of Japan's most famous ukiyo-e artists. Traditional Japanese patterns like chrysanthemums and pine needles decorate the AIR FORCE 1 shoes, while the lemon, strawberry and melon colors covering the WAFFLE TRAINER 2 and t-shirts were inspired by the most sought-after summer treat, shaved ice!

At the atmos pop up shop, it's all about the retro theme. Inside the store, visitors can stroll down memory lane, with every square-inch of space filled with Showa era nostalgia. Certain items will only be available here, so don't miss out! 

Information

Atmos RETRO SUMMER PACK

Lottery Now Open

How to Enter: http://www.atmos-tokyo.com

POP UP SHOP 'atmos shop' 

Event Period: August 9, 2021-August 22, 2021

Reservation Needed

Address: 1F 4-31-2 Jingumae, Shibuya, Tokyo

Telephone: 03-5411-4285

Hours: 11:00-20:00