Noseden Artline Festival 2021 Bringing Light, Sound, and Food to the Kawanishi Area
A celebration of light, sound, and food, the biennial Noseden Artline 2021 Festival will take place from October 30 until November 23, 2021. Set in one city and three towns along the Nose Electric Railway, the regional art event began in 2013 to celebrate the 100th anniversary of the rail line, and brings local artists and residents together. 
The festival will be in Kawanishi and Inagawa in Hyogo Prefecture, as well as in Toyono and Nose in Osaka Prefecture, with Mt. Myoken marking the center point. Each part of the event will connect the history, industry, and tradition of the area with new and engaging creations. 
The theme of the 2021 Noseden Artline Festival is 'Enlarged Mentality.' By taking things that are subjective, like an artist's thoughts and senses, and applying them to the objective world that can be shared, it creates a one-of-a-kind way to connect fully with others. The event will feature local cuisine and music, as well as art focused on light, inspired by the North Star. After a year of solitude due to the pandemic, the festival hopes to remind people to cultivate, nourish, and preserve local relationships. 
Art can make life more enjoyable, so why not come and see what the area has to offer?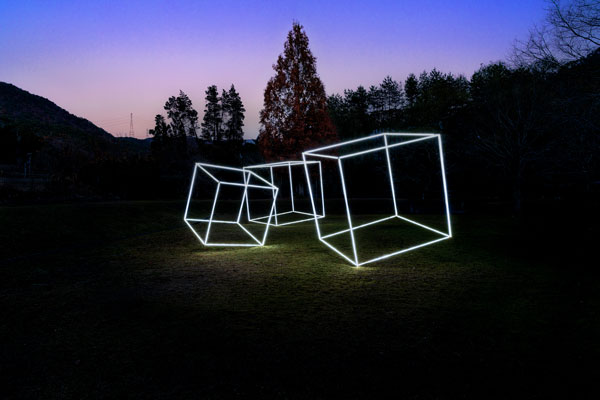 (C)Kousei Ikeda(SPEKTRA)
Information
Noseden Artline Festival
Running: October 30 – November 23, 2021
Location: Nose Electric Railway Line ~ Near Summit of Mt. Myoken
Official Site: http://noseden-artline.com/2021/
RELATED ENTRIES
NAKED to Open DANDELION PROJECT for Peace in Umeda, Osaka

NAKED and Ryotaro Muramatsu's interactive art installation, the DANDELION PROJECT, is coming to Umeda, Osaka. The project aims to connect people around the world, stressing the importance of world peace. Those wanting to participate may do so from October 7 until October 9 at Umekita Sotoniwa Square. 

In July 2020, Umekita Sotoniwa SQUARE opened under a unique premise–it would be open for 1,000 days only. The outdoor area was inspired by cities of the future, featuring plenty of green space. The DANDELION PROJECT fits in perfectly with this concept, using modern technology and networking to create art that also serves as a universal prayer for peace. This is the second time the work has been exhibited in Osaka–it was shown in Nakanoshima during the Osaka Hikari no Renaissance 2021 event last December.

 

The DANDELION PROJECT is inspired by the idea of world peace and hopes to help transcend barriers and connect people in an increasingly divided world. So far, it has appeared in 25 locations–19 in Japan and six abroad. In Japan, it has popped up at Tokyo Tower, Nijo Castle, and other historical sites. Abroad, it has been shown in Paris, Singapore, San Francisco, and Shanghai. The piece aims to bring about change by planting (or installing) dandelion-inspired art around the world, while it invites people visiting these dandelion exhibits to send their prayers for peace as a digital flower in real-time. 

 

The exhibition will also be a satellite venue for NAKED GARDEN ONE KYOTO, a next-gen art project allowing guests to experience Kyoto virtually from September 15 until December 25, 2022.

Information

NAKED – DANDELION

Running: October 7 – October 9, 2022

Venue: Umekita Sotoniwa Square
*Open daily during event period
Hours: 18:00-21:00
Entry: Free
Official Site: https://sotoniwa-uk.com/ 

Abeno Q's Mall Announces Collaboration with Street Fighter II Starting October 1

Street Fighter II will collaborate with a commercial facility for the first time in history! The beloved fighting game will take over Abeno Q's Mall in Osaka from October 1 until October 31, 2022. Popular characters from the game will appear all over the premises, and visitors will be able to take part in unique games to win exclusive prizes. 

There are also a number of interesting challenges that will pop up around Abeno Q's Mall. At the entrance, visitors will be greeted by Ryu and Ken, the main characters from Street Fighter II, as they unleash their Hadouken. Guests will be able to take pictures with Ryu with a special AR Photo Spot, and characters and stages from the title will appear around the mall. A participatory game event, Street Fighter Challenge, will be available for customers spending ¥3,000 or more (including tax). These customers will actually be able to test their Street Fighter skills, with winners winning a ¥500 yen mall gift card if they are victorious. Fans of the fighting game won't want to miss this unique event!

© CAPCOM CO., LTD. ALL RIGHTS RESERVED.

Information

Abeno Q's Mall/Street Fighter II Collaboration
Running: October 1 – October 31, 2022
Address: 1-6-1 Abenosuji, Abeno-ku, Osaka
Official Site: https://qs-mall.jp/abeno

Special 'Roots of Kawaii' Exhibition Marking Rune Naito's 90th Birthday to Open in October

A special exhibition commemorating the 90th birthday of Rune Naito will be held at the Hanshin department store in Osaka from October 19 until October 31. Titled 'Roots of Kawaii,' the event will look back at the life of the esteemed artist, illustrator, writer, and designer. Known for his illustrations of large-headed baby-faced girls, he first became interested in art after discovering the works of Jun'ichi Nakahara, joining Nakahara's company after graduating high school. In 1959, Naito got his big break, designing the cover of the girls' magazine Junior Soleil. Following this, Naito would become active as an illustrator for a number of magazines, and from the 1960s on, he began other activities, even producing a line of commercial goods from glassware to stickers. 

The exhibition's theme is 'Life's fantastic dreams,' and over 300 items will be on display, including rare original drawings, goods, personal sketches, and more. The event will be held in celebration of Rune Naito's birthday on November 20, and will also feature a special shop. Admission is ¥1,000 for adults, ¥700 for high school and college students, and free for junior high school students and younger. Discounts are available by preordering tickets. For details and tickets, check out the official website.

Information

Rune Naito's 90th Birthday Exhibition

Running: October 19 – October 31, 2022
Venue: Hanshin Department Store, Umeda Main Store 8F
(1-13-13 Umeda, Kita-ku, Osaka)

Details/Tickets: https://www.naitou-rune.jp

Japan's Largest Sake Event TOKYO SAKE FESTIVAL to be Held in Shinjuku in October

Japan's largest sake event, TOKYO SAKE FESTIVAL 2022, will run from October 4 until October 6 at the Shinjuku Sumitomo Building's Triangle Square.

The event's aim is to make sake more mainstream around the world, with the first festival taking place in 2020. Tokyo Sake Festival blends sake with entertainment, showing off the very best of Japanese culture to those who may be new to craft sake. For the third year, former NMB48 member Yui Takano will serve as ambassador. Takano is known for leaving her idol career to manage the sake specialty store Yui Sake Shop. 

Tokyo Sake Festival 2022 is bringing together forty carefully selected sake breweries from around Japan, including Inoue Seikichi, winner of the Champion Sake award at IWC 2022. Tonoike Sake Brewery, winner of Kura Master 2022's President's Award, will also be in attendance. The full lineup can be found on the official website.

Popular influencers and artists from Raphael to BOYS AND MEN and Ukon Takafuji will take the stage during the event, so be sure to swing by if you're a fan of Japanese spirits!

Information

TOKYO SAKE FESTIVAL 2022

Dates: 

October 4: Part 1 13:30-16:30 / Part 2 18:00-21:00
October 5: Part 1 13:30-16:30 / Part 2 18:00-21:00
October 6: 16:00-19:00
Venue: Shinjuku Sumitomo Building Triangle Square
(2-6-1 Nishishinjuku, Shinjuku-ku, Tokyo)

Buy Tickets/Details: https://tokyosakefestival.bitfan.id/

Sebastian Masuda to Unveil Hands-On Live Performance Work

From September 30 until October 2, 2022, artist Sebastian Masuda will present a hands-on live performance work titled Polychromatic Skin – Minitsukeru, nugisuteru at kagoo in Kitakagaya, Osaka. 

Masuda, who currently resides in New York, is returning to Japan temporarily to prevent this colorful and experimental participatory live performance, inspired by the street style of the 90s. The title of the artwork is pulled from the artist's intention to break through and liberate people's unconscious stereotypes that stand in the way of gender freedom. This work is the second in a series following Polychromatic Skin -Gender Tower- and Polychromatic Skin -Gender Wall- to be exhibited at Roppongi Art Night 2022.

The theme of this art piece is 'wearing something by taking it off.' Audience members will participate in the live performance by wearing masks, tops, and bottoms based on the idea of androgyny, or the body of a human before it is divided into male or female. 

Upon entering the art space, guests will be surrounded by live music consisting of drums and violins and visuals, while being invited to act accordingly to create their own art. Each session lasts 60 minutes, and participation in the live performance must be reserved in advance. Tickets to view the works without participating in the performance will be sold at the venue on the day of the event.

The performance will take place at kagoo, a former warehouse space in Kitakagaya, an artistic area of Osaka. A free area at the entrance will feature a pop-up store filled with Sebastian Masuda's art, along with items from 6%DOKIDOKI, a popular Harajuku apparel brand celebrating its 27th anniversary in 2022.

<Comment from Sebastian Masuda>

"In Brooklyn, New York in 2018, I wandered off to go to the restroom at a club. The male and female signs on the restroom doors had been smashed together, and the sign only said 'non-gender.' Bewildered by the unexpected instructions, I opened the door with the usual color and found a completely different sight than I was expecting. Shocked to realize that there were stereotypes hiding unconsciously within me, I returned to the club floor to find the space is as fun as ever. Since then, I've wondered if there is a way to break the stereotypes I have. I can't stop thinking about it. 

Is breaking down the walls the only shortcut?
The right answer is inside all of us.
Sometimes, to see the truth, you just need to put something on.
Cast off the self by taking it off."

Miffy's Collaboration Cheesecake Appears at Osaka-Umeda Station

From September 22 until October 3, fans of Miffy will want to head to Hankyu Osaka-Umeda Station! Some tasty collaboration sweets will be available at the station, including some scrumptious cheesecake.

As part of the ongoing collaboration between Miffy and the Hankyu Railway, a new Cheesecake Bar will be available at the Dick Bruna TABLE POP-UP SHOP at Osaka-Umeda Station, which will be open for a limited time. This is a dream collaboration between the very popular Miffy Cheesecake Bar at Dick Bruna TABLE Kobe, a wine bar and cafe where fans can enjoy wine and food along with Dick Bruna's world-famous illustrations, and the maroon color of the Hankyu Railway. Rich cheesecake and blackcurrant will be sold in sets of two, and sweets lovers won't want to miss it.

How could you not want to try these tasty Miffy goods?

Hotel Gajoen Tokyo Displays India-Ink Painting from the Film 'Sen wa, Boku o Egaku'

From October 1 until November 27, Hotel Gajoen Tokyo will hold a special event in conjunction with the film Sen wa, Boku o Egaku. Visitors to the hotel's historic One Hundred Steps Staircase will be surrounded by a world of color and paintings made from India Ink.

Fisherman and Woodcutters Room with Colored Wood Carvings

Grapevine, Hiromasa Togami.

Atelier (Image courtesy of Toho)

The coming-of-age story Sen wa, Boku o Egaku won 3rd place in the 2020 Honya Taisho and the 2019 TBS King's Brunch Book Grand Prize. The book received rave reviews from booksellers nationwide and has now been adapted into a live-action film by Norihiro Koizumi, best known as the director of the Chihayafuru film adaptation. The film will be released on October 21, 2022. As a tie-up project with the film, the One Hundred Steps Staircase, a Tangible Cultural Property of Tokyo built in 1935, will be the setting for an incredible display of paintings that appear in the film.


Information

Sen wa, Boku o Egaku at the One Hundred Steps Staircase
~The World of India-Ink Filled with Color~

Running: October 1 – November 27 *Open daily during event period
Hours: 11:00-18:00 (Last entry at 17:30)
Venue: Hotel Gajoen Tokyo, One Hundred Steps Staircase (Tangible Cultural Property of Tokyo)
Tickets/Details:
https://www.hotelgajoen-tokyo.com/100event/senwabokuoegaku

teamLab to Hold Solo Exhibition at Seoul's Pace Gallery

Art collective teamLab will hold a solo exhibition at Pace Gallery in Seoul from September 2 until October 29, 2022. Titled 'teamLab: Massless Suns,' the exhibition will mark the opening of the expanded gallery space at the internationally-recognized art landmark. The collective will also be unveiling a new work, Massless Suns and Dark Spheres, in which countless light and dark objects without boundaries fill the space around guests.

Massless Suns and Dark Spheres

Dissipative Figures – Human

Dissipative Figures – 1000 Birds

 

As visitors stare into the strange balls of light and darkness, it will seem as though the space around them is warped. If you reach out to try to touch the light spheres, they will shine brighter, and the orbs around them will respond in succession. The work questions the nature of existence and relies entirely on visitor perception.


Continuous Life and Death at Now of Eternity II

Waves of Light

Resonating Microcosms – Solidified Light Color, Sunrise and Sunset

In March, the Pace Gallery opened a new exhibition space dedicated to experimental and immersive interactive works. Those familiar with teamLab will recognize some of their most popular works appearing during the exhibition, including the Dissipative Figures series and Waves of Light. 

In the newly-opened outdoor courtyard, the work 'Resonating Microcosms – Solidified Light Color, Sunrise and Sunset' will be on display, constantly transforming due to wind and rain, as well as influence from guests. A new concept work, 'Solidified Light Color,' will shine with 61 colors, inviting the environment and visitors to become a part of the art itself.

 © チームラボ

Information

teamLab: Massless Suns
Running: September 2 – October 29, 2022
Venue: Pace Gallery Seoul (267 Itaewon-ro, Yongsan-gu, Seoul)

NAKED Exhibition Inspired by Tea Master Sen no Rikyu Opens at 21st Century Museum of Contemporary Art in Kanazawa

NAKED's newest work, inspired by Sen no Rikyu, has opened at the 21st Century Museum of Contemporary Art in Kanazawa! The exhibition will run through September 3 and blends physical art pieces found in the museum with the Metaverse. 

NAKED's first exhibition at this popular Kanazawa Museum brings visitors a modern version of chanoyu, or the 'Way of Tea.' This year marks the 500th birthday of Sen no Rikyu, a historical figure who had a significant influence on the tea ceremony still found in Japan today. NAKED wants to honor his contribution to shaping this massive part of Japanese culture. Visitors are invited to a traditional tea ceremony room, but the experience itself has been modernized by NAKED. This unprecedented art exhibition allows both those who know nothing about Sen no Rikyu and those who know him well to experience his philosophy and aesthetics in an entirely new way.

Gate: Greetings from the Master

Open-air: The Crossroads of this Transient World

Wash Basin: Where the Four Seasons Float

Dry Landscape Garden: The Teachings of Rikyu

Tea Whisk: "Make a Good Tea for your Guest."

Hanging Scroll: The Master's Memories

Small Room: Evolution

Tearoom: The End and the Beginning

NAKED Fuji Canele

Tsukubai, or a low stone basin filled with water, is used to cleanse the hands before entering a tearoom. Using interactive art, the water's surface is covered in digital flowers that blossom when a guest's hands pass over the basin. 

In the 'Small Room: Evolution' area, guests will find the Sustainable Contemporary Golden Tearoom, which was created by NAKED staff together with sixth graders using golden trash collected at Kanazawa University Elementary School. The calligraphy on display in the tearoom was also done by children, with the best creations selected to be included in the exhibition. The scent was produced by EarthRing, an aroma brand located in Hakusan, Ishikawa Prefecture. The 'Tea Whisk' area offers a unique experience for all five senses, including the scent of matcha, which guests can smell when they mimic the act of prepping tea. 

In addition, guests can purchase special NAKED Fuji Canele and a Kutani ware Original Tumbler with special tea-inspired motifs. The Canele is a triple collaboration with Fukumitsuya, the oldest sake brewery in Kanazawa, so don't miss out!

Information

NAKED Meets Sen no Rikyu

Venue: 21st Century Museum of Contemporary Art, Kanazawa, Civic Gallery B
(1-2-1 Hirosaka, Kanazawa, Ishikawa)

Running: August 6 – September 3, 2022
*For more information about tickets, please visit the official website.
Tickets / Details: https://meets.naked.works/kanazawa21/

SiM to Hold Streaming Event 'Amazon Music Live: DEAD POP FESTiVAL 2022'

Amazon Music Live: DEAD POP FESTiVAL 2022 was originally held on June 25 and 26, 2022. Those who missed out on SiM's outdoor festival will be able to watch it on the Amazon Music Japan channel on Twitch on August 16 at 20:00 along with exclusive commentary from the members. In addition, Shuhei Igari (HEY-SMITH), GEN (04 Limited Sazabys), and Takuya Yamanaka (THE ORAL CIGARETTES) will appear. 20 artists who participated in the festival will give their personal thoughts on the June event including behind-the-scenes stories.

Fans of Attack on Titan won't want to miss the first live performance of SiM's track The Rumbling, used as the opening theme for The Final Season Part 2.

Prior to the event on the Amazon Music Japan channel, a playlist consisting of songs performed at DEADPOP FESTiVAL 2022 is available on Amazon Music Unlimited. Be sure to check it out!

NIJISANJI Fes 2022 Reveals 118 Participating VTubers, New Illustrations

NIJISANJI Fes 2022, the largest NIJISANJI event to date, will be held on October 1 and October 2 at Makuhari Messe in Chiba. Ahead of the festival, ANYCOLOR has announced the 118 VTubers that will be participating, along with new illustrations showing some popular personalities wearing class T-shirts which will be available at the venue.

NIJISANJI Fes 2022 Special Announcement Video
https://youtu.be/st-m1G_DYS8

The image song for NIJISANJI Fes 2022, Hurrah!!, is now available to stream. The music video for the track will feature fan art which will also be displayed at the venue, so get your entries in by August 28!

Illustrations Highlighting Class T-Shirts

NIJISANJI Fes 2022 Image Song, Hurrah!!

Music: Mito Tsukino, Sasaki Saku, Kuzuha, Lize Helesta, Sara Hoshikawa, Minato Fuwa, Axia Krone
Lyrics / Composition / Arrangement: Jin

On the special website, newly-drawn illustrations of the 118 participating VTubers are featured. Each member is a part of a different class, and these class T-shirts will be handed out at random to those with tickets to the event as a bonus. They will also be available for purchase, so don't worry if you don't get the one you want!

▼Green
Manami Aizono, Uiha Aiba, Youko Akabane, Axia Krone, Akane Asahina, Hina Asuka, Momo Azuchi, Kokoro Amamiya, Sayo Amemori, Almal Ars, Katrina Ange, Mugi Ienaga, Inui Toko, Ibrahim, Ichigo Ushimi, Muyu Amagase, Vox Akuma

▼Indigo
Kou Uzuki, Albio Ex, Emma★August, Eli Conifer, Elu, Haruka Onomachi, Oliver Evans, Haru Kaida, Hayato Kagami, Kanae, Shoichi Kanda, Hisui Kitakoji, Gilzaren III, Gwelu Os Gar, Kuzuha, Yotsuba Umise, Aza

▼Blue
Natsume Kurusu, Kuroi Shiba, Mirei Gundou, Tojiro Genzuki, Touya Kenmochi, Akina Saegusa, Ritsuki Sakura, Sasaki Saku, Yuika Shiina, Shellin Burgundy, Rin Shizuka, SisterClaire, Hajime Shibuya, Joe Rikiichi, Tomoe Shirayuki, Akira Shikinagi, Eine

▼Red
Sango Suo, Kana Sukoya, Utako Suzuka, Masaru Suzuki, Aki Suzuya, Miyako Seto, Kirame Sorahoshi, Rion Takamiya, Mito Tsukino, Debidebi Debiru, Kohaku Todo, Dola, Kyoko Todoroki, Kei Nagao, Naraka, Kanato Fura, Elira Pendora

▼Orange
Naru Naruse, Chigusa Nishizono, Sociere Nui, Fuyuki Hakase, Hanabatake Chaika, Sou Hayase, Marin Hayama, Air Harusaki, Kaede Higuchi, Gaku Fushimi, Tamaki Fumino, Furen E. Lustario, Fuwa Minato, Belmond Pandelas, Nei Ponto, Pomu Rainpuff

▼Yellow
Sara Hoshikawa, Himawari Honma, Keisuke Maimoto, Ririmu Makaino, Meme Mashiro, Chima Machita, Mao Matsukai, Moira, Alice Mononobe, Kazaki Morinaka, Rine Yaguruma, Kizuki Yashiro, Karuta Yamagami, Chihiro Yuki, Seraph Dazzlegarden, Mysta Rias

▼Violet
Riri Yuhi, Mahiro Yukishiro, Roa Yuzuki, Kakeru Yumeoi, Ratna Petit, Lize Helesta, Ryushen, Mikoto Rindou, Lain Paterson, Luis Cammy, Levi Elipha, Vincent Leos, Lauren Iroas, Hibari Watarai, Finana Ryugu, Hyakumantenbara Salome

Official Chiikawa Shops in Harajuku and Osaka to Hold 1st Anniversary Fair

Last year, Chiikawa Land, the first official Chiikawa shop, opened at the Harajuku and Osaka Umeda branches of KIDDYLAND. Both locations will celebrate the 1st anniversary of the shop's opening with a special fair on August 5, 2022.

Chiikawa is a popular character first revealed by Japanese illustrator Nagano on Twitter. In December 2020, the official online store Chiikawa Market opened, and Nagano released a book compiling the manga panels they drew and posted on Twitter. The characters have become massively popular, with the artist's social media accounts racking up over 1.1 million followers. From collaboration cafes and exhibitions to a recent anime series, the sky's the limit for these adorable characters!

Purchase Bonus

「Holographic Sticker (Not for Sale) *Designs will differ between the Harajuku and Osaka Umeda locations.

Holographic Pin (Not for Sale) / For guests spending ¥3,300 or more (including tax)

Picnic Blanket (Not for Sale) / For guests spending ¥5,500 or more (including tax)

Mug (Not for Sale) / For guests spending ¥8,800 or more (including tax)

Limited Edition Chiikawa Land Harajuku x Marion Crepes Collab

Limited Edition Chiikawa Land Harajuku x Marion Crepes Goods

Chiikawa Land Osaka Umeda Limited Edition Goods


Both the Harajuku and Osaka Chiikawa Land locations are visited by fans each day, and each store has developed unique products to celebrate the first anniversary.

 

The Chiikawa Land Harajuku location will offer products in collaboration with Marion Crepes, while the Osaka Umeda location will sell limited edition products featuring the characters in cute traditional costumes. Special bonuses will also be handed out to guests spending particular amounts, so why not come out and grab some new goods?

©nagano / chiikawa committee