Is the Order a Rabbit? Series 10th Anniversary Exhibition Coming to Tokyo and Osaka
The popular four-panel manga series Is the Order a Rabbit? premiered in 2011. Written and illustrated by Koi, the series has been serialized in Manga Time Kirara Max for the past decade and is still ongoing, while three seasons of the anime have been aired starting in 2014. To commemorate the series' ongoing success, a new exhibition is scheduled to open in both Tokyo and Osaka in October and November.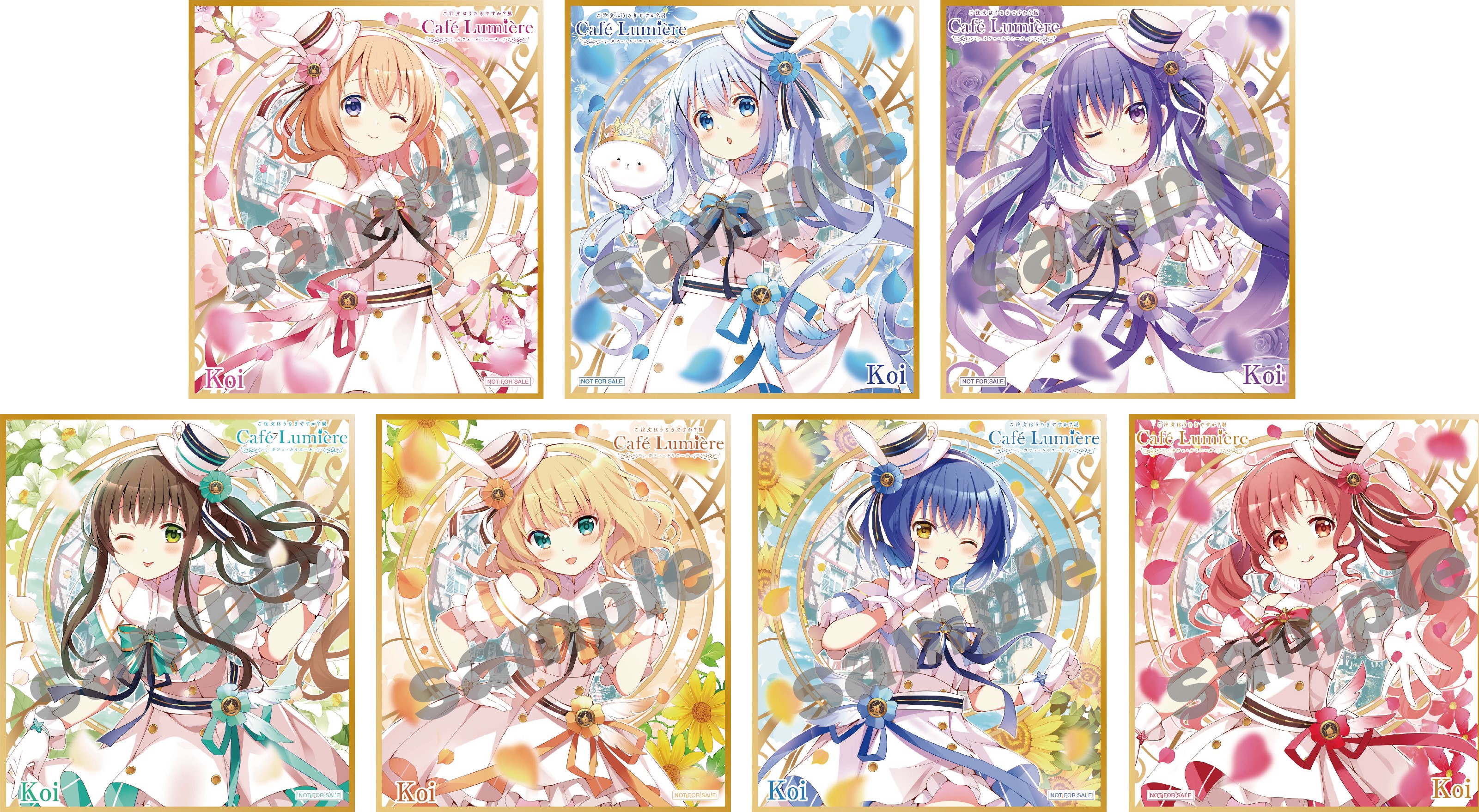 Mini-Panels Drawn by Koi (7 varieties)
Tickets for the Tokyo event will go on sale starting at 5:00 PM on October 15. Remember, these tickets are first-come, first-served, and each will feature a specific date and time, so don't miss out! As a special gift, those buying tickets will receive a random original mini-panel drawn by the series creator upon entry. Head to the official Twitter page to take part in a new campaign to win tickets to the Tokyo exhibition!
(C) Koi/芳文社
Information
Is the Order a Rabbit? Exhibition Café Lumière Tokyo
Running: October 29 – November 7, 2021
Address: Hulic Hall 2F (1-22-16 Asakusabashi, Taito-ku, Tokyo)
Hours: 10:00-20:00 (Last admission at 19:30)
*Exhibition will close at 18:00 on November 7, last entry at 17:30
Ticket Information (Tokyo)
General Admission: ¥1,800 (Advance tickets) / ¥2,000 (Day-of tickets)
Tickets on sale starting October 15, 17:00
Where to Buy: 
Lawson Ticket
Online: https://l-tike.com/gochiusa-exhibition
In-store sales: Available directly from Loppi at Lawson and Ministop stores. 
Is the Order a Rabbit? Exhibition Café Lumière Osaka
Running: November 18 – November 30, 2021
Address: Daimaru Umeda 13F (3-1-1 Umeda, Kita-ku, Osaka)
Hours: 10:00-20:00 (Last admission at 19:30)
*Exhibition will close at 18:00 on November 30, last entry at 17:30
**Hours of operation are subject to change. 
Official Twitter: https://twitter.com/GochiusaT (@GochiusaT)
Official Site: https://gochiusa-exhibition.com
RELATED ENTRIES
New 'Ways of Telling' Exhibition Unravels People's Narratives in Artistic Ways

'Ways of Telling' Venue  Photographer: Kioku Keizo

The Ways of Telling Exhibition is now open at the Shibuya Koen-dori Gallery in Tokyo. The focus of the gallery is to closely inspect how people 'tell,' or communicate with others. Human beings often depend on hearing or seeing as ways to get information, but there are many other ways to express thoughts and emotions, from paintings and photography to video creation. The exhibition highlights different attempts to receive and express invisible 'narratives,' and visitors will have to rely on their imagination to understand each piece.

'Ways of Telling' Venue  Photographer: Kioku Keizo

'Ways of Telling' Venue  Photographer: Kioku Keizo

'Ways of Telling' Venue  Photographer: Kioku Keizo

Exhibition Space Design – Hideyuki Nakayama Architecture / Photo: Takashi Kato

Eight artists have contributed to the exhibition, each utilizing a wide variety of mediums. Hideyuki Nakayama, the architect behind the exhibition space, wanted to encourage visitors to use their imagination. "A building is a place that has been given a name and a fixed purpose, but I tried not to see it that way. I wanted it to feel like a different place for each guest. I hope that the space will overlap with the underlying purpose of the exhibition, in a way," he explains. 

Bringing together both the seeing and the blind, a special book club was established as a place to discuss each person's 'way of seeing' when it comes to art. In the exhibition space, Rinko Kawauchi's book Hajimari no Hi, containing images and thoughts captured by blind individuals during the book club, will be displayed in both words and other mediums. 

86 -Eighty-Six- Anime Theme Song Remixed in Collab with Sakura Chill Beats

Japanese rock band hitorie is well-known for performing the first opening song for the anime series 86 -Eighty-Six-, titled 3 Minutes 29 Seconds. Now, a new remix and music video is available on the Sakura Chill Beats YouTube channel.

hitorie – 3 Minutes 29 Seconds (N3WPORT Remix) – Sakura Chill Beats Singles

3 Minutes 29 Seconds (N3WPORT Remix) – Sakura Chill Beats Singles

hitorie

3 Minutes 29 Seconds Artist CD Cover

3 Minutes 29 Seconds Anime CD Cover

86 -Eighty-Six- Key Visual ©2020 Asato Asato / KADOKAWAProject-86

The track 3 Minutes 29 Seconds is the first single featuring Shinoda on vocals after former vocalist wowaka passed away in 2019. This remix marks the 19th remixed release to be featured on the Sakura Chill Beats YouTube channel. N3WPORT is an American DJ and music producer who specializes in future bass and has worked with acts like Gryffin, Slushii, and Tiesto. 

"Remixing this song was a fun challenge. I really enjoyed the original track by hitorie, though it's very different from the music I usually listen to and make. I tried to include as much progressive rock style as I could, and it was interesting to blend my style with theirs. As a musician, I love all genres, and I'm super grateful for this chance to broaden my horizons," N3WPORT commented. 

The song reached #1 on the iTunes dance chart the day it began streaming, October 8. 86 -Eighty-Six- has just returned for a second season. 

Manga Artist Kazuo Umezu's Work Featured in UMEZZ ART PROJECT Exhibition

UMEZZ ART PROJECT logo featuring self-portrait by Kazuo Umezu ©Kazuo Umezu

The UMEZZ ART PROJECT, focusing on the works of manga artist Kazuo Umezu, is coming to Tokyo City View in Roppongi Hills in Tokyo from January 28 until March 25, 2022. The artist is widely known for his work on a number of horror series including Cat Eyed Boy and The Drifting Classroom, Working in the industry since 1962, his works have inspired a number of other manga creators, with Urusei Yatsura and Inuyasha creator Rumiko Takahashi once serving as Umezu's assistant.

Orochi(1969-1970)


The Drifting Classroom(1972-1974)


My Name is Shingo(1982-1986)


*Dates of serialization in parentheses.


©楳図かずお/小学館

Mikey Version of Tokyo Revengers Opening Song 'Cry Baby' Uploaded to YouTube

A special version of the Tokyo Revengers opening theme Cry Baby, performed by Official Hige Dandism, has popped up on YouTube! This time, the track is being sung by Yu Hayashi, the voice actor behind the popular character Manjiro Sano, aka Mikey.  

Tokyo Revengers OP Cry Baby – Mikey ver. 

This marks the third time a character from the show has been featured covering a song, following Shunichi Toki, who plays Kazutora Hanemiya, and Azumi Waki, who plays Hinata Tachibana. 

Following the song, fans can enjoy a special interview with Yu Hayashi, so don't miss it!

©和久井健・講談社/アニメ「東京リベンジャーズ」製作委員会

Information

Tokyo Revengers

Broadcast Times

MRT Miyazaki Broadcasting: Saturdays at 25:28

UTY Television Yamanashi: Sundays at 24:50

NCC TV Nagasaki: Thursdays at 25:18

Iwate Broadcasting: Mondays at 24:58

Aomori TV: Mondays at 25:25

Tokyo Revengers Official Site: https://tokyo-revengers-anime.com 

Anime Series Platinum End Creditless Opening Released

The anime series Platinum End has finally started, and the creditless version of the opening animation is now available on YouTube. The first series is directed by Hideya Takahashi, while Kazuchika Kise is in charge of the second series. Character designs are being provided by Koji Odate. The opening theme is Sense, performed by rock group BAND-MAID. 

 

Creditless Opening

Each of the four Blu-ray and DVD releases will contain six episodes, and the first volume will be released on January 19, 2022, including a special case and a drawing by Koji Odate. Other gorgeous extras will be included with future releases, such as rough sketches and original drawings by the series' creator, a booklet containing interviews with the staff and cast, and more. Be sure to check Twitter and Instagram for special store-specific goods!

©︎大場つぐみ・小畑健/集英社・プラチナエンド製作委員会

Machida City Museum Hosts Looking at Prints: Techniques, Expressions and Histories Exhibition

The Machida City Museum of Graphic Arts in Machida, Tokyo, is currently holding the Looking at Prints: Techniques, Expressions, and History exhibition until December 5, 2021. Featuring over 130 prints created with a large variety of techniques, guests can take a deep dive into how each piece of art was made. 

An Up-to-Date Parody of the Four Classes – Utagawa Kunisada. 1857. Letterpress, wood, multi-color printing. 

Artists featured in the exhibition have used many different techniques to create their masterpieces, including woodblocks, copper plates, lithographs, and stencils. The main exhibit introduces famous printmakers such as Albrecht Durer, Pablo Picasso, and Shiko Munakata, but also a number of lesser-known artists who utilized less traditional techniques. All explanations are in an easy-to-understand manner, so why not come learn about art in Tokyo? 

Information

Looking at Prints: Techniques, Expressions, and Histories

Running: Until December 5, 2021 (Closed Mondays)

*Contents will undergo partial changes throughout the exhibition. 

Hours: 

Weekdays – 10:00 AM until 5:00 PM

Weekends/Holidays – 10:00 AM until 5:30 PM

*Last admission 30 minutes before closing. 

Address: Machida City Museum of Graphic Arts (4-28-1 Haramachida, Machida, Tokyo)

Official Site: http://hanga-museum.jp/

Keina Suda Chosen to Perform Theme Song to Upcoming Mari Okada Film Dog Star

The grand opening of Konica Minolta Planetarium Manten NAGOYA is scheduled for October 27, 2021. The original film Dog Star: Kimi to Miageru Fuyu no Seiza-tachi (Winter Constellations to Look Up With You) is set to be screened as the location's first event, and singer-songwriter Keina Suda has been chosen to perform the movie's theme Yomosugara (All Night). Ahead of the film's premiere, advanced tickets will be on sale starting October 20, and those who purchase one will receive a special character acrylic stand!

Dog Star: Kimi to Miageru Fuyu no Seiza-tachi Trailer #2

Advance Ticket Bonus: Acrylic Stand

Keina Suda, chosen to perform the theme song for Dog Star: Kimi to Miageru Fuyu no Seiza-tachi

Konica Minolta Planetarium Manten NAGOYA will be Japan's first planetarium to use the LED dome system DYNAVISION-LED, which utilizes self-luminous LED elements instead of a projector. 

Before making his major debut, Keina Suda was a popular Vocaloid producer going by the name Balloon. During this period, his song Charles became a smash hit, getting over 100 million views on YouTube. The musician wrote the song Yomosugara for the film. The writer of the film, Mari Okada, is also known for her work on Anohana: The Flower We Saw That Day and The Anthem of the Heart. 

A completely original story written by Mari Okada

A friendship between two boys begins to twinkle in the light of the winter constellations. 

Nobunaga Shimazaki plays Kousuke, a boy who is crazy about the stars, while Yama Uchida portrays Natsuki, active on the track and field team. This is a coming-of-age story woven together with the starry sky made of LED lights only available at Manten NAGOYA. 

Kousuke, a boy who loves stars, failed his high school entrance exam. He reluctantly enrolls at his second-choice school, where he meets Natsuki, a member of the track and field team. He compares the brilliance of Natsuki to that of Sirius, the first magnitude star that shines with a fierce intensity. Kousuke thinks Natsuki is not the same as him, who is only the second magnitude star with little presence. However, the fate of the two twinkling stars is about to change drastically…

Worlds Largest "Washi" Print Exhibition 'Awagami International Mini Print Exhibition 2021' to be Held in Tokushima Prefecture

The Awa Washi Traditional Industry Center, a foundation which strives to inform and preserve the Awa Washi paper's 1,300 years of history, will be holding the 'International Mini Print Exhibition 2021' between October 9 and November 7. The event will exhibit over 1,800 prints from 58 countries. 

This international print exhibition will be displaying works from both domestic and overseas artists, all printed on A4 Wagami, or Japanese Paper. The exhibition is being held to increase the amount of artists displaying their works, while allowing local residents to feel an international connection through Awa Washi culture. This is the fifth instalment of the exhibition, which is held once every two years. Due to the Covid-19 crisis, the organizers experienced some troubles such as shipping delays, but despite this, a total of 1,375 domestic and international artists applied to display their works. Each print has been carefully created by the artist, and will be displayed in one place to encourage not only those familiar with Awa Washi, but also introducing the culture to general art fans.

Why not immerse yourself amongst Japanese and International artwork at this unique paper event?

Information

Awa Gami International Mini Print Exhibition 2021

Duration: October 9 ~ November 7 2021

Opening Hours: 9:00 ~ 17:00

Venue 1 General Incorporated Foundation Awa Washi Traditional Industry Center (141 Kawahigashi, Yamakawa-cho, Yoshinogawa-shi, Tokushima)

Admission Fees: Regular: ¥300 Student: ¥200 Elementary-Middle School: ¥150

Details: http://miniprint.awagami.jp/index_jp.html 

Official Site: http://miniprint.awagami.jp/ 

Matsuya Ginza to Hold Largest-ever Exhibition of Drawings from Chihayafuru Manga

Yuki Suetsugu's manga series Chihayafuru continues to be a massively popular series in Japan and abroad since its start in 2007. Now, the largest-ever collection of the artist's original drawings will be on display at Matsuya Ginza from December 27, 2021, until January 17, 2022. 

Chihayafuru tells the story of Chihaya, a girl aiming to become the greatest competitive karuta player in Japan. Karuta is a Japanese card game, requiring players to memorize a collection of 100 classical poems in order to play. The Chihayafuru manga series has greatly boosted the popularity of competitive karuta in Japan. Generations of readers have been sucked in by the inspiring and romantic tale, and the series has grown to include an anime adaptation and a live-action film. With the series approaching completion, the three main characters, Chihaya, Arata, and Taichi, will take center stage at this expansive exhibition. 

With more than 500 items on display, guests are invited to take a look back at the story's origins. Some pieces were created for the exhibition, while others will be shown in color for the first time. While the drawings may be the main focus, the exhibition will also include notes, setting materials, and behind-the-scenes footage. 

©末次由紀/講談社 

Information

Chihayafuru Exhibition

Running: December 27, 2021 – January 17, 2022 (Closed January 1) 

Address: Matsuya Ginza 8F Event Space

Advanced Tickets will be available from Lawson Ticket until December 26, 2021

Tickets/Details: https://chihayafuru.exhibit.jp

Official Site: https://www.matsuya.com/ginza/

Miniature Photographer Tanaka Tatsuya to Hold Second Exhibition, Opening in Hiroshima for Limited Time

Miniature photographer Tanaka Tatsuya, who has garnered attention from all across the world, will be holding the 'MINIATURE LIFE 2 ~ Tanaka Tetsuya's Lifelike World~' exhibition between November 26 and December 13 in the Sougo Hiroshima 9F exhibition hall.

Event Limited Goods

Tote Bag

Mousepad

The popular "MINIATURE LIFE Exhibition" which captured the hearts of 1.5 million people within Japan and overseas, has returned with even more power than before. You'll find a sushi roll train rolling along the tracks, a clip becoming a waiting room chair, and a hot-air balloon lettuce floating in the sky… Tanaka Tatsuya is a miniature photographer living in Kagoshima, who crafts a tiny and funny world by transforming everyday items.

 

Their unique and creative works will make you laugh and groan, transcending borders and attracting over 3.2 million followers on Instagram! Tanaka is spreading the joy of miniature art from Kagoshima to the world.

In this long-awaited second exhibition, around 170 works will be displayed, including some brand new pieces. Venue-limited merchandise and miniature dolls that feature in the artworks can be purchased at the event, so don't miss out!

 

 Be sure to check out the 'MINIATURE LIFE 2 ~ Tanaka Tetsuya's Lifelike World~' exhibition, where your everyday life will be transformed into a wonderful new world!

Scarlet Nexus Opening Video Features New Song by THE ORAL CIGARETTES

The new theme song for Scarlet Nexus is here! As with the first opening track, it was performed by rock band THE ORAL CIGARETTES and is titled MACHINEGUN. The song will be released digitally on October 13, 2021. 

Scarlet Nexus Second Creditless Opening

Scarlet Nexus is based on the action RPG of the same name, released on June 24, 2021, for the PlayStation 4, PlayStation 5, Xbox Series X/S, Xbox One, and PC. The new opening shows the ongoing battle between Yuito, Kasane, and the other soldiers against the incoming army of monsters. Head to Apple Music and Spotify to pre-save the track now ahead of release!

'Marubeni Gallery' to Exhibit Marubeni Collection Pieces under Variety of Themes

Marubeni Corporation will be opening the Marubeni Gallery at their head office building on November 11 2021. 

Marubeni has been collecting and preserving textile-related businesses since 1858, preserving dyed woven products from the Edo period (kimono, obi, fukura etc) and curating the Marubeni Collection, a collection of Western paintings collected from art businesses in 1970-1980, along with modern Japanese paintings which have been collected from artists and their circles, and a selection of weaved designs.

From the left:"Crimped Fiber Tasuki Chrysanthemum & Seigaiha Print Furisode" (Designated as an item of cultural importance in 2020) / "Iso Tsuzure Go" by Takeuchi Seihou / "La Bella Simonetta" by Botticelli (late 15th century).





The Marubeni Collection will be displayed at the Marubeni Gallery, exhibiting a variety of themes under the concept of "a space where the beauty of the East and West resonates." 

There are plans for special exhibitions to be held three times a year, and the Autumn 2022 event will be showcasing Botticelli's "La Bella Simonetta," the representative work of the Marubeni Collection.

Be sure to visit the Marubeni Gallery, where the beautiful of the East and West join together beautifully.