16th Nishiaizu Art Village Exhibition Held in Historical Wooden School Building
Held within a charming wooden school building, the 16th Nishiaizu Art Village Exhibition is now open, featuring a large collection of works by the general public. The event will be open until October 10, 2021.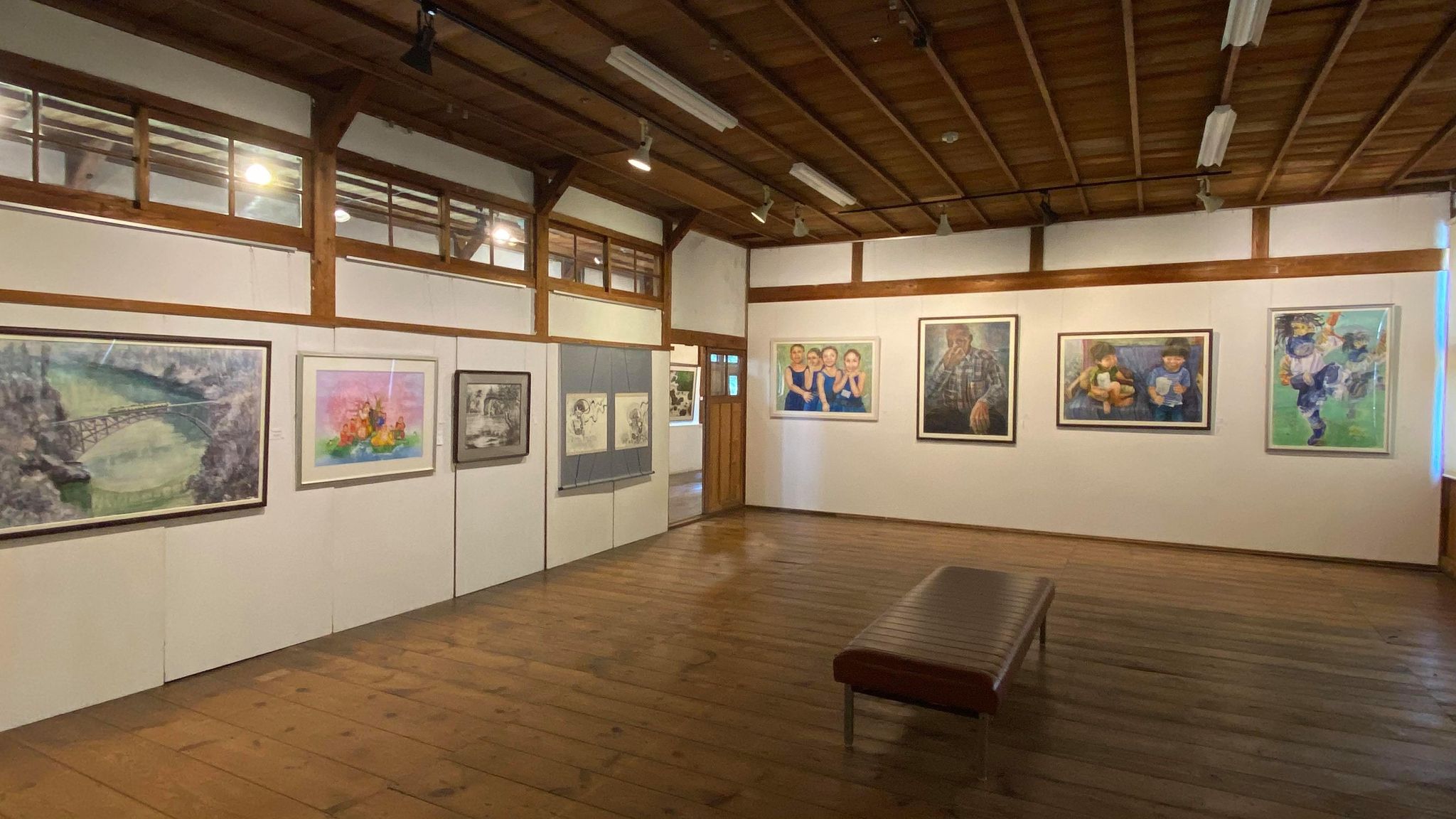 The school building in question was closed in 2002 and is now used as a base for a number of activities throughout the year, such as galleries, local cultural exchanges, and a headquarters for green tourism. The small town of Nishiaizu in Fukushima prefecture is known as the 'front door' 'to the Iide Mountains, and over 86 percent of the area is composed of mountains and forests. What could be more inspiring for artistic endeavors? 
In this year's exhibition, 105 pieces are on display, with 57 contributed by the youth division and 48 from the general division. Young people and art lovers are invited to submit paintings and other works each year, promoting cultural exchange with visitors and highlighting talented creators from the area. At the event's Maboroshi Restaurant, guests can enjoy curry, sandwiches, and other food and drinks on Saturday and Sunday during the exhibition period. 
Information
16th Annual Nishiaizu Art Village Exhibition 2021
Running: Until October 10, 2021
Address: 5747 Kaminoharamichiue Shingo Oaza Sasagawa, Nishiaizu, Yama-gun, Fukushima
Hours: Monday and Tuesday, 10:00-17:00 (closed on national holidays) 
Official Site: https://nishiaizu-artvillage.com/
RELATED ENTRIES
New 'Ways of Telling' Exhibition Unravels People's Narratives in Artistic Ways

'Ways of Telling' Venue  Photographer: Kioku Keizo

The Ways of Telling Exhibition is now open at the Shibuya Koen-dori Gallery in Tokyo. The focus of the gallery is to closely inspect how people 'tell,' or communicate with others. Human beings often depend on hearing or seeing as ways to get information, but there are many other ways to express thoughts and emotions, from paintings and photography to video creation. The exhibition highlights different attempts to receive and express invisible 'narratives,' and visitors will have to rely on their imagination to understand each piece.

'Ways of Telling' Venue  Photographer: Kioku Keizo

'Ways of Telling' Venue  Photographer: Kioku Keizo

'Ways of Telling' Venue  Photographer: Kioku Keizo

Exhibition Space Design – Hideyuki Nakayama Architecture / Photo: Takashi Kato

Eight artists have contributed to the exhibition, each utilizing a wide variety of mediums. Hideyuki Nakayama, the architect behind the exhibition space, wanted to encourage visitors to use their imagination. "A building is a place that has been given a name and a fixed purpose, but I tried not to see it that way. I wanted it to feel like a different place for each guest. I hope that the space will overlap with the underlying purpose of the exhibition, in a way," he explains. 

Bringing together both the seeing and the blind, a special book club was established as a place to discuss each person's 'way of seeing' when it comes to art. In the exhibition space, Rinko Kawauchi's book Hajimari no Hi, containing images and thoughts captured by blind individuals during the book club, will be displayed in both words and other mediums. 

Manga Artist Kazuo Umezu's Work Featured in UMEZZ ART PROJECT Exhibition

UMEZZ ART PROJECT logo featuring self-portrait by Kazuo Umezu ©Kazuo Umezu

The UMEZZ ART PROJECT, focusing on the works of manga artist Kazuo Umezu, is coming to Tokyo City View in Roppongi Hills in Tokyo from January 28 until March 25, 2022. The artist is widely known for his work on a number of horror series including Cat Eyed Boy and The Drifting Classroom, Working in the industry since 1962, his works have inspired a number of other manga creators, with Urusei Yatsura and Inuyasha creator Rumiko Takahashi once serving as Umezu's assistant.

Orochi(1969-1970)


The Drifting Classroom(1972-1974)


My Name is Shingo(1982-1986)


*Dates of serialization in parentheses.


©楳図かずお/小学館

Contemporary Art Festival ART@FUKUOKA Opens at Daimaru Fukuoka Tenjin

Department store Daimaru Fukuoka Tenjin will host the contemporary art festival ART@FUKUOKA for the first time, from October 13 until October 25, 2021. 

The art market is growing year by year, with more and more people curious about incorporating unique works into their interior design, or purchase pieces as assets. In particular, the contemporary art market has become the focus of a large movement and continues to elevate a number of new personalities. The ART@FUKUOKA festival will feature 300 works by promising young artists from both Japan and abroad. This is a great chance for those unfamiliar with the contemporary art world to get a feel for what it represents!

Main Building 8F Works at a Glance

Banksy「Golf Sale」

Sadamasa Motonaga – Untitled

©Motonaga Data Research Office

Nick Walker – Vandalism

DOLK – Winner blue dolk

ONEMIZER – Bicause Pipi

ART ~New Expressions~ (Main Building Antenna Plus 1F) Works at a Glance

The contemporary art movement is gaining more popularity worldwide. Each year, expressions become more and more diverse, and more unique creators spring onto the scene. The ART ~New Expressions~ section focuses on artists with the potential to lead the next generation. 

Syoichi Mukai 

 BABYTECTOR [PRISM]. 2021. 

Takakura Kazuki

  Emoji_Alligator_Emoji (Output. ver). 2021. 

KENZ


  BREAK DANCE. 2021. 

Wakaba Higuchi

  Panther and Phoenix. 2021. 

Information

ART@FUKUOKA

Running: October 13 – October 25, 2021

Entry Free

Address: Daimaru Fukuoka Tenjin

Venue 1/Main Building, 8F: 10:00-6:00 *Closes at 5 PM on October 25

Venue 2/Antenna Plus, Main Building 1F: 10:00-8:00

Official Site: https://www.daimaru.co.jp/fukuoka/

10 Locations in Japan and Beyond Participating in Naked's DANDELION PROJECT

The DANDELION PROJECT has a powerful message: we're all connected, even during these isolating times. Naked's interactive art project began in Tokyo, Singapore, and other cities last year, and given their success, locations are now set to open at Heian Shrine in Kyoto and Kumamoto Castle this fall.

The original idea for the project came from artist Ryotaro Muramatsu, who decided to plant (or install) dandelion art pieces worldwide and bring people together to help them bloom. Those participating in the installations are able to send their wishes for world peace on digital dandelion fluff to other locations where DANDELIONs are planted around the world, and these messages are delivered in real-time. Even those unable to attend one of these installations can participate from home on the official website. 

With new DANDELION PROJECT locations set to open around Japan, places with historical significance are happy to participate, including Kamigamo Shrine and Ninna-ji Temple in Kyoto, Kumamoto Castle, and Kochi Castle. There are plans to hold more events around the world in the near future. 

DANDELION PROJECT Locations

Tokyo – Tokyo Tower Main Deck

Tokyo – TBS drama series Japan Sinks: People of Hope Collaboration, Akasaka

Kyoto – Kamigamo Shrine (World Heritage Site)

Kyoto – Ninna-ji Temple (National Treasure/World Heritage Site)

Kyoto – Heian Shrine (Important Cultural Property)

Kyoto – Kosho-ji

Aichi – Kochi Castle (Important Cultural Property) 

Saga – Saga Prefectural Observation Hall 

Kumamoto – Kumamoto Castle (Important Cultural Property)

Korea – Seoul 

Worlds Largest "Washi" Print Exhibition 'Awagami International Mini Print Exhibition 2021' to be Held in Tokushima Prefecture

The Awa Washi Traditional Industry Center, a foundation which strives to inform and preserve the Awa Washi paper's 1,300 years of history, will be holding the 'International Mini Print Exhibition 2021' between October 9 and November 7. The event will exhibit over 1,800 prints from 58 countries. 

This international print exhibition will be displaying works from both domestic and overseas artists, all printed on A4 Wagami, or Japanese Paper. The exhibition is being held to increase the amount of artists displaying their works, while allowing local residents to feel an international connection through Awa Washi culture. This is the fifth instalment of the exhibition, which is held once every two years. Due to the Covid-19 crisis, the organizers experienced some troubles such as shipping delays, but despite this, a total of 1,375 domestic and international artists applied to display their works. Each print has been carefully created by the artist, and will be displayed in one place to encourage not only those familiar with Awa Washi, but also introducing the culture to general art fans.

Why not immerse yourself amongst Japanese and International artwork at this unique paper event?

Information

Awa Gami International Mini Print Exhibition 2021

Duration: October 9 ~ November 7 2021

Opening Hours: 9:00 ~ 17:00

Venue 1 General Incorporated Foundation Awa Washi Traditional Industry Center (141 Kawahigashi, Yamakawa-cho, Yoshinogawa-shi, Tokushima)

Admission Fees: Regular: ¥300 Student: ¥200 Elementary-Middle School: ¥150

Details: http://miniprint.awagami.jp/index_jp.html 

Official Site: http://miniprint.awagami.jp/ 

Miniature Photographer Tanaka Tatsuya to Hold Second Exhibition, Opening in Hiroshima for Limited Time

Miniature photographer Tanaka Tatsuya, who has garnered attention from all across the world, will be holding the 'MINIATURE LIFE 2 ~ Tanaka Tetsuya's Lifelike World~' exhibition between November 26 and December 13 in the Sougo Hiroshima 9F exhibition hall.

Event Limited Goods

Tote Bag

Mousepad

The popular "MINIATURE LIFE Exhibition" which captured the hearts of 1.5 million people within Japan and overseas, has returned with even more power than before. You'll find a sushi roll train rolling along the tracks, a clip becoming a waiting room chair, and a hot-air balloon lettuce floating in the sky… Tanaka Tatsuya is a miniature photographer living in Kagoshima, who crafts a tiny and funny world by transforming everyday items.

 

Their unique and creative works will make you laugh and groan, transcending borders and attracting over 3.2 million followers on Instagram! Tanaka is spreading the joy of miniature art from Kagoshima to the world.

In this long-awaited second exhibition, around 170 works will be displayed, including some brand new pieces. Venue-limited merchandise and miniature dolls that feature in the artworks can be purchased at the event, so don't miss out!

 

 Be sure to check out the 'MINIATURE LIFE 2 ~ Tanaka Tetsuya's Lifelike World~' exhibition, where your everyday life will be transformed into a wonderful new world!

Baccarat Crystal Commissions YOSHIKI to Design Piece for 180th Anniversary

X JAPAN leader YOSHIKI was one of eleven designers chosen to submit an original design for Baccarat, commemorating the 180th anniversary of the crystal manufacturer's Harcourt glass. The work was unveiled at Paris Fashion Week in Fall 2021. 

Baccarat is a manufacturer of fine crystal founded in 1764 in the Lorraine region of France. The company's iconic Harcourt glass features a hexagonal base with three-button feet and is known as a timeless and iconic symbol of the brand.

This year marks the 180th anniversary of the glass, which was first created during the time of Louis Philippe I. It's hard to believe that these pieces have been on the tables of royalty for almost two centuries!

YOSHIKIMONO, the kimono brand created by YOSHIKI, has been featured at Tokyo Fashion Week multiple times. In 2020, his works were shown at the Victoria and Albert Museum in the UK, along with the Tokyo National Museum.

Known for his blend of rock and classical music, YOSHIKI continues to express his individuality in both his sound and fashion taste. From the front, the glass looks to be on fire, while from the top, there is a sense that a poisonous flower is taking bloom. The work is a one-of-a-kind blend of east and west and was a new challenge for the performer.

Comment from YOSHIKI

"I am honored to have been chosen as a designer for the 180th anniversary of Baccarat's Harcourt glass. I'd like everyone to also keep an eye out for some new music coming soon. Thank you to all of the fans who continue supporting me in everything I do."

'Marubeni Gallery' to Exhibit Marubeni Collection Pieces under Variety of Themes

Marubeni Corporation will be opening the Marubeni Gallery at their head office building on November 11 2021. 

Marubeni has been collecting and preserving textile-related businesses since 1858, preserving dyed woven products from the Edo period (kimono, obi, fukura etc) and curating the Marubeni Collection, a collection of Western paintings collected from art businesses in 1970-1980, along with modern Japanese paintings which have been collected from artists and their circles, and a selection of weaved designs.

From the left:"Crimped Fiber Tasuki Chrysanthemum & Seigaiha Print Furisode" (Designated as an item of cultural importance in 2020) / "Iso Tsuzure Go" by Takeuchi Seihou / "La Bella Simonetta" by Botticelli (late 15th century).





The Marubeni Collection will be displayed at the Marubeni Gallery, exhibiting a variety of themes under the concept of "a space where the beauty of the East and West resonates." 

There are plans for special exhibitions to be held three times a year, and the Autumn 2022 event will be showcasing Botticelli's "La Bella Simonetta," the representative work of the Marubeni Collection.

Be sure to visit the Marubeni Gallery, where the beautiful of the East and West join together beautifully.

teamLab Installation, Future Park Coming to Shenzhen in Summer 2022

Art collective teamLab has announced a massive new interactive art space coming to C Future City in Shenzhen, China! Set to open in the summer of 2022, the facility will also house a permanent installation of teamLab Future Park, an educational virtual 'amusement park' inviting kids and adults to create things together.

Universe of Water Particles and People Create Vortices
teamLab, 2021 

teamLab Future Park

C Future City will permanently house four gigantic interactive public artworks that will be forever changing and shifting, influenced by people's behavior. Art by teamLab is always inspired by how people connect with one another, so the installation completely relies on those who come to experience it. 

This so-called 'amusement park of the future' project was born out of the idea that co-creativity could transform people and cities. Rather than being an individualistic endeavor, teamLabs wants people to come together to bring new ideas and pieces to life. 

Look forward to teamLab's new installation in Shenzhen in Summer 2022!

Collab Exhibition Opens Featuring DANDELION PROJECT & Japan Sinks Drama Series

An exhibition between the art initiative DANDELION PROJECT, formed by the creative company NAKED, and the TBS drama series Japan Sinks: People of Hope, will be held during the month of October on the first floor of Akasaka Biz Tower in Tokyo. 

The DANDELION PROJECT is inspired by the idea of world peace and hopes to help transcend barriers and connect people in an increasingly divided world. This networked initiative wants to bring this change about by planting (or installing) dandelion-inspired art around the world, while it invites people visiting these dandelion exhibits to send their prayers for peace as a digital flower in real-time. The theme of 'hope' found in the new Japan Sinks drama fits perfectly into this exhibition. 

When you see the petals of the dandelion flow through the air after being hit with a gust of wind, that means that someone from around the world caused that to happen. Due to the recent pandemic, rather than blow on cotton wool as is usually done at these exhibits, guests can hold up their smartphones to cause the same thing to happen. The DANDELION PROJECT will also be making an appearance at Tokyo Tower, Saga Prefectural Hall, and other places, so be sure to participate in this unique exhibit!

DANDELION PROJECT Installations Currently Open Around Japan

Saga Prefectural Exhibition Hall

Tokyo Tower Main Deck

Information

Japan Sinks x DANDELION PROJECT

Address: Akasaka Biz Tower SHOPS&DINING 1F (5-3-1 Akasaka, Minato-ku, Tokyo)

Running: October 1 – October 31, 2021

Hours: 11:00-18:00

Admission: Free

Official Site: https://naked.co.jp

Unique New Beer Released in Collaboration With HERALBONY and haccoba

Craft sake brewery haccoba is teaming up with the experimental social advocacy group HERALBONY to release an artful new brew! The All-Yeast IPA -Yay!Yay! Hazy!!- will go on sale September 26, 2021, in limited quantities. A portion of all sales of the product will go to the artist who designed the bottle. Before launch, a special discussion panel was held at the HERALBONY GALLERY, located in Iwate Prefecture. 

This release marks the first collaboration between Iwate-based HERALBONY, a company aiming to make strides in the social welfare sphere, and haccoba, a unique craft sake brewer from Fukushima. 

HERALBONY GALLERY

Art Hand Towel

Scratch Works Yay!Yay! Fukushima. – Yukihito Okabe

HERALBONY continues to make a positive impact in the community, with many sympathizing with their vision and approach to making social change. Artist Yukihito Okabe's original work Scratch Works Yay! Yay! Fukushima was made for this collaboration and was inspired by the sight, feeling, and taste of the materials that go into sake production. The way each vivid color overlaps with another to create new colors is similar to the process of fermentation, in which each microorganism weaves together with another to create something new. By combining art and alcohol, more people might be inspired to stop and ponder the issues currently facing the world. 

The All Yeast IPA -Yay! Yay! Hazy!!- is an India Pale Ale that brings a powerful hops flavor. It was inspired by the idea of blending the hoppiness of an IPA with the charm of sake, and the beverage was brewed with a unique blend of rice malt and steamed rice, leading to more sweetness, acidity, and umami. Beer lovers, don't miss this!

Masuda Sebastian is Spreading KAWAII Culture with these Commemorative Events

Artist Masuda Sebastian, a leading figure in Japan's KAWAII culture, is celebrating his 30th year of activities this year. His works express KAWAII from a variety of perspectives, taking the world by storm and creating a new KAWAII culture with new values. His store 6%DOKIDOKI opened in Harajuku in 1995, and Masuda has since been working as an art director, spreading KAWAII culture throughout Japan and across the world. 

He has also been in charge of the art direction and costumes for Kyary Pamyu Pamyu's music videos since her debut in 2011, often featuring 6%DOKIDOKI pieces. The combination of art and music captured the imagination of fans across the globe, inviting them into their world of music.

 

 

To commemorate his anniversary, fans will be able to experience his artwork, both past and present, at a variety of special KAWAII events. 

Be sure to check out these unmissable events and exhibitions!

 

【SPOT】Masuda Sebastian and 6%DOKIDOKI 1995→2021

Duration: Until October 3 2021

 

Masuda Sebastian opened 6%DOKIDOKI in Harajuku back in 1995. To commemorate the 26th anniversary since it's opening, a limited pop up shop has opened in Shibuya PARCO to celebrate the brand's history. Here you can find posters featuring designs from the 90's alongside modern 6% products. 

 

Details: https://www.moshimoshi-nippon.jp/ja/498415

【SPOT】MORI ART MUSEUM – Masuda Sebastian Pop Up Store

Duration: Until October 17 2021

A pop up shop from Masuda Sebastian's art brand, Sebastian Masuda ART. The shop will stock the latest goods from the brand, alongside a selection of art pieces. The store will be opened in TOKYO CITY VIEW on the 52nd floor of the Roppongi Hills Mori Tower, which is also hosting the 'Sanrio Exhibition: 60 Years of Japanese Kawaii History,' where you can view Masuda Sebastian's 'Unforgettable Tower' art piece. 

Details: https://www.moshimoshi-nippon.jp/ja/499990 

 

【SPOT/FOOD】Masuda Sebastian x Conrad Osaka Second Collaboration

Duration: October 31 2021 

Masuda Sebastian has worked closely with Conrad Osaka's executive pastry chef Jimmy Boulay to create a limited-time Halloween sweets buffet. Why not treat yourself to a colorful sweets party this Autumn, packed full of seasonal ingredients?

Details: https://www.moshimoshi-nippon.jp/ja/492445 

【SPOT】Yes, Kawaii Is Art

Duration: November 12 ~ November 21 (closed Monday,  Tuesday, Wednesday) 

A Masuda Sebastian art exhibition hosted in Kitakagaya, Osaka's City of Art. Here you can experience his artwork while discovering the "KAWAII" that has influenced the world and sparked new ideas.

Details: https://www.moshimoshi-nippon.jp/503083

【BOOK】Masuda Sebastian's Artworks PAINT IT, COLORFUL

 Published in 2020, this is Masuda's first artbook. It compiles a variety of his works, including those from Kyary Pamyu Pamyu's PONPONPON and Fashion Monster music videos, the KAWAII MONSTER CAFE restaurant, and Sanrio Puroland's Miracle Gift Parade. Dive into Masuda Sebastian's world with this colorful book which showcases all his art from around the world. 

 Details: https://www.moshimoshi-nippon.jp/ja/345928 

 

【SPOT】Future Peace Nursery

Masuda Sebastian was the visual producer for this nursery which opened in Sendagaya in June 2019. The community contribution project was headed by childcare facility developer Edulead and ASOBISYSTEM, which fosters and spreads Japanese culture. Masuda's colorful design creates a bright and charming space, ideal for nurturing children's growth. 

Details: https://www.moshimoshi-nippon.jp/ja/223582 

TEXT:Natalie(MOSHI MOSHI NIPPON)