#GucciGardenArchetypes Exhibition Held for Brands 100th Anniversary, Explores Brands' Archetypes and Vision
To celebrate the brand's 100th anniversary, Gucci will be hosting the 'Gucci Garden Archetypes' exhibition in Tennozu, Tokyo, between September 23 and October 31. The exhibition reflects the vision, aesthetics, and inclusive philosophies of creative director Alessandro Michele, as shown through advertising campaigns throughout his years in the position.
An Archetype refers to something that many things have been based on, and Gucci's advertisement campaigns are exactly that – the Archetype to Gucci's world.
The exhibition features astronauts, aliens, horses, angels, and more motifs that were featured in venues throughout the world, from Tokyo to Los Angeles, and even Paris' May Revolution in 1968. Visitors are whisked away on a spectacular journey through Alessandro Michele's kaleidoscopic vision. You will also discover the music, art, journeys, and pop culture that inspired Gucci's campaigns.
Exhibition director Alessandro Michele spoke, saying "I thought it would be interesting to invite people to join me on this six year journey, experiencing a dazzling world of fantasy and surprises. From there, I decided to create an immersive world that people could jump into through the advertisement campaigns. After all, it is the campaigns that best represent my vision."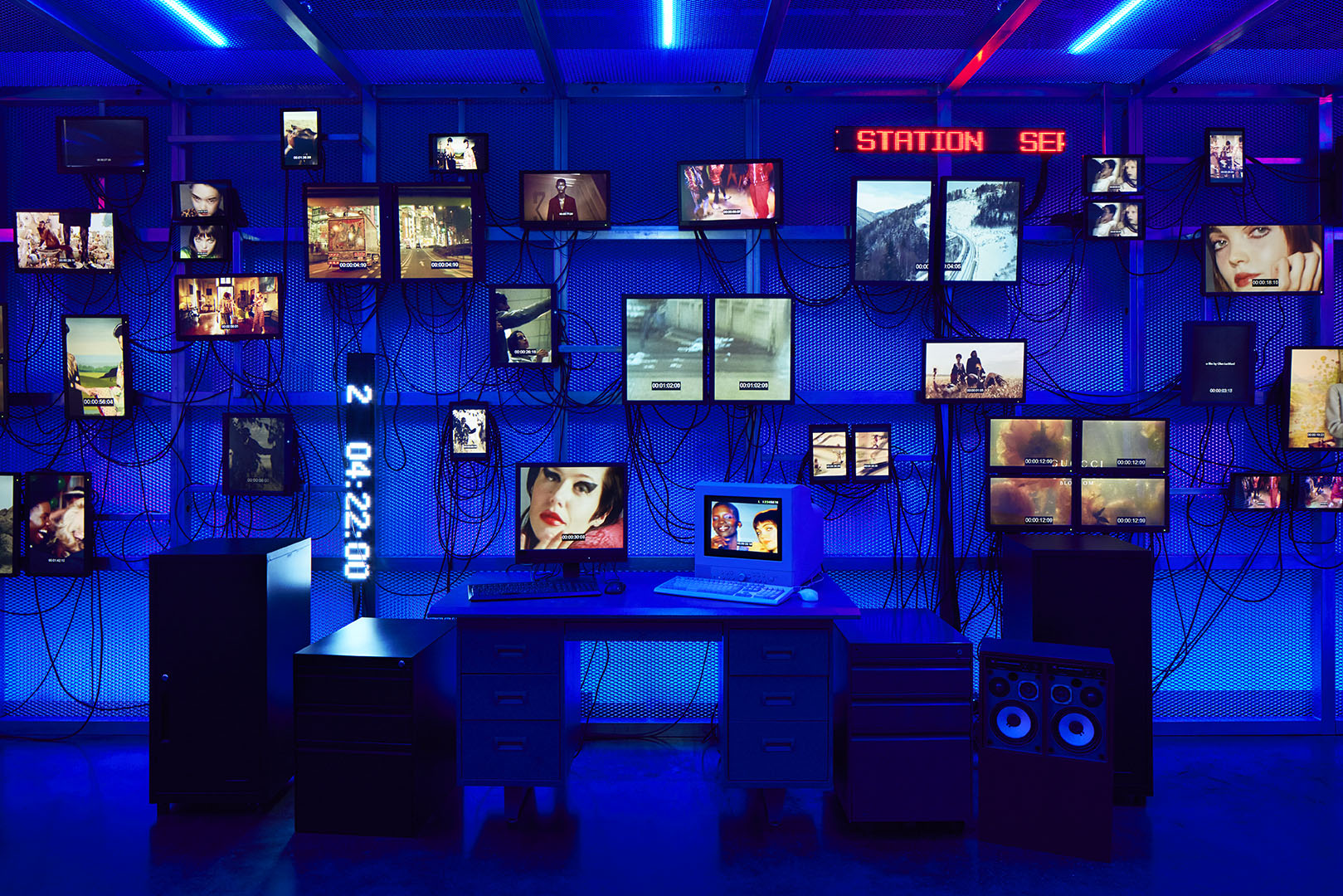 The exhibition is made up of multiple spaces built using cutting-edge technology, sophisticated craftsmen, and innovative interior design. The studio was designed by Archivio Personale, who has transformed Alessandro Michele's vision into a narrative space. 
As you enter the venue, you'll discover a control room, seemingly behind the scenes of the first exhibition as photos of Michele's campaigns are projected onto screens. Each room is based on a different theme, connected by aisle to recreate the diverse and wonderful world of Gucci's campaigns.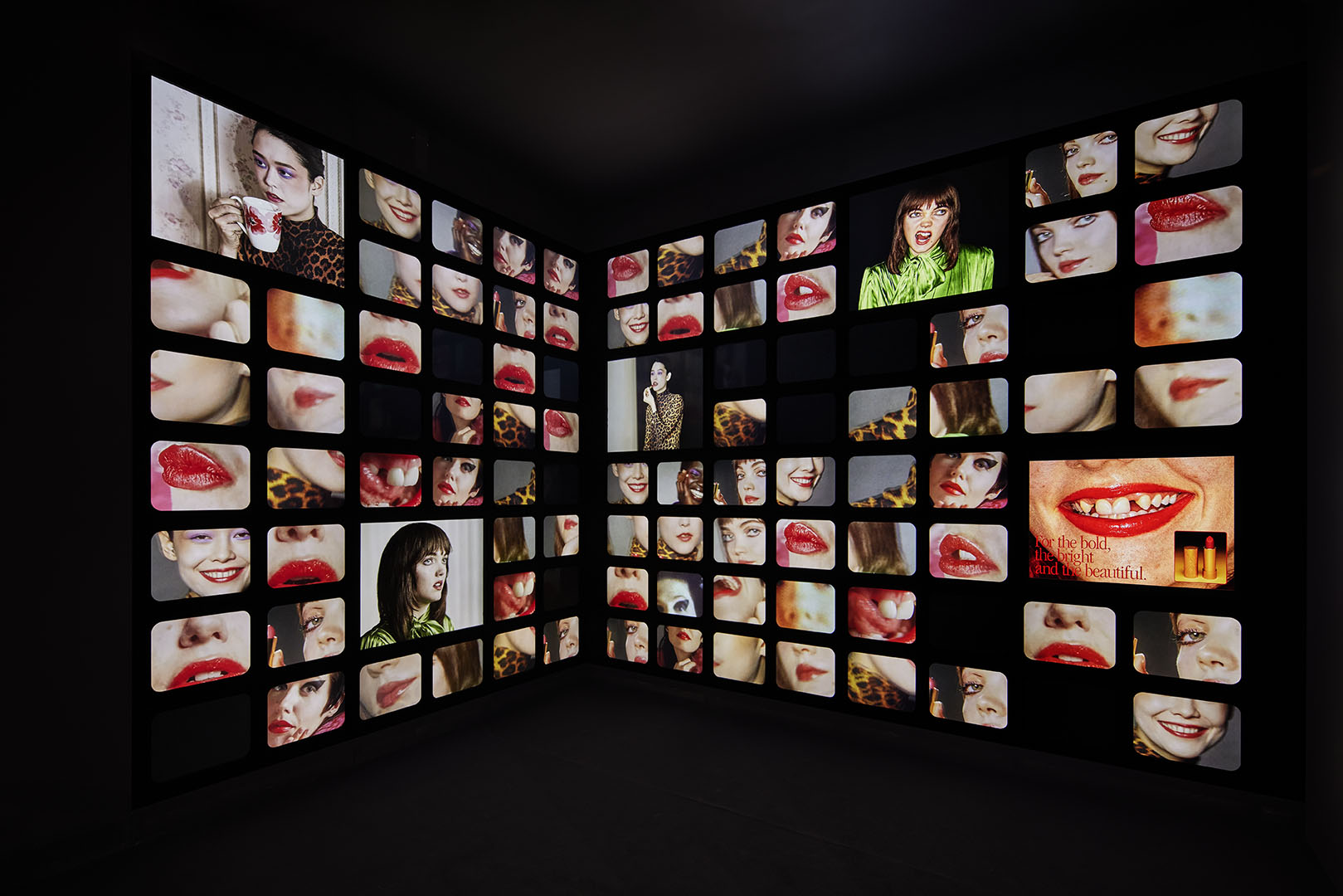 The Gucci Beauty room is full of screens at different angles, each showing footage from a lipstick collection campaign with the phrase "for the bold, the bright, and the beautiful." The room dazzles those entering with the smile of punk singer Dani Miller, which is said to have overturned beautify standards in the cosmetics industry.
 The Gucci Bloom room is a floral paradise with its rich, floral scent. This campaign featured actress Dakota Johnson, feminist artist and photographer Petra Collins, and Hari Nef, a transgender actress and model, as the protagonists, each hiding away in an imaginary hidden garden. The three charismatic and unconventional women perfectly reflect Michele's vision of modern femininity.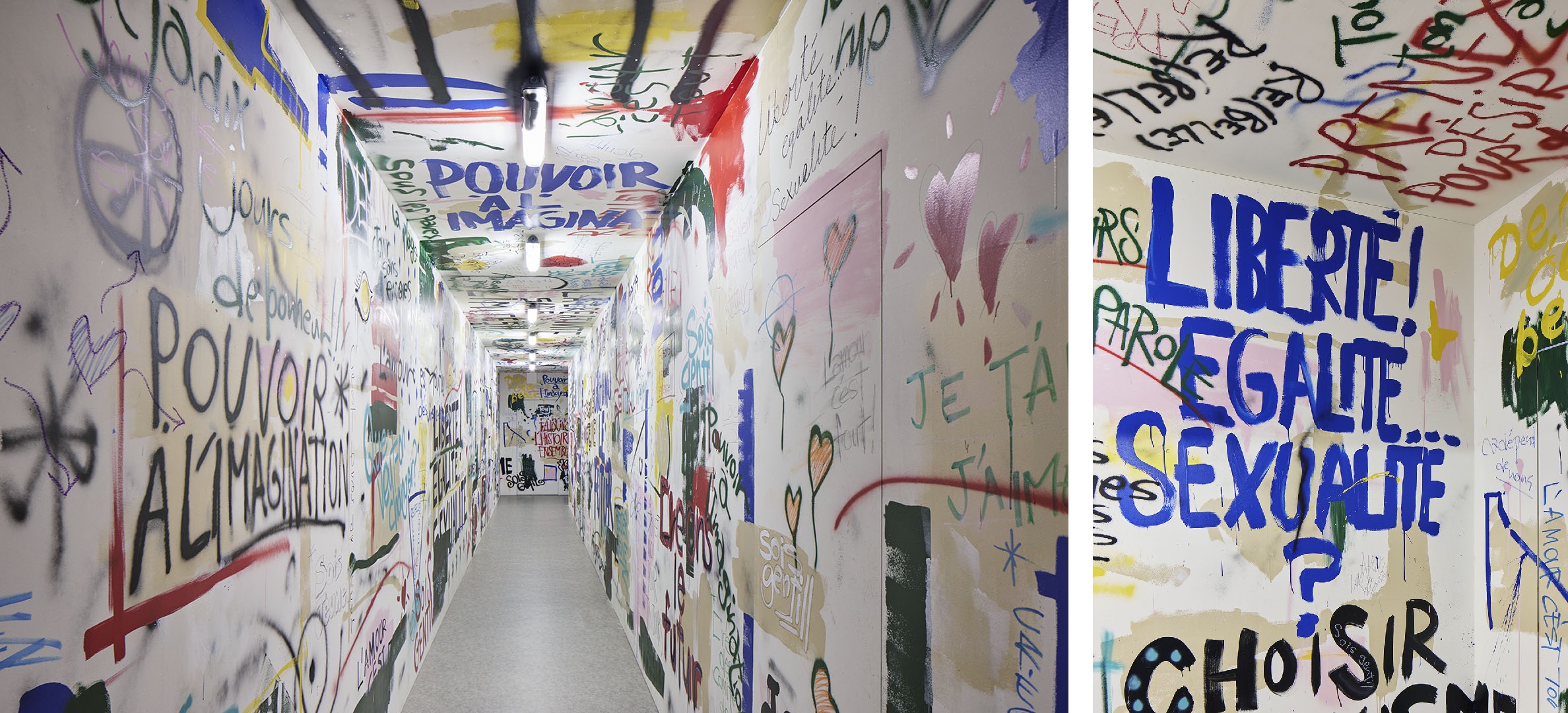 The 2018 pre-fall collection campaign paid homage to the young people who participated in Paris' May 68 movement to mark the 50th anniversary of the event, using graffiti to add depth to the atmosphere. 
The room featuring the 2018 Spring/Summer campaign features visuals by Ignashi Monreal, who is known for his elaborate and expressive artwork, covering the walls and ceiling with a giant mural.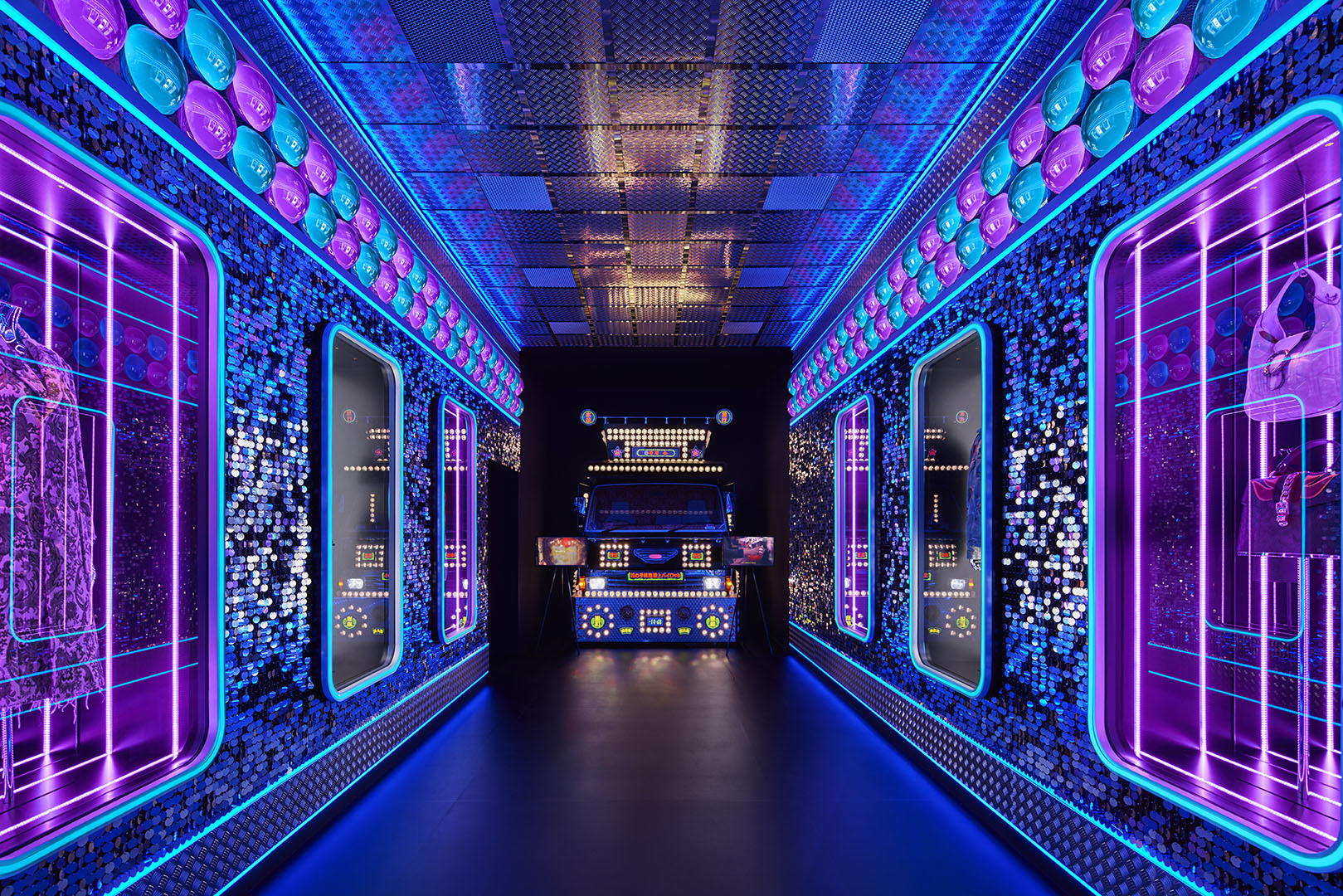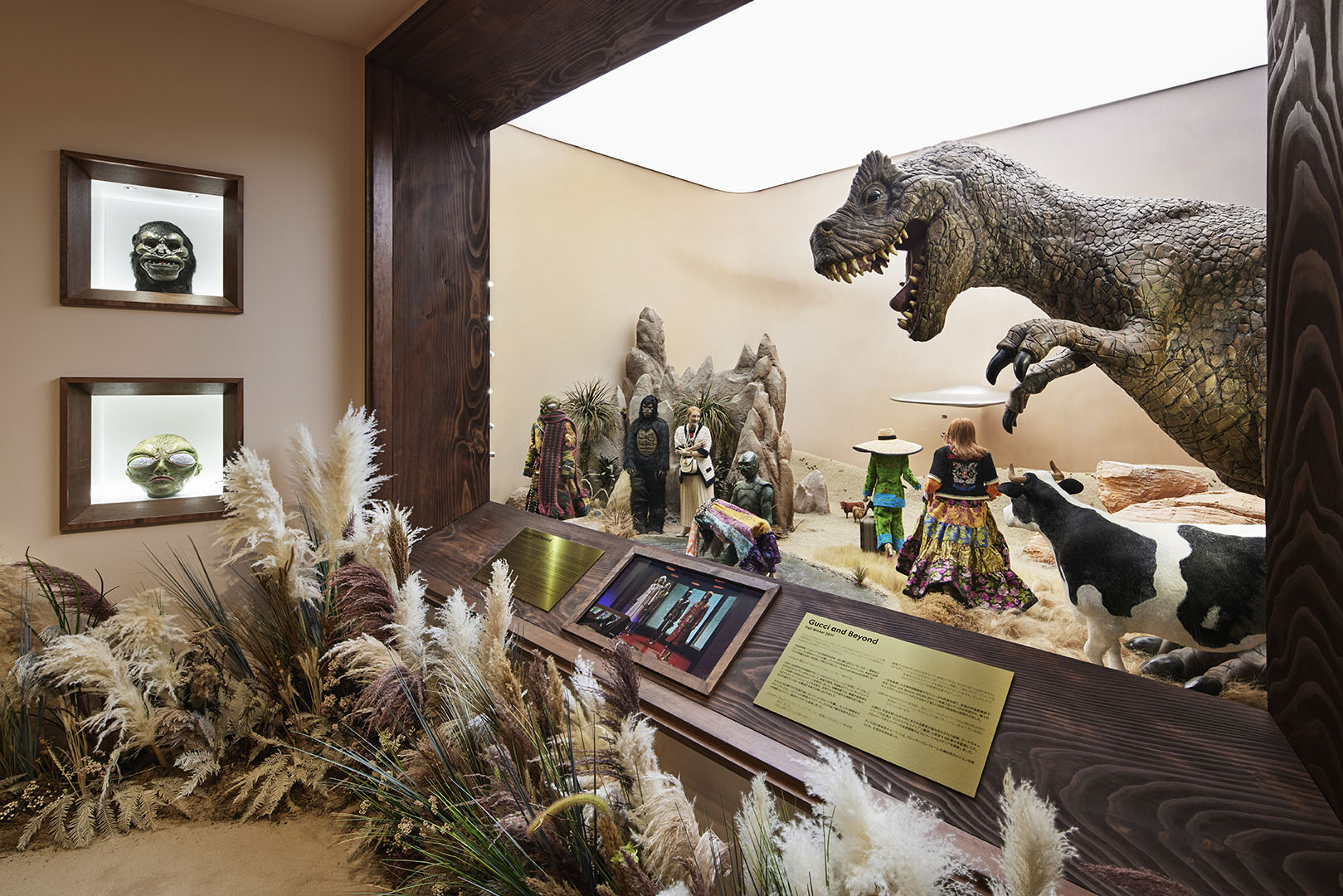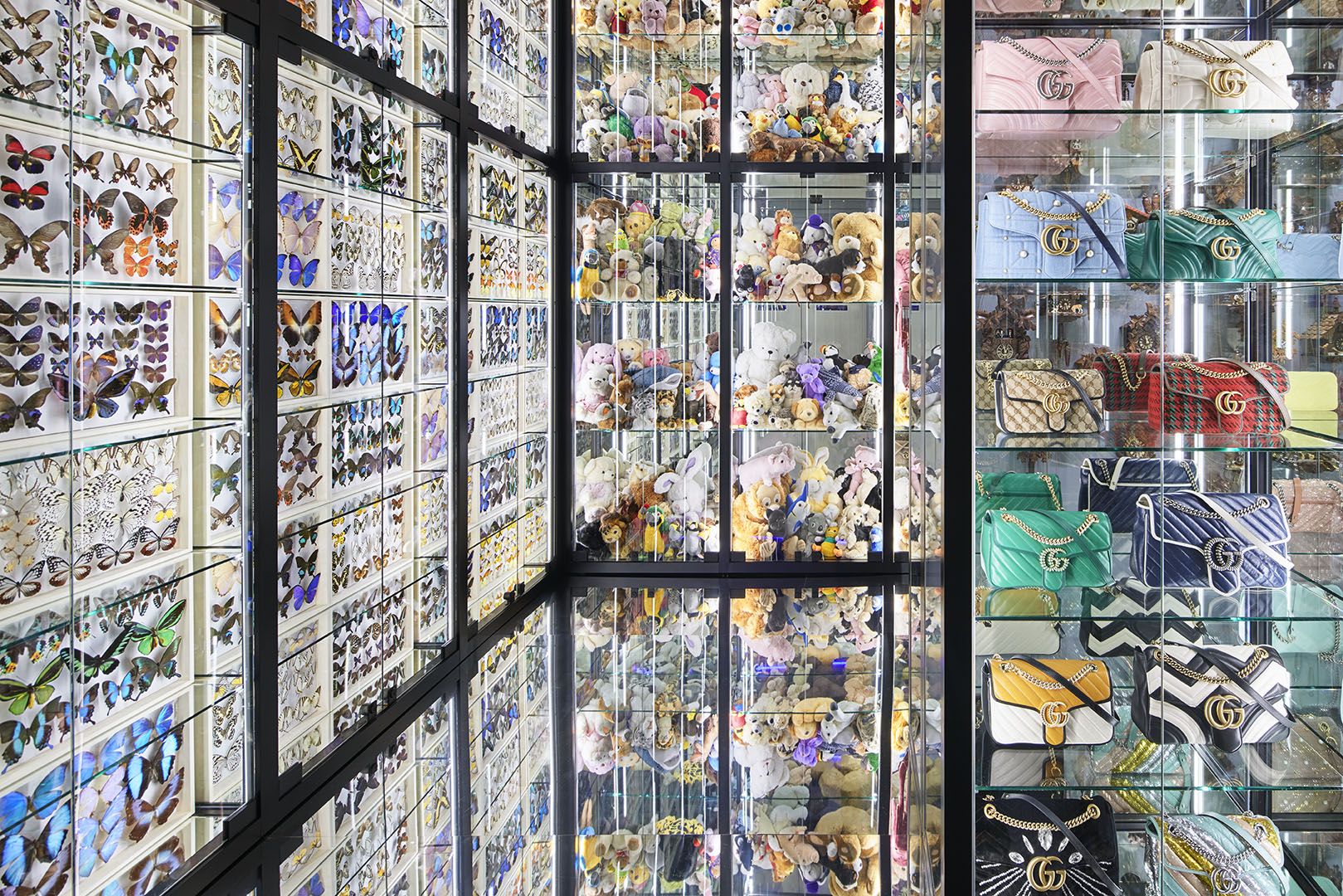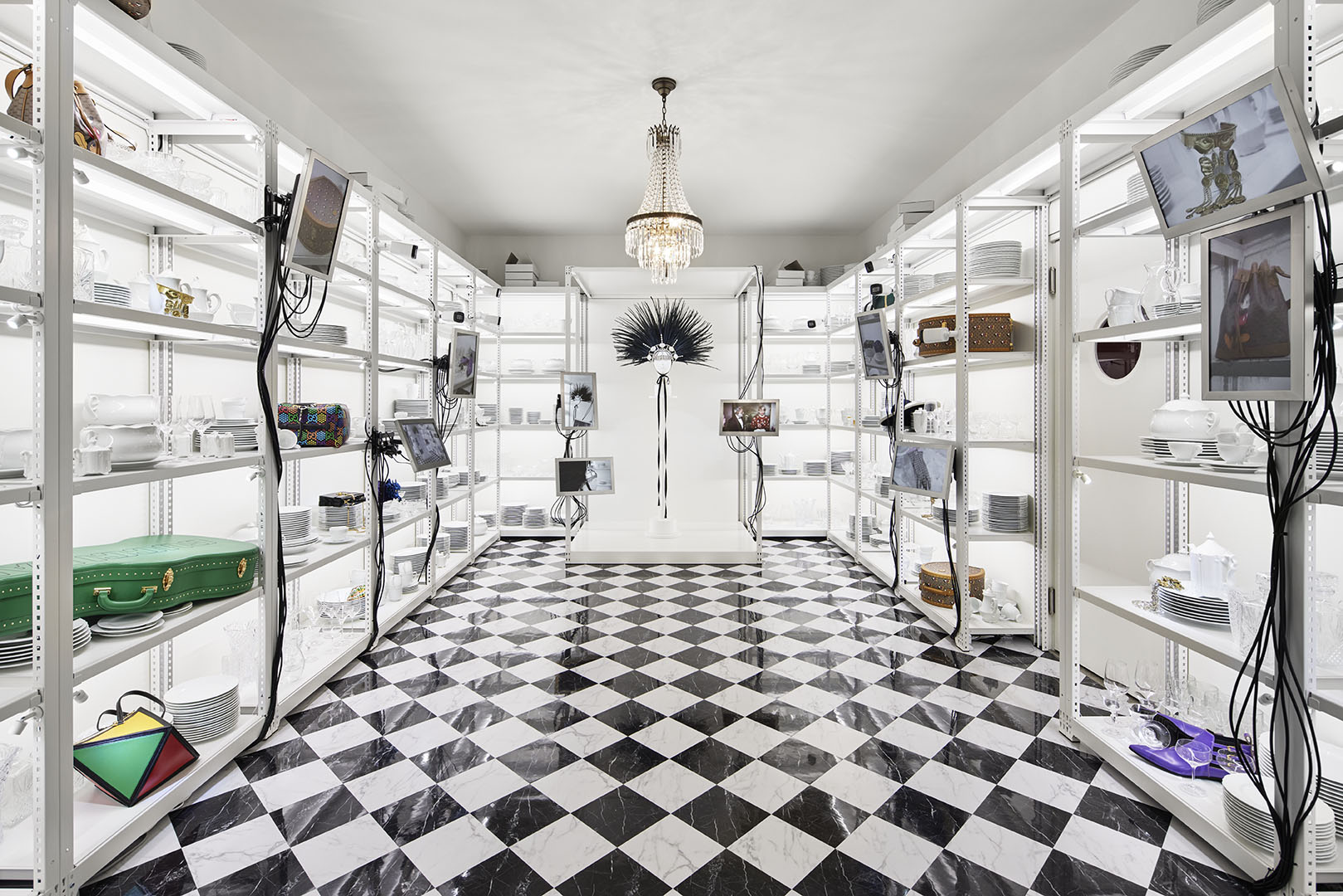 The room for the 2016 Fall/Winter collection takes you to Tokyo, using thousands of sequins across the walls to recreate Tokyo, a city that shines even at night. Meanwhile, the 2017 Fall/Winter room will take you all the way to space, with otherworldly creatures, aliens, and astronauts, all introduced in a Natural History Museum inspired diorama style.
The 2018 Fall/Winter room reflects the world of an eccentric collector, with shelves covering the walls from floor to ceiling. There are countless collectors items, with cases of butterflies, cuckoo clocks, colorful plushies, and even a number of Gucci GG Marmont bags. There are even set spaces, such as the  2016 Spring/Summer campaign which was set in the toilets of a 1980's club in Berlin and the luxurious modern villa from the "Party of a Lifetime" cruise collection campaign in 2020. Head behind the scenes and traverse deeper into this maze-like space, riding the Los Angeles subway to return to Alessandro Michele's very first campaign in 2015 Fall/Winter.
Lose yourself in the world of Gucci's advertising campaigns with this immersive space!
Images Courtesy of Gucci
Information
GUCCI GARDEN ARCHETYPES
Address: B&C HALL・E HALL 2-1-3, Higashi Shinagawa, Shinagawa-ku, Tokyo
Duration:  September 23 ~ October 31
Opening Hours: 11:00 ~ 20:00 (21:00 on Fri, Sat.) ※Last admissions are 30 minutes before closing.
Entry: Free, reservation required. Reservations can be made via the Official Gucci LINE account.
Official Site: www.gucci.com
RELATED ENTRIES
Hoshinoya Tokyo Offers New Safe & Mask-Free Dining Experience Using 'Lantern Partitions'

Hoshinoya hotels each offer a unique experience with their own theme. The Otemachi-based Yoshinoya Tokyo has announced the new "Tokyo Lantern Dinner," which has been proposed to suit the 'New Normal' of the Covid-19 generation. The new dining option was opened to customers from October 13 2021 and blends the new rules of restaurant partitions and mask wearing with Japanese culture, using lantern partitions to allow customers to enjoy their food with peace of mind. Customers can remove their mask as they sit under the lantern partition, which lights up your face and meal with a soft glow, meaning you can safely enjoy conversation and see your partner's face as you talk and eat. Conveniently, the lantern also prevents splashing, making eating out in the Covid-19 era even easier! 

The Lantern Partition was Developed with a Long-Established Lantern Company

Nippon Cuisine ~Fermented~

The partition lanterns were created by Kojima Shoten, a long-established lantern shop based in Kyoto which was founded in the Kansei-Edo period. The original lantern-shape was crafted by the professionals, from the structure all the way to the painting. The unique shape of this elastic lantern allows customers to enter and exit freely, and part of the lantern has been made using a 0.15mm transparent vinyl meaning that face-to-face conversations can be held with ease. In addition, the lantern is equipped with a light that gently illuminates the face and food of the person seated beneath it.

 

 

Yoshinoya Tokyo usually only accepts dining reservations from those staying at the hotel, but customers can now invite non-guests specifically to enjoy the main meal together.  They have prepared a variety of options for meetings and events that previously couldn't meet up due to the Covid situation, such as meetings between families before marriage, anniversaries, birthdays, business dinners, and more. 

 

 

Hoshinoya Tokyo is a Japanese Inn that respectfully combines the comforts of the modern day with traditional Japanese culture. The dining room, located on the first basement floor, offers 'Nippon Cuisine' made using a combination of Japan's historical fermentation culture and French cooking techniques.  The menu includes a wide variety of ever-popular fermented foods and seasonings, such as soy sauce and miso, along with preserved foods such as pickles and salted fish. The lactic acidosis bacteria found in these foods is referred to as a "Good Bacteria," known for its positive effects on the body and its ability to regulate gut bacteria. 

The taste and nutritional value of each meal has increased due to fermentation and aging, using seasonal ingredients from around Japan and French cooking techniques to bring out the flavor, resulting in a new and original taste. 

 

Why not check out Hoshinoya Tokyo and experience this new-era Japanese dining experience for yourself?

Information

Tokyo Lantern Dinner

Available From: October 10 2022 

Reservations: https://hoshinoya.com/tokyo (Must be made at least five days in advance)

Capacity: One group per day

SNEAKERWOLF Edo-Inspired Exhibition to Open in Shibuya and Harajuku

From October 23 until October 29, art project production group WATOWA GALLERY will host a solo exhibition by SNEAKERWOLF at elephant STUDIO in Shibuya. The artist has become popular both in Japan and abroad for his works inspired by calligraphy found in the Edo period of Japanese history. 

SNEAKERWOLF has garnered worldwide attention for his graffiti-style artwork depicting Edo-inspired kanji characters. In the past, he has collaborated with ASICS Tiger Japan and other popular brands. The artist will show around 15 new abstract works during this exhibition, many inspired by SD–or 'super deformed'–versions of characters. The #FR2 x SNEAKERWOLF collaborative exhibition will be happening simultaneously in Harajuku, bringing the artist together with fashion brand #FR2. The brand and artist were brought together during an exhibition sponsored by WATOWA GALLERY in January 2021. During this period, three new pieces made specifically for #FR2 will be on display, and limited-edition clothing will be available for purchase!





Information

SNEAKERWOLF SOLO EXHIBITION

(INSTRUMENTAL)

Running: October 23 – October 29, 2021

Hours: 12:00-19:00

Address: elephant STUDIO 1F (2-7-4 Shibuya, Tokyo)

Free Admission, No Reservations Required

Details: http://www.watowa.jp/news/2021/10/sneakerwolf-instrumental.html

#FR2 x SNEAKERWOLF

"FXXKING WOLF" 

Running: October 23 – October 29, 2021

Hours: 11:00-19:00

Address: #FR2GALLERY (TX 101 Building 1F, 4-28-16 Jingumae, Shibuya) 

Free Admission, No Reservations Required

Official Site: https://fr2.tokyo/

teamLab Reconnect Art and Sauna Exhibition Unveils New Autumn Art Space

Art collective teamLab has made a splash with their Reconnect exhibition, inviting visitors to enjoy a number of alternating hot and cold baths to transform their senses as they traverse a massive and constantly transforming art exhibition. From October 18 until November 23, the exhibition will feature incredible autumn scenery, including the piece 'Proliferating Immense Life in the Rain – A Whole Year per Year.' This constantly-moving image is not pre-recorded, but rather, the leaves will sway and respond to visitors' movements. Due to the popularity of the exhibition, more ticket plans are now available, including morning tickets for limited entry on weekdays. Guests can also reserve one sauna room for private use.

Ephemeral Solidified Light
teamLab, 2021, Interactive Installation, Sound: teamLab

Step into the Light Circle
teamLab, 2021, Interactive Digital Installation, Sound: Hideaki Takahashi, teamLab

A Whole Year per Year / Proliferating Immense Life in the Rain – A Whole Year per Year
teamLab, 2020, Interactive Digital Installation, Sound: Hideaki Takahashi

Levitation
teamLab, 2021, Digital Installation, Sound: Hideaki Takahashi

In collaboration with popular app TikTok, Reconnect aims to be a more down-to-Earth art experience. Rather than going to a prestigious museum, guests are invited to reconnect with the world and with the concept of time as they explore the exhibition. With senses heightened by the use of each sauna, visitors might find that they are able to relax and experience the beauty of the world more than ever before. 

Information

teamLab & TikTok, teamLab Reconnect: Art and Sauna

Address: 5-10 Roppongi, Minato-ku, Tokyo (Across from Keyakizaka Intersection) 

Running: March 22, 2021 – November 23, 2021

Hours: 10:00-23:00 (Last entry at 21:30)

Official Site: https://reconnect.teamlab.art/jp

PARCO Museum Tokyo to Hold Exhibition for Mysterious Artist manksy ☆ gataro

Manksy ☆ gataro is a mystery. The artist's nationality, real name, age, gender, and address are unknown. His works are bizarre and jarring, and from October 22 until November 14, Shibuya PARCO will hold the 'Mysterious Artist manksy ☆ gataro: 100th Anniversary of Death Exhibition' where 40 original creations will be on display. 

PARCO Museum Tokyo Exclusive 'Edition Print' (8 varieties) 

Merchandise

Long Sleeve T-Shirt (Black, 5 varieties) *Embroidered on the front

Postcard Box (40 varieties) 

Bandana

Acrylic Magnet (40 varieties) 

Shibuya PARCO B1 'Rice & Circus' Collaboration Menu

Old Lady's Boobs Curry: ¥1,200 (Tax Included) 

Old Lady's Colorful Cheese Fries: ¥850 (Tax Included) 

Old Lady's Power-Up Cocktail: ¥1,000 (Tax Included) 

The Emerging Art Museum -manksy ☆ gataro AR EXHIBITION-

The exhibition's website explains that 40 original drawings discovered in an abandoned apartment will be on display for the first time. The artist had already turned to bones when these were found and left no trace of when they were created or what they represent. Various manksy ☆ gataro prints will be on sale, along with a number of exclusive pieces of exhibition merchandise. Themed dishes will also be available, and for each order, guests will receive a novelty sticker (3 varieties) at random. Don't miss out on the special AR Exhibition at the Shibuya PARCO Art Wall!

Shiseido x Pokémon T-Shirts Collab Exhibition Held at Minato Mirai, Yokohama

The limited-time 'BEAUTY EXPANSION' exhibition is being held at 'Shiseido Global Innovation Center S/Park' between October 15 and 20 2021. 

 

For the event, Shiseido's beauty artists have collaborated with 'Pokémon Shirt,' the personalized Pokémon shirt service. The special exhibition relives the visual collaboration between Shiseido's top hair and makeup artist Harada Tadashi and 'Pokémon Shirt,' with behind the scenes footage and more.

From the inspiration for the Harada Tadashi and 'Pokémon Shirts' collaboration to the three key visuals,  the exhibition has been split into sections to show how the visuals were created. With drawings, crocheted hair parts, and more, you'll learn about the order of production, how visuals are created, and even how new ideas about beauty are formed. 

 

Not only can you relive the creation process of a top creator, but you will also experience the ever-changing and evolving expression of "beauty." The music used for the promotional video was inspired by the key visuals and produced by Conisch, a music writer and producer who has worked for many animated TV shows and has even previously written the theme song for Pokémon. The hair and makeup fashion show held on October 20 will be broadcast on YouTube, with guest appearances from Harada Tadashi and Conisch themselves. The incredible show will combine the world of Pokémon, the key visuals, and all kinds of motifs to match the space, so be sure to check it out! 

 

©Pokémon. ©Nintendo/Creatures Inc./GAME FREAK inc.
ポケットモンスター・ポケモン・Pokémonは任天堂・クリーチャーズ・ゲームフリークの登録商標です。

Information

BEAUTY EXPANSION

Duration: October 15 ~ October 30 2021 (closed on Sunday)

Venue: Shiseido Global Innovation Center (S/PARK)

Official Site: https://spark.shiseido.co.jp/ 

Opening Hours: 11:00 ~ 18:00

Address: 1-2-11 Takashima, Nishi-ku, Yokohama City, Yokohama 

Entry Cost: Free

 

Online Streaming

Availability: October 20 ~ December 31 2021

Shiseido on YouTube: https://www.youtube.com/user/SHISEIDOofficial 

no mark.Café in Tokyo Collaborates with Parent-Child Art Unit Musee du Aouvre

Located in an old traditional Japanese house in Kiyosumi Shirakawa, no mark.Café has a cozy ambiance for guests looking to escape the hustle and bustle of the city. From October 15 until November 30, the cafe is collaborating with the parent-child art unit Musee du Aouvre, and thirteen works from the group's blog will be on display throughout the building. A campaign will also be held, giving visitors the chance to receive some original coasters and a small wind God figure to sit on the side of a coffee cup. 

Campaign Present A. Aouvre Coaster / B. Aouvre Wind God Figure

The cafe aims to be a place where guests can enjoy art as they relax, and to further this idea, they will be collaborating with a number of artists in the 'CAFE DE ART' project. 

The first collaboration is with Musee du Aouvre, an art unit consisting of a father and son duo who copy famous works of art. These aren't just any forgeries–they are incredibly adorable and pay proper homage to the original creations. Thirteen works will be selected from the pair's blog and will be exhibited under the title 'The no mark.Café Great Counterfeit Exhibition.' A 2022 calendar and postcards of the works will be on sale at the store, and videos will provide information about the original works of art. Visitors can also participate in the Twitter and Instagram campaign to win a special collaborative item!

Boy Band BE:FIRST to Hold First Photo Exhibition

BE:FIRST is a seven-member dance and vocal group created during THE FIRST boy band audition. Organized by BMSG, a company founded by popular rapper SKY-HI, the group immediately amassed an army of fans who immediately fell in love with the member's incredible perseverance and passion during the audition program.

Original Merchandise

Long Sleeve T-Shirt: ¥5,800

Hand Towel: ¥900

Rubber Keychain: ¥700

 

To commemorate the group's major debut on November 3, PARCO will play host to the 'BE:FIRST Photo Exhibition "We Just Gifted" event starting on October 22 in Shibuya and November 13 in Nagoya. The showing will feature unreleased photos and videos of the audition process, and original merchandise and materials will only be available at the event. There are plans for an online photo exhibition and regional tour in the future, so keep an eye out for details!

Daruma Themed Exhibition and Auction Featuring 11 Artists Opens in Shimokitazawa

From October 13 to October 27, artists are flocking to BONUS TRACK Gallery in Shimokitazawa to display some incredible works based on daruma, a type of lucky Japanese traditional doll. These works will also be up for sale in an online auction happening during the event period!

October 2020 Exhibition

October 2020 Exhibition





The motif of BONUS TRACK is the daruma, which are seen as symbols of perseverance and good luck in Japanese culture. This marks the third time that artists have been invited to create and sell their daruma-inspired works.

20% of the final bid price for each piece will be donated to various organizations. 30% will be given to the venue, while 50% will be given to the artists themselves. 

During the first event, donations went towards the Nippon Foundation's Emergency Relief Fund for Coronavirus. Other organizations supported include the Kitazawa Osekkai Club, a group involved in PTA and youth committee activities in the area, and Peace Wanko Japan, a dog protection organization in Hiroshima. 

New 'Ways of Telling' Exhibition Unravels People's Narratives in Artistic Ways

'Ways of Telling' Venue  Photographer: Kioku Keizo

The Ways of Telling Exhibition is now open at the Shibuya Koen-dori Gallery in Tokyo. The focus of the gallery is to closely inspect how people 'tell,' or communicate with others. Human beings often depend on hearing or seeing as ways to get information, but there are many other ways to express thoughts and emotions, from paintings and photography to video creation. The exhibition highlights different attempts to receive and express invisible 'narratives,' and visitors will have to rely on their imagination to understand each piece.

'Ways of Telling' Venue  Photographer: Kioku Keizo

'Ways of Telling' Venue  Photographer: Kioku Keizo

'Ways of Telling' Venue  Photographer: Kioku Keizo

Exhibition Space Design – Hideyuki Nakayama Architecture / Photo: Takashi Kato

Eight artists have contributed to the exhibition, each utilizing a wide variety of mediums. Hideyuki Nakayama, the architect behind the exhibition space, wanted to encourage visitors to use their imagination. "A building is a place that has been given a name and a fixed purpose, but I tried not to see it that way. I wanted it to feel like a different place for each guest. I hope that the space will overlap with the underlying purpose of the exhibition, in a way," he explains. 

Bringing together both the seeing and the blind, a special book club was established as a place to discuss each person's 'way of seeing' when it comes to art. In the exhibition space, Rinko Kawauchi's book Hajimari no Hi, containing images and thoughts captured by blind individuals during the book club, will be displayed in both words and other mediums. 

Manga Artist Kazuo Umezu's Work Featured in UMEZZ ART PROJECT Exhibition

UMEZZ ART PROJECT logo featuring self-portrait by Kazuo Umezu ©Kazuo Umezu

The UMEZZ ART PROJECT, focusing on the works of manga artist Kazuo Umezu, is coming to Tokyo City View in Roppongi Hills in Tokyo from January 28 until March 25, 2022. The artist is widely known for his work on a number of horror series including Cat Eyed Boy and The Drifting Classroom, Working in the industry since 1962, his works have inspired a number of other manga creators, with Urusei Yatsura and Inuyasha creator Rumiko Takahashi once serving as Umezu's assistant.

Orochi(1969-1970)


The Drifting Classroom(1972-1974)


My Name is Shingo(1982-1986)


*Dates of serialization in parentheses.


©楳図かずお/小学館

Tokyo Mega Illumination at Tokyo City Keiba to Collaborate with NAKED for AR Experience

2021 marks the fourth year that the Oi Racecourse, also called Tokyo City Keiba, will be bathed in a sea of over eight million colorful lights! The Tokyo Mega Illumination is back from October 16, 2021, until April 10, 2022, and features a water fountain show synchronized to music, a 100-meter tunnel covered in twinkling lights, and more. This year, in the Twinkle area of the event, guests can enjoy various AR illuminations created as a collaboration with NAKED, a creative production company headquartered in Shibuya. The NAKED BIG BOOK interactive experience will also welcome visitors to enjoy a projection mapping experience like no other.

NAKED BIG BOOK

Pergola (Interactive)

Illuminated Logo

AR Horse Camera Filter

AR Lights
Limited-Time Area: Tree Playing with Lights (Lawn Area)

NAKED's most popular work, NAKED BIG BOOK, utilizes projection mapping to allow guests to turn the pages of a giant book and experience a unique world separate from their own. Using web filters and AR, guests can also see the object as a pop-up picture book! 

During this special collaboration held on a horse racing track, visitors can also see a giant white horse in AR as they explore the grounds. Colorful horseshoes and stars will pop up from people's footprints, and the sound of visitors' steps will take on the sound of a horse's hooves instead. Be sure to make some memories by snapping commemorative photos with themed filters during the event!

Information

Tokyo Mega Illumination 2021-2022

Open: 

October 16, 2021 – April 10, 2022

Open Saturday and Sunday throughout October (Closed October 31)

Open Daily from November 1, 2021 – January 10, 2022 (Closed on Race Days and January 1)

Open Friday, Saturday, Sunday, and Holidays from January 11, 2022 – April 10, 2022 (Closed April 1)

Tickets are sold for the following week. New tickets for the following week go on sale each day at 0:00. 

Tickets: https://www.asoview.com/channel/tickets/gCscCKZ8EA/

Official Site: https://www.tokyomegaillumi.jp/

Machida City Museum Hosts Looking at Prints: Techniques, Expressions and Histories Exhibition

The Machida City Museum of Graphic Arts in Machida, Tokyo, is currently holding the Looking at Prints: Techniques, Expressions, and History exhibition until December 5, 2021. Featuring over 130 prints created with a large variety of techniques, guests can take a deep dive into how each piece of art was made. 

An Up-to-Date Parody of the Four Classes – Utagawa Kunisada. 1857. Letterpress, wood, multi-color printing. 

Artists featured in the exhibition have used many different techniques to create their masterpieces, including woodblocks, copper plates, lithographs, and stencils. The main exhibit introduces famous printmakers such as Albrecht Durer, Pablo Picasso, and Shiko Munakata, but also a number of lesser-known artists who utilized less traditional techniques. All explanations are in an easy-to-understand manner, so why not come learn about art in Tokyo? 

Information

Looking at Prints: Techniques, Expressions, and Histories

Running: Until December 5, 2021 (Closed Mondays)

*Contents will undergo partial changes throughout the exhibition. 

Hours: 

Weekdays – 10:00 AM until 5:00 PM

Weekends/Holidays – 10:00 AM until 5:30 PM

*Last admission 30 minutes before closing. 

Address: Machida City Museum of Graphic Arts (4-28-1 Haramachida, Machida, Tokyo)

Official Site: http://hanga-museum.jp/