Planetariums in Tokyo to Show Night Flower Film Narrated by Taishi Nakagawa
A stunning new film is coming to the Konica Minolta Planetarium in Tokyo Skytree Town and Planetaria Tokyo in Yurakucho Mullion starting November 19, 2021! Night Flower ~Blooming for One Night on a Starry Island~ will take guests on a journey to Iriomote Island in Okinawa, known for its beautiful starry sky. At night, this island is home to Sagaribana, a flower that only blooms at night and seems to glow in brilliant shades of white, pink, or red. The film is narrated by actor and model Taishi Nakagawa.
Journey to an Immersive Starry Island
Iriomote Island, a world heritage site, is filled with rich nature and a vast ecosystem of living things. From this island, 84 of the 88 constellations scattered across the sky can be seen, including the Crux. A number of these constellations have been captured in this film, with plenty of detail given by Taishi Nakagawa. It almost feels like a date with him–and who could resist that?
Feel as Though You've Been Transported to the Jungle
Using the SOUND DOME® stereoscopic sound system, even the tiniest sound of a bird chirping or leaves rustling will feel as close as can be. Along with the narrator, Manami Kakudo provides the theme song to the film which will leave audiences with goosebumps. 
Mysterious Flowers Blooming Beneath a Starry Sky
The Sagaribana is a whimsical flower, almost alien in its appearance. They bloom for only one night, closing up by morning. This can teach us a valuable lesson: that each day, and each night, is precious, and life can be more fragile than we realize.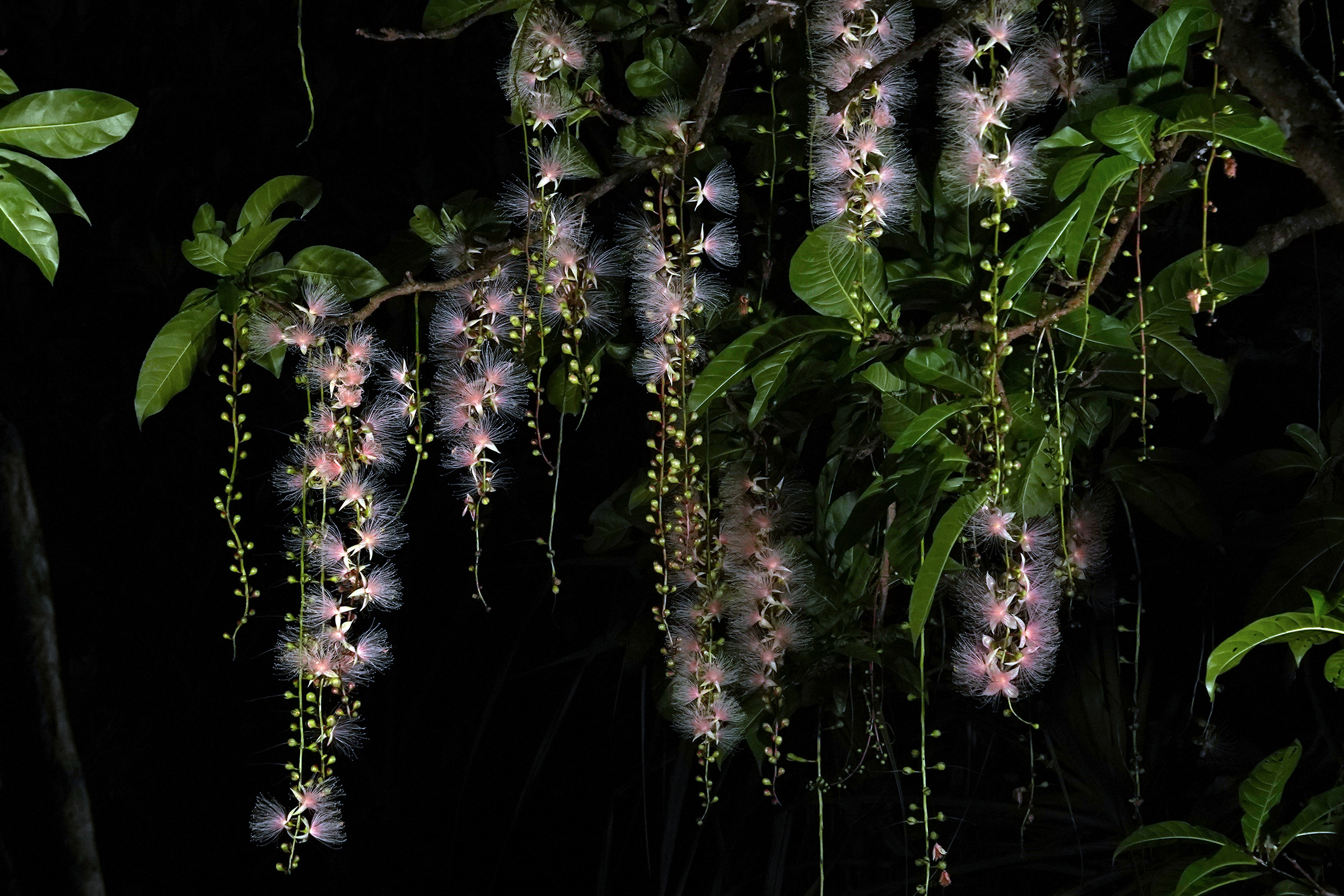 Information
Night Flower ~Blooming for One Night on a Starry Island~
Release Period: November 19, 2021 ~
Runtime: About 40 minutes
Address: Planetaria Tokyo (Yurakucho Mullion) / Konica Minolta Planetarium (Tokyo Skytree Town)
*Screening times will vary depending on the day and time of year. 
*Facility hours are subject to change. 
Official Site: https://planetarium.konicaminolta.jp/program/night_flower/ 
RELATED ENTRIES
Hoshino Resort's Banta Cafe in Okinawa to Open Limited-Time Night Cafe During Winter

Located in wonderfully warm Okinawa, Hoshino Resort is the perfect getaway for those wanting a warmer winter. The Banta Cafe overlooks the ocean, offering unmatched views. From December 1, 2021, until January 31, 2022, the cafe will hold the 'Illumi-Banta: Night Lights by the Sea' event. Of course, Illumi-Banta is a portmanteau of the words 'Illumination' and 'Banta,' but the Okinawan word iyumibanta means 'a cliff overlooking the fish.' The entire location, from the top of the cliff all the way to the sea, will be bathed in otherworldly light. A special menu will also be available during the event period, serving up food perfect for eating as guests wander by the seaside. A number of Okinawan workshops will also bring local craftsmen to the site to show off their creations. Why bundle up when you can enjoy a warm winter by the ocean? 

A Fantastic World of Light and Ocean Life

Banta Cafe sits on a cliff above the water, and the waters beneath it hide gorgeous coral reefs. Watch the sea come to life, as the ocean, white sand beach, and rock formations are illuminated. The lights will change colors during the daily light show along with the tides, so don't miss it!

Light Show Times: 18:30, 20:00, 21:00 *Each show lasts about five minutes.

Playful Plant Shadows

On the large roof deck located at the entrance, large fern and palm leaves have been arranged to welcome guests along with other plants local to Okinawa. Using lights, the shadows from these plants reach massive heights on the 4-meter high Ryukyu limestone walls, and guests are encouraged to try making some fun shadow puppets for the perfect snapshot!

Enjoy a Lantern-Lit Night Picnic with the Strolling Soup Set

The night cafe will be selling a special Strolling Soup Set menu, inviting guests to venture out onto the sandy shore with a lantern in hand to enjoy a meal beside the sea. Guests can choose two of the available four soups along with a crispy baguette and herb butter. 

Hours: 18:00 – 20:30 (Last Order)

Price: Strolling Soup Set for Two, ¥2,600

Includes: Two types of soup and bucket for two people, lantern and basket rental

Four Types of Soup

・ Minestrone
Filled with colorful vegetables, such as tomato, bitter melon, and yellow carrot

・Clam Chowder

Packed with seafood flavor and a unique mix of Okinawan spices

・Consomme with Yushi Tofu
A lightly-salted soup made with Okinawa's fluffy Yushi Tofu and thick-cut bacon

・Yam and Cauliflower Potage
Creamy potage with white cauliflower and brightly colored yam

The Night Light Market, a Gathering of Proud Okinawan Artists

On Saturday nights from January 8 to January 29, the Night Light Market will bring various artists and craftsmen from Okinawa to the Hoshino Resort. These artists will be excited to share the culture of Okinawa and will offer a range of products made of locally sourced materials. Guests can even try their hand at local crafts at the indoor Gorogoro Lounge!

Running: Every Saturday Night from January 8 – January 29, 2022

Hours: 18:00-21:00

Wouldn't you prefer a warm Okinawan winter? 

Information

Illumi-Banta

Running: December 1, 2021 – January 31, 2022 (Closed from January 17-21)

Hours: Sunset – 21:30

Official Site: https://banta-cafe.com/

Keina Suda Chosen to Perform Theme Song to Upcoming Mari Okada Film Dog Star

The grand opening of Konica Minolta Planetarium Manten NAGOYA is scheduled for October 27, 2021. The original film Dog Star: Kimi to Miageru Fuyu no Seiza-tachi (Winter Constellations to Look Up With You) is set to be screened as the location's first event, and singer-songwriter Keina Suda has been chosen to perform the movie's theme Yomosugara (All Night). Ahead of the film's premiere, advanced tickets will be on sale starting October 20, and those who purchase one will receive a special character acrylic stand!

Dog Star: Kimi to Miageru Fuyu no Seiza-tachi Trailer #2

Advance Ticket Bonus: Acrylic Stand

Keina Suda, chosen to perform the theme song for Dog Star: Kimi to Miageru Fuyu no Seiza-tachi

Konica Minolta Planetarium Manten NAGOYA will be Japan's first planetarium to use the LED dome system DYNAVISION-LED, which utilizes self-luminous LED elements instead of a projector. 

Before making his major debut, Keina Suda was a popular Vocaloid producer going by the name Balloon. During this period, his song Charles became a smash hit, getting over 100 million views on YouTube. The musician wrote the song Yomosugara for the film. The writer of the film, Mari Okada, is also known for her work on Anohana: The Flower We Saw That Day and The Anthem of the Heart. 

A completely original story written by Mari Okada

A friendship between two boys begins to twinkle in the light of the winter constellations. 

Nobunaga Shimazaki plays Kousuke, a boy who is crazy about the stars, while Yama Uchida portrays Natsuki, active on the track and field team. This is a coming-of-age story woven together with the starry sky made of LED lights only available at Manten NAGOYA. 

Kousuke, a boy who loves stars, failed his high school entrance exam. He reluctantly enrolls at his second-choice school, where he meets Natsuki, a member of the track and field team. He compares the brilliance of Natsuki to that of Sirius, the first magnitude star that shines with a fierce intensity. Kousuke thinks Natsuki is not the same as him, who is only the second magnitude star with little presence. However, the fate of the two twinkling stars is about to change drastically…

Okinawa's Hotel Nikko Alivia Announces Season 3 of Monogatari Kaiseki Menu

SAWA, a restaurant featuring both Japanese and traditional Ryukyu cuisine, will begin the third season of its delicious and artful Monogatari Kaiseki menu starting October 1, 2021. Each season featured a selection of dishes inspired by original stories created by the head chef, and with the new installment, guests will also be supporting the reconstruction of Shuri Castle which suffered damage after a 2019 fire. The restaurant is located at Okinawa's Hotel Nikko Alivia, and the meal will be available until October 31. 

Monogatari Kaiseki: Appetizer 'Beneath the Moonlit Night' 

Monogatari Kaiseki: Grilled Items 'Vampire's Dinner' 

Monogatari Kaiseki: Dessert 'Pumpkin Ghost/Tidings of Autumn' 

In this imagining, a collection of ghosts and spirits gather at the Shuri Castle Festival on Halloween to compete in a cooking competition, and guests are invited to judge each dish. A drink pairing set will also be available. 

5% of all sales will be donated to the Okinawa Prefecture Shuri Castle Fire Restoration and Recover Fundraiser, to help rebuild the historical site. 

Information

Monogatari Kaiseki Halloween Story – Shurijo Festival –

Available: October 1 – October 31, 2021

Hours: 18:00-21:30 (Last order at 21:00) 

Address: SAWA Restaurant at Hotel Nikko Alivila

*Limited to 10 per day.

Reservation Line: 098-989-9021

Official Site: https://www.alivila.co.jp

Aoi Kubo to Perform Theme For Short Anime Series "Deji" Meets Girl

Up-and-coming 16-year-old singer Aoi Kubo has been selected to perform the theme song for the upcoming short anime series "Deji" Meets Girl, premiering October 1. The song, Otogibanashi no You na Kiseki (Fairy Tale-like Miracle) is now streaming, and a lyric video has also been uploaded to YouTube ahead of the show's start. Two additional songs are available on the digital EP, each inspired by the two main characters in the show. Akane Malbeni, the original character designer, also provided the jacket art. 

"Deji" Meets Girl tells the story of Maise Higa, a high-school freshman who works part-time at the front desk of her family's hotel in Okinawa. One day, she meets Ichiro Suzuki, a mysterious hotel guest from Tokyo traveling alone. Ever since he arrives, strange things begin happening, like fish swimming through the air, and Maise is desperate to get to the bottom of things. 

Comments from Aoi Kubo

Q1: Describe how you felt when you were chosen to perform the theme for "Deji" Meets Girl. 

I've always wanted to sing the theme song for an anime series, so when I got the offer, I was super surprised! This is a fantasy series, and it depicts a mysterious world that really captivated me, so I hope tons of people will watch and enjoy it.

I would be so happy if everyone would listen to the songs I created for these characters, and compare how they sound in context!

 

Q2: When singing these songs, what did you pay special attention to or emphasize? 

I was asked to write the theme, and to do that, I really surrounded myself with the show's world. 

Otogibanashi no You na Kiseki is based on my own interpretation of the show's worldview. 

For the other two songs I wrote based on the main characters, I tried to imagine what they were feeling, and what thoughts were running through their heads. 

A creator contest is also being held! Creators can submit illustrations or music videos based on one of Aoi Kubo's three songs for "Deji" Meets Girl. The best illustrations will appear on TV, while the best music video will be streamed on Kubo's official YouTube channel. Entries can be submitted starting October 1, so be sure to check out the special site if you'd like to participate!

Experience 600 Years of Historical Culture with the Tanadui Festival Accommodation Program

The HOSHINOYA Taketomi Island Resort in Taketomi, Okinawa will be holding the Tanadui Program between September 1 and October 12 2021. The special program will be held to mark the Tanadui Festival, an event that has been listed as an event of cultural importance and allows visitors to experience the deep, historical culture of Taketomi Island.

Taketomi is an island with it's own unique culture with a selection of festival rituals, including food offerings to pray for prosperity and abundant harvests. The Tanadui Festival is the largest on the island and has been designated an event of cultural importance, running for over 600 years. Every year, throughout the seventh and eighth days of the festival, a stage is assembled in Yomochi Utaki to host over 80 traditional performances, each dedicated to the Gods and deities. On Taketomi Island, the phrase "Kashikusaya Utsugumidu Masaru" is key to the local lifestyle, roughly translating to "cooperation over all." Join in the 'Spirit of Utsugumi (cooperation)' as the whole island practices and prepares for the festival – even those who have moved further away will return home to join in.

Focus Points

Bountiful Harvest Lunch – Get to know, touch, and cherish the five grains harvested on Taketomi Island


Enjoy a lunch that has been made using millet, wheats, beans, potatoes, and rice, which are said to be the five grains of Taketomi Island. Before lunch, you can join in the harvesting of potatoes grown on-site. Taketomi Island has no mountains or rivers as it was formed through the raising of coral atolls, making it difficult to grow crops. As distribution was unpopular in the past, the lack of crop growth meant that there was no food to live off. It is because of this that festivals, including the Tanadui Festival, were first held. They are used to pray for plentiful harvests and the traditions are upheld to this very day. During this event, you can harvest potatoes while learning about the history and land.

The lunch plate uses French techniques to propose a fun and new way of enjoying the five grains while retaining their simple sweetness; A sweet wheat risotto, shimadōfu soup, a harvest potato Dengaku (fried potatoes cut into cubes and sprinkled with sugar), plus desserts that can be enjoyed with peanuts. This delicious lunch allows you to get to know, touch, and cherish the five grains of Taketomi Island.  

 

Price: ¥7,260 (Per person, tax & service charge included)

Capacity: Two groups per day

Hours: 12:30 ~ 14:00

Location; Field, Dining Room

 

Traditional Iiyachi Making Tour in collaboration with the islanders and HOSHINOYA Taketomi Island

Iiyachi is a traditional rice cake-like food that is eaten during the Tanadui Festival. Originally the Iiyachi was made using only materials found on the island, but thanks to modern development and tourism, plus the decline of agriculture, it is now regularly made using materials cultivated on other islands. HOSHINOYA Taketomi Island has worked hard to inherit the traditional production method. This year they will be challenging themselves by making Iiyachi using both traditional methods and local agriculture, cultivating millet and azuki beans to use in the recipe. Iiyachi is made by combining the ingredients in a large Shinme Pot to boil and steam. The resulting food is then kneaded out by a group of people while it is turned with a spatula. 

This is an opportunity to get up and close with the island's traditional culture which is only visible once a year during the festive period. Iiyachi making is an important job to the islanders, overflowing with enthusiasm and commitment to the Tanadui Festival.

Price: Free

Date: October 7

Location: Azumaya Garden

 

Teedun Dress-Up Experience

Here you can try on the outfits worn by the traditional performers who participate in the Tanadui Festival. The traditional costumes are only worn during the festival and have been passed through families for generations, usually unworn by anybody who isn't native to the island. During the experience you will be offered a commemorative photo, perfect to take home as a memory of your trip to Taketomi Island. 

Price: ¥1,210 (Per group, tax & service charge included)

Hours: 10:30 ~ 12:30

Location: Yuntaku Lounge

Teedun-banashi

Here the staff will introduce you to the festivals roots, the culture that started it, and the history of the island, with photos to assist. You will be taught all about the 600 year history of the Tanadui Festival and the "Kashikusaya Utsugimi Domasaru" spirit. During the program, you can also learn about daily life on the island, full of festival excitement and traditional Okinawan scenery.

Price: Free

Hours: 20:45 ~ 21:15

Location: Yuntaku Lounge

One Moment on the Island ~Iiyacha~

A selection of traditional Okinawan snacks will be served in the Yuntaku Lounge, offering the visitors a special moment on the island. There are two seasonings available for the sweet and simple Iiyachi: Andansuu, a sweet oil miso that is popular in Yaeyama, and shrimp salt, made from Japanese Tiger Prawns found in the beautiful oceans surrounding the island.l

 

Price: Free

Hours: 14:00 ~ 16:00

Location: Yuntaku Lounge

Tanadui Festival Breakfast


Enjoy a unique Tanadui breakfast packed full of the fruits of the harvest, with millet mixed Juushii rice, Awa Miso Andansuu, and Pindako made using garlic and octopus from the island.  You'll be wide awake with this vibrant breakfast and its auspicious menu. 

Price: ¥4,235 (Per person, tax & service charge included) 

Hours: 7:00 ~ 10:30

Location: Dining Room

Experience 600 years of history for yourself with this unique program! 

New BT21 Cafe Coming to Tokyo, Yokohama, Nagoya, Osaka, and Okinawa

The 9th BT21 Cafe ~Relaxing Holiday~ will be open for a limited time in six venues across Tokyo, Yokohama, Nagoya, Osaka, and Okinawa. If you're a fan of these adorable LINE FRIENDS, just take a look at the menu items and goods on offer!

Main Visual

The Menu

Chicken and Orange Hot Sandwich: ¥1,760 (Tax Included) 

Grilled Vegetable Curry: ¥1,870 (Tax Included)

Tandoori Chicken Tacos: ¥1,870 (Tax Included)

Scrambled Eggs with Smoked Bacon: ¥1,870 (Tax Included)

Mug Collection

Combo Meals

Pistachio and Chocolate S'mores: ¥1,540 (Tax Included)

Cinnamon Apple Pie: ¥1,540 (Tax Included)

Maple Lemon German Pancake: ¥1,650 (Tax Included)

Mixed Berry German Pancake: ¥1,650 (Tax Included)

Strawberry Mojito/Kiwi Mojito/Peach Mojito: ¥990 each (Tax Included)

Coffee (Iced/Hot) / Black Tea (Iced/Hot): ¥550 (Tax Included)

Original Merchandise 

Pins (Random, 7 designs): ¥660 (Tax Included)

Acrylic Keyrings (7 designs): ¥770 (Tax Included) / Clear Folder: ¥440 (Tax Included)

Stickers (7 designs): ¥770 each (Tax Included) / Placemat (2 designs): ¥1,000 each (Tax Included)

Swizzle Stick (7 designs): ¥990 each (Tax Included) / Tote Bag: ¥1,650 (Tax Included)

Canvas Pouch: ¥1,980 (Tax Included) / Mini-towel (7 designs): ¥990 each (Tax Included)

Bandana (2 designs): ¥1,320 each (Tax Included) / Marshmallows: ¥972 (Tax Included)

Customers who book a table in advance will receive a randomly selected A5-size clear folder and a random clear coaster for each drink ordered.

The first installment of the 9th BT21 Cafe run, ~MY LITTLE BUDDY~, began in July 2021. The menu and goods, based on cute babies and their friends, received rave reviews. 

 

~Relaxing Holiday~ is inspired by summer and being outside with friends. Menu items look like what people may eat while camping, and the original character art features your favorite BT21 characters eating their favorite foods. Various soups and desserts are available in cute souvenir cups, and anything ordered is perfect for posting on social media!

Which menu item looks the most delicious to you? 

 

*Images for reference only. 

©BT21

Information

BT21 Cafe 9th Run ~Relaxing Holiday~

Tokyo 1:
Address: SHINJUKU BOX café&space Lumine EST (B1F 3-38-1 Shinjuku, Shinjuku-ku, Tokyo)
Running: August 28, 2021 – October 3, 2021

Tokyo 2:
Address: HARAJUKU BOX Alta (3F 16-4 Jingumae 1-chome, Shibuya-ku, Tokyo)
Running: September 16, 2021 – October 31, 2021

Yokohama:
Address: Collabo_Index Lumine Yokohama (6F 2-16-1 Takashima, Nishi-ku, Yokohama, Kanagawa)
Running: September 1, 2021 – October 3, 2021

Nagoya:
Address: Nagoya Box café&space (B1F LACHIC, 3-6-1 Sakae, Naka-ku, Nagoya, Aichi)
Running: September 30, 2021 – November 7, 2021

Osaka:
Address: Shinsaibashi contact (1-6-24 Kitahorie, Nishi-ku, Osaka)
Running: August 27, 2021 – September 23, 2021

Okinawa:
Address: OKINAWA BOX café&space (Naha OPA 2F, 1-20-1 Izumizaki, Naha, Okinawa)
Running: September 3, 2021 – October 3, 2021

Official Site: https://2021-2.box-cafe.jp/

BT21 is a globally popular cast of characters from LINE FRIENDS.
*The products and menu items produced and sold by LEGS COMPANY, Ltd. are the result of an official license agreement with LINE FRIENDS Co., Ltd. and may not be reproduced or sold without permission from LINE FRIENDS Co., Ltd. 

ESTINATE HOTEL Celebrates Okinawa Branch's 6th Anniversary With Ryu Ambe Collaboration

The lifestyle hotel chain ESTINATE HOTEL's Okinawa Naha branch will turn 6-years-old on August 7, and to celebrate, it will hold a special event in collaboration with the character designer Ryu Ambe from August 6-15. This will be Ambe's first-ever exhibition where his work will be sold in-person.

Pottery in Shujiro Castle Park

"Shima Map" design by Ryu Ambe to be used on posters and t-shirts

ESTINATE HOTEL has welcomed people from all regions of Japan over the years. It has held many events including one two years ago with the theme "Meet Local" and another last year themed on "Feel Global." This year, the catchphrase is "Hello New World" which hopes to encourage people to discover new things by meeting the locals of Okinawa through the medium of art.


Ryu Ambe has a unique designer reminiscent of American comics. For this event, he has created the "Shima Map" which will be used on a variety of merchandise such as 30 limited-edition silk screen posters. There are also pottery pieces inspired by the sea life found in Okinawa's oceans, amongst other art works.

Information

Ryu Ambe Exhibition "HELLO NEW WORLD" at ESTINATE HOTEL
Running: August 6, 2021 – August 15, 2021 @ 11:00-17:00

Ryu Ambe's Stay Duration: August 7, 2021 – August 8, 2021

Location: ESTINATE HOTEL Okinawa Floor 1F Lounge

Address: 23-11 Matsuyama, Naha, Okinawa, 900-0032, Japan

Official Instagram: https://www.instagram.com/estinate_hotel/

Official Website: https://estinate.com/


Online Planetarium Season 2 Begins

Season two of Astro Connect's Online Planetarium series began on Friday. The project, which has streamed every Friday since April 2020, is a chance for people to connect with the stars and space.

The project began as a means of entertainment for people who have been in lockdown and unable to go outside due to the COVID-19 pandemic. Our time indoors has increased, and so Online Planetarium serves as a way for people to have fun while begin able to travel. The stream, which is in Japanese, focuses on talking about space and stars.

The final livestreaming of Online Planetarium Announced

Astro Connect, the space and astronomical project organizer, has been organised the project called Online Planetarium with ABLab, the astronomical online salon, to livestream the sky where you can observe the stars every Friday night since April 16, 2020. The final livestream will take place on April 16, 2021, which marks the first anniversary of project launching. The renewal of project will begin after April as Season 2.

We used to visit the Planetarium to explore and experience the universe with expert commentary until before the pandemic began. This time, they will deliver it to your home. You can observe the universe while listening to the interaction between a presenter and a commentator live. Also, the viewers can send questions directly to the presenter during the livestream to experience the new communication style of planetarium. 





Why don't you spend a luxurious time at home while watching the starry sky over the online planetarium?

Hoshino Resorts BANTA CAFE Announces Art Festival by the Beachside

The incredible Hoshino Resorts BANTA CAFE, a beachside cafe which offers guests a breathtaking ocean view along the Okinawan coast, has announced the upcoming Beachside Art Festival which will take place from April 10 to May 9. The festival will bring together artwork from a range of artists born and raised in Okinawa and leading the island's youth culture. There will be a range of events from live painting to workshops, exhibits, and more.

The participating artists have all taken part in personal art exhibits, art events, showcased their work at concerts, and more both inside and outside Japan, but due to COVID-19, many events have of course been cancelled. Beachside Art Festival will serve as a way to display their wonderful works while supporting them at the same time.

The Artist Line-Up

DENPA

nami

HAYATO MACHIDA

Chibana Yukinaga

MACHIDA visiting BANTA CAFE to check the feel of the ocean and their artwork

Vibrant artwork with the ocean as the backdrop

Visitors will be greeted by artwork dotted across various locations around BANTA CAFE. If they follow the top of the cliff down to the beach they will find sofas to sit on which have also been decorated with the artists' artwork. Then there's the Goro Goro Lounge with its enormous window that stretches an entire wall and offers a panoramic view of the sea. Here, visitors can look out at the artwork which will look like it's floating above the horizon. All drinks ordered also come with a free sticker featuring artwork by the four participating artists.

Experience art-in-the-making with live painting

DENPA and MACHIDA will host their own live painting sessions where they will take inspiration from the surrounding environment.


HAYATO MACHIDA @ April 10, 2021 / April 11, 2021

DENPA @ April 18, 2021

Times: 11:00-13:00 / 14:00-17:00

Where: In front of BANTA CAFE on the beach

Price: Free

Have a go at traditional Okinawan bingata dyeing

Visitors can have a go at making their very own coasters from nine different colours using a traditional Okinawan stencilled dyeing technique known as bingata.


Running: April 24, 2021 / May 1, 2021 / May 2, 2021 / May 5, 2021

Times: 10:00 / 12:00 / 14:00 / 16:00 (Each slot lasts approx. one hour)

Capacity: 4

Where: Iwaba Terrace

Price: ¥2,000 (Tax Included)

Note: Online booking required

Take home a souvenir at the beachside museum shop

A museum shop will be open for the event on weekends and holidays where you can pick up art prints, stickers, postcards, and other mementos.


Opening Days: Weekends & Public Holidays

Opening Hours: 10:00-18:00

Where: Beachside Terrace

Information

Hoshino Resorts BANTA CAFE – Beachside Art Festival

Running: April 10, 2021 – May 9, 2021

Where: Hoshino Resorts BANTA CAFE, Okinawa

Official Website: https://banta-cafe.com/en/

Experience Okinawa From Tokyo Station to Shin-Osaka Station at Tokai Kiosk's Fair

Tokai Kiosk Company has announced a Kyushu and Okinawa themed fair which will run at all branches of Tokai Kiosk from Tokyo Station to Shin-Osaka Station starting on March 2. Customers will be able to enjoy a range of local foods and products from Kyushu and Okinawa.

Kyushu Okinawa Fair Poster

A Look at Some of the Available Products

Salted Shiroi Tabekko Doubutsu

Sugar Butter Sand Tree – Amaou Strawberry Butter

Okinawa Bireley's Ishigaki Island Pineapple

Sausage & Egg Yuzu Kosho Sandwich

This is just a peek of what will be available to try from Kyushu and Okinawa this spring. If you're travelling in Japan this March, then don't miss out.

Information

Kyushu Okinawa Fair

Japanese Event Title: 旅行気分で「うまい!」を楽しもう!九州・沖縄フェア

Running: March 2, 2021 – March 22, 2021

Where: Bellmart Kiosks, Grand Kiosks, Gift Kiosks, and Kiosks from Tokyo Station to Shin-Osaka Station

Official Website: https://www.kiosk.co.jp

Hoshino Resorts BANTA CAFE Releases Video of Magical Beachside Illuminations

The incredible beachside Hoshino Resorts BANTA CAFE, which offers guests a breathtaking ocean view along the Okinawan coast, released a video on the official Hoshino Resorts YouTube page showcasing the cafe's ongoing illumination event, "Illumi Banta," which is running until February 28, 2021. Guests can enjoy some limited-time menu options and then take a romantic stroll along the beach with a warm lantern in hand.

Okinawa is known for its warm climate, rarely dipping below 15°C in the chilly season of winter. There are many celebratory days enjoyed every year around Christmas and New Years, and so BANTA CAFE decided to get in on the action with Illumi Banta, which has been running since December 1 last year—while following the necessary precautions against COVID-19 to ensure everyone stays safe. The spacious cafe is mostly outdoors so visitors can enjoy their time without worry.

A seat at the cafe in on a clear evening guarantees a front row seat to a beautiful orange sunset that sinks into the horizon. Normally, the cafe closes as sunset arrives, but for this event, opening hour have been extended into the night.

BANTA CAFE is located in the village of Yomitan where the beautiful ocean is surrounded by coral reef, enormous rocks, and a rich natural environment. It's a must-visit if travelling to Okinawa.

Information

Illumi Banta
Running: December 1, 2020 – February 28, 2021 (Except February 1st-5th)
Time: 18:00-22:00 (Last Orders 21:00)

BANTA CAFE
Address: 560 Gima, Yomitan, Nakagami District, Okinawa
TEL: 098-921-6810
Opening Hours: 10:00 to one hour after sunset (from 08:00 on weekends and holidays)
Official Website: https://banta-cafe.com/en/