Anime Series Platinum End Creditless Opening Released
The anime series Platinum End has finally started, and the creditless version of the opening animation is now available on YouTube. The first series is directed by Hideya Takahashi, while Kazuchika Kise is in charge of the second series. Character designs are being provided by Koji Odate. The opening theme is Sense, performed by rock group BAND-MAID. 
Creditless Opening
Each of the four Blu-ray and DVD releases will contain six episodes, and the first volume will be released on January 19, 2022, including a special case and a drawing by Koji Odate. Other gorgeous extras will be included with future releases, such as rough sketches and original drawings by the series' creator, a booklet containing interviews with the staff and cast, and more. Be sure to check Twitter and Instagram for special store-specific goods!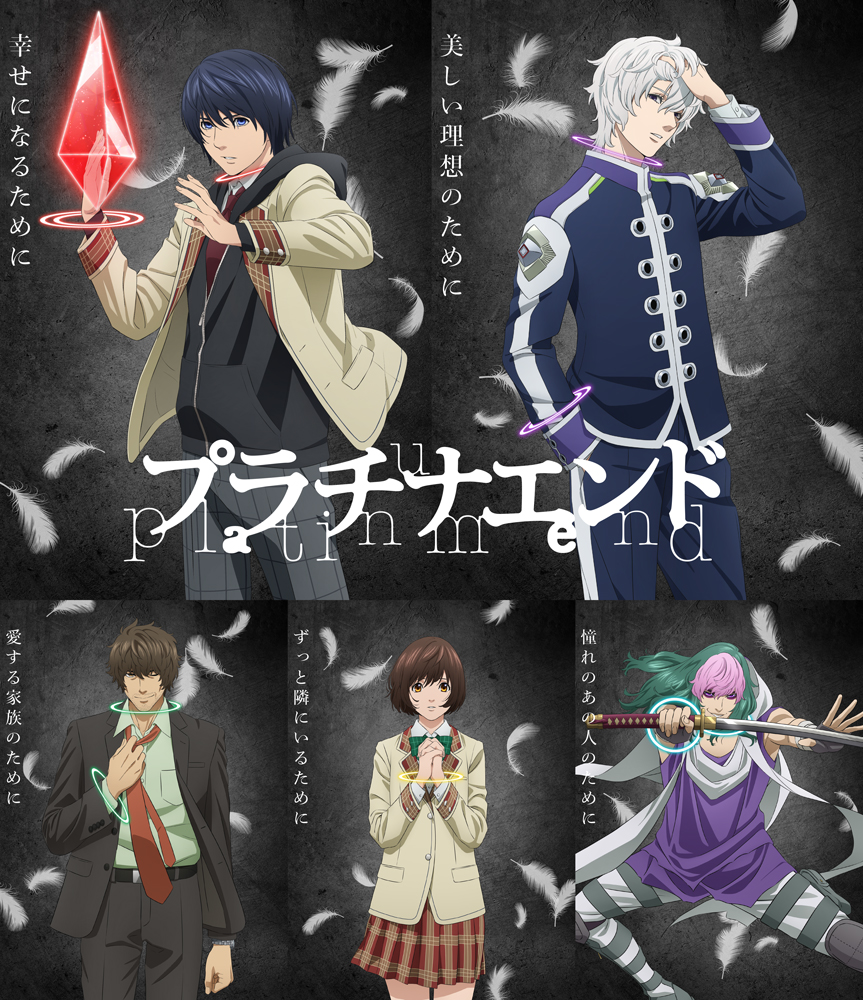 ©︎大場つぐみ・小畑健/集英社・プラチナエンド製作委員会
RELATED ENTRIES
BAND-MAID to Release Long-Awaited New EP This Summer

Girls band BAND-MAID announced two pieces of surprise news in a special video for fans on May 10, 2022, also known as Maid's Day.

First, the band members announced that they would release their second major EP this summer. Second, an event will be held at the Tokyo Garden Theater on January 9, 2023.

SAIKI appeared very enthusiastic about the new EP. "We created it based on the theme of world domination," she said. The work contains the member's frustration felt during the pandemic, and they hope that fans will be able to empathize with the lyrics.

On January 9, 2023, the band will start their 2023 activities and 10th year by holding a concert at the Tokyo Garden Theater. Expectations are high, as the group's huge concert at Budokan was canceled due to the ongoing pandemic.

Tickets for the BAND-MAID PRE US OKYUJI in JAPAN, a four-city, five-show paid event to be held this summer, are already difficult to get, selling out quickly even though most of the events will be held on weekdays. The BAND-MAID US TOUR 2022 is scheduled to begin in October, and additional shows have recently been announced. The final Chicago show sold out on the same day that tickets went on sale. Of the 13 scheduled shows, nine have already completely sold out, proving that these girls aren't only popular in Japan.

In the special video, the girls talk excitedly about what the future holds and surprise viewers with a studio performance. The archived stream is available to watch until May 15 at 23:59, so check it out while you can!

BAND-MAID "THE DAY OF MAID" SPECIAL TALK
*Archive available until May 15 at 23:59


Will you be attending one of BAND-MAID's upcoming shows?

Information

BAND-MAID Tokyo Garden Theater (Tentative)

January 9, 2023 *Details to be announced at a later date

BAND-MAID 2nd Major EP

To Release in Summer 2022 *Details to be announced at a later date


Japan's First NFT Anime Project 'Zombie Zoo' to be Released in May

Zombie Zoo, Japan's first animated adaptation of NFT art, will be released this month! Based on the NFT art collection by Zombie Zoo Keeper, a 9-year-old Japanese boy, Toei Animation is in charge of the series.

The main staff, character designs, and an advanced cut of the live-action portion of the series have been revealed ahead of the project's official release. YP of YURUPPE is directing the series. Jiro Sameyama is the character designer. The character design settings are now on display in the Metaverse at NFT FESTA 2022 SPRING. 

©️Zombie Zoo Keeper
©️東映アニメーション

BAND-MAID Announces Japan Tour Prior to US Tour, New Song to Appear in Hollywood Drama

Girl band BAND-MAID has announced a Japan tour scheduled just before the group begins its U.S. tour, set to draw over 20,000 spectators. This will be BAND-MAID's first tour in two and a half years, and the band will perform five total shows in Osaka, Aichi, Miyagi, and Tokyo. Fanclub lottery sales began on April 15, 2022 with full details on the official website. 

The BAND-MAID US TOUR 2022 is scheduled to begin in October, and additional shows have recently been announced. The final Chicago show sold out on the same day that tickets went on sale. Of the 13 scheduled shows, nine have already completely sold out, proving that these girls aren't only popular in Japan.

Additionally, BAND-MAID's song Choose Me has been chosen to appear in the film Peacemaker, a Hollywood adaptation of the popular DC Comics series. The film is now available to watch on U-NEXT.

On May 10, also known as 'Maid Day,' BAND-MAID will be streaming a special chat on YouTube! More details will be revealed soon.


Will you be attending one of BAND-MAID's upcoming shows?

Official HiGE DANdism's 'Mixed Nuts' to Serve as OP Track for SPY x FAMILY Anime Series

Official HiGE DANdism's new song Mixed Nuts has been chosen as the opening theme song for the upcoming anime adaptation of the SPYxFAMILY manga series. Written and illustrated by Tatsuya Endo, the manga has been serialized on Shonen Jump+ since 2019 and has been incredibly well-recieved, selling over 12.5 million copies. The anime series will premiere in April 2022.

 

Along with this announcement, the official website for the anime series has posted the full promotional video for the show. The video also previews the opening song.

The ending theme will be Kigeki by Gen Hoshino. 


SPY×FAMILY Trailer


The members of Official HiGE DANdism also posted a comment about their track being chosen as the opening theme. 

"It's such an incredible series, and as fans ourselves, we've been so pumped for the anime adaptation. The art quality is incredible and we hope that everyone enjoys the show. If you could, be sure to listen to Mixed Nuts while you follow the story of Loid, Yor, and Anya."

©遠藤達哉/集英社・SPY×FAMILY製作委員会

Information

SPY×FAMILY

Premiering on TV Tokyo on April 9 at 23:00
Airing in North America on Crunchyroll

Official Site: https://spy-family.net/

SPY x FAMILY Collaboration Cafe Coming to Omotesando, Nagoya, and Umeda

To celebrate the upcoming anime adaptation, the popular manga SPY X FAMILY is teaming up with Tower Records cafe for a special collaboration! From April 13 until May 8, three Tower Records Cafe locations will feature menu items inspired by the series' characters. The collaboration cafe will take place at Tower Records Cafe Omotesando, Nagoya Sakae SKYLE, and Umeda NU Chayamachi.

Collaboration Menu

Anya's Hamburger Plate

Loid's Pesto Pasta

Yor's Chicken Salad Plate

Anya Pancake

Anya's Ice Cream Crepe

Loid's Parfait

Yor's Apple Pie

Anya's Strawberry Milk

Loid's Coffee & Milk

Yor's Rose Tea

Damian's Melon Soda

Becky's Cassis Soda

Franky's Espresso Tonic

SPY x FAMILY Print Latte (Random)

SPY x FAMILY Take-out Drink

Exclusive Cafe Bonus

Collaboration Merchandise




The collaboration merchandise features new illustrations of Loid, Anya, and Yor playing some jazz. Are you excited about the anime's premiere? 

©遠藤達哉/集英社・SPY×FAMILY製作委員会

Information

SPY x FAMILY Collaboration Cafe

Locations: Tower Records Cafe Omotesando, Nagoya Sakae SKYLE, Umeda NU Chayamachi
Open: [Round 1] April 13 – April 25 / [Round 2] April 26 – May 8, 2022
*Cafe bonuses will feature a different design during each round.
Official Site: https://tower.jp/spyfamily-cafe

Collaboration Merchandise
Available at 29 Tower Records locations and at Tower Records Online (https://tower.jp)
Preorders open at noon on March 30
*Items cannot be ordered at the cafe.
Sales begin April 13, 2022
Details: https://tower.jp/spygoods

BAND-MAID Announces Dates for Largest-Ever U.S. Tour

In October 2022, maid-themed rock band BAND-MAID will embark on its largest-ever U.S. tour. The girls' group has become massively popular overseas in recent years, with the total number of views on their YouTube channel surpassing 130 million. BAND-MAID's previous four world tours have all sold out, and streaming videos of their shows have been viewed by audiences in more than 60 countries around the world. 

This is the first time BAND-MAID will tour in the U.S. solo. Tickets will go on general sale tomorrow, March 3. 

The tour will start with the band's first appearance at the AFTERSHOCK Music Festival in California, which will feature many of the world's most popular artists like KISS and Slipknot. Will you be grabbing tickets?

Information

BAND-MAID US TOUR 2022


October 9 – Sacramento, CA / Aftershock Festival

October 12 – Seattle, WA / Neptune

October 14 – San Francisco, CA / August Hall

October 15 – Los Angeles, CA / House of Blues

October 19 – Phoenix, AZ / Crescent Ballroom

October 21 – Dallas, TX / Echo Music Hall

October 22 – Houston, TX / House of Blues

October 25 – Washington, DC / The Fillmore

October 26 – Philadelphia, PA / TLA

October 28 – New York, NY / Irving Plaza

October 29 – Boston, MA / Brighton Music Hall


Details: https://bandmaid.tokyo/contents/486225

Ticket Sale Schedule (JST)
March 2 / 2:00AM: Fan Club Ticket Sales Begin
March 4 / 12:00AM: General Ticket Sales Begin

AFTERSHOCK FESTIVAL

Dates: October 6 – October 9 (U.S. Local Time)
https://aftershockfestival.com/

BAND-MAID to Perform at the World's Largest Festival 'AFTERSHOCK FESTIVAL' in California

Internationally beloved hard rock band BAND-MAID has been invited to perform at AFTERSHOCK FESTIVAL in Sacramento, California!

The festival will take place across four days, from October 6 until October 9, 2022. This year marks the 10th anniversary of the festival, with headliners like KISS and Slipknot.


BAND-MAID has also announced US stops on their global tour during 2022. More information is scheduled to be released soon!

BAND-MAID Founder Miku Kobato Releases New Music Video for Solo Project cluppo

Cluppo is a solo project by Miku Kobato, the guitarist, vocalist, and founder of the maid-dressed hard rock band BAND-MAID, which has amassed fans around the globe. Their first EP 'hatofull' will be released on March 9, 2022, and ahead of that date, the song POGO! is now streaming. A music video has also been unveiled!

 

With a unique sound, cluppo is reinterpreting the music of the 80s and creating a new genre of music called 'Hippie-Poppo.' The new song POGO! is an ambitious work, blending the group's peaceful image with rap-style vocals.

POGO! – cluppo (Music Video)





To commemorate the advanced release of the song, a playback campaign is now underway on subscription services. Also, those who purchase the new EP early will get a mega jacket and an original A5-sized clear folder. Check out cluppo's official website for more information!




Comment from cluppo


"POGO! shows a different side of cluppo, fusing coolness, cuteness, and colorfulness. The music video is a feast for the eyes but also hides a ton of information. Did you catch all of it? Watch it over and over again!"

BAND-MAID's Miku Kobato and SAIKI to Appear on YOSHIKI CHANNEL

BAND-MAID's guitarist and vocalist Miku Kobato and vocalist SAIKI will appear on YOSHIKI CHANNEL on February 25, 2022 at 19:30!

This will be BAND-MAID's second appearance on YOSHIKI CHANNEL, with their first in 2019. During their last broadcast, SAIKI and YOSHIKI had a very fun impromptu chat, so fans can look forward to that (likely) happening again! Don't miss this global chat between BAND-MAID and YOSHIKI, who both have made waves in Japan and the U.S. 

BAND-MAID released the official band scorebook for 'Unseen World' last month, which includes exclusive photos and interviews fully translated into English.

Be sure to keep an eye on the band during 2022!

Information

YOSHIKI×BAND-MAID Miku Kobato and SAIKI Special Talk

Streaming Date: February 25, 2022 at 19:30

YouTube Channel Membership (Worldwide, including Japan)

For Japanese Viewers: https://youtu.be/Vrpto_rJPYg

Simultaneous English Interpretation Broadcast: https://youtu.be/_SWwVSnDCak

Niconico Channel (Japan Only): 

Eternal Shojo Cafe Opens in Shibuya, Features Collaboration Menu Inspired by 90s Anime

Five nostalgic and popular shojo anime series from the 90s and early 2000s are being honored at a limited-time collaboration cafe in Shibuya! Hime-chan's Ribbon, Akazukin Chacha, Nurse Angel Ririka SOS, Kodomo no Omocha, and Full Moon wo Sagashite are being honored with new character-inspired menu items and exclusive goods until March 21, 2022. The cafe is being held at TOKYO PARADE goods&cafe on the 6th floor of Shibuya PARCO.

Hime-chan's Ribbon

Hime-chan and Pokota's Donut Tower / Pokota's Maple Chicken Donut Sandwich

Goods


Akazukin Chacha

Akazukin Chacha Dessert Plate / Magical Princess Strawberry Milk / Shiine's Homemade Curry

Goods


Nurse Angel Ririka SOS

Ririka Life Flower Parfait / Nurse Angel Ririka's Vaccine Soda

Goods


Kodomo no Omocha

Sana and Hayama's Rice Omurice / Maro-chan's Chocolate Chestnut Drink

Goods


Full Moon wo Sagashite

Takuto and Meruki's Green Onion Ramen / Full Full Moon Cheesecake / Takuto's Apple Vinegar Jelly Drink / Meruko's Peach Vinegar Jelly Drink

Goods

Bonus: Paper Lunch Mat with Original Design

Bonus: One Randomly Selected Coaster (17 varieties) for Each Drink Ordered

Information

Eternal Shojo Cafe

Running: February 10 – March 21, 2022
Address: TOKYO PARADE goods&cafe (Shibuya PARCO 6F)
Hours: 11:00-20:00 (Last Food Order at 19:00, Last Drink Order at 19:30)
Official Site: https://cafe.parco.jp/parade/

Kuhaku Gokko Releases Music Video for Platinum End ED Theme 'Last Straw'

The music video for Last Straw by Kuhaku Gokko was posted to YouTube on February 9. The ending theme song for the anime series Platinum End will be officially released on February 16, 2022.

Platinum End was based on the manga series written by Tsugumi Ohba and illustrated by Takeshi Obata, the team behind Death Note and Bakuman. The second season began in January 2022 and will come to an exciting conclusion in March! The song Last Straw was inspired by the problem 'the straw that broke the camel's back,' while the music video portrays the struggle between life and death.



The music video stars Shino, a young actress attracting attention through her work in movies and social media.

Last Straw – Kuhaku Gokko (Music Video)


Comment from Vocalist Setsuko

Last Straw was inspired by themes of life and death, but it was created in a more ambiguous way, emphasizing the balance between the two. We had a lot of conversations about how to express it visually. With Shino as the protagonist, I think the production team was able to create something beautiful–the tension of chasing after shadows, of not knowing whether you are alive or dead.

I hope that you can feel the danger of what might happen by applying force as the title Last Straw implies.

©大場つぐみ・小畑健/集英社・プラチナエンド製作委員会

Information

Last Straw

Release Date: February 16, 2022

Limited Edition (CD+DVD): ¥1,870 (Tax Included)

Standard Edition (CD ONLY): ¥1,320 (Tax Included)

Streaming Links: https://lnk.to/laststraw-single

Platinum End
Airing on TBS Thursdays at 1:28 AM
Airing on BS11 Fridays at 11:30~
*Broadcast dates and times are subject to change.
*A total of 24 episodes will be aired over two cours.

The Legend of Heroes: Trails of Cold Steel to Receive Anime Adaptation in 2023

Nihon Falcom's The Legend of Heroes: Trails of Cold Steel will receive an anime adaptation by Tatsunoko Production in early 2023!

The series will be titled The Legend of Heroes: Trails of Cold Steel – Northern War and will star an original female protagonist named Lavie. It will take place in North Ambria, located in the northwestern part of the Zemuria continent. 

Hidekazu Sato will direct the series. Previously, he worked on Aquarion Logos and Last Hope. More information will be revealed in the near future!


(C) Nihon Falcom Corporation. All rights reserved.

Information

The Legend of Heroes: Trails of Cold Steel – Northern War

Airing in Early 2023

Based on Nihon Falcom's The Legend of Heroes: Trails of Cold Steel

Official Site: https://tatsunoko.co.jp/