PARCO Museum Tokyo to Hold Exhibition for Mysterious Artist manksy ☆ gataro
Manksy ☆ gataro is a mystery. The artist's nationality, real name, age, gender, and address are unknown. His works are bizarre and jarring, and from October 22 until November 14, Shibuya PARCO will hold the 'Mysterious Artist manksy ☆ gataro: 100th Anniversary of Death Exhibition' where 40 original creations will be on display. 
PARCO Museum Tokyo Exclusive 'Edition Print' (8 varieties) 
Merchandise
Long Sleeve T-Shirt (Black, 5 varieties) *Embroidered on the front
Postcard Box (40 varieties) 
Bandana
Acrylic Magnet (40 varieties) 
Shibuya PARCO B1 'Rice & Circus' Collaboration Menu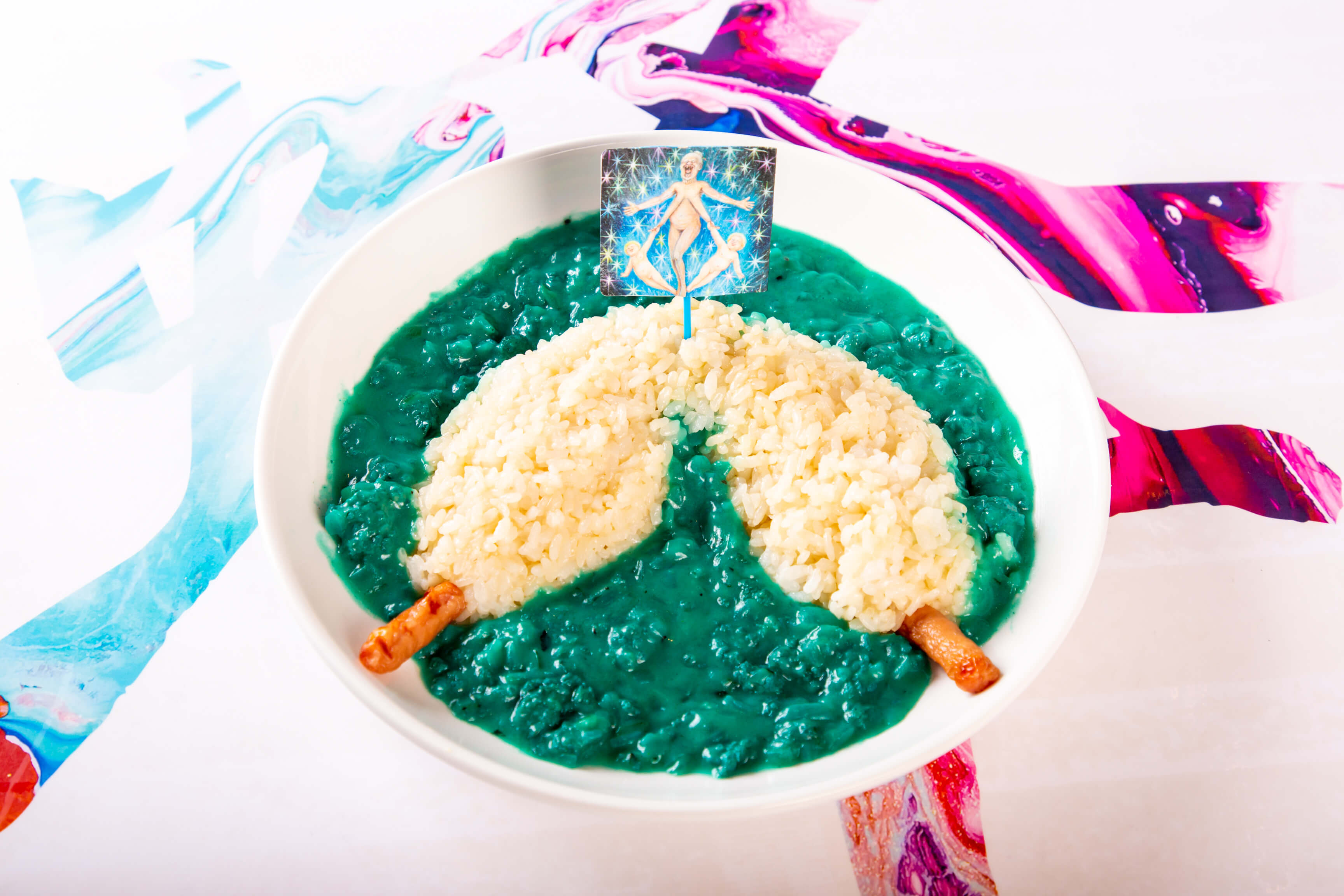 Old Lady's Boobs Curry: ¥1,200 (Tax Included)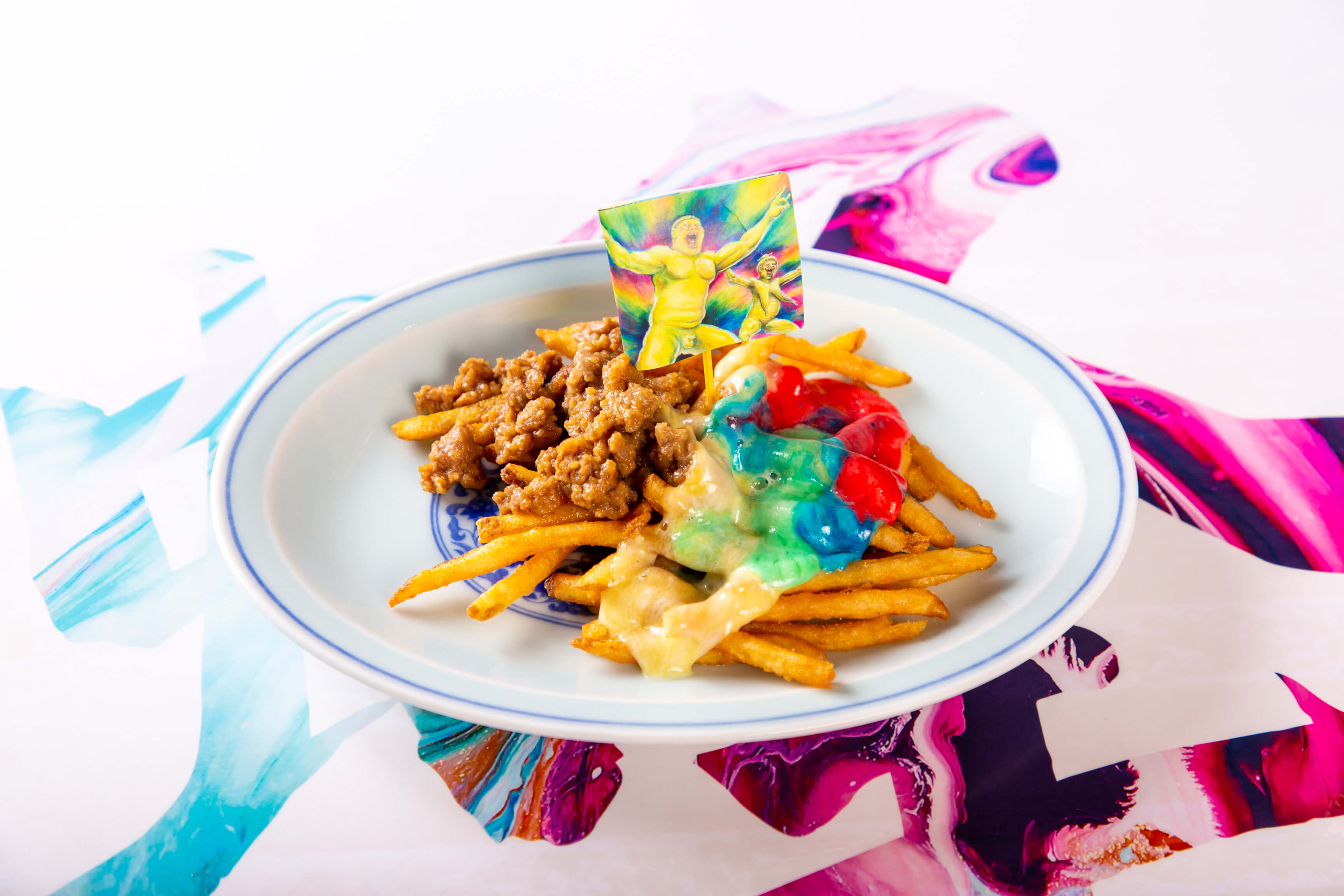 Old Lady's Colorful Cheese Fries: ¥850 (Tax Included)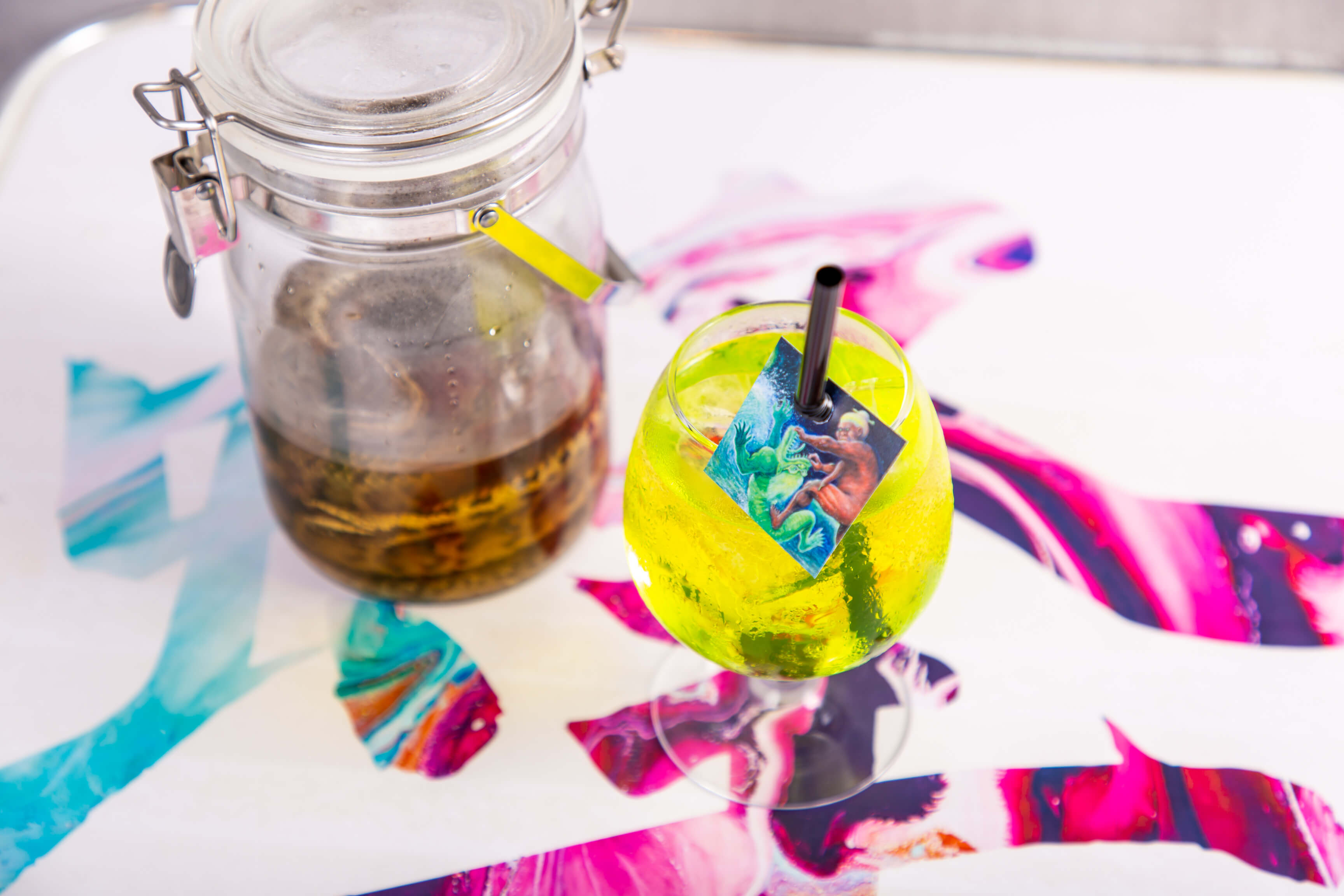 Old Lady's Power-Up Cocktail: ¥1,000 (Tax Included) 
The Emerging Art Museum -manksy ☆ gataro AR EXHIBITION-
The exhibition's website explains that 40 original drawings discovered in an abandoned apartment will be on display for the first time. The artist had already turned to bones when these were found and left no trace of when they were created or what they represent. Various manksy ☆ gataro prints will be on sale, along with a number of exclusive pieces of exhibition merchandise. Themed dishes will also be available, and for each order, guests will receive a novelty sticker (3 varieties) at random. Don't miss out on the special AR Exhibition at the Shibuya PARCO Art Wall!
RELATED ENTRIES
Report: Sebastian Masuda's 'Yes, Kawaii is Art' Exhibition at Kanda Myojin Shrine Goes Beyond 'Cute'

What does the word 'kawaii' mean to you? For most people overseas, it's a purely Japanese aesthetic combining colorful visuals with cutesy characters to make something so adorable it defies imagination. In recent years, however, 'kawaii' has become a kind of philosophy that transcends language, national borders, and even consciousness. It's a driving force behind people's lives and something that pulls people out of bed in the morning–it's something capable of instantly putting a smile on people's faces. For those wishing to study the philosophy behind the 'kawaii' movement, the Godfather of Kawaii Sebastian Masuda is currently holding an exhibition at Kanda Myojin Shrine in Tokyo until December 12, 2021. What is it about 'kawaii' that is so capable of inspiring so many different people and cultures around the world? 

A correlation chart welcomes guests to the grounds. The 'Kawaii Archival Research,' a project on kawaii culture conducted with students from the Kyoto University of Arts, collected data on 'kawaii' trends from the post-war period to the present day. Through interactions with the worldwide 'kawaii' community, it's clear how much of an impact the aesthetic has had on people around the globe. 

In the midst of the pandemic in 2020, Masuda announced #KAWAIITRIBE, a way to encourage those coping with depression during the days of COVID-19. His followers were asked to use 'color' to bring the world together, and more and more, the 'kawaii' movement became a way to express and love oneself. Using #KAWAIITRIBE, more and more fans of the movements became connected–even if those users were countries apart. 

The hashtag #SPEAKUP was also utilized by Masuda to collect data from 'kawaii' lovers around the world, asking about hobbies, interests, and opinions on 'kawaii' culture. The data collected over the course of 12 days was incredibly meaningful to Masuda and led to plenty of new discoveries about the community as a whole. 

Masuda explains that each country has different types of 'kawaii,' and that the aesthetic is expressed in different ways around the world. One country may have people influenced mainly by 'kawaii' expressions in anime and manga, while another expresses it through fashion or music. 'Kawaii' is diverse, just as people are diverse. 

Sebastian Masuda has also held a Zoom meeting with people in 'kawaii' communities around the globe to discover how they became involved with the aesthetic initially, while also asking how it inspired them and gave them strength during these difficult times. Certain people claimed that 'kawaii' helped them in their personal growth, while others say it has brought out some of their potential in new and unexpected ways. While Masuda's artwork may simply seem visual, 'kawaii' has become a tool for new communication and personal healing and growth. Some may even call it a kind of therapy: a place where people can surround themselves with color and joy to heal from the difficulties of life. The bold colors of the 'kawaii' movement can inspire people to be bold in their daily lives. Individuality should be celebrated and self-confidence should reign supreme–that is yet another message of the 'kawaii' movement. 

Many people involved in the Zoom call had never met, and after the initial meeting, the room was left open to give people a place to communicate. Afterward, the 'kawaii' circle only became bigger, with a Facebook group bringing together more and more members of the community. 

The research done during the last year of the COVID-19 pandemic has given 'kawaii' lovers a reason to think deeply on how to overcome the many struggles born from the 'new normal,' and these forums are perfect places to share colorful messages of hope and strength. 

Inspired by Masuda's own struggles during his time in Manhatten in 2013, Colorful Rebellion -Seventh Nightmare- is on display at Kanda Myojin. The installation has previously appeared in locations around the world including New York City, Milan, and Amsterdam. This time, the exhibit was inspired by 'muro,' a basement room in Omotesando where amazake is fermented. The room was used as an air-raid shelter during the war, and walking along the dimly-lit path leading to Masuda's brightly-colored room, it's hard not to wish that those evacuees could have been surrounded by these beautiful colors instead of pitch darkness. 

It is no exaggeration to say that this is Masuda's representative work. Created in the midst of the artist's own struggles, it has helped establish the philosophy of 'kawaii' culture and continues to help those dealing with their own problems.

The Time After Time Capsule Art Project, starting in 2014 and held in 12 cities around the world, is a massive time capsule filled with messages and wishes for the future. Shaped like the beloved Sanrio character Hello Kitty, the capsule is gradually changing color as it becomes heavier and heavier with wishes for peace and happiness from fans around the world. Originally planned to be exhibited at the 2020 Tokyo Olympics, this couldn't come to fruition due to the current pandemic. This is the first time it is being shown in Japan. 

The WORLD TIME CLOCK, a once-famous landmark of Harajuku, has also been recreated and installed within Kanda Myojin. 

'Yes, Kawaii Is Art' at Kanda Myojin is a deeply emotional, personal, and inspiring exhibition allowing visitors to experience firsthand how 'kawaii' culture is capturing the hearts of people around the world. Sebastian Masuda isn't slowing down any time soon, and his works will continue to heal people and bring joy for many years to come. 

Sebastian Masuda's solo exhibition 'Primal Pop' will be held at Roppongi Hills A/D Gallery from December 11, 2021, until January 10, 2022.

TEXT:Natalie(MOSHI MOSHI NIPPON)

Artist Auto Moai Holds Limited-Time Exhibition at Seibu Ikebukuro

Auto Moai, known for creating evocative works of faceless people, is making an appearance at the Seibu Ikebukuro main store from December 9 to December 14, 2021! A limited-time exhibition will welcome guests to peruse the creator's works, and certain items will be on sale to the general public. There will also be an 8-meter-long piece of art at the venue! Seibu and Sogo are using the work of Auto Moai for their 2021 Christmas promotion, and the artist's works will be featured on wrapping paper and gift bags. 

untitled

untitled

Jointly, the Creators on Demand event will also be held at the Seibu Ikebukuro main store. This event was designed by artists and creators from a number of different fields to make art more accessible and enjoyable to the public. Merchandise will also be available at the venue. 

Information

Auto Moai CHRISTMAS EXHIBITION 2021

Running: December 9 – December 14, 2021

Location: Seibu Ikebukuro Main Store 7F Event Hall

Official Site: https://www.sogo-seibu.jp/christmas/#artist

Creators on Demand  Auto Moai x SEIBU SOGO

Running: December 8 – December 25, 2021

Reception: Seibu Ikebukuro Main Store 3F Women's Section / Seibu/Sogo Shopping Site 

(7F Event Hall will only hold exhibition)

Naoki Onogawa Museum of Art in Kagawa Prefecture Holds Folklore Exhibition

The Yokai Art Museum, which often works with local artists and community organizers in the 'maze town' of Shodoshima in Kagawa Prefecture, is currently holding the 'Folklore Exhibition' at the Naoki Onogawa Museum of Art. Six new works inspired by the Setouchi region are on display until December 26, 2021. 

Naoki Onogawa creates incredible sculptures made from tiny origami cranes that are folded one by one using only 1cm paper–and they're made without tweezers! After experiencing the Tohoku Earthquake in 2011 when he was a student, he visited Rikuzentakata City in Iwate Prefecture a year after the disaster. Shocked and deeply impacted by what he saw, he began making origami cranes. The way he utilizes cranes is not as the traditional symbol of peace, but as solemn prayers to encase his feelings that have no other outlet. His works have a delicate and mysterious beauty that pulls in visitors and makes them think about the meaning of life itself. 

His new works, six of which were inspired by the Setouchi area, were on display at the Setouchi Municipal Museum of Art from March 9 to May 5, 2021.

My History with Paper Cranes | A Message from Naoki Onogawa

"Origami was my passion when I was a child. The origami crane is one of the most famous forms of traditional origami, and as I spent time making them, I started to feel that I could channel my emotions into them. It started to become a habit, then an obsession. I couldn't stop. There was no endpoint or goal in mind, I just made them as often as I could. 

In 2011, the Tohoku Earthquake happened. In April of the following year, I visited Rikuzentakata City to listen to the community's stories and to see the devastation firsthand. It was terrifying to see how helpless human beings are in the face of nature, but even still, I was struck by how strong human beings could be to persevere. No matter our age, race, gender, or status, we all face the major threats of nature, while also living in harmony with it. At that time, I was very aware that it was important to live in the moment. Beside a school building that had been totally destroyed by the tsunami, I saw a thousand paper cranes. 

It was akin to a solitary ritual. The paper cranes were used to express those feelings that had nowhere else to go and to pray for those who had been lost. I can't really put it into words, but the cranes I make now might have come from those solemn prayers. This is the place for my cranes now. When I look at them now, I think that origami cranes are incredibly precious, and hide something mysterious within them. They are the ultimate beauty in my mind. 

Each of us has our own personal journey with these paper cranes. It's up to each person to decide how he or she feels and how his or her thoughts are layered. I just hope that while looking at these works people will find their hearts moved."

Information

Naoki Onogawa Folklore Exhibition

Address: Naoki Onogawa Museum of Art (289-33 Aza-Higashi-Motohama Kou, Tonosho, Shode-gun, Kagawa)

Running: November 26 – December 26, 2021

Hours: 10:00-18:00 (Last Entry at 17:00) *Closed Wednesdays

Admission: 

Adults: ¥1,500 / Middle School Students: ¥750 / Elementary School Children and Younger: Free

Official Site: http://shl-olive.co.jp/

Art Project ART BASE ZERO next Highlights Up-and-Coming Artist CHRIS

The Human Miracle Company launched ART BASE ZERO next in October 2021 to highlight up-and-coming artists. Inspired by 90s street culture in Tokyo, their new exhibition with CHRIS, whose works are made using a decollage technique, will open at Tokyo Hinode Pier from December 4 until December 26, 2021. 

Selected Items

CHRIS is a contemporary artist inspired by Tokyo street culture of the 90s. He uses the decollage technique, which utilizes cutting, tearing and removing pieces of an original image. At first glance, his style seems to be normal paintings, when in fact he uses pasting and forming printed materials to express them in new three-dimensional ways. To get this effect, he shapes them over and over again over a long period of time. In addition to participating in domestic and international art fairs and holding solo exhibitions, CHRIS has collaborated with fashion brands such as Columbia, GOD SELECTION XXX, GUESS, atmos, and more. 

Information

CHRIS x Hi-NODE Exhibition "Love is a battlefield (It's hard to see Love)"

Running: December 4 – December 26, 2021

Hours: 9:00-21:00 

Address: Hi-NODE, Tokyo Hinode Pier (2-7-103 Kaigan, Minato-ku, Tokyo)

Official Instagram: @artbasezero_next

Online Shop: Open to the public starting at 9:00 AM on December 4

Online Shop/Official Site: https://www.thehumanmiracle.com

Gundam World Contrast Touring Event Starts at Nagoya PARCO

Nagoya PARCO will host the Gundam World Contrast event from December 24, 2021 until January 16, 2022. The event will feature a deep-dive of Mobile Suit Gundam and Mobile Suit Gundam SEED from various perspectives and will show the contrasts between the two popular series. The event will then travel nationwide after finishing in Nagoya.

Plastic Model for Advanced Ticket Holders

Bonus: Gundam World Contrast Limited Design Special Promo Card

Story Wall

Special Photo Spot

Exhibition of Katsumi Kawaguchi's Contrast Diorama

Conceptual Exhibitions

Limited-Edition Merchandise

Only at Gundam World Contrast

MG 1/100 RX-78-2 Gundam Ver 3.0 (Event Exclusive)

1/100 Aile Strike Gundam Ver.RM (Event Exclusive)

ENTRY GRADE 1/144 Strike Gundam (Event Presale)

Clear Folder (Set of 2, Gundam World Contrast Exclusive)

Pop Socket (Gundam World Contrast Exclusive)

Acrylic Stand (10 varieties, Gundam World Contrast Exclusive)

Choco Crunch (Gundam World Contrast Exclusive)

Mug (Gundam World Contrast Exclusive)

Visitors can enjoy the exhibition corner, which shows the history of both works including famous scenes and the emotional growth of the main characters. The merchandise corner will feature a number of goods only available at the event including Gunpla. Fans of the franchise shouldn't miss this, as visitors will get a promo card to use for Bandai's latest arcade card game Mobile Suit Gundam Arsenal Base, scheduled to release in spring 2021.

©創通・サンライズ

Sakura Wars Celebrates 25th Anniversary With Events in Tokyo, Osaka, and Aichi

To celebrate 25 years of the franchise, a special Sakura Wars event is coming to three major Japanese cities in December and January! The Sakura Wars Art Festival 2021 will feature original artwork and newly-drawn prints by Hidenori Matsubara, the character designer for the 2000 Sakura Wars anime series. Original goods and lithographs will also be on sale at each event. At the Tokyo venue, a special talk show will be held with the voice actors of the Sakura Wars series. Most exhibited works will be available for purchase. 

Sakura Wars 25th Anniversary Logo – Colored

Sakura Wars 25th Anniversary Logo – Black and White

Ai ga Kaoru Koro ni

Kimi yo Hana yo

Are you a Sakura Wars fan?

(C)SEGA イラスト/松原秀典

Information

Sakura Wars Art Festival 2021

Tokyo Event

Address: Gallery epi cute, Sotokanda Stork Bldg. 6F (6-15-14 Sotokanda, Chiyoda, Tokyo)

Dates: December 23 – December 29, 2021

Details: https://art-eventcollection.info/sakura/index.html

Official Site: https://sakura-taisen.com

Sakura Wars Art Festival 2021 Plus

Osaka Event

Address: Breeze Plaza 8F 801・802 (2-4-9 Umeda, Kita-ku, Osaka)

Dates: January 7 – January 10, 2022

Hours: 

January 7: 14:00-19:00

January 8: 11:00-19:00

January 9: 11:00-19:00

January 10: 11:00-17:00

Nagoya Event

Address: Winc Aichi 6F 602・603 (4-4-38 Meieki, Nakamura-ku, Nagoya)

Dates: January 21 – January 23, 2022

A Sneak Peek at Sebastian Masuda's 'Yes, Kawaii Is Art' Exhibition at Kanda Myojin Shrine

The Godfather of Kawaii Sebastian Masuda will open his 'Yes, Kawaii Is Art' exhibition at the 1,300-year-old Kanda Myojin Shrine on December 4, 2021. A number of Masuda's representative works will be on display at the historical site, known as one of the most important shrines during the Edo period. 

Colorful Rebellion -Seventh Nightmare-

Kanda Myojin Shrine

 

Colorful Rebellion -Seventh Nightmare- has been shown in New York, Milan, and Amsterdam over the past few years, and will now make an appearance as part of this exhibition. Given the magnificence of the venue, the work will be presented in a unique way–in the basement of the shrine. In addition, a part of the research on Kawaii culture conducted in collaboration with Kyoto University of Arts Ultra Factory will be on display as well. Guests will be invited to ponder the nature of Kawaii, and what makes it so beloved by audiences worldwide.


 

Colorful Rebellion -WORLD TIME CLOCK-

Time After Time Capsule Art Project

Kawaii Archival Research

Near the entrance to the shrine, the Colorful Rebellion -WORLD TIME CLOCK will be on display. Clad in the cutest colors imaginable, it has become a symbol of Harajuku around the world. The Hello Kitty-shaped time capsule, which was on display for five months in New York City in 2015, will also be shown on the temple grounds. The participatory art project has made it to 12 cities around the world so far. 

Kawaii culture will blend with traditional Japanese culture during this exhibition, so keep an eye out for more details coming soon!

What is 'Yes, Kawaii Is Art?' 

Sebastian Masuda has been at the helm of the global Kawaii movement for decades. 

 In 2020, Masuda asked a number of questions to fans of Japanese pop culture around the world–what is Kawaii? Why does Kawaii cross borders, generations, and gender? This new exhibition tries to find an answer to those questions while bringing some joy and excitement to the local community. 

Information

Sebastian Masuda Exhibition 'Yes, Kawaii Is Art' at Kanda Myojin Shrine

Dates: December 4 – December 12, 2021

Hours: 12:00-18:00 (Last Entry at 17:30)

Address: Kanda Myojin Shrine (2-16-2 Sotokanda, Chiyoda-ku, Tokyo)

Admission: Free (¥500 for Colorful Rebellion -Seventh Nightmare-)

https://sebastianmasuda.com/works/tokyo/

For more details on the event, follow Sebastian Masuda's Twitter: 

Art Group Mirrorbowler to Hold Mindblowing Exhibition at Shinsaibashi PARCO

Mirrorbowler will hold their first large-scale indoor solo exhibition at Shinsaibashi PARCO in Osaka from December 19, 2021, until February 13, 2022. 

Along with some truly massive pieces of artwork, the artists behind the creations will also hold workshops and release limited-edition goods at the venue to commemorate the event. Mirrorbowler is known for their expert use of light and reflection, and have participated in creating artwork for outdoor events, fashion shows, and CD jackets in the past. 

Past Works

Past Works

Beginner Origami Art (Star)

Intermediate Origami Art (Sphere)

Mockel

Space Plant

Original Merchandise

Mirrorbowler 2022 Calendar

Mirrorbowler Journey to the Stars Mirror

Mirror Ball Caricature Book

The theme for the exhibition is "to create something that does not exist anywhere, that has no proper name, that will never be the same twice, and that will never look the same to different people." 

Mirrorbowler's work features light and shadow as central themes, and guests are invited to look beyond what is in front of their eyes to find something deeper and more hidden. This imagery will be blended with sounds, scents, and hidden items just asking to be found.

While there is no set route to experience the exhibition, the creators hope visitors will wander back in forth to see things from different angles. Tickets are available to preorder now, so don't miss this memorable event!

DANDELION PROJECT Comes to Kosho-ji Temple in Uji, Kyoto for Limited Time

NAKED'S DANDELION PROJECT has popped up at seven different locations around Kyoto, including the famous Kiyomizu-dera and Heian Shrine. From December 3 until December 5, the participatory art project for peace will come to Kosho-ji Temple at nighttime. 

Kosho-ji Temple is famous for its autumn foliage and is designated as a place of scenic beauty by Kyoto prefecture. The gently sloping path from the front gate along the Uji River to the temple gate is called Kotozaka, because the flowing freshwater sounds like a Koto, the national instrument of Japan. The event will include a nighttime viewing of the temple along with lights around the grounds and gardens. The Uji Light Path will line the streets of the town with lanterns based on The Tale of Genji. 

NAKED's popular attractions–the NAKED Distanced Lanterns and NAKED Flower Cleansing–will also be available to participate in during the event.

Information

DANDELION PROJECT in Uji, Kyoto

Address: Kosho-ji Temple (27 Yamada, Uji, Kyoto)

Running: December 3 – December 5, 2021 

Hours: 17:30-20:00 (Last Entry at 19:00)

Admission: ¥1,000

Official Site: https://naked.co.jp

Hotel Koe Tokyo in Shibuya to Hold Solo Exhibition by Illustrator Kae Tanaka

Kae Tanaka will hold a solo exhibition at Hotel Koe Tokyo in Shibuya from November 26 until December 10, 2021. The artist has recently collaborated with popular girls group Nogizaka46 and actress Rio Uchida, and is skyrocketing in popularity throughout Japan.

Collaboration Goods

Overalls

Overalls

Socks

Hoodies

Tote Bag

Kae-chan Soft Vinyl Figures in Limited-Edition Color (By Lottery)

Over the past year, Hotel Koe Tokyo has been supporting the solo exhibitions of up-and-coming artists. This ima no koe (The Voices of Today) initiative is helping to highlight local talent that may otherwise be overlooked. 

Kae Tanaka is a Tumblr-based illustrator who has garnered large amounts of attention across social media. Collaborative goods created in conjunction with the hotel will be available, all of which are unisex and created by the French brand Le Pigeon Voyageur. A special Kae-chan vinyl figure will be available by lottery. 

Information

Kae Tanaka Exhibition 'Select' 

Running: November 26 – December 10, 2021

Location: Hotel Koe Tokyo 1F 'koe space' (3-7 Udagawacho, Shibuya, Tokyo)

Massive Life of Hamster Sukeroku Exhibition to Open at Nagoya PARCO

A huge exhibition featuring artwork and goods from Life of Hamster Sukeroku is coming to Nagoya PARCO from December 3 until December 20, 2021. The series is popular throughout Asia, and this exhibition is set to be the largest ever showing of related goods. 

Exhibition of Original Artwork

Reproduction of Sukeroku's Room

Entrance Bonus: Art Card

Purchase Bonus: Sticker

Merchandise Available at Nagoya Venue

Candy Tin

Block Memo Pad

Cushion

This will be the first major Hamster Sukeroku exhibition held in Japan. The hilarious and relatable series is drawn by illustrator GOTTE, who has become incredibly popular across social media. Over 300 pieces of art will be on display, including pieces drawn exclusively for the event. Guests can visit Sukeroku's room and can see videos of the artist at work. The venue's store will be selling a number of adorable hamster goods, with a limited number of reproduction paintings on sale. 

Information

Life of Hamster Sukeroku

Running: December 3 – December 20, 2021 

Hours: 11:00-20:00

Location: Nagoya PARCO South Building 7F Event Space

General Admission: ¥500 / Students: ¥400 *Free for pre-schoolers

Official Site: https://nagoya.parco.jp/

Yoshitaka Amano Exhibition Now Open at Kikka Gallery in Omotesando

Known for his work on the Final Fantasy series, Yoshitaka Amano is one of the most beloved artists in Japanese popular culture. From November 5 until November 30, an exhibition displaying many of his works is open at the Kikka Gallery in Omotesando, Tokyo. Online lottery sales of many Amano works shown in the exhibition began on November 20. 

While overseas fans know him best for Final Fantasy, Amano is also the creator of many iconic characters such as Gatchaman, Tekkaman, and Casshan. 

The PREMONITION OF HAPPINESS exhibition boasts 111 paintings and 3D works on display, all of which are one-of-a-kind. A number of colorful works drawn on traditional Japanese paper and bamboo plates are also attracting guests, based on his fine artwork CANDY GIRL, which he has been working on since 2015.