Sauna Art Appears at Underground Experience in Tochigi Prefecture
From October 30 until November 23, 2021, a unique underground experience is taking place at a former quarry in Oyamachi, Utsunomiya. UnderMuseumChallenge 01 GATE invites guests to enjoy massive pieces of artwork while pondering the boundaries between society, nature, daily life, and the body. The main focal point of the exhibition is the Genki Furnace, a piece of sauna-inspired art.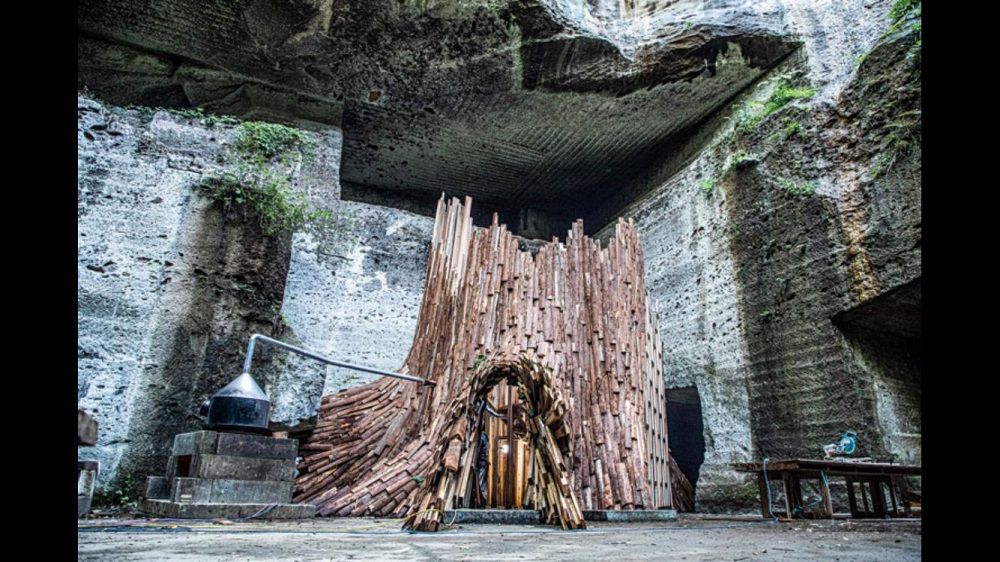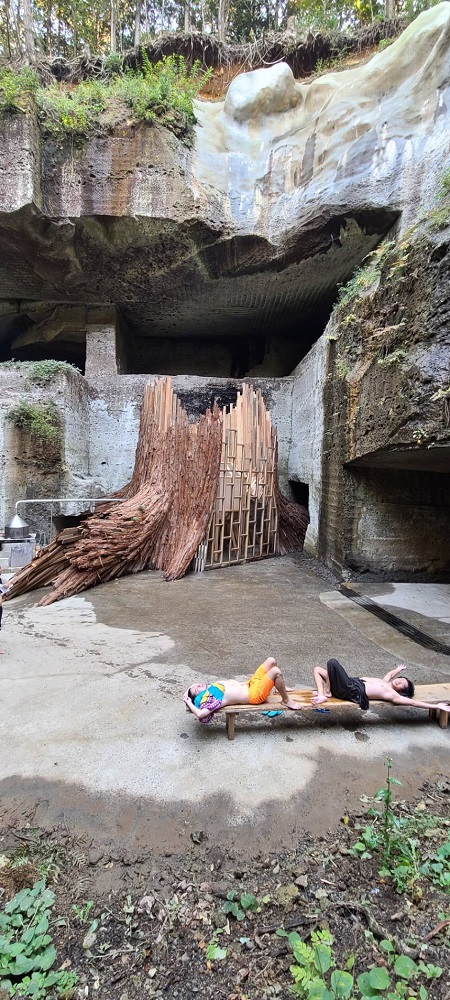 Usually, this old quarry isn't open to the public. This year's event will offer two types of tickets: one allowing visitors to view art and drive through the underground space, and the sauna art experience. Takashi Kurimayashi's art will certainly stick with you, so either choice is a positive one. The sauna art experience will invite guests to stand within the furnace as they are surrounded by hot herbal steam. The website asks that visitors bring a swimsuit, change of clothes, and their own towel. 
The quarry is located about a 30-minute drive from the center of Utsunomiya. Stone from the area is well-known across Japan, and this particular region was named a Japanese Heritage Site in 2018. Last year, more than 700,000 tourists visited the region. 
RELATED ENTRIES
Art Project ART BASE ZERO next Highlights Up-and-Coming Artist CHRIS

The Human Miracle Company launched ART BASE ZERO next in October 2021 to highlight up-and-coming artists. Inspired by 90s street culture in Tokyo, their new exhibition with CHRIS, whose works are made using a decollage technique, will open at Tokyo Hinode Pier from December 4 until December 26, 2021. 

Selected Items

CHRIS is a contemporary artist inspired by Tokyo street culture of the 90s. He uses the decollage technique, which utilizes cutting, tearing and removing pieces of an original image. At first glance, his style seems to be normal paintings, when in fact he uses pasting and forming printed materials to express them in new three-dimensional ways. To get this effect, he shapes them over and over again over a long period of time. In addition to participating in domestic and international art fairs and holding solo exhibitions, CHRIS has collaborated with fashion brands such as Columbia, GOD SELECTION XXX, GUESS, atmos, and more. 

Information

CHRIS x Hi-NODE Exhibition "Love is a battlefield (It's hard to see Love)"

Running: December 4 – December 26, 2021

Hours: 9:00-21:00 

Address: Hi-NODE, Tokyo Hinode Pier (2-7-103 Kaigan, Minato-ku, Tokyo)

Official Instagram: @artbasezero_next

Online Shop: Open to the public starting at 9:00 AM on December 4

Online Shop/Official Site: https://www.thehumanmiracle.com

Art Group Mirrorbowler to Hold Mindblowing Exhibition at Shinsaibashi PARCO

Mirrorbowler will hold their first large-scale indoor solo exhibition at Shinsaibashi PARCO in Osaka from December 19, 2021, until February 13, 2022. 

Along with some truly massive pieces of artwork, the artists behind the creations will also hold workshops and release limited-edition goods at the venue to commemorate the event. Mirrorbowler is known for their expert use of light and reflection, and have participated in creating artwork for outdoor events, fashion shows, and CD jackets in the past. 

Past Works

Past Works

Beginner Origami Art (Star)

Intermediate Origami Art (Sphere)

Mockel

Space Plant

Original Merchandise

Mirrorbowler 2022 Calendar

Mirrorbowler Journey to the Stars Mirror

Mirror Ball Caricature Book

The theme for the exhibition is "to create something that does not exist anywhere, that has no proper name, that will never be the same twice, and that will never look the same to different people." 

Mirrorbowler's work features light and shadow as central themes, and guests are invited to look beyond what is in front of their eyes to find something deeper and more hidden. This imagery will be blended with sounds, scents, and hidden items just asking to be found.

While there is no set route to experience the exhibition, the creators hope visitors will wander back in forth to see things from different angles. Tickets are available to preorder now, so don't miss this memorable event!

Yokohama Red Brick Warehouse to Hold 17th Annual Art & Ice Skating Event ArtRink

Starting in 2005 to add more color to Yokohama's winter season, the ArtRink event held at Yokohama Red Brick Warehouse combines artworks and ice skating for a bright and colorful way to spend a cold day. The 17th annual event will be held from December 4, 2021, until February 20, 2022, and will feature two artists: Moeno Ootsu and unpis, both taking part for the first time. The theme for this year's art is 'Stepping Out in Slippers.' 

Moeno Ootsu

unpis

Message from the Artists

Hello. 

For this event, we've created an everyday space, 'home,' in a very not-everyday space: ArtRink in Yokohama.

Guests should come on an adventure that begins at the front door, then dance on ice through the kitchen, bathroom, bedroom, and more!

You might discover something new among the familiar furnishings and snippets of daily life.

We hope that once you leave ArtRink and return home, you'll try to keep dancing from time to time.

Just have fun. Dance with us!

Whether you're wearing skates, sneakers, or slippers…

Just take a step and have the best possible time this winter.

Information

ArtRink at Yokohama Red Brick Warehouse

Running: December 4, 2021 – February 20, 2022

Location: Yokohama Red Brick Warehouse Event Space

Details: http://akarenga-artrink.yafjp.org/

Hotel Koe Tokyo in Shibuya to Hold Solo Exhibition by Illustrator Kae Tanaka

Kae Tanaka will hold a solo exhibition at Hotel Koe Tokyo in Shibuya from November 26 until December 10, 2021. The artist has recently collaborated with popular girls group Nogizaka46 and actress Rio Uchida, and is skyrocketing in popularity throughout Japan.

Collaboration Goods

Overalls

Overalls

Socks

Hoodies

Tote Bag

Kae-chan Soft Vinyl Figures in Limited-Edition Color (By Lottery)

Over the past year, Hotel Koe Tokyo has been supporting the solo exhibitions of up-and-coming artists. This ima no koe (The Voices of Today) initiative is helping to highlight local talent that may otherwise be overlooked. 

Kae Tanaka is a Tumblr-based illustrator who has garnered large amounts of attention across social media. Collaborative goods created in conjunction with the hotel will be available, all of which are unisex and created by the French brand Le Pigeon Voyageur. A special Kae-chan vinyl figure will be available by lottery. 

Information

Kae Tanaka Exhibition 'Select' 

Running: November 26 – December 10, 2021

Location: Hotel Koe Tokyo 1F 'koe space' (3-7 Udagawacho, Shibuya, Tokyo)

Yoshitaka Amano Exhibition Now Open at Kikka Gallery in Omotesando

Known for his work on the Final Fantasy series, Yoshitaka Amano is one of the most beloved artists in Japanese popular culture. From November 5 until November 30, an exhibition displaying many of his works is open at the Kikka Gallery in Omotesando, Tokyo. Online lottery sales of many Amano works shown in the exhibition began on November 20. 

While overseas fans know him best for Final Fantasy, Amano is also the creator of many iconic characters such as Gatchaman, Tekkaman, and Casshan. 

The PREMONITION OF HAPPINESS exhibition boasts 111 paintings and 3D works on display, all of which are one-of-a-kind. A number of colorful works drawn on traditional Japanese paper and bamboo plates are also attracting guests, based on his fine artwork CANDY GIRL, which he has been working on since 2015. 

MetaTokyo Launches First Project in the Metaverse with Genereativemasks

The Metaverse has been in the news lately, and the future is looking more and more digital. ASOBISYSTEM, ParadeAll, and Fraction Ventures have teamed up to build Japan's first pop-up museum focusing on generative art in MetaTokyo, an open cultural city in the open Metaverse using NFT. This will exhibit one of the largest NFT art projects in Japan, Generativemasks. 

Generative art refers to artworks that are generated by code, using computer software.

MetaTokyo Pass (MetaTokyo Digital Passport) 

Generativemasks

The architecture of MetaTokyo was created by MISOSHITA, a Metaverse/VR creator active not only in Japan but around the world. The interior and exterior were designed in collaboration with Generativemasks and other contributors to make a completely unique structure in the Metaverse. The NFT MetaTokyo Pass, functioning as a digital passport, is on sale now, allowing owners to access a number of activities and special privileges, including access to exclusive events and restricted areas within the MetaVerse. 

MetaTokyo is the world's first project to connect NFTs with the MetaVerse and is the first project of its kind to be implemented globally. 

Up-and-Coming Artist Rei Nakanishi to Hold Exhibition at Shinsaibashi PARCO

Shinsaibashi PARCO in Osaka is celebrating its first anniversary. As part of the celebration, young contemporary artist Rei Nakanishi will be holding a solo exhibition, VESICA PISCIS, from November 20 until November 30, 2021. 

A number of artworks were made specifically for this showing, and each will show the unique style of this up-and-coming creator. Certain pieces will be sold by lottery at the venue as well.

Comment from Rei Nakanishi

My paintings always feature two conflicting themes. 

I create my works using both digital and analog techniques, and complete them with skull and flower motifs, reminding us of the reality of life and death. 

The theme of this exhibition is 'black and white.' 

For me, using only black and white in my works was a very meaningful challenge to take on. 

By not using any color, the essence of each painting comes through more strongly and more clearly. 

The exhibition's title, VESICA PISCIS, references two circles overlapping as you see at the very beginning of cellular division. 

I hope that people will take note of the refined shapes and fluid beauty of these works in comparison to those with color. 

 

– Rei Nakanishi

Information

Rei Nakanishi VESICA PISCIS

Running: November 20 – November 30, 2021

Hours: 10:00-21:00 (*Closing at 18:00 on November 30) 

Address: PARCO Pop Up Gallery, Shinsaibashi PARCO B1F (1-8-3 Shinsaibashisuji, Chuo-ku, Osaka)

Admission: Free

Official Site: http://www.parco.co.jp

Creative Brand HAKU to Hold Stone Exhibition in Nagareyama

For two days only, HAKU, a creative brand known for its underground art experience, will feature some of its unique works at Starts Otakanomori Hall in Nagareyama City, Chiba prefecture.

The inside of the Philharmonic Hall will be transformed with lights and sound to mirror the natural environment surrounding the city. Within this immersive space, images will be projected on the ceiling, walls, and floor, and visitors will be surrounded by the sounds of the river, insects, wind through the trees, and more.

Visitors will be given sensors to track them in real-time, allowing more interactivity with the digital environment. The water flowing through the venue changes its flow based on guest movement. What do you think of this bizarre experience?

Shinsaibashi PARCO Opens Mysterious P.O.N.D. mini Exhibition Inside SkiiMa Gallery

Skiima, a community workspace operated by PARCO, will hold a limited-time event, 'P.O.N.D. mini – Let's Meet at PARCO, in a New Dimension,' to celebrate the first anniversary of the Shinsaibashi PARCO location. The event will run from November 19 until November 30 in the SkiiMa gallery on the fourth floor of Shinsaibashi PARCO. 

Participating Artists

Fumika Endo, Photographer




Hana Watanabe, Filmmaker / Visual Artist

Taketo Kikuchi, Artist

 

Yuka Numata, Contemporary Artist

Shuzo Tajima, Artist / Musician

P.O.N.D. is a cultural festival featuring up-and-coming creators from all genres, including art, fashion, music, and food. First held at Shibuya PARCO in October, the event attracted over 5,000 visitors over 10 days.

Five artists from the Shibuya exhibition will make their way to Osaka for this event, with a theme of entering a new and unexplored dimension. The keyword for 2021 is 'Transfer,' and these creators hope to transfer the meaning behind their pieces to the audience. 

Information

P.O.N.D. mini – Let's Meet at PARCO, in a New Dimension

Running: November 19 – November 30, 2021

*On November 19, the artists will visit the gallery. 

Address: SkiiMa gallery, Shinsaibashi PARCO 4F (1-8-3 Shinsaibashisuji, Chuo-ku, Osaka)

Official Site: https://pond.parco.jp/

Naked's DANDELION PROJECT to be Exhibited at Shanghai Light Festival

Naked's interactive art installation, the DANDELION PROJECT, is making a stop in China! From November 19, 2021, until January 3, 2021, the exhibition will appear at the Shanghai Light and Shadow Festival, one of the largest light events in Shanghai. The DANDELION PROJECT will be located in the Hall of the Sun.

The concept of the Shanghai Light and Shadow Festival is that light is a gift of nature, and the history of mankind and the technology we've developed has all happened as we have gathered around light. This year's event will be held at Ruihong World, a new entertainment complex in Shanghai. The location is connected to The Bund, the most famous tourist destination in the city.

This DANDELION PROJECT exhibition will, of course, be connected to consecutive exhibitions being held in Japan and around the world. Those participating in the installations are able to send their wishes for world peace on digital dandelion fluff to other locations where DANDELIONs are planted around the world, and these messages are delivered in real-time. 

Information

Shanghai Light and Shadow Festival

Location: Shanghai Ruihong World – Sun Palace (Rui Hong Xin Cheng) 

DANDELION: Hall of the Sun

Running: November 19, 2021 – January 3, 2022

Hours: 17:00-22:00 (Shanghai UTC)

Admission: Free
Official Site: https://naked.co.jp

Winter Scenery Coming to teamLab Forest Fukuoka for a Limited Time

The permanent museum teamLab Forest Fukuoka is bringing winter scenery to the virtual exhibition for a limited time starting November 20, 2021. Many of the virtual exhibits will be covered in fluffy snowflakes as butterflies flutter by in seasonal winter colors. Animals made of winter flowers will wander by guests as they explore this magical world. 

Works to Feature Seasonal Changes

Soft Terrain and Granular Topography – A Whole Year per Year – teamLab, 2020

Flutter of Butterflies, Ephemeral Life – A Whole Year per Year – teamLab, 2020

Shifting Valley, Living Creatures of Flowers, Symbiotic Lives – A Whole Year per Year – teamLab, 2020

Animals of Flowers, Symbiotic Lives II – A Whole Year per Year – teamLab, 2019

teamLab's works are drawn in real-time by computer programs and are constantly changing and evolving, with many changing with the seasons. This is the perfect place to enjoy the winter season out of the cold!

Sneaker Art Project artrA to Hold Final Exhibition in Osaka and Tokyo

Street culture is ever-evolving, and sneakers play a big part in street fashion. Combining sneakers and art, the artrA project is about to wrap up its first successful season. SNKRDUNK, Japan's premier sneaker selling app and popular shoe shop atmos have teamed up for this exhibition, which will feature the famous AIR JORDAN 1. These exhibitions have taken place in seven cities across Japan since July. The final exhibitions will be held in Osaka in November and in Tokyo in December. 

A total of 26 up-and-coming illustrators, graphic designers, and even ukiyo-e artists have come together for this unique event. The artwork in this exhibition will incorporate the AIR JORDAN 1 brand, and merchandise featuring this street-styled artwork will be available at the venue.

Those who purchase a T-Shirt on-site will be entered into a raffle to win a pair of AIR JORDAN 1 sneakers. In addition, a special lottery will allow winners to purchase a pair of sneakers to take home. 

Be sure to keep an eye out for the second season of the artrA project brought to you by ASOBISYSTEM!

Information

artrA – SEASON 1 FINAL –

"artrA Vol.8" in OSAKA

Running: November 19 – November 23, 2021

Hours: 10:30-20:00

Address: atmos SHINSAIBASHI (2-7-6 Shinsaibashisuji, Chuo-ku, Osaka) 

Admission: Free

"artrA Vol.8" in TOKYO

Running: December 24 – December 26, 2021

Hours: 11:00-19:00

Address: A.F GALLERY (3-21-8 Jingumae, Shibuya, Tokyo)

Admission: Free

Official Site: http://asobisystem.com/