Four New Pokemon Manhole Covers Appear in Katori City, Chiba Prefecture
On November 10, 2021, four new Pokemon-themed manhole covers were unveiled in Katori City, Chiba prefecture. These will be the first appearance of the Poke Lids project in both the city and prefecture and each will feature landscapes specific to the area. Pokemon featured in these new covers include Galarian Farfetch'd, Falinks, Florges, and Lotad. 
The Poke Lids project features completely original art, and each serves as a PokeStop in the mobile game Pokemon GO. Many are located in smaller towns and areas, and this has brought more tourism and attention to some of Japan's more charming hidden gems. Going on a pilgrimage to visit these locations has become a popular new fad, so be sure to try it out once Japan opens!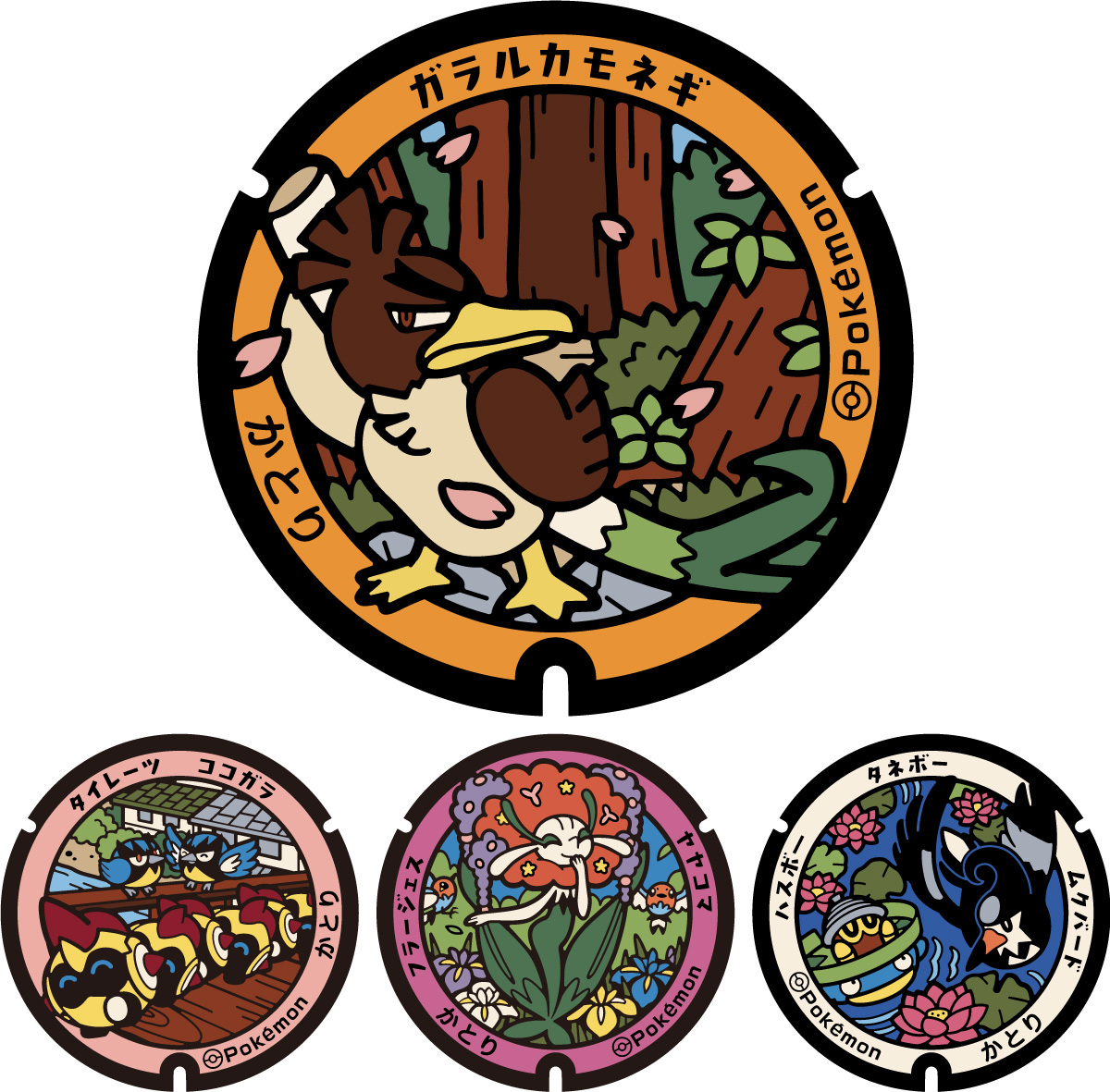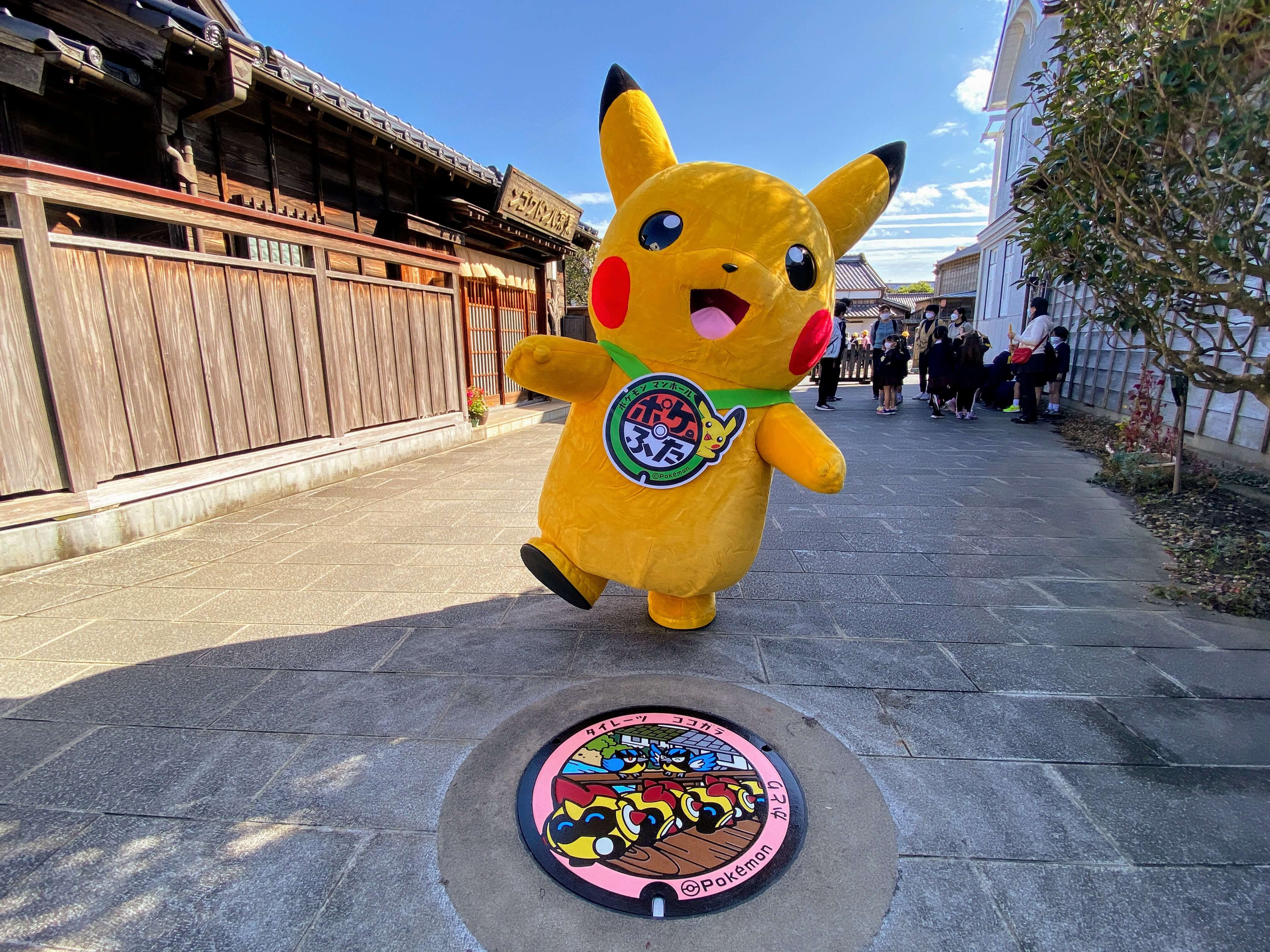 Poke Lid Locations in Katori
Galarian Farfetch'd Poke Lid: 109-14 Sawara, Katori, Chiba

Falinks Poke Lid: 1722-1 Sawara, Katori, Chiba

Florges Poke Lid: 4549-1 Sawara, Katori, Chiba

Lotad Poke Lid: 4053-3 Sawara, Katori, Chiba
©Pokémon. ©Nintendo/Creatures Inc./GAME FREAK inc.
ポケットモンスター・ポケモン・Pokémonは任天堂・クリーチャーズ・ゲームフリークの登録商標です。
RELATED ENTRIES
EMOCAL, a Project to Support Japanese Regions, Releases Music Using Local Sound Samples

The EMOCAL project aims to support small-town areas of Japan. As a new initiative in the project, specific soundscapes only found in certain areas of the country have been combined with music to create some unique tracks. A selection of musical artists have collaborated with the project to bring these songs to life!


EMOCAL was created by ZOWA's original label, CatchyStuck. The project supports local regions and communities by using ASMR soundscape videos recorded in each region to convey their particular charms to all of Japan. The sounds recorded in each place are considered to be very valuable and are intended to serve two purposes: to bring tourism back after the pandemic and to provide fans of ASMR a way to experience these areas from afar.



Check out each of these unique ambient tracks created by four up-and-coming musicians! Each song is available on viviON's ASMR platform ZOWA and on Spotify.

Ube, Yamaguchi Prefecture / Ikkyuu x Hige Driver, I Love Ikkyuu

Beard Driver created this ambient track with sounds recorded inside of Ikkyuu, a ramen shop.

ZOWA: https://zowa.app/play/20019
Spotify: https://open.spotify.com/track/1RP4RcpJwMrFzoYQbnfDYm?si=f1f1e816adb14db0


Odawara, Kanagawa Prefecture / Miyuki no Hama x Powerless, Seiren

Powerless created this track, inspired by the sounds of waves crashing at Miyuki no Hama, a seaside recreation area 20 minutes from Odawara Station.

ZOWA: https://zowa.app/play/20016
Spotify: https://open.spotify.com/track/5DkQ9FeM7jQBacUf7Nbuxc?si=c7d771e73ddd44b6

Shizuoka, Shizuoka Prefecture / Wasabi Field x baker, On the silent hill

Utogi in Shizuoka city is surrounded by incredible nature. Known as the birthplace of wasabi cultivation, baker used sounds recorded in the area to create this ambient track.

ZOWA: https://zowa.app/play/20017
Spotify: https://open.spotify.com/track/0oIU4x7MjVKmpouRwEPaXZ?si=04dcb805cea540b7

Ibusuki, Kagoshima Prefecture / Cape Tara x SeA0, Akushu

Cape Tara is a popular spot featuring an 800-meter-long sandbar at low tide. The sounds captured here were used by artist SeA0, and this track is sure to make you miss the water.

ZOWA: https://zowa.app/play/20018
Spotify: https://open.spotify.com/track/1Utz5j0oB4GmSDOMVdUcXU?si=eafa1949b3ea44d0

New Pokemon Anime Visual Released to Tease Show's World Championships

TV Tokyo has revealed a flashy new visual for the Pokemon anime series! The visual features the eight trainers and their Pokemon who will be participating in the show's Pokemon World Championships tournament, and notes that the "climax" of the show is about to begin. Pokemon airs every Friday at 6:55 PM on TV Tokyo.

Satoshi (or Ash, in the English dub) has been taking on plenty of tough trainers in Pokemon Journeys including Kibana from the Galar region. This means that he has earned his spot in the Masters Eight!

The new key visual features all eight trainers who will be participating in the upcoming tournament: Leon, the Champion of the Galar region; Cynthia, the Champion of the Sinnoh region; Steven, the Champion of the Hoenn region; Lance, the Champion of the Indigo Plateau; Diantha, the Champion of the Kalos region; Alain, another Champion of the Kalos region; and Iris, the Champion of the Unova region. Ash is currently the Champion of the Alola region.


The first 12 episodes of Pokemon Journeys premiered in the United States on Netflix in June 2020.

© Nintendo・Creatures・GAME FREAK・TV Tokyo・ShoPro・JR Kikaku © Pokémon

Kyary Pamyu Pamyu Begins Collaboration with Chiba's Choushi Electric Railway

Kyary Pamyu Pamyu is staying active in 2022. Celebrating the 10th anniversary of her major label debut, the artist recently performed at Coachella, one of the largest music festivals in the United States. On October 21, 2021, she released her first full-length album in three years, 'Candy Raver.' In January, Kyary embarked on the largest tour of her career, 'Kyary Pamyu Pamyu 10th ANNIVERSARY JAPAN TOUR 2022 CANDY WAVE,' which will see the singer performing 30 shows across Japan.

 In conjunction with the nationwide tour, the "LOCAL POWER JAPAN Project" was launched to energize Japan through the appeal of regional towns and cities, and has been attracting major attention. Announced earlier this month at the singer's performance in Chiba, the Kyary Train finally set out on the Choushi Electric Railway starting April 29. 

On April 1, Choushi Electric Railway president Katsunori Takemoto tweeted out something strange and hilarious: "Choushi Electric Railway has tons of problems, so we'll change our name to Choushi Warui ('In Bad Shape') Railway starting today." The self-deprecating post is on brand for the railway which is known for struggling with a lack of riders over the past decade. Social media blew up following the tweet, with many wondering if it was simply a poor April Fool's Joke. Shortly after, a collaboration image between the railway and Kyary Pamyu Pamyu's popular track Mondai Girl appeared. Commemorative versions of a one-day ticket for the train line are on sale now.




It was also announced that a fully-decorated collaborative train would begin running in late April, though the president remarked that the number of interior decorations would depend entirely on how much the company could fit into the budget. Of course, following this plea, support began pouring in from all over Japan. Now, the entire staff, including one new employee, is ready to welcome guests. Each ticket will come with a sticker, on which is written the president's heartfelt plea: "I want the Kyary Train to run without any issues!" So far, so good.

The collaborative train is called the 'Kyary Train with Plenty of Problems,' and takes place inside a flashy pink train perfectly encapsulating the singer's image.

Inside the train car, guests are transported into the world of the Mondai Girl music video. Pink, yellow, and blue balloons fill the space, with plenty of other homages present. The ads on display on the train are also full of confessions by Choushi Electric Railway staff, Choushi City residents, and Kyary, regarding their individual problems.

While the collab train is running, riders are encouraged to write a message of support on the right half of the sticker and post it on a special board to be erected at Kannon Station on April 18. 

"I would like to renovate the old and problem-filled Kannon Station into Kyary Station," president Takemoto said recently. He is also looking into erecting a photo booth pulling inspiration from the press conference scene in the Mondai Girl music video while cleaning up the area to draw in new customers. Be sure to check out the collaboration this spring and summer!

Information

LOCAL POWER JAPAN Project x Choushi Electric Railway
Choushi Electric Railway 'Problem' Pass (1-day Ticket including Special Sticker)

Price: ¥1,100 (Tax Included)


Where to Buy:


Choushi Electric Railway Online Shop

Tickets are available through August 31, 2022.

http://chodenshop.com/
※Only available in a set of 2: ¥2,000 (Tax Included). Comes with 2 stickers.

Choushi Electric Railway Nakanocho Station, Inubo Station

Available through August 31, 2022

*Each pass is sold separately. Sales will end once passes sell out.

The North Face Collaborates with Pokemon at GOLDWIN PLAY EARTH PARK in Tokyo Midtown

Goldwin Inc. has announced a special event for both children and families to enjoy! The GOLDWIN PLAY EARTH PARK event, running until May 29, has taken over the lawn at Tokyo Midtown. Five architects have created playground equipment inspired by five elements: fire, earth, water, wind, and sky. The event wants to inspire children to be more curious about the world around them. What better way than to get Pokemon involved?

For the event, Goldwin, The North Face, Helly Hansen, Speedo, and Canterbury all collaborated with artists, designers, and of course, the Pokemon series.

Goldwin is known for providing incredible sports and outdoor apparel, and behind its sturdy technology lies a deep curiosity regarding nature. This new collaboration has brought new perspectives and ideas to the collection, and those visiting the venue won't want to miss out.

Collaboration Items at a Glance

THE NORTH FACE ✕ Pokemon


YOUNG EXPLORERS Jacket: ¥10,890 (Tax Included)

YOUNG EXPLORERS Hat: ¥6,380 (Tax Included)

Just like everyone's favorite Pokemon Pikachu, the event wants to inspire children to be filled with energy as they explore the world around them and take on new adventures. These new jackets come inside a pouch inspired by a Pokeball and are mde of environmentally friendly recycled nylon material.

*Products in The North Face x Pokemon collection will be sold by lottery starting April 22. Check the official website for details on how to enter.

©Pokémon.
©Nintendo/Creatures Inc./GAME FREAK inc.
TM, ®, and character names are trademarks of Nintendo.

HELLY HANSEN ✕ minä perhonen


Left: VINDKRAFT PEP Tote: ¥9,900 (Tax Included) / Middle: VINDKRAFT PEP Patch Tote: ¥19,800 (Tax Included) / Right: VINDKRAFT PEP Pochette: ¥3,300 (Tax Included)

Based on Helly Hansen's 'VINDKRAFT' project to recover and upcycle sailboats' sails, minä perhonen has designed a bag by combining scraps from its own production process. Nothing goes to waste, making this perfect for those aware of the current problems facing our environment.

*As this is an upcycled product, the number of pieces is limited and each piece is unique.

Collaboration items are available at a pop-up shop at the GOLDWIN PLAY EARTH PARK event. A number of workshops are also open for children to enjoy, with a focus on their relationship with nature while living in the city. Check out the special site for more information!

Information

GOLDWIN PLAY EARTH PARK
Address: Tokyo Midtown Lawn (9-7-1 Akasaka, Minato-ku, Tokyo) 
Running: April 23 – May 29, 2022
Hours: 11:00-18:00
Special Site: https://playearthpark.goldwin.co.jp/

Pikachu and Eevee Appear on New Apparel from Graniph

Japanese brand Graniph has started selling 22 new Pokemon-inspired apparel items on its official online store and in brick-and-mortar locations across Japan. 

Over 25 years have passed since the original Pokemon Red and Green games were released in 1996, and characters from the series continue to be popular around the world. It's hard to imagine a world without the franchise!
 

Check out these new items featuring Pikachu, Eevee, and other popular characters. 

©Pokémon. ©️Nintendo/Creatures Inc./GAME FREAK inc.
ポケットモンスター・ポケモン・Pokémonは任天堂・クリーチャーズ・ゲームフリークの登録商標です。

Information

Where to Buy:

Graniph Online Store: https://www.graniph.com

Graniph stores nationwide (Excluding kid's locations)

Pokemon Shirts Now Available with Patterns from Pokemon Diamond & Pearl

Pokemon and Original Inc. are back with some new Pokemon Shirts! The popular goods originally went on sale back in February 2019, and more and more patterns have been added over the years. 

Fans of Pokemon Diamond and Pearl can now find some designs to their liking, with new patterns on sale as of April 22, 2022. With 18 new patterns to choose from, the Pokemon Shirts collection now has a total of 404 designs to choose from. Customers can also choose to place these patterns on masks!

(From Left) Chimchar Pattern, Piplup Pattern, Turtwig Pattern

(From Left) Starly Pattern, Shinx Pattern, Bidoof Pattern

New patterns from Pokemon Diamond and Pearl will be added in four installments. Each installment will have a specific theme and will introduce Pokemon that fit that theme.


The first installment's theme is "The Start of Adventure." As expected, this installment features the three starter Pokemon from the games.

Installment #2 / End of July | Pokemon: Dialga, Lucario, Honchkrow, etc.

Installment #3 / End of October | Palkia, Garchomp, Mismagius, etc.

Installment #4 / End of January 2023 | Giratina, Rotom, Weavile, etc.

(From Left) Luxray Pattern, Mothim Pattern, Staraptor Pattern

The 18 new designs add some new flair to the ever-growing collection. Fans will want to head to the official Pokemon Shirts website to see the patterns up close!


*Masks are intended to be used for fashion, not to prevent illness. 

Information

Pokemon Shirts / Pokemon Diamond & Pearl

Release Date: April 22, 2022

Available Countries: Japan, America, Taiwan, Hong Kong, Singapore, Malaysia, Philippines, India, Indonesia, England, Spain, Germany, Italy, France, Canada, Australia, New Zealand

Official Site: https://originalstitch.com/jp/pokemon

Pokemon Nail Polish Collection Available in Limited Quantities from uka

Beauty company uka has announced the new Pokemon Study series, a collection of original nail colors inspired by Pikachu and five other popular Pokemon. The items will be available on May 13, 2022 in limited quantities, and will come in a six-piece set. Three shades were made with vegan ingredients with adults in mind, while three can also be used by children and include a water-soluble solution. Preorders will open online starting May 6, 2022.

Lineup

For Adults

uka Pokémon Study: Meowth

uka Pokémon Study: Eevee

uka Pokémon Study: Piplup

For Children and Parents

uka Pokémon Study: Pikachu Aqua Base

uka Pokémon Study: Jigglypuff Aqua Base

uka Pokémon Study: Scorbunny Aqua Base

uka Pokémon Study Six Stars Collection

The company has spent time studying people's hands to create the 'uka Study Series,' a color study to bring out the beauty of anyone's skin using their unique nail colors. No matter what skin tone you have, these shades are sure to look perfect!

Adults can enjoy soothing and smoky shades inspired by Meowth, Eevee, and Piplup, with each nail polish created with a 60% plant-derived vegan formula. The children's shades, featuring Pikachu, Jigglypuff, and Scorbunny, are all bright and perfect for spring. These water-soluble products can be wiped off easily with hot water.

Kyary Pamyu Pamyu Collaborates with Chiba's Choushi Electric Railway for LOCAL POWER JAPAN Project

Celebrating the 10th anniversary of her major label debut, Kyary Pamyu Pamyu is staying active in 2022. The artist will perform at this year's Coachella, one of the largest music festivals in the United States, and released her first full-length album in three years 'Candy Racer' in October 2021.  On January 16, Kyary embarked on the largest tour of her career, 'Kyary Pamyu Pamyu 10th ANNIVERSARY JAPAN TOUR 2022 CANDY WAVE,' which will see the singer performing 30 shows across Japan. In conjunction with the nationwide tour, the "LOCAL POWER JAPAN Project" was launched to energize Japan through the appeal of regional towns and cities, and has been attracting major attention. The details of Kyary's next collaboration project in Chiba Prefecture have been announced!

To commemorate Kyary's performance in Chiba on April 3, the singer will be teaming up with Choushi Electric Railway, a rail line that suffered a serious lack of ridership during the pandemic but continues to power through its hardships. The line is headquartered in the city of Choushi and operates a 6.4km, 10-station line between Choushi and Tokawa. To subsidize its operations, the company began selling nure-senbei (moist senbei rice crackers), mazui-bou ('shoddy snacks'), and more. These treats now account for about 80% of total sales, double those from its railway operations. The company is working hard to attract tourism, with the goal to become 'Japan's #1 Entertainment Train,' but paying for train repairs has been difficult. 

The LOCAL POWER JAPAN Project is working to revitalize the Choushi Electric Railway and the town of Choushi using Kyary's inspiring song Mondai Girl as a motif. Mondai means 'problem' in Japanese, and Choushi likes to joke about being riddled with problems!

Mondai Girl was released in 2015 and attracted attention across the world for its message–everyone's 'normal' looks different, and that's okay. The song was chosen as a perfect fit for the Choushi Electric Railway, which aims to go its own way without being bound by 'normal' practices.

The collaboration logo was created as a tribute to the Mondai Girl music video and shows Kyary wearing Choushi Railway goggles. Special railway passes featuring this new imagery will be available for a limited time as part of the collaboration project, and a Choushi Electric Railway x LOCAL POWER JAPAN Project collaboration train is planned to go into operation at the end of April. The interior of the train will depend on how many special passes are sold. The president of the train line, Katsunori Takemoto, is a bit fearful of the project, stating "we can't make the train too shabby inside, but we don't really have much of a budget for it." 

The collaboration passes come with a special sticker. While the collab train is running, riders are encouraged to write a message of support on the right half of the sticker and post it on a special board to be erected at Kannon Station on April 18. The president wants everyone to pray for the safe travels of the Kyary train, so be sure to take part!

A collaborative T-shirt is also on sale featuring the new logo and the singer's 10th-anniversary logo. It will be available on the LOCAL POWER JAPAN Project online store starting April 1 for two weeks only!

Information

LOCAL POWER JAPAN Project × Choushi Electric Railway

Choushi Electric Railway 'Problem' Pass (1-day Ticket including Special Sticker)

Where to Buy: 

Choushi Electric Railway Online Shop

Available: April 1 – August 31, 2022 http://chodenshop.com/

*Set of 2: ¥2,000 (Tax Included). Comes with 2 stickers.

Choushi Electric Railway Nakanocho Station, Inubo Station

Available: April 4 – August 31, 2022

*Each pass is sold separately. Sales will end once passes sell out.

Choushi Electric Railway (Chiba) x LOCAL POWER JAPAN Project Collab T-Shirt

Where to Buy: 

LOCAL POWER JAPAN Project Online Shop

Available: April 1 – April 14, 2022 at 23:59
https://store-localpowerjapan.com/

*A portion of the proceeds from each T-shirt sale will be donated to local causes.


Banyan Tree Rooftop Bar Opens on Japan's Southernmost Island

The Banyan Tree Rooftop Bar, located at Hoshino Resort Risonare Kohamajima on Japan's southernmost island, is holding a special stargazing event until April 20, 2022. Visitors can enjoy a cocktail as they gaze at the countless twinkling stars overhead.

Kohama Island is located within the Yaeyama Islands. With a warm climate, it's comfortable to spend long hours outside, even at night. Kohamajima was also the first island in Japan to be protected by the IDA (International Darkness Association), meaning that no bright manmade lights can interfere with stargazing. Visitors can see 84 of 88 constellations! 

Enjoy a Boundless Starry Sky

The Banyan Tree Terrace will bring guests together to feel the sea breeze and taste colorful mojitos as they enjoy the pleasant weather. Why not spend a relaxing time in a fantastic space lit with faintly glowing candles as you stargaze?

Taste Colorful Mojitos

A limited number of colorful mojitos will be available at a bar counter set up on the terrace for this event only. You can also enjoy Okinawan original mojitos with made with Okinawa lime, brown sugar instead of sugar, non-alcoholic mojitos for children, and tropical fruit mojitos with pineapple and passion fruit.

Munch on Snacks Perfect to Pair with Cocktails

Guests can also enjoy a snack set with salty nuts perfect for enjoying with alcohol!

Information

Banyan Tree Rooftop Bar

Open: March 1 – April 20, 2022
Hours: 19:00-20:00
Location: Banyan Tree Terrace

Official Site: https://risonare.com/kohamajima/

Baby Brand Monpoke Introduces Piplup 2022 Spring/Summer Lookbook

The Pokemon baby brand Monpoke has revealed their newest products in a new 2022 Spring/Summer Lookbook! The images are available on the official brand website. 

Piplup has become one of the most popular Pokemon, and the blue water bird is featured prominently on the new apparel and items. All new products began rolling out in February, and all details are available on the Monpoke website. 

Items perfect for summer, like floaties and pool toys, will also be available! Kids bikes and other items to get kids active will also make appearances in the new collection. 

Parents can also grab themed diaper changing s heets and nap kits, so be sure to add some fun to your days with these new Pokemon-inspired items!

©Pokémon. ©Nintendo/Creatures Inc./GAME FREAK inc.

Kyary Pamyu Pamyu Collaborates with Popular Shimane Manju for LOCAL POWER JAPAN Project

Celebrating the 10th anniversary of her major label debut, Kyary Pamyu Pamyu is staying active in 2022. In conjunction with the nationwide tour, the "LOCAL POWER JAPAN Project" was launched to energize Japan through the appeal of regional towns and cities, and has been attracting major attention. Kyary's tour made it to Shimane on March 12, and the details of her next collaboration have been revealed!


Kyary will be teaming up with Nakaura Foods and their delicious local delicacy Dojou Sukui Manju. Known as the representative treat of the San'in region, the name is a reference to the mask worn during local performances of the Yasugibushi folk song. The steamed buns were developed by Nakaura Foods in 1967 and have been loved by locals ever since. In the 2000s, the company began experimenting with new flavors by teaming up with other local creators.

 

The company's logo is being reimagined for the project, inspired by Kyary Pamyu Pamyu's 2013 Furisodeshon music video. 

The name of the popular product has also been changed to Kyary Sukui Manju! Each box has a pop design and would make a perfect souvenir for Kyary fans.

A collaborative T-shirt is also on sale featuring the new logo and the singer's 10th-anniversary logo. A special LINE collaboration is also underway, and 50 people who order the new Kyary-themed treats from the official Nakaura Foods online store will be entered to win a shirt!

Information

Dojou Sukui Manju (Shimane) x LOCAL POWER JAPAN Project
Sales Period: March 12 – April 8, 2022
Where to Buy:
Nakaura Foods Official Online Store
https://www.sanin-nakaura.jp/products/detail/1269
Nakaura Foods Stores in Matsue, Shimane Prefecture and Sakaiminato, Tottori Prefecture 


Collaboration T-shirt
Where to Purchase: LOCAL POWER JAPAN Project Online Shop
Available until March 25 at 23:59
https://store-localpowerjapan.com/




Commemorative Kyary Sukui Manju T-shirt Gift Campaign
Application Period: April 8, 2022
How to Enter: 

Add Nakaura Foods as a friend on LINE and get the campaign keyword. 

Enter the keyword when purchasing Kyary Sukui Manju from the Nakaura Foods online store.

50 winners will be selected by drawing to receive a special collaborative T-shirt!




 

Official Site:https://localpowerjapan.com

McDonald's Happy Meals in Japan Introduce Battle-Ready Pokemon Mezastar Tags

Starting March 4, McDonald's locations in Japan are selling two new Happy Meals inspired by Pokemon and Tabekko Dobutsu!





Each Pokemon set includes a Pokemon Mezastar tag, allowing kids to battle and catch Pokemon using tags. Five original tags featuring popular characters like Pikachu and Piplup will be available, as well as Legendary Pokemon like Palkia and Arceus! In addition to tags, kids will also be able to play games using Pokemon names on a special Shiritori sheet included with each meal. 





Tabekko Doubutsu is a classic Japanese snack, much like animal crackers in the west. This is the first time these characters are appearing at McDonald's. The lineup includes five varieties of McDonald's original coloring pages and stickers featuring familiar characters such as Lion, Bunny, and Elephant. Each sticker also includes the name of each animal in Japanese and English!

©2022 Pokémon. ©1995-2022 Nintendo/Creatures Inc./GAME FREAK inc.
Developed by T-ARTS and MARV

©ギンビス

Information

Happy Meal 'Pokemon Mezastar' 

Happy Meal 'Tabekko Doubutsu' 

Available: For 2 weeks starting March 4 

Where to Get: Participating McDonald's Locations Nationwide

Official Site: https://www.mcdonalds.co.jp/menu/happyset/