WORLD ORDER Scheduled to Join "MOSHI MOSHI NIPPON FESTIVAL 2015"‼︎
Japanese techno-pop dance unit WORLD ORDER will join MOSHI MOSHI NIPPON FESTIVAL 2015 in SINGAPORE (Sep, 5 and 6) and MOSHI MOSHI NIPPON FESTIVAL 2015 in PARIS(Oct, 3 and 4).
WORLD ORDER is a seven-piece Tokyo-based dance performance group formed in 2009. They are known for their looks that resemble hardworking Japanese businessmen – or "salarymen" – and highly detailed choreography that goes perfectly well with their synth-driven dance tunes. It didn't take long for the world to take notice of the band's talent – with many eager fans in Asia, North America and Europe, WORLD ORDER finally announced these long-awaited concerts in Singapore and France!
"We are very excited to perform to our international fans!" says a member of WORLD ORDER, who have been receiving a lot of messages from excited fans in other countries. On top of their regular performance, the group will prepare a special performance that consists of six members for those two locations.
By touring around the world, the MOSHI MOSHI NIPPON Festival team aims to promote the latest in Japanese pop culture. The team will be on the road throughout the year and will regularly announce more J–pop related events. Be sure to keep your eyes peeled for more exciting news!
—————————————————————————————————–
MOSHI MOSHI NIPPON FESTIVAL 2015 in SINGAPORE
Date: Sept. 5 (Sat.) and 6 (Sun.), 2015
Location: Singapore
Venue:*SCAPE The Ground Theatre / *SCAPE Playspace
Ticket information:
Early Bird (Aug 6 to Aug 12): S$78/day
Normal (Aug 13 onwards): S$88/day
Admission to Exhibition Grounds and Day Stage Activities are free.
Artists:
Sept. 5: CAPSULE / Yasutaka Nakata (CAPSULE) / WORLD ORDER / TEMPURA KIDZ
Sept. 6: Nagi Yanagi / kz(livetune)feat. ANNA YANO / Hachioji P / TEMPURA KIDZ and more…
—————————————————————————————————–
「MOSHI MOSHI NIPPON FESTIVAL 2015 in PARIS」
Date: Oct. 3 (Sat.) and 4 (Sun.) 2015
Location: Paris, France
Venue: Le TRIANON
Oct. 3: CAPSULE / Yasutaka Nakata (CAPSULE) / BOOM BOOM SATELLITES
Oct. 4: WORLD ORDER / Charisma.com / TEMPURA KIDZ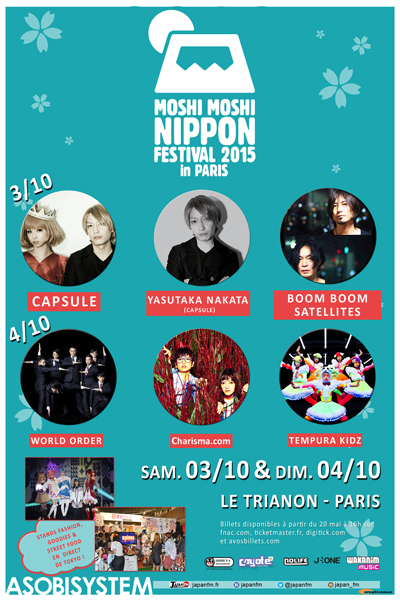 —————————————————————————————————–
ABOUT MOSHI MOSHI FESTIVAL 
RELATED ENTRIES
DJ Arisa Komiya from OMOTENASHI BEATS Celebrates First Overseas Performance at Anime Festival in Singapore

Last October, Zepp Divercity, Tokyo was filled with excitement and thrill as the Anime Rave Festival Vol.2 took place, which saw the appearance of a brand new DJ at the scene: Arisa Komiya from OMOTENASHI BEATS.

What's more, it hasn't even been two months since the DJ released her CD full of non-stop anisongs called SUPER OMOTENASHI BEATS vol.1 × DJ Arisa Komiya on October 2 and she has already leaped across a border for her first ever overseas performance at Anime Festival Asia Singapore 2019,  which flies the flag for Japanese culture and aims to spread the love for Japanese music. The festival was held at Suntec Singapore Convention and Exhibition Centre.

Arisa Komiya took to the stage on the second day of Anime Festival Asia Singapore 2019. The floor shook in beat to the thudding fans and the entire evening was a great success. The DJ's kicked off her overseas debut at C3AFA AKIBA STAGE, which was met with a swarm of hiphop fans. Next, she performed on the LUMICA stage, which saw a sea of penlights sway in beat, each fan unshakable with admiration. Komiya left the venue being assured of her strong fanbase in Singapore. 

 

DJ Arisa Komiya is sure to continue performing in Japan and overseas. Keep an eye on her and OMOTENASHI BEATS because they are sure to have a lot in store for everyone.

Information

SUPER OMOTENASHI BEATS vol.1 × DJ Arisa Komiya

Release: October 2, 2019

A 35-Track Mix CD of Non-Stop Anisongs by Love Live! Sunshine!! School Idol Group Aqours Member DJ Komiya Arisa.

 

CD: ¥2,338 (Before Tax)

CD + Blu-ray: ¥4,074 (Before Tax)

*Blu-ray includes the NONSTOP MIX BACKGROUND MUSIC VIDEO and MAKING VIDEO

Purchase Here: https://omotenashibeats.jp/discography/shop.php?id=1030637

OMOTENASHI BEATS Official Website: https://omotenashibeats.jp/

Get Drenched With Zootopia Characters This Summer At Tokyo Disneyland

Every year, Disneyland puts on a show where everyone gets soaked. This year's show features Nick and Judy from Zootopia. With Cinderella's Castle as the main stage, large quantities of water is sprayed everywhere. I headed over to check out the commotion as soon as possible with Instagrammer Kanako.

This summer, the event Judy and Nick's Jumpin' Splash is taking place four times every day. It is possible to apply to experience the fun at the centre stage area close to the castle, however, winners are chosen at random. You can apply for all of the showings except the first one of the day. You can apply by smartphone app or by heading to Tomorrowland Hall. 

If I still haven't made myself clear, the central viewing area will be splashed with lots of water, so if you are going to take part, make sure you wear a raincoat. You can buy one from the shops when you get to Disneyland. 

While the movie's theme song "Try Everything" plays, Judy and Nick take to the stage and dance. 

Just when everyone gets into the dancing…

Everyone gets soaked by water that surges out from Cinderella's Castle! We were carelessly standing right in the middle of the danger zone so we were mercilessly drenched. I recommend you keep clear of the centre of the area and wear your raincoat as tight as you can!

For the latter half of the show, the dancers grabbed hoses and continued to drench us. Everything was happening in the moment. It was all an exciting blur that was over in what felt like seconds. 

This show showered away the summer heat within seconds. You can enjoy getting soaked in the centre of the action or watch other people getting soaked from a safe distance. There are only three chances to take part each day. This is a limited chance to make extra special memories, so please apply!

It's not as bad as it seems. If you wear your raincoat properly, your clothes will not get wet, so there is no need to worry about ruining your glamorous look if that is the reason you don't want to take part. 

 

Plunge straight into the summer fun at Tokyo Disneyland!

© Disney

Japanese Cafe Chain PRONTO Announces Second Overseas Branch in Singapore

Japanese cafe chain PRONTO has announced that it will open its first Singapore branch at Capital Square Singapore on June 17. This is only the second of overseas branches, the first being located in Shanghai.

The area that PRONTO is opening in is Shenton Way, a commercial and business district. It is just a five-minute walk from Raffles Place MRT Station and a one-minute walk from Telok Ayer MRT Station.

PRONTO decided to open a branch in Singapore as the country has a high rate of people who enjoy eating out, and it's also home to a lot of office workers. Just like it does in Japan, PRONTO will operate both a cafe and bar so that customers can enjoy the establishment from morning to evening time.

The counter shares its space with the rest of the room, giving it a spacious atmosphere. This also makes the bar feel like a relaxed and carefree sake bar. The interior is built to feel like a slightly special private location. The outside also has a takeout corner which is connected to a seated terrace area.

During cafe time customers can enjoy coffee and authentic pasta while at bar time they can sip on 4 types of The Premium Malt's, high balls, and tuck into delicious Italian cuisine. The cafe caters to every customers' needs, whether they're an office worker on a weekday or tourists and locals on the weekend. Be sure to stop by if you're in Singapore.

Information

PRONTO SINGAPORE (Capital Square)
Address: 23 Church Street,#01-02/03 Capital Square Singapore 049481

Grand Opening: June 17, 2019

Business Hours: [Mon-Thurs] 7:30-23:30 (Last Orders 23:00) / [Fri] 7:30-02:00 (L.O. 1:30) / [Sat] 11:00-22:00 (L.O. 21:30) / [Sun] 11:00-22:00 (L.O. 21:30)

*Cafe time runs until 17:00

PRONTO Official Website: https://www.pronto.co.jp/

Traditional Japanese Fireworks Fuse With Cutting-Edge Technology for STAR ISLAND 2019 in Tokyo & Singapore

This year marks the third year of STAR ISLAND, a firework festival set to take place at Toyosu Gurui Park on July 20, 2019. Tickets are now on sale.

STAR ISLAND will collapse together traditional Japanese fireworks with the latest in cutting-edge technology including 3D sound, lighting and show performances. This immersive entertainment experience will stimulate all five senses of attendees as they enjoy the show with against panoramic backdrop of Tokyo's towering skyscrapers.

Past STAR ISLAND event

The tickets for STAR ISLAND sell out every single year. 2019 will be its fourth run and it promises to scale things up to greater heights as the event is moved to Toyosu Gururi Park for the first time.

Past STAR ISLAND event

The event will now house two children's areas for families which have proven popular each year as well as new BBQ seats.

Past STAR ISLAND event

This year, STAR ISLAND is expanding its experience overseas. Up to now, the event has been held at Odaiba Seaside Park in Tokyo for two years in a row since its inception in 2017. At the end of 2018, it embarked to Singapore for the New Year's event "Marina Bay Singapore Countdown 2019" where it was the main attraction, showcasing its wondrous and moving content to people from 86 different countries.

STAR ISLAND will return to Singapore for the same event for the 2020 countdown. Before that, it will make its way to Saudi Arabia for Saudi-Japan Vision 2030 on September 23, 2019, the same date the kingdom was founded.

If you get the chance, make sure to book your tickets to witness STAR ISLAND 2019 for yourself.

Information

STAR ISLAND 2019

Date: July 20, 2019

Time: 16:00-21:00 (*Will go ahead if it rains but stop during stormy weather)

Location: TOKYO STAR ISLAND (Toyosu Gururi Park, 6-5 Toyosu, Koto Ward, Tokyo)

Tickets: http://r.y-tickets.jp/starisland2019

Enquiries: Kyodo Tokyo 0570-550-799 (Weekdays 11:00-18:00 / Weekends & Holidays 10:00-18:00)

Official Website: http://www.star-island.jp

STAR ISLAND 2019 Schedule

2019/7/20 – STAR ISLAND 2019 in Toyosu Gururi Park, Tokyo

2019/9/23 – STAR ISLAND in Saudi Arabia

2019/12/31 @ STAR ISLAND in Singapore

18th Century Paris to be Brought to Life at 'Innocent Rouge' Manga Musical Showing in Paris and Tokyo

A new musical based on the popular Weekly Young Jump/ Grand Jump manga series Innocent Rouge will be performed at HULIC HALL Tokyo from 29th November ー 10th December and will arrive in Paris, France in February 2020. The script was written by Kensuke Yokouchi and directed by Amon Miyamoto.

The title is the French word for "innocent" (which is also "innocent" in English but just pronounced differently). The manga featured in Weekly Young Jump's 9th 2013 issue and made a constant appearance until the 20th issue featured in 2015. Now, the sequel Innocent Rouge is currently being featured in Grand Jump. A total of 884,000 copies have been sold.   

The manga presents the story of Charles-Henri Sanson; the Royal Executioner of France during the reign of King Louis XVI in the 18th century, and his younger sister Marie-Joseph Sanson. The artistic presentation of execution and other extreme concepts is what made this manga gain popularity not just in Japan, but all over the world.

This is is the first time that Amon Miyamoto has ever produced a musical based on a manga. The first musical tickets will be released in late May by the musical project sponsors and there is a plan in place that allows members of Innocent's fanclub to get first dibs on the tickets. Further information on the cast of the musical, the Paris tour and much more will be announced when known on the official website. All we can do is wait in excitement!

Marie-Joseph Sanson © Shin-Ichi Sakamoto/Shueisha

Information

Innocent musicale

Dates: Fri 29/11 ー Tues 10/12/2019

Location: HULIC HALL Tokyo Yurakucho Marion 11th floor, 2-5-1, Yurakucho, Chiyoda, Tokyo

Ticket release: End of May 2019

Official website: http://jnapi.jp/innocent

Shiseido and teamLab Collaborate at New Shiseido Forest Valley in Singapore

Shiseido Forest Valley is an immersive new indoor forest in Jewel Changi Airport in Singapore. Together with this new area, Shiseido has is also collaborating with teamLab on their new art installation SENSE. By opening Shiseido Forest Valley in Jewel Changi Airport which is used by people across the globe, Shiseido will be able to increase their international presence.

Jewel is a mixed-development and expansion of Changi Airport which describes itself as a "gateway where the world meets Singapore, and Singapore meets the world." This 1.46 million sq ft complex is built up of gardens, attractions, retail and more all of which integrates with nature and sits under a stunning steel and glass dome.

Shiseido Forest Valley bathes in natural sunlight and is surrounded by nature with plants at every turn and a giant waterfall in the centre. teamLab's SENSE installation combines nature, beauty and art through a Japanese aesthetic. Relax and take a stroll through the forest and enjoy the sights, sounds and tranquillity.

Information

SHISEIDO FOREST VALLEY
Address: 78 Airport Boulevard, Singapore (Inside Jewel Changi Airport)

SENSE
Location: Shiseido Forest Valley, Jewel Changi Airport 78 Airport Boulevard, Singapore
Opened: May 13, 2019
Entry: Free
Open: 24-hours a day all year round

Shiseido Official Website: https://www.shiseido.co.jp/index.html

Tokyu Hands to Open New Branch at Singapore Changi Airport

Tokyu Hands has announced that it will open a new branch at the new Jewel Changi Airport set to open at Singapore Changi Airport in spring this year. This will be the chain's fourth branch to open in Singapore.

Tokyu Hands is a Japanese department store which describes itself as "the one-stop shop chock-full of many products unique to Japan." Its stores stock a wide variety of products, and those visiting the new Jewel branch too can expect to get their hands on a range of items from Japan including high-quality living ware, hobby and lifestyle products and more.

If you're passing through Singapore Changi Airport be sure to pop in for a visit this spring.

Information

Tokyu Hands Jewel (Temporary Name)

Address: 78 Airport Boulevard #02-203 Jewel Changi Airport Singapore 819666

Business Hours: 10:00-22:00 (subject to change)

Opening: Spring 2019

Official Website: https://www.tokyu-hands.co.jp/en/

Future Firework Entertainment Event 'STAR ISLAND' Heads to Singapore

STAR ISLAND is an event that describes itself as 'future firework entertainment.' The show has been held twice in the past and sold over 30,000 tickets. Now, for the first time ever, the fireworks will be exploding overseas.

STAR ISLAND Singapore Countdown Edition will welcome the New Year at The Float @ Marina Bay in Singapore at 23:00 on December 31, 2018.

STAR ISLAND brings together top creators in Japan to evolve Japan's firework culture. Some big names include creative director Kenji Kohashi, the 150-year-old firework company Marutamaya Ogatsu Fireworks, 3D sound pioneer Katsuyuki Seto, globally-active lighting engineer AIBA, and more.

The event offers new ways to enjoy watching fireworks. The 'Bed Area' lets you gaze up at the lights while laying on a bed. The 'Dinner Area' is a place where can enjoy a meal while watching the fireworks. The 'Kids Area' is perfect for families, allowing attendees to see the explosions with their children. The event has given rise to a brand new business model that combines multiple paid-seating areas with fireworks.

STAR ISLAND has been held two years in a row in 2017 and 2018 at Odaiba Kaihin-Koen in Tokyo. Now, with backing from the Singaporean government, it is headed to what is said to be the largest region in Asia. The huge New Year's countdown will take place with Singapore's landmark Marina Bay Sands in the background.

12,000 fireworks will be launched, with each individual one firing to each beat of the music in sync. Cutting edge sound technology will propel the music which will blare from over 300 individual 3D sound speakers for a full 360° experience. A string of performances will take place on stage, including one from the LED BAND who combine the fireworks with 3D sound and lighting to create a rainbow of colours. The kid's area will be decked out with a jungle gym, ball pit and breast-feeding area for mothers.

Celebrate the coming new year Japanese-style in Singapore.

Information

STAR ISLAND SINGAPORE COUNTDOWN EDITION in conjunction with Marina Bay Singapore Countdown

Date: December 31, 2018

Time: 23:00-02:00 (Open from 17:00) (Local Time)

Location: The Float @ Marina Bay (20 Raffles Ave, Singapore 039805)

*Event will go ahead even if it rains.

Tickets

Japan: Available November 3, 2018 from 11:00 (JST) at http://w.pia.jp/t/starislandsingapore/

Singapore; Available November 1, 2018 (Local Time) from 15:00 at https://star-island.sg/

Official Event Website

Japan: http://www.star-island.jp

Singapore: https://star-island.sg

Collaborative Japanese/French-style restaurant produced by a Michelin chef was opened in the Paris airport

Japan and France marked their 160th anniversary of establishing diplomatic relations this year and the airport in Paris was renovated to become "Destination/Paris 21 districts." This airport will offer experiences related to shopping, gourmet and culture.


The airport is now planning to open more than one restaurant produced by a Michelin Star chef in each international terminal so that visitors can enjoy full-fledged French dishes. They announced that they will open the Japanese/French-styled restaurant, "Teppan" produced by the Michelin Star chef, Thierry Marx.


In 2016, the restaurant, "I Love Paris" produced by Guy Martin which was the first restaurant of the project, was selected as the No. 1 restaurant in "the world's best airport restaurants" and Martin has been working with the airport in Paris based on the keyword "Bistronomy." He also opened a restaurant named "The French Taste" in the 2nd terminal of Charles de Gaulle Airport. The restaurant was designed by Charles Zana, a French architect.


And in April 2018, one of the most famous French chefs, Thierry Marx opened a French/Japanese-styled restaurant named "Teppan" in terminal 1. I am sure that visitors of France will spend a wonderful time dining at this restaurant before going back to their home countries.


<Comments from Thierry Marx>

"France is known as a country that has lots of delicious foods. I think this is a wonderful project because many people can enjoy superb French dishes in their transit airport before leaving France. I would like to say thank you to the airport for offering me the chance to participate in this wonderful project."

Be sure to visit this restaurant when you visit France.

■Information

Charles de Gaulle Airport

Asakusa cookware store Kamaasa Shoten opens a branch in Paris

Kamaasa Shoten is a cookware shop located in Kappabashi, Tokyo. The establishment was launched in the year Meiji 41 (1908) and is devoted to producing the finest cooking equipment. This year, the business will be celebrating its 110th anniversary, opening its first overseas branch in Paris, France.

With the desire of spreading Japanese cooking equipment, the shop decided to open a branch in the one city where many famous chefs gather to create delicious food – Paris. Saint-Germain-des-Prés is one of the administrative districts of Paris. There are many cafes, curios, contemporary art galleries and much more dotted around the area that are often visited by writers, artists and philosophers.

It is here that the elegant Japanese cooking equipment of Kamaasa Shoten will be sold, aiming for customers to acknowledge this wonderful cooking equipment as culture and to firmly root into Paris.

If you are ever in Paris, please stop by to experience this elegant cooking equipment.

Kamaasa Shoten, Paris

(釜浅商店パリ店 KAMA-ASA)

Address:12 Rue Jacob, 75006 Paris, France

Open from: Monday 14th May 2018

Opening hours:Monday — Saturday(excluding Wednesdays) 9:30 — 12:00 and 13:00 — 18:00

Wednesdays: 13:00 — 18:00 (Closed: Sundays and national holidays)

Email address: contact@kama-asa.co.jp

Kamaasa Shoten, Tokyo

(釜浅商店 KAMA-ASA)

Address: 2-24-1, Matsugaya, Taito, Tokyo

Opening hours: 10:00 — 17:30

Open all year round(closed during the New Year's period)

URL:www.kama-asa.co.jp

MMN Festival: Traditional Japanese Performance Art, Omatsuri Experience & More at Onden Shrine!

The MOSHI MOSHI NIPPON Executive Committee will hold the country's biggest inbound event for promoting Japanese pop culture to the world, "MOSHI MOSHI NIPPON FESTIVAL 2018 in SHIBUYA," across the areas of Shibuya and Harajuku on Saturday March 24 and Sunday March 25. New artists have been added to the event line-up as well as their performing dates. Registration for the event is also now open. Those who register for the festival will receive an original bag as thanks.

Register Here: https://mmnf2018.peatix.com

This year's MOSHI MOSHI NIPPON FESTIVAL will take place in four main locations. Here are the artists set to the perform as well as the content and activities to be held at each location.

In this article, we'll take a detailed look at the stage performances and booths you can expect to see at Onden Shrine.

The theme at Onden Shrine is "Tying Links with the Gods of Harajuku." "Ennichi" is held at the traditional Onden Shrine. Stalls are a must-have at Japanese festivals, so you can expect to see plenty of them for the MMN Festival lined with food, offering classic activities such as yo-yo fishing, and more. A stage will also be set up at the shrine where you can look forward to seeing a traditional Japanese 'taiko' drum performance and more, as well as getting involved with the mizuhiki workshop where you'll learn how to make your own decorative cord to tie envelopes with! Onden Shrine will be packed with content that can be enjoyed by kids and adults alike.

STAGE CONTENT: YUMENOYA Ukon Takafuji Japanese Dance Show & Bon Odori

The "Takafuji Dance Company" is a pioneer of traditional Japanese dance that boasts a history of 100 years. Ukon Takafuji is the second generation of the company as well as the producer and chairman of "JAPAN CULTURE ENTERTAINMENT -YUMENOYA-" who is set to put on a traditional Japanese dance show. It is an "experienced-based" show meaning you yourself can join in to dance Bon Odori.

Not only will there be classic Bon Odori hits playing such as Tokyo Ondo, but also a performance of Tokyo Bon 2020 choreographed by Ukon Takafuji, a song co-produced with "COOL JAPAN TV" that has taken the world by storm online with a collective 100 million plays across video streaming platforms.

STAGE CONTENT: Satsumasendai Odoridaiko

A Japanese drum (taiko) group made up of girls in their teens and 20s. Besides Japanese drums, their stage performance also captivates fans around the world with other traditional Japanese instruments such as the shinobue, as well as traditional Japanese dance.

STAGE CONTENT: Awa Odori Dance TAKARABUNE

TAKARABUNE is a creative dance group of Awa Odori, a traditional type of Japanese dance that boasts a 400-year history, who challenge themselves to creating new possibilities for this traditional Japanese artform. You must not miss this stage performance by Japan's sole professional Awa Odori dance group!

BOOTH CONTENT: Learn Shrine Etiquette!

Staff will co-ordinate and teach you the manners and etiquette associated with shrines. It's a great chance for newcomers to Japanese shrines and maybe even an opportunity for those in-the-know to learn about them again.

EXPERIENCE: Amezaiku Tsuruhuji

Last year's amezaiku workshop was hugely well-received, so we're bringing it back this year! You will learn how to sculpt rabbits, bears and other animals from candy, so be sure to try challenging yourself♪

EXPERIENCE: Kimusubi Mizuhiki Workshop

Mizuhiki are special cords that tie envelopes used for monetary gifts. Did you know that there are a lot of kawaii ones around recently? Mizuhiki artist Kaori Hunaki will hold a workshop at the booth where you can learn how to make your own kawaii mizuhiki!

 

Register for Free Entry into MMN Festival!

Those that register for the event in advance will receive an original bag as thanks. There are 1,500 bags available on a first-come, first-served basis. You will find in them one of either popular products from KitKat Chocolatory: the "KitKat Chocolatory Moleson" (¥500) or the "KitKat Chocolatory Moleson Matcha" (¥500). Bear in mind that stocks are limited, so don't forget to sign up early!

How to Register

To access MMN Festival, you must register in advance. (Admission is free of charge. Select festival contents however will charge a fee.)

To register, place visit the Peatix website below and follow the instructions. Upon completing your registration, you will receive a QR Code from Peatix that you must take with you on the day of the event.

Click here to register.

Please display your QR Code at each location on the day of the event.

*Upon registering, you will be signed up as a MOSHI MOSHI NIPPON Member where you will receive newsletters and other information. You will also be signed up to Omotenashi Platform.

MMN Festival 2018: Music Artist Line-Up – Up and Coming Artists From Japan!

It's finally March, which means "MOSHI MOSHI NIPPON FESTIVAL 2018 in SHIBUYA" (MMN Festival) is almost here.

This year's MMN Festival will move away from the Tokyo Metropolitan Gymnasium and take place around the Shibuya and Harajuku area! We will deliver Japanese culture to the world to the fullest in the form of music, fashion, food, tourist experiences and more from Shibuya.

This year's MMN Festival is free for all to enter! But don't forget: you must register in advance to attend.

Sign up here:https://mmnf2018.peatix.com/

This year's main locations are Laforet Museum Harajuku, Tower Records Shibuya, SHIBUYA CAST., and Onden Shrine. All locations are free to enter upon registering in advance.

In this article, we'll take a detailed look at who you can expect to see performing on stage at Tower Records Shibuya.

At our location of Tower Records Shibuya, we will hold a music event to shine the spotlight on young and budding artists in Japan's music scene.

Artists and music media companies that have hooked up with many promising artists and new talent will become official curators of a special stage event to host an exclusive showcase of must-see up-and-coming artists. Also, up on the rooftop, MOSHI MOSHI NIPPON (MMN) will oversee an idol stage event with a line-up consisting entirely of idol groups that MMN want to recommend to international audiences. It will be jam-packed full of Japanese 'kawaii.'

・B1F CUTUP STUDIO

Down on B1F in the CUTUP STUDIO, influential artists in the music scene, as well as music media who have teamed up with new talent, will showcase a list of carefully selected artists. MMN, who deliver Japanese pop culture to the world, will join hands in overseeing this stage event with each curator.

Curator 1: Spincoaster Stage

"Spincoaster" will bring three artists to perform recommended by the company themselves – The Wisely Brothers, Mizuki Ohira and SIRUP.

Spincoaster

"Encountering music that will shake your heart" is at the core of Spincoaster, a music media company that carefully picks and showcases up-and-coming artists from around the world. In addition to managing their music news media company, they also manage a music bar and have selected songs for SONY, Reebok and Suntory.

Website: https://spincoaster.com

The Wisely Brothers

Despite being girls, this three-piece band have a unique band name with "brothers" in it. Last year, they performed at numerous events including the Ringo Music Festival. They have also traveled all the way to South Korea for a show and have even held a solo concert at Shibuya WWW. They're a band receiving rapidly growing attention. Their style screams freedom and you can feel that they are enjoying music written from the heart, with lyrics uniquely depicting themes such as girls' buoyant romance, listlessly passing one another without meeting, and ambivalent emotions. You'll become addicted to their music as you listen to it. The songs are rooted in indie pop but somewhere in the sound there's a feeling that you can't let go which leaves you feeling comfortable somewhere inside.

The Wisely Brothers / Maple Canada

Mizuki Ohira

An artist who brings to life sophisticated music, from a luxury urban and mellow sound to sentimental folk. Her song Real Love was picked up in the Spotify playlist "Woman's Voice" and was listened to over 100,000 times in January and February. Her number of overseas fans is also on the rise. She also works as a model. Her music video Everything gives me chance what I love it, in which actress Culumi Nakada also appears, has received praise for its level of quality in looking just like a short film.

Everything gives me chance what I love it / Mizuki Ohira

SIRUP

He flew into the scene like a comet last year with his digital single Synapse. The name "SIRUP" is a combination of "Sing & Rap." His characteristically deep vocals were influenced by African-American music from soul to R&B. His combination of soul, hip-hop and R&B has particularly been a hit with young music lovers. He is popular for his sophisticated sound that fuse singing and rapping in Japanese and English.

SIRUP – Synapse

Curator 2: WREP BATTLEFIELD presents Batotsuku

Witness an MC battle right before your eyes hosted by Zeebra, a hip-hop artist representing the city of Tokyo, who is bringing the heated MC battle segment from the hip-hop radio channel "WREP" produced by Zeebra himself.

4 people will be chosen on the day of the event to become team captains and create their own team from 12 appointment battle MCs for a 3-on-3 MC battle.

Zeebra

A hip-hop MC and member of legendary hip-hop group KGDR. He is also active as a DJ under the name DJ DIRTYKRATES. In 2016, he was appointed the first Shibuya Tourism Night Ambassador. He is not only leads Shibuya's night scene, but also maintains a responsibility for the places where people can enjoy nightlife as well as cleaning up rubbish after events.

He also held the Night Mayor Summit discussions took place regarding ways to develop night culture. He is recognised worldwide for being out of the box when it comes to hip-hop.

Curator 3: Live Natalie meets MOSHI MOSHI NIPPON

Natalie Music have selected a line-up of artists that best represents the "MOSHI MOSHI NIPPON Project" of delivering Japanese pop culture to the world. The line-up includes Atarashii Gakkou no Leaders, MISMOPE, Luby Sparks, SHE IS SUMMER, and more.

Natalie Music

Natalie Music is a news website that covers the latest topics regarding music from both major and indie artists in Japan. They hold many interviews and write reports on events. The website receives much support for the level of detail that goes into in their articles which are written from the point of view of fans. They have over 120,000 followers on Twitter (as of March 2018) and are read by music fans and beyond.

Atarashii Gakkou no Leaders

A four-member dance performance unit who stick out from the crowd and demonstrate originality to strengthen today's boring society and make living fun. They became popular after a collaboration with a commercial for Lotte "Fit's" which was remixed by tofubeats. They have also performed at Nico Nico Chokaigi 2016 and ULTRA TEEN FES, and middle schoolers have even covered their dances on the video streaming site "MixChannel." The photos they post on their social media are also a must-see, filled with girl-like freedom and plenty of humour.

Atarashii Gakkou no Leaders / Music Video Clip

MISMOPE

A two-piece band who deliver happy pop tunes that will brighten the day of those who hear them. Even in their songs with sad lyrics you can hear a positivity in there somewhere when the girls sing. Their music is affixed with energy. The vocals are characteristic in the way that they are both innocent and piercing. This is their weapon of choice during live performances in the city. MISMOPE are popular with girls of the same generation, with much interest having been gained in their music videos and outfits. They are also recognised as fashion icons!

MISMOPE / "Ano ne, Ano sa"

Luby Sparks

A five-member band made up of university students with an average age of 21. They have created a buzz amongst indie music fans for co-performing with overseas bands and performing at a UK festival. Their list of collaborations with overseas artists is long – they have performed together with artists coming to Japan including The Bilinda Butchers and Manic Sheep, as well as creating a split cassette with YUCK. In 2017, they appeared as the first and only Japanese band to perform at UK music festival "Indietracks Festival." The band have a growing fan base around the world for their emotional sound.

Luby Sparks "Thursday"

SHE IS SUMMER

SHE IS SUMMER is noted for her discotheque and groovy sound. The gap between the cute voice of MICO and her lyrics that pierce deep into the heart of girls is out of this world. In 2017, she released her second EP Swimming in the Love E.P. which was chosen as a "Tower Records Recommendation" in June. With the release peaking at number one on the iTunes Electro Charts and 6th on Oricon's Indie Weekly Charts, she's an artist gaining rapid popularity right now. Her dramatic music videos are also a sight to behold as they make you feel the story.

SHE IS SUMMER / "Are Kara no Hanashi Dakedo"

Curator 4: MOSHI MOSHI NIPPON

"MOSHI MOSHI NIPPON" have a list of Japanese idols to recommend to the world. Idol groups set to perform at MMN Festival include Lovely Doll, Yamakatsu, Sakadori Hasshinkyoku, sora tob sakana, APPARE! Harajuku, Jewel☆Neige, NEO JAPONISM, CY8ER, and more.

Lovely Doll

A group with a cuteness you will want to keep close to you. Their incredibly impressive live performances flood the stage with entertainment. In 2017 they released Yoake Mae, Niji ga Sasu and Hikari no Symphony which ranked 7th and 8th place in Oricon's Weekly Charts. The group have also performed at South-East Asia's biggest Japanese culture event "JAPAN EXPO THAILAND 2017." Their overseas activity is spreading far and wide.

Lovely Doll / "Yoakemae Nijigasasu"

Yamakatsu

An idol group who formed in 2011 as part of Entertainment Yamaguchikasseikai, a project that was initiated to revitalize Yamaguchi Prefecture by discovering new idols. As well as working as "Furusato Ambassadors" and "Sekai Jamboree Official Supports" to promote the charm of Yamaguchi Prefecture to the rest of Japan, the group also appear as regular members of information programs on TV. They are set to perform at "Idol Koushien SPRING FESTIVAL 2018."

Idol koushien day02 Yamakatsu

Sakadori Hasshinkyoku

A group centred around the concept of jumping on current trends before anyone else and spreading the excitement of inexperience. They are completely backed by car website MOBY. They have held a solo concert at TSUTAYA O-EAST in Shibuya and will perform at Idol Koushien and IDOL CONTENT EXPO.

Sakadori Hasshinkyoku / "Karimen Distiny"

sora tob sakana

A four-member girl group with an average age of 15. Known by the nickname "Osakana," they dream to one day perform live on the moon. They will make their major debut in May this year and hold a solo show at Tokyo International Forum. Their overseas activity is on the spread – last year, they appeared at "Taiwan Comic Exhibition," their first Taiwanese event. Be sure to check out the interview we did with them(https://www.moshimoshi-nippon.jp/61765)

sora tob sakana / ribbon

Immerse yourself in the latest music from Japan at Tower Records Shibuya from bands and hip-hop to idols!

Register for Free Entry into MMN Festival!

Those that register for the event in advance will receive an original bag as thanks. There are 1,500 bags available on a first-come, first-served basis. You will find in them one of either popular products from KitKat Chocolatory: the "KitKat Chocolatory Moleson" (¥500) or the "KitKat Chocolatory Moleson Matcha" (¥500). Bear in mind that stocks are limited, so don't forget to sign up early!

How to Register

To access MMN Festival, you must register in advance. (Admission is free of charge. Select festival contents however will charge a fee.)

To register, place visit the Peatix website below and follow the instructions. Upon completing your registration, you will receive a QR Code from Peatix that you must take with you on the day of the event.

Click here to register.

Please display your QR Code at each location on the day of the event.

*Upon registering, you will be signed up as a MOSHI MOSHI NIPPON Member where you will receive newsletters and other information. You will also be signed up to Omotenashi Platform.