WORLD ORDER Scheduled to Join "MOSHI MOSHI NIPPON FESTIVAL 2015"‼︎
Japanese techno-pop dance unit WORLD ORDER will join MOSHI MOSHI NIPPON FESTIVAL 2015 in SINGAPORE (Sep, 5 and 6) and MOSHI MOSHI NIPPON FESTIVAL 2015 in PARIS(Oct, 3 and 4).
WORLD ORDER is a seven-piece Tokyo-based dance performance group formed in 2009. They are known for their looks that resemble hardworking Japanese businessmen – or "salarymen" – and highly detailed choreography that goes perfectly well with their synth-driven dance tunes. It didn't take long for the world to take notice of the band's talent – with many eager fans in Asia, North America and Europe, WORLD ORDER finally announced these long-awaited concerts in Singapore and France!
"We are very excited to perform to our international fans!" says a member of WORLD ORDER, who have been receiving a lot of messages from excited fans in other countries. On top of their regular performance, the group will prepare a special performance that consists of six members for those two locations.
By touring around the world, the MOSHI MOSHI NIPPON Festival team aims to promote the latest in Japanese pop culture. The team will be on the road throughout the year and will regularly announce more J–pop related events. Be sure to keep your eyes peeled for more exciting news!
—————————————————————————————————–
MOSHI MOSHI NIPPON FESTIVAL 2015 in SINGAPORE
Date: Sept. 5 (Sat.) and 6 (Sun.), 2015
Location: Singapore
Venue:*SCAPE The Ground Theatre / *SCAPE Playspace
Ticket information:
Early Bird (Aug 6 to Aug 12): S$78/day
Normal (Aug 13 onwards): S$88/day
Admission to Exhibition Grounds and Day Stage Activities are free.
Artists:
Sept. 5: CAPSULE / Yasutaka Nakata (CAPSULE) / WORLD ORDER / TEMPURA KIDZ
Sept. 6: Nagi Yanagi / kz(livetune)feat. ANNA YANO / Hachioji P / TEMPURA KIDZ and more…
—————————————————————————————————–
「MOSHI MOSHI NIPPON FESTIVAL 2015 in PARIS」
Date: Oct. 3 (Sat.) and 4 (Sun.) 2015
Location: Paris, France
Venue: Le TRIANON
Oct. 3: CAPSULE / Yasutaka Nakata (CAPSULE) / BOOM BOOM SATELLITES
Oct. 4: WORLD ORDER / Charisma.com / TEMPURA KIDZ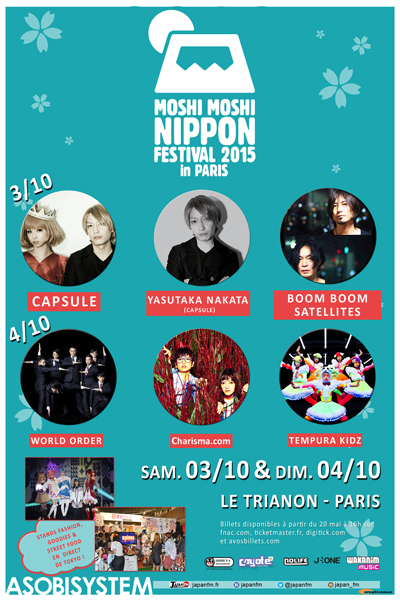 —————————————————————————————————–
ABOUT MOSHI MOSHI FESTIVAL 
RELATED ENTRIES
Takuma Usa to Appear on Stage in BREAK FREE STARS Dance Performance

Actor Takuma Usa will appear in the dance stage show BREAK FREE STARS at IHI Stage Around Tokyo starting October 23.

The show is an original work based on the non-verbal dance work BREAK FREE by Go Ueki, the first Japanese creator to win the Asian Arts Award for Best Performance at Edinburgh Festival Fringe, the world's largest theater festival, in 2018. Shinjirou Kameda and Takahito Onishi wrote the adaptation for the stage.

The high-energy dance show takes place in a city where hip-hop is banned and focuses on the conflict between hip-hop stars and prison guards. It promises to make full use of video and lighting to bring the story to life.

<Summary>

New City is a metropolis full of people from all walks of life. In this incredible place, you can have it all. There's one thing you can't have, however–freedom. Young people gather at the club 'BREAK FREE,' a sacred space for hip-hop lovers, to search for peace of mind and a bit of freedom that no one can take away.

However…

The government announces the Hip-Hop Prohibition, taking away these young people's freedom. BREAK FREE's hip-hop stars are thrown into jail and dubbed dangerous criminals.

Hip-hop is not a crime. In order to take back their freedom and protect their music, the jailed stars must fight back against an overwhelmingly powerful force.

Information

BREAK FREE STARS
Running: October 23, 2023 – November 5, 2023
Venue: IHI Stage Around Tokyo

Director: Go Ueki
Screenwriters: Shinjirou Kameda / Takahito Onishi
Music: Tanaka Mush

Starring:
Keito Kimura (FANTASTICS)
Dai Goto / Shunichi Takahashi / Shota Matsuda / Yu Yoshioka / Takuma Usa / Toyotaka / HILOMU / RYO / Yukia Takano
SHINSUKE / Dolton / KIMUTAKU / KENTA / GeN / Ryota Kamiya / Tatsuki Kawashima / Alan Abe

<Tickets>
Admission: ¥12,500 (All seats reserved / Tax Included)
General Ticket Sales start September 30, 2023 at 10:00

<Contact>
Mitt 03-6265-3201 (Weekdays 12:00~17:00)

Official Site: https://www.nelke.co.jp/stage/breakfreestars/

(C)『BREAK FREE STARS』製作委員会

Kyary Pamyu Pamyu Concludes 7-stop World Tour Including Performance at Primavera Sound, One of Europe's Largest Music Festivals

Harajuku-based artist Kyary Pamyu Pamyu charmed overseas fans during her first world tour in five years. Kyary Pamyu Pamyu WORLD TOUR 2023 -POPPP- took the artist to seven cities in four countries around the world.

In May, Kyary began the U.S. leg of her tour, stopping in New York, Los Angeles, and Chicago with French DJ/trackmaker Moe Shop as her opening act.

The artist performed in Paris and London in June, along with Barcelona and Madrid for Primavera Sound 2023, one of the biggest music festivals in Europe.

NATHAN GEY – NATHAN GEY

NATHAN GEY – NATHAN GEY

The Cabaret Sauvage in Paris and the London Earth Hall in London were filled to the brim with local fans, eager to see Kyary Pamyu Pamyu live for the first time in years. The audience sang the popular track Cherry Bon Bon in unison, dancing along with the legendary choreography.

The London show featured Hannah Diamond as Kyary's opening act. Signed to the UK label PC Music, Diamond is a leader in the HyperPop scene.

KPOP CONCERT – FANNY LE MONNIER

JAME WORLD – VANESSA LE PENNEC

Kyary Pamyu Pamyu, who continues to be active around the world, wowed the packed London venue with her expert dance moves and musicianship.

At Primavera Sound, a festival taking place over two weeks in Barcelona and Madrid, Spain, a large crowd gathered in front of the stage, instantly captivated by Kyary Pamyu Pamyu's unique style and Yasutaka Nakata's addictive electro sound.

Clips of the world tour have been posted on Kyary Pamyu Pamyu's Twitter and Instagram. Also, check out the Primavera Sound playlist on Spotify.

On July 15, Kyary Pamyu Pamyu will perform a solo concert at the Hibiya Open Air Concert Hall, which will also mark her triumphant return to Japan following her successful world tour. The artist will also perform at several summer festivals. Audiences around the world are enthralled with the Kawaii performer, and it's only a matter of time before she performs for global audiences yet again.

Information

■World Tour
Kyary Pamyu Pamyu WORLD TOUR 2023 -POPPP-
May 15 – New York|Webster Hall
May 17 – Los Angeles|The Novo
May 19 – Chicago|Anime Central
June 2 – Barcelona|PRIMAVERA SOUND 2023 Parc del Forum
June 5 – Paris|Cabaret Sauvage
June 7 – London|London Earth Hall
June 9 – Madrid|PRIMAVERA SOUND 2023 Ciudad del Rock

Special Tour Site: https://wt2023.kyary.asobisystem.com/

【Spotify】 Kyary Pamyu Pamyu Primavera Sound 2023: https://open.spotify.com/playlist/7Gzl5MVmefJJKSIEEdi1SG

■Concert Information
Celebrating 100 Years: Kyary Pamyu Pamyu Special Live 2023 ~Midnight Sun~
Date: July 15, 2023
Venue: Hibiya Open Air Concert Hall
Time: Open at 16:30 / Show starts at 17:30
*No admission for preschool-aged children
General Ticket Sales: June 17, 10:00~
https://www.red-hot.ne.jp/play/detail.php?pid=py23966
Sponsor: Hibiya Open Air Concert Hall 100th Anniversary Executive Committee
Planning/Production: ASOBISYSTEM Co., Ltd.

Contact:
HOT STUFF PROMOTION
050-5211-6077
https://www.red-hot.ne.jp/

[Kyary Pamyu Pamyu Profile]
Kyary Pamyu Pamyu
Birthday: January 29, 1993
Birthplace: Tokyo
Artist
Kyary Pamyu Pamyu made her major debut with her mini-album 'Moshi Moshi Harajuku' in 2011, produced by Yasutaka Nakata. Since 2013, she's successfully completed four world tours, and in 2020, she was selected by Lady Gaga as one of the most powerful women from around the world for the "Women of Choice" playlist, made in celebration of International Women's Day. Her boundless creativity, not bound by global norms, and her powerful self-expression have made Kyary incredibly popular both in Japan and abroad. In April 2022, she performed on the GOBI stage at Coachella, one of the biggest music festivals in the world. The concert was streamed live on YouTube, and the world went wild over her fiery performance. In November 2022, Kyary also performed with Katy Perry at the TRUE COLORS FESTIVAL, an event supporting diversity in the arts. In 2023, the artist held a seven-city world tour in Europe and the United States.
Kyary Pamyu Pamyu is a Harajuku and Japanese pop icon who continues to push the boundaries of self-expression.

◆Kyary Pamyu Pamyu Official Site: http://kyary.asobisystem.com
◆Kyary Pamyu Pamyu 10th Anniversary Site: http://kpp10.jp
◆Kyary Pamyu Pamyu Official Twitter: https://twitter.com/pamyurin
◆Kyary Pamyu Pamyu Staff Twitter: https://twitter.com/kyarystaff
◆Kyary Pamyu Pamyu Instagram: https://www.instagram.com/kyarypappa/
◆Kyary Pamyu Pamyu Staff Instagram: https://instagram.com/kyarystaff/
◆Kyary Pamyu Pamyu Official Fanclub (KPP CLUB): https://kyary.net/

Check out the latest news here: https://lit.link/kpp

TeamLab Unveils Three New Works at Singapore's Permanent 'Future World' Exhibition

Art collective TeamLab has redesigned two exhibitions at Marina Bay Sands Singapore. The world's first permanent exhibition from the creators, Future World: Where Art Meets Science, was opened in 2016 at the Museum of Art and Science. Guests can now enjoy three new works along with the Digital Light Canvas, a huge, interactive space inviting guests to share their own pieces of art.

Drawing Flight

Visitors can immerse themselves in these impressive new works while experiencing a complex, three-dimensional world. They can also create new worlds with others!


Future World


The Drawing Flight, part of the Amusement Park of the Future series, is based on the concept of co-creation, allowing visitors to not only draw an airplane that will fly but also allowing them to operate it from a pilot's point of view using a tablet. Whether visitors draw a butterfly or a hawk, they'll see the world from the perspective of each creature and enter a world constructed by the creature's unique perceptions.

Aerial Climbing through a Flock of Colored Birds

In Aerial Climbing through a Flock of Colored Birds, guests are asked to perceive the world with their entire bodies. Visitors cross a space with sticks floating three-dimensionally in the air.

Autonomous Abstraction, Continuous Phenomena from the Universe to the Self

Autonomous Abstraction, Continuous Phenomena from the Universe to the Self offers a new and abstract concept. As people touch the dots, the rhythm of the dots flickers and their hue changes and disintegrates. The picture will then change dramatically, and despite these changes, the beauty remains.

Digital Light Canvas

Graffiti Nature – Red List Digital Light Canvas

 

Digital Light Canvas is a space consisting of a 15-meter-diameter circular link of light and a 20-meter-high cylinder of light made up of a collection of light dots.  Team Lab's interactive artwork, which changes depending on how many people are around, is on permanent display.

Drawing Factory

By visiting the Digital Light Canvas area, guests can also enjoy the Drawing Factory, where they can turn their own drawings into pins, T-shirts, and other items!

Come fully experience this curious art exhibition!

© チームラボ

Information

Future World: Where Art Meets Science

Japan's Futuristic Fireworks Show STAR ISLAND Coming to Singapore for the First Time in Three Years

One of Japan's best fireworks extravaganzas is headed to Singapore! Star Island Singapore Countdown Edition 2022-2023 will ring in the new year on December 31, 2022 at The Float on Marina Bay. 

STAR ISLAND is a futuristic fireworks show that blends traditional fireworks with cutting-edge technology such as 3D sound, laser lighting, and unique performances in a spectacular location. The first overseas presentation was launched in Singapore in 2018, and the second in 2019 drew 20,000 people. The show was also brought to Saudi Arabia in September 2019. 

This year's event, the third to be held in Singapore, is expected to draw 22,000 visitors. Sponsored by JCB, the only international credit card brand from Japan, and Sanrio, a prequel show will run from December 25 until December 30 at the Marina Bay Sands event plaza near the venue. This is totally free to attend, so why not come check it out?

Information

STAR ISLAND SINGAPORE COUNTDOWN EDITION 2022-2023 Presented by JCB

Date: December 31, 2022
Venue: The Float at Marina Bay (Singapore)

Official Site:
http://www.star-island.jp(Japan)
http://www.starisland.sg/ (Singapore)

*The contents of the production are subject to change.
Please check the official website for details.

*Ticket sales will begin on October 20, 2022.
For details, please see the official website.

Kyary Pamyu Pamyu, Atarashii Gakko! Participate in Adobe DANCE VIDEO FES

Calling all dancers! Starting August 5, Adobe began the Adobe DANCE VIDEO FES, which is accepting dance video submissions until August 31, 2022. Those wanting to participate will be dancing to one of four songs by a few very unique artists: Dodonpa by Kyary Pamyu Pamyu, Emome no Natsu by Lucky Kilimanjaro, STARLIGHT by iri, and WOO! GO! by Atarashii Gakko! The campaign challenges contestants to create a dance video in which they show off their original dance moves to the song of their choice. These videos can be easily edited using Adobe Premiere Rush, a piece of software that can also be installed on smartphones.

If you're not incredibly confident in your dance moves, don't worry. Rather than contestants being judged on their technical or editing skills, dancers will be evaluated on the amount of fun they have! The event is meant to emulate the excitement of a summer festival, so both beginners and pros are invited to participate. Just record your dance and upload it to YouTube, Instagram, Twitter, or TikTok with the designated hashtag.

If the video you upload is selected by one of the participating artists, it will be featured in the official campaign dance video. Creators will also have the opportunity to appear in the artists' live performances and dance videos in the future.

In addition, a total of 22 entrants will be selected by drawing to receive Sennheiser wireless headphones, a 12-month Adobe Creative Cloud Complete Plan, a pair of tickets to the D.LEAGUE 22-23 season opener, or an Amazon gift certificate worth ¥30,000.

Comments from Participating Artists

Kyary Pamyu Pamyu: "Dodonpa is a song that's perfect for all kinds of dances, so I hope that you'll dance in your own special way! I'm hoping I can find an amazing dancer to perform with me at my Budokan show on October 19, so I'm looking forward to hearing from you!"

Lucky Kilimanjaro: "Our band's concept is to surprise the world every day, so we were so honored that our song was chosen!
We hope you'll express yourself and show us your unique dances!"

iri: "My new song STARLIGHT is a difficult song to choreograph, so I'm really looking forward to seeing the dances you come with!"

Atarashii Gakko!: "We're happy to announce that our song WOO! GO! has been chosen as a track for Adobe DANCE VIDEO FES! I hope you can add some really cool edits to your videos so that they reach the largest amount of people! Whoever submits the most impressive video will get to appear in an official dance video. We're waiting to see your dances!"


Enter this contest with the same energy as if you were participating in a summer festival!

The Japanese hip-hop girls group XG is continuing to trend worldwide with the release of their second single MASCARA on June 29, 2022. The song reached #1 on the iTunes Song Chart (Alternative) in 17 countries.

For those obsessed with the choreography, the group has released two MASCARA dance practice videos on YouTube! Fans can enjoy a fixed camera version and a moving camera version, the latter of which highlights each member individually. The group's sophisticated and extremely synchronized dance moves never cease to amaze. It almost seems like their hair is dancing along too!

MASCARA – XG (Dance Practice Fix ver.) 

MASCARA – XG (Dance Practice Moving ver. )

We can't wait to see what XG does in the future!

7th Dance Music Festival ULTRA JAPAN 2022 to be Held in Odaiba

ULTRA JAPAN 2022 will be held at TOKYO ODAIBA ULTRA PARK II in Tokyo on September 17 and 18, 2022!

ULTRA JAPAN is the Japanese version of ULTRA MUSIC FESTIVAL (UMF), one of the world's largest urban dance music festivals held yearly in Miami since 1999. This year marks the 7th event in Japan, and the festival has been held in over 21 countries around the world. In 2016 and 2017, it was named the #1 festival in the world in a fan poll by DJ MAG. 

ULTRA JAPAN has become a staple of the dance music community in Japan, attracting over 530,000 people since it was first held in 2014. The festival has been number one in terms of attendance among all dance music festivals held in Japan, bringing together some of the world's best DJs and delighting fans with intense special effects. The festival is only 15 minutes from Shibuya!

Stay tuned for more information about the artist lineup for ULTRA JAPAN!

Information

ULTRA JAPAN 2022

Dates: September 17, 18

Venue opens at 10:00 / Show begins at 11:00 *Weather permitting.

Venue: TOKYO ODAIBA ULTRA PARK II (Odaiba ULTRA JAPAN Special Venue / Aomi, Koto-ku)

Tickets: ultraJapan.com/tickets
Official Site: https://ultrajapan.com 


DANDELION PROJECT Exhibition at Famed La Samaritaine Department Store in Paris

Naked's interactive art installation, the DANDELION PROJECT, is coming to Paris. From November 6 until November 20, the exhibition will be on display at La Samaritaine, one of the most historic department stores in the city. 

After a brief closure for renovations, La Samaritaine reopened on June 23, 2021, and features a breathtaking Art Nouveau style. All decorations and facades have been carefully restored to their original state, making guests feel as though they have walked back in time. This Paris location now joins other DANDELION PROJECT installations in Tokyo, Kyoto, Saga, Kochi, Singapore, Seoul, and other places worldwide. Those participating in the installations are able to send their wishes for world peace on digital dandelion fluff to other locations where DANDELIONs are planted around the world, and these messages are delivered in real-time. 

Active DANDELION PROJECT Locations (During Paris Exhibition)

Tokyo Tower Main Deck: Semi-permanent

Kitano-temmangu Shrine (National Treasure/Important Cultural Property): November 13-14

Kiyomizu-dera (World Heritage Site/National Treasure/Important Cultural Property): November 17 (Closed to the Public)

Hongdae, Seoul, South Korea: Semi-permanent

Saga Prefectural Observation Hall/Saga Castle Park 'Night Art Walk NAKED GARDEN SAGA' Exhibition: October 1, 2021 – February 28, 2022

Kochi Castle 'NAKED FLOWERS Kochi Castle' Exhibition: November 19, 2021 – January 10, 2022

Information

DANDELION PROJECT PARIS

Location: La Samaritaine 5F, Voyage Samaritaine

Running: November 6 – November 20, 2021

Hours: 10:00-20:00

Admission: Free

Official Site: https://naked.co.jp

Kyoto's Popular Ramen Restaurant MENBAKA Kyoto Fire Ramen to Open New Branch in Singapore

MENBAKA Kyoto Fire Ramen, a ramen restaurant in Kyoto that's particularly popular with foreigners in Japan, is expanding overseas by opening a new branch on the 5th floor of Singapore Orchard in Singapore on November 24, 2020.

MENBAKA Kyoto Fire Ramen


Menbaka first opened in 1984 and has gone on to become a popular ramen bar, focusing on the use of green onion in its dishes for its flavour and fragrance enhancement. In recent years, the Kyoto branch has seen a significant increase in the number of foreign visitors to Japan dining at the restaurant, and in 2017 it ranked number six in the country on Tripadvisor as the most popular restaurant in Japan with foreigners. It has gone on to be reported on in news and media outlets, including the video created by the Japan National Tourism Organization as part of its global campaign.

MENBAKA Kyoto Fire Ramen Singapore

The Singapore branch will open as a franchise of SOUTH EAST ASIA FOOD ENTERTAINMENT PTE. LTD. with carefully-selected suppliers and ingredients to ensure the taste is as close to the Japanese as possible. The restaurant will serve not only ramen but food entertainment as well.

Singapore Orchard, where the restaurant is opening, is a shopping mall and major tourist destination of Singapore. Like other countries around the world, Singapore is having to restrict the number of foreigners entering the country as a result of the COVID-19 pandemic which has also led to restaurants limiting the number of available tables, social distancing measures being put in place, and so on. The restaurant's opening date was originally scheduled for April 2020 but was postponed due to the pandemic so its grand opening is now scheduled for November 24.

If you're in Singapore and want to try some authentic Japanese ramen at the same time, be sure to visit MENBAKA Kyoto Fire Ramen.

Information

MENBAKA Kyoto Fire Ramen
Address: Cineleisure Orchard 5F, 8 Grange Rd, Singapore 239695
TEL: +65-6970-8408
Opening Hours: 12:00-21:00
No Fixed Holidays

Jurassic World Café by PARCO Opens in Singapore

PARCO Pte Ltd, the Singaporean division of Japanese department store chain PARCO, opened the new Jurassic World Café at ION Sky on the 56th floor of the ION Orchard shopping centre in Singapore on November 6, 2020. The café comes as the first Jurassic World Café to open in South East Asia and serves an original line-up of food and drink, an exhibit of everybody's favourite Velociraptor Blue from Jurassic World, a selection of exclusive merchandise, and more.

Jurassic World Café Singapore


The Jurassic World film series is hugely popular in Singapore, and so it's only fitting that the country gets its own themed cafe. The menu is diverse, consisting of a special selection created by PARCO's own The Guest Cafe & Diner as well as local food like Nasi Lemak, unique picks like the Brachiosaurus Mint Pandan beverage, and much more. There will even be a merchandise shop for fans to pick up a souvenir on their way home.

PARCO Singapore has collaborated with The Guest Cafe & Diner, a cafe which collaborates with franchises and of which there are five branches in Japan, on five separate occasions up and down South East Asia, including the Minions Cafe which opened for a limited time in Singapore in 2017. PARCO Singapore is continuing to expand its reach outside of Singapore with other collaborative cafes and exhibitions.

 

The Menu


Danger lurks at every corner in Jurassic World, and that fact is captured in the menu line-up.

Cafe Bonus Items


There will also be special gifts given to customers.

To see the full line-up, be sure to check out the official website below and pay a visit to Jurassic World Café Singapore.

Information

Jurassic World Café Singapore – A concept by PARCO
Location: ION Sky, ION Orchard Floor 56F, MRT Orchard, 2 Orchard Turn, Singapore 238801
Running: November 6, 2020 – January 3, 2021 (Closed November 13)
Opening Hours: 11:00-22:00
Official Website: www.jurassicworldcafe.sg

1→10, Inc. Brings Magical Shores Interactive Land Art to Siloso Beach in Singapore

Japanese creative studio 1→10, Inc. opened up Singapore's first ever permanent interactive land art exhibition "Magical Shores" on January 23 this year together with Lighting Planners Associates (LPA), a lighting company based in both Tokyo and Singapore.

Magical Shores spans 400 meters of Sentosa's Siloso Beach, turning it into an immersive, multi-sensory experience of AI-operated lights and sounds which elevate the beauty of the surrounding natural environment.

Guide To Magical Shores | Siloso Beach, Sentosa:

AI technology responds to visitors on the beach, giving them a breathtaking and unique performance. Sensors are dotted around the area which use sensing data to react based on people's movement around the beach. The AI is constantly developing as it collects big data about the temperature and climate of Siloso Beach as well as that of people's movements.


In two of the interactive areas, people can witness the "Circle of Life" beginning with the big bang. After that there is magma, followed by heavy rainfall and eventually flowing water which gives birth to life. Cells divide as plants begin to sprout, fish swim in the sea, and birds and insects sing in the mountains. At the end, life falls, and the process begins again.


Japanese musician Masakatsu Takagi was put in charge of the music and sound design of the exhibition. Takagi is known for having written the music for Wolf Children and The Boy and the Beast. He took inspiration from his music project "Marginalia," a sound diary where he would record the sounds of birds, insects, the wind, rain, and so on from his studio window. Takagi did field recording on the beach to capture the sounds of nature to use for the art exhibition.

Kuniyuki Takahashi also offered his musicianship to the exhibition. Based in Sapporo, he is an internationally-recognised composer. He also recorded the sounds of Siloso Beach, and together with Takagi, created the perfect soundtrack for Magical Shores.

Magical Shores is currently temporarily closed as a result of the coronavirus but will resume once more as soon as the situation allows it.

DIOR FROM PARIS TO JAPAN Exhibition Shows Off Dress Line-Up Inspired by Japanese Culture

The DIOR FROM PARIS TO JAPAN exhibition at HANKYU Umeda Store in Osaka began on March 1 where it is set to run until March 22.

The collection features a complete line-up inspired by Japan's rich culture, from dresses serving haute couture to exquisite Lady Dior bags re-interpreted by various artists. This exhibition is a coming-together of DIOR and Japan and expresses savoir faire the way a maison should.

The exhibition is also home to a gift shop selling a range of different items. It also has an audio guide presented by Japanese actress and fashion model Yuko Araki and actor and model Ryusei Yokohama, both of whom were selected as Japan Fashion Ambassadors for this exhibition.

See the worlds of DIOR and Japan collide at DIOR FROM PARIS TO JAPAN.

Information

DIOR FROM PARIS TO JAPAN
Running: March 1, 2020 – March 22, 2020
Location: HANKYU Umeda Gallery (HANKYU Umeda Store Floor 9F)
Address: 8-7 Kakudacho, Kita, Osaka
Entry: Free

Official Website: http://bit.ly/DiorFromParisToJapan