Art Project ART BASE ZERO next Highlights Up-and-Coming Artist CHRIS
The Human Miracle Company launched ART BASE ZERO next in October 2021 to highlight up-and-coming artists. Inspired by 90s street culture in Tokyo, their new exhibition with CHRIS, whose works are made using a decollage technique, will open at Tokyo Hinode Pier from December 4 until December 26, 2021. 
Selected Items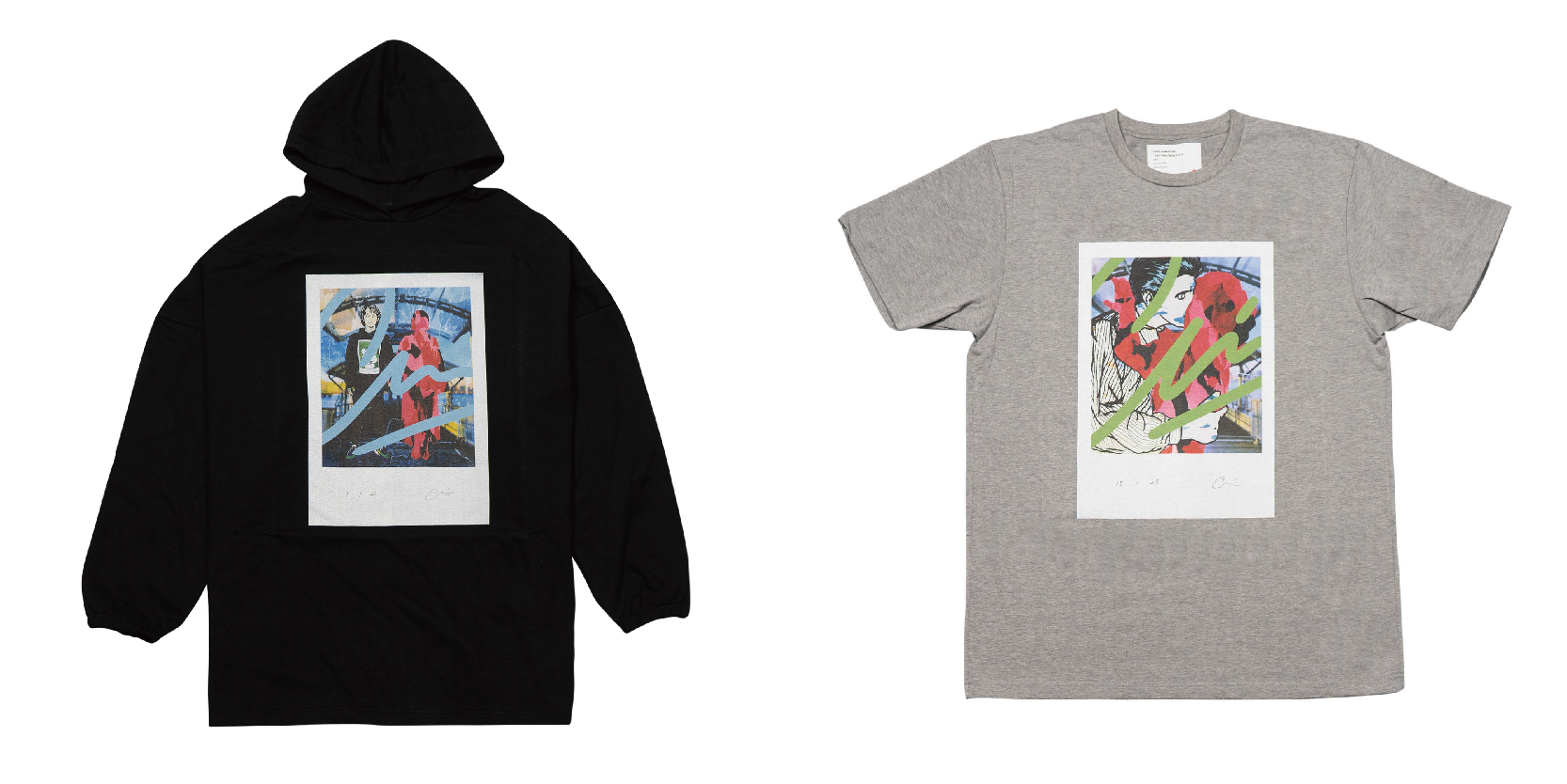 CHRIS is a contemporary artist inspired by Tokyo street culture of the 90s. He uses the decollage technique, which utilizes cutting, tearing and removing pieces of an original image. At first glance, his style seems to be normal paintings, when in fact he uses pasting and forming printed materials to express them in new three-dimensional ways. To get this effect, he shapes them over and over again over a long period of time. In addition to participating in domestic and international art fairs and holding solo exhibitions, CHRIS has collaborated with fashion brands such as Columbia, GOD SELECTION XXX, GUESS, atmos, and more. 
Information
CHRIS x Hi-NODE Exhibition "Love is a battlefield (It's hard to see Love)"
Running: December 4 – December 26, 2021
Hours: 9:00-21:00 
Address: Hi-NODE, Tokyo Hinode Pier (2-7-103 Kaigan, Minato-ku, Tokyo)
Official Instagram: @artbasezero_next
Online Shop: Open to the public starting at 9:00 AM on December 4
Online Shop/Official Site: https://www.thehumanmiracle.com
RELATED ENTRIES
BTS TinyTAN Pop-Up Shop Open in Nagoya for a Limited Time

BTS fans will want to head to Nagoya! The TinyTAN Licensed Product Special Exhibition is now open at Nagoya Kintetsu Pass'e until October 2, 2022. Tons of new products inspired by Butter are available at an on-site pop-up shop!

The exhibition opened on September 17, and fans of the BTS song Butter are flocking to the event to snag some adorable new merch. In addition to new interior goods being unveiled for the first time, popular products have been released with entirely new designs. 

Many other world premiere products will also be available, including the 4 Season Blanket decorated with TinyTAN characters and inspired by spring, summer, fall, and winter. This will be available in limited quantities, so don't miss out!

Information

TinyTAN​ Licensed Product Special Exhibition in Nagoya (DIRECTOR JAPAN)
Venue: Nagoya Kintetsu Pass'e 4F Special Event Space (1-2-2 Meieki, Nakamura-ku, Nagoya)
Running: September 17 – October 2, 2022
Hours: 10:00-20:00
Reservations: https://select-type.com/rsv/?id=zf4tWp-4ICA

Special 'Roots of Kawaii' Exhibition Marking Rune Naito's 90th Birthday to Open in October

A special exhibition commemorating the 90th birthday of Rune Naito will be held at the Hanshin department store in Osaka from October 19 until October 31. Titled 'Roots of Kawaii,' the event will look back at the life of the esteemed artist, illustrator, writer, and designer. Known for his illustrations of large-headed baby-faced girls, he first became interested in art after discovering the works of Jun'ichi Nakahara, joining Nakahara's company after graduating high school. In 1959, Naito got his big break, designing the cover of the girls' magazine Junior Soleil. Following this, Naito would become active as an illustrator for a number of magazines, and from the 1960s on, he began other activities, even producing a line of commercial goods from glassware to stickers. 

The exhibition's theme is 'Life's fantastic dreams,' and over 300 items will be on display, including rare original drawings, goods, personal sketches, and more. The event will be held in celebration of Rune Naito's birthday on November 20, and will also feature a special shop. Admission is ¥1,000 for adults, ¥700 for high school and college students, and free for junior high school students and younger. Discounts are available by preordering tickets. For details and tickets, check out the official website.

Information

Rune Naito's 90th Birthday Exhibition

Running: October 19 – October 31, 2022
Venue: Hanshin Department Store, Umeda Main Store 8F
(1-13-13 Umeda, Kita-ku, Osaka)

Details/Tickets: https://www.naitou-rune.jp

First Large-Scale Made in Abyss Exhibition to Open at Nagoya PARCO

Nagoya PARCO will hold a massive Made in Abyss exhibition from October 1 until October 16, 2022! The Tracks of the Challengers exhibition is being held to celebrate the new season of the anime series.

Exhibition Images

Photos from the Ikebukuro Venue

*Contents of the exhibition are subject to change. 

Exclusive Goods

Mini Bromide Collection

Acrylic Panel

Acrylic Stand Figure

Clear Folder

Mini Acrylic Character Stands

Tapestry

Art Board

Type 5 Energy Ration

Mug (with Coaster)

Explorer Utensil Set

Explorer Cooking Set

*All photos are sample images.

The exhibition features original drawings from the first and second seasons, as well as the film. Fans can see special video content only being screened during the event, and can enjoy artifacts from the story and photo spots perfect for grabbing shots for social media! In addition, those purchasing an audio guide ticket will be led through the exhibition by Nanachi herself! New items have been added for the Nagoya event, including a script for Made in Abyss: Dawn of the Deep Soul! Original goods will be on sale at the venue as well.

(c)つくしあきひと・竹書房/メイドインアビス「烈日の黄金郷」製作委員会

Information

Made in Abyss Exhibition ~Tracks of the Challengers~

Running: October 1 – October 16, 2022
Venue: PARCO GALLERY (Nagoya PARCO West Building 6F)

Dates for Advance Ticket Sales: October 1, 2, 8, 9, 10, 15, 16
Preorder Tickets Here:https://eplus.jp/miabyss/

Same-day tickets: Same-day tickets will be sold at the venue if space is available on the day of the event.

*Information on same-day tickets will be announced on the official Nagoya PARCO Twitter page.
Official Anime Site: http://miabyss.com/

Nodame Cantabile Exhibition to Open in Tokyo and Osaka in Fall 2022

With over 38 million copies sold, Tomoko Ninomiya's music manga Nodame Cantabile remains popular 20 years after its debut. To celebrate this milestone, a Nodame Cantabile exhibition will be held in Tokyo from October 8 until October 23 and in Osaka from November 23 to December 5, 2022.

(Bundle)

Mini Towel in a Turmeric Box

Fans of the series won't want to miss the special event visual of Nodame and Chiaki drawn by Tomoko Ninomiya herself for the occasion! A number of incredible items will be on display, including completed manuscripts and original sketches. Certain areas will allow visitors to enter the world of Nodame Cantabile themselves, and commemorative goods will be on sale at each venue. The latest information regarding tickets, exhibit details, and merch will be announced on the official website and Twitter, so keep your eyes peeled!


(C)二ノ宮知子/講談社

Information

Nodame Cantabile Exhibition


Tokyo Venue

Running: October 8 – October 23, 2022
Hours: 10:00-20:00
*Closing at 18:00 on October 19
*Closing at 15:00 on October 23
*Last Entry 30 minutes prior to closing.
Venue: Tokyo Solamachi 5F Space 634
Tickets: https://l-tike.com/event/mevent/?mid=656242

Osaka Venue

Running: November 23 – December 5, 2022
Hours: 10:00-20:00
*Opening at 13:00 on November 23
*Closing at 17:00 on December 5
*Last Entry 30 minutes prior to closing.
Venue: Abeno Harukas Kintetsu Main Store, Wing Building 9F Event Hall

Official Site: https://nodame-ten.com/

Hotel Gajoen Tokyo Displays India-Ink Painting from the Film 'Sen wa, Boku o Egaku'

From October 1 until November 27, Hotel Gajoen Tokyo will hold a special event in conjunction with the film Sen wa, Boku o Egaku. Visitors to the hotel's historic One Hundred Steps Staircase will be surrounded by a world of color and paintings made from India Ink.

Fisherman and Woodcutters Room with Colored Wood Carvings

Grapevine, Hiromasa Togami.

Atelier (Image courtesy of Toho)

The coming-of-age story Sen wa, Boku o Egaku won 3rd place in the 2020 Honya Taisho and the 2019 TBS King's Brunch Book Grand Prize. The book received rave reviews from booksellers nationwide and has now been adapted into a live-action film by Norihiro Koizumi, best known as the director of the Chihayafuru film adaptation. The film will be released on October 21, 2022. As a tie-up project with the film, the One Hundred Steps Staircase, a Tangible Cultural Property of Tokyo built in 1935, will be the setting for an incredible display of paintings that appear in the film.


Information

Sen wa, Boku o Egaku at the One Hundred Steps Staircase
~The World of India-Ink Filled with Color~

Running: October 1 – November 27 *Open daily during event period
Hours: 11:00-18:00 (Last entry at 17:30)
Venue: Hotel Gajoen Tokyo, One Hundred Steps Staircase (Tangible Cultural Property of Tokyo)
Tickets/Details:
https://www.hotelgajoen-tokyo.com/100event/senwabokuoegaku

Suntory Museum of Art to Display Art from Chishakuin Temple in Kyoto for the First Time

From November 30, 2022 until January 22, 2023, the Suntory Museum of Art in Tokyo will hold the 'Treasures from the Chishakuin Temple in Kyoto' exhibition.

National Treasure. Maple Tree. Hasegawa Tohaku. (Four of Six Sides) Momoyama Period / 16th Century.

Chishakuin Temple. [On display during the entire exhibition.]





Chishakuin Temple is located in Higashiyama, Kyoto, and is the headquarters of the Chisan School of the Shingon Sect of Buddhism. This originated with Kobo Daishi (774-835), and the sect now has 3,000 temples around Japan. Founded during the Muromachi period (1095-1143) the temple was originally built in Wakayama Prefecture in memory of Toyotomi Hideyoshi's son Sutemaru, but the builds were brought to Kyoto in 1598 on the orders of Tokugawa Ieyasu.

Kobo Daishi Scroll

Muromachi Period, First Year of Bun'an Era (1444)

[On Display from November 30 until December 26, 2022]

Kyoto Prefecture Designated Tangible Cultural Property –  Kogyo Daishi Scroll

Kamakura Period / 13th Century

[On Display from November 30 until December 26, 2022]

National Treasure. Cherry Blossoms. Hasegawa Tohaku. (Four of Five Sides) Momoyama Period / 16th Century.

[On display during the entire exhibition.]


The temple is best known today for its panel paintings and gardens, the latter of which was inspired by tea master Sen-no-Rikyu. Half of the original paintings remain, with some having been lost to fire and some simply being degraded over time. 

National Treasure. Diamond Sutra (Partial) – Zhang Jizhi

Southern Song Dynasty, First Year of Houyuu (1253)

[On display during the entire exhibition]

Important Cultural Property. Mahamayuri Scroll.

Kamakura Period / 14th Century

[On Display from December 28, 2022 until January 22, 2023]

Important Cultural Property. Green Maple and Waterfall. Song Dynasty / 13th Century

[On Display from November 30 until December 26, 2022]

Ladies at Tea. Insho Domoto. 4 sides. Showa 33 (1958)

[On display during the entire exhibition]

This exhibition will mark the first time that many of the paintings are shown simultaneously outside of the temple, including Cherry Blossoms, Maple Tree, and Pine Tree with Autumn Plants. Visitors can also enjoy National Treasures and items from the temple's treasure trove of Buddhist Art. Would you like to come and browse these incredible pieces?

Information

Treasures from the Chishakuin Temple in Kyoto

Running: November 30, 2022 – January 22, 2023
*To preserve the works, items will be switched out during the exhibition period.
*Dates are subject to change. Please check the museum's website for the latest information.

Venue: Suntory Museum of Art, Tokyo Midtown, Galleria 3F
(9-7-4 Akasaka, Minato-ku, Tokyo)
Official Site: suntory.jp/SMA/

teamLab to Hold Solo Exhibition at Seoul's Pace Gallery

Art collective teamLab will hold a solo exhibition at Pace Gallery in Seoul from September 2 until October 29, 2022. Titled 'teamLab: Massless Suns,' the exhibition will mark the opening of the expanded gallery space at the internationally-recognized art landmark. The collective will also be unveiling a new work, Massless Suns and Dark Spheres, in which countless light and dark objects without boundaries fill the space around guests.

Massless Suns and Dark Spheres

Dissipative Figures – Human

Dissipative Figures – 1000 Birds

 

As visitors stare into the strange balls of light and darkness, it will seem as though the space around them is warped. If you reach out to try to touch the light spheres, they will shine brighter, and the orbs around them will respond in succession. The work questions the nature of existence and relies entirely on visitor perception.


Continuous Life and Death at Now of Eternity II

Waves of Light

Resonating Microcosms – Solidified Light Color, Sunrise and Sunset

In March, the Pace Gallery opened a new exhibition space dedicated to experimental and immersive interactive works. Those familiar with teamLab will recognize some of their most popular works appearing during the exhibition, including the Dissipative Figures series and Waves of Light. 

In the newly-opened outdoor courtyard, the work 'Resonating Microcosms – Solidified Light Color, Sunrise and Sunset' will be on display, constantly transforming due to wind and rain, as well as influence from guests. A new concept work, 'Solidified Light Color,' will shine with 61 colors, inviting the environment and visitors to become a part of the art itself.

 © チームラボ

Information

teamLab: Massless Suns
Running: September 2 – October 29, 2022
Venue: Pace Gallery Seoul (267 Itaewon-ro, Yongsan-gu, Seoul)

Sneak Peak: Jojo's Bizarre Adventure Anime 10th Anniversary Exhibition in Tokyo

This year marks the 10th anniversary of the JoJo's Bizarre Adventure anime.

To commemorate the event, a special anniversary exhibition is currently being held at Ikebukuro Sunshine City in Tokyo. Check out some highlights of the event below!

Upon entering the venue, fans will be welcomed by life-sized characters and a projection of anime clips on a massive screen. 


Bloodlines x Duels

This area features 22 life-sized cutouts of main characters and villains from the anime series. A family tree of the Joestars and a timeline will also be on display, allowing visitors to review the many connections between each series before moving on to the next area.

A Soul Passed Down

This area is the centerpiece of this exhibition. Here, visitors can look back on the characters and the many struggles of the anime's production team, with scripts, original drawings, storyboards, settings, and other materials on display.


The exhibition is divided into rooms for each series, and each room features a different vibe. Phantom Blood, the first part of the JoJo story, is set in 1880s England, so the area has a chic and classic look.

In the Battle Tendency area, the walls are covered with masks and images from the second series and is the perfect spot to take photos. Following this, the Stardust Crusaders area was designed to trace the footsteps of Jotaro and his friends as they traveled from Japan to Egypt.

The Diamond is Unbreakable area offers a good look at Morioh, the setting of the arc.

The Golden Wind arc was set in Italy, and its area is laid out like a museum to match the stylish feel of the work.

The final area of the exhibition looks at the latest series Stone Ocean. The panels of the characters are surrounded by a prison-style fence, in reference to the prison in which the series is set. A large number of materials from the first season are on display, perfect for brushing up on the story before the second half begins airing this fall.

A Hymn to Humanity: The Road to the Future

This spectacular area is lined with portraits of beloved characters from the anime series and is sure to make long-time fans feel incredibly nostalgic.

Goods at a Glance

Collaboration Menu

After leaving the exhibition area, guests will find a shop selling original merchandise. Some items are limited and only available at specific venues, so don't miss your chance to grab your favorites!

A collaboration cafe will offer nine tasty dishes inspired by characters from JoJo's Bizarre Adventure. This will only be offered at the Tokyo venue.

©荒木飛呂彦&LUCKY LAND COMMUNICATIONS/集英社・ジョジョの奇妙な冒険THE ANIMATION PROJECT
©LUCKY LAND COMMUNICATIONS/集英社・ジョジョの奇妙な冒険SO製作委員会

Information

JoJo's Bizarre Adventure Anime 10th Anniversary Exhibition – Tokyo Venue
Running: August 10 – September 4, 2022
Venue: Ikebukuro Sunshine City Bunka Kaikan Bldg. 3F, Exhibition Hall C
Official Site: https://jojoanime10th-ex.com/

NAKED Exhibition Inspired by Tea Master Sen no Rikyu Opens at 21st Century Museum of Contemporary Art in Kanazawa

NAKED's newest work, inspired by Sen no Rikyu, has opened at the 21st Century Museum of Contemporary Art in Kanazawa! The exhibition will run through September 3 and blends physical art pieces found in the museum with the Metaverse. 

NAKED's first exhibition at this popular Kanazawa Museum brings visitors a modern version of chanoyu, or the 'Way of Tea.' This year marks the 500th birthday of Sen no Rikyu, a historical figure who had a significant influence on the tea ceremony still found in Japan today. NAKED wants to honor his contribution to shaping this massive part of Japanese culture. Visitors are invited to a traditional tea ceremony room, but the experience itself has been modernized by NAKED. This unprecedented art exhibition allows both those who know nothing about Sen no Rikyu and those who know him well to experience his philosophy and aesthetics in an entirely new way.

Gate: Greetings from the Master

Open-air: The Crossroads of this Transient World

Wash Basin: Where the Four Seasons Float

Dry Landscape Garden: The Teachings of Rikyu

Tea Whisk: "Make a Good Tea for your Guest."

Hanging Scroll: The Master's Memories

Small Room: Evolution

Tearoom: The End and the Beginning

NAKED Fuji Canele

Tsukubai, or a low stone basin filled with water, is used to cleanse the hands before entering a tearoom. Using interactive art, the water's surface is covered in digital flowers that blossom when a guest's hands pass over the basin. 

In the 'Small Room: Evolution' area, guests will find the Sustainable Contemporary Golden Tearoom, which was created by NAKED staff together with sixth graders using golden trash collected at Kanazawa University Elementary School. The calligraphy on display in the tearoom was also done by children, with the best creations selected to be included in the exhibition. The scent was produced by EarthRing, an aroma brand located in Hakusan, Ishikawa Prefecture. The 'Tea Whisk' area offers a unique experience for all five senses, including the scent of matcha, which guests can smell when they mimic the act of prepping tea. 

In addition, guests can purchase special NAKED Fuji Canele and a Kutani ware Original Tumbler with special tea-inspired motifs. The Canele is a triple collaboration with Fukumitsuya, the oldest sake brewery in Kanazawa, so don't miss out!

Information

NAKED Meets Sen no Rikyu

Venue: 21st Century Museum of Contemporary Art, Kanazawa, Civic Gallery B
(1-2-1 Hirosaka, Kanazawa, Ishikawa)

Running: August 6 – September 3, 2022
*For more information about tickets, please visit the official website.
Tickets / Details: https://meets.naked.works/kanazawa21/

First 'Made in Abyss' Anime Exhibition to Open at Ikebukuro and Nagoya PARCO

To commemorate the release of Made in Abyss: The Golden City of the Scorching Sun, an exhibition will open at PARCO FACTORY in Ikebukuro on September 2 and at PARCO GALLERY in Nagoya on October 1!

Guests can see original drawings from the first and second seasons of the anime and the movie, special video content that mixes full-length anime footage with original drawings, and artifacts from the story.  Photo spots will also allow visitors to experience famous scenes from the series.

Those wanting to be guided through the exhibition can purchase the One Point Nanachi voice guide! The voice actress Shiori Izawa will lead you through key parts of the venue.

Original goods will also be on sale at the venue. A special collaboration menu will be available at Cafe Address on the 6th floor of Ikebukuro PARCO, including savory dishes, desserts, and drinks inspired by the show's characters.

Additional information will be announced on the exhibition's official website, so keep an eye out for more!

Information

Made in Abyss Exhibition ~Tracks of the Challengers~

PARCO FACTORY (Ikebukuro PARCO 7F)

Running: September 2~

PARCO GALLERY (Nagoya PARCO West Building 6F)

Running: October 1~

Chibi Maruko-chan Celebrates 30th Anniversary with Exhibition at SKIP CITY Visual Museum

The Chibi Maruko-chan Exhibition, celebrating the 30th anniversary of the anime adaptation, will be held from September 13, 2022 until January 15, 2023 at the SKIP City Sai-no-Kuni Visual Plaza at the Visual Museum in Saitama.



Chibi Maruko-chan began serialization in the shoujo manga magazine Ribon in 1986. The anime adaptation began on January 7, 1990. In May 2022, the series reached 1,500 episodes, and the series continues to be popular with men, women, and children alike.

This exhibition will showcase the charm of the anime series, which depicts the daily life of the cheerful and funny Maruko and her friends.


Something interesting to note is the transition from the analog era to the digital age. The exhibition will also include character materials and items detailing the personal life of the original author, Momoko Sakura, as well as her thoughts and feelings.

30 Years of Chibi Maruko-chan Shown in Chronological Order

From the moment guests enter the venue, they are surrounded by all things Chibi Maruko-chan. The entrance welcomes guests with a special video and an impressive 21-character movie along with profiles and signboards. Continuing on, visitors will be able to view a wide variety of over 320 valuable materials, ranging from production items like cels and settings to theme songs, movies, and merchandise.

Momoko Sakura's Memories

Momoko Sakura has always loved creating things. In addition to her busy schedule, she created a number of other works in her private life. Many of the things she created were made from everyday items, so come and see the source of her boundless creativity!

Diorama Photo Spot

Come rediscover the charm of Chibi Maruko-chan at this impressive exhibition!

Information

Chibi Maruko-chan 30th Anniversary Exhibition
Running: September 13 – January 15, 2022
Venue: SKIP City Sai-no-Kuni Visual Plaza, Visual Museum
Hours: 9:30-17:00 (Last Entry at 16:30)
Details / Official Site: http://www.skipcity.jp/event/vm/maruko/

Popular Manga Series Chihayafuru Celebrates Finale with Exhibition in Nagoya

Matsuzakaya Nagoya will hold an exhibition for the popular manga series Chihayafuru from August 10 until August 29. The manga concluded on August 1 after 15 years of serialization and tells the story of Chihaya, a girl aiming to become the greatest competitive karuta player in Japan. Karuta is a Japanese card game, requiring players to memorize a collection of 100 classical poems in order to play. Generations of readers have been sucked in by the inspiring and romantic tale, and the series has grown to include an anime adaptation and a live-action film. The story has now reached its inevitable climax, and fans are saying farewell to Chihaya, Taichi, and Arata. 

Works on Display

Original Exhibition Goods

Daddy Bear Plush / Snow-maru Plush

Maki-e Nail Clippers by Hashimoto Lacquerware

Goshuin-cho (Shrine and Temple Stamp Book) Set

The exhibition will feature over 500 original drawings and will offer a look back at the series as a whole. Guests will also be able to see new drawings made exclusively for the event. In addition to valuable setting materials and research notes, the exhibition will also go behind the scenes, and a video of the elaborate production process and the creator Yuki Suetsugu's thoughts on the work will be shown. If you're a fan, you shouldn't miss it!

©末次由紀/講談社