Special Exhibition Commemorating Miffy's 65th Anniversary Now on Display at Matsuzakaya Nagoya
Matsuzakaya Nagoya is holding an exhibition to celebrate the 65th anniversary of the birth of Miffy, created by Dutch illustrator Dick Bruna, until January 16, 2022. The theme of the exhibition is "with". It introduces the story of Miffy and her friends, with more than 300 precious original drawings, sketches, and creative notes.
Miffy the Ghost, 2001. (Manuscript)
Miffy the Ghost, 2001. (Manuscript)
Queen Miffy, 2007. (Manuscript)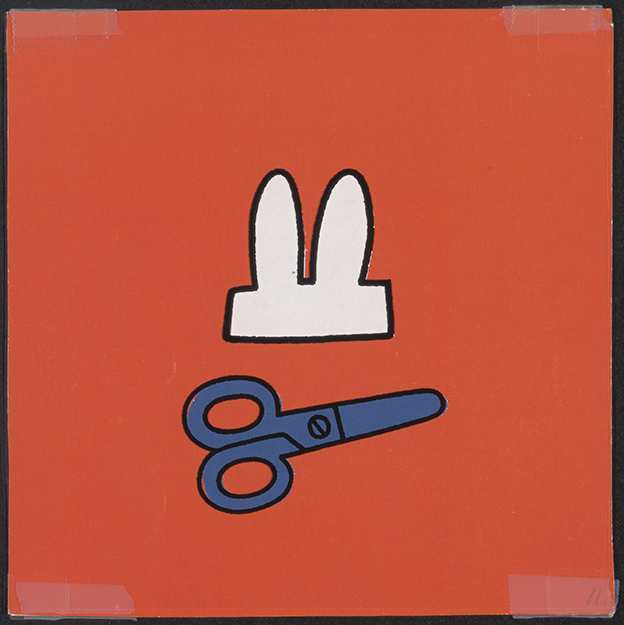 Miffy and Poppy Pig, 2011. (Manuscript)
Miffy in the snow, 1963. (Manuscript)
Original Goods
UFD Miffy Set of 4  ¥4,400(Tax Included)
Rollbahn M  ¥638(Tax Included)
Pounch M ¥1,760(Tax Included)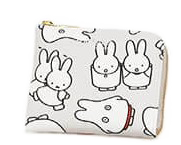 Half Zip ¥1,650(Tax Included)
Floating Pen ¥1,320(Tax Included)


This exhibition marks the first visit to Japan of the original drawings including "Usako-chan: Obake ni naru" (2001) and "Usako-chan wa Jyoou-sama" (2007), as well as reference materials. Also, the original drawings of "Usako-chan on Snow Day" (1963), one of Miffy's first four works that has only visited Japan once before, and which features a winter outfit, is exhibited together for the first time. In addition, the exhibition reveals the memories and creative fascination of Bruna, who developed close friendships with Japanese picture book authors and children's literature writers and had a significant influence on the picture book culture in Japan.

The original drawings for "Usako-chan: Obake ni naru" (2001), "Usako-chan wa Jyo-oh-sama" (2007), and "Usako-chan to Fugako-chan" (2011), which was the last work to feature Miffy, are all in Japan for the first time. These drawings tell the story of Miffy playing ghosts, flying airplanes, and spending time with her family and friends.
It is also an opportunity for visitors to trace the creative process of Bruna with notes that show how he repeatedly tweaked his words and cuts that were not selected for the books.
RELATED ENTRIES
Tokyo's TeNQ Space Museum to Host Cinnamoroll 20th Anniversary Exhibition

Tokyo's TeNQ Space Museum, located in Tokyo Dome City, will hold a special Cinnamoroll exhibition to celebrate the Sanrio character's 20th anniversary! The adorable white puppy won first place at the Sanrio Character Awards for two consecutive years and has been a beloved part of Sanrio's lineup for two decades. From July 7 until October 17, guests can visit this unique walk through Cinnamoroll's history. The exhibition's key visual has been unveiled ahead of the event.

Clear Folder

Face Towel

Postcard (2 varieties)


Visitors will learn tons of Cinnamoroll trivia at the exhibition and can also participate in Cinnamoroll Roulette, a fun fortune-telling event!

In addition, the first-ever Cinnamoroll Strawberry News Poster Gallery will be available to peruse. An academic exhibit unique to TeNQ where visitors can learn about the many kinds of clouds will also be opened in honor of Cinnamoroll, who was born on a fluffy cloud in the sky. Original merchandise will also make an appearance. It's sure to be fun for the whole family!

©2022 SANRIO CO., LTD. APPROVAL NO. SP630141

Anime Film 'Bubble' Gets Online Exhibition at Anique for a Limited Time

Anique has opened an online exhibition to celebrate the release of the animated film Bubble until June 30, 2022! The event is also offering limited-edition merchandise.

Merchandise Lineup

Acrylic Stand Diorama

Pin Set

Postcard Set

Clear Folder

Mug

Purchase Bonus: Round Stickers

The exhibition will serve as a deep dive into the world of Bubble, focusing on four categories: story, worldview, characters, and artwork.

 

Guests can enjoy browsing images from the film, and can also see valuable creation materials like storyboards and original sketches.

 

Jun Shison, who voices Hibiki in the film, contributed comments to the exhibition, along with director Tetsuro Araki.

 

Merchandise is also available to buy now! These items can only be found at this exhibition, so order while you can.

 

Have you watched Bubble on Netflix yet?

©2022「バブル」製作委員会

Extensive Demon Slayer: Kimetsu no Yaiba Exhibition to Open at Sapporo Factory in Hokkaido

An exhibition focusing on the Mugen Train and Entertainment District Arcs of Demon Slayer: Kimetsu no Yaiba will open at Sapporo Factory in Hokkaido from July 15 until August 7, 2022.

Fans of the series won't want to miss this huge showing of Demon Slayer materials, including a video exhibit showing off some of the best fight scenes from the film and anime series on a massive screen. 

Stay tuned for more details!

©吾峠呼世晴/集英社・アニプレックス・ufotable

Information

Demon Slayer: Kimetsu no Yaiba – Mugen Train Arc / Entertainment District Arc

Running: July 15 – August 7, 2022

Hours: 10:00-19:30 *Closing at 17:00 on August 7
*Admission permitted until one hour before closing time.

Venue: Sapporo Factory 3-jo 3F 

Official Site: http://www.stv.jp/

Nakamura Keith Haring Collection Holds 15th Anniversary Exhibition, 'Chaos and Hope'

The Nakamura Keith Haring Collection in Yamanashi Prefecture will be holding a celebratory exhibition in honor of the location's 15th anniversary from May 14, 2022 until May 7, 2023.

In April 2007, the Nakamura Keith Haring Collection opened in Kobuchisawa, located at the foot of Mt. Yatsugatake. The only museum in the world dedicated entirely to New York-based artist Keith Haring, Kazuo Nakamura collected the works and acts as the director of the museum. Over 300 works of art are on display along with 500 other pieces, from photographs and videos to merchandise. The new exhibition features approximately 150 works.

Three Lithographs (People Ladder), 1985

Icons (Radiant Baby), 1990

Untitled, 1984

Untitled, 1988

Untitled (Subway Drawing), 1981-1983

The 'Chaos and Hope' exhibition was originally held during the museum's first year of operation and looks back at Haring's first experiences in New York City in 1978. The artist was present at the dawn of the hip-hop movement and was struck by the clash between typical white art and underground minority artists. In only five years, Haring rose to stardom. Sadly, while traveling the world, he contracted AIDS, passing away at the age of 31. Behind the bright and cheerful artwork he left behind, he hid his inner suffering and desire for hope and freedom.

All Keith Haring Artwork ©Keith Haring Foundation
Courtesy of Nakamura Keith Haring Collection.

Information

Nakamura Keith Haring Collection 15th Anniversary: Chaos and Hope

Venue: Nakamura Keith Haring Collection

Running: May 14, 2022 – May 7, 2023

Official Site: https://www.nakamura-haring.com

Flower Miffy Juice Garden in Asakusa Offering Limited-Time Drink Perfect for Early Summer

Flower Miffy Juice Garden, a drink stand inspired by Flower Miffy, a florist version of the Dutch character Miffy, has begun selling the perfect drink for the early summer weather. The Marguerite Cream Soda is on sale now at the Asakusa location.

Marguerite Cream Soda

Flower Miffy Glass Vase Flower Frame

The Marguerite Cream Soda features refreshing lemon soda topped with sliced lemon, thick vanilla ice cream, a Miffy cookie and a marguerite flower. Visitors can also find a special Miffy glass vase at the Asakusa store for a limited time, perfect for displaying flowers at home.


Come enjoy shopping for Miffy goods while sipping a refreshing beverage this summer!

Illustrations Dick Bruna Ⓒ copyright Mercis bv,1953-2022 www.miffy.com

Information

Flower Miffy Juice Garden
Address: Flower Miffy Juice Garden Asakusa
Limited Time Beverage: Marguerite Cream Soda
Available starting April 28, 2022
Official Site: https://www.benelic-flower.com

teamLab Opens 8th Annual Art Exhibition at Mifuneyama Rakuen in Saga Prefecture

From July 15 until November 6, 2022, the 'teamLab: A Forest Where Gods Live' exhibition at Mifuneyama Rakuen, an ancient forest at the Takeo Hot Springs in Saga Prefecture. The massive event is held each summer and fall and was named CNN World's 'Best Outdoor Art Exhibition to Visit' in 2021 and one of the Top 10 Art Installations in the world by DesignboomMagazine in 2017.

Works on Display

Universe of Water Particles on a Sacred Rock, 2017

Drawing on the Water Surface Created by the Dance of Koi and Boats – Mifuneyama Rakuen Pond, 2015

Ever Blossoming Life Rock, 2017

 Life is Continuous Light – Azalea Valley, 2017

Rock Wall Spatial Calligraphy, Continuous Life – Five Hundred Arhats, 2017

Split Rock and Enso, 2017

Resonating Forest – Cherry Blossoms and Maple, 2017

Megaliths in the Bath House Ruins, 2019

Graffiti Nature – Living in the Ruins of a Bathhouse, Red List, 2017-

Resonating Forest in the Ravine, 2019

Abstract and Concrete – Forest Entrance, 2018

Flowers Bloom in an Infinite Universe inside a Teacup, 2016

Forest and Spiral of Resonating Lamps in the Forest – One Stroke, Summer Forest, 2018

Mifuneyama is said to have risen from the Ariake Sea 3 million years ago. The 500,000 square meter Mifuneyama Rakuen Park was created in 1845, at the end of the Edo period. The park is home to megaliths, caves, and forests that have been slowly shaped over thousands of years. teamLab believes that the shapes and textures of these objects are important, serving as traces of ancient people and natural changes over time.  The concept of the project is that non-material digital technology can turn nature into art without harming it.


The creative team will be holding a number of other high-profile exhibitions this year, including installations in Paris, Tallinn, Shanghai, and Geneva. Their sauna collaboration with TikTok for teamLab Reconnect in Roppongi made huge waves in 2021–guests would take alternating hot and cold baths to experience intense physical sensations while surrounded by digital art.

Sound Installation by DJ Licaxxx to be Unveiled at Yamaguchi Center for Arts and Media

The Yamaguchi Center for Arts and Media will house a new work by DJ Licaxxx, the fifth installment of the 'sound tectonics installation.' The new work, Reason and Emotion '22, will be on display in the museum's courtyard. 

Licaxxx is a popular DJ and beatmaker who has been active in many unique fields over the past few years. The artist has created music for commercials and other advertisements while also contributing works to museums and art spaces.

The new sound installation features trackmaker Dan Kubo and electronic musician Kazuki Muraoka as collaborators. The goal of this ongoing project is to critically examine the act of viewing art in general, including music, and to generate music in real-time based on the current environment. The installation is impacted by weather, temperature, and the number of people viewing the work. The courtyard venue faces the main foyer and features a large glass atrium. 

Come enjoy a new listening experience like no other before the installation disappears in November.

Information

sound tectonics installation #5 / Licaxxx New Installation

Reason and Emotion '22 YCAM Volume

Running: May 14 – November 13, 2022

Hours: 10:00-20:00 (Closed Tuesdays)

Venue: Yamaguchi Center for Arts and Media / YCAM Courtyard

Free Admission

Official Site: https://www.ycam.jp

The Heike Story, INU-OH Character Concept Art on Display at Kyoto International Manga Museum

The Heike Story anime series premiered in Japan on Fuji TV's +Ultra programming block on January 12. With character designs by Fumiko Takano, fans instantly fell in love with the show's cast of characters, and an art book will be released soon, with preorders opening this week.

 

The Kyoto International Manga Museum has opened an exhibition displaying character concept art from SCIENCE SARU's The Heike Story and INU-OH anime from April 21 to June 27. The exhibit commemorates The Heike Story's TV broadcast and INU-OH's theater opening in Japan. Fumiko Takano (The Heike Story) and Taiyo Matsumoto (INU-OH)'s character concept drawings are on display in Gallery 4. 

Both titles are based on Hideo Furukawa's modern language rendering of the classic Japanese epic The Tale of the Heike.


The Heike Story will additionally release an art book titled The Colors of The Heike Story in June. The book will feature an interview between art director Tomotaka Kubo and series director Naoko Yamada, and is scheduled for release in June. Those pre-ordering the book will receive a special gift.

©高野文子 /「平家物語」製作委員会 
©松本大洋 /2021 "INU-OH" Film Partners

Information

The Heike Story – Fumiko Takano and INU-OH's Taiyo Matsumoto Character Concept Art Exhibition

Running: April 21 – June 27, 2022

Venue: Kyoto International Manga Museum Gallery 4 (452 Kinbukicho, Nakagyo-ku, Kyoto)

Access: 2-minute walk from Exit 2 of Karasuma Oike Station on the Kyoto Municipal Subway Karasuma Line and Tozai Line



The Colors of The Heike Story

Price: ¥5,500 (Excluding Tax)
Format: A4 size, 112 pages
ISBN: 978-4-908062-41-4
Publisher: HeHe / hehepress.com

The Heike Story Anime Series
Official Site: HEIKE-anime.asmik-ace.co.jp

Panasonic LUMIX and NAKED Team Up for Exhibition at LUMIX BAE TOKYO in Aoyama, Tokyo

Art collective NAKED is teaming up with Panasonic LUMIX digital cameras for a new version of the NAKED BIG BOOK. The new work is on display at LUMIX BASE TOKYO in Aoyama until May 29, 2022. 

LUMIX BASE TOKYO is a gallery inspired by the LUMIX brand of digital cameras. The location is meant to serve as a base for the next generation of creators and strives to bring tons of creative energy to those looking to hit it big as artists in the future. 

Naked and LUMIX have come together to make LUMIX BASE TOKYO not only a showroom but also a place where guests can experience creativity in a new way. The NAKED BIG BOOK," the brand's most famous work, has been decorated with seasonal flowers and will be exhibited for a limited time. 

NAKED BIG BOOK invites visitors to enter a storybook world with each turning page. The work uses projection mapping on a giant book sculpture to inspire audiences and wow guests with the wonders of technology. The book has appeared at FLOWERS BY NAKED and other locations throughout Japan in the past. 

The exhibition will also feature original artwork inspired by LUMIX's marketing campaign for 2022, 'COLORS OF LUMIX.'

Information

NAKED BIG BOOK – LUMIX Collaboration Version
Venue: LUMIX BASE TOKYO (2-chome-11-17 Minamiaoyama, Minato-ku, Tokyo)
Running: April 26 – May 29, 2022
Hours: 11:00-19:00 / Closed on Mondays, New Years holiday
Admission: Free
Official Site: https://lumix-base.jpn.panasonic.com/

Mickey Mouse Merchandise Appears at Shinsaibashi PARCO in Osaka

Mickey Mouse is beloved by people all over the world. To liven up the Golden Week holiday, Shinsaibashi PARCO in Osaka is showing off the 'Mickey Mouse Osaka Collection' for a limited time, This collection, available until May 8, is the first Disney collection featured at Shinsaibashi PARCO.




A number of Mickey Mouse-inspired products created by numerous designers will be featured, all of which already have shops in Shinsaibashi PARCO. A Mickey Mouse Collection pop-up shop is also open for a limited time at THE WINDOW SHINSAIBASHI on the first floor.

©Disney

©Disney Artwork by Yoshirotten

©Disney Designed by Javier Calleja

©Disney Designed by Keiichi Tanaami

©Disney Designed by Tetsuya Nakamura

 

Visitors can also enjoy the 'Mickey Mouse Now and Future' exhibition at the PARCO GALLERY on the 14th floor. The exhibition is a collaborative art project by artists from around the world who love Mickey! Curated by Shibuya's contemporary art gallery NANZUKA, fans won't want to miss this unique collection of art.

Information

Mickey Mouse Osaka Collection

Running: April 22 – May 8, 2022

Location: 1F THE WINDOW SHINSAIBASHI

Mickey Mouse Now and Future

Running: April 23 – May 16, 2022

Location: 14F PARCO GALLERY 

Penguindrum Anime Series to Celebrate 10th Anniversary with Exhibition in Tokyo and Osaka

To celebrate the 10th anniversary of the anime series Penguindrum, a special exhibition will be held in Tokyo from April 29 to May 8, and in Osaka from May 12 until May 24, 2022. The exhibition will include original artwork and reproductions of spaces from the series. There will also be a corner highlighting the works of director Kunihiko Ikuhara and an on-site shop selling commemorative goods. 

©イクニチャウダー/ピングループ ©2021 イクニチャウダー/ピングローブユニオン

Information

~Penguindrum Exhibition ~Where Fate Leads Us~

Tokyo Event

Running: April 29 – May 8, 2022
Hours: 10:00-17:00 (Last entry an hour prior to closing)
Address: Ikebukuro Sunshine City Kaikan Building 2F Exhibition Hall D

Osaka Venue

Running: May 12 – May 24, 2022
Hours: 10:00-20:00 (Last entry an hour prior to closing/Event closes at 15:00 on May 24)
Address: Abeno Harukas Kintetsu 9F Event Hall

Tickets
Lawson Ticket
Tokyo Event L Code: 31113
Osaka Event L Code: 57111
*Over-the-counter sales are available directly at Loppi in Lawson and Ministop stores.
Online Reservations https://l-tike.com/event/penguindrum-ex/

Animate Locations

Tokyo Venue: Ikebukuro, Shibuya, Akihabara, Shinjuku, Machida, Kichijoji PARCO, Oomiya, Yokohama Vivre, Tsudanuma

Osaka Venue: Tennoji, Sannomiya, Kyobashi, Osaka Nipponbashi, Umeda

Animate Online:
Online Reservations
Tokyo Event: https://www.animate-onlineshop.jp/pn/pd/2060895/
Osaka Event: https://www.animate-onlineshop.jp/pn/pd/2060917/

Studio Ghibli Secrets Revealed in Kyoto Exhibition Featuring Miyazaki Collaborator Toshio Suzuki

The Toshio Suzuki and Ghibli Exhibition opened at The Museum of Kyoto on April 23, 2022.

Toshio Suzuki, a producer at Studio Ghibli, has worked with both Hayao Miyazaki and Isao Takahata on a number of beloved masterpieces. The exhibition will feature a large bookshelf housing 8,800 of Suzuki's publications. Many of these were published before Suzuki joined Studio Ghibli, and guests are invited to see how the producer was inspired to join the legendary studio after working as an editor at a manga magazine. 

This exhibition was realized after Suzuki himself proposed the idea of exhibiting his books for the first time. At the press preview, Suzuki made a statement. "My dream was to collect all the books I've read over the past 70 years and display them in one room. Today, I'm so happy to stand in the middle of it. On one hand, I'm amazed by how much there is. On the other hand, I feel like there could always be more."

©TS ©Studio Ghibli

The giant bookshelf containing 8,800 tomes was based on a brick-and-mortar store that once served as Suzuki's 'hideout.' The wallpaper was designed by William Morris, a favorite of the producer since his youth. Among the many books on display, one area is lined with issues of Kinema Junpo, Japan's oldest film magazine. Suzuki notes that he thought about throwing them out each time he moved, but luckily, he decided to keep them! Some issues are from the Taisho era and are incredibly valuable. If you want to read them yourself, you are welcome to do so at the exhibition!

Many of Studio Ghibli's most famous works were born from casual conversations between Isao Takahata, Hayao Miyazaki, and Toshio Suzuki. Suzuki has played a large role in film advertising, including many of the memorable posters and ads almost everyone has seen. He has always included each film's most inspiring song in television ads, which has dramatically increased audience attendance. After all, who doesn't love the music in Studio Ghibli films?

What's your favorite Ghibli film?

Information

Toshio Suzuki and Studio Ghibli Exhibition

Running: April 23 – June 19, 2022
Closed on Mondays *Open on April 25, May 2

Hours: 10:00-18:00 *Open until 19:30 on Fridays (Last entry 30 minutes before closing)

Venue: The Museum of Kyoto 4F, 3F Exhibition Room (623-1 Higashikatamachi, Nakagyo Ward, Kyoto)

Official site:https://suzukitoshio-ghibli.com/