NECOREPA Releases 'Save the Cat Bag' to Support Cats in Shelters
Preorders are now open for NECOREPA's new 'POCKET NECO BASKET.' All proceeds will go towards saving the lives of shelter cats and will be used to support shelter activities. 
Calico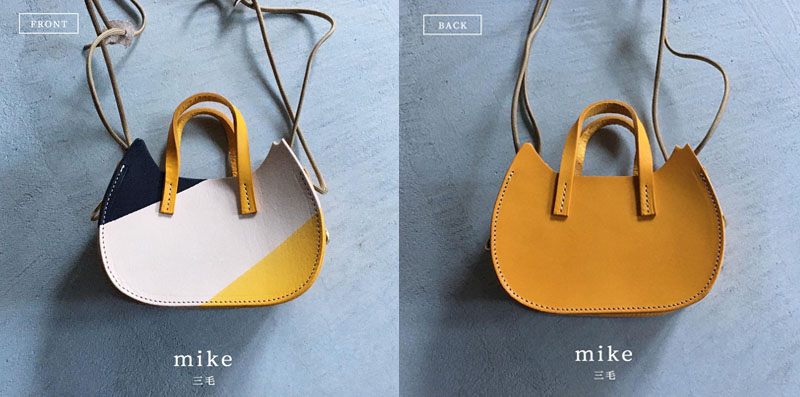 Polka Dot Calico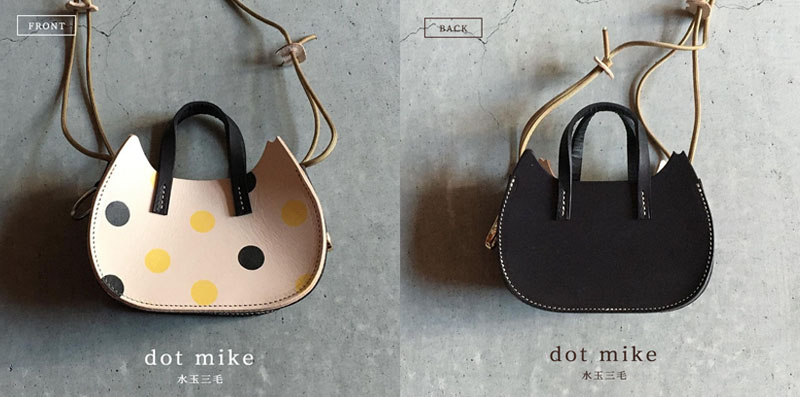 The NECO BASKET series has been very popular, and cat lovers have been eager to support this good cause. Over 3,000 bags have been sold to date. This is the only bag in the world made by cat lovers, for cat lovers, and for cats. 
Each bag is made of thick genuine leather carefully sewn together by a Japanese craftsman. With such a sturdy design, these are perfect as a fashion accessory and for daily use!
RELATED ENTRIES
Hot-Pot Party-Themed Gorogoro Nyansuke Cafe Opens in Ikebukuro

Gorogoro Nyansuke, a popular character featured on LINE stickers, will get his own cafe in Ikebukuro for a limited time! The nabe (hot-pot) party-themed location will be open from December 2, 2021 until January 23, 2022. In Japan, it's popular to enjoy nabe with friends and family during the winter months to warm up!

Reservation Bonus

Menu

Refreshing Lemon Nabe

Tomato Nabe

Soy Milk Nabe

Black Sesame Parfait

Dorayaki Pancakes with Japanese Sweets

Red Bean Paste Covered in Snow

Warm and Cozy Kotatsu Cake

Nyansuke Float (Melon Soda)

Nyansuke Float (Anzu Soda)

Nyansuke Float (Roasted Green Tea and Milk)

Nyansuke Sake

Cafe Latte: ¥660 (Tax Included)

Original Merchandise

Acrylic Keychain (Random, 10 varieties)

A4-size Clear Folder (Set of 2)

Mug

The adorable kitty-cat has become popular on LINE and social media and was designed by Tsumugi Murasato. Her first manga was published in October 2020 with merchandise following, and she has become more and more popular since!

© MIND WAVE INC. / GORO GORO Nyansuke ®

Neko Neko Shokupan Releases Online-Only Limited Edition Halloween Set

Neko Neko Shokupan have announced that between October 1 and October 22, a limited edition "Dark Halloween" Neko Neko Shokupan Halloween and special set will be available on the official ALL HEARTS MALL webshop. The Nyanchee cheesecake from sister brand Neko Neko Cheesecake will also be included in the new set. Why not spend your Halloween with these tasty treats?

Online-Only Flavor: Neko Neko Shokupan Dark Halloween

Neko Neko Shokupan ~Halloween~

Nyanchee

Neko Neko Shokupan Dark Halloween & Nyanchee Set

Neko Neko Shokupan Galloween & Nyanchee Set

Neko Neko Shokupan Two Types & Nyanchee Halloween Set

Neko Neko Shokupan Three Types & Nyanchee Halloween Set

The Neko Neko Shokupan Dark Halloween variation is baked from a cherry flavored dough and filled with cream, raisins, and chocolate chips. The subtle cherry taste is combined with rich and creamy whole milk to create an all-new flavor. A bitter black cocoa has been mixed in to add a slightly mature taste to the recipe. This slightly dark Neko Neko Shokupan can only be enjoyed this Halloween!

 

 

The special Halloween flavored Neko Neko Shokupan ~Halloween~ will be sold for the first time in two years in stores nationwide. The catchy Halloween-inspired design is baked using a pumpkin and black cocoa flavored dough, filled with raisins and dark chocolate. While the Shokupan is made using black cocoa, bitterness is reduced by the whole milk cream used in most Neko Neko Shokupan products, resulting in a sweet and milky flavor. Don't forget, the desserts look great in photos too!

 

 

The Nyanchee is a cheesecake that has been baked at a high temperature to produce a dark brown, Basque finish. For this season, both a plain and Autumnal "Pumpkin" set will be released. The seasonal pumpkin Nyanchee has been made using a pumpkin purée for a rich, Fall flavor. The subtly sweet pumpkin and soft cheese will resonate with your tastebuds!

'Disney Cats & Dogs Exhibition' at Matsuya Ginza Reveals the Secrets of Disney's Animal Productions

While 'animals' are one of Disney's forever-themes, 'dogs and cats' are special amongst them for being like family to us humans. The upcoming 'Disney Cats & Dogs Exhibition,' held at Event Square on the 8th floor of Matsuya Ginza between December 1 and December 25, explores the charms of Disney's beloved pets.

Mickey & Friends Pluto

Lady and the Tramp

101 Dalmatians

Aristocats

The movie 'Bambi' was an opportunity for Disney to challenge the tough task of "animals expressing themselves, while maintaining a realistic drawing style." The crew invited animals into the studio, studying their anatomy and muscles to ensure a sense of realism. The characters were successfully drawn in an expressive way which captivated audiences, leading Disney to produce a large number of animal animations throughout its history. The exhibition will introduce visitors to the evolution   and innovation of Disney's animal animation, along with the trial and error that it took to successfully draw animals expressing their feelings. The event is full of iconic Disney animals such as Pluto, the 101 Dalmations, Lady and the Tramp, and The Aristocats – It's almost as if you've fallen straight into a Disney movie! 

 

The exhibition will showcase a wide collection of over 300 digital and archived works, provided by the Animation Research Library, which hosts, digitizes, and archives everything related to Disney animation. Pieces that could be damaged if removed from storage, such as original watercolor paintings and pastel illustrations, are digitized and exhibited for the world to enjoy in a scale much larger than the original, allowing guests to see the details in each piece of art. This unique digital aspect is one of the highlights of the exhibition.

 

 

 

You won't want to miss out on this exhibition which features some of the most impressive dogs and cats in all of Disney works; You can laugh at Mickey's friend Pluto as he features in some of Disney's earliest gag animations, marvel at the romance of Lady and the Tramp, be thrilled by the dramatic escape from Cruella's magical hands in 101 Dalmations, and even take in both the beauty of Paris and the cuteness of kitten Marie from the Aristocats.

 

Walt Disney himself was known for being a huge dog lover, spending his childhood with his family and their dog. This 'Cats and Dogs' themed exhibition will showcase characters with expressions and gestures that reflect Disney's affection and familiarity with the animals. 

 

 

Why not go walkies around the 'Disney Cats & Dogs' exhibition?

 ©Disney

Information

Disney Cats & Dogs Exhibition

Duration: December 1 ~ December 25 2021 

Location: Matsuya Ginza 8F Event Square

Address: 3-6-1 Ginza, Chuo-ku, Tokyo

Entry Fee: Adult ¥1,100 / High School Student ¥900 (¥700), Elementary and Middle School Students: ¥500 (¥400)

*Number in brackets is the advance ticket purchase price.

Advance tickets can be purchased through Lawson Ticket between mid-October and November 30.

Official Site: https://www.matsuya.com/ginza/ 

Wildly In-Demand Neko Neko Tiramisu Returns in Limited Quantities

Neko Neko Cheesecake, a sweets shop specializing in cat-shaped treats, is adding the massively popular Neko Neko Tiramisu back to the menu for a limited time only, from September 10 until September 30, 2021.

※Until supplies last. 


Originally sold as a limited-edition release for Father's Day, 800 of these cat-shaped treats sold out instantly. Brought back as a result of constant consumer requests, the Tiramisu will only be available in very limited quantities.

The Neko Neko Tiramisu is filled with soft sponge cake soaked with coffee syrup, with a layer of mascarpone cheese mousse layered on top. Finished with cocoa and coffee powder, it's the perfect mix of bittersweet and rich flavors.

The Tiramisu will also be available at the online store All Hearts Mall, making it easy to send to friends and family. As the pandemic continues to keep people apart, this adorable sweet is a great way to surprise loved ones far away.

What do you think about this Neko Neko Tiramisu? It might be too cute to eat.

Kyoto Sweets Cafe eXcafe Gion-Shinbashi Restarts Popular Breakfast Menu for Weekends

The calm Machiya sweet shop eXcafe Gion-Shinbashi will be restarting the popular eXcafe Breakfast (Calico) menu on weekends from September 4 2021. This is the perfect spot to start your Gion adventure, packed full of ancient city charm and history. 

 

eXcafe currently has three store locations in Kyoto: Kyoto-Arashiyama, Gion-Shinbashi, and the newly opened Gion Yasaka.

eXcafe Gion Shinbashi is located in an area where you can appreciate the beauty of Gion, with the ever changing scenery fully reflecting the four seasons. Even on sunny weekends, the area isn't overly busy and the sky is beautifully clear, making it the perfect spot for commemorative photos.

 

The returning breakfast menu is the eXcafe Breakfast (Calico), made up of charcoal-grilled toast with a calico cat motif. The fluffy bread is thickly cut and can be completed with your favorite topping: Bean paste, butter, whipped cream, or fruits. The breakfast set also includes a drink and Mitarashi dango dessert, making it the perfect way to spend a relaxing moment at the beginning of your trip, or as a break from your early-morning sightseeing.

Morning walks in Gion are particularly refreshing at this time of year, making a perfect break from the intense Summer heat. It is also ideal for visiting the Yasaka Shrine.

You'll feel even cooler as you listen to the flowing Shira River, the water gently bubbling under the cobblestones of the famous Tatsumi Bridge. Although it is located in a trendy area, the eXcafe Gion-Shinbashi is a welcome break from the bustle of the city, surrounded by cobblestone alleys and wooden townhouses.

 

SarutaHiko Coffee Releases Collaboration Bag with PORTER for 10th Anniversary

SarutaHiko Coffee have announced that as part of their 10th anniversary celebrations, their fifth celebratory project will be a collaboration with iconic Japanese bag brand PORTER. The bag will be available to preorder on the SarutaHiko Coffee webshop fromAugust 28, 2021. The collaboration bag features a mouton badge that has been dyed using SarutaHiko coffee.

PORTER x SarutaHiko Coffee 'Coffee Bean Shoulder Bag (Bourbon) and Bean Mouton Badge: ¥22,000 (Tax Included)

PORTER x SarutaHiko Coffee 2-way Tote Bag S & Bean Mouton Badge: ¥28,600 (Tax Included)

PORTER x SarutaHiko Coffee 2-way Tote Bag L & Bean Mouton Badge: ¥33,000 (Tax Included)

The unique coffee bean shaped shoulder bag is the perfect size to fit your smartphone, keys, and other small necessities. The product is named after the Bourbon coffee bean, a bean famous for its high quality, calling back to the previous SarutaHiko Coffee collaboration. The 2-way tote bag features the SarutaHiko Coffee and PORTER logo on both sides, so you can swap it around to suit your mood. The bag also has pockets conveniently placed on both the inside and the outside. The L-size tote is suited to daily use, perfect for school and work as it can fit A4 documents and laptops, with a pocket on the side to fit a water bottle or umbrella.

The conveniently sized S-size bag is perfect for neighbourhood shopping trips or short outings.

The bag is dyed a deep coffee brown and has been crafted in a handy unisex design. All collaboration bags come with a removable Bean Mouton badge. The badge is made using mouton that has been dyed using the same beans that are used in SarutaHiko Coffee's

espresso.

 

These collaboration items would make the perfect gift to any coffee-loving friend!

Information

PORTER x SarutaHiko Coffee

Pre Order Start Date: August 28, 2021

Where to preorder: SarutaHiko Coffee Online Shop, SarutaHiko Coffee Taiwan

Online Shop: https://shop.sarutahiko.co/

Cat Cafe and Shelter Necorepublic Opens Massive Complex in Osaka

Necorepublic, which operates a shelter cat cafe and accompanying apparel brand 'NECOREPA/', held the grand opening of NecorepaLand in Kumatori, Osaka on July 22, 2021. This is the first 'NECOREPA/' flagship store in Kansai.

All 'NECOREPA/' Items

Adorable socks and cat-shaped masks


Restaurant specializing in Japanese Spiced Curry.


Spiced Keema Curry with Bonito stock.


Green Curry.

Lemonade and fragrant Tsujimoto Coffee.


The cat cafe, where guests can relax with 9 shelter cats.


Cats enjoy playing with the hammock hanging from the ceiling.


NecorepaLand is one of the largest Necorepublic complexes, and was created to support the brand's shelter activities, with proceeds from dining and shopping being used to help cats in need. The 'NECOREPA/' store is heaven for cat lovers, featuring cat-themed goods, including bags, wallets, socks, and other accessories. 

The complex also houses a specialty Japanese spiced curry restaurant, with three unique flavors available. Guests can wash it down with some lemonade or Tsujimoto coffee, and gaze out the large windows overlooking the terrace. A separate cat cafe located in the back of the building houses 9 shelter cats ready to play with visitors, and each cat is adoptable!

With all sales going to a good cause, NecorepaLand is sure to bring some positive change to the Kansai area. 

Sanrio's My Sweet Piano Celebrates Birthday With Merch Line-Up by Maison de FLEUR

Maison de FLEUR is celebrating the birthday of Sanrio's popular character My Sweet Piano with a special merch collection that's now available to order until July 18, 2021.

My Sweet Piano Tote Bag | ¥5,049 (Tax Included)

My Sweet Piano Flat Pouch | ¥3,949 (Tax Included)

My Sweet Piano Pouch | ¥3,949 (Tax Included)

My Sweet Piano Plushie | ¥6,589 (Tax Included)

Inside print

My Sweet Piano is a soft, pink fluffy sheep and My Melody's best friend. Her birthday falls on July 6, and Maison de FLEUR is commemorating the occasion with a collection of four items coloured the same pink as the character including a bag, pouch, and more.

The girly line-up is fitted with pretty pink lace and branded with an illustration of both her and My Melody. There's also a fluffy plush toy which can sit cutely on a shelf, bed, desk, and anywhere else you want to add a bit of kawaii to your room.


ⓒ'21 SANRIO APPR.NO.L629257

eXcafe Gion, a cafe in Gion, Kyoto is now open for business on weekdays again.

eXcafe Gion

Cat-shaped bread by Neko Neko Shokupan

The cafe is located near Tatsumihashi

eXcafe's famous Hoku Hoku Dango Set

eXcafe Gion opened in November 2019 following the opening of the popular eXcafe Arashiyama. Gion is a major sightseeing spot of Kyoto for its fusion of traditional and contemporary Kyoto culture. One of its longest and most quintessential traditions of that of Chayamachi, also called Hanamachi, where maiko and geisha live and work.

eXcafe Gion is situated near Tatsumihashi where the relaxing sounds of the Shirakawa River can be heard. The cafe incorporates elements of a traditional Japanese teahouse with tatami flooring and wooden structures, ready to welcome guests with open arms who have been strolling around to see the historical architecture of the local area.

The summer season sees locals and sightseers dressed in yukata, the sound of geta shoes clacking on the floor. Summertime is also when the cafe serves their famous Hoku Hoku Dango, a must-try if visiting Gion.

Disney's Alice in Wonderland 70th Anniversary Celebrated With Luxury Maison de FLEUR Collection

In celebration of Disney's Alice in Wonderland hitting its 70th anniversary, Japanese fashion brand Maison de FLEUR released a new bag and accessory collection on June 17.

The Line-Up

Alice Square Frill Handle Tote Bag | ¥5,489 (Tax Included)

Alice Frill Handle Tote Bag | ¥5,049 (Tax Included)

Alice Ribbon Pouch | ¥4,389 (Tax Included)

Alice Tissue Case | ¥3,619 (Tax Included)

Alice Ribbon Charm | ¥2,629 (Tax Included)

The insides of each item

The collection is made up of five items including Maison de FLEUR's iconic frilly handle bags. Each item captures the wonderful and mysterious world of Alice and Wonderland, including the square tote bag which features Alice when she grows in size, the ribbon charm which includes gold leaf prints of the titular character, roses, and teapots, the frill handle tote bag which depicts Alice singing with the flowers, and the ribbon pouch which captures the scene of Alice falling into Wonderland.


AMBUSH® Announces Sustainable Outdoor Collaboration Collection

AMBUSH® is set to release a new outdoors collection in collaboration with the thermal-wear brand STANLEY and YOSHIDA-KABAN's main brand PORTER on June 25.

AMBUSH® x STANLEY STANLEY BOTTLE 1 – ¥8,580 (Tax Included) / AMBUSH® x STANLEY STANLEY BOTTLE 2 – ¥6,380 (Tax Included)

AMBUSH® x PORTER NYLON CROSSBODY LARGE BAG – ¥52,800 (Tax Included) / NYLON CROSSBODY BAG – ¥42,900 (Tax Included)
AMBUSH® x PORTER NYLON ECO BAG | ¥24,200 (Tax Included)

The AMBUSH® x STANLEY collection features vacuum bottles and flasks. Stylish and simply designed, the "Go Series" bottles are easy to carry around and are perfect for both outdoor and everyday lifestyle. Hang the finger loop of the bottle from your iconic carabiner by AMBUSH®︎ and enjoy it as an accessory to spice up your outfit. The light and slim stainless steel single walled vacuum insulated flask suits scenes like outdoor camping and even at your kitchen at home.

The AMBUSH® x PORTER collection feature three types of bags.  They come in two colours: black and blue. The CROSSBODY LARGEBAGs have a pocket on the front just the size for STANLEY Vacuum Bottle to fit in. What seems to be a wallet is a foldable eco bag, which can be used as a tote bag when you unfold it.

The sustainable collections come during a month of environmental awareness in Japan as designated by the Ministry of the Environment. It's also during a time when outdoor festivals and camping are starting up again in the country, and are also handy for jogging and shopping, in an effort to cut plastic bottles, cups, bags, and so on.


Comment from AMBUSH® founder VERBAL


"For this collaboration, I was interested in how PORTER and STANLEY's products are easy to use, which matches today's lifestyle. I actually use STANLEY bottles in my studio and when I order coffee at coffee shops, so this was a collaboration I'm happy to have done. PORTER's bags are just the right size. I wanted something that was thoroughly made down to the finest details, so I feel new possibilities [from this collection] which focuses on the necessities. PORTER bags are handy for popping outside so I can use them in the day or at night, and STANLEY bottles I use at work and at home <laughs>"

Information

AMBUSH® x PORTER / AMBUSH® x STANLEY

Release Date: June 25, 2021

Available: AMBUSH®WORKSHOP / AMBUSH®WORKSHOP2 / AMBUSH® Hankyu Umeda Pop-Up Store / AMBUSH®WEBSHOP 

AMBUSH Official Website: www.ambushdesign.com

OUTDOOR PRODUCTS x Jujutsu Kaisen Bag Collection Features Yuji, Megumi, and Other Character Designs

Bandai Namco Group teamed up with OUTDOOR PRODUCTS to release a collection of Jujutsu Kaisen themed bags inspired by the anime's characters including Yuji Itadori, Megumi Fushiguro, Nobara Kugisaki, and Satoru Gojo. Released on Premium Bandai last Tuesday, the collection includes backpacks, tote bags, and shoulder bags.

The inside of the bags feature original designs with motifs taken from the series – check them out below.

©︎ 芥見下々/集英社・呪術廻戦製作委員会