Harajuku's famous punk shop, "A store Robot" and "jouetie" release 5 collaborative goods including T-shirt.
The fashion brand "jouetie" and "A store Robot"the famous punk shop with a 30 year history in Harajuku have collaborated togerther to release 5 items.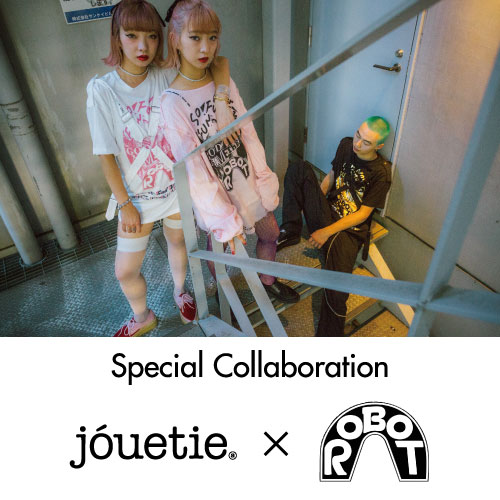 "A store Robot"has helped to promote the music, art and fashion coming out of the Harajuku area.
They have been dealing with men's and woman's second hand clothing but they are most famous for their unique shoes.
Celebrities and stylist who frequent this shop often say "If it's shoes you want, go to A store Robot."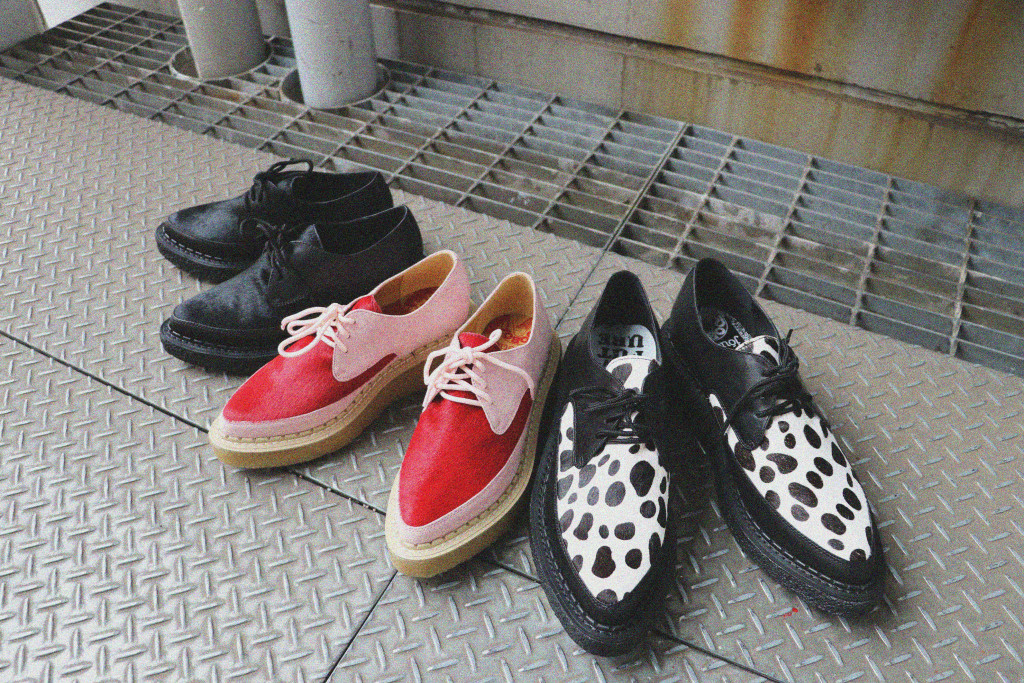 5 collaborative items including shoes will go on sale at jouetie stores starting from August 18th.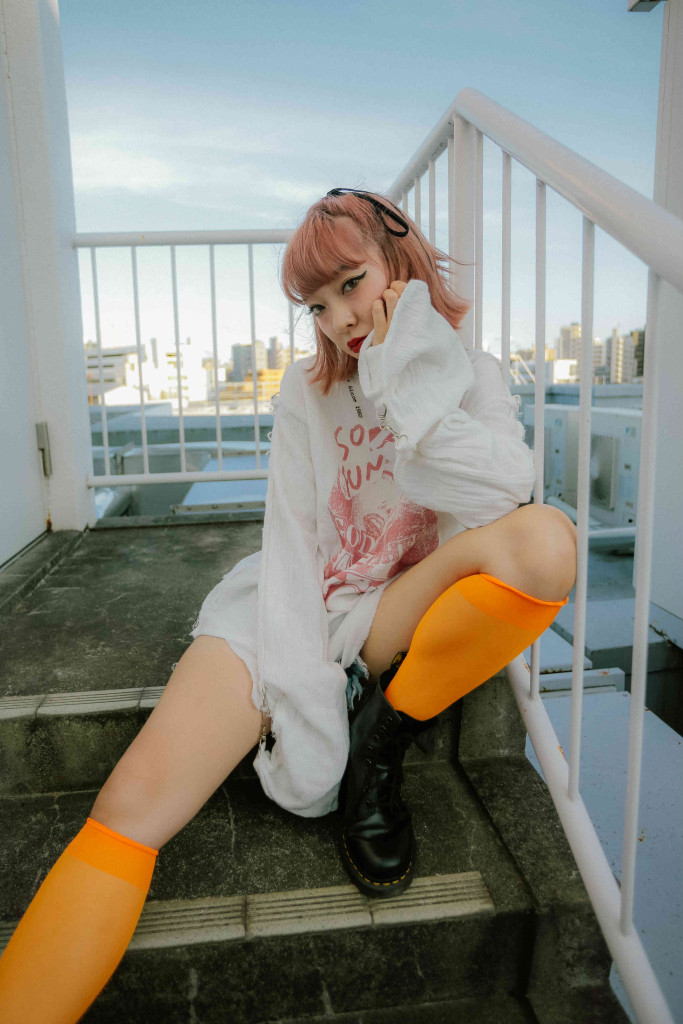 The artist for these items, Wataru Komachi arranged the 1980's A store Robot logo to make the graphics for these items.These are special items which can only be bought at jouetie stores. All items are unisex and the men's model for some of these items is Nao Takahashi of SHIMA HARAJUKU.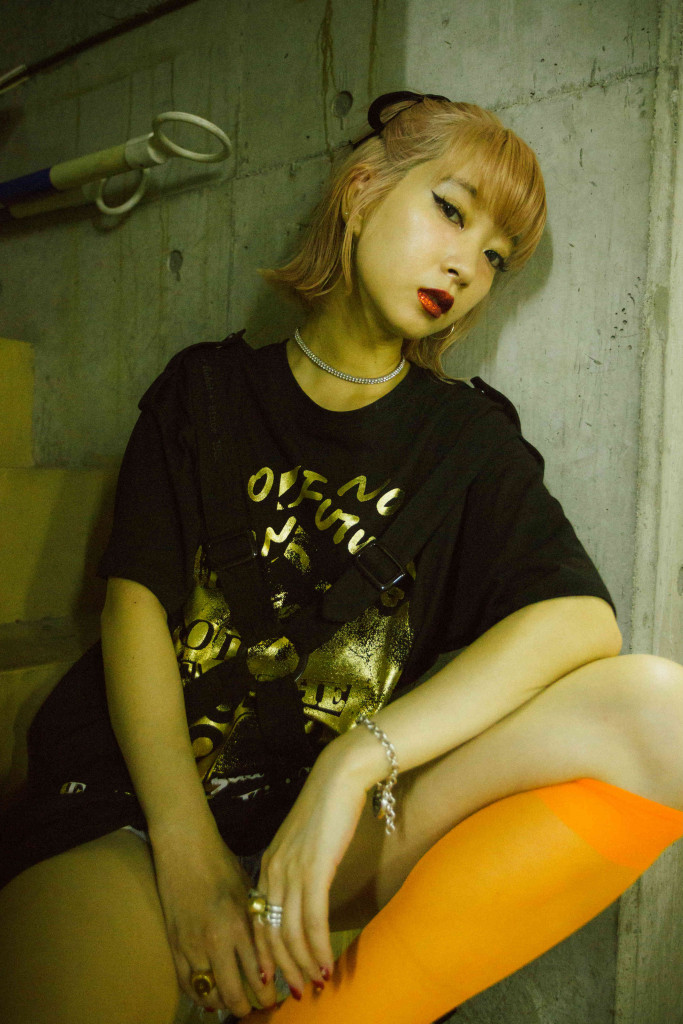 These collaborative unisex items are very special, so don't miss this opportunity!
■Information
jouetie official site: https://jouetie.com/
Related article:Laforet Harajuku to Embark Overseas on World Tour to Deliver Harajuku Culture to the World!
Related article:Women's Street Fashion Brand "X-girl" to Release 2017 Autumn Lookbook
RELATED ENTRIES
W Osaka Reveals Special Menu Inspired by Fashion Duo AMIAYA

Luxury hotel W Osaka will be offering 'ICHIGO AFTERNOON TEA – Dressed up for Spring,' a special menu inspired by the fashion duo AMIAYA, from April 1 until May 31, 2022. The menu items will be available at the Living Room area on the hotel's third floor.

W Osaka Fashion Ambassador AMIAYA

ICHIGO AFTERNOON TEA – Dressed up for Spring

LIVING ROOM

The event will utilize some of the popular strawberry dishes currently popular at the hotel, but will also include some raspberries and orange sweets. Some dishes will be decorated with flower petals, inspired by the vivid fashion of W Osaka's fashion ambassador AMIAYA. The twins have attracted worldwide attention as models and DJs, and they celebrated their first anniversary on March 16. 

Savory options include a Quiche with Sakura Shrimp and Spring Cabbage and Caramelized Onion and Chevre Cheese plate. Guests can enjoy a total of 12 items prepared by the W Osaka chef team, all displayed on a beautiful afternoon tea stand. Each menu comes with a welcome drink and free refills for tea and coffee.

Digital Fashion, NFTs, and the Metaverse Come Together for AMIAYA x STREET x MetaTokyo Collab

AMIAYA, a twin fashion unit representing Tokyo and signed to ASOBISYSTEM, is diving into the Metaverse! MetaTokyo is teaming up with the models to create NFT photography, open a digital pop-up museum, and provide wearable items for fans' avatars. The collaboration is an official installation for Metaverse Fashion Week held on the global metaverse platform Decentraland. The event began on March 24, 2022.


'AMIAYA x STREET TOKYO FASHION 2021ss' takes center stage in this collaboration. The photobook was made with popular street snap magazine STREET with photos taken by editor-in-chief Shoichi Aoki. The two models are seen wearing the latest Tokyo fashion on the streets of Harajuku and other areas of Japan's capital city. The company is intent on promoting local culture and fashion worldwide as part of the 'Web 3.0 Era.'


SPACE, a pop-up museum built on land owned by MetaTokyo in Decentraland, is now highlighting the AMIAYA and STREET collaboration with an immersive photo exhibition. Fans can also snag AMIAYA-themed wearables for their avatars.

Photos from the AMIAYA x STREET collab are now available as NFTs on OpenSea, the world's largest NFT marketplace. A total of 330 unique items will be available, so don't miss out!

Fashion Icons AMIAYA Collaborate with Fashion Magazine STREET on Photo Exhibition

The book store BOOKMARC, owned by Marc Jacobs, will host a new photo exhibition featuring the fashion unit AMIAYA. The pink-haired twins have attracted worldwide attention as fashion icons representing Tokyo style. The event is being sponsored by the fashion magazine STREET, which has been disseminating street fashion since 1985. The event is running until March 30, 2022. 

AMIAYA x STREET TOKYO FASHION 2021 Spring/Summer is a photo collection showing off the newest trends modeled by AMIAYA with the help of STREET Magazine.


AMIAYA have been active as a models since their teenage years, and these photographs taken by STREET editor-in-chief Shoichi Aoki prove that they have many successful years ahead of them.

Information

AMIAYA x STREET x MetaTokyo Photo Exhibition

Running: March 18 – March 30, 2022
Location: BOOKMARC (4-26-14 Jingumae, Shibuya-ku, Tokyo)

Official Site: http://www.marcjacobs.jp

Fashion Brand jouetie Announces Collaboration with MILK

Fashion brand jouetie has opened online pre-orders for a collection of new collaboration items with the famous Harajuku-based brand MILK. The items will be available in all jouetie stores and online at RUNWAY channel and ZOZOTOWN starting March 11, 2022.

MILK Rhinestone Logo T-shirt

Each logo shirt is decorated with a unique design while remaining simple, with MILK on the front and jouetie on the back. With a reversible design, wear it either way depending on your mood!

MILK Frilled Collar Blouse

Combining the popular romantic lemon pattern with jouetie's iconic roses, this blouse gives off a unique aura. The collar is also removable!

MILK Rose Knit Cardigan

This knit cardigan from the MILK 2019 SS COLLECTION has been given a unique twist for this collaboration, combining jouetie's rose motif with a new and trendy color scheme. This open knit is light and super comfortable!

MILK Heart Bag

MILK's popular Heart Bag has been updated for the collaboration, combining zebra print with a metallic shine. It's sure to catch anyone's attention.

Discover the wonder of Kanazawa with AMIAYA and ETSUNA with new "HAKKEN" videos produced by Channel 47

Fashion icons show the modern and historical charm of Kanazawa, Japan

TOKYO, JAPAN (16 November, 2021) – Channel 47, a company focused on globally promoting the appeal of local and popular Japanese culture through the power of entertainment, is excited to debut their new "HAKKEN" video series today, 16 November, highlighting the wonderful modern and historical tourism aspects of Kanazawa City in Ishikawa Prefecture. "HAKKEN" is the Japanese word for discovery, which is the core feeling this new video series is aiming to convey. Channel 47 wants toinspire viewers to discover the wonders of Japan's local culture through these shortfilms.

The debut videos feature fashion icons AMIAYA and ETSUNA (both represented by ASOBISYSTEM), each exploring a different facet of what Kanazawa has to offer curious visitors. These films were produced by Channel 47 as a part of promotional efforts for the Kanazawa Film Festival held in September of 2021. These entries in the "HAKKEN" series were informed by Channel 47's shared philosophy with the Kanazawa Film Festival, to disseminate the culture of Japan's countryside and promote its appeal worldwide.

In the first video, twin model & singer duo AMIAYA discover the "pop" elements of the city at locations such as the Omi-machi market, the 21st Century Museum of Contemporary Art, the Nagamachi Samurai District, and more. Along the way they sample delicacies from some of Kanazawa's highly rated restaurants. Through their experiences viewers will see art, food, shopping, and scenery that has high appeal among visitors.

Watch "HAKKEN – Discover Kanazawa with AMIAYA"

https://www.youtube.com/watch?v=a9-gD-ftTE0

Find AMIAYA online

Official Website: https://asobisystem.com/talent/amiaya/

AMI Instagram: https://www.instagram.com/amixxamiaya/

AYA Instagram: https://www.instagram.com/ayaxxamiaya/

Twitter: https://www.twitter.com/AMI__AYA

In the second video, fashion designer and influencer ETSUNA takes a different approach and wanders the traditional side of Kanazawa. Starting with a stroll in the Higashi Chaya District, her journey takes her to make ceramic art at Hokutoh, and to see historic locations such as the Ishikawa Bridge, the Gyokusen'inmaru Garden, Sannomaru Square, and more. To fit the traditional theme of her visit, she visits Kimono & Antiques Soki and gets dressed for the occasion. Viewers will see through ETSUNA's exploration the beauty and historical legacy of Kanazawa City.

Watch "HAKKEN – Experience Kanazawa's History with ETSUNA"

https://www.youtube.com/watch?v=Z3h-57mhouU

Find ETSUNA online

Official Website: https://asobisystem.com/talent/etsuna/

Instagram: https://www.instagram.com/etsunaotsuka/

Twitter: https://www.twitter.com/etsuna_artist/

ABOUT KANAZAWA FILM FESTIVAL

The 15th Kanazawa Film Festival was held from September 18-20, 2021 in Theater 21 at the 21st Century Museum of Contemporary art in Kanazawa. The festival has a reputation not only for the high quality of films presented each year, but also for its "New Directors with Promising Talent" program. This year 83 films were entered in the "New Directors with Promising Talent" program, and 11 of them won screening rights. The Grand Prix was awarded to MELIA's "Experiential Tour", for which she also received the special Channel 47 Award.

More information on the Kanazawa Film Festival can be found at

 https://www.eiganokai.com/event/filmfes2021/kanazawa/

ABOUT CHANNEL 47

Channel 47 is a project that using the power of entertainment to communicate the appeal of Japan and its different regions to overseas audiences. Through planning and producing events with celebrities and personalities, Channel 47 creates content that conveys the appeal and charm of Japan's many different regions to viewers all over the world. Channel 47 created the post-movies for the 15th Kanazawa Film Festival, held in September 2021. Additional efforts to promote the event overseas include producing

English subtitles for "Alien Painter" which was screened as a Kanazawa Film Festival Scholarship Film.

For more information about Channel 47 please contact: info@channel47.jp

AMIAYA Fashion Brand jouetie to Collaborate with BETTY'S BLUE on New Collection

Beginning September 10, a new collection from women's brand BETTY'S BLUE and jouetie will be available on RUNWAY channel, ZOZOTOWN, and a jouetie shops nationwide. Tokyo fashion icons and twins AMIAYA serve as creative directors for jouetie, and their style is sure to give these pieces some added flair.

Preorders for the collection are currently open on the ZOZOTOWN and RUNWAY channel websites.

BETTY'S BLUE Blouse M (White / Bordeaux / Beige): ¥8,800 each (Tax Included)

BETTY'S BLUE Patterned Dress M (Pink / Purple / Beige): ¥9,900 each (Tax Included)

BETTY'S BLUE Bag (Red / Pink / Purple): ¥3,300 each (Tax Included)

Launched in 1985, BETTY'S BLUE continues to be loved by fashionistas of all ages. With this limited-edition release, the brand is reviving its popular trend of releasing collaborative merchandise.

Under the concept "MIX GIRL," the brand's collaboration with jouetie aims to combine both rock and girly styles into one signature street fashion look. Utilizing BETTY'S BLUE's pop coloring, the collection features three items in multiple colors: the blouse, the dress, and the bag.

The trendy blouse, complete with frilly collar and voluminous sleeves, is finished with BETTY'S BLUE's signature checkered pattern. The long dress covered from top to bottom in a loud pattern, is sure to turn heads. Carry the matching tote bag, and you'll be ready to stroll the streets of Tokyo looking funky this fall!

Twin Fashion Icons AMIAYA Release Photobook with STREET Magazine

Tokyo fashion icons and twin unit AMIAYA have collaborated with street-snap magazine STREET on a new photobook! 'AMIAYA x STREET TOKYO FASHION 2021ss' will go on sale August 23 at select bookstores and online.

AMIAYA began their fashion journey in street fashion when they were teenagers, and are currently attracting worldwide attention as icons representing Tokyo style. STREET magazine has been highlighting unique international streetwear since its first issue in 1985, and both parties are using this collaboration to help the fashion industry, which has been adversely affected by the pandemic.

The magazine features snapshots of AMIAYA wearing the hottest Tokyo fashions on the streets of Harajuku and other popular areas around Japan's capital. The photos were taken by Shoichi Aoki, photographer and editor-in-chief of STREET.

Each photo has the power to open up your mind to a new world of fashion, so why not give it a look?





Comment from AMIAYA

 

"The Coronavirus pandemic has given us a new perspective on fashion, and how we can share it from Tokyo to the rest of the world. STREET magazine has so many readers overseas, and it's truly made an effort to boost the Japanese fashion scene. We believe in the potential of fashion to connect Japan to the rest of the world, and we hope that through this collaboration, we share some positive energy through our style."





Comment from the Editor-in-chief of STREET, Shoichi Aoki

"The pandemic has caused unprecedented damage to the entire fashion industry, and it has become more difficult to share Japanese fashion with the rest of the world. Fashion is not something unnecessary–it's something important for Japan, and for humanity as a whole. AMIAYA are Japanese fashion icons that are recognized around the globe. They are somewhere between reality and the virtual world. By having them model on the streets of Tokyo, I wanted to create something to convey the current state of Japanese street fashion with international audiences. It took a year and a half of shooting while adjusting AMIAYA's schedule, but it's finally being published. Even if it seems like a small project, even the smallest activity can have a massive impact."

Information

AMIAMA x STREET TOKYO FASHION 2021ss

Release Date: August 23, 2021

Page Count: 76 pages

Price: ¥4,950 (Tax Included)

Where to Buy: Tokyo TSUTAYA stores/ UNITED TOKYO Jingu-mae, Shanghai, Beijing, Hong Kong

Online Store: https://amiayaxstreet.com (Open August 23, 12:00JST)

Official Site: https://amiaya.asobisystem.com

Organic Tattoo Brand Inkbox Collaborates With Fashion Icons AMIAYA

The Canadian semi-permanent tattoo brand Inkbox launched a special collaboration with the pink twin duo themselves AMIAYA, icons of Tokyo fashion.

AMIAYA are symbols of Tokyo pop culture and have garnered attention worldwide. Their influence spreads far and wide – not only are they models but DJs, creative directors at the apparel brand 'jouetie,' and more. Flowers are the theme of their Inkbox tattoo collaboration which they show off in a special shoot taken for the release.


The semi-permanent tattoos use stickers to plaster the tattoo on the skin. Everything from the tattoos to the packaging capture the vibe and aesthetic of AMIAYA.

Stay Home With AMIAYA: Love Fashion and Love Yourself During the Lockdown

Here at MOSHI MOSHI NIPPON, we post news and information about Japan in six languages. Our aim is to deliver a variety of content related to Japan for those who love and enjoy Japanese culture.

Right now, people across the globe are in self-isolation as a result of the coronavirus pandemic. The same goes for Japan too, so we've taken this opportunity to create a new series on the website to show how we're spending time at home here in Japan. The future is yet uncertain, and we hope for normality to return for all of us soon. We created a new articles series called Stay Home with which we hope to take your mind off the situation, even for just a little bit, to help you feel calmer. It might give you some tips on what you can do while spending time at home.

In today's feature, we are joined AMIAYA, whose model work has taken them around Japan and overseas.

1: amiayacookingram

Since our time at home has lengthened, we're cooking everyday and showcasing what we've made on Instagram with the hashtag #amiayacookingram. Make the time you have been given worthwhile by immersing yourself in the things you love at home and doing some soul-searching.

2: LOVE FASHION_LOVE YOURSELF, MY_FOAH

LOVE FASHION LOVE YOURSELF♡

Since we're involved with fashion for our work, we believe in the power of fashion. We wanted to turn it into positive energy and share it with everyone through Instagram. You feel livelier by dressing up in the clothes you like. It brings the real you out. Let's enjoy fashion and looking good whether we're at home or anywhere else!

3: Dance to your favourite music!


Wrap yourself in your favourite garments and move your body to your favourite tunes. That alone is fun beyond imagination♡

What's your secret to spending time at home?

Keep on expressing yourself. For us, that would be through fashion. We think it's important to be yourselfーbe who you areーand we do that by changing into our favourite clothes and doing our makeup. You choose what your comfort is to make you happy. You can watch movies, read books, study something you're interested in, or do things that change the time you're at home since it's up to you now. We think it's important to put effort into making the time you have been given worthwhile."

Please give a message to those reading this article

We hope we can spread happiness and positivity to everyone through our love of fashion. You can change up your time at home however you like. As long as you're enjoying yourself, you can't go wrong! We'll all get through this together!

POSTOKYO By jouetie Pop-Up Shop to Open at HEP FIVE in Umeda Osaka

Japanese fashion brand jouetie is running a pop-up souvenir shop called POSTOKYO By jouetie on the first floor atrium of HEP in Umeda, Osaka from June 21 – June 30.

POSTOKYO By jouetie will serve original fashion items in a new an original style from the lens of jouetie, who fuse the many cultures of Japan, in the form of a souvenir shop from Tokyo where various cultures and subcultures and fashion mix together. Following the success of the first pop-up shop in Tokyo, demand for the store to open across other parts of Japan has been made clear, and it is now moving to Osaka for the first time.

Yuka Furukawa

Japanese model duo AMIAYA who conceived jouetie will be at the sop on Saturday June 22 from 11:00am to welcome customers. Popular Japanese YouTuber Yuka Furukawa, who is a big fan of the brand, will also make an appearance on June 21.

Let's take a look at some of the items you can expect to get your hands on at the souvenir store.

POSTOKYO Mix Flower Open Colour Shirts: ¥6,000 (Before Tax)

These colourful open shirts are a mix of colour variation and camellias. They are made of super soft and comfortable satin.

NANCY SNAKE POSTOKYO T-Shirts: ¥5,000 (Before Tax)

jouetie has collaborated with paint artist NANCY SNAKE for the first time to release thiese manga-esque t-shirts with unique touches and coloured trims. The main print designs are beautifully coloured with careful detail embroidered by jouetie.

MASAKO.Y POSTOKYO T-Shirts: ¥5,000 (Before Tax)

Another debut collaboration, this time with artist MASAKO.Y. These t-shirt designs are inspired by Japanese izakaya and can be worn and enjoyed by any lover of Japanese cuisine. It also includes Japanese and English letter embroidery.

POSTOKYO Tokyo Bi-Colour No-Sleeve Knit: ¥4,500 (Before Tax)

These summery dresses are perfect for the coming warm season. The back is embroidered with a gorgeously eye catching crane while the front features the word "Tokyo" written in Japanese (東京) in the same colours.

Head to the shop to see even more must-get items from jouetie.

Neighborhood Story Manga Collaborates With Fashion Brand jouetie

Japanese fashion brand jouetie is set to release a line of items in collaboration with Ai Yazawa's manga series Neighborhood Story on February 1, 2019.

Yazawa is known for having created a long list of famous manga series including Nana, Tenshi Nanka Ja Nai and Paradise Kiss.

Neighborhood Story is like the bible to jouetie's creative directors AMIAYA who became interested in fashion because of the series.

Mikako Pullover: ¥9,000 (Before Tax)

The manga's protagonist Mikako Kouda is known for undauntedly dyeing her hair pink. The creative minds at jouetie have brought out the character's eye-catching pink, green and blue contrasts to create this pullover, finished with the title logo on the back. Its oversized hang makes it a great option for layering with one pieces, fishnet tights and other 'grunge' style looks.

HAPPY BERRY Hoodie: ¥9,000 (Before Tax)

This colourful hoodie is inspired by Mikako's HAPPY BERRY brand in the series. The front features its embroidered logo while the back includes vivid pop art prints of Mikako. It goes perfectly with street-style wear such as Dr. Martens and sneakers and when layered with see-through items from the top downwards to give it that mix of sweet and spice.

Scene Cut Long T: ¥8,000 (Before Tax)

Both the and back of this long t-shirt feature cute scenes of Mikako and Tsutomu taken from the manga series. It also features a subtle embroidery of the HAPPY BERRY mark. This t-shirt goes well with a more masculine style layered with items like a turtleneck or on its own for a girly look.

Pick your favourite item and create your own unbelievably cute and daring outfit.

Information

Neighborhood Story x jouetie Collaborative Items

Available: All jouetie stores / RUNWAY channel / OZOTOWN

Release Date: February 1, 2019

jouetie Official Website: https://jouetie.com/

Fashion Brand jouetie Opens Souvenir Shop 'POSTOKYO by jouetie' in Shibuya

Japanese fashion brand jouetie is bringing its first ever souvenir shop "POSTOKYO by jouetie" to RUNWAY channel Lab. SHIBUYA from September 20 to October 23.

POSTOKYO offers a new Tokyo style to tie Japan to the rest of the world. Its location of Shibuya is a place home to a mix of different subcultures and fashion styles.

Kotobuki Knit – ¥6,000 (Pre-Tax)

This turtleneck knitwear is made using embroidery and a jacquard. It features the kanji character 壽 (kotobuki) on the front which has two meanings: 'congratulations' and 'longevity.' The back includes the outline of the sun as seen on the Japanese flag.

Pink Game Knit – ¥7,000 (Pre-Tax)

The front of these oversized knitwear jumpers reads "I love you" in Japanese with a game style pixel font. They're made with jacquard cloth.

Nengou Trim T-Shirts – ¥4,000 (Pre-Tax)

These trimmed t-shirts read different periods of Japan on the front including Taisho (大正), Showa (昭和) and Heisei (平成). The checkered block print made using sagara embroidery is cute. The colour-on-colour style is very jouetie-eseque.

POSTOKYO Long T – ¥4,000 (Pre-Tax)

If you're looking for something a little more retro, check out these ukiyo-e style long sleeve t-shirts. The sleeves read POSTOKYO (ぽす東京). Both are comfy and come as unisex one-size-fits-all. Both designs also boast jouetie's classic colour-one-colour.

Which item catches your eye the most? Head to POSTOKYO by jouetie in Shibuya to check out this mix of Japan and current trends.

■Information

POSTOKYO by jouetie
Address: SR6, 16-15 Udagawacho, Shibuya, Tokyo
Running: September 20, 2018 – October 23, 2018
jouetie Official Website: https://jouetie.com/