Hoshino Resort Aomoriya Holds Cherry Blossom Viewing Event Under a Cozy Kotatsu
Hoshino Resort Aomoriya, an inn where visitors are invited to fully enjoy Aomori's culture, will begin its Hanami Kotatsu event from April 1 until May 31, 2022. Guests can enjoy local sake while warming themselves beneath a cozy kotatsu. In the chilly Aomori spring, a kotatsu) will be set up beneath the blooming trees for visitors to comfortably view the cherry blossoms. Hot-water bottles will also be available for rent if guests can a little too cold!
April in Aomori is spring according to the calendar, but it's still quite chilly. Nevertheless, the people of Aomori look forward to flower viewing to overcome the cold winter and enjoy the long-awaited arrival of spring.
Three Fun Additions to Make Cherry Blossom Viewing More Fun
1  A Traditional Umbrella with a Sakura Pattern
Next to each kotatsu is a row of Japanese umbrellas with cherry blossoms painted on them, spreading the pink cherry blossom imagery all around. When opened, the umbrellas are covered with cherry blossoms, making you feel as if you are under the cherry blossoms in full bloom.
2 Choose a Local Sake and Sake Cups for a Flower Viewing Sake Tower
Choose your favorite local sake and three sake cups to make a sake tower! Guests can choose from 10 Aomori sake brands, each with unique aromas and flavors. 
3 Cherry Blossom Patterned Cotton-Filled Hot Water Bottle for Extra Warmth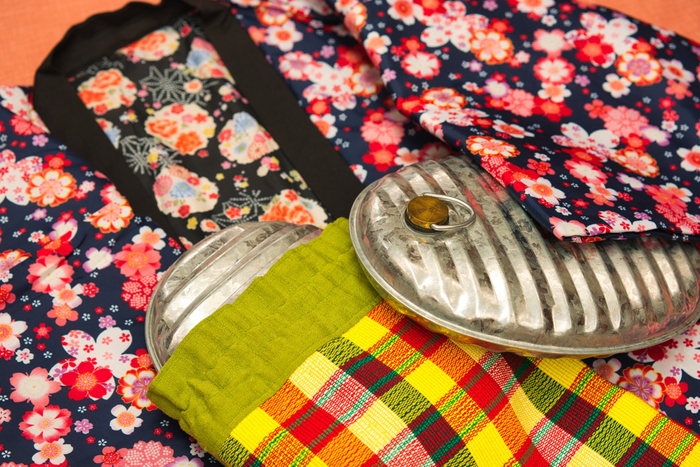 To keep extra warm beneath the kotatsu, a cotton blanket with a cherry blossom pattern and a hot-water bottle are available for rent. Doesn't it sound heavenly?
RELATED ENTRIES
Enjoy a Hot Footbath Inside an Igloo with a Glass of Sweet Sake at Hoshino Resorts KAI Alps

Starting February 1, 2023, visitors to Nagano will be able to experience an unforgettable winter experience at Hoshino Resorts KAI Alps. The Kamakura Footbath will invite guests to soak their feet in a warm bath as they sit in a traditional Japanese igloo while sipping local amazake and enjoying the snowy scenery. 

Soak your Feet Inside a Hot Footbath Inside a Kamakura

During February when snowfall is the heaviest, these kamakura, or igloos, can be spotted in the hotel's courtyard. A private footbath is available inside each structure, which will keep guests from experiencing the cold wind. According to many, having a cool body and warm feet is the perfect recipe for a good night's sleep and good health.

Taste Amazake from a Local Brewery

Kurazukuri Amazake is brewed at Hokuan Brewery in Omachi, Nagano. Made exclusively from home-grown, expertly polished sake rice, the sweet beverage has a delicate flavor similar to wagashi. Why not warm your body from the inside out with this traditional drink?

Enjoy the Winter Landscape Illuminated by Bamboo Lights

Around each kamakura are a sea of bamboo lanterns, popular in the area. Guests can gaze out at the cold winter landscape beneath the awesome peaks of the Japanese Alps while pondering what the spring will bring. 

Information

Kamakura Footbath

Running: February 1 – 28, 2023
Price: ¥2,000 (Tax Included)
Reservations: https://hoshinoresorts.com/ja/hotels/kaialps/activities/9929/

*Reservations are required by noon the day before.
Time Slots: 18:00-18:45 / 19:00-19:45 / 20:00-20:45

Capacity: Up to 3 guests per session
*Must be staying at the hotel.
**Bookings may be canceled due to weather. 

Hoshino Resorts KAI Tsugaru in Aomori Prefecture to Hold Special Snow and Sake Event

Hoshino Resorts KAI Tsugaru, a hot-spring hotel located in Owani, Aomori Prefecture, will hold a special snow and sake event from February 1 until February 28, 2022. Hotel guests will be invited to enjoy drinks before dinner with a special winter twist–under a kamakura! A kamakura is the Japanese equivalent of an igloo, and local sake will be cooled by the snow as guests enjoy a glass while taking in the gorgeous scenery.

Famed author Osamu Dazai described the seven types of snowfall found in the Tsugaru region in his work Tsugaru. To allow visits to enjoy the many different types of snow in Aomori, seven unique sakes will be prepared and depending on the snowfall each day, the sake guests are served will change. This unique experience is sure to leave an impression. Who would you like to bring along?

Tsugaru Snow Lanterns

Seven lanterns designed by Iemasa Yamahata will be placed on the inside of the kamakura. Each has a different color and pattern and each is based on one of the seven types of snow: powdery snow, large snowflakes, grainy snow, watery snow, granular snow, sleet,  and crusted snow.

Information

Tsugaru Snow Festival

Running: February 1 – February 28, 2023
Price: ¥1,000 per set (Tax Included, 20 sets available per day)
Included: 1 glass of local sake, 2 scallop snacks
Venue: Hoshino Resorts KAI Tsugaru, Water Garden
Hours: 16:30-18:00
*Only available to hotel guests.
https://hoshinoresorts.com/ja/hotels/kaitsugaru/

Night Strawberry Picking Tour Opens at Hoshino Resorts Risonare Atami in Shizuoka

The scenic Hoshino Resort Risonare Atami in Shizuoka Prefecture, known for its spectacular views and hot springs, will begin hosting Night Strawberry Tours, inviting couples to pick strawberries in an illuminated greenhouse from January 6 until March 30, 2023. The event is only available on even-numbered days, and only one couple per day can participate. Beni Hoppe Strawberries are a specialty of the area, and this is the 10th event of its kind. Fittingly, guests can enjoy their strawberries with 10 unique condiments. 

Enjoy Fresh Strawberries with 10 Condiments

Guests can enjoy ten unique condiments with their strawberries, including condensed milk, mascarpone, and pistachio. When the mild flavor of condensed milk is combined with savory pistachios, the fresh, full-bodied sweetness of the Beni Hoppe strawberries reaches a new level. Visitors are welcome to ask the staff for the best combinations, or are welcome to experiment themselves!

Pick Strawberries at Night in a Private, Shimmering Greenhouse

After dinner, guests will leave the hotel to begin the Night Strawberry Tour. A red carpet is laid out in the illuminated greenhouse, and those taking part in the tour will enjoy strawberry picking as they sip a glass of rose champagne. 

See how Strawberries are Cultivated

Beni Hoppe strawberries are made by combining the Akihime and Sachinoka varieties. In Japanese, the name means red cheeks, and the name was inspired by the Japanese term hoppe ga ochiru*, meaning "my cheeks are falling off." This is often used to describe food that's extremely flavorful. These particular strawberries are award-winning, so visitors won't want to miss this exclusive experience!

*See Shizuoka Prefecture's official website for more information.

Information

Hoshino Resorts Risonare Atami – Night Strawberry Tour

Running: Even-numbered days from January 6, 2023 – March 30, 2023

Hours: 19:00-21:00

Price: ¥17,000 per person, reservation for 2 people (Tax Included)

Details/Reservations: https://risonare.com/atami/

Hoshino Resort Launches Oceanfront Onward Beach Resort Guam

Hoshino Resorts currently operates 56 facilities in Japan and abroad, and the company has just added another gorgeous property to the list. Starting March 30, Hoshino Resorts acquired all shares of the Onward Beach Resort Guam. Going forward, the hotel will undergo extensive renovations and will be relaunched as a Hoshino Resorts branded location. This is the fifth Hoshino property to be located overseas and the second in the United States. 

The Onward Beach Resort Guam is located 10 minutes by car from downtown Tumon. At the hotel, guests can enjoy a quiet stay away from the hustle and bustle of the city, with a private beach and unrivaled views of the sunset. 

 

The resort also boasts one of the largest water parks in Micronesia, where adults and children can enjoy themselves all day long. With plenty of chances to both relax and stay active, this is the perfect location for any travel lover!

Information

Onward Beach Resort Guam

Address: 445 Governor Carlos G. Camacho Rd. Tamuning, Guam 96913

Facilities: Water Park, Restaurants, Shops, etc.

Official Site: https://www.onwardguam.com/hotel/

Virtual Hanami Event MIKU LAND 2022 YOSAKURA Invites Guests to the Metaverse with Hatsune Miku

MIKU LAND is Hatsune Miku's official VR amusement park. The locale opens sporadically on the Virtual Cast platform, inviting fans of the virtual singer to interact with the star herself and other music lovers from around the world. From April 28 until May 1, the MIKU LAND 2022 YOSAKURA event will invite Vocaloid lovers to the metaverse to enjoy the cherry blossoms and a number of unique experiences. 

Guests can visit Senbonzakura World, Miku's Detective Agency, Rin & Len Kagamine's Post Office in the Sky, and even a virtual haunted house during the event. VTubers Megu Shinonome, Tokino Sora, and Mirai Akari have been chosen as the official ambassadors of the event.

Senbonzakura World

Hatsune Miku's iconic track Senbonzakura, written by Kurousa-P, turns 10 this year. What better way to enjoy it than beneath virtual cherry blossom trees? Even if you can't visit Japan quite yet, enjoy the Japanese shrine atmosphere as you spend time with friends in this gorgeous virtual space.



Miku's Detective Agency

This puzzle-solving attraction invites guests to become assistant detectives by passing a test handed out by Detective Hatsune Miku! Those able to complete the challenge will also receive a limited-edition item.


Rin & Len Kagamine's Post Office in the Sky

This post office in the clouds isn't just a quiet place to relax. Visitors can take on a few different challenges, from mazes to more physical tasks.



Official Ambassadors


Megu Shinonome Comment
"I've been chosen as an ambassador for MIKU LAND! My name is Megu Shinonome, and I'm so excited to work with Miku! MIKU LAND keeps getting bigger and bigger, so I'm wondering what it will look like this spring…I'm looking forward to it! I'll do my best along with my fellow ambassadors Tokino Sora and Mirai Akari to convey the many charms of MIKU LAND to as many people as possible. We can't wait to see you!"

Tokino Sora Comment
"I'm so excited to visit MIKU LAND again! I'll do my best to make this another incredible event, and I'll be sure to enjoy myself as much as possible!"

Mirai Akari Comment
"I've been invited to MIKU LAND to act as the MC for this awesome event! During the SUMMER VACATION event, everyone on Virtual Cast was so kind to me. It was a blast, so I'm really looking forward to this too! I'll be sure to bring some extra excitement, so don't miss it!"

Information

Dates: April 28, 19:00 – May 1, 21:00
Location: Virtual Cast

Official Site: https://mikuland.com/

Cherry Blossom Menu Appears at Cafe Accueil Ebisu for a Limited Time

Cafe Accueil Ebisu is currently offering a limited Sakura-themed menu featuring pancakes, afternoon tea, and drinks until April 10, 2022.

Sakura & Strawberry Pancakes

Sakura Afternoon Tea

Special Latte with Cherry Blossoms

The seasonal menu includes Sakura & Strawberry Pancakes with pale pink and strawberry red accents, and savory items such as a croissant with cherry cheese cream. Guests can also enjoy Sakura Afternoon Tea, a colorful 12-item menu featuring cherry and strawberry delights. Come enjoy the coming of spring at this gorgeous Tokyo cafe!

Information

Cafe Accueil Ebisu Sakura Season Special Menu

Available until April 10, 2022

Address: 2-10-10 Ebisunishi, Shibuya-ku, Tokyo

Hours: 11:00-22:00 (Last Order at 21:00)

Official Site: http://accueil.co.jp/ebisu/

NAKED Sakura Pilgrimage Event Comes to Kanda Myojin Shrine in Tokyo

People flock to Kanda Myojin to pray for good luck at the start of the new financial year, surrounded by beautiful pink blooms. The shrine offers beautiful sights during the day, and this year, it's collaborating with digital art collective NAKED to host a beautiful light-up event every evening from March 26 until April 10, 2022.

Kanda Myojin is a hidden cherry blossom viewing spot in Tokyo. This spring-only event is held in the hope that people will pray at Kanda Myojin, one of the most popular power spots in Tokyo, for a great start to the new year.



Guests will be able to see cherry blossom trees lit up in iridescent lights with pink petals projected on the ground. Some of the digital sakura are interactive and change shape and color when you're nearby. Digital art is even incorporated at the hand sanitizing station, where you'll see vivid pink sakura projected onto your palms. Visitors will also be handed a special Naked Distance Lantern, which naturally creates distance between others as you hold it up.

Information

NAKED Sakura Pilgimage

Location: Kanda Myojin Shrine
Running: March 26 – April 10, 2022
Hours: 18:00-20:30
Admission: Free

Official Site: https://myoujin-sakura.com/

Lake Biwa Canal's Cherry Blossoms to Come to Life During Spring Illumination 2022 Event

Lake Biwa Canal, one of the best places to see cherry blossoms in Shiga, will be completely illuminated each night from March 25 until April 10! The nearby Onjo-ji Temple will also be lit up during the duration of the event.

Lake Biwa, Otsu Spring Illumination – Cherry Blossoms on the Lake Biwa Canal

The Lake Biwa Canal carries water from the biggest lake in Japan to Kyoto and was built during the Meiji era using the best civil engineering technology of the time. Both sides of the bank are lined with almost 200 cherry trees, making it one of the most beautiful cherry blossom viewing spots with a spectacular view leading to Onjo-ji Temple.

Onjo-ji Spring Illumination 2022

Over 600 lights will be set up around the temple grounds to illuminate the cherry blossoms. The national treasures and designated cultural properties will be completely open to the public for nighttime viewing.


Information

Lake Biwa, Otsu Spring Illumination – Cherry Blossoms on the Lake Biwa Canal

Running: March 25 – April 10 (Dates may change depending on when cherry blossoms bloom)
Hours: 18:00 – 21:30
Location: Lake Biwa Canal
Sponsored by the Lake Biwako Otsu Tourism Association

Onjo-ji Spring Illumination 2022

Running: March 25 – April 10
Hours: 18:00 – 21:30 (Last Entry at 21:00)
Location: Onji-ji Temple
Admission: Adults ¥1,000 / Children ¥500
*Public transportation is recommended due to heavy congestion on surrounding roads during the event period.

Cherry Blossom Drone Project 2022 to Bring Hanami to People Around the World

Wishing you could be in Japan to see the cherry blossoms? The Cherry Blossom Drone Project on March 27 will be live-broadcasting some of the most beautiful blossoms in the country to viewers around the world. 

Incredible 4K aerial footage will be available to watch on YouTube LIVE for free from 12:00 until 19:00 on March 27, 2022. No matter where you are, you'll be able to lose yourself in the feeling of spring. 

Three Best Cherry Blossom Viewing Spots Chosen by Sakura Enthusiasts

Breathtaking Mountain Cherry Blossoms at Mount Yoshino in Nara

The First New Sakura Species in Over 100 Years Found in Wakayama Prefecture

A Sea of Cherry Blossoms at Takato Joshi Park in Ina, Nagano Prefecture

NAKED Sakura Aquarium Digital Art Event Opens at Maxell Aqua Park in Shinagawa

Creative company NAKED has opened its popular annual spring event NAKED Sakura Aquarium at Maxell Aqua Park Shinagawa until April 17, 2022. 

Since winter 2015, Maxell Aqua Park Shinagawa and NAKED have held a number of collaborative events each season based on blending the concepts of sound, light, images, and living things. The centerpiece of this spring event is the immersive area titled 'Patterns.' The walls of the aquarium are decorated with fluttering cherry blossoms as petals dance across the ground, pulling guests into a virtual Japanese garden. 

The Garden of Dancing Sakura

Fluttering Sakura

Flower Lantern

Nighttime Dolphin Performance 'Sakura Story'

NAKED Tsukubai – Sakura Version

Guests can also enjoy a cherry blossom version of NAKED Tsukubai, a virtual hand-washing experience. Why not come experience spring in a whole new way?

Cherry Blossom Themed Drink Appears at Flower Miffy

Flower Miffy Juice Garden, a drink stand featuring Dick Bruna's popular character Miffy, is now offering a limited-time cherry blossom beverage at its Asakusa location!

Strawberry

Green Apple

Cherry Blossom Season with Miffy

The Slightly Sakura Drink is inspired by springtime and features a sweet whipped topping with cherry blossom-colored copeau de chocolat. The base of the drink is sakura-colored milk available in green apple and strawberry flavors. Each beverage comes with a Miffy cookie for added cuteness!

 

A Cherry Blossom flower arrangement is also available for purchase at the Flower Miffy online store. 

Illustrations Dick Bruna Ⓒ copyright Mercis bv,1953-2022 www.miffy.com

Four Seasons Hotel Tokyo At Marunouchi Launches Spring-Only Cherry Blossom Afternoon Tea

From March 16 until April 20, Maison Marunouchi at Four Seasons Hotel Tokyo At Marunouchi will offer a special spring-only cherry blossom afternoon tea set!

The restaurant's head chef, Daniel Calvert, is also the executive chef of the French restaurant Sezanne, which was listed in the Michelin Guide last year. Starting in mid-March, visitors can enjoy a variety of cherry blossom-themed sweets created by executive pastry chef Elwin Boyles.

Covered in bright marzipan, the Princess cake was created by Boyles by combining the image of a princess cake, a Swedish cake traditionally eaten on special occasions, and the image of cherry blossoms, which symbolize the coming of spring and new beginnings.

 

The Pink Gateau Opera combines the image of cherry blossoms with green tea buttercream and almond cream. The Sakura Choux Bombe combines the sweetness of cherry cream and sour lime juice, while the Preserved Sakura Macaron will serve as the perfect Instagram photo.