Digital Fashion, NFTs, and the Metaverse Come Together for AMIAYA x STREET x MetaTokyo Collab
AMIAYA, a twin fashion unit representing Tokyo and signed to ASOBISYSTEM, is diving into the Metaverse! MetaTokyo is teaming up with the models to create NFT photography, open a digital pop-up museum, and provide wearable items for fans' avatars. The collaboration is an official installation for Metaverse Fashion Week held on the global metaverse platform Decentraland. The event began on March 24, 2022.

'AMIAYA x STREET TOKYO FASHION 2021ss' takes center stage in this collaboration. The photobook was made with popular street snap magazine STREET with photos taken by editor-in-chief Shoichi Aoki. The two models are seen wearing the latest Tokyo fashion on the streets of Harajuku and other areas of Japan's capital city. The company is intent on promoting local culture and fashion worldwide as part of the 'Web 3.0 Era.'

SPACE, a pop-up museum built on land owned by MetaTokyo in Decentraland, is now highlighting the AMIAYA and STREET collaboration with an immersive photo exhibition. Fans can also snag AMIAYA-themed wearables for their avatars.
Photos from the AMIAYA x STREET collab are now available as NFTs on OpenSea, the world's largest NFT marketplace. A total of 330 unique items will be available, so don't miss out!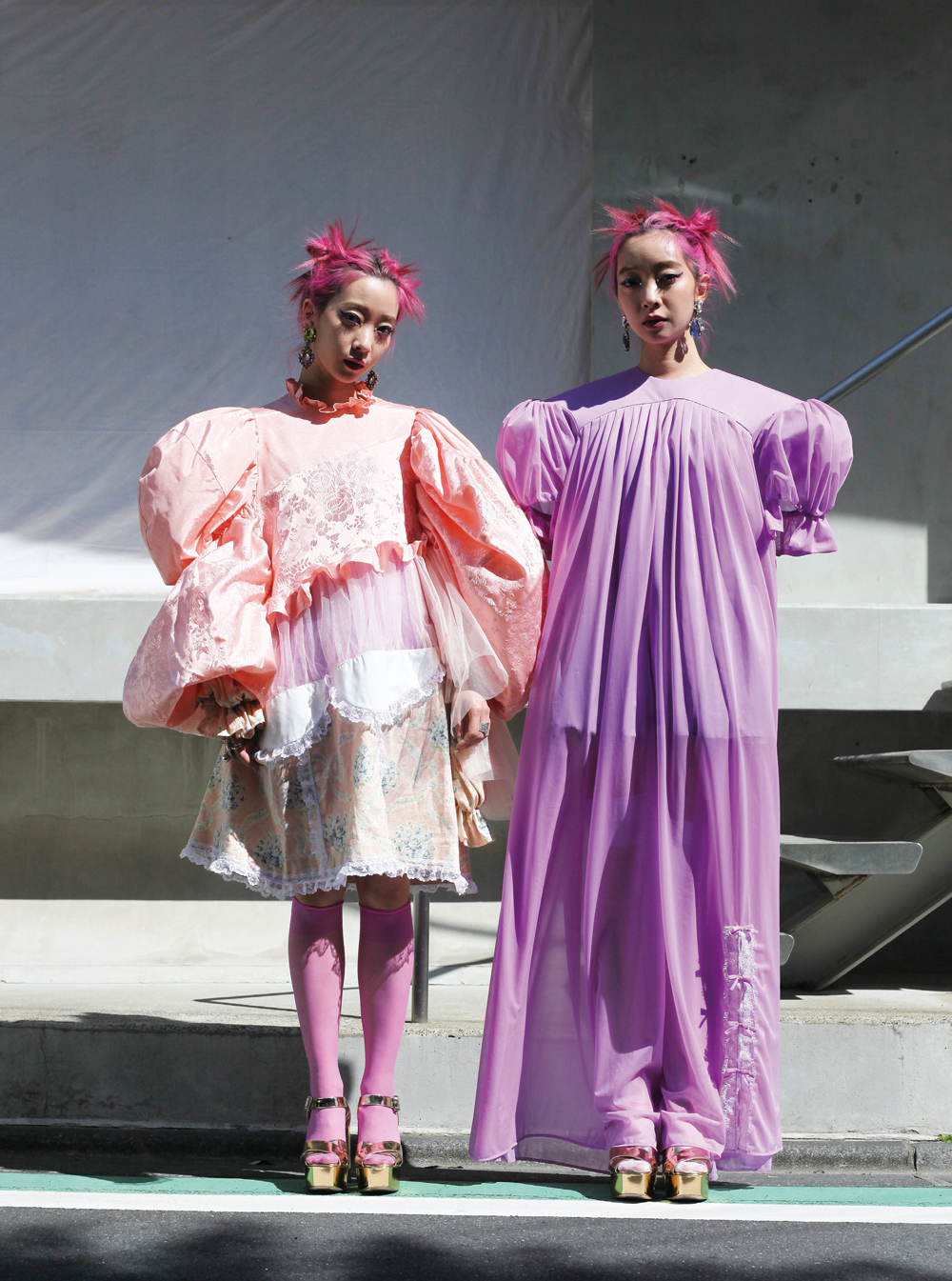 RELATED ENTRIES
Hatsune Miku Stars as Model in New SPINNS and Gugenka Digital Fashion Project

Apparel brand SPINNS is teaming up with Gugenka, a digital goods company utilizing VR and AR to bring anime to life! A new collection of goods featuring Hatsune Miku and the official member of SPINNS virtual staff team Tsumugi Hinata will be available on ZOZOTOWN starting June 18, 2022.

SPINNS is a popular Japanese apparel brand amongst teenagers and those in their early 20s, with items available in stores nationwide. In 2020, the company announced that it would be employing 'virtual staff,' introducing the adorable Tsumugi Hinata. SPINNS is actively planning and releasing digital fashion items for users' avatars.

Models

Tsumugi Hinata (Official SPINNS Virtual Staff) / Hatsune Miku

Lineup

Regular Color

Polo Shirt

T-Shirt

Exclusive Hatsune Miku Color

Polo Shirt

T-Shirt

Hatsune Miku Digital Figure

Project iconic combines Gugenka's technology with SPINNS' fashion to introduce digital fashion to a wider audience and to encourage people to enjoy fashion both in real and digital life.

Each real clothing item sold comes with a digital figure that can be downloaded and enjoyed on XMarket. Come take part in this project and discover a new version of yourself in the Metaverse!

© Crypton Future Media, INC.

Next-Generation Town-Walking Project NAKED GARDEN -ONE KYOTO- to Begin this Fall

The creative team at NAKED is teaming up with Kyoto City, Uji City, and Otsu City in Shiga Prefecture for a one-of-a-kind project. This fall, guests will be able to experience NAKED GARDEN -ONE KYOTO, a next-generation town-walking project blending the real world and the Metaverse together. Visitors will be able to experience Kyoto's shrines, temples, and history in a whole new way.

NAKED has been working with the city of Kyoto since 2017, creating new cultural outreach and tourism programs. A number of nighttime events have taken place at Nijo Castle, including 'virtual flower viewing' in the midst of the pandemic. Last year, the DANDELION PROJECT began at Kamigamo Shrine, a World Heritage Site. The project brings guests around the world together virtually to pray for peace. Events have also taken place at Kiyomizu-dera, Heian Shrine, and Ninna-ji.

In 2022, NAKED will collaborate with Kyoto City, Uji City, Otsu City, and their respective tourism associations to create a Metaverse where visitors can enjoy Kyoto not only in the real world but also virtually. Art being experienced by visitors in real life can be reflected in the Metaverse, and experiences in the Metaverse can be enjoyed in a way that is unique to real events. As hard to describe as it may be, more details will be available on the NAKED GARDEN website when it opens this summer. 

Information

NAKED GARDEN -ONE KYOTO-

Coming Fall 2022

NAKED, INC. Official Site: https://naked.co.jp

Virtual Hanami Event MIKU LAND 2022 YOSAKURA Invites Guests to the Metaverse with Hatsune Miku

MIKU LAND is Hatsune Miku's official VR amusement park. The locale opens sporadically on the Virtual Cast platform, inviting fans of the virtual singer to interact with the star herself and other music lovers from around the world. From April 28 until May 1, the MIKU LAND 2022 YOSAKURA event will invite Vocaloid lovers to the metaverse to enjoy the cherry blossoms and a number of unique experiences. 

Guests can visit Senbonzakura World, Miku's Detective Agency, Rin & Len Kagamine's Post Office in the Sky, and even a virtual haunted house during the event. VTubers Megu Shinonome, Tokino Sora, and Mirai Akari have been chosen as the official ambassadors of the event.

Senbonzakura World

Hatsune Miku's iconic track Senbonzakura, written by Kurousa-P, turns 10 this year. What better way to enjoy it than beneath virtual cherry blossom trees? Even if you can't visit Japan quite yet, enjoy the Japanese shrine atmosphere as you spend time with friends in this gorgeous virtual space.



Miku's Detective Agency

This puzzle-solving attraction invites guests to become assistant detectives by passing a test handed out by Detective Hatsune Miku! Those able to complete the challenge will also receive a limited-edition item.


Rin & Len Kagamine's Post Office in the Sky

This post office in the clouds isn't just a quiet place to relax. Visitors can take on a few different challenges, from mazes to more physical tasks.



Official Ambassadors


Megu Shinonome Comment
"I've been chosen as an ambassador for MIKU LAND! My name is Megu Shinonome, and I'm so excited to work with Miku! MIKU LAND keeps getting bigger and bigger, so I'm wondering what it will look like this spring…I'm looking forward to it! I'll do my best along with my fellow ambassadors Tokino Sora and Mirai Akari to convey the many charms of MIKU LAND to as many people as possible. We can't wait to see you!"

Tokino Sora Comment
"I'm so excited to visit MIKU LAND again! I'll do my best to make this another incredible event, and I'll be sure to enjoy myself as much as possible!"

Mirai Akari Comment
"I've been invited to MIKU LAND to act as the MC for this awesome event! During the SUMMER VACATION event, everyone on Virtual Cast was so kind to me. It was a blast, so I'm really looking forward to this too! I'll be sure to bring some extra excitement, so don't miss it!"

Information

Dates: April 28, 19:00 – May 1, 21:00
Location: Virtual Cast

Official Site: https://mikuland.com/

Sumikko Gurashi Event to Take Place in Metaverse Entertainment Facility VARK

The 'Sumikko Gurashi ~Let's Go to the Magic Island!~ event is being held on the VARK application until September 30, 2022! By passing through a magical door in the Metaverse by using VARK, users can teleport to the world of Sumikko Gurashi and friends. 

Interior of Paid Area

Your Usual Sumikko

Sumikko Tea House

Stage

Camp

The VARK app can be downloaded for free on iOS and Android devices. Even those without a VR headset can enjoy this event! Admission to specific areas may require a fee, but the main island can be experienced for free. 

Come and meet Sumikko and friends, no matter where you are!

Information

Sumikko Gurashi ~Let's Go to the Magic Island!~
Running: March 23 – September 30, 2022
Platform: VARK
Supported Devices: iOS, Android, Meta Quest 2
Details: https://lp.vark.co.jp/sumikkogurashi-vark/


W Osaka Reveals Special Menu Inspired by Fashion Duo AMIAYA

Luxury hotel W Osaka will be offering 'ICHIGO AFTERNOON TEA – Dressed up for Spring,' a special menu inspired by the fashion duo AMIAYA, from April 1 until May 31, 2022. The menu items will be available at the Living Room area on the hotel's third floor.

W Osaka Fashion Ambassador AMIAYA

ICHIGO AFTERNOON TEA – Dressed up for Spring

LIVING ROOM

The event will utilize some of the popular strawberry dishes currently popular at the hotel, but will also include some raspberries and orange sweets. Some dishes will be decorated with flower petals, inspired by the vivid fashion of W Osaka's fashion ambassador AMIAYA. The twins have attracted worldwide attention as models and DJs, and they celebrated their first anniversary on March 16. 

Savory options include a Quiche with Sakura Shrimp and Spring Cabbage and Caramelized Onion and Chevre Cheese plate. Guests can enjoy a total of 12 items prepared by the W Osaka chef team, all displayed on a beautiful afternoon tea stand. Each menu comes with a welcome drink and free refills for tea and coffee.

Japanese NFT Site Metaani Starts Collaboration with Kyary Pamyu Pamyu

Kyary Pamyu Pamyu is teaming up with the NFT project Metaani for a special collaboration during the month of April! To start, Kyary will be releasing an official dance video for the collab free of charge, with certain motion captures being available for purchase through the Metaani site. 

Metaani, launched in June 2021, is a collaboration between BeyondConcept and metaverse creator MISOSHITA aimed at supporting crypto artists' debuts. The adorable dancing scenes of cats, koalas, and other cute characters clad in cool graphic art quickly amassed tons of fans. 

The Metaani x Kyary Pamyu Pamyu project was launched after Metaani released fan art of Kyary to celebrate the artist's 10th anniversary. The artist released her first full-length album in three years, Candy Racer, last year, and will perform at Coachella, one of the biggest music festivals in the US, next month. BeyondConcept will continue to support Kyary Pamyu Pamyu's activities in the metaverse with Web 3.0 technology.

Fashion Icons AMIAYA Collaborate with Fashion Magazine STREET on Photo Exhibition

The book store BOOKMARC, owned by Marc Jacobs, will host a new photo exhibition featuring the fashion unit AMIAYA. The pink-haired twins have attracted worldwide attention as fashion icons representing Tokyo style. The event is being sponsored by the fashion magazine STREET, which has been disseminating street fashion since 1985. The event is running until March 30, 2022. 

AMIAYA x STREET TOKYO FASHION 2021 Spring/Summer is a photo collection showing off the newest trends modeled by AMIAYA with the help of STREET Magazine.


AMIAYA have been active as a models since their teenage years, and these photographs taken by STREET editor-in-chief Shoichi Aoki prove that they have many successful years ahead of them.

Information

AMIAYA x STREET x MetaTokyo Photo Exhibition

Running: March 18 – March 30, 2022
Location: BOOKMARC (4-26-14 Jingumae, Shibuya-ku, Tokyo)

Official Site: http://www.marcjacobs.jp

A Bathing Ape Reveals Collection of NFTs

With the metaverse and NFTs making waves on social media and in the news, BAPE is jumping into this new trend full force. These unique designs are sure to attract fans of the brand!

The official logo and a few of the 3D designs have been revealed ahead of the planned release date. The graphics are algorithmically generated and meticulously detailed to represent BAPE's unique look and personality.  Which is your favorite?

NFT Platform Kollektion to Hold 'Month of MIYAVI' to Celebrate Performer's 20th Anniversary

Kollektion, a global platform connecting artists and fans through the sale of NFTs, will hold the 'Month of Miyavi' during the month of January 2022. NFTs and other items commemorating the 20th anniversary of the rock musician will be available.

MIYAVI started selling NFTs on the platform in October 2021 to positive fan response. In addition, fans who become holders of MIYAVI KLKTN Passes through the purchase of an NFT will be invited to a private Discord channel.



More details were announced during the Virtual Holiday Party on December 25, 2021. Fans from all over the world are invited to take part in this exciting sale!

1. MIYAVI KLKTN Pass
These NFTs were available for 24 hours only on January 2, 2022. Purchasing one gives fans access to over 380 MIYAVI NFT airdrops in the future. This also gives access to the private Discord channel.

2. Moments
These 'Moments' can only be seen in Kollektion, and include behind-the-scenes footage of MIYAVI's music production and private life. This time, each NFT has been sorted into one of three levels of rarity: Common, Rare, and Legendary. 


3. ArtKards
These NFTs were inspired by MIYAVI's album 'Imaginary.' Extremely limited and featuring a serial number, each item comes with a digital autographed photo card NFT and a raffle ticket for a personal video message NFT. 


4. Kodex
Introducing a new way to enjoy music in the modern era, cover art, lyrics, and liner notes will be included in each purchase.


5. Fender Official Guitar NFT (MIYAVI TELECASTER®)
FENDER and MIYAVI have come together to create a one-of-a-kind guitar NFT. Winners in the raffle will win a real signed guitar and other items!


6. Special Editions from the Hush Hush Music Video
A part of the limited-edition music video for MIYAVI's song Hush Hush has been made into goods and are on sale now! Each comes with premium extras like photo cards and extra commentary.


Comment from MIYAVI
"To celebrate the 20th anniversary since my solo debut, Kollektion will be holding the 'Month of MIYAVI!' I want to continue to take on new challenges and use the power of technology to better connect with my fans in both directions, not just one way. Don't miss out!"

KLKTN aims to create a new experience that deepens the connection between fans and creators, thereby increasing the enjoyment of fans and creating an environment where creators can enjoy their creative activities more.

Details Revealed for World's Largest Metaverse VR Event Virtual Market 2021

HIKKY has announced new information regarding those participating in Virtual Market 2021, a massive event taking place in the Metaverse starting this week. The first batch of exhibitors has been uploaded to the official website, including Lawson, SMBC Nikko Securities, and TV Asahi. Each company will offer unique virtual experiences that utilize the power of the Metaverse. Virtual Market 2021 has been formally recognized by Guinness World Records for 'Most Booths at a Virtual Reality Market Event.' 

Parareal Shibuya

Parareal Akihabara

When it rains in the real world, it also rains in the virtual city. 

A 'spatial timeline' shows micro-information about both the real and virtual cities. 

The theme for this year's event is 'Metaverse City.' Visitors will feel as if they have really traveled to Shibuya and Akihabara, with weather that mirrors the real world. Buildings will even grow as the number of visitors increases!

Participating Companies

Information

Virtual Market 2021

Dates: December 4 – December 19, 2021

Venue: Parareal Shibuya / Parareal Akihabara

Official Site: https://winter2021.vket.com/

MetaTokyo Launches First Project in the Metaverse with Genereativemasks

The Metaverse has been in the news lately, and the future is looking more and more digital. ASOBISYSTEM, ParadeAll, and Fraction Ventures have teamed up to build Japan's first pop-up museum focusing on generative art in MetaTokyo, an open cultural city in the open Metaverse using NFT. This will exhibit one of the largest NFT art projects in Japan, Generativemasks. 

Generative art refers to artworks that are generated by code, using computer software.

MetaTokyo Pass (MetaTokyo Digital Passport) 

Generativemasks

The architecture of MetaTokyo was created by MISOSHITA, a Metaverse/VR creator active not only in Japan but around the world. The interior and exterior were designed in collaboration with Generativemasks and other contributors to make a completely unique structure in the Metaverse. The NFT MetaTokyo Pass, functioning as a digital passport, is on sale now, allowing owners to access a number of activities and special privileges, including access to exclusive events and restricted areas within the MetaVerse. 

MetaTokyo is the world's first project to connect NFTs with the MetaVerse and is the first project of its kind to be implemented globally. 

Discover the wonder of Kanazawa with AMIAYA and ETSUNA with new "HAKKEN" videos produced by Channel 47

Fashion icons show the modern and historical charm of Kanazawa, Japan

TOKYO, JAPAN (16 November, 2021) – Channel 47, a company focused on globally promoting the appeal of local and popular Japanese culture through the power of entertainment, is excited to debut their new "HAKKEN" video series today, 16 November, highlighting the wonderful modern and historical tourism aspects of Kanazawa City in Ishikawa Prefecture. "HAKKEN" is the Japanese word for discovery, which is the core feeling this new video series is aiming to convey. Channel 47 wants toinspire viewers to discover the wonders of Japan's local culture through these shortfilms.

The debut videos feature fashion icons AMIAYA and ETSUNA (both represented by ASOBISYSTEM), each exploring a different facet of what Kanazawa has to offer curious visitors. These films were produced by Channel 47 as a part of promotional efforts for the Kanazawa Film Festival held in September of 2021. These entries in the "HAKKEN" series were informed by Channel 47's shared philosophy with the Kanazawa Film Festival, to disseminate the culture of Japan's countryside and promote its appeal worldwide.

In the first video, twin model & singer duo AMIAYA discover the "pop" elements of the city at locations such as the Omi-machi market, the 21st Century Museum of Contemporary Art, the Nagamachi Samurai District, and more. Along the way they sample delicacies from some of Kanazawa's highly rated restaurants. Through their experiences viewers will see art, food, shopping, and scenery that has high appeal among visitors.

Watch "HAKKEN – Discover Kanazawa with AMIAYA"

https://www.youtube.com/watch?v=a9-gD-ftTE0

Find AMIAYA online

Official Website: https://asobisystem.com/talent/amiaya/

AMI Instagram: https://www.instagram.com/amixxamiaya/

AYA Instagram: https://www.instagram.com/ayaxxamiaya/

Twitter: https://www.twitter.com/AMI__AYA

In the second video, fashion designer and influencer ETSUNA takes a different approach and wanders the traditional side of Kanazawa. Starting with a stroll in the Higashi Chaya District, her journey takes her to make ceramic art at Hokutoh, and to see historic locations such as the Ishikawa Bridge, the Gyokusen'inmaru Garden, Sannomaru Square, and more. To fit the traditional theme of her visit, she visits Kimono & Antiques Soki and gets dressed for the occasion. Viewers will see through ETSUNA's exploration the beauty and historical legacy of Kanazawa City.

Watch "HAKKEN – Experience Kanazawa's History with ETSUNA"

https://www.youtube.com/watch?v=Z3h-57mhouU

Find ETSUNA online

Official Website: https://asobisystem.com/talent/etsuna/

Instagram: https://www.instagram.com/etsunaotsuka/

Twitter: https://www.twitter.com/etsuna_artist/

ABOUT KANAZAWA FILM FESTIVAL

The 15th Kanazawa Film Festival was held from September 18-20, 2021 in Theater 21 at the 21st Century Museum of Contemporary art in Kanazawa. The festival has a reputation not only for the high quality of films presented each year, but also for its "New Directors with Promising Talent" program. This year 83 films were entered in the "New Directors with Promising Talent" program, and 11 of them won screening rights. The Grand Prix was awarded to MELIA's "Experiential Tour", for which she also received the special Channel 47 Award.

More information on the Kanazawa Film Festival can be found at

 https://www.eiganokai.com/event/filmfes2021/kanazawa/

ABOUT CHANNEL 47

Channel 47 is a project that using the power of entertainment to communicate the appeal of Japan and its different regions to overseas audiences. Through planning and producing events with celebrities and personalities, Channel 47 creates content that conveys the appeal and charm of Japan's many different regions to viewers all over the world. Channel 47 created the post-movies for the 15th Kanazawa Film Festival, held in September 2021. Additional efforts to promote the event overseas include producing

English subtitles for "Alien Painter" which was screened as a Kanazawa Film Festival Scholarship Film.

For more information about Channel 47 please contact: info@channel47.jp