All-female Japanese rock band SCANDAL held a special concert titled Storytellers: SCANDAL at Billboard Live OSAKA on August 21st, the same date on which the band formed, to celebrate their 11th anniversary. The four members reached their 10-year milestone last year which also saw them celebrating in Osaka. At that time, they performed an outdoor show at Izumiotsu Phoenix to a whopping 10,000 people. However, this year they decided to change it up a bit and instead held a concert for just 300 people.
Since this was a Billboard concert, there was a dress code for the audience, and each member of SCANDAL also dressed differently, appearing on stage in more monotone clothing.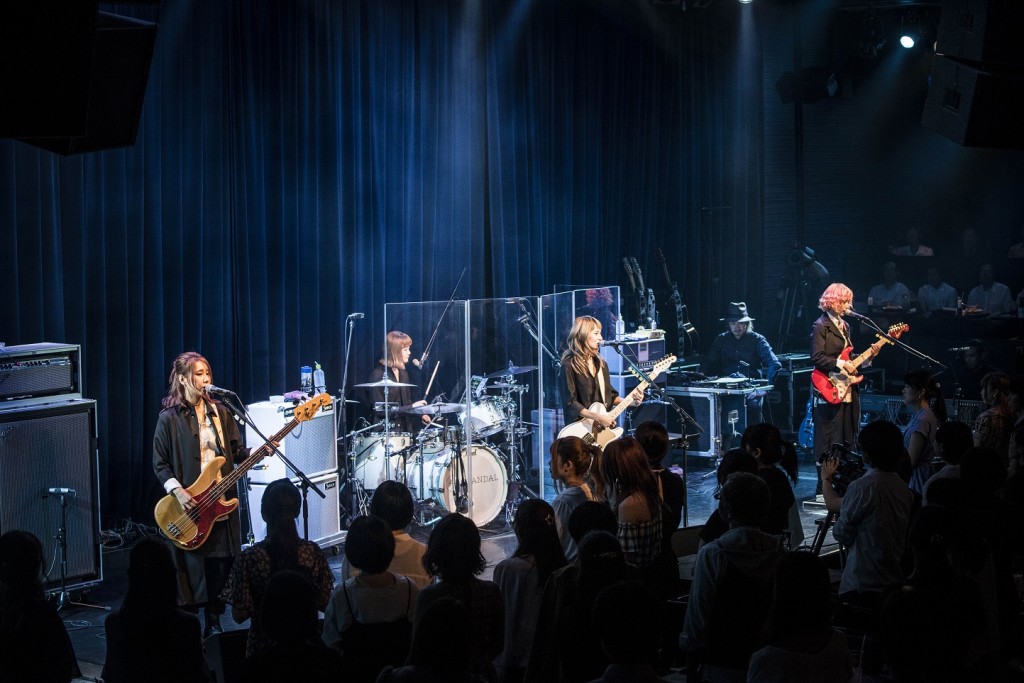 The concert also featured on the popular MTV show "Storytellers" shown on VH1 in which artists perform their music while also giving an insight into songwriting, as well as tell personal stories.
SCANDAL held the concert for this same TV show and feature as the first Japanese artists on the program. Vocalist and guitarist of the band Haruna said, "We are honoured to have been chosen as the first artists in Japan to feature on 'Storytellers.' Today is SCANDAL's 11th anniversary, and it's also Rina's (drums/vocals) birthday too. We want to make today a special day so we are thinking to try out various things that are different from what we usually do." Saying that, the band went on to perform songs that suited the atmosphere of the Billboard venue, while also also arranging and changing some up.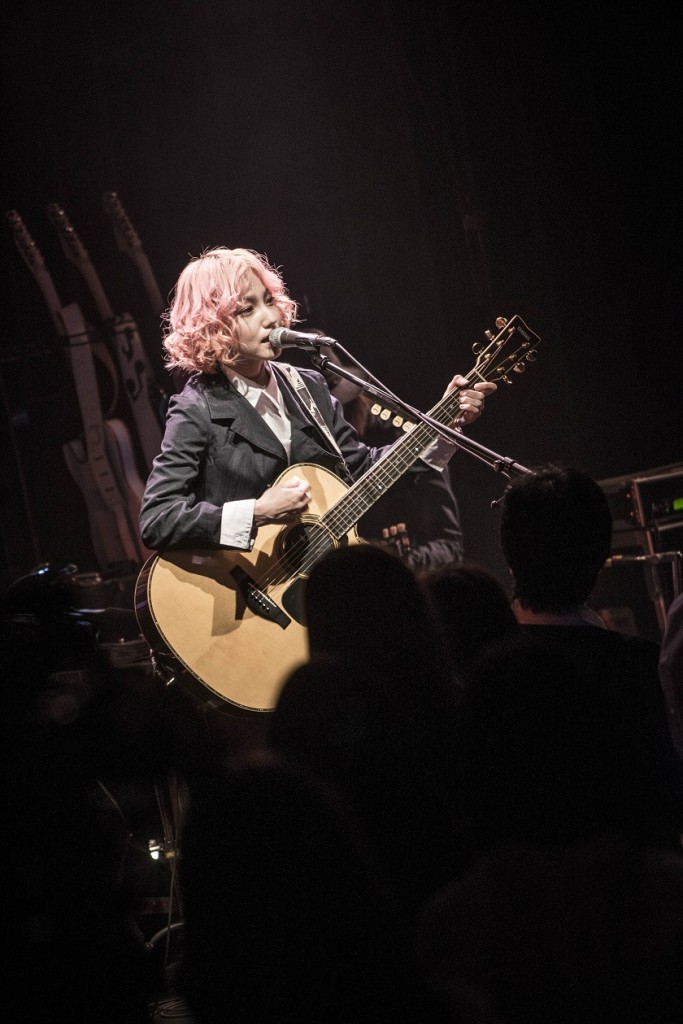 The performance began with "Shunkan Sentimental," followed by "Kimi to Yoru to Namida" which the band chose because "we thought it would feel great if we could perform it here at this venue." The song affirmed the girls' roots and experience in having gone to a dance & vocal school. They subsequently played "LOVE ME DO," a song they formed together as a band.
Then, all but Mami (guitar/vocals) left the stage, giving her the spotlight to sing her popular solo vocal song "Koe," with her acoustic guitar in hand.
Haruna said, "We have come to experience many happy times together over 11 years as a band, but what makes us the happiest is seeing all the people who cover our music, both in Japan and overseas. We are overjoyed to have been the reason that someone started playing music. So we'd like to call one of you up on stage today, someone that covers our music, to perform together with us." The four member SCANDAL then became five members as they called a fan on stage to perform the band's debut track "DOLL."
They then went on to perform an unreleased track titled "Koi Suru Universe" for the very first time, asking the audience "After playing our debut track, can we play a song for you that no one's heard yet? Have a listen to our live performance of this fresh out the oven number."
In the latter half of the show, they performed "Take Me Out," a track that has become standard to play at festivals and events. This was followed by "Hachigatsu," a song that was written in reminiscence of the summer in which the band formed 11 years ago. The closing track of the concert was "SCANDAL BABY," which was voted as the number one track in a fan poll last year. During this performance the band and fans truly became one, before their 11th anniversary special show came to an end.
The entire concert itself will air on MTV on October 21st. The new song "Koi Suru Universe," which was performed here for the very first time, is scheduled to go on limited digital release on October 22nd. Full details on the new single will be released at a later date. In other news, SCANDAL are set to perform their annual Christmas concert "BEST★Xmas 2017" at Akasaka BLITZ on December 24th.
2017 has been a hell of a year for SCANDAL so far. They embarked on their "47 Prefecture Tour" and they are currently playing at a string of summer festivals in Japan. They will also appear at their very first tai-ban tour in October, a type of concert where several artists are on the timetable and where sets are generally shorter than at a solo concert. Their schedule just keeps on growing, so there's plenty of SCANDAL available for everyone to enjoy – make sure you don't miss out on a chance to see them live.
 ■Information
【"Storytellers: SCANDAL" Set List- August 21, 2017 @ Billboard Live OSAKA】
01. Shunkan Sentimental
02. Kimi to Yoru to Namida
03. LOVE ME DO
04. Koe (Acoustic Ver.)
05. DOLL
06. Koi Suru Universe (*new song)
07. Take Me Out
08. Hachigatsu
09. SCANDAL BABY
【Broadcast Info】
MTV – "Storytellers: SCANDAL"
Saturday October 21, 2017 – 21:00~22:00
http://specials.mtvjapan.com/storytellers/
【Release Information】
Digital Single "Koi Suru Universe"
Set for release at 00:00 on October 22, 2017 across digital music platforms.
*Full details regarding the song list etc. will be released at a later date.
【Tour Information】
SCANDAL TOUR 2017: "SCANDAL no Tai-Ban Tour"
Date: October 6, 2017
Venue: Zepp Tokyo
Line-up: SCANDAL / UNISON SQUARE GARDEN
Time: OPEN 18:00 / START 19:00
Enquiries: HOT STUFF PROMOTION 03-5720-9999
Date: October 20, 2017
Venue: Zepp Nagoya
Line-up: SCANDAL / 04 Limited Sazabys
OPEN 18:00 / START 19:00
Enquiries: SUNDAY FOLK PROMOTION 052-320-9100
Date: October 21, 2017
Venue: Zepp Osaka Bayside
Line-up: SCANDAL / BLUE ENCOUNT
Time: OPEN 17:00 / START 18:00
Enquiries: SOUND CREATOR 06-6357-4400
Tickets: ¥4,860 (tax incl.) + fee for one drink
General sale for tickets to begin on Saturday September 2nd at 10:00am.
■BEST★Xmas 2017
Date: December 24, 2017
Venue: Akasaka BLITZ
Time: OPEN 17:00 / START 18:00
開演:18:00
Tickets: ¥4,860 (tax incl.) + fee for one drink
General sale for tickets to begin on Saturday November 25th at 10:00am.
Enquiries: HOT STUFF PROMOTION 03-5720-9999 (available weekdays 12pm-6pm)
SCANDAL Official Website: http://www.scandal-4.com/