【Tokyo Stroll】Step into the Showa area at Uenosakuragi Atari, Yanesen. Introducing Kabaya Bakery & Yanaka Beer Hall.
The essence of the Showa era lingers in the district of Yanesen. In the nearby residential area called "Uenosakuragi", a new tourist spot by the name of "Uenosakuragi Atari" has been born. Model Saki Shibata pays a visit and expresses her love for the area, as the real authentic essence of Japan can be felt here. Today, we're joining Saki-chan as she takes a stroll around the elegant and old Japanese-style neighbourhood.
A living space you can share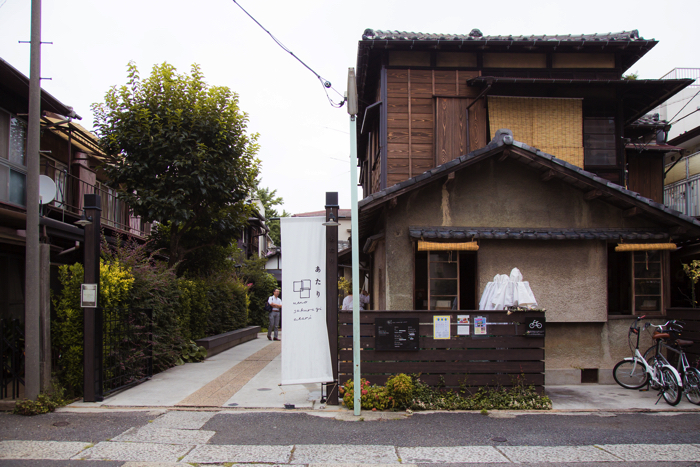 After a short walk from Yanesen, we stumbled upon the residential area "Uenosakuragi Atari", where a residential complex that was built 80 years ago had been refurbished. Many institutions sit snug in the complex, including a beer hall, bakery, salt and olive stores, rental spaces and much more.
Uenosakuragi Atari is only a 10-minute walk from JR Nippori station, JR Ueno station, Tokyo Metro Nezu station and Sendagi station. You can also get there quickly from Shibuya station and Harajuku station!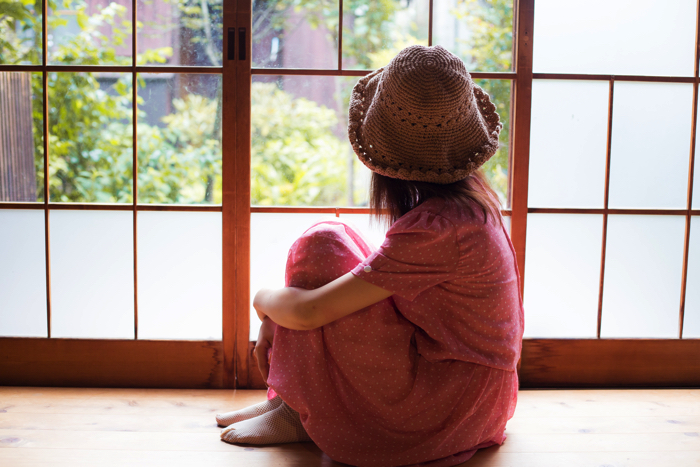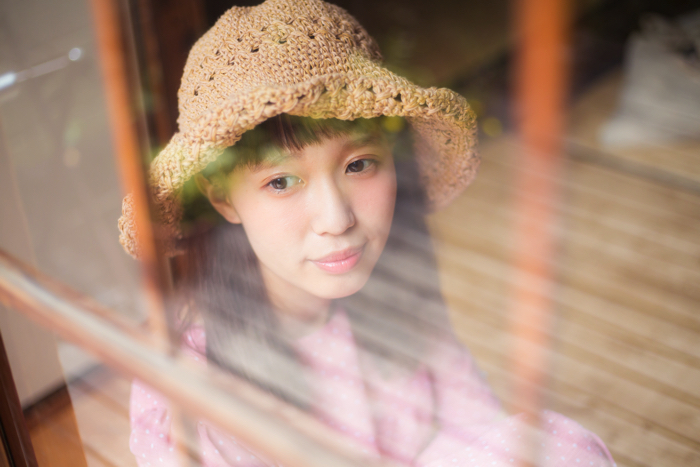 These three buildings were once used as a place of residence and was built in the 13th year of the Showa era. Whilst the outside retains its authentic appearance from the past, the inside has been renovated. Looking at the outside of the building, you would see a building from long ago. As you inspect the shops, each step you take reveals the extent of its beauty.
When the council stumbled upon the old building, they pondered over whether it should be turned into a new car park, or whether it should serve as a new apartment complex. At that moment, the idea of renovating it came to mind. This is how the renovation came to be.
From children to the elderly, people join together here to enjoy the neighbourhood. Uenosakuragi was created as a place where one can live in harmony with others.
The bakery locals love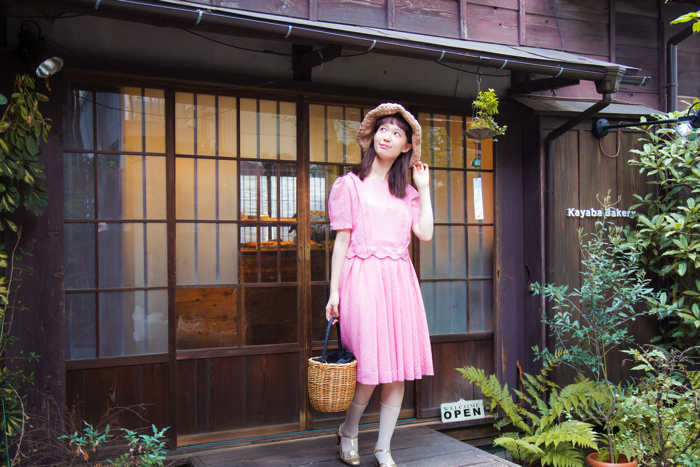 The love for Kayaba Bakery spreads not just amongst the tourists, but also the locals. This is the bakery of the famous coffee shop Yanaka Coffee.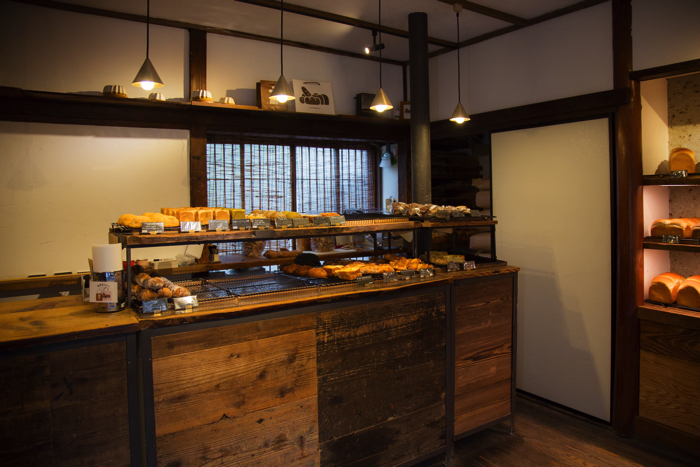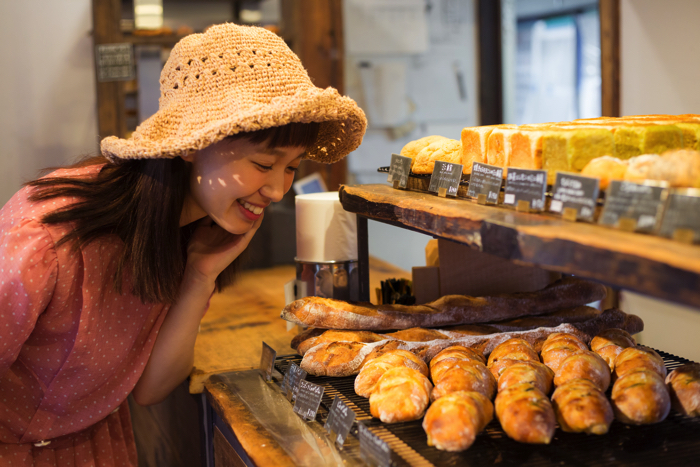 The wheat used to make the bread is grown in Japan. Enjoy the soft and springy texture of this cutely-shaped bread – all of them look so delicious! The variety looked so good that Saki-chan took ages to decide which one to buy!
Small breads and small prices – that's why we recommend you to buy lots and try lots! Look at Saki-chan, sat on a bench outside, stuffing her cheeks with the store's popular "Jyagapan" (potato bread). The scent of rosemary from the bread wafting through the air will definitely catch you off guard.
Breakfast, lunch or a quick snack – if you're peckish and looking for a petit treat, this sweat bread is perfect!
▼ Store information
Kayaba Bakery
Address:Atari 2-1F, 2-15-6, Uenosakuragi, Taito, Tokyo
Opening hours: 9:00〜19:00
Closed: Mondays
Telephone number: 03-5809-0789
http://www.kayaba-bakery.com
>>next page
RELATED ENTRIES
Young ASOBISYSTEM Models Design Glasses Perfect for Everyday Fashion

Glasses brand Zoff teamed up with famous models Saki Shibata, Yuri Suganuma and Rinko Murata to produce a branded glasses series that is perfect to wear "All Day, Every Day". The girls designed these glasses to fit into and enhance your everyday life experiences. The Zoff CLASSIC Girls Collection -All Day, Every Day- series will be released across Japan from October 11, 2019. 

The main theme of this series is All Day, Every Day. From this, the three sub themes of morning, midday and evening were created and each model was put in charge of the designs for one of these themes. Shibata was in charge of 'morning' designs, Suganuma was in charge of 'midday' designs and Murata was in charge of 'evening' designs. Each model carefully thought of how the user would wear the glasses during their sub theme time in order to fully enhance their daily experiences. Each model also created a unique personal design out of metal for the temple tips of the glasses they designed. 

Before being released in stores, the glasses will be available to preorder from Zoff's official online store from 11am (JST) on September 20. From the same day from 9pm, there will be a one-hour-long live broadcast where the models will showcase their creations.  A limited number of the glasses will be available to preorder during this live broadcast. 

There is also a lottery taking place with the chance to take part in the Zoff CLASSIC Girls Collection Special Event which consists of two parts: A tea session where you can listen to the girls' stories on how they produced the glasses and even get some pointers on how to coordinate your look, and a special photography session with the three models. 

Designs by Saki Shibata

ZH191011 Available in 3 colours ¥7,000

These compact and circular-shaped rims are the perfect way to highlight your classic look or even a tomboy look. However you decide to wear these glasses, you will always look good with minimum effort. 

ZO192024  Available in 3 colours ¥9,000

The vintage style and matte coloured metal frame make these glasses perfect for both men and women. The carefully chosen size makes these extra special. 

Shibata's statement on the personalised symbol:

"I want the wearer to feel good the moment they put on these glasses. I designed these glasses to give the wearer confidence to hold their head high and say: 'Today is going to be a wonderful day and I am going to enjoy every moment of it.'"

Designs by Yuri Suganuma

ZP192020 Available in 3 colours ¥7,000

These frames are rectangular with soft round edges to make your face look smaller and your eyes look bigger. 

ZO191012 Available in 3 colours ¥9,000

A perfect mix between foxy and geeky, the roundness of these rims is subtle, adding a feminine touch to your look. Although you may get the impression that these glasses only go well with a few styles, they actually coordinate well with a surprisingly large range of styles.

Suganuma's statement on the personalised symbol:

"My design is a heart rate to represent how the wearer will feel when they put these glasses on. I hope my glasses make your heart jump with excitement." 

Designs by Rinko Murata 

ZP192019 Available in three colours ¥7,000

The metal frame is so beautiful that it is like wearing an accessory. The subtle colours of the frame make it perfect for casual clothing. If you are looking for something for everyday use, these are perfect. Big rims are trending right now. 

ZN191011 Available in three colours ¥9,000

There is a wonderful contrast between the different materials used and the circular-shaped lenses give a classic look. Switch the lenses for blue light blocking lenses to reduce the amount of blue light exposure from your computer and phone. 

Murata's statement on the personal symbol:

"I etched my initials 'rm' into the design. I hope the wearer feels the power to transform into a brand new person whenever they put on these glasses. I hope my glasses provide a sense of comfort and confidence to the wearer."

Whether you are a fan of the models or this is your first time hearing about them, you just have to check out their stylish designs which are suitable for men and women of all ages.

Information

Zoff CLASSIC Girls Collection -All Day, Every Day-

Price: ¥7,000/ ¥9,000 (Price after tax, includes price of standard lenses) 

*Comes as a set with a special case and microfiber cleaning cloth

Product Range: 6 different shapes in 3 different colours (18 designs in total)

Release Date: October 11, 2019 

* Available for preorder from 11am on September 20, 2019 from the following locations:

– Zoff Online Store

– Zoff Rakuten Market 

– Zoff ZOZOTOWN Store 

* The models will be presenting their glasses on the Live Shop! live stream for 1 hour from 9pm on September 20, 2019. During this hour, a limited number of the glasses will be available to preorder. 

Link: http://clk.nxlk.jp/NwGufFql/test

* All pre ordered goods from this series will be shipped to customers from the end of October. 

Purchasable From: All Zoff stores nationwide (Not available at shopping outlets), Zoff Online Store, Zoff Rakuten Market, Zoff ZOZOTOWN shop, Zoff i LUMINE (Also available at the following overseas Zoff stores: Shanghai, Hong Kong and Singapore).

Special Edition Website: http://clk.nxlk.jp/Z6IMGHK5/test

Popular Japanese Model Saki Shibata Releases Items in Collaboration With Pompompurin

Popular Japanese model Saki Shibata―known to her fans by the nickname Shibasaki―has teamed up with Sanrio's adorable golden retriever Pompompurin to release a collection of collaborative items on the character merchandise online store hopely.

"Pompompurin x Saki Shibata" Handbag – ¥2,500 (Before Tax)

"Pompompurin x Saki Shibata" Compact Mirror – ¥1,000 (Before Tax)

"Pompompurin x Saki Shibata" Pocketable Tote Bag – ¥3,000 (Before Tax)

Shibasaki is a huge fan of Pompompurin, and her cute collection includes a handbag, compact mirror and tote bag.

All of these items can be enjoyed by girls and women alike. Which do you have your eyes set on?♡

A Date With Yutaro: Soaking Up the Japanese Summer Sun & Visiting the Art Aquarium | Tokyo Stroll

It's been a while since our last date with Yutaro. He's been very busy with film shoots. He had some spare time today so we paid a visit to Nihonbashi for our next date. "ECO EDO Nihonbashi: Enjoy Cool Edo With All Five Senses" is an event held every year in the Nihonbashi area which takes the Edo period cultural idea of "coolness"―an in, to enjoy being cool during the summer-and puts a modern spin on it. There are many exciting things to look forward to, including the art aquarium which proves massively popular every year.

We gave ourselves more time to arrive at the meeting place to be in the safe side, but it seems Yutaro-kun was already there waiting for us!

Nihonbashi Information Center | IPPIN CAFÉ "Sparkling Herb Tea" – ¥518 (Tax Included)

"Here, you must be boiling." Yutaro-kun kindly offers a cup of IPPIN CAFE's limited-edition sparkling herb tea. It's a delicious mix of fizzy soda and lemon, a perfect refreshment for the summer. Since he ordered takeout the drink came with a goldfish straw. Goldfish are a staple sight during Japanese summer festivals so it's very fitting for the occasion! 

With our drinks in hand, it's time to head to Nihonbashi for our Edo summer date!

Wind-Chime Forest Path

Lining the path between Fukutoku Shrine and Fukutoku Garden is the Wind-Chime Forest Path where around 200 Edo-style wind chimes dangled. This year, during the evenings, the path is illuminated with beautiful lighting. 

When the breeze rolls past the wind chimes ring one by one-a cool and refreshing sound.

"I hear each one of these Edo wind chimes are individually handmade by craftsmen."

When you hear the sound of the wind chimes it makes you feel cool like a gentle breeze of the wind.

After strolling along the Wind-Chime Forest Path we make our way towards this year's ECO EDO Art Aquarium event.

The moment we step instead Yutaro is already dazzled by all the goldfish: "Wow! I knew about this place from what I'd seen online, but this my first time here! This art aquarium really is something!"

The full title of the event is "ECO EDO Nihonbashi ART AQUARIUM 2019 ~Edo, Coolness of Kingyo~ & Night Aquarium."  Goldfish were a huge part of the common culture in Nihonbashi during the Edo period. This event recreates that and brings that "coolness" aspect while combining it with contemporary art by having people observe the fish in lots of different artistic environments.

Super Oiran

"This is the biggest fish tank, apparently it has 3,000 fish swimming inside!"

"Seeing the light reflect on the water from the illuminations lets you see the fish in a different light, doesn't it?"

Looks like Yutaro-kun is having a lot of fun taking photos.

He's equally interested in just about every fish tank!

These other fish tanks have a different aesthetic to them. Their Japanese-style designs make for great photos.

Kaleidorium 3D

"This one's beautiful, it's like a kaleidoscope."

It really does look like one. When you take a peek instead you can glimpse all kinds of colourful fish gently swimming around.

Ceiling Kingyo

"There're goldfish swimming on the ceiling too. So cool! This aquarium is incredible. It brings together the great culture of Edo and contemporary art."

The Art Aquarium bustles every single year with visitors, but this year will mark its last run. It's being held at Nihonbashi Mitsui Hall, so if you have the chance to go then please do.

We of course checked out some local Nihonbashi treats too! We stopped by morozoff for some cheesecake after the aquarium.

morozoff Kamadashi Cheesecake (Goldfish) – ¥270 Each (Tax Included)

These cute cheesecakes with their goldfish designs are available for a limited time only. They're filled with sweet red bean paste. They perfect with iced tea.

"Got some! Let's eat them while we head back."

Goldfish Lantern Walkway

Our first date in Nihonbashi was so much fun. While on the date Yutaro-kun spoke about the new live-action film he's in, Kaguya-sama: Love Is War.

"It's a romance film with mind games to try and make the other person confess their love. I play the character Tsubasa. His number one highlight scene is the kabedon scene. That was my first day shooting, so I was super nervous, but I got along well with the other actors, and the atmosphere on set was harmonious, so I was able to relax for the shoots. Tsubasa is a genuine guy who will believe things that have been said to him in earnest. You've definitely gotta check out all his scenes throughout the film!"

"A lot of the cast are the same age as me, so we were all energetic together in the waiting room. There's a scene at the end where all the cast get together. It took 3 days to shoot so we ended up getting along really well."

"This film has made me realise that love comes in many shapes, and that mind games happen in a variety of ways between guys and girls. There's cute scenes that express that small bit of pride that teenagers have, the embarassment they feel, when they get butterflies, scenes that will warm your heart. The film has various elements to it so I thoroughly enjoyed watching it myself. I hope that couples in love in their teens and twenties watch it, and I also hope that married couples watch it and crack up laughing too."

"In the film it's summer break, and they go and see fireworks and stuff. It's definitely one to watch durnig the summer. You're gonna come watch it too, right? Shall we go?"

An offer we cannot refuse! We'll definitely go and see it with you, Yutaro-kun! 

Model: Yutaro

Writer: Yuki Yokoo

Photographer: Kayo Sekiguchi

Information

ECO EDO Nihonbashi 2019 ~Enjoy Cool Edo With All Five Senses~

Running: July 5, 2019 – September 23, 2019

Location: Nihonbashi Area

TEL: 03-3242-0010 (Nihonbashi Information Center)

Event Page: https://www.nihonbashi-tokyo.jp/en/ecoedo2019/

ECO EDO Nihonbashi ART AQUARIUM 2019 ~Edo, Coolness of Kingyo~ & Night Aquarium

Running: July 5, 2019 – September 23, 2019

Location: Nihonbashi Mitsui Hall Floor 5F (Entrance at 4F),  COREDO Muromachi 1, 2-2-1 Nihonbashimuromachi, Chuo Ward, Tokyo

Opening Hours: Art Aquarium 11:00-19:00 / Night Aquarium From 19:00

[Sun-Fri] 11:00-22:00 (Last Entries 22:00) [Sat & days prior to public hoiday] 11:00-23:30 (Last Entries 23:00)

Access: Directly connected to Exit A6 of Mitsukoshimae Station, accessible on the Tokyo Metro Ginza Line and Hanzomon Line / Directly connected to Shin-Nihombashi Station / 8-minutes on foot from East Exit of Kanda Station JR 8-minutes on foot from Nihonbashi Exit of Tokyo Station

TEL: 03-3270-2590

Event Page: https://www.nihonbashi-tokyo.jp/en/ecoedo2019/contents/005.html

Kaguya-sama: Love Is War Film

Release Date: September 6, 2019

Adapted from the manga of the same name by Aka Akasaka (Shueisha/Weekly Young Jump)

Cast: Sho Hirano (King & Prince), Kanna Hashimoto, Hayato Sano, Natsumi Ikema, Nana Asakawa, Mayu Hotta, YUTARO, Takashima Masahiro, Jiro Sato

Official Website: https://kaguyasama-movie.com/

TALENT PROFILE

Yutaro

Yutaro was born in Hiroshima on June 3rd 1998. His modeling career has earned him lots of attention as a fashion icon of the new generation. The famous model also works as a "charisma" shop assistant. Yutaro has gained his reputation as a "mysterious and handsome guy" from his appearance on Japanese variety shows. His debut was made on the show "Gyoretsu no Dekiru Horitsu Sodanjo" and has since then appeared on numerous different TV shows. He challenged himself to appear on stage for the very first time in March this year and is gaining popularity by the day for his diverse work.

Tokyo Stroll: The Café That You Want to Visit to See Someone #11 – 'Hatoya' in Asakusa

In this edition of The Café That You Want to Visit to See Someone, I visited Hatoya which is located in Asakusa Shin-Nakamise Arcade.

The streets of Tokyo's historical district of Asakusa are packed to end with cafés. You can be spoiled for choice, but Hatoya stood out to me in particular as it's an especially old café. Business there began back in 1927 but the actual building was built back in the Taisho period, meaning its history spans more than 90 years ago!

The outside appearance of the shop is smart and chic so it's very easy to spot. I couldn't tell by looking from the outside, but the inside is full of old decorations and odds and ends which make you feel the history of the café.

One reason why I wanted to visit this place so much is because I was drawn to their logo. It's really retro-kawaii so I just couldn't resist!

You should take some photos too if you visit.

It was time to head inside. It's really comfy and cozy in there; the atmosphere was nice and relaxed.

Framed on the wall is a map of the Asakusa area during the Taisho era. Hatoya became famous back then because people could buy coffee for a mere 5 sen (a single sen is one-hundredth of a yen).

When business first began at Hatoya, because the café was opposite the stage door of a theatre, all of the famous actors and actresses would pop in. Some include famous Japanese comedian Roppa Furukawa and film actor Kiyoshi Atsumi who played Tora-san in the film series Otoko wa Tsurai yo.

I ordered the café's popular hotcakes which cost ¥600. They have been making these same hotcakes since before the war.

They were nice and fluffy and had a deliciously gorgeous brown colour. The flavour was out of this world when the butter melted from the heat of the hotcakes and mixed together with the syrup.

The portion might look like a lot but they are fluffy and have a light flavour so can be finished with no problem.

And is the café's signature milkshake (¥500).

It's so refreshing that you can knock it back all in one go. It has a simple flavour but it tasted so good!

I also ordered the ¥600 cream soda, my favourite beverage.

I've been to many cafés, and have covered many in this series, but this is the first I have dined at with such a deep history. I found myself enthralled by the stories of the owner who has continued to treasure the café and maintained it all the same since it opened. I feel like I have learned about a world I never knew about. The next time I go to Hatoya with a friend I'll be sure to let them in on its history. I encourage you to visit too!

Writer/Model: Ema Tanioku
Photographer: Haruka Yamamoto
Design: Yuko Abe (ASOBISYSTEM)

TALENT PROFILE

Ema Tanioku

"Emaeri" is the nickname for models Ema and Eri Tanioku, who are Aomoji fashion model twins. Ema and Eri Tanioku specialise in twin fashion coordination. Over the years their fanbase has increased due to their cute looks. Ema Tanioku spreads Harajuku culture within Japan as well as overseas and works as a Harajuku Tourism Ambassador. Starting off as a model, Ema has broadened her talent range from fashion magazines to TV, and from playing the lead role in dramas to movies.

Giant 5-Meter Tall Dinosaur Panda Stomps Into Ueno Station

The Dinosaur Expo 2019 began at National Museum of Nature and Science in Ueno, Tokyo on July 13, and in promotion of the exhibition, a thrilling dinosaur themed event is set to take place at the Atre Ueno shopping mall from August 1 to September 30.

Atre Ueno is located inside Ueno Station, and if you roll into the station right now you'd best be careful of the bipedal, carnivorously cute 5 meter high panda-saur. You'll find it on display at the station's Grand Concourse (it's pretty hard to miss!)

You might be wondering why there's a giant panda dressed as a fluffy dinosaur. The reason is that Ueno Zoo has its very own giant pandas which have become a symbol of the town. And the dinosaur our station panda is dressed as is the Deinocheirus, the main showpiece of The Dinosaur Expo.

In promotion of the museum's exhibition, 19 restaurants and cafes at Atre Ueno are serving up their very own dinosaur-inspired meals―both meat for the carnivora and vegetarian for the herbivores―as well as desserts.

Head to Ueno this summer break for your fill of dino fun!

Information

The Dino Expo 2019

Running: July 13, 2019 – October 14, 2019

Location: National Museum of Nature and Science

Opening Hours: 9:00-17:00 (until 20:00 on Fridays and Saturdays)

Official Website: https://dino2019.jp/

Atre Ueno

Address: 7-1-1 Ueno, Taito Ward, Tokyo

Opening Hours: Shops 10:00-21:00 / Restaurants 11:00-22:30

*Select stores have different opening hours

Official Website: https://www.atre.co.jp/store/ueno

Tokyo DisneySea's New 'Song of Mirage' Show is a Must-See

Tokyo DisneySea fans have been waiting in excited anticipation for the opening of the park's new attraction Soaring: Fantastic Flight on July 23. But did you know that an all-new show also started on the same day?

I visited Tokyo DisneySea together with models Saki Shibata and Kanako to see this new show. It's called Song of Mirage and features Mickey, Minnie, Donald and Goofy as the cast.

The show takes place at the Hanger Stage in Lost River Delta. Mickey and the rest of the cast are led to the mysterious city of  Rio Dorado by a cane that Donald found.

From the very start of the show the characters are sucked into this magical place by the mysterious cane. During this time Donald ends up getting himself in trouble. Mickey also takes part in a dance battle where he shows off his cool moves which leaves Minnie positively in awe. Each character has their own performance which guests can look forward to seeing.

The most overwhelming part of the show however is the voice of the diva who appears during the set. She sings beautifully yet powerfully and it gave me goosebumps.

The singing and dancing throughout, as well as the realistic projection mapping were all spectacular. We were completely drawn into the story and the vibrant and dynamic performances that tied it together.

The performers singing and dancing in their golden costumes too were a sight to behold.

Saki's reactions were really charming as her face changed every single second while she laughed, clapped and really got into the show. Kanako, who loves Disney, was extremely pleased to see her favourite characters on stage too.

There is both reserved and free seating at the show. Reserved seating must be booked in advance but is allocated through a lottery system where people are chosen randomly. The schedule for bookings can be found on the official website.

The Disney cast wear adventurer costumes during the performance, and you can buy plush toys of them wearing them too!

If you're visiting Tokyo DisneySea then be sure to catch the show during your breaks between attractions and parades.

©Disney

Soar All Over The World With DisneySea's Brand New Attraction Soaring: Fantastic Flight

Tokyo DisneySea will open their new attraction Soaring: Fantastic Flight on July 23. This ride is an immensely popular attraction at theme parks around the world. DisneySea has created a new adaptation of this ride, offering a brand new and original experience to visitors.

Model Saki Shibata from MOSHI MOSHI NIPPON Editorial Department headed to DisneySea with model Kanako for an exclusive opportunity to experience this attraction before it opens to the rest of the public!

Climb up the stairs next to the Mediterranean Harbor and the attraction will lie right before your eyes. 

Before you enter the building, you will notice that there are lots of photo spots outside. 

You will also spot Camellia Falco; a keen flyer who became the first woman to be accepted in the Society of Explorers and Adventurers in 1851.

The Museum of Fantastic Flight located in the Mediterranean Harbor is celebrating Camellia Falco's innovation in the field of aviation by holding a special commemorative exhibition dedicated to her and her research. 

The final room of the museum is a gallery filled with Camellia's outstanding achievements.

Finally, it was time to climb aboard the invention of Camellia and her colleagues; an aircraft called the Dream Flyer.

The Dream Flyer was a magnificent trip. We soared through the sky, through the nature and around famous places of the world.

We were propelled from one place to another, experiencing a range of new atmospheres and surroundings in so many ways. At each location, we felt the wind and temperature of each country on our skin and could even smell a mix of intriguing smells unique to each location. 

The final destination we arrived at was our most favourite… 

This DisneySea original attraction is overflowing with imagination. It was like flying through an imaginary world. You absolutely must check it out. 

Fantastic Flight Churros (Pineapple): ¥400

Fantastic Flight Drink (Lychee Bubble Tea): ¥450

To celebrate the opening of the new attraction, new Fantastic Flight-themed merchandise and foods have been released. Zambini Brothers' Ristorante is even selling pineapple flavoured churros and bubble tea. Just looking at the blue sky colour of these delicious treats will leave you feeling refreshed.

Postcard: ¥200 

Origami Notebook: ¥400

Socks (22 ー 25cm/ 25 ー 27cm): ¥700

Please check out the full goods range!

It has been quite a while since DisneySea has opened a new attraction, so the park is booming with excitement in anticipation for its grand opening to the public! Climb aboard the Soaring: Fantastic Flight ride and embark on a worldwide adventure! 

©Disney

Tokyo Stroll: Shopping & Sightseeing with Mozuku-kun the Dog #5 – Uzumako Ceramic Art School

It's been a minute since we last ventured out with Japanese model Yuna Yabe and her beloved pet pup Mozuku. If you're new to this feature, Yuna Yabe takes her trusty partner Mozuku to various hot spots in Japan that you can enjoy with your pet dog. Their relationship continues to deepen in this priceless experience.

Today, Yuna and Mozuku head to Uzumako Ceramic Art School which is close to Shiba Park. You can get a good view of TokyoTower from this famous park.

What's unique about this art school is that visitors are allowed to take their pets with them. So this means you can take your dog with you to do some ceramics!

Yuna has always had an interest in ceramics. And what better way to experience creating something than with her partner in crime Mozuku! With him tottering beside her, she headed through the entrance curtain with a spring in her step.

When you enter the classroom, there are lots of examples of pottery ware lining the shelves. The room has that smell of craftsmanship which lingers as you begin the class with a demonstration by the teacher. Once you have your apron on and are fired up to begin, it's time to start.

The work begins with kneading the clay to make its firmness uniform. This step helps prevent air bubbles from forming.

Yuna asked the teacher many different questions as she enjoyed kneading her clay. "Where does ceramic work originate from?" "What kind of things to other dog owners make when they come here?"

"What's Yuna up to?" Mozuku's puzzled face seemed to imply as he listened to Yuna and the teacher talk.

Yuna turned to Mozuku and said to him, "I'm going to make you a food bowl!" It seemed like the message got through as his face read, "Looks like my owner is making something just for me."

Yuna wet her hands with some water and began forming a hole in the centre of her clay bundle. The hole forms and gets bigger as the pottery wheel spins.

Next, she used both of her hands to ensure the thickness of the bowl was even all the way around.

"Amazing! The shape of the clay changes in an instant!"

By adding a little bit of pressure the pile of clay can change shape rapidly. It's like a living thing.

"It's like the clay is my own child. I wanna wrap it up!"

Once the shape is formed, Yuna cut around the edges. She is a skilled individual, she got the hang of it straight away.

Mozuku sat right beside Yuna, quiet and curious.

"Is it my turn yet?"

He seemed itching to have a go at making something himself too.

He watched over Yuna's work from atop the table.

"I wanna try spinning the wheel too!"

Mozuku in fact had the most important job of all. Yuna popped a wooden mould onto his paw and stamped a paw print into thebottom of the bowl.

"There we go!" said Yuna

Mozuku mustered all of his strength to make his mark, his facial expression unusually serious as he carried out his big task.

Time to check if the print was done properly!

Here's the final product―Mozuku did a great job!

Their teamwork paid off as they were able to create a really cute dog bowl. The tiny footprint is packed with pet love. The art school actually sells a lot of different cute and stylish pet items but the owner making their own makes it unique―the only one in the world.

If that love is able to get through to your pup, the food they eat from the bowl is sure to be even more delicious.

Thanks for your help, Mozuku.

"I can't wait to fire it!" Yuna's excitement was peak from start to finish. She was very satisfied after the class finished.

After two weeks of waiting, the bowl was completely finished.

Why not try creating something unique special for your own pet―together with them?

Model: Yuna Yabe/Mozuku @yunaaay1030

Text: Ai Watanabe

Photographer: Kayo Sekiguchi

Translator: Joshua Kitosi-Isanga

Information

Uzumako Ceramic Art School
Address: Sekisui House Floor 1F, 3-29-11 Shiba, Minato Ward, Tokyo

Business Hours: 10:00-19:00

Access: https://www.uzumakotougei.com/en/access.html

TEL: 03-6809-6363

Official Website: https://www.uzumakotougei.com/en/index.html

*The course Yuna took with Mozuku was the "Pet Ceramics Plan" where you can make 2-4 ceramic items and fire them. For your first try the staff will carve and glaze the final product to completion. This can be picked up one to one-and-a-half months after your course for ¥4,500. Please check the website for more details.

*Obedient dogs permitted. Please note that there are other participants so dogs who bark a lot or cannot relax are not permitted.

TALENT PROFILE

Yuna Yabe

Yuna Yabe won the grand prix prize at the "Zipper×ASOBISYSTEM Model Auditions" at the age of 15. She is an expert not only in fashion but make-up and video editing too. She's an influential figure to the people in her generation. Recently, her work has expanded greatly, such as appearing in music videos. Her activity continues to grow and looks to be very promising indeed.

Tokyo Stroll: Walking Through Akasaka Palace, a European-Style Splendor

Akasaka Palace―a building that has welcomed emperors, presidents and prime ministers across the world into its architectural wonders. While it is mainly used for official purposes, did you know that it also offers a public viewing, one that doesn't hinder on business affairs?

The palace is considered a national treasure of Japan. I paid a visit to this gorgeous edifice that looks just like a European-style palace. Photography is strictly forbidden when visiting, but I was able to receive special permission to cover the inner secrets of this exclusive wonder.

Akasaka Palace is open throughout the year. There is a daytime reception that lets you enter without having to book a spot in advance (though you'll have to book if you want to visit the Japanese Style Annex). Visitation is restricted when international state officials are present, so when planning your trip be sure to check the palace's schedule on the official website. Visitation through the daytime reception begins at the West Gate.

Originally built in 1909 as the Imperial Palace for the Crown Prince, the building is the only example of neo-Baroque architecture in Japan. It was built by Japanese imperial court architect Katayama Tōkuma. When planning the design for the building, he referenced various palaces across Europe which is why people liken it to Palace of Versailles in France.

Hagoromo no Ma – A reception hall for visitation welcomings

The first room you come to on the public viewing is "Hagoromo no Ma." It was originally called a ball room which is why it houses orchestra boxes. Aperitifs dance around the room for invitees who may be there for send-offs, dinner parties or even musical performances.

Overhead is a gorgeous chandelier which is made up of almost 7,000 separate parts, most of which is crystal. It is the biggest chandelier in the entire palace. The inner part of the mezzanine floor, which looks like a balcony, is used as an orchestra box when the room is used for orchestral concerts.

The intricate design of the chandelier includes masks inspired by a ball while the walls too are littered with relevant motifs such as instruments. The whole room is decorated in all things musical.

Asahi no Ma – The most high-class room of the palace

The next room you step into is "Asahi no Ma" which is used for courtesy calls of officials and important people as well as summit meetings. It is the most high-class room in all of Akasaka Palace and is where the state guests say their goodbyes to the Emperor and Empress. The room began reconstruction two years ago and reopened in April this year.

The room gets its name Asahi ("morning sun") from the painting of Aurora, the Roman Goddess of dawn, that overlooks the room.

It is said that in the Meiji Period, when the palace was built, people painted pictures of helmets to symbolize the army and boats to symbolize the navy as the country declared the political measure known as Fukoku kyōhei, which meant to "Enrich the Country, Strengthen the Armed Forces."

Shoumen Genkan/Large Hall – Welcoming guests of honour

The "Shoumen Genkan," or front entrance is where international guests of honour are welcomed. When visiting during public opening hours you don't enter from this entrance but you are allowed inside. The large hall, which is located up the stairs from the hall that continues through the entrance room, has a striking and vivid deep crimson carpet. Together with the eight towering marble pillars, this hall makes for an overwhelming viewing. The room directly opposite down the stairs is Asahi no Ma.

Sairan no Ma – Where treaties are signed

The next most high-class room from Asahi no Ma is "Sairan no Ma" which is primarily used for signing ceremonies of treaties. When Asahi no Ma was undergoing renovations, this room was used for informal talks carried out by the emperor and prime minister with foreign rulers.

The entire room takes on the Empire style which was popular during the rule of Napoleon I. Scattered throughout the room are gold leaf designs of armour, helmets, swords and so on.

Kacho no Ma – Dinner parties with guests of honour

Kacho no Ma is used for dinner banquets with important official from countries around the world. The room has a more relaxed feeling from the others due to its interior wooden design. It's also often used for press conferences so those who watch Japanese news may recognise it.

The room, with its mellow deep wooden design, houses 30 oval cloisonné medallions, depicting four seasons' flowers and birds. The ceiling art, too, depicts images of birds and wildlife killed by hunting.

It also has the heaviest chandelier in the palace inside which is a globular speaker.

Yushintei – Japanese-style hospitality in the Japanese Style Annex

The Yushintei is located in the Japanese Style Annex on the west side of Akasaka Palace. It was built in 1974. Akasaka Palace carries out events and receptions in a western style but the Yushintei welcomes international guests of honour with Japanese-style hospitality. Those who wish to enter must book in advance. The booking comes with a tour.

As you step through the entrance and into the inner garden through the passage, you will see moso bamboo. This area has a garden with shirakawa gravel and kibune stone from Kyoto.

In the main Japanese-style room where guests are served Japanese food one can observe the pond from the window. You might recognise it as the place where Prime Minster Shinzo Abe and President Donald Trump fed the fish.

The tea room comes with chairs for foreign visitors who are unable to sit in the traditional Japanese seiza position. Tea is prepared on the upper step which is inspired by Noh theatre.

Afternoon tea in the extraordinary front garden

20 afternoon tea sets are prepared each day to be enjoyed in the front garden of Akasaka Palace. These cannot be reserved in advance so be sure to arrive early if you'd like to order one. As you enjoy your afternoon tea while gazing around you are filled with a gorgeous feeling you can't experience anywhere else.

The general public viewing offers a chance to see numerous parts of the palace. We asked Rinko Murata, who's pictured in the photos on the viewing, for her thoughts.

"With the first step you take in a gorgeous space unfolds before you. Its grand design made me feel as if I had been summoned to the palace. It was like visiting a foreign country. When you look closely there are lots of decorations that symbolize Japan. It was a fresh experience where you can feel both the Japanese spirit and culture of another country. I feel moved that Japan has such a place as beautiful as this. You all need to visit too."

There is no requirement to book this viewing in advance, but during busy times (20+ people) those who do book online prior to visiting will be prioritized. Foreign visitors won't miss out on anything either as they can purchase a voice guide machine for ¥200. These guides come in Japanese, English, Chinese, French and Spanish. A visit to the Japanese Style Annex Yushintei however requires booking prior to your visit. When doing so you can choose between either a Japanese or English-speaking guide. In the case of a sudden official reception, all scheduled public viewings for that day are cancelled, so be sure to check the calendar on the official website before heading there.

Model:Rinko Murata

Writer:Sayoko Ishi

Photographer:Kayo Sekiguchi

Translation: Joshua Kitosi-Isanga

Information

Akasaka Palace

Address: 2-1-1 Motoakasaka, Minato Ward, Tokyo

Access: 7-minutes on foot from Yotsuya Station via JR and Tokyo Metro

Visiting Prices

Main Building & Garden: Adult ¥1,500 / University Student ¥1,000 / High & Junior High School Student ¥500 / Elementary School Student – Free

Japanese Style Annex, Main Building & Garden: Adult ¥2,000 / University Student ¥1,500 / High & Junior High School Student ¥700 / Not open for elementary school students

Japanese Style Annex & Garden: Adult ¥1,500 / University Student ¥1,000 / High & Junior High School Student / Not open for elementary school students ¥500

Garden: Adult ¥300 / University Student & Below – Free

*The above listed prices are the general prices. Prices may change during special openings.

Official Website: https://www.geihinkan.go.jp/en/akasaka/

TALENT PROFILE

Rinko Murata

Rinko Murata works in fashion and is active on radio and TV. Sales of her first style book were so successful that it required extra printing during its first week. She also has a rapidly growing following on her social media. As well as modelling at big fashion events, she has her own column online at "She magazine," and receives much attention for her work in the areas of culture and lifestyle.

Celebrate Ueno Zoo Panda Xiang Xiang's 2nd Birthday With ecute Ueno's Panda Sweets & Merchandise

Shopping centre ecute Ueno has announced that it is holding a campaign entitled "Pandaful Party" from June 3 to June 30 to celebrate the 2nd birthday of Ueno Zoo's popular panda Xiang Xiang. Panda themed desserts, food and merchandise will be sold at various stores throughout ecute Ueno.

Panda Rolled Sushi Set – ¥648 (Tax Included) @ Wakahiro (ecute Ueno)

Sushi-lovers won't want to miss this set of rolled sushi. The three cute pandas all come with three different flavours: fried salmon, minced chicken and egg. Available at the ecute Ueno branch of Wakahiro only.

Panda Baked Sweet Potato (100g) – ¥324 (Tax Included) @ Rapoppo (ecute Ueno)

Aged potatoes are used to make this popular baked sweet potato treat, and these ones have a cute panda design♡

Parent & Child Panda Eclair (1 Eclair) – ¥380 (Tax Included) @ Dolce Felice (ecute Ueno)

These adorable eclairs feature a panda parent and cub on them. They are filled with chocolate custard and a crunchy biscuit.

Panda Case Beans – ¥972 (Tax Included) – Mameya Bankyu (ecute Ueno) *Serving June 3 – June 16 only

Inside these panda cases are black soybeans covered in chocolate and houjicha tea chocolate.

Ueno Assorted Cookies (1 Tin) – ¥1,296 (Tax Included) @ Juchheim (ecute Ueno)

Grab a cup of tea and tuck into these tin of cute assorted cookies with panda motifs on them.

Panda Cocoa (Hot/Iced) – ¥400 (Tax Included) @ UP CAFE (ecute Ueno)

This cup of hot panda cocoa can be enjoyed by both kids and adults alike.

Merchandise includes cute panda salt, fortunes, a squishy and more.

People can also get their hands on this exclusive Pandaful Party shopping bag on June 12, the day of Xiang Xiang's birthday. These are limited in stock so you'll want to start your shop nice and early!

Information

Pandaful Party
Running: June 3, 2019 – June 30, 2019

Location: ecute Ueno (JR Ueno Station)

ecute Ueno

Address: JR Ueno Station Floor 3F, 7-1-1 Ueno, Taito Ward, Tokyo

Business Hours: 8:00-22:00 (*Different for some stores)

Website: https://www.ecute.jp/ueno

Tokyo Stroll: The Café That You Want to Visit to See Someone #10 – 'Donguriya' in Nishi-Ogikubo

In this edition of The Café That You Want to Visit to See Someone, I visited Donguriya.

To get there I plodded along from the North Exit of JR Nishi-Ogikubo Station, and after about 3-minutes I saw it!

Various shops lined the street, but nature had almost reclaimed this single building which was wrapped in foliage. There's no doubt that the people who pass by this way stop to take a look. Its inviting appearance elicits a peek as you're left wondering what kind of place it is. I feel like a wonderful story is about to unfold!

A sign sits at the front of the cafe with its mascot character waiting to greet you.


He's cute in a way that I can't describe♬

Time to head inside.

Most of the interior is made of wood, a perfect accompaniment to the cafe's name Donguriya ("Acorn Hut").


All of the signs as well as the menu on the wall are handwritten by the owner himself. It's heartwarming just to look at♬

Sipping coffee while enjoying the jazz music coming from the record player is nothing short of a luxury!

I ordered pizza toast (drink + pizza toast set is ¥800), a Donguri cookie and coffee (drink + Donguri cookie set is ¥650).

The toast is sliced thickly; the crusts are crunchy and the middle is soft. It was really tasty and had an old-fashioned taste to it.
Donguri's cookies are made by someone who has been a fan of the cafe  since long ago. They have a simple sweetness and go perfectly with the coffee!

Since the cookies are made by a regular who has always loved Donguri they are the perfect cookies for Donguriya! If you pay a visit then you should definitely order one.

The blend coffee is full-bodied and has a rich aroma. There is a slightly bitter aftertaste too. The coffee beans are also roasted in-house! It was really tasty and easy to drink even for someone like me who doesn't know a lot about coffee.

The owner and his older brother went to numerous cafes with their friends to try various different coffees before coming up with their own blend. It's the real deal.

It really felt as if I had been sucked into the world of a story with the warm light filtering through the windows and illuminating the tableware and furniture.

Finally, a photo with the owner himself!

He told me wonderful stories about the coffee and food at Donguriya which made me fall in love with the cafe even more.

I want to bring my friends here next time♬

Writer: Ema Tanioku
Photographer: Haruka Yamamoto
Design: Yuko Abe (ASOBISYSTEM)

Translator: Joshua Kitosi-Isanga

Information

Donguriya
Address: 3-30-1 Nishiogikita, Suginami Ward, Tokyo
Business Hours: [Mon-Thur] 10:30-22:00 / [Fri-Sun] 10:30-22:30
Access: 3-minutes on foot from JR Nishi-Ogikubo Station

TALENT PROFILE

Ema Tanioku

"Emaeri" is the nickname for models Ema and Eri Tanioku, who are Aomoji fashion model twins. Ema and Eri Tanioku specialise in twin fashion coordination. Over the years their fanbase has increased due to their cute looks. Ema Tanioku spreads Harajuku culture within Japan as well as overseas and works as a Harajuku Tourism Ambassador. Starting off as a model, Ema has broadened her talent range from fashion magazines to TV, and from playing the lead role in dramas to movies.

Learn About Shimane Prefecture's Oki Islands with Japanese Model Saki Shibata

On March 2, 2019 Japanese model Saki Shibata, along with nine others, carried out a research project entitled "Research Lab on the Charms of Oki" (隠岐のお気に入り研究所) to come up with a travel plan for the Oki Islands.

The Oki Islands are part of Shimane Prefecture. There are over 180 islands in total, sixteen of which are named, but only four of which are inhabited by humans. These can be visited via a ferry or high-speed boat.

The islands were formed almost 6 million years ago from volcanic activity. In September 2014, the islands were designated a UNESCO Global Geopark for their rich land and unique flora and fauna, history and culture. Visiting the islands offers the opportunity to experience unique nature you can't anywhere else in Japan. It is a place to enjoy characteristic culture of a different locale.

If you flip over a map of Japan you will also see that the Sea of Japan side of the islands are in the centre of the country. The Oki Islands also used to bustle with people as the doorstep to Japanese trade.

Saki Shibata visited the Oki Islands for the first time last year. She saw the bright red and immense Matengai Cliffs formed by the volcanoes' magma, the sea waves, felt the breeze in her hair and more. See her full nature-packed trip here.

An island local proposed her desire to show the wonder of the Oki Islands to the people of the world, and so the "Research Lab on the Charms of Oki" was formed. Saki, having already experienced those charms, was appointed Research Leader, and recruited other fellow members to join. She would convey her experiences and time spent on the islands for everybody to learn more about them so they could think up a travel plan together.

The event began with project leader Saki Shibata greeting everybody. She spoke about her memories of the Oki Islands and expressed enthusiasm to create a wonderful travel plan to the participants. Her talk was accompanied by slideshows with which she presented photos taken during her trip last year.

Saki played back through her mind how overwhelmed she was by the islands' nature and how warm and welcoming the locals were. All the other research members were absorbed in her talk and listened intently.

After Saki said her piece, a member of the Oki Islands UNESCO Global Geopark Association―which seeks to promote the charms of Oki Islands―spoke about Oki.

A "geopark" is a location with valuable geological features and forms and promotes the well-being of people living there through education and tourism.

Japan has nine officially-designated UNESCO Global Geoparks, one of them being the Oki Islands. Check out the video above which includes drone footage showcasing the expanse of nature there. It makes you want to see it with your very own eyes.

The group subsequently went on to creating a travel plan for the Oki Islands. Each member wrote down where they wanted to visit in Oki amongst other things.

They asked questions to the Geopark associate such as whether you can fish squid there, do skydiving and so on. When the group were asked what they had written down, all 9 of them had said they wanted to try eating Okigyu, or "Oki Beef." Local food is an absolute must to include on any travel plan.

Saki and her fellow research members' original plan is complete, full of ways to feel the full power of Oki's nature.

After learning about Oki, everybody got to try specialty products from the island. They lapped up the flavours of Oki while listening to Saki speak more about her time there.

Oki is famous for "Haruka," a type of Iwagaki oyster. They are a brand of oyster raised in the beautiful waters of Nakanoshima in the town of Ama. They also tried other local delights such as turbo sazae rice balls, seaweed miso soup, sake lees crackers and kojouyu miso, fukugi tea and more.

Obsidian

Salted Polvorón Cookies (Oki Kisen Shoji) / Sake Lees Crackers (Oki Brewery) / Sake Lees Soap (jimono) / Fukugi Mist (jimono) / Fukugi Tea (Amacho Sakura no Ie)

At the end of the event, Saki and the members were given an obsidian key ring and batch of Oki souvenirs from the associate. Though the event took place in Tokyo, everybody was able to get their fill of Oki.

If you read this article and are interested in the Oki Islands, then we have some good news. All of the specialty products and souvenirs shown can be bought at Rito Kitchen Nihombashi who carried out this event. These aren't easy to get your hands on unless you visit the islands, so if you're in Tokyo, be sure to visit and enjoy the flavours of the Oki Islands.