Toei Kyoto Studio Park to Hold Demon Slayer: Kimetsu no Yaiba Event
From July 23 until October 17, Toei Movie Village in Kyoto will be holding a collaboration event with Demon Slayer: Kimetsu no Yaiba!
This is the third collaboration to take place at the park and will commemorate the upcoming anime season. 
Fans will be able to explore memorable scenes from the series recreated as photo spots and anime footage will also be playing throughout the park.
The Keifuku Randen Tram Line which runs through the center of Kyoto will also be teaming up with Demon Slayer, so don't miss it!
The main visual for the event shows Tanjiro, Nezuko, Inosuke, Zenitsu, and Tengen holding traditional Japanese fans, perfect for summer.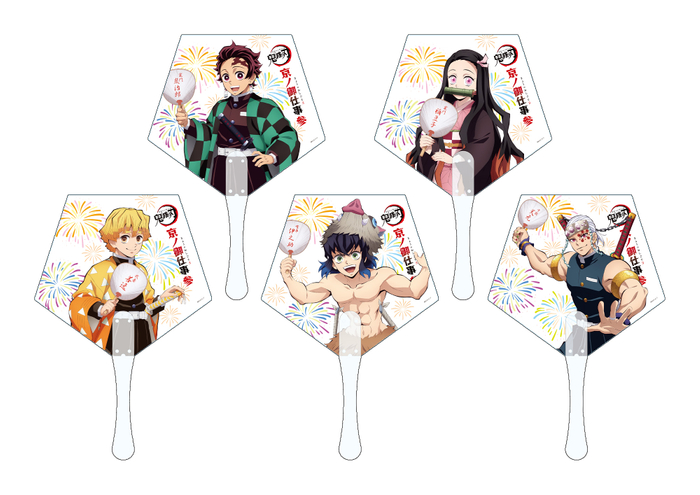 Clear Fan: ¥770 (Tax Included)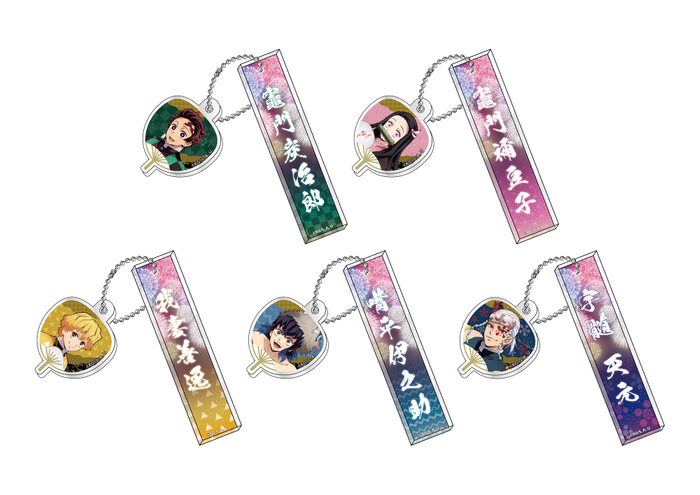 Keychain: ¥770 (Tax Included)
Pin: ¥550 (Tax Included)
Visitors can grab a wide variety of goods featuring newly-drawn illustrations and collaborations with Kyoto's traditional industries. There will also be menu items available inspired by the show's popular characters and a stamp rally inviting guests to explore the streets of Japan's ancient capital.
Come experience the world of Demon Slayer in a whole new way!
Information
Demon Slayer: Kimetsu no Yaiba Event at Toei Kyoto Studio Park
Running: July 23 – October 17, 2022
Venue: Toei Kyoto Studio Park, Shijo-Omiya Station, Arashiyama Station
Official Site: https://www.toei-eigamura.com/kimetsu
RELATED ENTRIES
Nijigen no Mori Announces New Goods and Menu Items in Fifth Collaboration with Demon Slayer

On November 19, Nijigen no Mori, an amusement park located on Awaji Island in Hyogo, will begin its fifth collaboration with the popular anime series Demon Slayer. New merchandise, such as acrylic keychains and long-sleeve t-shirts, and menu items will be available, so fans shouldn't miss their chance to visit!

A limited number of hand warmers with an original illustration of Kyojuro will be given to guests who participate in the Natagumo Mountain Night Walk event after November 19. Don't let the cold weather stop you from taking part in the festivities!

New Merchandise

Rectangular Pin

Acrylic Keychain

Acrylic Stand

Long-sleeve T-shirt (White/Black)

The new lineup of original goods includes pins, keychains, acrylic stands, and long-sleeve T-shirts featuring beloved characters from the series. All illustrations were provided by ufotable exclusively for this collaboration event.

New Menu

Tanjiro's White Dashi Udon

Kyojuro's Spicy Korean Soup with Shredded Beef

Drinks: Original Clear Bottle (8 varieties)

Exclusive Lunch Mat

Hand Warmer with Original Design

The Demon Slayer food truck will offer warm food and drinks for the winter season. The White Dashi Udon features tasty noodles and yams, while Kyojuro's collaboration dish is filled with spiciness. Hot drinks will be served in a special way–just pick a clear bottle featuring your favorite character!

Those who purchase items from the collaboration menu will receive a coaster with an exclusive design, and those who want to purchase a special lunch mat can do so for only ¥650. Come enjoy the cold months with your favorite characters!

©吾峠呼世晴/集英社・アニプレックス・ufotable

Toei Kyoto Studio Park Unveils Limited Edition Sumikko Gurashi Hide-and-Seek Goods

From October 22, 2022 until January 15, 2023, the Sumikko Gurashi Studio Park Hide-and-Seek event is happening at Toei Kyoto Studio Park. During the event, guests are tasked with exploring the venue for hidden Sumikko characters. After finding them, they must write down the keywords on a special sheet in order to win a prize. Limited edition collaboration goods and special menu items are now available depicting the characters in traditional kimonos!

1. Limited Edition Goods with Exclusive Kyoto-Inspired Art

Along with original plushies, fans can pick up plenty of Kyoto-inspired goodies!

Acrylic Keychain: ¥800 (Tax Included)

Acrylic Magnet: ¥400 each (Tax Included)

Tea: ¥540 each (Tax Included)

Konpeito: ¥680 each (Tax Included)

Printed Cookies: ¥650 each (Tax Included)

2. Collaboration Menu

Fans will find plenty of cute food, desserts, and drinks inspired by Sumikko and Minikko characters when they're ready to take a break from playing hide-and-seek. 

Desserts & Drinks

3. Collaboration Train Service for a Limited Time

Kyoto's Randen streetcar connects Shijo-Omiya in the center of Kyoto with the sightseeing spots of Arashiyama and Kitanohakubaicho. During the event period, the train will be decorated with Sumikko Gurashi characters, and riders can even grab a special ticket and exclusive ticket case. 

Randen 1-day Ticket (6 varieties): Adults ¥880 / Children ¥440

For more details about the event, head to the official website.

Demon Slayer: Mugen Train Inspires Real Escape Game and Character-Inspired Menu in Tokyo

Real Escape Games invite guests to become the main character in their own story as they solve riddles and explore unique stories. Tokyo Mystery Circus, the world's first and largest 'mystery' theme park, will start its collaboration with Demon Slayer: Mugen Train on October 27, 2022. The event will run until January 24, 2023. 

To celebrate the start of this highly-anticipated event, three original food items will also be available. Guests can enjoy Enmu's Cocoa Milk, a tasty Tsubuan roll, and a hot dog inspired by Tanjiro's Hinokami Kagura. 

The original menu items will be sold exclusively at Tokyo Mystery Circus during the event period. Come immerse yourself in the world of Demon Slayer while you can!

©吾峠呼世晴/集英社・アニプレックス・ufotable

©SCRAP

Information

Demon Slayer: Mugen Train Real Escape Game

Venue: Tokyo Mystery Circus Himitsukichi Lab Main Hall

Running: October 27, 2022 – January 24, 2023

Details/Tickets: https://mysterycircus.jp/kimetsu/

Akari Kito, the Voice of Nezuko in Demon Slayer, to Release 4th and 5th Singles

Popular voice actress Akari Kito is known for playing Nezuko in Demon Slayer, Kanata Konoe in Love Live! Nijigasaki High School Idol Club, and Barbara in Genshin Impact. The actress and singer will release her fourth and fifth singles in the near future, with the announcement being made to fans at Kito's birthday and debut anniversary event on October 16, 2022.

Kito's fourth single is titled Dear Doze Days. It will serve as the ending theme for the upcoming January 2023 anime series Kaiko Sareta Ankoku Heishi (30-Day) no Slow na Second Life. Kito will also play the role of Lady in the series. The song will be released on February 8 in three formats: Limited First Edition, Anime Edition, and Standard Edition. 

Kito's fifth single will serve as the opening theme for the Chained Soldier anime series scheduled to premiere in 2023. She will also play the main heroine, Kyouka Uzen. More details will be revealed at a later date.

Kito will also embark on a Zepp concert tour next year, so keep an eye on her incredible works set to release in 2023!

Information

Akari Kito's 4th and 5th Singles

Dear Doze Days – Akari Kito (4th Single)

Release Date: February 8, 2023

Official Anime Website: https://ankokuheishi-anime.com

Nijigen no Mori Amusement Park Extends Demon Slayer Collaboration Until January 2023

Nijigen no Mori, an amusement park located on Awaji Island in Hyogo, has teamed up with the popular anime and manga series Demon Slayer for a special collaboration event. While the event wrapped up at the end of September, due to fan response, it will be extended for a further 87 days starting on October 15. Many fans weren't able to attend due to the pandemic or due to distance, so this decision was made at the last minute. All guests visiting during the extended period will receive an original postcard as a special gift.

Original merchandise and food items inspired by Demon Slayer characters will be available during the event period, with some merchandise newly-created for the extended period. Check out the official website and Twitter page for the latest information.

Nijigen no Mori x Demon Slayer Collaboration Event Contents

Venue: Awajishima Anime Park, Nijigen no Mori  (2425-2 Kusamoto, Awaji, Hyogo)

Details: The Nijigen no Mori theme park will be taken over by characters from the popular Demon Slayer franchise, with unique events taking place in the morning and at night. Original food and merchandise will also be available.

① [Nighttime Event] Nijigen no Mori x Demon Slayer 'Natagumo Mountain Night Walk'

 Participants will go on to experience the world of Demon Slayer on a 1.2 km long walk through the night forest, brought to life by a projection mapping spectacle showing Tanjiro and friends and their battle against the demons.

On the Natagumo Mountain Night Walk, where they become members of the Kakushi and participate in a battle to the death between the characters Tanjiro Kamado and Rui. Those who fulfill their mission will get a special report.

② [Daytime Event] Nijigen no Mori x Demon Slayer Mystery Walk 'The Flower Falling Village and Scene of Illustions'

Participants will go on a riddle-solving quest in an area with original character panels illustrated by ufotable. Those taking part in the event will receive an original wooden strap as a special gift.

③ Original Goods

At the Demon Slayer store in the event area, event-exclusive goods will be available for fans to enjoy.

④ Original Collaboration Menu

An original collaboration menu, featuring character-inspired dishes, will be featured at Mori no Terrace, a forest hideaway restaurant within Nijigen no Mori. A food truck will also be open. Guests can enjoy many different treats, including Tanjiro's Charcoal Stew, a rich black stew inspired by the main character of the series.

⑤ Premium Ticket Bonus

Those purchasing a Premium Ticket will receive Tanjiro's Backpack as a special gift.

©吾峠呼世晴/集英社・アニプレックス・ufotable

Information

Nijigen no Mori x Demon Slayer Collaboration Event

Running: October 15, 2022 – January 9, 2023 *Total: 87 days

Hours: ① Dusk~22:00 (Last entry at 20:30) ②10:00~Dusk

*Hours of operation change seasonally.

Details/Reservations: https://nijigennomori.com/kimetsu_awaji/

Demon Slayer: Mugen Train Inspires Escape Room This Fall

Tokyo Mystery Circus, a micro-theme park in Shinjuku, has announced a new escape game in collaboration with the wildly popular Demon Slayer: Mugen Train. From October 27, 2022, until January 24, 2023, fans will be invited to participate in this exciting and challenging event inspired by the series' story.

Players will be locked inside a room designed to perfectly resemble the Mugen Train and must work together to escape.

The story explains that each player is a member of the Demon Slayer Corps. After boarding the Mugen Train, they suddenly fall asleep, only waking up to find that Tanjiro and Rengoku are facing off against Emma. 


Guests will need to hurry up and solve a series of difficult puzzles to help defeat the demon and escape the train before it's too late.


The game also includes tons of effects and gimmicks from the Demon Slayer series, such as actually getting tickets to board the Mugen Train. Guests can also wield their own swords to take on the baddies.

Tickets will be available for preorder starting August 27 at 12:00. Limited event goods and food items will also be available for purchase.



Do you think you have what it takes to escape?

Story

You're a member of the Demon Slayer Corps.
Following orders, you board the Mugen Train towards your next duty.
After the conductor hands you your ticket, you suddenly fall asleep.
Apparently, this was the work of Emmu's Blood Demon Art.

When you wake, you see Tanjiro and the Flame Hashira Kyojuro Rengoku.
And then, the fearsome Emmu materializes before you…

It's up to you to help Tanjiro and Rengoku defeat the demons and escape the Mugen Train!

*The above images are samples. Items used may differ.

©吾峠呼世晴/集英社・アニプレックス・ufotable
©SCRAP

Information

Real Escape Game x Demon Slayer – Mugen Train: The Escape From the Wandering Nightmare
Venue: Tokyo Mystery Circus Himitsukichi Lab Main Mall
Running: October 27, 2022 – January 24, 2022
Tickets / Official Site: https://mysterycircus.jp/kimetsu/

Demon Slayer Voice Actress Akari Kito to Release Second Album

Voice actress Akari Kito (Nezuko in Demon Slayer: Kimetsu no Yaiba, Kanata Konoe in Love Live! Nijigasaki High School Idol Club) is set to release her second album! Named Luminous, the CD will be released on October 12. 

This long-awaited full-length album comes nearly two and a half years after her previous album STYLE, released in June 2020. Containing 12 songs including five tracks already released and seven brand-new songs, the song Michikusa is particularly special, being the first song with lyrics written by Kito herself.

The album will be released in three forms: a limited first edition, a standard edition, and an FC-only edition including a Blu-ray recording of Kito's fan club event 'smile giving day vol.2' held on April 2 at Tachikawa Stage Garden. The limited first edition will include a Blu-ray featuring the music video of the lead track and a making-of featurette. The FC limited editions will be sent with a special fan club event Blu-ray. If you haven't joined the fan club, this would be a great time!

A new artist photo is scheduled to be released soon.

Kito's birthday event, 'smiley anniversary vol.2,' will be held at Zepp Haneda on October 16, 2022, the artist's birthday and the third anniversary of her debut.

Last year's 'vol.1' event was a three-song mini-concert with guests Azumi Waki and Anzu Haruno, as well as Seitaro Mukai as the MC. Filled with friendly chats and quizzes, this year will be altered, with a setlist created by fanclub members. 

For more details, check out Akari Kito's official website and official Twitter!

Information

Luminous – Akari Kito 2nd Album

Release Date: October 12, 2022

Official Site: https://kitoakari.com