Smile of the Arsnotoria Ending Theme 'With you' by cluppo Now Streaming
Miko Kobato, the guitarist, vocalist, and founder of BAND-MAID, is killing it with her solo side project cluppo. The new song With You is being used as the ending theme for the anime series Smile of the Arsnotoria, and it's now available to stream! The music video has also been released on YouTube.
Smile of the Arsnotoria began airing in Japan on July 6. The music video for the ending track shows Kobato singing against an ever-changing backdrop and the lyrics that appear on screen are perfect for those who want to sing along.
With you – cluppo (Music Video)
With the release of With You, a LINE MUSIC playback campaign has begun. Possible prizes include a CD-sized art card printed with the watercolor drawing seen on the jacket cover, a print of cluppo's calligraphy, and a pigeon figure inspired by the Flapping Wings music video. For more information, check out the official website and social media accounts.
BAND-MAID will set out on a US tour in October 2022. The band's largest-ever Japan concert is scheduled for January 2023.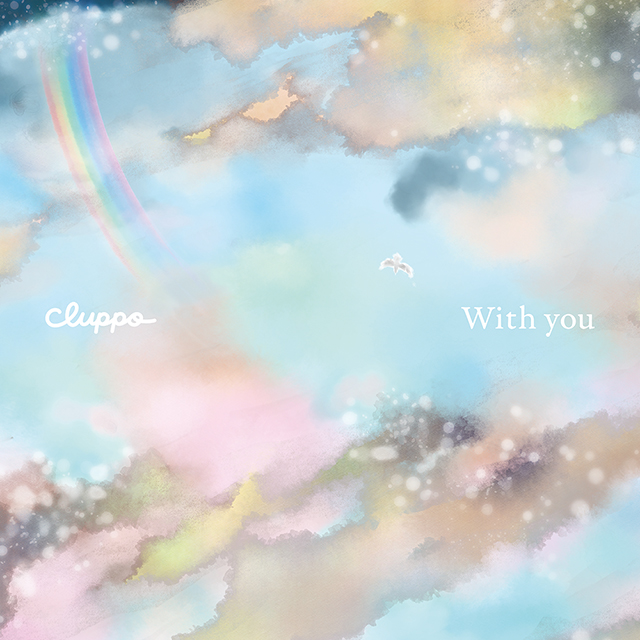 RELATED ENTRIES
BAND-MAID Reveals New Track 'Memorable' Written During 2022 U.S. Tour, Music Video Released

The globally popular female rock band BAND-MAID released the new track Memorable on streaming services on February 22, 2023. This is the first song to be released in the group's 10th anniversary year, and fans can also watch the music video on YouTube.

This new song is a ballad written during the 2022 U.S. tour and performed for the first time at the Tokyo Garden Theater on January 9, 2023. The music video begins with footage of Miku Kobato standing alone in the wilderness of Lancaster, Los Angeles, and both American and Japanese fans will be enamored with the unique natural touches present in the new release.

Memorable – BAND-MAID (Music Video)

The band has also announced that the BAND-MAID TOKYO GARDEN THEATER OKUJI performance held on January 9, 2023 will be released in three formats on April 26. The limited edition will include documentary footage for the first time in BAND-MAID's history, along with a behind-the-scenes look at the 2022 U.S. tour and a photo book filled with private shots of the members.

In addition to performing at Pointfest 2023, Welcome to Rockville 2023, and the Sonic Temple Art & Music Festival, BAND-MAID will also perform six solo shows in the U.S. in August. The group will also appear at KNONTFEST JAPAN 2023 for the first time on April 1.

Follow BAND-MAID as they continue taking over the rock scene around the globe!

BAND-MAID to Hold First Performance at KNOTFEST JAPAN 2023 to be Held at Makuhari Messe

The popular female rock band BAND-MAID will perform for the first time at KNOTFEST JAPAN 2023, scheduled for April 1 and April 2 at Makuhari Messe in Chiba.

KNOTFEST was begun by the American heavy metal band Slipknot, and the festival has been held yearly since 2012. BAND-MAID will perform on Day 1 along with headliners Slipknot, Trivium, and MAN WITH A MISSION.

Tickets for the May shows to be held in the United States as part of the BAND-MAID 10TH ANNIVERSARY TOUR are none on sale. The group managed to bring in over 20,000 fans during their solo U.S. tour in 2022. In addition to performing at Pointfest 2023, Welcome to Rockville 2023, and the Sonic Temple Art & Music Festival, BAND-MAID will also perform six solo shows. With some venues selling out instantly last year, you'll want to snag tickets while you can!

Information

KNOTFEST JAPAN 2023

*BAND-MAID to perform on Day 1, April 1
DAY 1 – ROADSHOW

April 1, 2023
DAY 2 – FESTIVAL

April 2, 2023
Venue: Makuhari Messe International Exhibition Halls 9-11
https://knotfestjapan.com
Official Site: https://bandmaid.tokyo

BAND-MAID Announces U.S. Tour in May, Includes Appearances at Three Major Music Festivals

BAND-MAID, the globally popular girl's rock band, has announced more details about the U.S. leg of their BAND-MAID 10TH ANNIVERSARY TOUR. The group managed to bring in over 20,000 fans during their solo U.S. tour in 2022. In March 2023, the 10th-anniversary celebration will begin, with the group once again planning to visit the United States in May and August. In addition to performing at Pointfest 2023, Welcome to Rockville 2023, and the Sonic Temple Art & Music Festival, BAND-MAID will also perform six solo shows. Events in August will be announced later.

Some venues on last year's tour sold out immediately, so the competition is sure to be fierce again this time around. For details on purchasing tickets, check the official website. BAND-MAID is currently appearing as the opening act for THE LAST ROCKSTARS Live Debut 2023 Tokyo – New York – Los Angeles, which began on February 3. The group will hold the finale of their 10th-anniversary tour at Yokohama Arena, marking the largest-ever solo performance.

Information

BAND-MAID 10TH ANNIVERSARY TOUR(US)
Sun, May 14, 2023 Houston, TX Bayou Music Center
Mon, May 15, 2023 Austin, TX Emo's
Thu, May 18, 2023 Daytona, FL Welcome to Rockville Fest
Fri, May 19, 2023 Atlanta, GA Buckhead
Sun, May 21, 2023 Nashville, TN Brooklyn Bowl
Mon, May 22, 2023  Charlotte, NC Underground
Wed, May 24, 2023 Detroit, MI St Andrews Hall
Fri, May 26, 2023 Columbus, OH Sonic Temple Festival
Sat, May 27, 2023 St. Louis, MO Pointfest Radio Show

POINTFEST 2023
開催日程:2023年5月27日(土) ※米現地時間
https://www.1057thepoint.com/shows/pointfest-2023/

WELCOME TO ROCKVILLE 2023
開催日程:2023年5月18日(木)~22日(月) ※米現地時間
https://welcometorockville.com/

Sonic Temple Art & Music Festival
開催日程:2023年5月25日~28日 ※米現地時間
https://sonictemplefestival.com/

Official Site:https://bandmaid.tokyo

BAND-MAID to Perform at Major U.S. Outdoor Rock Festival Pointfest 2023

The popular girl rock ground BAND-MAID will perform at the outdoor rock festival Pointfest 2023 in St. Louis, Missouri.

The festival will be held on May 27, 2023. Organized by the alternative rock radio station KPNT, the event is one of the oldest rock festivals in the U.S., with the first taking place 30 years ago in 1993.

This year's headliners include Incubus and The Pretty Reckless. BAND-MAID is sure to be a huge draw at the event–one of the most popular girl bands overseas, the group pulled in over 20,000 fans on their U.S. tour last year.

BAND-MAID is currently appearing as the opening act for THE LAST ROCKSTARS Live Debut 2023 Tokyo – New York – Los Angeles, which began on February 3. In March, the band will begin the BAND-MAID 10TH ANNIVERSARY TOUR in Japan to commemorate its 10th anniversary, and on November 26, the tour's finale will be held at Yokohama Arena. This will mark the largest-ever solo performance for BAND-MAID.

Tickets for the first ten stops on the tour are now available by lottery. The band will also perform in the United States in May and August, and in addition to appearing at Pointfest 2023, BAND-MAID will also perform at Welcome to Rockville 2023 and Sonic Temple 2023.

BAND-MAID to Perform as Opening Act for THE LAST ROCKSTARS' U.S. Tour

Rock group BAND-MAID has been chosen as the opening act for THE LAST ROCKSTARS' first live concert in the U.S., THE LAST ROCKSTARS Live Debut 2023 Tokyo – New York – Los Angeles, starting February 3, 2023.

THE LAST ROCKSTARS' U.S. shows in New York on February 4 and Los Angeles on February 10 are sold out. Reaction to the group has been incredible, leading to an additional New York show on February 3. To make things even more exciting, BAND-MAID will perform at all three U.S. shows.

THE LAST ROCKSTARS (Paris Mix) Music Video

BAND-MAID has become overwhelmingly popular around the world. In the United States, the band recently performed at AFTERSHOCK FESTIVAL 2022, one of the largest music festivals in the country. They also served as a supporting act for GUNS N' ROSES during the legendary band's Japan tour in November. This year, the group will once again perform at a selection of music festivals in the states, including Sonic Temple 2023 in Ohio and Welcome to Rockville 2023 in Florida.

This time around, BAND-MAID will perform as the opening act for one of the most impressive rock bands in recent memory. THE LAST ROCKSTARS is composed of YOSHIKI, HYDE, SUGIZO, and MIYAVI, making it a superband like no other. This will be the first time the newly-formed group will perform in the U.S.

The Ariake Arena concert on January 27 was broadcast live on WOWOW and was also streamed in movie theaters throughout Japan. The February 10 show in Los Angeles will also be streamed, so be sure to tune in!

BAND-MAID Reveals 10th Anniversary Tour in Japan and America, Additional Festival Appearances

Having amassed a global audience, BAND-MAID is starting off 2023 in the best possible way. The group performed their largest-ever concert, BAND-MAID TOKYO GARDEN THEATER OKYUJI, on January 9. Soon after, they announced a domestic and overseas tour set to begin in March 2023.

BAND-MAID's 10th-anniversary tour will commence with a show in Kumamoto on March 23 and will then travel to 20 cities around Japan for a total of 23 performances. The legendary finale will take place at Yokohama Arena on November 26, marking the largest-ever solo performance for the band. In May and August, the girls will tour the U.S. and appear at a number of major festivals. More details will be announced soon.

The sold-out TOKYO GARDEN THEATER performance is also available to stream. Tickets are now available through February 8 and fans around the world are welcome to enjoy this
incredible show from the comfort of their own home!

To commemorate BAND-MAID's 10th anniversary, a high-resolution stream of all works
after the group's transfer to Pony Canyon will be available on streaming sites starting January 10.

BAND-MAID to Stream Huge Tokyo Garden Theater Performance Worldwide on January 9, 2023

The globally popular rock band BAND-MAID has announced that it will stream its upcoming Tokyo Garden Theater performance to the world! The concert is scheduled to take place on January 9, 2023.

 

BAND-MAID has streamed several times in the past, performing live in front of only a digital audience. These shows were viewed by those in over 60 countries with #bandmaid trending on Twitter in the U.S. The upcoming livestream is scheduled to take place after BAND-MAID's successful American tour that drew in over 20,000 fans. Tickets for the online event will go on sale starting December 23.

 

It has also been announced that BAND-MAID's PRE US OKYUJI in JAPAN concert held at shibuya eggman on September 9 will also be available to stream. 

 

The eggman performance will only be available for fan club members to purchase. See the official site for details.

Following the U.S. tour in October 2022, BAND-MAID is scheduled to perform at a major festival in the U.S. in May 2023.

BAND-MAID Releases Music Video for Instrumental Track 'from now on'

BAND-MAID, now one of the world's most popular girl bands, has released a music video for their instrumental song from now on on their official YouTube channel.

 

The song was not only performed during the massively popular BAND-MAID solo U.S. tour held in October and November 2022 but also as the first song played during the girl's appearance at the Guns N' Roses JAPAN TOUR held at Saitama Super Arena on November 6. The member's cute appearance combined with their powerful sound managed to catch the eye of music fans around the world, and BAND-MAID quickly became a trending topic on Twitter. The new music video is also included in the limited first edition release of the recent EP Unleash.

from now on (Music Video)
https://youtu.be/a6ZSvmnkS00

 

Japan impressed fans during their US tour, packing a number of venues across the country. In addition to their appearance at MERRY ROCK PARADE 2022 on December 18, the band will hold its largest-ever solo concert at the Tokyo Garden Theater on January 9, 2023. Tickets are now on sale.

Keep an eye on these girls as they keep working towards world domination!


Information

BAND-MAID TOKYO GARDEN THEATER OKYUJI

Date: January 9, 2023
*Tickets on sale from a number of services
Sales: November 26 until sold out
Details:  https://bandmaid.tokyo/contents/534358

MERRY ROCK PARADE 2022
Dates: December 17 and 18, 2022
Venue open at 9:00, Show starts at 11:00
(BAND-MAID will perform on December 18)
http://www.merryrockparade.jp/

BAND-MAID Completes U.S. Tour with Over 20,000 in Attendance, Welcomed Back to Japan in a Huge Way

Globally popular girl band BAND-MAID has successfully concluded their first solo tour in the U.S. in about three years. Immediately after returning to Japan, the group was met with a sold out crowd when they performed as the supporting act for the Guns N' Roses JAPAN TOUR held at Saitama Super Arena on November 6, 2022. Following the event, BAND-MAID even became a trending topic on Twitter!




BAND-MAID made a splash during their U.S. tour, playing a total of 13 packed shows and getting plenty of media coverage. Given that the Guns N' Roses JAPAN TOUR was the group's first performance after returning home to Japan, it received massive attention from fans both locally and abroad.


Miku Kobato (Gt. & Vo.), KANAMI (Gt.), MISA (Ba.), and AKANE (Dr.) strolled onto the stage and performed the instrumental track from now on. The audience was shocked watching these petit girls in maid outfits perform such heavy rock! SAIKI (Vo.) appeared as the following song, DICE, began to play, with her powerful voice tearing through the intense ensemble. BAND-MAID's goal of world domination certainly came through in their performance–of course, the song DOMINATION began to huge fanfare, with the girls being shown on the big screen next to the stage. It was clear that each of them was enjoying the performance to the fullest. During Manners, MISA's incredible bass took the spotlight, with the sound of shredding guitar punctuating the powerful track. Miku Kobato's strong chorus was also a fan favorite, and as the song Daydreaming began, SAIKI's voice captivated the audience. BAND-MAID left the stage amidst a sea of applause after performing a total of seven songs ranging from quiet instruments to rock ballads.

 

In addition to their appearance at MERRY ROCK PARADE 2022 on December 18 in Japan, the band will also perform solo at Tokyo Garden Theater on January 9, 2023. This will be the largest solo performance in the band's history, so fans won't want to miss it!

 

Information

MERRY ROCK PARADE 2022

Dates: December 17 – 18, 2022
Time: Doors open at 9:00, show starts at 11:00
BAND-MAID will perform on December 18
http://www.merryrockparade.jp/

Solo Performance

BAND-MAID TOKYO GARDEN THEATER OKYUJI
Tickets now available to preorder at eplus
Date: January 9, 2023
Sales Period: November 5 – November 13 at 23:59
Tickets: https://eplus.jp/band-maid/

AFTERSHOCK FESTIVAL 2022 Filled to Capacity! BAND-MAID's Solo U.S. Tour Begins with 20,000 Fans

BAND-MAID, one of the most popular Japanese bands abroad, recently performed at AFTERSHOCK FESTIVAL 2022 in Sacramento, California. On October 9, the last day of the massive 4-day rock festival, the band performed their first U.S. show in three years. We're taking a look at the group's successful performance, which has audiences anxious for BAND-MAID to arrive in their city.

Appearing on the Coors Light Stage, the group began with the instrumental track from now on. Miku Kobato (Gt.&Vo), KANAMI (Gt.), MISA (Ba.), and AKANE (Dr.) immediately attracted the audience's attention, still riding the high of their newest EP release, Unleash, on September 21. BAND-MAID, whose intense music is something you'd never expect from a group of girls in maid outfits, showed off their performance ability from the beginning. As the impressive guitar riff of DOMINATION continued along with the cheers of 10,000 fans in the audience, SAIKI (Vo.) made her appearance. Raising both hands to spur the audience on, fans began yelling out the member's name as Choose me, a very popular song overseas, began. As the momentum continued, BAND-MAID began playing songs from the new Unleash EP, including influencer and, of course, Unleash!!!! The final song, NO GOD, began with an incredible intro arrangement, and the crowd continued to grow–so much so that security guards had to step in to keep the peace. A total of seven songs were performed during the 30-minute show, and audiences were more than thrilled.

After the performance, the group attracted a large number of requests for interviews from international media outlets. Other performers, such as the Mexican trio The Warning and The Pretty Reckless, immediately came to mingle with the BAND-MAID members.

The U.S. tour will begin on October 12, and the first solo concert is expected to bring in over 20,000 fans. 12 of the 13 stops on the U.S. tour have sold out, proving the group's international popularity.

In addition to their appearance at MERRY ROCK PARADE 2022 on December 18, the band will hold its largest-ever solo concert at the Tokyo Garden Theater on January 9, 2023. Tickets are now on sale by official lottery, so don't miss your chance to watch these girls continue down their path of world domination!

Information

BAND-MAID – AFTERSHOCK FESTIVAL 2022 Report / The Beginning of the U.S. Tour

Official Site: https://bandmaid.tokyo/

BAND-MAID Performs at Genshin Impact Concert, Available to Stream Worldwide

BAND-MAID, one of the most popular Japanese music groups in the world, recently performed at the Genshin Impact Concert 2022 – Melodies of an Endless Journey. The event, which was held on October 2, featured a special arrangement of the Dawn Winery Theme by Shiro Sagisu, with instrumental performances by MIKU KOBATO, AKANE, KANAMI, and MISA!



Genshin Impact Concert 2022 – Melodies of an Endless Journey


BAND-MAID's newest EP Unleash is available now, and has been incredibly popular, reaching #10 on the Worldwide iTunes Album Chart and #1 on the weekly USEN HIT J-POP and J-POP/Western music rankings. The group will start its U.S. tour on October 9 with over 20,000 fans expected to attend. 12 of the 13 shows scheduled in the U.S. have already sold out, proving that the band has an incredibly dedicated international fanbase.

 


In addition to their appearance at MERRY ROCK PARADE 2022 on December 18, the band will hold its largest-ever solo concert at the Tokyo Garden Theater on January 9, 2023. Tickets are now on sale by official lottery, so don't miss your chance to watch these girls continue down their path of world domination!


Comment from Miku Kobato

"We were so happy to be able to perform at the Genshin Impact concert. 


Genshin is so popular around the world. I'm surrounded by people who play it, and I promised myself I wouldn't start because I'd probably get addicted. Eventually, I couldn't help myself though, and now I'm completely obsessed. 

 

This performance was completely instrumental, which was a really valuable experience for us.  I hope that everyone can enjoy the world of Genshin through our music!"

Information

BAND-MAID Releases 'Unleash' EP, Music Video for 'influencer'

26.September.2022 | MUSIC

With an ever-growing international fanbase, the rock group BAND-MAID has just released the Unleash EP. Featuring eight tracks, the band has also released the music video for the track influencer. 

The music video was shot in the same location as BAND-MAID's newest artist photos, and fans will want to keep an eye out for MISA's bass solo! The liberating music video encompasses the EP's main theme of being fully unleashed and free. 

influencer (Music Video)

A number of in-store campaigns commemorating the release of the Unleash EP have also begun. Those purchasing the EP can enter a special campaign by using the ticket included with the CD itself, and those visiting Tower Records Shinjuku will be able to see Miku Kobato, KANAMI, MISA, and AKANE's instruments on display! A playback campaign has also been launched on music subscription services worldwide so that all fans, no matter their country, can participate!

Unleash!!!!! (Music Video)

BAND-MAID will hold its largest-ever solo concert at the Tokyo Garden Theater on January 9, 2023. Tickets are now on sale by official lottery, so don't miss your chance to watch these girls continue down their path of world domination!

Miku Kobato's Comment on the influencer Music Video

"The gap between us and the quarry, the grand and majestic atmosphere…it just makes the music sound even better!

KANAMI's guitar solo on the cliff is such an incredible rock scene, even if it terrified me during filming."