UWS AQUARIUM GA☆KYO, Inspired by Japanese Traditions and Legends, Open in Odaiba
UWS AQUARIUM GA☆KYO, an aquarium inspired by Japanese traditions and legends, opened at Aqua City Odaiba on July 13, 2022. The curious aquarium and art facility is split into five spaces, each based on a particular Japanese legend or tradition. 
Area 1 – WABISABI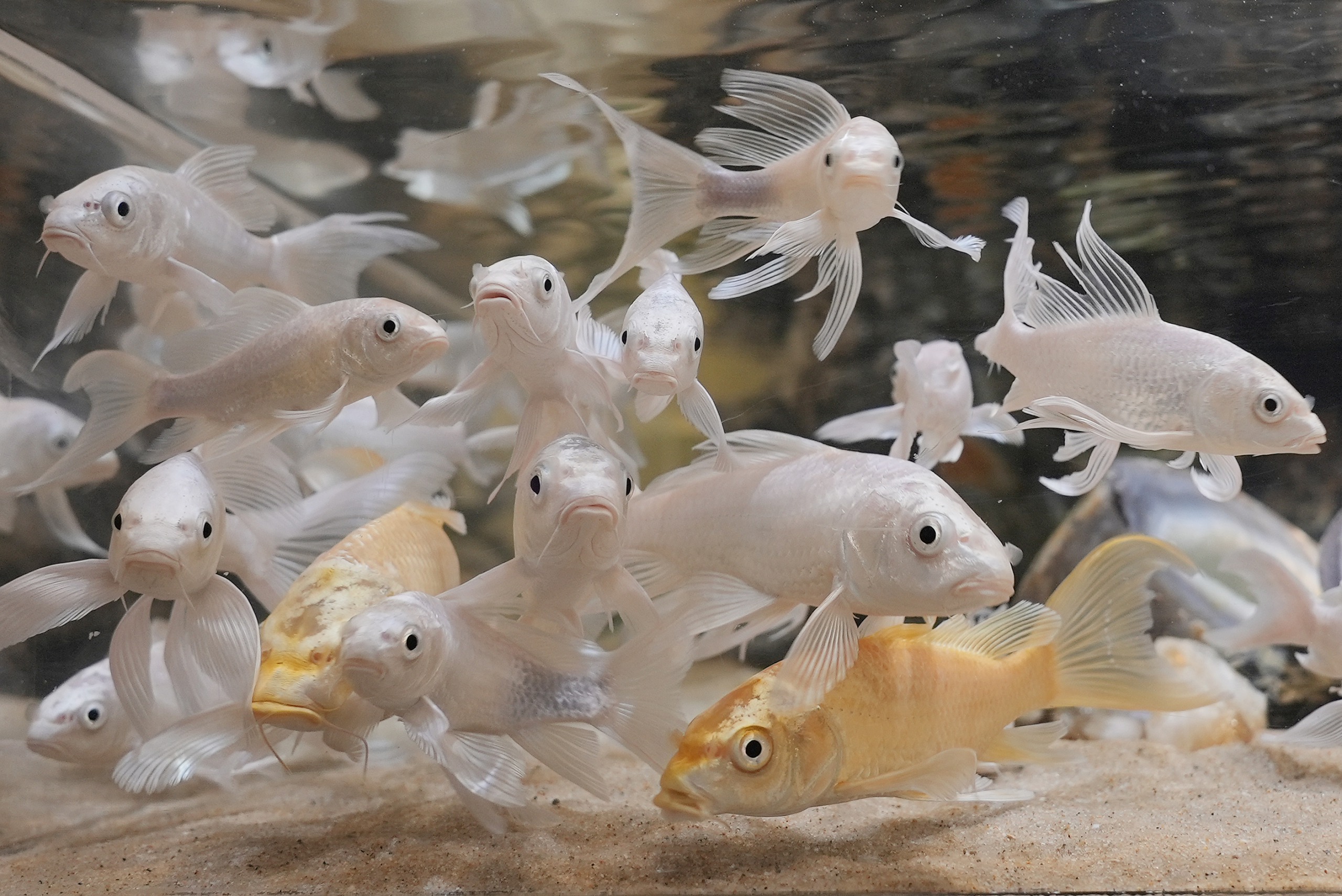 Area 2 – OIRAN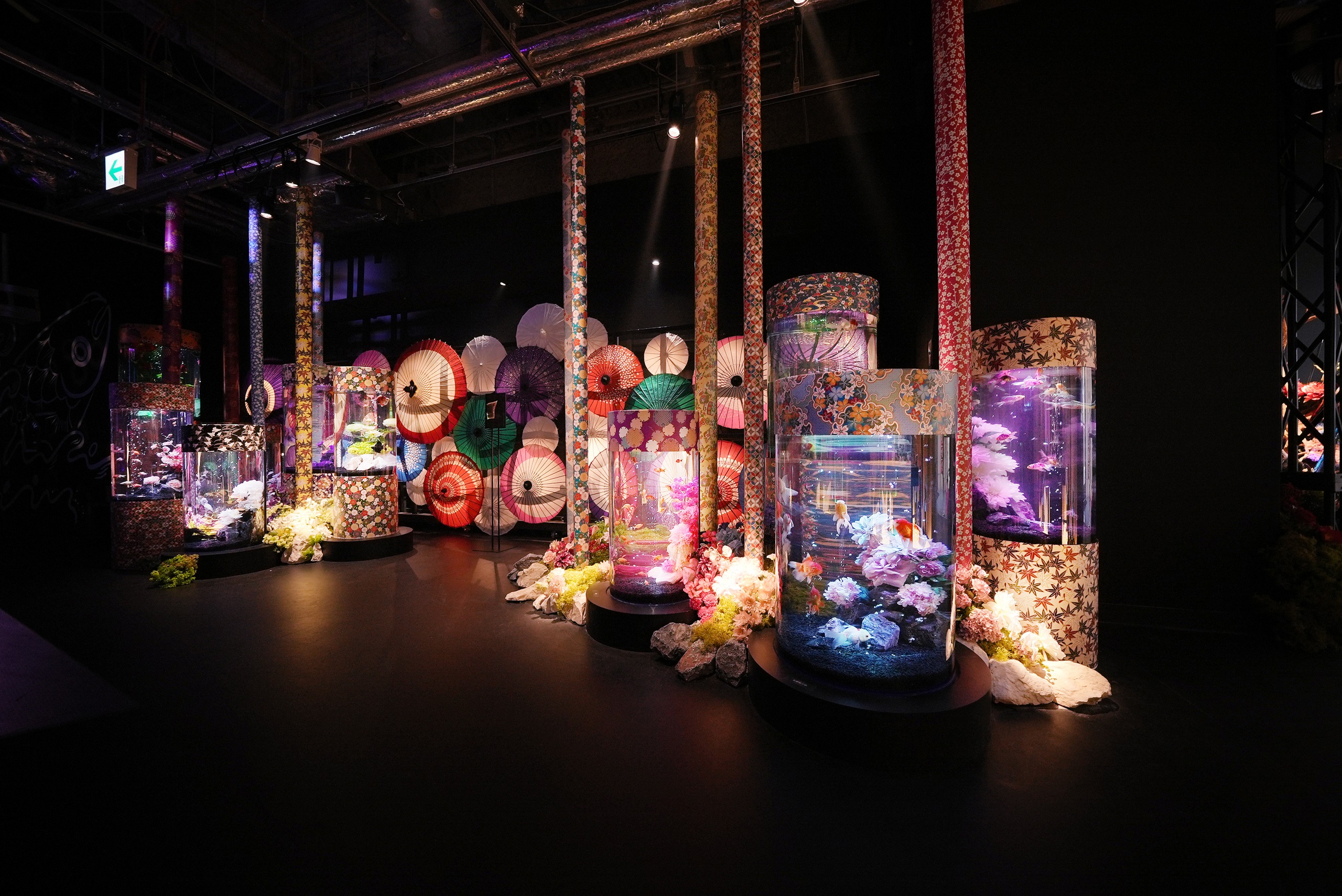 Area 3 – MANGEKYO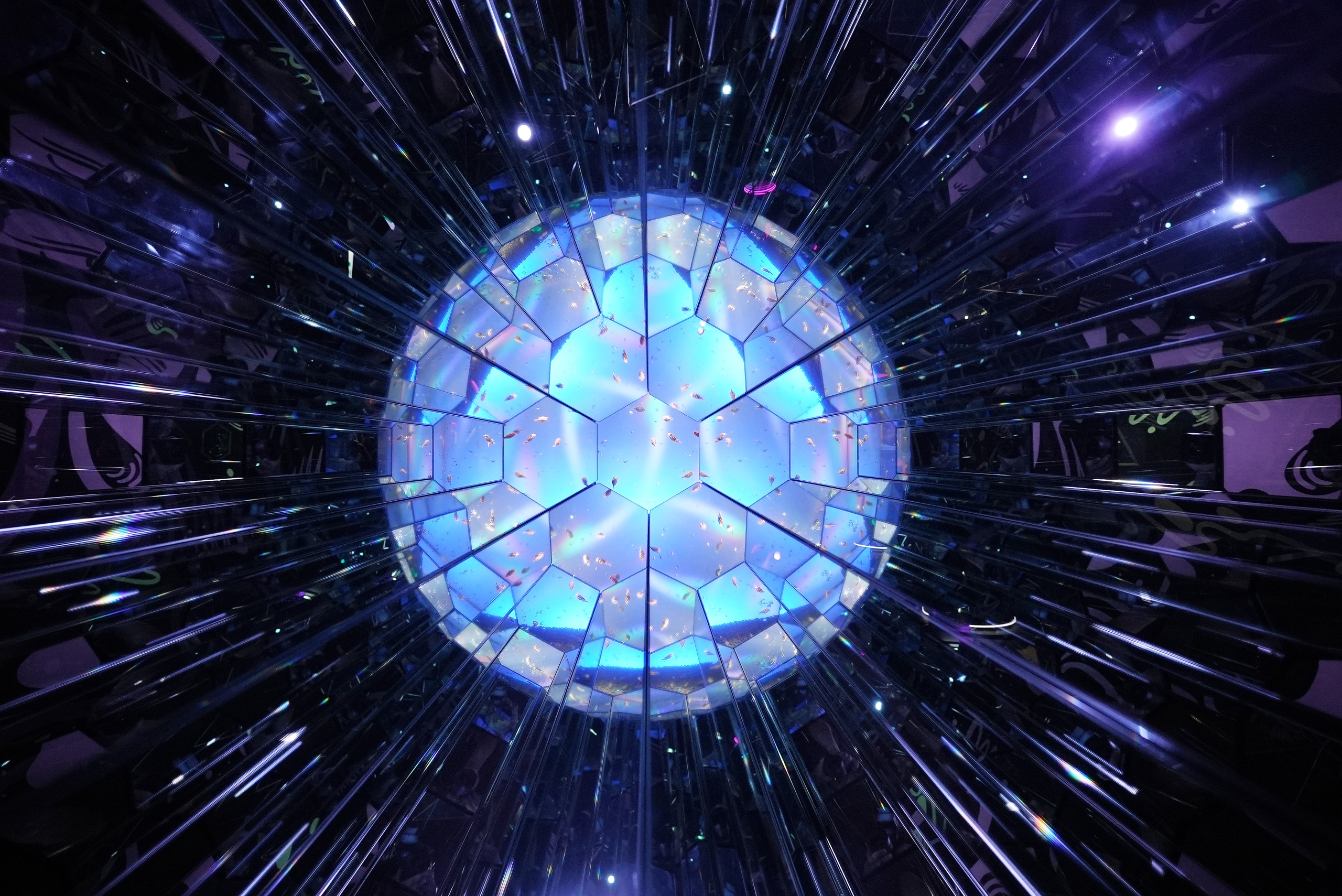 Area 4 – YURAKU
Area 5 – RYUGU
Virtual Goldfish Scooping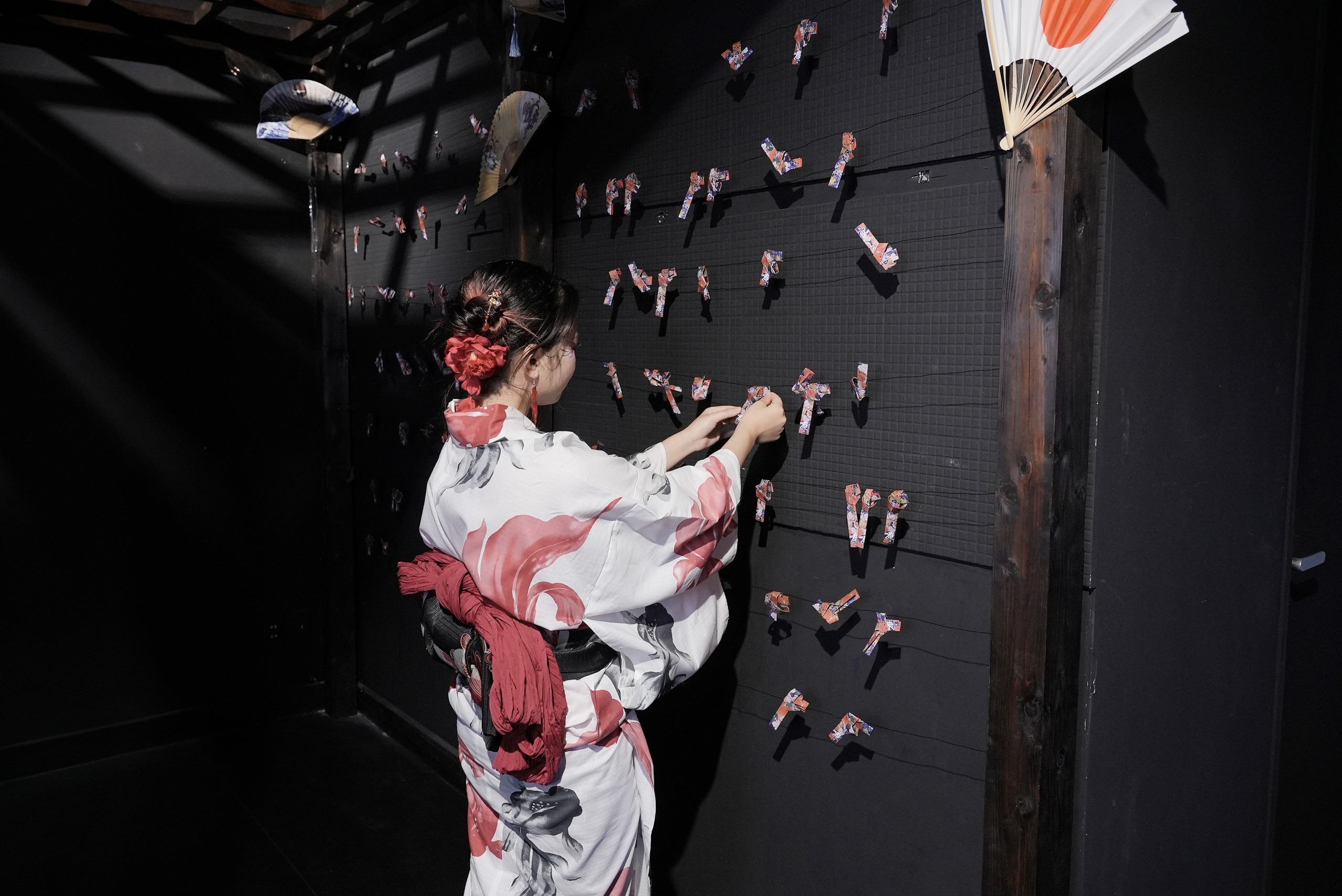 This mixture of aquarium and entertainment venue was produced by GA☆KYO. Each of the five spaces invites guests to understand and appreciate a particular part of Japanese traditional culture, as well as to experience the beauty of living things. Come enjoy this unique installation the next time you're in Tokyo!
Information
UWS AQUARIUM GA☆KYO
Venue: Aqua City Odaiba 3F (1-7-1 Daiba, Minato-ku, Tokyo)
Official Site: https://uws-gakyo.com
RELATED ENTRIES
Light and Shadow 2022 Event at Hotel Gajoen Tokyo Attracts Over 10,000 Visitors

Hotel Gajoen Tokyo, which blends a hotel and a traditional Japanese museum, is celebrating summer in the spookiest way possible. From July 2 until September 25, guests can enjoy the 'Wa no Akari x Hyakudan Kaidan 2022 ~Light and Shadow: 100 Stories~' event, inspired by the tradition of telling ghost stories in summer to send a chill down your spine. Since opening, over 10,000 visitors have come to experience this once-in-a-lifetime event. 

Each of the seven exhibition areas is connected to the stairway, and each has its own theme pulled from the overarching theme of light and darkness. From Light of Passion to Midnight Light, guests will be surrounded on all sides. As you ascend the stairs, a festive atmosphere transforms into a more frightening one. Although the ghosts are out to play, guests are welcome to enjoy the many art pieces and crafts on display. 

Sokyu Room / Lights of Passion

This Kabuki stage is filled with the passion of women who are addicted to love, a common theme in many traditional plays. The eye-catching Japanese umbrellas and lanterns will no doubt leave an impression, and the wistful music is titled Red Thread. The tale depicted here tells the story of a woman who becomes a haunting specter clad in flames of passion, sobbing and laughing in time with the song. 

Still Water Room / Inverted Light

The three trees crowned with horse heads were created by the artist Eros Nakazato. Guests will feel as though they've been transported to the middle of a meadow as they explore this fantastical room covered in traditional paintings. In the work The Reverse of the Reverse, there are no wild horses on the earth, and those who have been tamed by humans sway in a beautiful and sad way. To make this scarier, the story has been reimagined as guests look through a crystal ball–now, humans are ruled by horses

Starlight Room / Midnight Light

Passing through a corridor of suspiciously flickering yokai lanterns, you will find that the clock has struck midnight. In the darkness, as most humans are asleep, specters are having a lively party. Playful cats dance and play and a number of artistic works by contemporary artists are on display. The music played fuses Japanese and ethnic instruments, some of which are interspersed with the voices of creatures of the night.

Experience this immersive art experience that will delight all five senses through light and shadows while you can!

Information

Wa no Akari x Hyakudan Kaidan 2022 ~Light and Shadow: 100 Stories~

Running: July 2 – September 25, 2022

Hours: 11:30-18:00 (Last entry at 17:30) *Closing at 17:00 on August 20 (Last entry at 16:30)

Venue: Hotel Gajoen Tokyo Hyakudan Staircase (Tangible Cultural Property Designated by the Tokyo Metropolitan Government)

Tickets/Details: https://www.hotelgajoen-tokyo.com/100event/wanoakari2022

Official Site: https://www.hotelgajoen-tokyo.com/

Hotel Gajoen Tokyo Opens Artistic Summer Ghost Story Event

Hotel Gajoen Tokyo, which blends a hotel and a traditional Japanese museum, is celebrating summer in the spookiest way possible. From July 2 until September 25, guests can enjoy the 'Wa no Akari x Hyakudan Kaidan 2022 ~Light and Shadow: 100 Stories~' event, inspired by the tradition of telling ghost stories in summer to send a chill down your spine. The art illumination exhibition promises to be a once-in-a-lifetime experience.

Jounen no Akari (Lights of Passion)

Bamboo Lights

Without light, there are no shadows. In this exhibition, light and shadow complement one another, portraying the popular 100 ghost stories in a new way. Last year's event received critical acclaim as guests found themselves moving breathlessly from room to room, exploring the many incredible pieces put on display. Along the dusk-lit promenade, goldfish lanterns lead guests to the start of their mysterious adventure. The atmosphere changes from room to room, with bamboo lights and shadows surrounding you from all sides. 

An Immersive Light Art Space

Odawara Wind Chimes at Dusk

Luxurious Cherry Blossom Hairpins

Glass Lamp, Iroshita Studio

Flower Arrangement, Rikou Otsuka

As you ascend the stairs, a festive atmosphere transforms into a more frightening one. Although the ghosts are out to play, guests are welcome to enjoy the many art pieces and crafts on display, from flower arrangements by master ikebana artist Rikou Otsuka and sculptures by some of Japan's most influential traditional creators. 

Enjoy Traditional Summer Ghost Stories with Light Art

Ghost Lanterns

Born from the Earth, Yasumaro Ozawa

Byakko, Yuji Nishijima

Inverted Light, Eros Nakazato

Mysterious music will drift through the air, making guests feel as though they've been transported into another world. The eerie space is lit by Ghost Lanterns made by a 200-year-old company in Fukuoka, and the venue is decorated with art blending ukiyo-e with contemporary styles. 

Culture and Crafts from Around Japan

Paper Lanterns from Ise

Bamboo Lights, Akarinowa

3D Knit Lights

Paper Fireworks

Summer fireworks have been recreated in colorful paper form by an artist in Nagaoka, Niigata Prefecture, and materials found in a neglected bamboo grove in Shizuoka Prefecture were used to create the many iconic lights seen throughout the unique exhibition. Local craftsmen are at the heart of the event, with pieces brought in from areas all around Japan.

Wa no Akari Room

A concept room featuring gently flickering lights and lanterns is available to book for a limited time. Why not come spend your summer in this otherworldly atmosphere?

Information

Wa no Akari x Hyakudan Kaidan 2022 ~Light and Shadow: 100 Stories~

Running: July 2 – September 25, 2022

Hours: 11:30-18:00 (Last entry at 17:30) *Closing at 17:00 on August 20 (Last entry at 16:30)

Venue: Hotel Gajoen Tokyo Hyakudan Staircase (Tangible Cultural Property Designated by the Tokyo Metropolitan Government)

Tickets/Details: https://www.hotelgajoen-tokyo.com/100event/wanoakari2022

Wa no Akari Room

Available: July 2 – August 31, 2022 (1 room available per day)
Details/Reservations: https://www.hotelgajoen-tokyo.com/stay/plan

Aquarium Inspired by Japanese Traditions to Open at Aqua City Odaiba

On July 13, UWS AQUARIUM GA☆KYO, an aquarium inspired by Japanese traditions and legends, will open at Aqua City Odaiba. Separated into five unique sections, this curious aquarium is located in a shopping complex popular with locals and tourists alike. 

UWS AQUARIUM GA☆KYO will depict five aspects of traditional Japanese life and history: Wabi-sabi, Oiran, Mangekyo (Kaleidoscope), Yuraku, and Ryuugu. These will be explained below if you aren't familiar.

Area

WABISABI
Wabi-sabi is a Japanese aesthetic in Japanese art centered on the acceptance of transience and imperfection. In the aquarium, this is shown by using delicate driftwood, bonsai, and crystal. Characteristics of wabi-sabi include asymmetry, simplicity, and roughness.


OIRAN
An Oiran was a high-ranking courtesan in Japanese history. In this work, goldfish are surrounded by beautiful and enchanting features inspired by these gorgeous women.



MANGEKYO


Mangekyo is the Japanese word for kaleidoscope. This collaborative work invites viewers into a unique space filled with paintings by Tsuyoshi Nigamushi along with disco balls. You'll want to snap some trippy pictures!



YURAKU
This special exhibition invites guests to experience virtual goldfish scooping and fortune-telling. Made using modern technology in a space inspired by Japan's four seasons, yuraku means pleasure in Japanese.



RYUGU


Ryuugu refers to the Palace of the Dragon King found in the ancient tale of Urashima Taro. 

This spatial work will utilize the sea around Odaiba and transport visitors to another place and time.


Come enjoy these five unique spaces with your five senses and become more acquainted with traditional Japanese beauty.

Information

UWS AQUARIUM GA☆KYO

Grand Opening on July 13, 2022

Hours: 11:00-21:00

Venue: Aqua City Odaiba 3F (1-7-1 Daiba, Minato-ku, Tokyo)
Official Site: https://uws-gakyo.com

7th Dance Music Festival ULTRA JAPAN 2022 to be Held in Odaiba

ULTRA JAPAN 2022 will be held at TOKYO ODAIBA ULTRA PARK II in Tokyo on September 17 and 18, 2022!

ULTRA JAPAN is the Japanese version of ULTRA MUSIC FESTIVAL (UMF), one of the world's largest urban dance music festivals held yearly in Miami since 1999. This year marks the 7th event in Japan, and the festival has been held in over 21 countries around the world. In 2016 and 2017, it was named the #1 festival in the world in a fan poll by DJ MAG. 

ULTRA JAPAN has become a staple of the dance music community in Japan, attracting over 530,000 people since it was first held in 2014. The festival has been number one in terms of attendance among all dance music festivals held in Japan, bringing together some of the world's best DJs and delighting fans with intense special effects. The festival is only 15 minutes from Shibuya!

Stay tuned for more information about the artist lineup for ULTRA JAPAN!

Information

ULTRA JAPAN 2022

Dates: September 17, 18

Venue opens at 10:00 / Show begins at 11:00 *Weather permitting.

Venue: TOKYO ODAIBA ULTRA PARK II (Odaiba ULTRA JAPAN Special Venue / Aomi, Koto-ku)

Tickets: ultraJapan.com/tickets
Official Site: https://ultrajapan.com 


teamLab Borderless to Close Odaiba Location in August, Tickets Available Through Final Day

teamLab Borderless, a digital art museum currently housed in Odaiba's Mori Building, will be moving to a more central location in Tokyo in 2023. In preparation for the move, the Odaiba location will close on August 31, and tickets for July and August are available now. Each ticket must be purchased ahead of visiting, and each specifies a date and time for entry. Tickets are available while supplies last. 

 teamLab 'Forest of Resonating Lamps – One Stroke' ©teamLab


teamLab Borderless opened in Odaiba in June 2018 and features a group of artworks that form one borderless world. Artworks move out of rooms and communicate with other works, influencing other pieces and sometimes intermingling with each other with no boundaries. They also shift depending on the season. In its first year, the museum attracted 2.3 million visitors, surpassing the Van Gogh Museum in the Netherlands to become the most popular single artist's museum in the world. People from over 160 countries and regions visited, and in 2019, teamLab Borderless broke a world record for the most visitors to a museum showcasing art from a single artist. Borderless received numerous national and international awards, including being named one of the World's Greatest Places 2019 by Time Magazine and receiving a Thea Award for Outstanding Achievement at the 25th Annual Thea Awards.


Highlight Video: https://youtu.be/VowWhpZzH24

 

The 10,000 square meter complex will be open until August 31, offering visitors a singular experience through a borderless world of art. Expectations are high for the museum's new location, scheduled to open in central Tokyo in 2023. 



teamLab Planets TOKYO DMM will be open in Toyosu until the end of 2023. 

Information

Mori Building Digital Art Museum: Epson teamLab Borderless

Address: Odaiba Palette Town 2F (1-3-8 Aomi, Koto-ku, Tokyo)
Tickets on Sale Now
Designated Admission Times from July 1 until August 31, 2022
Official Site: http://borderless.teamlab.art/jp

Kyary Pamyu Pamyu Collaborates with Kochi Prefecture's Katsurahama Aquarium for LOCAL POWER JAPAN Project

Kyary Pamyu Pamyu concluded her tour stop in Kochi on May 29, and as expected, the singer has announced another collaboration with a local business as part of the LOCAL POWER JAPAN Project! Launched to energize Japan through the appeal of regional towns and cities, the project has received both domestic and global attention. 

In Kochi Prefecture, Kyary is collaborating with the Katsurahama Aquarium! Located on the water at Kochi's famous Katsurahama Beach park, the location is filled with Kochi flare and remains a valuable and beloved place to local residents. The building has long been popular as a museum and has been both a tourist attraction and a local hangout for decades. Known affectionately by locals as 'Hamasui,' the 99-year-old structure has often been a hot topic for its unique advertising strategy, with Hamasui Twitter posts going viral and making their way to late-night TV programs.

For the collaboration, the aquarium's cute creepy-crawly mascot Otodo-chan has been transformed as an homage to Kyary's music video for PONPONPON released in 2011. 

A collaborative T-shirt is also on sale featuring the new logo and the singer's 10th-anniversary logo. The shirt is available on the LOCAL POWER JAPAN Project website for two weeks only starting May 27!

Information

Katsurahama Aquarium (Kochi) x LOCAL POWER JAPAN Project

Collaboration T-shirt
Price: ¥3,300 (Tax Included)  
Where to Buy: Katsurahama Aquarium
Details: https://katurahama-aq.jp/ 


LOCAL POWER JAPAN Project Online Shop
Available: May 27 – June 9 at 23:59
https://store-localpowerjapan.com/


*Please allow two weeks to one month from order completion to product shipment.
*A portion of T-shirt sales will be donated to local projects and social programs.
*Please check the online shop for details.

Sumida Aquarium to Introduce New Baby Penguins in Late June

Tokyo's Sumida Aquarium welcomed three new baby Magellanic penguins on April 14! This marks the 10th year in a row that the location has seen new baby penguins born. 

Magellanic penguins start their breeding season in March each year, finishing in May. The first baby born this year, Daifuku, hatched on April 14, becoming Sumida Aquarium's first second-generation penguin. Komari hatched on April 20 and Shiratama hatched on April 30.

The penguins were given names signifying good luck and joy. Komari and Shiratama both evoke images of 'circles' in Japanese, with the aquarium hoping that the penguins will sever as a link to guests.

All three babies will make their public debut towards the end of June in the designated penguin pool. The Sumida Aquarium Twitter feed will provide updates about how the babies are progressing, so be sure to keep an eye out!

NAKED FLOWER AQUARIUM -Bring You Happiness- Event Opens at Maxell Aqua Park Shinagawa

Tokyo's Maxell Aqua Park Shinagawa has opened its seasonal event NAKED FLOWER AQUARIUM -Bring You Happiness- until June 19, 2022.

 

The aquarium has been continuously developing entertaining exhibits and events based on the beauty of each season. The creative company NAKED uses projection mapping to transform the space with cherry blossoms in spring and fireworks in summer, allowing guests to enjoy a special atmosphere indoors.

Welcome Flower Gate 

Marine Forest 

Blooming Street 

Jellyfish Ramble 

Floral Café Bar 

 

For spring, the Aqua Park has been decorated with gorgeous flowers and lush greenery. The new event uses state-of-the-art technology to surround visitors with a spectacular view of early summer. Each area of the aquarium was inspired by the subtheme of 'bringing happiness,' with seven different Happiness Experiences for guests to enjoy. These experiences offer things like healing sound effects and scents made to calm the mind and offer additional immersion.

The popular dolphin performance has both a day and night show. The day version offers guest participation, in which the dolphins will show off their choreographed moves. The night version was inspired by the early summer sea and uses projection mapping to bring the underwater world to life in a spectacular way.

Information

NAKED FLOWER AQUARIUM-Bring You Happiness-

Venue: Maxell Aqua Park Shinagawa
Address: Shinagawa Prince Hotel (4-10-30 Takanawa, Minato-ku, Tokyo)
Official Site: www.aqua-park.jp

UNDER WATER SPACE in Yokohama Illuminated in Cherry Blossom Colors for Spring

UNDER WATER SPACE, a limited-time aquarium space event located at Yokohama World Porters, is lighting up a portion of the event space in gorgeous cherry blossom colors until April 10, 2022 to coincide with the 2022 cherry blossom season!

The pink-lit space and swimming fish give an entirely new feel to the UNDER WATER SPACE event. You won't want to miss experiencing this magical spring illumination! 

Information

Hanami Illumination

Running: April 1 – April 10, 2022

Aquarium Space Travel 'UNDER WATER SPACE'

Running until January 15, 2023

Hours: 10:30-21:00 (Last entry at 20:00)

Address: Yokohama World Porters 4F (2-2-1 Shinko, Naka-ku, Yokohama)
Tickets / Official Site: http://uws-yokohama.jp

teamLab Borderless in Odaiba Unveils Final Spring Exclusive Piece Before Closing

Spring scenery will welcome guests to the teamLab Borderless exhibit at the Mori Building Digital Art Museum starting March 2, 2022. teamLab Borderless is a group of artworks that form one borderless world. Artworks move out of rooms, communicate with other works, influence, and sometimes intermingle with each other with no boundaries. They also shift depending on the season.

teamLab Borderless in Odaiba is scheduled to close on August 31, 2022, so this will be the only chance to catch this incredible display!

Forest of Resonating Lamps – One Stroke, Cherry Blossoms, teamLab, 2019

Forest of Resonating Lamps – One Stroke, Spring Mountain Fields, teamLab, 2019

Proliferating Immense Life – A Whole Year per Year, teamLab, 2020

Memory of Topography, teamLab, 2018

Flowers in Layered Ultrasubjective Space, teamLab, 2018

Flowers Bloom in an Infinite Universe inside a Teacup, teamLab, 2016

Tea Tree, teamLab, 2018

Drawing Factory

Each installation will filter through new colors and illustrations. A Whole Year per Year will include new spring flowers, multiplying to over 100,000 blooms before dispersing around guests. 'Memory of Topography' depicts a massive landscape based on Japan's four seasons, and in March and April, cherry blossoms and lavender will appear beside terraced rice paddies, wisteria trellises, and gently flowing rivers. 

At the Drawing Factory, guests can also make their own original goods to be taken home as keepsakes. Get your creation printed on T-shirts, pins, or hand towels!

Information

Mori Building Digital Art Museum: Epson teamLab Borderless
Address: Odaiba Palette Town (1-3-8 Aomi, Koto-ku, Tokyo)

Official Site: http://borderless.teamlab.art/jp

The Jellyfish Kaleidoscope Tunnel Transforms for Halloween at 'HALLOWEEN in Sumida Aquarium' Event

Between October 1 and 31 2021, Sumida Aquarium will be hosting the 'HALLOWEEN in Sumida Aquarium' event, where you can enjoy an exciting Halloween alongside the Jellyfish. 

 

A workshop will be held at the event, teaching guests all about the floaty, mysterious and ghost-like jellyfish.

The aquarium's famous 50m 'Kaleidoscope Tunnel,' which is formed of 5,000 mirrors, will be transformed into a Halloween wonderland for the 'Jellyfish and Halloween' event. Eight aquariums are embedded into the walls, with colorful background panels which feature Halloween motifs such as witches and pumpkins. The jellyfish look just like festive ghosts!

Moon Jellyfish Aquarium in the Kaleidoscope Tunnel 

Each aquarium introduces seven mysterious facts about jellyfish – For example, did you know that jellyfish have no heart, and have tons of eyes?

The mysterious tunnel wall is covered in images of cute jellyfish that transform into ghosts and jack-o-lanterns, while Halloween themed music plays in the background.

A jellyfish comparison workshop


A jellyfish comparison workshop will also be held at the aquarium's Aqua Academy. Young children can participate in the workshop which explains the visual differences between different types of jellyfish, while crafting a cute jellyfish mobile under staff supervision.

Spend this Halloween at the incredible Sumida Aquarium!

Nihonbashi Art Aquarium Museum Closes for Renewal and Relocation

The Nihonbashi ART AQUARIUM will be closed on September 26 2021 to make way for new exhibits and works. The museum is scheduled to be relocated in the first half of 2022.

The ART AQUARIUM Museum opened in Nihonbashi, Tokyo on August 28 202 with the concept of "a museum where life dwells." This will be the largest renewal in the history of the museum Museum, opened by writer and general producer Hidetomo Kimura, with the addition of more exhibits and new and improved interactive areas.

The Nihonbashi Art AQUARIUM Museum opened alongside the 2020 Tokyo Olympics and Paralympic, with the expectations that visitors would come from both within Japan and overseas, thanks to the exhibitions which easily explain and represent Japan's proud traditional culture and performing arts, but due to Covid restrictions, foreign tourists are still unable to enter the country. Despite this, the Museum saw many customers and with the closing of the Olympic and Paralympic Games, the museum will be closed in preparation to relocate to the new ART AQUARIUM. If you want to see the Nihonbashi location for yourself then this is your last chance!

In addition, the "ART AQUARIUM" digital tour is being held from September 12, allowing you to appreciate the Museum in a digital format until the reopening.

Make sure to check out the Nihonbashi ART AQUARIUM while you have the chance!

Information

ART AQUARIUM Museum

Address::1-3-9 Nihonbashihonchō, Chuo-ku, Tokyo

Opening Hours: 10:00~19:00 (L.A 18:30)

Official Site: https://artaquarium.jp