120 bakeries will take part in this year's annual "Setagaya Pan Matsuri" bread festival in Mishuku
"Setagaya Pan Matsuri 2017" will be held across two days on Sunday October 8th and Monday October 9th.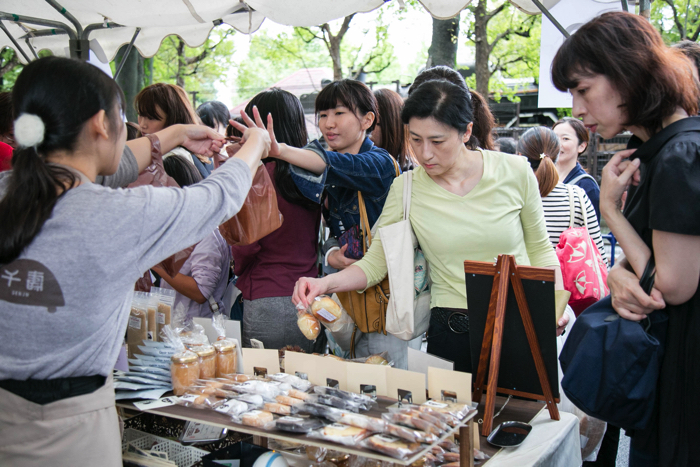 "Setagaya Pan Matsuri" is a local event held in Mishugu that celebrates Setagaya's bread culture. The festival stands as Japan's biggest bread event and has been held since 2011, growing bigger each year.
The event takes the form of a market and will be held at Ikejiri Elementary School in Setagaya Park. This year's festival will see almost 120 shops coming together from bakeries to pastry shops selling breads and drinks. participating where you can get your hands on different breads and pastries as well as drinks to go with them.
There will also be workshops and talks held at IID Setagayamonozukuri School, which was formerly an elementary school, where up to 1,200 can participate to eat and learn about bread. You can also look forward to joining in with the stamp rally where you can collect a series of stamps around MISHUKU R.420, as well as a bread museum you can visit in Setagaya Gayagaya-kan where there will be displays of local breads that you can also buy. Setagaya Pan Matsuri will have the whole area of Mishuku transform into its true form – a bread town – to greet bread lovers.
"Setagaya Pan Matsuri 2017" Market

The market at Setagaya Pan Matsuri boasts bakeries ranging from Setagaya's most delicious to the most popular, as well as hidden ones and those that serve both pastries and drinks. It's an exciting and bustling market that will satisfy your hungry autumn time tummy.
"Setagaya Pan University" – eat and learn at a pastry lecture

The whole of IID Setagayamonozukuri School will temporarily turn into the "Setagaya Pan University" where you can enjoy and learn about bread under the guidance of the Japan Pan Coordinator Association (JPCA). There will be various lecture, including one where you can eat and compare 8 different breads from 7 different countries around the world, as well as workshops. 1,200 can take part in this exciting program which will take place across the 2-day festival.
"Fukuro Bread Museum" – buy it all!

The theme of this year's festival is "Bread and the World." Eating pastries from around the world is good too, but it's important to not forget all of the different local packaged breads around Japan that have continued to be loved for generations.
The "Fukuro Bread Museum" brings together 10 different packaged pastries from all around Japan recommended by pastry specialist Hinoyou-san. All 10 of the pastries on display can also be purchased there and then.
The annually popular "Mishuku Sanshoku Pan" will be sold again this year!
"Mishuku Sanshoku Pan" will also be sold at each stall this year, where participating shops create a limited edition special bread related to the number "3" – such as colours, flavours, shape (triangle) etc. They never fail to sell out each year. There will also be a contest held to pick the best one.
 *Participating stalls will be announced at a later date.
Limited sale official merchandise and artist collaboration merchandise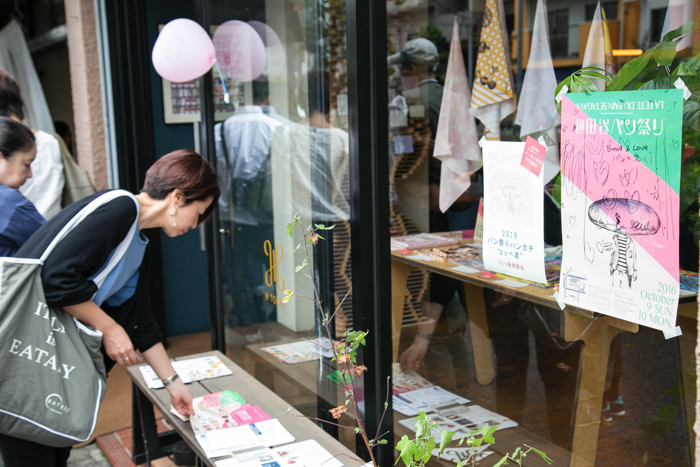 As well as character goods for 2017, this will include merchandise created in collaboration with artists and creators who love bread as well as those who have a connection with Setagaya.
Participating Artists: Tsuyoshi Nigamushi, Sakura Fantasma, Keiko Akatsuka (names in no particular order).
"Stamp Rally" – Begins on Saturday September 23rd!
A stamp rally will be held at participating shops in the MISHUKU R.420 area ahead of the festival where your job is to go around obtaining stamps. Simply collect your rally sheet to be stamped at any participating store and head around Mishuku to rack up points. If you collection enough stamps you can get a limited edition "Setagaya Pan Matsuri 2017" picnic sheet.

Get involved in the Setagaya bread festival and get your fill of pastries.
■InformationSetagaya Pan Matsuri 2017
Running: October 8, 2017 to October 9, 2017
Time: 11:00-17:00 (Setagaya Park will close at 16:00)開催時間:11:00〜17:00
Locations: IID Setagayamonozukuri School, Setagaya Park, Ikejiri Elementary School, Setagaya Gayagaya-kan, MISHUKU R.420 participating shops
Price: Free entry
Organisers: Setagaya Pan Matsuri Executive Committee
Website:
http://www.setagaya-panmatsuri.com
・Setagaya Pan University lectures: http://setagaya-panmatsuri.com/university/ (Japanese)
※Accepting places from September 10th
・Stamp Rally
Running: September 23, 2017 to October 9, 2017
Picnic sheet collection: October 8, 2017 to October 9, 2017
※Picnic sheets can be collected at the festival.
RELATED ENTRIES
Pastel Easter Sweets and Bakery Items Coming to Grant Hyatt Tokyo

The luxury hotel Grand Hyatt Tokyo will offer Easter sweets and baked goods at the on-site Fiorentina Pastry Boutique from April 1 until Easter, April 17, to celebrate the arrival of spring.

Easter Egg Macaroon

Easter Cookies with Icing

Easter Lollipop

Easter Bunny Brioche

This year, in addition to the new Easter Bunny and Easter egg macaroons, cookies with icing, lollipop chocolates, brioche in the shape of the Easter Bunny, and other sweets and bakery items will be available. Don't miss it!

Tokyo's Craft Chocolate Shop nel Releases Cacao Kintoki Shaved Ice Desserts

nel craft chocolate tokyo, a craft chocolate shop located in Nihonbashihamacho, Tokyo, released two chocolate shaved ice desserts last Wednesday for the hot summer season. The desserts are also being sold at Saryo Tsukikage, a restaurant inside the hot spring ryokan Yuen Bettei Daita in Setagaya.


Left: Cacao Kintoki | Right: White Cacao Kintoki

Cacao kintoki is a type of shaved ice made with specially-selected cacao beans from Vietnam. It uses a 'bean to bar' method where the shaved ice is made from scratch, roasting the beans fresh to create the dessert.

The two new treats at nel use a chocolate base and add cacao pulp to the mix, adding a natural fruity flavour derived from the bean. Each is also served with a special cacao sauce for extra flavour. The white cacao version is made by combining with in-house white chocolate. It also comes with an Okinawan passion fruit and cacao pulp sauce, resulting in a sour kick and refreshing taste.

Saryo Tsukikage

The open-air baths at Yuen Bettei Daita

A special matcha version of this shaved ice can also be enjoyed while bathing in the open-air baths at Yuen Bettei Daita. It's made with nel's homemade white chocolate as well as dark chocolate, cacao pulp, and specially-selected yame matcha from Shimokita Chaen Ōyama, a cafe in Setagaya.

Kumamon Promotes Strawberry and Whipped Cream Pastry For Pasco Kumamoto Project

The Pasco Kumamoto Prefecture Project is a collaboration between the Japanese pastry company Pasco and Kumamoto Prefecture which has appointed Kumamon, the mascot of Kumamoto, as its head to promote local foods.

The project was started as a reconstruction and restoration effort to help support Kumamoto after the devastating earthquake that struck in 2016 and the 2018 Japan floods. For every select product sold, 0.5 yen is donated to the relief effort to aid victims of the disasters.

The Pasco Kumamoto Prefecture Project is set to run until end end of September this year. It released two items on April 1 as part of the project. It is now releasing two new products: the "Strawberry Jam & Milk Whipped Cream" pastry and "Pancake Omelette Custard & Milk Whipped Cream." The milk, strawberries, and eggs used for these confections are all sourced from Kumamoto

The pastry recipe creates whipped cream from milk and layers it with a strawberry jam made from yuubeni, a popular brand of strawberry grown in Kumamoto, before baking. The pancake omelette is a combination of Jersey milk, eggs, and custard cream to create a fluffy dessert.

Pasco carefully selects ingredients as part of Kumamon's promotional products

The ingredients used in the recipes for these food products are all carefully selected to go deliciously well with Pasco's bread. This includes milk, eggs, and yuubeni strawberries. Pasco plans to used Kumamoto-grown rice for a new product in August.

 

Scan the code on the packaging and meet Kumamon!

A special Kumamon AR service has also been created as part of the project. If you scan the code on the packaging of these products using a smart device, you can take a photo together with Kumamon as pictured above. He has the same design as on the packets.

Information

Pasco Kumamoto Prefecture Project – 2nd Release

Running: June 1, 2021 – July 31, 2021

Available: Supermarkets and shops in Japan

Pasco Official Website: https://www.pasconet.co.jp/

Neko Neko Shokupan x Samansa Mos2 Clothing Collaboration Released

Fashion brand Samansa Mos2 joined paws with the cat-themed bread and pastry store Neko Neko Shokupan to release their first collection together at Samansa Mos2 stores and the online store CAN ONLINE SHOP on May 14.

The Line-Up

Half-Sleeve Photo Print T-Shirts
Colours: Off-White/Unbleached/Beige
Price: ¥3,190 (Tax Included)

Half-Sleeve Monogram Print T-Shirts
Colours: Off-White/Yellow/Brown
Price: ¥3,190 (Tax Included)

Half-Sleeve Back Print T-Shirts
Colours: Off-White/Yellow/Brown
Price: ¥3,190 (Tax Included)

Back print tee design

Shokupan Print Hoodie
Colours: Beige/Khaki
Price: ¥4,290 (Tax Included)


Kid's Line

Photo Print T-Shirt
Colours: Off-White/Yellow
Price: ¥2,530 (Tax Included)

French Flare T-Shirts
Colours: Beige/Khaki
Price: ¥2,530 (Tax Included)

Miscellaneous

Embroidered Canvas Tote Bag
Colours: Unbleached/Beige
Price: ¥3,850 (Tax Included)

Handkerchief
Colours: Beige/Purple
Price: ¥660 (Tax Included)

Reversible Shoulder Pouch
Colours: Beige/Khaki
Price: ¥3,190 (Tax Included)

Bottle Holder
Colours: Beige/Khaki
Price: ¥2,750 (Tax Included)

Mobile Ring Holder
Colours: Beige/Grey
Price: ¥1,650 (Tax Included)

Neko Neko Shokupan are known for their rich and milky cat-shaped bread which uses milk and zero water. They're a hugely popular bakery brand who often find themselves across social media pages including Instagram. This marks their first collaboration with Samansa Mos2 who celebrate their 35th anniversary this year.





The collection features key visuals taken from the Neko Neko Shokupan brand. Items include a variety of tees and hoodies as well as other miscellaneous must-grabs like tote bags, handkerchiefs, bottle holders, and more. There's even a children's line-up as part of Samansa Mos2's kid brand Samansa Mos2 Lagom so parents and their children can coordinate cute matching outfits.





Look felinely-fashionable this summer with the Samana Mos2 x Neko Neko Shokupan collection.

 

Blue Bottle Coffee to Open First Pop-Up Store in Tokyo

Blue Bottle Coffee Japan is opening its first-ever pop-up store this spring at Tamagawa Takashimaya S.C. where it will run from April 21 to May 11.

Check out some of the products that will be on offer from the minimalist and stylish coffee brand.

Castella & Coffee Bean Set | ¥3,564 (Tax Included) | Exclusive pre-sale at Tamagawa Takashimaya S.C.

Eco Bag & Instant Coffee Set | ¥4,180 (Tax Included) | Exclusive pre-sale at Tamagawa Takashimaya S.C.

First Light Single Origin | ¥1,944 (Tax Included)

Renewal Blend | ¥1,836 (Tax Included)

Coffee Beans (200g x 2 bags) | ¥3,456 (Tax Included)

Coffee lovers can get their hands on a range of Blue Bottle Coffee's bean range as sold at their cafes across Japan as well as an original tote bag to encourage "Coffee Time, Everywhere," pre-sales on select items like the Blue Bottle Coffee Castella developed in collaboration with Bunmeido Tokyo, seasonal coffee beans, and more.

The pop-up shop will not be serving coffee for customers, but they can enjoy their coffee picks once they get home. And don't worry if you don't have a coffee grinder as there are instant coffees too.

Information

Blue Bottle Coffee Pop-Up Store

Running: April 21, 2021 – May 11, 2021

Where: Tamagawa Takashimaya S.C.

Address: 3-17-1 Tamagawa, Setagaya-ku, Tokyo, 158-0094

Official Website: https://store.bluebottlecoffee.jp/

Japan's Cafe Chain Bread, Espresso & to Open New Branch in Kamata

Hitobito, the company behind Japan's popular bakery cafe chain Bread, Espresso &, is set to open a new branch inside Makita General Hospital in Kamata on March 1. The cafe opened its doors for pre-openings earlier this month with shortened business hours.

 

Bread, Espresso & has 20 branches across Japan including the popular one located in Omotesando, Tokyo. Its frequented by people of all ages for its deliciously soft bread made from 100% Japanese wheat.

The cafe's picture book-like interior design caters to children featuring bread-shaped tables and cute illustrations.




Customers are welcome to try out the free samples on display. Each sample has a little card detailing various information which customers can take to the register if they want to buy that item. Often in Japanese bakeries there are tongs and trays which customers are free to use, but this new style of service lessens contact with others for a safer trip during the pandemic.

The bakery serves Bread, Espresso & classics like French toast and their mu pastries, as well as alternatives like gluten-free breads, no-sugar treats, and more.

Information

Pan, Espresso & Kamata

Address: 8-19-1 Nishi-Kamata, Ota-ku, Tokyo

Opening Hours:  9:00-21:00 (Until 18:00 during pre-opening)

Holidays: None (Except Sundays during pre-opening, after it will be open 7 days a week)

TEL: 03-6424-7920

Pan, Espresso & Official Website: http://www.bread-espresso.jp/

Sailor Moon Eternal's Second Anime Film Promoted With Luna Shaped Bread

Japanese bakery Neko Neko Shokupan is promoting the release of the second in the two-part anime film series Sailor Moon Eternal by baking up a bread inspired by everyone's favourite feline: Luna. The bread will be sold from February 11 to March 25.

Neko Neko Shokupan Luna Bread w/ Chocolate Pen | ¥1,200 (Before Tax)

The bread is made of pastry laced with black cocoa powder. Luna's ears are strawberry flavoured and she  of course has her iconic crescent moon atop her forehead. She arrives safely packaged in a cube-shaped box decorated in night sky stars and the moon. This box is placed in an eye-catching bag with little Sailor Moon details that are sure to be familiar to any fan, including Luna herself as well as Artemis.

The bread is available in-store at Neko Neko Shokupan branches and via the online store All Hearts Mall in Japan

The first film in the Sailor Moon Eternal series was released on January 8, 2021, and the second on February 11, 2021.

©武内直子・PNP/劇場版「美少女戦士セーラームーンEternal」製作委員会

Cat Shaped Bread Releases at Neko Neko Shokupan For Hinamatsuri Festival

Neko Neko Shokupan is celebrating Japan's annual Hinamatsuri festival, also known as Doll's Day, by releasing a set of three limited-edition flavours of its popular cat-shaped bread. It is now available via their online store until March 3, 2021.

Strawberry / Plain / Matcha – ¥4,600 (Tax & Shipping Included)

Neko Neko Shokupan Hinamatsuri Strawberry

Neko Neko Shokupan Hinamatsuri Plain

Neko Neko Shokupan Hinamatsuri Matcha

Neko Neko House

The cute set includes pink-coloured strawberry, white-coloured plain, and green-coloured matcha breads which are available for delivery at addresses in Japan. They arrive in a cute house-shaped box.

Taiwanese Melon Bread Heads to Harajuku Food Factory

The hugely popular Taiwan Melon Pan bread, which sells 10,000 units a month in Osaka, Kichijoji, and Nishiogikita, is now being served at Harajuku Food Factory until February 20.

Taiwan Melon Pan | ¥380 (Before Tax)

Taiwan Cheese Melon Pan | ¥450 (Before Tax)

The Taiwan Melon Pan bread is a combination of sweetness, rich butter, and salt for an irresistible flavour experience.

Information

Harajuku Food Factory – "Taiwan Melon Pan"
Serving: February 3, 2021 – February 20, 2021
Where: Harajuku Food Factory
Address: THE SHARE Floor 1F, 3-25-18 Jingumae, Shibuya, Tokyo
Opening Hours: 11:00-20:00
TEL: 03-5772-8858
Official Website: http://www.opefac.com/

Enjoy Breakfast With a Feline Twist at eXcafe Gion in Kyoto Where They Serve Cat Shaped Toast

eXcafe Gion, a cafe located near Kyoto's popular tourist spot Yasaka Shrine, introduced its Mikeneko breakfast to the menu on Monday. The breakfast was first put on the menu at the Arashiyama branch of eXcafe.

Gion is one of Kyoto's biggest and most famous shopping districts. eXcafe Gion is located along Shinbashi-dori Street, which is listed as one of Japan's Important Preservation Districts of Historic Buildings, making it within walking distance of many traditional places in Kyoto such as Yasaka Shrine, Hanamikoji Street, Shirakawa, Tatsumidaimyojin Shrine, and more.

eXcafe Mikeneko Breakfast | ¥1,380 (Before Tax)

eXcafe's Mikeneko breakfast menu is made with the new thick-cut, three-coloured cat-shaped bread from the popular cafe Kyoto Neko Neko, which is made with three flavours: caramel, black cocoa, and plain. It comes with various toppings to choose from including anko red bean paste, butter, whipped cream, and fruit, so you can arrange your toast how you like it.

The toast is served with mitarashi-dango for dessert which can be cooked on top of the little stove that you get.

Enjoy a super cute breakfast meal at eXcafe and then a stroll around Gion when visiting Kyoto.

Information

eXcafe Mikeneko Breakfast
Serving: 8:00am-11:00am (Last Orders 10:00am) *Day menu available from 10:00am

Location: eXcafe Gion

Address: 57-1 Motoyoshichō, Higashiyama-ku, Kyoto
Opening Hours: 8:00am-6:00pm
TEL: 075-533-6161

Tokyo Neko Neko: Cat Shaped Desserts and Pastries Served at Ginza's New Bakery

ALL HEARTS COMPANY, a Japanese company that develops bakeries and patisseries across Japan, opened its new bakery and confectionery shop Tokyo Neko Neko in Ginza, Tokyo on July 22, 2020. The shop has replaced Heart Bread ANTIQUE, another bakery also run by ALL HEARTS COMPANY, which was previously at this location.

At Tokyo Neko Neko, they are serving cat-shaped pastries and desserts including Tokyo-exclusive products from their Neko Neko Bread brand and Neko Neko Cheesecake shop. This is the second branch to open following the opening of Kyoto Neko Neko last month.

A stylish bakery


Tokyo Neko Neko's pastries and interior design takes on a completely different look from Kyoto Neko Neko, with the walls acting as a canvas to display their food like an art museum. The bakery's line-up centres on seeing as well as eating, adding an extra level of deliciousness to the products. If you've visiting Tokyo, you don't want to pass up on the opportunity to visit Tokyo Neko Neko.

Tokyo Neko Neko Bread

Tokyo Neko Neko's cat-shaped bread is palm-sized and so is a perfect gift and takeaway snack. The outside is crunchy while the middle is kept nice and moist. The secret behind the bread's tastiness is the use of fermented butter which they get from France. The use of lots of almond cream adds a tasty kick too.

Tokyo Neko Neko Bread – Plain: ¥1,000 (Before Tax)

Made using croissant pastry and loaded with fermented butter.

Tokyo Neko Neko Bread – Caramel Almond: ¥1,200 (Before Tax)

Caramel almonds and almond slices are added to this version, also made with lots of fermented butter.

Tokyo Neko Neko Bread – Praline Rose: ¥1,200 (Before Tax)

This flvour is filled with praline rose, a traditional French confection of caramelised sugar-coated almonds.

Tokyo Neko Neko has lots of other tasty foods to offer too, like their Neko Neko Cheesecake, Neko Neko Butter Sandwiches, and more.

Information

Tokyo Neko Neko Ginza

Address: OPTICA 1F, 3-4-17 Ginza, Chuo-ku, Tokyo

TEL: 03-6228-6806

Opening Hours: 10:00-20:00

No Fixed Holidays (Except New Year)

Official Website: https://nekoshoku.jp

Kyoto Neko Neko: Cat Shaped Desserts and Pastries Served at Kyoto's New Bakery

ALL HEARTS COMPANY, a Japanese company that develops bakeries and patisseries across Japan, opened its new bakery and confectionery shop Kyoto Neko Neko in Shijo, Kyoto on June 1, 2020. There, they are serving cat-shaped pastries and desserts including Kyoto-exclusive products from their Neko Neko Bread brand and Neko Neko Cheesecake shop.

Kyoto Neko Neko Danish Bread: ¥1,200 (Before Tax)

This butter-loaded Danish pastry is folded into a braid shape and baked which keeps the pastry moist. It's topped with a sprinkling of sugar, leaving it glistening. It's recommended that you first try the pastry as it is—soft and moist. You can then try lighting toasting it which gives it a crispy texture and brings out the delicious aroma of the butter.

Products are packaged in a cute box making them a great gift idea.


Kyoto Neko Neko Cheesecake (On sale from mid-June 2020)

This cheesecake is made with Brie de Meaux cheese and is laced with black cocoa. The luxurious cheese combined with black soy beans and brown sugar syrup jelly makes for a marriage between Japanese and Western flavours. You get an extra layer of deliciousness too with a dusting of soy flour.

Kyoto Neko Neko Bread (Plain): ¥550 (Before Tax)

This Kyoto version of the Neko Neko Bread is still made without water, but rather than using only milk, Kyoto Neko Neko has added soy milk made using soy beans from a tofu shop in Kyoto, lending a smooth and rich flavour to the bread. And instead of mascarpone cheese, Kyoto Neko Neko uses soybean cream, and instead of dairy butter a soy cream butter.

Kyoto Neko Neko Bread (Houjicha): ¥680 (Before Tax)

Kyoto Neko Neko Bread (Matcha): ¥680 (Before Tax)

There's also a houjicha flavour made with houjicha tea and white chocolate, as well as a matcha flacvour combined with black soybean.

Information

Kyoto Neko Neko Shioji
Address: 578 Obiyamachi, Tachiuri Nakanocho, Shimogyo Ward, Kyoto
Grand Opening: June 1, 2020
Opening Hours: 10:30-18:00
No Fixed Holidays (Closed: New Year's Holidays)
TEL: 075-221-1001

Official Website: https://nekoshoku.jp/