BAND-MAID's New Song 'Unleash!!!!!' Available to Stream, Music Video Released
BAND-MAID continues to wow audiences overseas. The band's upcoming EP Unleash is scheduled to release on September 21, and ahead of this exciting drop, the girls have released the song Unleash!!!!! on streaming services! The music video for the song, a mix of newly-drawn animated footage and live-action shots, and a new artist photo have also been released. You won't want to miss seeing the members reimagined as gorgeous anime characters in this powerful video!
To commemorate the release of the song, a playback campaign has begun on music streaming services! Overseas fans are also welcome to participate, so be sure to listen to Unleash!!!!! as many times as you can!
BAND-MAID will hold their largest-ever solo performance at the Tokyo Garden Theater on January 9, 2023, with the lottery for tickets opening on August 10. Be sure to keep an eye on the members as they strive for world domination!
Unleash!!!!! (Music Video)

Comment from Miku Kobato (Gt. & Vo.) on Unleash!!!!! Music Video
"I've been looking forward to this music video since it was decided that all of the members would be reimagined as anime characters! I'm glad that each of our personalities shine through, and that we all turned out so pretty! We're looking forward to creating some more anime and live-action collabs in the future as we continue to evolve and move towards world domination!"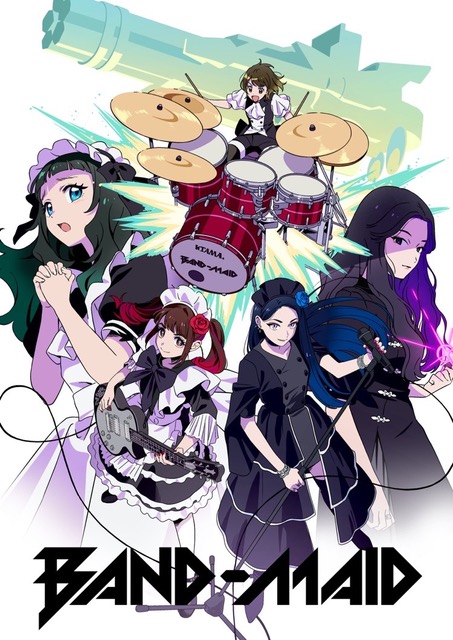 RELATED ENTRIES
BAND-MAID Releases 'Unleash' EP, Music Video for 'influencer'

26.September.2022 | MUSIC

With an ever-growing international fanbase, the rock group BAND-MAID has just released the Unleash EP. Featuring eight tracks, the band has also released the music video for the track influencer. 

The music video was shot in the same location as BAND-MAID's newest artist photos, and fans will want to keep an eye out for MISA's bass solo! The liberating music video encompasses the EP's main theme of being fully unleashed and free. 

influencer (Music Video)

A number of in-store campaigns commemorating the release of the Unleash EP have also begun. Those purchasing the EP can enter a special campaign by using the ticket included with the CD itself, and those visiting Tower Records Shinjuku will be able to see Miku Kobato, KANAMI, MISA, and AKANE's instruments on display! A playback campaign has also been launched on music subscription services worldwide so that all fans, no matter their country, can participate!

Unleash!!!!! (Music Video)

BAND-MAID will hold its largest-ever solo concert at the Tokyo Garden Theater on January 9, 2023. Tickets are now on sale by official lottery, so don't miss your chance to watch these girls continue down their path of world domination!

Miku Kobato's Comment on the influencer Music Video

"The gap between us and the quarry, the grand and majestic atmosphere…it just makes the music sound even better!

KANAMI's guitar solo on the cliff is such an incredible rock scene, even if it terrified me during filming."

BAND-MAID Reveals Solo Photos Shot by Photographer Jimmy Ming Shum

Girl band BAND-MAID has released jacket photos and solo member photos ahead of the new EP Unleash, which will be released on September 21, 2022. Depending on where fans buy the EP, some special bonuses will be handed out.




The jacket shows a vast blue sky and clear ocean based on the EP's title. The scenery and artist photos shot for the new release were done by internationally renowned photographer Jimmy Ming Shum. The stylish member photos combine BAND-MAID and Jimmy Ming Shum's unique charms and give off an entirely different vibe than that of the EP cover.


 

Seven stores that will be selling Unleash will each be offering a unique bonus to fans purchasing the EP. The bonus items will feature the new member photos and the animated versions of the girls used in the music video for the main track Unleash!!!!! Some items will be available to those purchasing the EP from overseas, so everyone is encouraged to check it out!

 

Prior to the group's US tour, BAND-MAID will hold a Japan tour starting on August 17. At the venue's sales corner, fans attending the concerts will be able to snag certain bonuses on-site only. 


BAND-MAID will hold their largest-ever solo performance at the Tokyo Garden Theater on January 9, 2023, with pre-sale tickets available on August 20. Be sure to keep an eye on the members as they strive for world domination!

Interview with Band-Maid's Miku Kobato: Thoughts on Her Solo Project cluppo and Her New Track 'with You'

The rock band BAND-MAID has attracted legions of fans both in Japan and around the world for their powerful performances while clad in maid outfits. The group calls their loyal fans 'masters and princesses,' and the number of these devoted listeners continues to grow year after year.

The band will be the opening act for the Japanese version of the world-famous British rock event DOWNLOAD FESTIVAL. The event, DOWNLOAD JAPAN 2022, will be held at Makuhari Messe in Chiba on August 14, 2022. In October, BAND-MAID will embark on their largest-ever U.S. tour, playing 13 shows. 10 of these shows are already sold out, showing the incredible impact the group has had abroad. 

Miko Kobato, the guitarist, vocalist, and founder of BAND-MAID, has been attracting attention with her solo project cluppo. Following her first EP hatofull in March, her newest song With you was released on July 7. The track is being used as the ending theme for the anime series Smile of the Arsnotoria. 

With you – cluppo

We recently had the opportunity to sit down with cluppo to chat about her new single, her songwriting process, and more. It's clear that her music has been having a profound impact on her fans, and her many musical talents are shining through more than ever. 

—Your new song, With you, is the ending theme for Smile of the Arsnotoria. What was your inspiration for the track?

cluppo: Actually, I was personally asked to write the ending theme for the Smile of the Arsnotoria anime adaptation. After I got the invitation, I had a ton of online meetings with the animation team to discuss what kind of atmosphere and tone the track should have. 

They really wanted me to create a song with a unique atmosphere, totally different than my usual intense and super energetic sound. It was clear that they wanted a song with more of a gentle and cute sound and one that seemed to tell a story. I talked to Crow (cluppo's music production team) and I decided on a cool premise–I'm a pigeon and cluppo's theme is 'world peace,' so the track was inspired by the idea of a pigeon getting along with the crows. 

The anime was inspired by a mobile game, so I decided to try that out before writing any lyrics. It had a really awesome story, so I took a lot of inspiration from that. Once I had a general image in mind, I made the decision to incorporate common words from the game into the track, knowing that people who had played it would instantly recognize that. 

—After meeting with the anime team, were you able to pin down a concept for the song?

cluppo: The team was really particular about the music from the very beginning of the project. I'd send demos, they'd send them back, and that happened quite a few times. The atmosphere of the track changed a lot over time. It's completely different from my original idea. 

—What's the message behind the lyrics? 

cluppo: I think the most important point comes right at the end of the song–"love is unbeatable." That actually comes from the show's key visual, which said that "magic (cuteness) is unbeatable." At first, I started imagining that the series would have a really super-cute vibe, but once I started playing the game, I realized that there was some darkness mixed in too. Maybe we were meant to be the cute ones. I figured out that 'cute' was also being used to describe strong people with the urge to move forward. In Japanese, the word ai means love, but when pronounced in English, it can refer to the self, as in 'I.' So when I wrote the lyrics, I wrote it so it could be read either way–either "love is unbeatable" or "I am unbeatable." Using that word was really important to me. 

—What was it like working on the music and arrangement with Crow? We're curious to know how you expanded on your earlier ideas.

cluppo: Rather than just relying on my own brain to come up with ideas and pushing my own personal image to the forefront, I had a lot of back-and-forth with the animation staff this time around. I'd ask if I could change the lyrics in a certain part or if I could alter the sound in certain parts, but other than little things like that, I left the overall vibe up to Crow this time. 

—It was a real collaboration!

cluppo: Totally! They really understand my tastes and my image after everything I've released so far, including hatofull. It was like they were focusing more on the cluppo vibe than I was, so I felt completely comfortable leaving it up to them. 

—Do you have any particular beliefs or principles that you keep in mind while you're writing lyrics? 

cluppo: The main goal of cluppo is to bring world peace. That's something that I always keep in mind while writing my lyrics–I really want to capture that wish as best I can. 

—Where do you get most of your ideas?

cluppo: I find inspiration in all kinds of places, but the thing that inspires me the most is a good night's sleep! (laugh) 

—What's your first step in creating lyrics? How do you start the process?

cluppo: I always write the music before the lyrics. I end up listening to a ton of songs everywhere I go and before I go to bed. I imagine the atmosphere that the song will have and how it will fit into someone's daily life, which leads me to come up with the melody. That's when I start thinking about lyrics–if you don't have the melody in mind, it's much harder to know which words will sound good and which won't. 

—When you listen to a song, do you ever suddenly feel overcome with emotion?

cluppo: Oh, for sure, all the time. Like, "Oh, this lyrics popped into my head while I was playing that scene in a game," or something like that.

—Tell us about your dreams for the cluppo project. Its theme is 'world peace,' right?

cluppo: Right. Honestly, cluppo began as an April Fool's Day project, so I never expected it to last this long. I was even more surprised to be asked to write an ending theme song for an anime series! With world peace as a theme, though, I know that there are so many more things that I can do. I honestly hope that I can do things with cluppo that I could never do with BAND-MAID. 

—As a member of BAND-MAID, you're about to tour the U.S. this October, with over 20,000 fans coming to watch you perform. Do you have any plans to take cluppo abroad?

cluppo: I haven't thought about it! (laugh) 

I've heard from overseas fans that they were sad that cluppo didn't perform, and while that does make me really happy, playing at a BAND-MAID concert would be odd since we have such different sounds. But I do really want to perform abroad someday!

—Finally, could you say something to the fans reading this interview on MOSHI MOSHI NIPPON?

cluppo: Of course! MOSHI MOSHI NIPPON has worked with BAND-MAID for a long time, so it's such an honor to be featured here as cluppo. I'd wanted that for a long time…oh, I guess that sounds odd. (laugh) I want many more people abroad to get to know my solo project since cluppo is a little different than BAND-MAID–we're both cute, but in different ways. I'd love to spread my wings overseas someday, so I'll keep doing my best! Please support me! 

With a nostalgic feel and Kobato's warm vocals, cluppo's new track With you is sure to wrap you up in good emotions. Written as the ending theme for Smile of the Arsnotoria, the song was made to inspire listeners and give courage to those about to take the first step towards meeting their goals and chasing their dreams.

The music video seems to show cluppo flapping her wings and taking flight as she conveys a powerful message to fans: "love is unbeatable." 

Be sure to give cluppo's music a listen, and be sure to support BAND-MAID as well! We can't wait to see what Kobato does next.

BAND-MAID Releases Acoustic Music Video for Miku Kobato's Solo Song 'Sayonakidori'

Internationally popular girls rock band BAND-MAID has released a special video of their acoustic performance of Sayonakidori on their official YouTube channel. The song was originally performed during the BAND-MAID ONLINE ACOUSTIC concert held on Christmas Day in 2021.

Sayonakidori is a solo song by Miku Kobato, a central figure in BAND-MAID. The guitarist, vocalist, and founder of the group also has her own side-project, cluppo. Her most recent track With You is being used as the ending theme for the anime series Smile of the Arsnotoria, and it is now available to stream digitally. To celebrate, this limited-time video was released for fans to enjoy.

Sayonakidori – BAND-MAID

The band has also started advance ticket sales for its largest-ever solo concert at the Tokyo Garden Theater on January 9, 2023. 

BAND-MAID will be celebrating its 10th anniversary in 2023, so this concert will be the perfect way to kick off the year. The group previously planned a massive show at Nippon Budokan, but it was sadly canceled due to the pandemic. Since the battle for tickets is sure to be fierce, fans should check availability on the official website as soon as possible!

In addition, the BAND-MAID US TOUR 2022 is scheduled to begin in October 2022. Tickets are on sale now, though 10 of the 13 performances are already sold out!



Will you be seeing BAND-MAID during their U.S. tour? 

Smile of the Arsnotoria Ending Theme 'With you' by cluppo Now Streaming

Miko Kobato, the guitarist, vocalist, and founder of BAND-MAID, is killing it with her solo side project cluppo. The new song With You is being used as the ending theme for the anime series Smile of the Arsnotoria, and it's now available to stream! The music video has also been released on YouTube.

 

Smile of the Arsnotoria began airing in Japan on July 6. The music video for the ending track shows Kobato singing against an ever-changing backdrop and the lyrics that appear on screen are perfect for those who want to sing along.

With you – cluppo (Music Video)

With the release of With You, a LINE MUSIC playback campaign has begun. Possible prizes include a CD-sized art card printed with the watercolor drawing seen on the jacket cover, a print of cluppo's calligraphy, and a pigeon figure inspired by the Flapping Wings music video. For more information, check out the official website and social media accounts.

 

BAND-MAID will set out on a US tour in October 2022. The band's largest-ever Japan concert is scheduled for January 2023. 

Band-Maid Announces New Ep, Members Transform into Anime Characters

Internationally beloved rock band BAND-MAID has announced a new EP, Unleash. Releasing on September 21, the album will be released in three formats on streaming services and CD. The concept for the title track, Unleash!!!!!, has been partially revealed in a new image, showing the five members as anime characters. 

In addition to the CD-only standard edition, two limited first-run editions including two instrumental music videos and full music videos will be on sale on September 21. The limited first edition will be a must-have for fans, and will also include special packaging, postcards, and a poster booklet. Those buying the CD from select stores will be able to snag special bonuses depending on where they go, with a total of 7 being available. These will be available while supplies last, so be sure to grab them while you can!

 

The music video for the title track Unleash!!!!! was shown at the 2022 AX ANIME EXPO in Los Angeles.

In October 2022, maid-themed rock band BAND-MAID will embark on its largest-ever U.S. tour. The tour, which is expected to pull in over 20,000 attendees, has sold out 10 of the 13 planned performances. 

The band's largest-ever solo performance at the Tokyo Garden Theater will be held on July 9, 2023. The lottery for tickets is open now.

BAND-MAID's Miku Kobato to Release Smile of the Arsnotoria Anime Ending Theme

Cluppo is a solo project by Miku Kobato, the guitarist, vocalist, and founder of the maid-dressed hard rock band BAND-MAID, which has amassed fans around the globe. On July 7, Kobato will release the track With you, the ending theme for the anime series Smile of the Arsnotoria. The jacket illustration has also been revealed.

This will be the first time a cluppo track is being used in an anime series. The jacket was designed by Kobato herself, who said that she wanted to use watercolors to create a somewhat soft image inspired by the song's sweet concept. "I wanted to really imagine a bright and sparkling atmosphere, but a place that also has a darker side," she said. 

 

BAND-MAID will set out on a US tour in October 2022. The band's largest-ever Japan concert is scheduled for January 2023. 

 

BAND-MAID to Release Long-Awaited New EP This Summer

Girls band BAND-MAID announced two pieces of surprise news in a special video for fans on May 10, 2022, also known as Maid's Day.

First, the band members announced that they would release their second major EP this summer. Second, an event will be held at the Tokyo Garden Theater on January 9, 2023.

SAIKI appeared very enthusiastic about the new EP. "We created it based on the theme of world domination," she said. The work contains the member's frustration felt during the pandemic, and they hope that fans will be able to empathize with the lyrics.

On January 9, 2023, the band will start their 2023 activities and 10th year by holding a concert at the Tokyo Garden Theater. Expectations are high, as the group's huge concert at Budokan was canceled due to the ongoing pandemic.

Tickets for the BAND-MAID PRE US OKYUJI in JAPAN, a four-city, five-show paid event to be held this summer, are already difficult to get, selling out quickly even though most of the events will be held on weekdays. The BAND-MAID US TOUR 2022 is scheduled to begin in October, and additional shows have recently been announced. The final Chicago show sold out on the same day that tickets went on sale. Of the 13 scheduled shows, nine have already completely sold out, proving that these girls aren't only popular in Japan.

In the special video, the girls talk excitedly about what the future holds and surprise viewers with a studio performance. The archived stream is available to watch until May 15 at 23:59, so check it out while you can!

BAND-MAID "THE DAY OF MAID" SPECIAL TALK
*Archive available until May 15 at 23:59


Will you be attending one of BAND-MAID's upcoming shows?

Information

BAND-MAID Tokyo Garden Theater (Tentative)

January 9, 2023 *Details to be announced at a later date

BAND-MAID 2nd Major EP

To Release in Summer 2022 *Details to be announced at a later date


BAND-MAID Announces Japan Tour Prior to US Tour, New Song to Appear in Hollywood Drama

Girl band BAND-MAID has announced a Japan tour scheduled just before the group begins its U.S. tour, set to draw over 20,000 spectators. This will be BAND-MAID's first tour in two and a half years, and the band will perform five total shows in Osaka, Aichi, Miyagi, and Tokyo. Fanclub lottery sales began on April 15, 2022 with full details on the official website. 

The BAND-MAID US TOUR 2022 is scheduled to begin in October, and additional shows have recently been announced. The final Chicago show sold out on the same day that tickets went on sale. Of the 13 scheduled shows, nine have already completely sold out, proving that these girls aren't only popular in Japan.

Additionally, BAND-MAID's song Choose Me has been chosen to appear in the film Peacemaker, a Hollywood adaptation of the popular DC Comics series. The film is now available to watch on U-NEXT.

On May 10, also known as 'Maid Day,' BAND-MAID will be streaming a special chat on YouTube! More details will be revealed soon.


Will you be attending one of BAND-MAID's upcoming shows?

BAND-MAID Announces Dates for Largest-Ever U.S. Tour

In October 2022, maid-themed rock band BAND-MAID will embark on its largest-ever U.S. tour. The girls' group has become massively popular overseas in recent years, with the total number of views on their YouTube channel surpassing 130 million. BAND-MAID's previous four world tours have all sold out, and streaming videos of their shows have been viewed by audiences in more than 60 countries around the world. 

This is the first time BAND-MAID will tour in the U.S. solo. Tickets will go on general sale tomorrow, March 3. 

The tour will start with the band's first appearance at the AFTERSHOCK Music Festival in California, which will feature many of the world's most popular artists like KISS and Slipknot. Will you be grabbing tickets?

Information

BAND-MAID US TOUR 2022


October 9 – Sacramento, CA / Aftershock Festival

October 12 – Seattle, WA / Neptune

October 14 – San Francisco, CA / August Hall

October 15 – Los Angeles, CA / House of Blues

October 19 – Phoenix, AZ / Crescent Ballroom

October 21 – Dallas, TX / Echo Music Hall

October 22 – Houston, TX / House of Blues

October 25 – Washington, DC / The Fillmore

October 26 – Philadelphia, PA / TLA

October 28 – New York, NY / Irving Plaza

October 29 – Boston, MA / Brighton Music Hall


Details: https://bandmaid.tokyo/contents/486225

Ticket Sale Schedule (JST)
March 2 / 2:00AM: Fan Club Ticket Sales Begin
March 4 / 12:00AM: General Ticket Sales Begin

AFTERSHOCK FESTIVAL

Dates: October 6 – October 9 (U.S. Local Time)
https://aftershockfestival.com/

BAND-MAID to Perform at the World's Largest Festival 'AFTERSHOCK FESTIVAL' in California

Internationally beloved hard rock band BAND-MAID has been invited to perform at AFTERSHOCK FESTIVAL in Sacramento, California!

The festival will take place across four days, from October 6 until October 9, 2022. This year marks the 10th anniversary of the festival, with headliners like KISS and Slipknot.


BAND-MAID has also announced US stops on their global tour during 2022. More information is scheduled to be released soon!

BAND-MAID Founder Miku Kobato Releases New Music Video for Solo Project cluppo

Cluppo is a solo project by Miku Kobato, the guitarist, vocalist, and founder of the maid-dressed hard rock band BAND-MAID, which has amassed fans around the globe. Their first EP 'hatofull' will be released on March 9, 2022, and ahead of that date, the song POGO! is now streaming. A music video has also been unveiled!

 

With a unique sound, cluppo is reinterpreting the music of the 80s and creating a new genre of music called 'Hippie-Poppo.' The new song POGO! is an ambitious work, blending the group's peaceful image with rap-style vocals.

POGO! – cluppo (Music Video)





To commemorate the advanced release of the song, a playback campaign is now underway on subscription services. Also, those who purchase the new EP early will get a mega jacket and an original A5-sized clear folder. Check out cluppo's official website for more information!




Comment from cluppo


"POGO! shows a different side of cluppo, fusing coolness, cuteness, and colorfulness. The music video is a feast for the eyes but also hides a ton of information. Did you catch all of it? Watch it over and over again!"