BAND-MAID's new song "One and only" to be used in first movie ti
09.September.2017 | MUSIC
Word about BAND-MAID is growing and their army of fans grows stronger every day. The band released their major second single "Daydreaming / Choose me" to hug success and have since been touring at big outdoor festivals through the summer. Now, their reach is expanding even wider as it has been announce that their new song "One and only" will be used as the main theme song for the upcoming anthology film "Kuruibana" which will hit Cinema Qualité in Shinjuku from October 14th.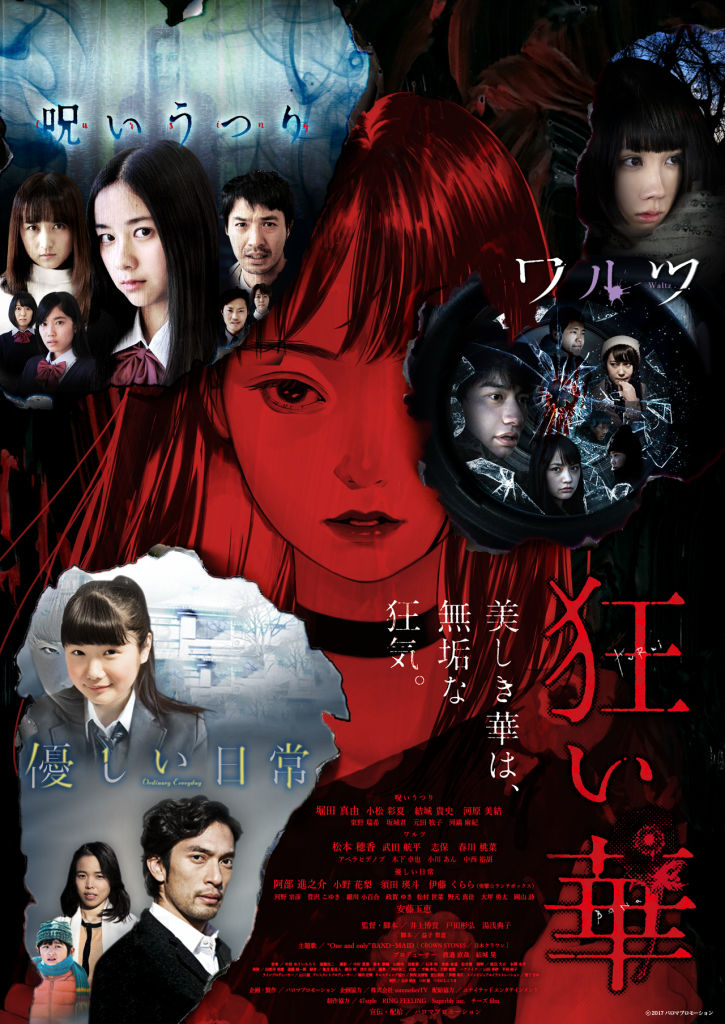 "Kuruibana" is a horror-suspense movie directed by award-winning up and coming film director Noriko Yuasa who has been praised by people both in Japan and overseas. It features a cast of young actresses including Mayu Hotta, Honoka Matsumoto and Karin Ono who are joined by the talented Shin'nosuke Abe that will create an air of tension in the story. This edgy film is an absolute must-see for fans of the horror genre.
BAND-MAID's new song "One and only" was written by the band members themselves, with lyrics by vocalist and guitarist Miku Kobato. Although it's fast-paced, it's a long track that carries the thrilling atmosphere of the movie. As of now, the release date for "One and only" is yet to be announced, but you can hear it first by heading to Shinjuku to watch "Kuruibana."
BAND-MAID are also set to head out on a nationwide solo tour in Japan starting September 24th as well as embark on a world tour.
Make sure you don't miss out on BAND-MAID's first ever movie tie up – and don't miss the opportunity to see them live in a city near you!
■Information
"Kuruibana"
【Date / Venue】
Release Date: October 14, 2017 onwards
Cinema: Cinema Qualité, Shinjuku (Shinjuku NOWA Building, 3-37-12 Shinjuku, Shinjuku-ku, Tokyo)
Telephone: 03-3352-5645
Official Homepage: http://kuruibana.com
▶︎BAND-MAID Okyuuji TOUR Autumn-Winter 2017
"Would you like to burn or Moe? Which one?"
2017/9/24 (Sun) @ Sapporo cube garden
2017/9/29 (Fri) @ Kumamoto B.9 V2
2017/10/1 (Sun) @ Fukuoka DRUM LOGOS
2017/10/6 (Fri) @ Sendau darwin
2017/10/8 (Sun) @ Kanazawa EIGHT HALL
2017/10/13 (Fri) @ Osaka Misono universe
2017/10/15 (Sun) @ Nagoya Diamond Hall
2017/11/17 (Fri) @ Okayama CRAZYMAMA KINGDOM
2017/11/18 (Sat) @ Hiroshima Club Quattro
2017/11/24 (Fri) @ Shikbiba STUDIO COAST (*tour finale)
▶︎BAND-MAID WORLD TOUR 2017
"Burn! Burn! BAND-MAID Moe Moe Cune"
2017/11/03 (Fri) London, UK: O2 Academy Islington
2017/11/04 (Sat) Paris, France: La Boule Noire
2017/11/05 (Sun) Bochum, Germany: Zeche
2017/11/08 (Wed) Berlin, Germany: Bi Nuu
2017/11/09 (Thu) Munich, Germany: Backstage
2017/11/12 (Sun) Barcelona, Spain: Salamandra
RELATED ENTRIES
BAND-MAID Drop Surprise Instrumental Track 'Want more!' For Free

Japanese maid outfit-clad hard rock band BAND-MAID held a live stream on May 10, 2020, aka "The Day of Maid," where they opened free downloads to a surprise instrumental track entitled Want more!.

The stream was held in response to the COVID-19 pandemic so the band could interact with fans. Comments flooded in from fans around the world.

Want more! is available to download for free via the link below. The link will expire after May 17, 2020.

BAND-MAID also just released their live DVD and Blu-ray WORLD DOMINATION TOUR 【Shinka】 at LINE CUBE SHIBUYA on April 29, 2020.4

BAND-MAID Release 'Choose me' Live Video From Upcoming Live DVD & Blu-ray

Japanese rock band BAND-MAID just dropped a live performance of their song Choose me taken from their upcoming live DVD and Blu-ray release WORLD DOMINATION TOUR 【Shinka】at LINE CUBE SHIBUYA which is set to hit shelves on April 29, 2020.

BAND-MAID has made their name known the world in recent years, especially with their latest album CONQUEROR which clocked in three categories of the Billboard US charts when it dropped at the end of last year.

This is the band's first live DVD and Blu-ray release, and features footage of the final concert from their tour "WORLD DOMINATION TOUR Shinka at PRESENTED BY LIVEDAM Ai" held at LINE CUBE SHIBUYA in Tokyo on February 14, 2020. It will also feature a bonus documentary and bonus audio.

BAND-MAID / Choose me (Feb. 14th, 2020)

Choose me was the climax of the opening of this Serving from the rock maids, be sure to check it out.

Information

WORLD DOMINATION TOUR Shinka at LINE CUBE SHIBUYA

Release Date: April 29, 2020

Blu-ray: ¥5,980 (Tax Included) [CRXP-10007]

DVD: ¥4,980 (Tax Included) [CRBP-10066]

Official Website: https://bandmaid.tokyo

BAND-MAID Tease Upcoming Live DVD & Blu-ray For WORLD DOMINATION TOUR Tokyo Concert

With their latest album CONQUEROR having clocked in three categories of the Billboard US charts, BAND-MAID have just teased a visual for the release of their upcoming live DVD and Blu-ray WORLD DOMINATION TOUR Shinka at LINE CUBE SHIBUYA which will hit shelves on April 29, 2020.

This is the band's first live DVD and Blu-ray release, and features footage of the final concert from their tour "WORLD DOMINATION TOUR Shinka at PRESENTED BY LIVEDAM Ai" held at LINE CUBE SHIBUYA in Tokyo on February 14, 2020. It will also feature a bonus documentary and bonus audio.

The main visual for the release was drawn by popular illustrator NekoshowguN and features the band members.

Additionally, it has been announced that there will be bonus items coupled with the DVD/Blu-ray release when bought at select stores in Japan.

Pre-sale tickets for BAND-MAID's 5-date Zepp tour will go live at Lawson on March 12. The band will also perform at Nippon Budokan on February 11, 2021. Before that, however, pick up a copy of the DVD/Blu-ray to witness the thrill of their live performance from their sold-out tour.

Information

WORLD DOMINATION TOUR Shinka at LINE CUBE SHIBUYA

Release Date: April 29, 2020

Blu-ray: ¥5,980 (Tax Included) [CRXP-10007]

DVD: ¥4,980 (Tax Included) [CRBP-10066]発

Official Website: https://bandmaid.tokyo

BAND-MAID Drop Music Video For Tony Visconti-Produced Song 'The Dragon Cries'

BAND-MAID just released the music video for their song The Dragon Cries taken from their latest album CONQUEROR which was released to international acclaim, making it into three categories on Billboard US.

The Dragon Cries is produced by American veteran record producer Tony Visconti who is known for having worked with a plethora of some of the biggest names in music history, including David Bowie and T-Rex.

The theme of the music video is "world peace," with the track having lyrics that serve as the alarm bell to the current condition of the world.

BAND-MAID – "The Dragon Cries" Music Video

BAND-MAID have just two more dates left of their 2019-2020 "World Domination" tour, which will take place at LINE CUBE SHIBUYA on February 13 and 14. The tour has taken them to 17 places across Japan, with every date having sold out.

The video is a must-see, and is undoubtedly an exciting release for fans going to their final shows tomorrow and the day afterーthe finale concerts to their long tour which have sold out despite being on weekdays.

Information

BAND-MAID WORLD DOMINATION TOUR "Shinka"
2020/2/13 @ LINE CUBE SHIBUYA, Tokyo *Sold Out
2020/2/14 @ LINE CUBE SHIBUYA, Tokyo *Sold Out

Inkcarceration Festival
Running: July 10, 2020 – July 12, 2020
Location: Ohio State Reformatory, Mansfield, Ohio, United States
Line-up: Limp Bizkit, Weezer, Blink 182, BAND-MAID, and many more
Buy Tickets: https://inkcarceration.frontgatetickets.com

Official Website: https://inkcarceration.com/

Netflix – "Kate"
Release Date: TBA
Director: Cedric Nicolas-Troyan
Starring: Mary Elizabeth Winstead, Tadanobu Asano, Jun Kunimura, MIYAVI, BAND-MAID

Official Website: https://bandmaid.tokyo/

BAND-MAID to Perform at Inkcarceration Festival in Ohio US

Japanese rock band BAND-MAID, whose latest record CONQUEROR is enjoyed huge success right now having charted in three categories in the US Billboard charts, have announced that they will perform at Inkcarceration Festival in Ohio, US, which is set to run from July 10-12 next year.

Inkcarceration Festival will take place at the Ohio State Reformatory, an infamous historic prison which was used as the setting in the movie The Shawshank Redemption. Other acts confirmed to perform for the 2020 festival include Limp Bizkit, Weezer, and Blink 182. BAND-MAID will be the first Japanese act to play the hard rock event.

From working with world-renowned producer Tony Visconti and their Hollywood debut in a Netflix movie to their contracts with major booking agencies such as United Talent Agency and Live Nation, BAND-MAID are conquering the world with no intention of stopping.

Information

Inkcarceration Festival
Running: July 10, 2020 – July 12, 2020
Location: Ohio State Reformatory, Mansfield, Ohio, United States
Line-up: Limp Bizkit, Weezer, Blink 182, BAND-MAID, and many more
Buy Tickets: https://inkcarceration.frontgatetickets.com

Official Website: https://inkcarceration.com/

BAND-MAID's New Album 'CONQUEROR'

Released: December 11, 2019

First Press Limited Edition A (CD+Blu-ray): ¥4,545 (Before Tax) [CRCP-40590]

First Press Limited Edition B (CD+DVD): ¥3,636 (Before Tax) [CRCP-40591]

Regular Edition (CD-Only): ¥2,727 (Before Tax) [CRCP-40592]

Streaming/Download Link: https://maid.lnk.to/conqueror

BAND-MAID Official Website: https://bandmaid.tokyo/

BAND-MAID Release 'Blooming' Music Video From New Album 'CONQUEROR'

BAND-MAID just dropped their new music video for Blooming which is taken from their upcoming new album CONQUEROR which is set to hit shelves tomorrow on December 11, 2019.

BAND-MAID「Blooming」Music Video: 

BAND-MAID once again showcase their great musicianship in this headbangerーanother fast-paced tune, something which BAND-MAID have been rolling with recently.

With the release of their third album CONQUEROR set for tomorrow, BAND-MAID released the album digitally worldwide on December 4 and it soon conquered the iTunes rock charts of countries all over the world.  The album currently holds third place in Japan. On December 5, it reached no.1 in Canada, no.7 in the UK, no.4 in France, no.3 in Australia, no.11 in Hong Kong, and even no.1 of 40 places on the America and World Music Charts.

From working with world-renowned producer Tony Visconti and their Hollywood debut in a Netflix movie to their contracts with major booking agencies such as United Talent Agency and Live Nation, BAND-MAID are conquering the world with no intention of stopping.

CONQUEROR will mark almost two years since the band released a full-length studio album.

Information

BAND-MAID's New Album 'CONQUEROR'

Tracks: 15

Release Date: December 11, 2019

First Press Limited Edition A (CD+Blu-ray): ¥4,545 (Before Tax) [CRCP-40590]

First Press Limited Edition B (CD+DVD): ¥3,636 (Before Tax) [CRCP-40591]

Regular Edition (CD-Only): ¥2,727 (Before Tax) [CRCP-40592]

Streaming/Download Link: https://maid.lnk.to/conqueror

BAND-MAID Official Website: https://bandmaid.tokyo/

BAND-MAID's New Album 'CONQUEROR' Conquers iTunes Rock Charts Worldwide

With the release of their third album CONQUEROR set for December 11, BAND-MAID released the album digitally worldwide on December 4 and it soon conquered the iTunes rock charts of countries all over the world. 

The album currently holds third place in Japan. On December 5, it reached no.1 in Canada, no.7 in the UK, no.4 in France, no.3 in Australia, no.11 in Hong Kong, and even no.1 of 40 places on the America and World Music Charts.

From working with world-renowned producer Tony Visconti and their Hollywood debut in a Netflix movie to their contracts with major booking agencies such as United Talent Agency and Live Nation, BAND-MAID are conquering the world with no intention of stopping. 

Information

BAND-MAID's New Album 'CONQUEROR'

Tracks: 15

Release Date: December 11, 2019

First Press Limited Edition A (CD+Blu-ray): ¥4,545 (Before Tax) [CRCP-40590]

First Press Limited Edition B (CD+DVD): ¥3,636 (Before Tax) [CRCP-40591]

Regular Edition (CD-Only): ¥2,727 (Before Tax) [CRCP-40592]

Streaming/Download Link: https://maid.lnk.to/conqueror

BAND-MAID Official Website: https://bandmaid.tokyo/

BAND-MAID Releases 3rd Album 'CONQUEROR' Digitally Worldwide and Announces Guitar Battle on NHK TV Show

BAND-MAID has just released all the songs from their third album CONQUEROR digitally. The physical album is set for release on December 11. 

CONQUEROR holds a number of their greatest songs which became sensational hits even before their release such as the Yu-Gi-Oh! VRAINS ending theme glory, Bubble, which is the theme song for the ABC TV drama Perfect Crime, and even The Dragon Cries, which is a global hit produced by American veteran record producer Tony Visconti. 

Having released all the songs from their new album digitally with a physical album to follow, BAND-MAID has proven their exponential growth to the world once again. Check out the streaming and download links below to hear their flawless musicianship.

But that's not all. BAND-MAID worked up a sensation on December 1 when they appeared on music news program SHIBUYA NOTE. On December 10, BAND-MAID's guitarist KANAMI will appear on the NHK Educational TV show Shakiin! Sound Fighters (シャキーン!サウンドファイターズ). During the show, KANAMI will face off against Shinji Wajima from rock band Ningen Isu in a guitar battle.

From their Hollywood debut to working with world-renowned producers and contracting with a world major booking agency, BAND-MAID are on a streak of global breakthroughs and have no intention of stopping. 

Information

CONQUEROR

Contains 15 Songs

December 11, 2019

First-Press Limited Edition A (CD+Blu-ray): CRCP-40590 / ¥4,545 + Tax

First-Press Limited Edition B (CD+DVD)  CRCP-40591 / ¥3,636 + Tax

Regular Edition (CD): CRCP-40592 / ¥2,727 + Tax

Stream/Download Link: https://maid.lnk.to/conqueror

BAND-MAID Official Website: https://bandmaid.tokyo/

NHK Educational TV: Shakiin! Sound Fighters

Round 1: December 10, Round 2: December 13 (On Air: 7:00am – 7:15am)

Shinji Wajima (Ningen Isu) vs KANAMI (BAND-MAID) 

BAND-MAID to Appear in Netflix Original Movie 'Kate' as Themselves & Sign Contract With United Talent Agency

It has been revealed that BAND-MAID are set to appear as the band themselves in the upcoming action thriller Netflix Original movie Kate. The band have also signed a contract with United Talent Agency, one of the biggest booking agencies in the world.

Kate is being directed by French film director and visual effects artist Cedric Nicolas-Troyan (Snow White and the Huntsman) while the screenplay is being written by Umair Aleem. It will be produced by David Leitch, who directed Deadpool 2 and Atomic Blonde.

The film will star lauded actress Mary Elizabeth Winstead as the protagonist, as well as numerous notable Japanese actors including Tadanobu Asano, Jun Kunimura, and musician and actor MIYAVI.

Following BAND-MAID's signing with booking agency Live Nation, it has now been announced that they have sealed a deal with United Talent Agency tooーone of the world's four biggest booking agencies. They are known for having booked some of the world's biggest artists, including Guns N' Roses and Muse, as well as numerous top bands from Japan such as ONE OK ROCK and BABYMETAL.

It was also revealed last week BAND-MAID's song The Dragon Cries, which is featured on their upcoming third studio album CONQUERORーset for release on December 11, 2019ーwas produced by legendary American record producer Tony Visconti, who has worked with a plethora of some of the biggest names in music including David Bowie. All of this good news about BAND-MAID is pushing them further to their goal: conquering the world.

Information

Netflix – "Kate"
Release Date: TBA

CONQUEROR

Release Date: December 11, 2019

Tracks: 15

First Press Limited Edition A (CD+Blu-ray): ¥4,545 (Before Tax) [CRCP-40590]

First Press Limited Edition B (CD+DVD): ¥3,636 (Before Tax) [CRCP-40591]

Regular Edition (CD-Only): ¥2,727 (Before Tax) [CRCP-40592]

Streaming/Download Link: https://maid.lnk.to/conqueror

BAND-MAID on United Talent Agency: https://www.unitedtalent.com/artist/band-maid/

BAND-MAID Official Website: https://bandmaid.tokyo/

BAND-MAID's Song 'The Dragon Cries' Was Produced by the Legendary Tony Visconti

It has been revealed that BAND-MAID's song The Dragon Cries, which is featured on their upcoming third studio album CONQUERORーset for release on December 11, 2019ーwas produced by none other American veteran record producer Tony Visconti. The song was released digitally worldwide on all major music platforms today.

Visconti is known for having worked with a plethora of some of the biggest names in music history, including David Bowie and T-Rex. He himself sent an enthusiastic offer to the band to work with them. He even saw the band live in September.

In a Japanese interview speaking about working with BAND-MAID, Visconti said he liked the band's originality, and that getting to meet them in real life was like a dream come true. He explained how Saiki and Miku sang for almost 8 hours, which he revealed is longer than any other artist he has known. He commended their professionalism, and that they greatly met his expectations.

BAND-MAID vocalist and guitarist Miku Kobato also commented: "Tony is so kind, he really likes BAND-MAID. He's a really sociable, friendly and wonderful person."

She continues: "We also got to record vocals in the same studio in New York where David Bowie recorded. He listened to our wishes and opinions while producing for us. We are truly grateful. We'd like to work hard so that the next time we meet Tony, we can show him we've grown even more."

BAND-MAID are set to perform the song live for the first time on NHK General TV's Shibuya no Oto on December 1, 2019.

BAND-MAID recently played 5 shows in the US, all of which sold out. As BAND-MAID continue conquering forward, the success of their quest for world domination is inevitable.

Information

CONQUEROR

Release Date: December 11, 2019

Tracks: 15

First Press Limited Edition A (CD+Blu-ray): ¥4,545 (Before Tax) [CRCP-40590]

First Press Limited Edition B (CD+DVD): ¥3,636 (Before Tax) [CRCP-40591]

Regular Edition (CD-Only): ¥2,727 (Before Tax) [CRCP-40592]

Streaming/Download Link: https://maid.lnk.to/conqueror

NHK General TV – "Shibuya no Oto"
Broadcasting: December 1, 2019 (12:05am)
Line-Up: DEAN FUJIOKA/Shuka Saitō/eill/BAND-MAID

BAND-MAID Official Website: https://bandmaid.tokyo/

BAND-MAID Release New 'Rinne' Music Video On YouTube

BAND-MAID just dropped a music video for a song entitled Rinne taken from their forthcoming studio album CONQUEROR which is set to hit shelves on December 11, 2019. The song will be released on digital music platforms at midnight (JST) tonight.

BAND-MAID – "Rinne" Music Video

The music video was directed by Ryoji Aoki, who has worked on nearly all of BAND-MAID's videos to date, and makes free-use of an 8mm camera in a hardcore shoot.

CONQUEROR comes as the band's third major album release, following the success of their 2018 record World Domination which established the rock maids' desires to expand their popularity globally, effectively 'taking over the world.' The new record has been in the works for over a year, and already it's look to be another fire album from the maid outfit-clad rock musicians.

Information

CONQUEROR

Release Date: December 11, 2019

Tracks: 15

First Press Limited Edition A (CD+Blu-ray): ¥4,545 (Before Tax) [CRCP-40590]

First Press Limited Edition B (CD+DVD): ¥3,636 (Before Tax) [CRCP-40591]

Regular Edition (CD-Only): ¥2,727 (Before Tax) [CRCP-40592]

Streaming/Download Link: https://maid.lnk.to/conqueror

BAND-MAID Official Website: https://bandmaid.tokyo/

BAND-MAID Unveil New Album 'CONQUEROR' Artwork & Bonus Merchandise

BAND-MAID have teased fans by showcasing the CD artwork for their upcoming album CONQUEROR which is set to hit shelves on December 11.

The band has worked for over a year on the new record. The unveiled artwork features the band members with flowers blooming for them, signifying the blossoming of new music.

Speaking about the artwork, vocalist and guitarist Miku Kobato commented: "We've put a lot of time into this album. It's packed full of the best music we've ever written, which has been made possible by where we are today. I would be overjoyed if the album helps to blossom our Masters' and Princesses' dreams and desires."

The album will feature 15 tracks, including the song new Dilemma which until now was untitled. If you pick up a copy of the album at select stores in Japan, you can get your hands on some exclusive goodies too as pictured above. Full details below.

Information

CONQUEROR

Release Date: December 11, 2019

Tracks: 15

First Press Limited Edition A (CD+Blu-ray): ¥4,545 (Before Tax) [CRCP-40590]

First Press Limited Edition B (CD+DVD): ¥3,636 (Before Tax) [CRCP-40591]

Regular Edition (CD-Only): ¥2,727 (Before Tax) [CRCP-40592]

■CONQUEROR Bonus Merchandise
*Available on a first-come, first served basis while supplies last
*Select branches not participating, please be sure to check in advance before completing your order
*If ordering online, be sure to add the additional merchandise option to your basket (please note that select services do not allow you to cancel your order upon completion)

・Amazon: Original ticket folder
・Tower Records/Tower Records Online: Original A2-Size Poster TYPE-A
・HMV/HMV&BOOKS Online: Original A2-Size Poster TYPE-B
・Disk Union: Conqueror Key Ring
・Shinseido/WonderGOO: Alternative CD Cover (MISA Ver.)
・Rakuten Books: Alternative CD Cover (AKANE Ver.)
・7 Net: Alternative CD Cover (KANAMI Ver.)
・Neowing/CDJapan: Original Folder
・BAND-MAID INTERNATIONAL WEB SHOP (https://bandmaidshop.com/): Original Pin Badge

BAND-MAID Official Website: https://bandmaid.tokyo/